Bust by
Sherry Twist
@ 1/2/2009 11:42 PM PST
[
this file is a part of a Group Media Bust
]
[
Conviction
]
Perverted Justice mark:
Lorne
,
37
Yahoo IM:
lorne_a_20014
[
lorne_a_20014@yahoo.com
]
Location:
Cambridge, MA, Tennessee
[
send lorne_a_20014 a message
]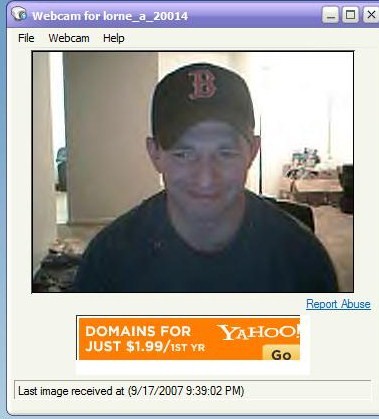 This wannabe pedo tried to solicit
kayla_princess94
, a
13 year old
girl
... or so they thought!
[ verification recording #1 ]
Currently reading without the contributor's commentary. The chat log has been defined by the grey box below, and special formatting by the contributor has been removed.
Turn commentary back on
August 18, 2008



lorne_a_20014

(09/17/07 9:22:46 PM): hi


lorne_a_20014

(09/17/07 9:22:53 PM): asl plz?
kayla_princess94 (09/17/07 9:23:00 PM): hi
kayla_princess94 (09/17/07 9:23:13 PM): 13/f/ky


lorne_a_20014

(09/17/07 9:23:26 PM): wow, you're just a young one huh/


lorne_a_20014

(09/17/07 9:23:30 PM): @};-


lorne_a_20014

(09/17/07 9:23:40 PM): a little cutie too


lorne_a_20014

(09/17/07 9:24:39 PM): if nobody will talk to you sweetheart you can talk to me........i'm a good guy, i have 2 nieces your age
kayla_princess94 (09/17/07 9:24:59 PM): really
kayla_princess94 (09/17/079:25:08 PM): wats ur asl


lorne_a_20014

(09/17/07 9:25:45 PM): well, i should say i had 2 nieces your age, when i lived in washington state they were your age, they're a little older now but it still feels to me like they're your age


lorne_a_20014

(09/17/07 9:25:58 PM): i'm 36/m/nashville
kayla_princess94 (09/17/07 9:26:08 PM): o
kayla_princess94 (09/17/07 9:26:12 PM): nashville kewl


lorne_a_20014

(09/17/07 9:26:27 PM): you must be bored if you're on the internet


lorne_a_20014

(09/17/07 9:26:40 PM): unless you think it's fun lol


lorne_a_20014

(09/17/07 9:27:21 PM): that's me


lorne_a_20014

(09/17/07 9:27:39 PM): those are my 2 dogs
kayla_princess94 (09/17/07 9:28:01 PM): kewl


lorne_a_20014

(09/17/07 9:28:08 PM): the black one is Bud and the little white one is Daisy
kayla_princess94 (09/17/07 9:28:18 PM): aww there cute


lorne_a_20014

(09/17/07 9:28:20 PM): i have a cam too ifyou'd like to see me on cam


lorne_a_20014

(09/17/07 9:28:49 PM): you can see Bud on cam too, i gave daisy away to my nephew before i moved here to nashville
kayla_princess94 (09/17/07 9:29:09 PM): aww u gave her away


lorne_a_20014

(09/17/07 9:29:50 PM): yeah, i really wasn't very happy too but ithought it would be best for her because my nephew and his wife have a dog just like her
kayla_princess94 (09/17/07 9:31:37 PM): kewl


lorne_a_20014

(09/17/07 9:31:51 PM): did you get the other 2 pics i sent you?
kayla_princess94 (09/17/07 9:32:15 PM): of ur dog yeah


lorne_a_20014

(09/17/07 9:32:20 PM): ok


lorne_a_20014

(09/17/07 9:32:30 PM): want to see me on cam?
kayla_princess94 (09/17/07 9:33:55 PM): shur


lorne_a_20014

(09/17/07 9:34:32 PM): look at those big blue eyes.......you're so cute lol


lorne_a_20014

(09/17/07 9:34:45 PM): @};->:D<


lorne_a_20014

(09/17/07 9:35:16 PM): hi:-hkayla_princess94 (09/17/07 9:35:27 PM): hi lol
kayla_princess94 (09/17/07 9:35:32 PM): thanx


lorne_a_20014

(09/17/07 9:35:36 PM): yw


lorne_a_20014

(09/17/07 9:35:44 PM): what time is it there?
kayla_princess94 (09/17/07 9:37:24 PM): 8:37


lorne_a_20014

(09/17/07 9:37:37 PM): ok, same time as here then, i thought it was


lorne_a_20014

(09/17/07 9:38:07 PM): do i look cuter on cam than i do in that picture?lol
kayla_princess94 (09/17/07 9:38:41 PM): yeah


lorne_a_20014

(09/17/07 9:38:45 PM): lol


lorne_a_20014

(09/17/07 9:39:00 PM): that's because pictures don't do very good with me lol
kayla_princess94 (09/17/07 9:39:24 PM): o
kayla_princess94 (09/17/07 9:39:26 PM): lol


lorne_a_20014

(09/17/07 9:39:34 PM): i bet all the boys are after you at your school huh?lol


lorne_a_20014

(09/17/07 9:40:03 PM): brb
kayla_princess94 (09/17/07 9:40:24 PM): no not really lol
kayla_princess94 (09/17/07 9:40:26 PM): k


lorne_a_20014

(09/17/07 9:40:29 PM): back


lorne_a_20014

(09/17/07 9:41:17 PM): hang on again, i need to put a towel on the bottom of my door so my neighbors will think the lights are out and i've gone to bed lol
kayla_princess94 (09/17/07 9:41:27 PM): k lol
lorne_a_20014(09/17/07 9:41:57 PM): ok, all set now lol
kayla_princess94 (09/17/07 9:42:11 PM): y u wanna do that


lorne_a_20014

(09/17/07 9:42:49 PM): because they're starting to annoy me.........they keep coming over and asking to use my phone, my computer and if i'll take them to the store lol
kayla_princess94 (09/17/07 9:43:09 PM): lol
kayla_princess94 (09/17/07 9:43:14 PM): they must bug u lots


lorne_a_20014

(09/17/07 9:43:28 PM): yup, and it's starting to aggrivate me lol


lorne_a_20014

(09/17/07 9:43:45 PM): so i'm kind of giving them a go away attitude right now lol
kayla_princess94 (09/17/079:44:10 PM): lol


lorne_a_20014

(09/17/07 9:44:40 PM): i find it hard to believe that the boys at your school aren't all after you.........you're a little doll
kayla_princess94 (09/17/07 9:44:53 PM): aww thanx


lorne_a_20014

(09/17/07 9:45:00 PM): you're very welcome


lorne_a_20014

(09/17/07 9:45:17 PM): if only you were like 5 yrs older i'd be after you too lol
kayla_princess94 (09/17/07 9:45:30 PM): really


lorne_a_20014

(09/17/07 9:45:38 PM): definately lol


lorne_a_20014

(09/17/07 9:46:14 PM): you did a right decision when you put princess on your i.d. name......so cute lol
kayla_princess94 (09/17/07 9:46:23 PM): aww thanx
kayla_princess94 (09/17/07 9:46:37 PM): daddy always calls me the princess
kayla_princess94 (09/17/07 9:46:39 PM): lol


lorne_a_20014

(09/17/07 9:46:42 PM): lol


lorne_a_20014

(09/17/07 9:46:52 PM): he's smart to call you that lol


lorne_a_20014

(09/17/07 9:47:10 PM): if you were my niece i'd be spoiling you rotten like i did my other nieceslol
kayla_princess94 (09/17/07 9:47:27 PM): kewl
kayla_princess94 (09/17/07 9:47:38 PM): daddy likes 2 spoil me lol


lorne_a_20014

(09/17/07 9:47:42 PM): unfortunately you're not my nieces lol


lorne_a_20014

(09/17/07 9:47:49 PM): i can see why he does lol
kayla_princess94 (09/17/07 9:48:05 PM): lol


lorne_a_20014

(09/17/07 9:48:15 PM): you've got suck pretty eyes lol
kayla_princess94 (09/17/07 9:48:24 PM): thanx


lorne_a_20014

(09/17/07 9:48:28 PM): yw


lorne_a_20014

(09/17/07 9:48:56 PM): i have blue eyes too.......almost the same color blue as yours i think


lorne_a_20014

(09/17/07 9:49:08 PM): even though you can't tell by the cam or the pics


lorne_a_20014

(09/17/07 9:49:09 PM): lol
kayla_princess94 (09/17/07 9:49:11 PM): kewl


lorne_a_20014

(09/17/07 9:49:28 PM): if it was day time you'd probably be able to tell
kayla_princess94 (09/17/07 9:49:34 PM): yeah


lorne_a_20014

(09/17/07 9:49:45 PM): so do you play any sports?
kayla_princess94 (09/17/07 9:49:54 PM): no not really


lorne_a_20014

(09/17/07 9:50:05 PM): do you do anything extra at school?
kayla_princess94 (09/17/07 9:50:19 PM):nah just homework lol


lorne_a_20014

(09/17/07 9:50:23 PM): lol


lorne_a_20014

(09/17/07 9:50:36 PM): i bet you're not too thrilled about that huh?lol
kayla_princess94 (09/17/07 9:51:31 PM): no not really lol


lorne_a_20014

(09/17/07 9:51:36 PM): lol


lorne_a_20014

(09/17/07 9:52:07 PM): so tell me.......why would you want to come in a chat room like this?lol


lorne_a_20014

(09/17/07 9:52:27 PM): they say all kinds of things that you probably shouldn't hear at your age lol
kayla_princess94 (09/17/07 9:52:27 PM): i was bored lol


lorne_a_20014

(09/17/07 9:52:31 PM): oh lol


lorne_a_20014

(09/17/07 9:53:07 PM): how often do you go in chat rooms?
kayla_princess94 (09/17/07 9:53:30 PM): i never did b4 lol


lorne_a_20014

(09/17/07 9:53:35 PM): lol


lorne_a_20014

(09/17/07 9:53:55 PM): have you read anything that made you say \"wow\" to?lol
kayla_princess94 (09/17/07 9:54:15 PM): huh


lorne_a_20014

(09/17/07 9:54:49 PM): some of the names that people make up for i.d.'s and some of the things they talk about in here


lorne_a_20014

(09/17/07 9:55:07 PM): or have you heard all of that talk before?
kayla_princess94 (09/17/07 9:55:14 PM): yeah there funny


lorne_a_20014

(09/17/07 9:55:19PM): lol
kayla_princess94 (09/17/07 9:55:22 PM): not really


lorne_a_20014

(09/17/07 9:55:37 PM): what things have you heard in here so far?Lol
kayla_princess94 (09/17/07 9:56:05 PM): nothing really i been talkin 2 u am i still in there


lorne_a_20014

(09/17/07 9:56:22 PM): it says you are


lorne_a_20014

(09/17/07 9:56:27 PM): did you click out of the room?
kayla_princess94 (09/17/07 9:56:32 PM): i 4got lol


lorne_a_20014

(09/17/07 9:56:35 PM): lol
kayla_princess94 (09/17/07 9:56:38 PM): no i 4got


lorne_a_20014

(09/17/07 9:56:44 PM): you must be enjoying talking to me lol
kayla_princess94(09/17/07 9:57:00 PM): yeah ur fun 2 talk 2


lorne_a_20014

(09/17/07 9:57:04 PM): cool


lorne_a_20014

(09/17/07 9:57:21 PM): i never use to let my nieces go into any chat rooms lol
kayla_princess94 (09/17/07 9:57:30 PM): y


lorne_a_20014

(09/17/07 9:57:37 PM): they use to get mad at me because ofit too lol


lorne_a_20014

(09/17/07 9:57:52 PM): because they talk alot about sex and stuff in them
kayla_princess94 (09/17/07 9:58:01 PM): o


lorne_a_20014

(09/17/07 9:58:29 PM): it bothered me alot then, now i've just come to realize it's just part of growing up lol


lorne_a_20014

(09/17/07 9:58:55 PM): i bet they wish i would have felt that way back then though lol
kayla_princess94 (09/17/07 9:59:13 PM): lol


lorne_a_20014

(09/17/07 9:59:26 PM): what else do you do for fun?


lorne_a_20014

(09/17/07 9:59:35 PM): besides homework lol
kayla_princess94 (09/17/07 10:00:25 PM): hang out with my friends like at the mall and go shopping i luv shopping


lorne_a_20014

(09/17/07 10:00:32 PM): lol


lorne_a_20014

(09/17/07 10:00:39 PM): you're definately a girl lol
kayla_princess94 (09/17/07 10:01:00 PM): well yeah im a grl


lorne_a_20014

(09/17/07 10:01:12 PM): i mean because you love shopping lol
kayla_princess94 (09/17/07 10:01:20 PM): o yeah lol


lorne_a_20014

(09/17/07 10:01:23 PM): lol


lorne_a_20014

(09/17/07 10:01:35 PM): what do you usually buy when you go shopping?


lorne_a_20014

(09/17/07 10:01:37 PM): let me guess


lorne_a_20014

(09/17/07 10:01:39 PM): clothes


lorne_a_20014

(09/17/0710:01:43 PM): lol
kayla_princess94 (09/17/07 10:01:48 PM): yeah


lorne_a_20014

(09/17/07 10:01:51 PM): lol


lorne_a_20014

(09/17/07 10:02:01 PM): did you see me sneeze?lol
kayla_princess94 (09/17/07 10:02:21 PM): yeah lol


lorne_a_20014

(09/17/07 10:02:25 PM): lol


lorne_a_20014

(09/17/07 10:02:39 PM):i think i'm coming down with a cold lol
kayla_princess94 (09/17/07 10:02:45 PM): aww sry


lorne_a_20014

(09/17/07 10:02:55 PM): me too.......i hate colds lol
kayla_princess94 (09/17/07 10:03:04 PM): yeah me 2


lorne_a_20014

(09/17/07 10:03:22 PM): so i'm guessing that you don't want to take my cold for me?lol


lorne_a_20014

(09/17/07 10:03:36 PM): i'll give you $5 if you do lol


lorne_a_20014

(09/17/07 10:04:26 PM): what time do you usually go to bed?
kayla_princess94 (09/17/07 10:04:55 PM): no i dont want ur cold ty


lorne_a_20014

(09/17/07 10:05:00 PM): lol
kayla_princess94 (09/17/07 10:05:12 PM): umm usully bout 10 or 11


lorne_a_20014

(09/17/07 10:05:24 PM): wow, you stay up late
kayla_princess94 (09/17/07 10:05:51 PM): im suppose 2 b in bed by 10 but i sneak sumtimes lol


lorne_a_20014

(09/17/07 10:05:57 PM): lol


lorne_a_20014

(09/17/07 10:06:02 PM): naughty girl lol
kayla_princess94 (09/17/07 10:06:07 PM): lol
kayla_princess94 (09/17/07 10:06:09 PM): yeah


lorne_a_20014

(09/17/07 10:06:31 PM): i'm guessing that you must have your computer in your bedroom then huh?lol
kayla_princess94 (09/17/07 10:06:43 PM): yeah


lorne_a_20014

(09/17/07 10:06:46 PM): lol


lorne_a_20014

(09/17/07 10:06:54 PM): uh ohhh lol


lorne_a_20014

(09/17/07 10:07:18 PM): that means you get extra tired in the mornings lol
kayla_princess94 (09/17/07 10:07:19 PM): wat
kayla_princess94 (09/17/07 10:07:36 PM): lol


lorne_a_20014

(09/17/07 10:07:40 PM): what time do you wake up in the mornings?
kayla_princess94 (09/17/07 10:07:56 PM): umm bout 6


lorne_a_20014

(09/17/07 10:08:22 PM): do you always sneak online after you're suppose to go to bed?
kayla_princess94 (09/17/07 10:08:31 PM): sumtimes


lorne_a_20014

(09/17/07 10:08:36 PM): lol
kayla_princess94 (09/17/07 10:08:50 PM): im quiet
kayla_princess94 (09/17/07 10:08:52 PM): lol


lorne_a_20014

(09/17/07 10:08:54 PM): lol


lorne_a_20014

(09/17/07 10:09:11 PM): you make sure the volumes down and everything?lol
kayla_princess94 (09/17/07 10:09:27 PM): i turn it off lol


lorne_a_20014

(09/17/07 10:09:30 PM): lol


lorne_a_20014

(09/17/07 10:09:49 PM): this is your first time you've ever been in a chat room?
kayla_princess94 (09/17/07 10:10:10 PM): yeah
kayla_princess94 (09/17/07 10:10:17 PM): u go in there lots


lorne_a_20014

(09/17/07 10:10:24 PM): yup


lorne_a_20014

(09/17/07 10:10:35 PM): when i don't have anything else to do
kayla_princess94 (09/17/07 10:10:41 PM): lol


lorne_a_20014

(09/17/07 10:10:54 PM): how do you like the chat room so far?
kayla_princess94 (09/17/07 10:11:13 PM): lol i havent looked at it


lorne_a_20014

(09/17/07 10:11:18 PM): lol


lorne_a_20014

(09/17/07 10:11:27 PM): too busy concentrating on me?lol
kayla_princess94 (09/17/0710:11:47 PM): lol
kayla_princess94 (09/17/07 10:11:52 PM): looks like dumb stuff


lorne_a_20014

(09/17/07 10:11:57 PM): lol


lorne_a_20014

(09/17/07 10:12:11 PM): have you read any of it?
kayla_princess94 (09/17/07 10:12:36 PM): no i am lookin at it now


lorne_a_20014

(09/17/07 10:12:43 PM): ok lol


lorne_a_20014

(09/17/07 10:13:13 PM): has anyone else sent you a message besides me from the chat room?
kayla_princess94 (09/17/07 10:13:32 PM): yeah but i closed em lol


lorne_a_20014

(09/17/07 10:13:36 PM): lol
kayla_princess94 (09/17/07 10:13:47 PM): wat they mean by a purv wats that


lorne_a_20014

(09/17/07 10:13:56 PM): hmm lol


lorne_a_20014

(09/17/07 10:14:12 PM): ok, i'll tell you lol


lorne_a_20014

(09/17/07 10:14:40 PM): it's when they talk about sex, some people think it's perverted
kayla_princess94 (09/17/07 10:14:52 PM): k


lorne_a_20014

(09/17/07 10:15:01 PM): in other words that's all they want to talk about


lorne_a_20014

(09/17/07 10:15:16 PM): know what i mean now?
kayla_princess94 (09/17/07 10:15:42 PM): k i guess
kayla_princess94 (09/17/07 10:15:53 PM): they wanna talk bout it
kayla_princess94 (09/17/07 10:15:56 PM): lol


lorne_a_20014

(09/17/07 10:16:00 PM): yup lol


lorne_a_20014

(09/17/07 10:16:02 PM): alot lol


lorne_a_20014

(09/17/07 10:16:10 PM): brb, i need another drink of water
kayla_princess94 (09/17/07 10:16:18 PM): k


lorne_a_20014

(09/17/07 10:16:45 PM): back
kayla_princess94 (09/17/07 10:17:02 PM): that was fast


lorne_a_20014

(09/17/07 10:17:07 PM): i'm good lol


lorne_a_20014

(09/17/07 10:17:18 PM): did you miss me?lol
kayla_princess94 (09/17/07 10:17:29 PM): lol
kayla_princess94 (09/17/07 10:17:34 PM): u werent gone very long


lorne_a_20014

(09/17/07 10:17:38 PM): lol


lorne_a_20014

(09/17/07 10:17:44 PM): that's because i'm good lol
kayla_princess94 (09/17/07 10:17:51 PM): lol


lorne_a_20014

(09/17/07 10:18:11 PM): ok, so what else are we gonna talk about?lol
kayla_princess94 (09/17/07 10:18:20 PM): idk
kayla_princess94 (09/17/07 10:18:24 PM): wats ur name


lorne_a_20014

(09/17/07 10:18:34 PM): L o r n e


lorne_a_20014

(09/17/07 10:18:23 PM): i'm gonnaguess yours is kayla?


lorne_a_20014

(09/17/07 10:18:24 PM): lol
kayla_princess94 (09/17/07 10:20:22 PM): i got booted but im back
kayla_princess94 (09/17/07 10:20:23 PM): lol


lorne_a_20014

(09/17/07 10:20:27 PM): ok lol
kayla_princess94 (09/17/07 10:20:29 PM): now wat was u saying


lorne_a_20014

(09/17/07 10:20:53 PM): i'm gonna guess yours is kayla?


lorne_a_20014

(09/17/07 10:21:03 PM): hi again:-h
kayla_princess94 (09/17/07 10:21:12 PM): yeah lol


lorne_a_20014

(09/17/07 10:21:15 PM): lol


lorne_a_20014

(09/17/07 10:21:38 PM): don't tell me your last name........don't EVER tell anybody from the internet your last name ok?
kayla_princess94 (09/17/07 10:21:52 PM): k
kayla_princess94 (09/17/07 10:21:52 PM): y


lorne_a_20014

(09/17/07 10:22:27 PM): because there are some real weirdos on here some times and they might try to go looking for you
kayla_princess94 (09/17/07 10:23:03 PM): wow really


lorne_a_20014

(09/17/07 10:23:07 PM): so don't ever tell them your last name, your address, your phone number, the town you live in or the school you go to
kayla_princess94 (09/17/07 10:23:15 PM): k
kayla_princess94 (09/17/07 10:23:20 PM): r u a wierdo


lorne_a_20014

(09/17/07 10:23:26 PM): lol


lorne_a_20014

(09/17/07 10:23:27 PM): no lol
kayla_princess94 (09/17/07 10:23:32 PM): k


lorne_a_20014

(09/17/07 10:23:35 PM): does it sound like i am?lol
kayla_princess94 (09/17/07 10:23:45 PM): no lol


lorne_a_20014

(09/17/07 10:23:51 PM): ok lol


lorne_a_20014

(09/17/07 10:24:10 PM): if i was i never would have told you to never tell anyone all of your information lol
kayla_princess94 (09/17/07 10:24:19 PM): k


lorne_a_20014

(09/17/07 10:24:30 PM): i'm VERY happy that you talked to me before talking to anyone else though


lorne_a_20014

(09/17/07 10:24:39 PM): this way i know you'll be safe
kayla_princess94 (09/17/07 10:24:50 PM): yeah there wierdos


lorne_a_20014

(09/17/07 10:24:57 PM): yeah they ae


lorne_a_20014

(09/17/07 10:24:58 PM): are


lorne_a_20014

(09/17/07 10:25:08 PM): there's alot of them too
kayla_princess94 (09/17/07 10:25:18 PM): there r


lorne_a_20014

(09/17/07 10:25:24 PM): yup
kayla_princess94 (09/17/07 10:25:33 PM): wow


lorne_a_20014

(09/17/07 10:25:45 PM): nobody's ever said anything to you about the internet?
kayla_princess94 (09/17/07 10:25:55 PM): no
kayla_princess94 (09/17/07 10:25:56 PM): like wat


lorne_a_20014

(09/17/07 10:25:59 PM): wow


lorne_a_20014

(09/17/07 10:26:09 PM): i'm surprised your mom and dad haven't


lorne_a_20014

(09/17/07 10:26:28 PM): about all the wierdos on it and what happens on it
kayla_princess94 (09/17/07 10:26:57 PM): wat happens on it


lorne_a_20014

(09/17/07 10:27:59 PM): girls have given guys their information like their address and home phone number and stuff and the guys would find them and do bad things to them
kayla_princess94 (09/17/07 10:28:15 PM): really
kayla_princess94 (09/17/07 10:28:17 PM): like wat


lorne_a_20014

(09/17/07 10:28:33 PM): do you know what rape is?
kayla_princess94 (09/17/07 10:28:57 PM): umm yeah


lorne_a_20014

(09/17/07 10:29:28 PM): well they rape them and some women and girls have even gotten killed
kayla_princess94 (09/17/07 10:29:54 PM): WOW


lorne_a_20014

(09/17/07 10:30:15 PM): so........promise me you NEVER give your information out to anyone ok?
kayla_princess94 (09/17/07 10:30:36 PM): k
kayla_princess94 (09/17/07 10:30:38 PM): i promise
kayla_princess94 (09/17/07 10:30:41 PM): never


lorne_a_20014

(09/17/07 10:30:42 PM): thank you


lorne_a_20014

(09/17/07 10:30:46 PM): @};-


lorne_a_20014

(09/17/07 10:31:12 PM): are you happy you got to talk to me before anyone else now?lol
kayla_princess94 (09/17/07 10:31:22 PM): yeah
kayla_princess94 (09/17/07 10:31:24 PM): 4shur


lorne_a_20014

(09/17/07 10:31:28 PM): good lol


lorne_a_20014

(09/17/07 10:32:01 PM): you'll also get some people that will send you messages that will say dirty things on them too
kayla_princess94 (09/17/07 10:32:15 PM): :)


lorne_a_20014

(09/17/07 10:32:20 PM): lol
kayla_princess94 (09/17/07 10:32:22 PM): really


lorne_a_20014

(09/17/07 10:32:23 PM): hmm lol


lorne_a_20014

(09/17/07 10:32:37 PM): that smiley face, does that mean you want them to?lol
kayla_princess94 (09/17/07 10:32:47 PM): i was smiling cuz im gladi talk 2 u 1st


lorne_a_20014

(09/17/07 10:32:57 PM): ok lol


lorne_a_20014

(09/17/07 10:33:37 PM): are you sure that's not just because i'm cute?lol
kayla_princess94 (09/17/07 10:33:52 PM): lol mayb


lorne_a_20014

(09/17/07 10:33:55 PM): lol


lorne_a_20014

(09/17/07 10:34:08 PM): do you have a crush onme??lol
kayla_princess94 (09/17/07 10:34:28 PM): lol i dont know u yet


lorne_a_20014

(09/17/07 10:34:32 PM): lol


lorne_a_20014

(09/17/07 10:34:37 PM): >:D<


lorne_a_20014

(09/17/07 10:34:48 PM): know what that little thing is?
kayla_princess94 (09/17/07 10:35:04 PM): a hug:\">


lorne_a_20014

(09/17/0710:35:09 PM): yup lol
kayla_princess94 (09/17/07 10:35:14 PM): >:D<


lorne_a_20014

(09/17/07 10:35:18 PM): you're so cute lol
kayla_princess94 (09/17/07 10:35:25 PM): thanx so r u


lorne_a_20014

(09/17/07 10:35:35 PM): thank you lol
kayla_princess94 (09/17/07 10:35:54 PM): wow u smoke


lorne_a_20014

(09/17/07 10:36:04 PM): yup, you didn't notice that before?


lorne_a_20014

(09/17/07 10:36:06 PM): lol
kayla_princess94 (09/17/07 10:36:13 PM): lol no


lorne_a_20014

(09/17/07 10:36:17 PM): lol
kayla_princess94 (09/17/07 10:36:24 PM): my parents say its bad bad 4 u


lorne_a_20014

(09/17/07 10:36:51 PM): it is bad for you, so don't ever do it because it's the dumbest thing i ever started doing


lorne_a_20014

(09/17/07 10:36:56 PM): i wish i never started it now


lorne_a_20014

(09/17/07 10:37:02 PM): but it's hard to quit
kayla_princess94 (09/17/07 10:37:23 PM): hmm if u no its bad y did u start doing it


lorne_a_20014

(09/17/07 10:37:55 PM): just to try and be like my older brothers and sister because some of them smoked


lorne_a_20014

(09/17/07 10:38:02 PM): and i thought it would make me look older
kayla_princess94 (09/17/07 10:38:19 PM): thats silly


lorne_a_20014

(09/17/07 10:38:26 PM): the only thing it did was make me lose my breath easier


lorne_a_20014

(09/17/07 10:38:46 PM): i'm a very healthy person except for the smoking


lorne_a_20014

(09/17/07 10:38:55 PM): it's the dumbest thing anyone could ever start doing
kayla_princess94 (09/17/07 10:39:09 PM): then u shuld stop doing it lol

lorne_a_20014

(09/17/07 10:39:20 PM): i'm going to, i have to soon anyway


lorne_a_20014

(09/17/07 10:39:35 PM): i'm in nashville because i'm trying to make it in country music
kayla_princess94 (09/17/07 10:39:46 PM): wow really


lorne_a_20014

(09/17/07 10:39:47 PM): i'm originally from maine


lorne_a_20014

(09/17/07 10:39:50 PM): yup
kayla_princess94 (09/17/07 10:39:55 PM): kewl


lorne_a_20014

(09/17/07 10:40:02 PM): you know where maine is right?
kayla_princess94 (09/17/07 10:40:08 PM): yeah


lorne_a_20014

(09/17/07 10:40:12 PM): ok lol
kayla_princess94 (09/17/07 10:40:12 PM): up north


lorne_a_20014

(09/17/07 10:40:16 PM): yup


lorne_a_20014

(09/17/07 10:40:46 PM): had to make sure you knew, but i should have known that you knew because you've probably studied it in school


lorne_a_20014

(09/17/07 10:40:47 PM): lol
kayla_princess94 (09/17/07 10:40:58 PM): yeah
kayla_princess94 (09/17/07 10:41:01 PM): thats far


lorne_a_20014

(09/17/07 10:41:07 PM): yup


lorne_a_20014

(09/17/07 10:41:16 PM): i drove all the way down here
kayla_princess94 (09/17/07 10:41:25 PM): wow
kayla_princess94 (09/17/07 10:41:38 PM): how long it take u long time i bet like days


lorne_a_20014

(09/17/07 10:41:50 PM):it took me 18 hours


lorne_a_20014

(09/17/07 10:42:13 PM): i drove from washington state to maine before and it took me 3 days


lorne_a_20014

(09/17/07 10:42:30 PM): but i stopped in hotels at night though
kayla_princess94 (09/17/07 10:42:48 PM): u must drive really fast it looks far on the maps


lorne_a_20014

(09/17/07 10:43:16 PM): i drove about 10 miles an hour over the speed limit lol
kayla_princess94 (09/17/07 10:43:24 PM): lol


lorne_a_20014

(09/17/07 10:43:41 PM): i had to, i was getting tired of driving and just wanted to get here lol
kayla_princess94 (09/17/07 10:44:08 PM): lol


lorne_a_20014

(09/17/07 10:44:19 PM): so how many boys have you kissed already?lol
kayla_princess94 (09/17/07 10:44:27 PM): umm just 1


lorne_a_20014

(09/17/07 10:44:31 PM): lol
kayla_princess94 (09/17/07 10:44:33 PM): my exbf


lorne_a_20014

(09/17/07 10:44:39 PM): how old is he?
kayla_princess94 (09/17/07 10:44:48 PM): 13 like me


lorne_a_20014

(09/17/07 10:44:53 PM): cool


lorne_a_20014

(09/17/07 10:45:01 PM): was he a good kisser?lol
kayla_princess94 (09/17/07 10:45:11 PM): i guess


lorne_a_20014

(09/17/07 10:45:14 PM): lol
kayla_princess94 (09/17/07 10:45:31 PM): dont know cuz i never kiss any1 else lol


lorne_a_20014

(09/17/07 10:45:36 PM): lol


lorne_a_20014

(09/17/07 10:45:47 PM): did you like kissing him?lol
kayla_princess94 (09/17/07 10:45:53 PM): yeah
kayla_princess94 (09/17/07 10:45:56 PM): i shur did


lorne_a_20014

(09/17/07 10:45:56 PM): lol


lorne_a_20014

(09/17/07 10:46:16 PM): how long ago was that?
kayla_princess94 (09/17/07 10:47:07 PM): we brokeup in august:(


lorne_a_20014

(09/17/07 10:47:26 PM): awww, i'm sorry sweetheart>:D<@};-


lorne_a_20014

(09/17/07 10:47:38 PM): why did you break up?
kayla_princess94 (09/17/07 10:48:19 PM): yeah its me i brokeup with him cuz my bff told mehe like sum1 else but he said she was lieing but his friend tell me the same thing idk mayb he didnt


lorne_a_20014

(09/17/07 10:49:00 PM): hmm........sounds like you might have done the right thing
kayla_princess94 (09/17/07 10:49:09 PM): u think so


lorne_a_20014

(09/17/07 10:49:47 PM): i think youmight have but it's hard to tell without knowing the exact truth......who's lying and who's not lying
kayla_princess94 (09/17/07 10:49:59 PM): yeah i know


lorne_a_20014

(09/17/07 10:50:29 PM): so where did you kiss him at? let me guess.......at a school dance?lol
kayla_princess94 (09/17/07 10:51:08PM): umm let me think i think we did 1 time there lol


lorne_a_20014

(09/17/07 10:51:15 PM): lol
kayla_princess94 (09/17/07 10:51:23 PM): and at my house and at his house


lorne_a_20014

(09/17/07 10:51:31 PM): :-O


lorne_a_20014

(09/17/07 10:51:34 PM): lol
kayla_princess94 (09/17/07 10:51:45 PM): loly u make that face


lorne_a_20014

(09/17/07 10:52:08 PM): because i was surprised to hear that you kissed him at your house and his house too lol
kayla_princess94 (09/17/07 10:52:20 PM): y u surprize


lorne_a_20014

(09/17/07 10:52:46 PM): because i wasn't expecting that you'd go to his house or thathe'd go to your house yet lol
kayla_princess94 (09/17/07 10:53:06 PM): y wuldnt we


lorne_a_20014

(09/17/07 10:53:26 PM): how long was he your boyfriend?


lorne_a_20014

(09/17/07 10:53:57 PM): because of your age, i didn't know if you both would be too shy still to go to eachothers houses lol
kayla_princess94 (09/17/07 10:54:16 PM): hmm bout 3 months i think


lorne_a_20014

(09/17/07 10:54:21 PM): oh
kayla_princess94 (09/17/07 10:54:30 PM): y he doesnt live that far from me


lorne_a_20014

(09/17/07 10:54:37 PM): oh ok


lorne_a_20014

(09/17/07 10:54:57 PM): so where at your house and at his house did you kiss him?lol
kayla_princess94 (09/17/07 10:55:09 PM): living room


lorne_a_20014

(09/17/07 10:55:13 PM): lol


lorne_a_20014

(09/17/07 10:55:21 PM): where was mom and dad?lol
kayla_princess94 (09/17/07 10:55:42 PM): not home;)


lorne_a_20014

(09/17/07 10:55:48 PM): :-O
kayla_princess94 (09/17/07 10:56:00 PM): dont tell


lorne_a_20014

(09/17/07 10:56:07 PM): did you do anything else with him? lol


lorne_a_20014

(09/17/07 10:56:26 PM): i'm not going to tell, who would i tell? i don't know your parents lol
kayla_princess94 (09/17/07 10:56:54 PM): o yeah lol


lorne_a_20014

(09/17/07 10:57:10 PM): you did??:-O


lorne_a_20014

(09/17/07 10:57:12 PM): lol


lorne_a_20014

(09/17/07 10:57:16 PM): what did you do??lol
kayla_princess94 (09/17/07 10:57:17 PM): did wat
kayla_princess94 (09/17/07 10:57:22 PM): huh


lorne_a_20014

(09/17/07 10:57:34 PM): oh, you missed one of my questions there lol
kayla_princess94 (09/17/07 10:57:47 PM): i did
kayla_princess94 (09/17/07 10:57:50 PM): wat was it


lorne_a_20014

(09/17/07 10:57:51 PM): i asked you if you did anything else with him lol
kayla_princess94 (09/17/07 10:58:25 PM): hmm we watch tv movies go 2 the mall go 2 eat places stuff like that


lorne_a_20014

(09/17/07 10:58:45 PM): i mean when you were kissing lol
kayla_princess94 (09/17/07 10:58:58 PM): o lol


lorne_a_20014

(09/17/07 10:59:01 PM): lol
kayla_princess94 (09/17/07 10:59:39 PM): like just kissing and hugging he use 2 hold my hand a lot 2


lorne_a_20014

(09/17/07 10:59:50 PM): ok, good lolkayla_princess94 (09/17/07 11:00:17 PM): y thats good


lorne_a_20014

(09/17/07 11:00:38 PM): because some kids your age have done alot more than that
kayla_princess94 (09/17/07 11:00:52 PM): yeah i know


lorne_a_20014

(09/17/07 11:00:58 PM): ok lol


lorne_a_20014

(09/17/07 11:01:06 PM): so how much doyou know?lol
kayla_princess94 (09/17/07 11:01:22 PM): wat u mean


lorne_a_20014

(09/17/07 11:01:45 PM): how much do you know about what's done with kissing and other stuff?lol
kayla_princess94 (09/17/07 11:02:19 PM): wats 2 know bout kissing u just kiss


lorne_a_20014

(09/17/07 11:02:27 PM): lol


lorne_a_20014

(09/17/07 11:02:40 PM): never mind, i wont ask any more lol


lorne_a_20014

(09/17/07 11:02:55 PM): i love your innocents, it's so cute lol
kayla_princess94 (09/17/07 11:03:12 PM): huh


lorne_a_20014

(09/17/07 11:03:16 PM): lol


lorne_a_20014

(09/17/07 11:03:25 PM): did i get you lost there?lolkayla_princess94 (09/17/07 11:03:32 PM): umm yeah kinda


lorne_a_20014

(09/17/07 11:03:35 PM): lol


lorne_a_20014

(09/17/07 11:04:00 PM): ok, do you want me to explain it to you?lol
kayla_princess94 (09/17/07 11:04:09 PM): yeah


lorne_a_20014

(09/17/07 11:04:12 PM): ok lol


lorne_a_20014

(09/17/07 11:04:36 PM): innocents is when you don't know anything about sexual stuff lol
kayla_princess94 (09/17/07 11:04:45 PM): o


lorne_a_20014

(09/17/07 11:04:46 PM): i think it's so adorable lol
kayla_princess94 (09/17/07 11:05:09 PM): wats so adorable
kayla_princess94 (09/17/07 11:05:15 PM): k u think im dumb


lorne_a_20014

(09/17/07 11:05:39 PM): NOOOOOOOOOOOO........not at all........you're a very smart girl


lorne_a_20014

(09/17/07 11:06:30 PM): what's adorable is that you don't know much about that stuff yet and that's very awesome because it means that you're using your head and will find out when it's time
kayla_princess94 (09/17/07 11:06:34 PM): :)


lorne_a_20014

(09/17/07 11:06:42 PM): @};-


lorne_a_20014

(09/17/07 11:07:04 PM): did i get you to wondering about that stuff now though?lol
kayla_princess94 (09/17/07 11:07:29 PM): yeah


lorne_a_20014

(09/17/07 11:07:36 PM): uh oh lol
lorne_a_20014(09/17/07 11:07:42 PM): i ruined it lol


lorne_a_20014

(09/17/07 11:07:46 PM): i'm sorry lol
kayla_princess94 (09/17/07 11:07:48 PM): ruined wat


lorne_a_20014

(09/17/07 11:07:58 PM): ruined your innocents about it lol


lorne_a_20014

(09/17/07 11:08:07 PM): ruined your not knowing about it lol


lorne_a_20014

(09/17/07 11:08:11 PM): now you're curious lol
kayla_princess94 (09/17/07 11:08:24 PM): well i know stuff


lorne_a_20014

(09/17/07 11:08:36 PM): ok, tell me what you know lol
kayla_princess94 (09/17/07 11:08:55 PM): well not really but i know sum1 who does


lorne_a_20014

(09/17/07 11:09:04 PM): who?
kayla_princess94 (09/17/07 11:09:18 PM): jessie


lorne_a_20014

(09/17/07 11:09:25 PM): who's she?
kayla_princess94 (09/17/07 11:09:35 PM): my bff


lorne_a_20014

(09/17/07 11:09:47 PM): how much does he know?
kayla_princess94 (09/17/07 11:10:06 PM): roflmao=))


lorne_a_20014

(09/17/07 11:10:10 PM): lol
kayla_princess94 (09/17/07 11:10:13 PM): jessies a grl


lorne_a_20014

(09/17/07 11:10:20 PM): lmao
kayla_princess94 (09/17/07 11:10:21 PM): shes my best grlfriend


lorne_a_20014

(09/17/07 11:10:28 PM): oh ok lol


lorne_a_20014

(09/17/07 11:11:06 PM): you put bff and i got boyfriend out of it butit's suppose to be bff best friends forever lol


lorne_a_20014

(09/17/07 11:11:15 PM): oopsie lol
kayla_princess94 (09/17/07 11:11:29 PM): lol
kayla_princess94 (09/17/07 11:11:54 PM): anyways she knows cuz she has experience


lorne_a_20014

(09/17/07 11:12:04 PM): what has she done?
kayla_princess94 (09/17/07 11:12:19 PM): umm u know


lorne_a_20014

(09/17/07 11:12:25 PM): lol


lorne_a_20014

(09/17/07 11:12:35 PM): do you want to know about it?
kayla_princess94 (09/17/07 11:12:41 PM): yeah


lorne_a_20014

(09/17/07 11:12:54 PM): do you want me to tell you about it?
kayla_princess94 (09/17/07 11:13:00PM): yeah


lorne_a_20014

(09/17/07 11:13:03 PM): lmao


lorne_a_20014

(09/17/07 11:13:13 PM): why me?lol
kayla_princess94 (09/17/07 11:13:20 PM): idk
kayla_princess94 (09/17/07 11:13:22 PM): lol


lorne_a_20014

(09/17/07 11:13:24 PM): lol


lorne_a_20014

(09/17/07 11:13:27 PM): ok


lorne_a_20014

(09/17/0711:13:52 PM): do you know what it's called on a boy?
kayla_princess94 (09/17/07 11:14:18 PM): wat wats called


lorne_a_20014

(09/17/07 11:14:37 PM): i'm sure you must know that, a boys penis


lorne_a_20014

(09/17/07 11:14:44 PM): his pp lol


lorne_a_20014

(09/17/07 11:14:50 PM): brb, i need a drink lolkayla_princess94 (09/17/07 11:14:50 PM): lol yeah
kayla_princess94 (09/17/07 11:14:55 PM): k


lorne_a_20014

(09/17/07 11:15:27 PM): back
kayla_princess94 (09/17/07 11:15:40 PM): k


lorne_a_20014

(09/17/07 11:15:56 PM): i bet you're paying alot of attention now huh?lol
kayla_princess94 (09/17/07 11:16:06 PM): ya


lorne_a_20014

(09/17/07 11:16:09 PM): lol


lorne_a_20014

(09/17/07 11:16:47 PM): ok............when a boy and girl have sex, the boy sticks his penis in her vagina


lorne_a_20014

(09/17/07 11:17:06 PM): following me so far?lol
kayla_princess94 (09/17/07 11:17:17 PM): umm i know that


lorne_a_20014

(09/17/07 11:17:35 PM): ok........well what don't you know then??lol
kayla_princess94 (09/17/07 11:17:58 PM): wats it like i mean is it fun


lorne_a_20014

(09/17/07 11:18:28 PM): don't you do this with a boy until you're ready to ok?
kayla_princess94 (09/17/07 11:18:36 PM): k
kayla_princess94 (09/17/07 11:19:00 PM): jessie say it hurt 1st time but then its ok


lorne_a_20014

(09/17/07 11:19:02 PM): sorry, i got booted


lorne_a_20014

(09/17/07 11:19:42 PM): promise me you wont do it until you're absolutely ready to ok?
kayla_princess94 (09/17/07 11:19:55 PM): k


lorne_a_20014

(09/17/07 11:20:10 PM): did my cam go through for you?
kayla_princess94 (09/17/07 11:20:26 PM): no


lorne_a_20014

(09/17/07 11:20:58 PM): hi again:-hlol
kayla_princess94 (09/17/07 11:21:13 PM): hi


lorne_a_20014

(09/17/07 11:21:25 PM): ok, it does hurt a girl the first time
kayla_princess94 (09/17/07 11:21:35 PM): thats kinda scary


lorne_a_20014

(09/17/07 11:21:50 PM): have you ever experimented with it?


lorne_a_20014

(09/17/07 11:22:06 PM): hmmm......i should re word that lol


lorne_a_20014

(09/17/07 11:22:32 PM): how should i say this lol


lorne_a_20014

(09/17/07 11:22:55 PM): have you ever touched yourself down there?
kayla_princess94 (09/17/07 11:23:12 PM): huh


lorne_a_20014

(09/17/07 11:23:16 PM): lol
kayla_princess94 (09/17/07 11:23:17 PM): touch myself


lorne_a_20014

(09/17/07 11:23:39 PM): girls touch themselves down there because it feels good to them lol
kayla_princess94 (09/17/07 11:23:53 PM): really


lorne_a_20014

(09/17/07 11:23:54 PM): they rub it


lorne_a_20014

(09/17/07 11:23:57 PM): yup


lorne_a_20014

(09/17/07 11:24:09 PM): are you trying it now?lol
kayla_princess94 (09/17/07 11:24:25 PM): noooo


lorne_a_20014

(09/17/07 11:24:29 PM): ok lol


lorne_a_20014

(09/17/07 11:24:51 PM): ok, but you're curious about how it feels having sex right?
kayla_princess94 (09/17/07 11:25:07 PM): yeah


lorne_a_20014

(09/17/07 11:25:46 PM): ok, the only way for you to really have an idea of what it's like without having sex with a boy


lorne_a_20014

(09/17/07 11:25:49 PM): is to


lorne_a_20014

(09/17/07 11:25:55 PM): are you ready for this?
kayla_princess94 (09/17/07 11:26:06 PM): yeah


lorne_a_20014

(09/17/07 11:26:34 PM): take your finger and push it in your vagina


lorne_a_20014

(09/17/07 11:26:35 PM): lol


lorne_a_20014

(09/17/07 11:26:40 PM): there i said it lol


lorne_a_20014

(09/17/07 11:26:49 PM): i had a hard time telling you that lol
kayla_princess94 (09/17/07 11:26:52 PM): ewww


lorne_a_20014

(09/17/07 11:26:56 PM): lol


lorne_a_20014

(09/17/07 11:27:10 PM): girls do it all the time lol
kayla_princess94 (09/17/07 11:27:21 PM): really
kayla_princess94 (09/17/07 11:27:23 PM): u shur


lorne_a_20014

(09/17/07 11:27:24 PM): yup


lorne_a_20014

(09/17/07 11:27:28 PM): i'm positive
kayla_princess94 (09/17/07 11:27:43 PM): idk i dont think my friends do


lorne_a_20014

(09/17/07 11:28:00 PM): well, believe me, if they don't yet then they will


lorne_a_20014

(09/17/07 11:28:40 PM): even if they do they probably wouldn't say that they do anyway lol


lorne_a_20014

(09/17/07 11:28:58 PM): it's not really something that someone goes and tells all their friends about lol
kayla_princess94 (09/17/07 11:29:12 PM): yeah


lorne_a_20014

(09/17/07 11:29:23 PM): are you curious now?lol
kayla_princess94 (09/17/07 11:29:31 PM): yeah


lorne_a_20014

(09/17/07 11:29:41 PM): are you going to try it?lol
kayla_princess94 (09/17/07 11:29:49 PM): idk


lorne_a_20014

(09/17/07 11:29:52 PM): lol
kayla_princess94 (09/17/07 11:29:53 PM): like now


lorne_a_20014

(09/17/07 11:30:28 PM): yup, try it right now, justput it in a little ways and you can see how it feels a little
kayla_princess94 (09/17/07 11:30:46 PM): well
kayla_princess94 (09/17/07 11:30:49 PM): o
kayla_princess94 (09/17/07 11:30:51 PM): k


lorne_a_20014

(09/17/07 11:30:54 PM): lol
kayla_princess94 (09/17/07 11:31:17 PM): i feel weird
kayla_princess94 (09/17/07 11:31:19 PM): lol


lorne_a_20014

(09/17/07 11:31:21 PM): lol


lorne_a_20014

(09/17/07 11:31:30 PM): don't put it in fast though, do it slow
kayla_princess94 (09/17/07 11:31:38 PM): k


lorne_a_20014

(09/17/07 11:32:09 PM): tell me when you're done
kayla_princess94 (09/17/07 11:32:16 PM): im done


lorne_a_20014

(09/17/07 11:32:24 PM): how did it feel?
kayla_princess94 (09/17/07 11:32:31 PM): kinda kewl


lorne_a_20014

(09/17/07 11:32:35 PM): omg lol
kayla_princess94 (09/17/07 11:32:36 PM): :\">


lorne_a_20014

(09/17/07 11:32:52 PM): how far did you put it in?
kayla_princess94 (09/17/0711:33:04 PM): not far i was scared 2


lorne_a_20014

(09/17/07 11:33:31 PM): ok, now do it again and put it further in
kayla_princess94 (09/17/07 11:33:43 PM): k


lorne_a_20014

(09/17/07 11:33:50 PM): tell me when you're done
kayla_princess94 (09/17/07 11:34:09 PM): k


lorne_a_20014

(09/17/07 11:34:21PM): how much further did you put it in?
kayla_princess94 (09/17/07 11:34:34 PM): little bit
kayla_princess94 (09/17/07 11:34:39 PM): i feel wierd doing this


lorne_a_20014

(09/17/07 11:34:43 PM): lol


lorne_a_20014

(09/17/07 11:34:55 PM): you're alright, it's just you doing it to you lol


lorne_a_20014

(09/17/07 11:35:07 PM): how did you feel that time?
kayla_princess94 (09/17/07 11:35:15 PM): it was ok
kayla_princess94 (09/17/07 11:35:21 PM): do i gotta do this


lorne_a_20014

(09/17/07 11:35:33 PM): not if you don't want to sweetheart


lorne_a_20014

(09/17/07 11:35:45 PM): do you want to do it any more?
kayla_princess94 (09/17/07 11:35:53 PM): not really


lorne_a_20014

(09/17/07 11:36:02 PM): ok, then don't do it @};-
kayla_princess94 (09/17/07 11:36:09 PM): k ty


lorne_a_20014

(09/17/07 11:36:12 PM): >:D<


lorne_a_20014

(09/17/07 11:36:17 PM): yvw
kayla_princess94 (09/17/07 11:36:25 PM): awwkayla_princess94 (09/17/07 11:36:28 PM): >:D<


lorne_a_20014

(09/17/07 11:36:36 PM): do you feel better knowing a little more about it?


lorne_a_20014

(09/17/07 11:36:38 PM): lol
kayla_princess94 (09/17/07 11:36:44 PM): yeah


lorne_a_20014

(09/17/07 11:36:50 PM): ok, good lol


lorne_a_20014

(09/17/07 11:37:02 PM): have you ever seen a boys penis?
kayla_princess94 (09/17/07 11:37:31 PM): not irl


lorne_a_20014

(09/17/07 11:37:55 PM): what's \"not irl\"?lol
kayla_princess94 (09/17/07 11:38:02 PM): lol
kayla_princess94 (09/17/07 11:38:06 PM): in real life


lorne_a_20014

(09/17/07 11:38:10 PM): oh lol


lorne_a_20014

(09/17/07 11:38:16 PM): where have you seen one?
kayla_princess94 (09/17/07 11:38:24 PM): pics


lorne_a_20014

(09/17/07 11:38:30 PM): oh
kayla_princess94 (09/17/07 11:38:32 PM): :\">


lorne_a_20014

(09/17/07 11:38:34 PM): lol


lorne_a_20014

(09/17/07 11:38:44 PM): so you've been trying to see one then?lol
kayla_princess94 (09/17/07 11:38:53 PM): lol no
kayla_princess94 (09/17/07 11:39:38 PM): 1 of my gf had a mag an it had guys in it i 4get wat it was called anyways we were at a sleepover and we were lookin at it :\">


lorne_a_20014

(09/17/07 11:39:53 PM): lmao


lorne_a_20014

(09/17/07 11:40:02 PM): in other words you wanted to see one lol
kayla_princess94 (09/17/07 11:40:12 PM): well i guess


lorne_a_20014

(09/17/07 11:40:16 PM): lol
kayla_princess94 (09/17/07 11:40:24 PM): it was funny they was all naked


lorne_a_20014

(09/17/07 11:40:36 PM): the boys in the pics?
kayla_princess94(09/17/07 11:40:41 PM): yeah


lorne_a_20014

(09/17/07 11:40:57 PM): i usually am naked when i'm here at home lol
kayla_princess94 (09/17/07 11:41:07 PM): really
kayla_princess94 (09/17/07 11:41:09 PM): y


lorne_a_20014

(09/17/07 11:41:11 PM): yup


lorne_a_20014

(09/17/07 11:41:18 PM): because it's comfortable


lorne_a_20014

(09/17/07 11:41:21 PM): lol
kayla_princess94 (09/17/07 11:41:26 PM): o


lorne_a_20014

(09/17/07 11:41:54 PM): are you disappointed that i'm not naked right now?lol
kayla_princess94 (09/17/07 11:42:27 PM): idk


lorne_a_20014

(09/17/07 11:42:31 PM): lol
kayla_princess94 (09/17/07 11:42:39 PM): :\">y wuld i wanna c u like that


lorne_a_20014

(09/17/07 11:42:48 PM): lol


lorne_a_20014

(09/17/07 11:42:56 PM): because you're curious lol


lorne_a_20014

(09/17/07 11:43:20 PM): do you want to see me like that?lol
kayla_princess94 (09/17/07 11:43:40 PM): idk


lorne_a_20014

(09/17/07 11:43:47 PM): lol
kayla_princess94 (09/17/07 11:43:50 PM): i guess if u wanna show me


lorne_a_20014

(09/17/07 11:43:56 PM): lol


lorne_a_20014

(09/17/07 11:44:06 PM): i knew you were curious lol


lorne_a_20014

(09/17/07 11:44:18 PM): hang on i need to turn my a/c off
kayla_princess94 (09/17/07 11:44:33 PM): k


lorne_a_20014

(09/17/07 11:44:41 PM): ok, i'm back


lorne_a_20014

(09/17/07 11:44:45 PM): miss me?lol
kayla_princess94 (09/17/07 11:45:04 PM): lol u werent gone long


lorne_a_20014

(09/17/07 11:45:11 PM): i know, i'm good lol
kayla_princess94 (09/17/07 11:45:27 PM): lol


lorne_a_20014

(09/17/07 11:45:35 PM): so........want to see me like that?
kayla_princess94 (09/17/07 11:46:04 PM): k i guess


lorne_a_20014

(09/17/07 11:46:10 PM): ok


lorne_a_20014

(09/17/07 11:46:15 PM): :-$


lorne_a_20014

(09/17/07 11:46:19 PM): lol
kayla_princess94 (09/17/07 11:47:08 PM): omg


lorne_a_20014

(09/17/07 11:47:15 PM): feel better now?lol
kayla_princess94 (09/17/07 11:47:42 PM): lol
kayla_princess94 (09/17/07 11:47:50 PM): :\">


lorne_a_20014

(09/17/07 11:47:51 PM): how are you feeling?lol
kayla_princess94 (09/17/07 11:48:00 PM): embarras


lorne_a_20014

(09/17/07 11:48:05 PM): why?lol
kayla_princess94 (09/17/07 11:48:13 PM): cuz i saw u naked


lorne_a_20014

(09/17/07 11:48:17 PM): lol


lorne_a_20014

(09/17/07 11:48:40 PM): would you like to see it up close so you can get a better look at it?lol
kayla_princess94 (09/17/07 11:48:58 PM): omg i guess if u wanna show me


lorne_a_20014

(09/17/07 11:49:03 PM): lol


lorne_a_20014

(09/17/07 11:49:08 PM): :-$
kayla_princess94 (09/17/07 11:49:46 PM): shh wat
kayla_princess94 (09/17/07 11:50:31 PM): omg
kayla_princess94 (09/17/07 11:50:39 PM): :\">


lorne_a_20014

(09/17/07 11:50:43 PM): better now?lol


lorne_a_20014

(09/17/07 11:50:54 PM): shh don't tell anyone lolkayla_princess94 (09/17/07 11:50:59 PM): o
kayla_princess94 (09/17/07 11:51:02 PM): k i wont


lorne_a_20014

(09/17/07 11:51:21 PM): how did you like getting a better look at it?lol
kayla_princess94 (09/17/07 11:51:36 PM): it was pretty kewl i guess


lorne_a_20014

(09/17/07 11:51:41 PM): lol


lorne_a_20014

(09/17/07 11:52:15 PM): if it was daylight out i could put the cam right in a place where you could look at it all you wanted lol


lorne_a_20014

(09/17/07 11:52:42 PM): are you blushing?lol
kayla_princess94 (09/17/07 11:52:54 PM): yeah:\">


lorne_a_20014

(09/17/07 11:52:57 PM): lol


lorne_a_20014

(09/17/07 11:53:08 PM): want to see it more?lol
kayla_princess94 (09/17/07 11:53:24 PM): i guess if u wanna show it lol


lorne_a_20014

(09/17/07 11:53:28 PM): lol


lorne_a_20014

(09/17/07 11:53:37 PM): if you want to see it more i'll show it to you lol


lorne_a_20014

(09/17/07 11:53:45 PM): do you want to see it more?lol
kayla_princess94 (09/17/07 11:54:05 PM): u like showin urself naked


lorne_a_20014

(09/17/07 11:54:37 PM): well, just want you to know what it looks like if you want to know that lol
kayla_princess94 (09/17/07 11:54:44 PM): o
kayla_princess94 (09/17/07 11:54:57 PM): u show every1 utalk 1 urself naked


lorne_a_20014

(09/17/07 11:55:08 PM): nope, no way lol
kayla_princess94 (09/17/07 11:55:14 PM): k
kayla_princess94 (09/17/07 11:55:16 PM): was wonderin


lorne_a_20014

(09/17/07 11:55:20 PM): lol


lorne_a_20014

(09/17/07 11:55:32 PM): brb, gotta get another drink
kayla_princess94 (09/17/07 11:55:35 PM): k


lorne_a_20014

(09/17/07 11:56:13 PM): back
kayla_princess94 (09/17/07 11:56:18 PM): boy u must b thristy
kayla_princess94 (09/17/07 11:56:23 PM): u drink alot


lorne_a_20014

(09/17/07 11:56:24 PM): lol


lorne_a_20014

(09/17/07 11:56:41 PM): i usually drink coffee but i'm tryingto get rid of this cold lol
kayla_princess94 (09/17/07 11:56:49 PM): o


lorne_a_20014

(09/17/07 11:57:22 PM): i'm guessing you must have been watching close when i went to get a drink of water huh?lol
kayla_princess94 (09/17/07 11:57:38 PM): lol
kayla_princess94 (09/17/07 11:57:42 PM): i guess


lorne_a_20014

(09/17/07 11:57:45 PM): lol


lorne_a_20014

(09/17/07 11:58:22 PM): so how do you feel seeing it on something other than a pic?lol
kayla_princess94 (09/17/07 11:58:54 PM): hmm looks same lol


lorne_a_20014

(09/17/07 11:58:59 PM): lol


lorne_a_20014

(09/17/07 11:59:13 PM): how did you like seeing it?lol
kayla_princess94 (09/17/07 11:59:24 PM): its ok


lorne_a_20014

(09/17/07 11:59:28 PM): lol


lorne_a_20014

(09/17/07 11:59:48 PM): so how much are you wondering about now?lol
kayla_princess94 (09/18/07 12:00:03 AM): idk lol


lorne_a_20014

(09/18/07 12:00:07 AM): lol


lorne_a_20014

(09/18/07 12:00:22 AM): do you save your archives?
kayla_princess94 (09/18/07 12:00:29 AM): my wat


lorne_a_20014

(09/18/07 12:00:34 AM): archives
kayla_princess94 (09/18/07 12:00:40 AM): wats that


lorne_a_20014

(09/18/07 12:01:05 AM): it's when the conversations that you have with someone gets saved and you can go back and read them
kayla_princess94 (09/18/07 12:01:23 AM): o
kayla_princess94 (09/18/07 12:01:37 AM): idk
kayla_princess94 (09/18/07 12:01:41 AM): y wuld i go back and read them


lorne_a_20014

(09/18/07 12:01:48 AM): some people do


lorne_a_20014

(09/18/07 12:02:17 AM): ok, on your friends list, up top where it says contacts


lorne_a_20014

(09/18/07 12:02:22 AM): click on that


lorne_a_20014

(09/18/07 12:02:47 AM): then scroll down to where it says \"message archives\" and click on that
kayla_princess94 (09/18/07 12:03:03 AM): k


lorne_a_20014

(09/18/07 12:03:13 AM): do you see a box pop up?
kayla_princess94 (09/18/07 12:03:19 AM): yeah


lorne_a_20014

(09/18/07 12:03:27 AM): ok, what's on that box?
kayla_princess94 (09/18/07 12:03:50 AM): wow us talkin


lorne_a_20014

(09/18/07 12:03:54 AM): yeah lol


lorne_a_20014

(09/18/07 12:04:09 AM): now to delete that which is what you want to do lol
kayla_princess94 (09/18/07 12:04:16 AM): y


lorne_a_20014

(09/18/07 12:04:42 AM): do you want your parents to go on your computer and see everything we've talked about?lol
kayla_princess94 (09/18/07 12:04:51 AM): omg no


lorne_a_20014

(09/18/07 12:04:55 AM): ok then lol


lorne_a_20014

(09/18/07 12:05:00 AM): to delete that


lorne_a_20014

(09/18/07 12:05:11 AM): right click on my name


lorne_a_20014

(09/18/07 12:05:19 AM): then click on delete
kayla_princess94 (09/18/07 12:05:31 AM): k


lorne_a_20014

(09/18/07 12:05:35 AM): is it gone?
kayla_princess94 (09/18/07 12:05:57 AM): yep


lorne_a_20014

(09/18/0712:06:19 AM): ok, when we're done talking for the night before you log off , do it again ok?
kayla_princess94 (09/18/07 12:06:26 AM): k
kayla_princess94 (09/18/07 12:06:42 AM): umm how my parents gona read it they dont know my password lol


lorne_a_20014

(09/18/07 12:06:45 AM): wow.......that was a big sneeze lol


lorne_a_20014

(09/18/07 12:07:10 AM): never know, they could try to figure out your password
kayla_princess94 (09/18/07 12:07:12 AM): lol
kayla_princess94 (09/18/07 12:07:25 AM): hmm never thot bout that


lorne_a_20014

(09/18/07 12:07:56 AM): well, don't worry, i'll remind you of it allthe time because we don't need them seeing this stuff lol
kayla_princess94 (09/18/07 12:08:18 AM): k
kayla_princess94 (09/18/07 12:08:39 AM): yeah i wuld prolly get in trbl


lorne_a_20014

(09/18/07 12:08:50 AM): yeah.......and that wouldn't be good
kayla_princess94 (09/18/07 12:09:07 AM): yeah


lorne_a_20014

(09/18/07 12:09:09 AM): do you want to add me?
kayla_princess94 (09/18/07 12:09:21 AM): yeah
kayla_princess94 (09/18/07 12:10:10 AM): kewl


lorne_a_20014

(09/18/07 12:10:12 AM): ok, is moore your real last name?
kayla_princess94 (09/18/07 12:10:23 AM): yeah


lorne_a_20014

(09/18/07 12:11:14AM): ok, i'm gonna try to figure out tomorrow how you can fix that so you can put a fake last name on there.........don't add ANYBODY else on your list until i can tell you how to put a fake last name on there ok?
kayla_princess94 (09/18/07 12:11:42 AM): k
kayla_princess94 (09/18/07 12:11:42 AM): ykayla_princess94 (09/18/07 12:11:54 AM): only 1s on there r my friends and they know me lol


lorne_a_20014

(09/18/07 12:11:58 AM): because i don't want some wierdo trying to find you
kayla_princess94 (09/18/07 12:12:14 AM): o
kayla_princess94 (09/18/07 12:12:19 AM): yeah the weirdos


lorne_a_20014

(09/18/07 12:12:23 AM): ok, well don't add anyone else from the chat rooms


lorne_a_20014

(09/18/07 12:12:28 AM): ok?
kayla_princess94 (09/18/07 12:12:36 AM): k
kayla_princess94 (09/18/07 12:12:37 AM): k
kayla_princess94 (09/18/07 12:12:39 AM): got it


lorne_a_20014

(09/18/07 12:12:44 AM): good lol


lorne_a_20014

(09/18/07 12:12:51 AM): i'm very protective lol


lorne_a_20014

(09/18/07 12:13:10 AM): you don't mind that do you?lol
kayla_princess94 (09/18/07 12:13:27 AM): no


lorne_a_20014

(09/18/07 12:13:31 AM): good


lorne_a_20014

(09/18/07 12:13:36 AM): are you getting tired?
kayla_princess94 (09/18/07 12:13:47 AM): yeah kinda


lorne_a_20014

(09/18/07 12:13:53 AM): ok, me too


lorne_a_20014

(09/18/07 12:14:06 AM): and you have to go to school tomorrow too lol
kayla_princess94 (09/18/07 12:14:15 AM): k i better go 2 bed


lorne_a_20014

(09/18/07 12:14:20 AM): so what are you gonna be thinking about tomorrow?lol
kayla_princess94 (09/18/07 12:14:45 AM): idk my new friend


lorne_a_20014

(09/18/07 12:14:49 AM): lol


lorne_a_20014

(09/18/07 12:14:56 AM): >:D<@};-
kayla_princess94 (09/18/07 12:15:11 AM): >:D<


lorne_a_20014

(09/18/07 12:15:23 AM): what are you going to be thinking about when it comes toyour new friend?lol
kayla_princess94 (09/18/07 12:15:50 AM): idk
kayla_princess94 (09/18/07 12:15:50 AM): ur nice


lorne_a_20014

(09/18/07 12:15:56 AM): ok, cool


lorne_a_20014

(09/18/07 12:16:16 AM): you're pretty special i think, you're so adorable@};-
kayla_princess94 (09/18/07 12:16:23 AM): aww ty


lorne_a_20014

(09/18/07 12:16:33 AM): and you definately are a little princess lol


lorne_a_20014

(09/18/07 12:16:52 AM): ok, don't forget to delete our conversation again ok?
kayla_princess94 (09/18/07 12:17:01 AM): k i will


lorne_a_20014

(09/18/07 12:17:16 AM): ok, i'll probably talk to you tomorrow night
kayla_princess94 (09/18/07 12:17:30 AM): k
kayla_princess94 (09/18/07 12:17:34 AM): :)


lorne_a_20014

(09/18/07 12:17:46 AM): good night sweetheart@};->:D<
kayla_princess94 (09/18/07 12:17:58 AM): nite>:D<


lorne_a_20014

(09/18/07 12:18:09 AM): :-*
kayla_princess94 (09/18/07 12:18:16 AM): :-*


lorne_a_20014

(09/18/07 7:40:15 AM): good morning sweetheart@};-


lorne_a_20014

(09/18/07 4:51:25 PM): where my little sweetheart?@};-


lorne_a_20014

(09/18/07 8:43:02 PM): hi my precious little sweetheart@};-
kayla_princess94 (09/18/07 8:43:27 PM): hey
kayla_princess94 (09/18/07 8:43:33 PM): :)


lorne_a_20014

(09/18/07 8:43:34 PM): did you miss me today?lol
kayla_princess94 (09/18/07 8:43:45 PM): yeah


lorne_a_20014

(09/18/07 8:43:52 PM): :D


lorne_a_20014

(09/18/07 8:43:54 PM): :-*


lorne_a_20014

(09/18/07 8:44:11 PM): were you happy to see my message pop up?lol
kayla_princess94 (09/18/07 8:44:17 PM): yep


lorne_a_20014

(09/18/07 8:44:20 PM): lol
kayla_princess94 (09/18/07 8:44:25 PM): :D


lorne_a_20014

(09/18/07 8:44:27 PM): anyone there with you?
kayla_princess94 (09/18/07 8:44:42 PM): in my room no


lorne_a_20014

(09/18/07 8:45:27 PM): did it go through?


lorne_a_20014

(09/18/07 8:45:41 PM): there, now it did lol
kayla_princess94 (09/18/07 8:45:52 PM): yep


lorne_a_20014

(09/18/07 8:46:23 PM): you have to let me know if anyone's ever there with you before i turn my cam on because if there is then i can't be naked lol
kayla_princess94 (09/18/07 8:46:35 PM): k
kayla_princess94 (09/18/07 8:46:39 PM): i will


lorne_a_20014

(09/18/07 8:46:45 PM): ty@};-


lorne_a_20014

(09/18/07 8:46:51 PM): how was school today?
kayla_princess94 (09/18/07 8:46:59 PM): it was k


lorne_a_20014

(09/18/07 8:47:16 PM): did anything exciting happen?
kayla_princess94 (09/18/07 8:47:24PM): no not really
kayla_princess94 (09/18/07 8:47:33 PM): wat did u do 2day


lorne_a_20014

(09/18/07 8:47:51 PM): i had an interview today for a job so i got a job
kayla_princess94 (09/18/07 8:48:00 PM): kewl


lorne_a_20014

(09/18/07 8:48:10 PM): but here's the part that you're not gonna like lolkayla_princess94 (09/18/07 8:48:15 PM): wat


lorne_a_20014

(09/18/07 8:48:27 PM): i'm going to be working from 12 noon to 9 at night
kayla_princess94 (09/18/07 8:48:37 PM): o


lorne_a_20014

(09/18/07 8:48:51 PM): so i wont normally be home until around 10
kayla_princess94 (09/18/07 8:49:00 PM):k


lorne_a_20014

(09/18/07 8:49:10 PM): i'll be home on the weekends during the day though
kayla_princess94 (09/18/07 8:49:16 PM): kewl


lorne_a_20014

(09/18/07 8:49:32 PM): what did you do today at school? anything good?
kayla_princess94 (09/18/07 8:49:48 PM): not really
kayla_princess94 (09/18/07 8:49:53 PM): wat kinda job is it


lorne_a_20014

(09/18/07 8:50:09 PM): selling tickets for fireman benefit concerts


lorne_a_20014

(09/18/07 8:50:43 PM): to help people who have lost thier houses and for burn victims and all that good charity stuff
kayla_princess94 (09/18/07 8:51:17 PM): i culdstay up later sumtimes 2 talk 2 u


lorne_a_20014

(09/18/07 8:51:36 PM): you can if you want to, i don't want you to get too tired for school though
kayla_princess94 (09/18/07 8:51:46 PM): k


lorne_a_20014

(09/18/07 8:51:58 PM): are you gonna be alright in the mornings for school?
kayla_princess94 (09/18/07 8:52:07 PM): yeah
kayla_princess94 (09/18/07 8:52:18 PM): just not 2 late


lorne_a_20014

(09/18/07 8:52:43 PM): ok, but if you need to go to bed early sometimes to get some extra sleep and i'm not home yet then just leave me a message ok?
kayla_princess94 (09/18/07 8:53:02 PM): y u gottasell these tickets at nite
kayla_princess94 (09/18/07 8:53:14 PM): k i will


lorne_a_20014

(09/18/07 8:53:23 PM): i don't know, that's just the hours that they told me i had to work
kayla_princess94 (09/18/07 8:53:31 PM): bummer


lorne_a_20014

(09/18/07 8:53:52 PM): i think it's because most people get off work around 4:30 and 5 and they're home after that
kayla_princess94 (09/18/07 8:54:12 PM): o


lorne_a_20014

(09/18/07 8:54:17 PM): brb, i need another cup of coffee
kayla_princess94 (09/18/07 8:54:22 PM): k


lorne_a_20014

(09/18/07 8:55:39 PM): back
kayla_princess94 (09/18/07 8:55:49 PM): :)


lorne_a_20014

(09/18/07 8:55:53 PM): lol


lorne_a_20014

(09/18/07 8:55:57 PM): were you watching?lol
kayla_princess94 (09/18/07 8:56:14 PM): yeah:\">


lorne_a_20014

(09/18/07 8:56:17 PM): lol


lorne_a_20014

(09/18/07 8:56:25 PM): want a close up look at it again?lol
kayla_princess94 (09/18/07 8:56:40 PM): k
kayla_princess94 (09/18/07 8:57:43 PM): :\">


lorne_a_20014

(09/18/07 8:57:53 PM): was that better or do you want more?lol
kayla_princess94 (09/18/07 8:58:10 PM): no thats k


lorne_a_20014

(09/18/07 8:58:15 PM): ok lol


lorne_a_20014

(09/18/07 8:58:45 PM): i'll get a light when iget my first check so i can put it here and you'll be able to see it better ok?
kayla_princess94 (09/18/07 8:58:55 PM): k


lorne_a_20014

(09/18/07 8:59:06 PM): you'll be able to see it better this weekend too during the day if you're on during the day
kayla_princess94 (09/18/07 8:59:13 PM): k
kayla_princess94 (09/18/07 8:59:28 PM): i thot u wanted 2 b a country singer


lorne_a_20014

(09/18/07 8:59:34 PM): i do


lorne_a_20014

(09/18/07 8:59:44 PM): but until i get noticed i have to have a job


lorne_a_20014

(09/18/07 9:00:09 PM): want to come out here and be a country singer with me?lol
kayla_princess94 (09/18/07 9:00:30 PM): lol shur i cant sing lol


lorne_a_20014

(09/18/07 9:00:34 PM): lol


lorne_a_20014

(09/18/07 9:00:47 PM): can you play any instruments?lol
kayla_princess94 (09/18/07 9:00:53 PM): no


lorne_a_20014

(09/18/07 9:01:08 PM): ok, you can just marry me and be there with me ok?lol
kayla_princess94 (09/18/07 9:01:28 PM): lol i cant get married im only 13


lorne_a_20014

(09/18/07 9:01:46 PM): well we'll have to wait 5 yrs to get married then lol
kayla_princess94 (09/18/07 9:02:04 PM): lol


lorne_a_20014

(09/18/07 9:02:29 PM): you don't want to marry me in 5 more years, i'll be 41 years old then lol
kayla_princess94 (09/18/07 9:02:40 PM): lol


lorne_a_20014

(09/18/07 9:02:57 PM): how much did you think about me today?
kayla_princess94 (09/18/07 9:03:19 PM): i was thinkin alot bout u


lorne_a_20014

(09/18/07 9:03:27 PM): really?


lorne_a_20014

(09/18/07 9:03:33 PM): :D
kayla_princess94 (09/18/07 9:03:35 PM): yeah


lorne_a_20014

(09/18/07 9:03:38 PM): :-*
kayla_princess94 (09/18/07 9:03:54 PM): like hmm lets c wats ur fav thing 2 eat


lorne_a_20014

(09/18/07 9:04:15 PM): my favorite thing to eat is my moms home made chicken pie


lorne_a_20014

(09/18/079:04:21 PM): it's REALLY good


lorne_a_20014

(09/18/07 9:04:29 PM): what's yours?
kayla_princess94 (09/18/07 9:04:45 PM): pizza


lorne_a_20014

(09/18/07 9:05:02 PM): that's my second favorite thing.......hawaiin pizza


lorne_a_20014

(09/18/07 9:05:08 PM): what kind do you like?
kayla_princess94 (09/18/07 9:05:19 PM): peparoni


lorne_a_20014

(09/18/07 9:05:33 PM): pepperoni is my second favorite pizza
kayla_princess94 (09/18/07 9:05:38 PM): kewl


lorne_a_20014

(09/18/07 9:05:53 PM): we'll have to order 2 pizzas, one hawaiin and one pepperoni lol
kayla_princess94 (09/18/07 9:06:00 PM): lolyeah
kayla_princess94 (09/18/07 9:06:04 PM): u got any pets


lorne_a_20014

(09/18/07 9:06:17 PM): yup, remember i showed you pics of them last night?
kayla_princess94 (09/18/07 9:06:26 PM): o yeah lol


lorne_a_20014

(09/18/07 9:06:28 PM): want to see Bud?
kayla_princess94 (09/18/07 9:06:32 PM):yeah


lorne_a_20014

(09/18/07 9:07:16 PM): that's Bud
kayla_princess94 (09/18/07 9:07:21 PM): aww


lorne_a_20014

(09/18/07 9:07:37 PM): do you remember the pic of daisy that i sent you?
kayla_princess94 (09/18/07 9:07:45 PM): yeah she was cute


lorne_a_20014

(09/18/07 9:08:18 PM): i wish i still had her.......but atleast i know she's safe and is being treated good where she's at


lorne_a_20014

(09/18/07 9:08:33 PM): do you have any pets?
kayla_princess94 (09/18/07 9:08:47 PM): yeah i got a cat his name is pokie


lorne_a_20014

(09/18/07 9:08:53 PM): cool


lorne_a_20014

(09/18/07 9:08:57 PM):what color is he?
kayla_princess94 (09/18/07 9:09:03 PM): black


lorne_a_20014

(09/18/07 9:09:08 PM): cool


lorne_a_20014

(09/18/07 9:09:15 PM): does he sleep with you?
kayla_princess94 (09/18/07 9:09:30 PM): no my mom wuldnt let him sleep on the bed no way


lorne_a_20014

(09/18/07 9:09:36 PM): oh lol


lorne_a_20014

(09/18/07 9:09:44 PM): how old is he?
kayla_princess94 (09/18/07 9:09:55 PM): like 2 i think


lorne_a_20014

(09/18/07 9:10:12 PM): oh, he's still young then, that's good


lorne_a_20014

(09/18/07 9:10:20 PM): Bud is 7 yrs old


lorne_a_20014

(09/18/07 9:10:39 PM): i use to have acat, his name was smokey, he was 2 when he died
kayla_princess94 (09/18/07 9:10:47 PM): aww


lorne_a_20014

(09/18/07 9:11:17 PM): yeah, i loved him alot too, i had him ever since he was 2 weeks old so i had to feed him from a little bottle
kayla_princess94 (09/18/07 9:11:36 PM): aww
kayla_princess94 (09/18/07 9:11:48 PM): bet u was sad when he died


lorne_a_20014

(09/18/07 9:11:55 PM): yes i was


lorne_a_20014

(09/18/07 9:12:22 PM): i didn't know what happened to him because it was during the winter time when he died


lorne_a_20014

(09/18/07 9:12:41 PM): but then the snow melted in the spring and i found him out by the road
kayla_princess94 (09/18/07 9:13:03 PM): aww thats sad:(


lorne_a_20014

(09/18/07 9:13:30 PM): yeah it was......i was so upset i had to have a friend of mine burry him for me
kayla_princess94 (09/18/07 9:14:02 PM): aww


lorne_a_20014

(09/18/07 9:14:10 PM): are you talking to your other friends online right now too?
kayla_princess94 (09/18/07 9:14:16 PM): no


lorne_a_20014

(09/18/07 9:14:21 PM): just me?
kayla_princess94 (09/18/07 9:14:31 PM): yeah


lorne_a_20014

(09/18/07 9:14:39 PM): you must really like me lol


lorne_a_20014

(09/18/07 9:14:44 PM): >:D<:-*
kayla_princess94 (09/18/07 9:15:03 PM): :\">yeah
kayla_princess94 (09/18/07 9:15:07 PM): >:D<


lorne_a_20014

(09/18/07 9:15:10 PM): :D
kayla_princess94 (09/18/07 9:15:13 PM): :-*


lorne_a_20014

(09/18/07 9:15:22 PM): :D:D:\">
kayla_princess94 (09/18/07 9:15:29 PM): lol


lorne_a_20014

(09/18/079:15:37 PM): what do you like about me?
kayla_princess94 (09/18/07 9:15:53 PM): idk ur kewl 2 talk 2 and ur smart 2
kayla_princess94 (09/18/07 9:16:05 PM): hey wat u play like guitar


lorne_a_20014

(09/18/07 9:16:15 PM): ty sweetheart


lorne_a_20014

(09/18/07 9:16:51 PM): no i don't, i started learning to play guitar and piano but stopped, i'm going to learn to play guitar pretty soon again though


lorne_a_20014

(09/18/07 9:17:31 PM): hang on a minute ok? someone called and left me a message and i want to listen to it, i didn't answer it because i'm talking to you lol@};-:-*
kayla_princess94(09/18/07 9:17:50 PM): k


lorne_a_20014

(09/18/07 9:18:45 PM): ok, i'm back
kayla_princess94 (09/18/07 9:18:56 PM): kewl


lorne_a_20014

(09/18/07 9:19:10 PM): were you watching again?lol:\">
kayla_princess94 (09/18/07 9:19:20 PM): yeah lol


lorne_a_20014

(09/18/07 9:19:23 PM): lol
kayla_princess94 (09/18/07 9:19:37 PM): so u like got a band or anything


lorne_a_20014

(09/18/07 9:20:00 PM): nope not yet, i've only been here for 3 weeks so i'm trying to get everything set up
kayla_princess94 (09/18/07 9:20:11 PM): o


lorne_a_20014

(09/18/07 9:20:26 PM): can you hang on again sweetheart? Bud's bugging me to take him to the bathrroom lol
kayla_princess94 (09/18/07 9:20:33 PM): k


lorne_a_20014

(09/18/07 9:20:46 PM): i wont be long, and i'll leave the cam on ok?
kayla_princess94 (09/18/07 9:20:53 PM): k


lorne_a_20014

(09/18/07 9:26:36 PM): back
kayla_princess94 (09/18/07 9:26:38 PM): yay ur back


lorne_a_20014

(09/18/07 9:26:42 PM): lol


lorne_a_20014

(09/18/07 9:26:52 PM): you were watching for me:D


lorne_a_20014

(09/18/07 9:26:58 PM): :-*
kayla_princess94 (09/18/07 9:27:06 PM): yeah


lorne_a_20014

(09/18/07 9:27:49 PM): Bud went pee but that was it, he kept sniffing around to where other dogs have been so i told him we're coming in so we don't have to keep kayla waiting lol
kayla_princess94 (09/18/07 9:28:00 PM): lol
kayla_princess94 (09/18/07 9:28:18 PM): he prolly thinkin who the heck is kayla i dont c no kayla


lorne_a_20014

(09/18/07 9:28:30 PM): yeah probably lol


lorne_a_20014

(09/18/07 9:28:49 PM): he must be alright with it though, he's laying down and being good lol
kayla_princess94 (09/18/07 9:28:56 PM): lol


lorne_a_20014

(09/18/07 9:29:08 PM): hang on, gotta turn the a/c on, it's getting hot in here again
kayla_princess94 (09/18/07 9:29:14 PM): k


lorne_a_20014

(09/18/07 9:29:29 PM): back


lorne_a_20014

(09/18/07 9:29:43 PM): you don't mind it when i keep getting up like that huh?lol
kayla_princess94 (09/18/07 9:29:55 PM): i dont care
kayla_princess94 (09/18/07 9:30:00 PM): y wuld i


lorne_a_20014

(09/18/07 9:30:15 PM): i said that because every time i get up you get to see me naked lol
kayla_princess94 (09/18/07 9:30:23 PM): lol
kayla_princess94 (09/18/07 9:30:45 PM): u look kinda silly running around ur house naked u know


lorne_a_20014

(09/18/07 9:30:46 PM): hang on, someone's at the door


lorne_a_20014

(09/18/07 9:31:22 PM): hang on
kayla_princess94 (09/18/07 9:31:27 PM): k


lorne_a_20014

(09/18/07 9:34:23 PM): they're gonna go to the store for me so i don't have to leave you, i told them they could take my truck


lorne_a_20014

(09/18/07 9:34:38 PM): i need to get some money from my bedroom
kayla_princess94 (09/18/07 9:35:00 PM): k


lorne_a_20014

(09/18/07 9:36:16 PM): they had to go to thier apartment fist then they're coming back


lorne_a_20014

(09/18/07 9:36:27 PM): i told you they were buggy right?lol
kayla_princess94 (09/18/07 9:36:42 PM): buggy wats that


lorne_a_20014

(09/18/07 9:37:09 PM): they bother me all the time to use my phone, computer and to take them someplace
kayla_princess94 (09/18/07 9:37:33 PM): o
kayla_princess94 (09/18/07 9:37:37 PM): their ur friends


lorne_a_20014

(09/18/07 9:38:59 PM): they're not really close friends, i just met them about 2 weeks ago


lorne_a_20014

(09/18/07 9:39:41 PM): what are you doing sweetheart?
kayla_princess94 (09/18/07 9:40:14 PM): talkin 2 u


lorne_a_20014

(09/18/07 9:40:20 PM): oh lol


lorne_a_20014

(09/18/07 9:40:30 PM): you were quiet for a minute there lol
kayla_princess94 (09/18/07 9:40:53 PM): was thinkin it was funny u call them buggy lol


lorne_a_20014

(09/18/07 9:40:59 PM): lol
kayla_princess94 (09/18/07 9:41:10 PM): they bug u thats y lol
kayla_princess94 (09/18/07 9:41:15 PM): i get it


lorne_a_20014

(09/18/07 9:41:18 PM): that's what my mom use to call it lol


lorne_a_20014

(09/18/07 9:41:38 PM): you're so sweet@};-
kayla_princess94 (09/18/07 9:42:02 PM): aww ty


lorne_a_20014

(09/18/07 9:42:15 PM): you're very welcome


lorne_a_20014

(09/18/07 9:42:28 PM): so what else did you think about when you thought about me today?lol
kayla_princess94 (09/18/07 9:42:48 PM): idk u got a car


lorne_a_20014

(09/18/07 9:42:56 PM): yup, i have a truck


lorne_a_20014

(09/18/07 9:43:05 PM): do you have a car?lol
kayla_princess94 (09/18/07 9:43:23 PM): yeah rite lol


lorne_a_20014

(09/18/07 9:43:27 PM): lol
kayla_princess94 (09/18/07 9:43:31 PM): kewl wat kinda truck


lorne_a_20014

(09/18/07 9:43:42 PM): a dodge ram
kayla_princess94 (09/18/07 9:43:46 PM): kewl


lorne_a_20014

(09/18/07 9:43:48 PM): it's nice too
kayla_princess94 (09/18/07 9:43:50 PM): wat color is it


lorne_a_20014

(09/18/07 9:44:03 PM): it's white with gray on the bottomn


lorne_a_20014

(09/18/07 9:44:08 PM): bottom
kayla_princess94 (09/18/07 9:44:17 PM): kewl


lorne_a_20014

(09/18/07 9:44:21 PM): want to go for a ride in it?lol
kayla_princess94 (09/18/07 9:44:28 PM): lol how


lorne_a_20014

(09/18/07 9:44:50 PM): i was kidding, you're far away, i'd have to drive there to get you lool
kayla_princess94 (09/18/07 9:45:00 PM): lol


lorne_a_20014

(09/18/07 9:45:07 PM): brb, need coffee
kayla_princess94 (09/18/07 9:45:14 PM): k
kayla_princess94 (09/18/07 9:45:38 PM): boy u drink a lot of coffeee


lorne_a_20014

(09/18/07 9:46:07 PM): i know, i don't make it very strong lol
kayla_princess94 (09/18/07 9:46:22 PM): i think it taste yuky


lorne_a_20014

(09/18/07 9:46:27 PM): nobody else likes my coffee because i make it so week lol


lorne_a_20014

(09/18/07 9:46:30 PM): lol


lorne_a_20014

(09/18/07 9:46:46 PM): what do you like to drink?
kayla_princess94 (09/18/07 9:47:05 PM): coke


lorne_a_20014

(09/18/07 9:47:15 PM): i like sprite for soda
kayla_princess94 (09/18/07 9:47:28 PM): sprite ok
kayla_princess94 (09/18/07 9:47:34 PM): coke better


lorne_a_20014

(09/18/07 9:47:38 PM): lol


lorne_a_20014

(09/18/07 9:47:52 PM): better for you.......sprite's better for me lol
kayla_princess94 (09/18/07 9:47:58 PM): lol


lorne_a_20014

(09/18/07 9:48:16 PM): do you have any more pictures of yourself?
kayla_princess94 (09/18/07 9:48:48 PM): mayb
kayla_princess94 (09/18/07 9:48:54 PM): cant remember wat u saw


lorne_a_20014

(09/18/07 9:49:25 PM): i saw this right.........here


lorne_a_20014

(09/18/07 9:49:58 PM): you're such a little princess@};-:-*:D
kayla_princess94 (09/18/07 9:50:28 PM): thats it thats the only 1


lorne_a_20014

(09/18/07 9:50:34 PM): ok


lorne_a_20014

(09/18/07 9:50:52 PM): i like the one in our message box too
kayla_princess94 (09/18/07 9:50:59 PM): no i mean is that the only 1 i show u


lorne_a_20014

(09/18/07 9:51:07 PM): ohhh


lorne_a_20014

(09/18/07 9:51:13 PM): yes it was
kayla_princess94 (09/18/07 9:51:19 PM): lol


lorne_a_20014

(09/18/07 9:54:27 PM): it's gonna take a minute for them to download because my cam is on


lorne_a_20014

(09/18/07 9:54:55 PM): sexy little thing in the pool:-*:D
kayla_princess94 (09/18/07 9:54:55 PM): k


lorne_a_20014

(09/18/07 9:55:34 PM): omg your face is so pretty@};-


lorne_a_20014

(09/18/07 9:57:04 PM): i think my cam froze lol
kayla_princess94 (09/18/07 9:57:18 PM): lol


lorne_a_20014

(09/18/07 9:57:35 PM): the other 2 are still downloading


lorne_a_20014

(09/18/07 9:58:21 PM): i'm amazed at how pretty your face is@};-


lorne_a_20014

(09/18/07 9:58:30 PM): you're a beautiful little princess
kayla_princess94 (09/18/07 9:58:36 PM): nah


lorne_a_20014

(09/18/07 9:58:51 PM): don't argue with me:-Plol
kayla_princess94 (09/18/07 9:59:00 PM): k lol


lorne_a_20014

(09/18/07 10:00:12 PM): the other one was downloading fast now it paused lol
kayla_princess94 (09/18/07 10:00:37 PM): lol
kayla_princess94 (09/18/07 10:00:38 PM): hmm


lorne_a_20014

(09/18/07 10:00:47 PM): it's starting again lol
kayla_princess94 (09/18/07 10:01:01 PM): k


lorne_a_20014

(09/18/07 10:01:14 PM): omg you're so cute lol
kayla_princess94 (09/18/07 10:01:23 PM): lol


lorne_a_20014

(09/18/07 10:01:31 PM): sexy little body on you too lol@};-:-*
kayla_princess94 (09/18/07 10:01:57 PM): :\">really


lorne_a_20014

(09/18/07 10:02:09 PM): yup :D:-*
kayla_princess94 (09/18/07 10:02:45 PM): lol


lorne_a_20014

(09/18/07 10:02:47 PM): i'm amazed that the boys aren't fighting after you lol
kayla_princess94 (09/18/07 10:02:56 PM): lol yeah rite


lorne_a_20014

(09/18/07 10:03:03 PM): see the one i'm looking at right now?
kayla_princess94 (09/18/07 10:03:23 PM): which 1


lorne_a_20014

(09/18/07 10:03:29 PM): the one of your face
kayla_princess94 (09/18/07 10:03:54 PM): thats dorky


lorne_a_20014

(09/18/07 10:04:20 PM): no it isn't......that is sooooooooo pretty@};-:-*:-P
kayla_princess94 (09/18/07 10:04:52 PM): aww ty


lorne_a_20014

(09/18/07 10:04:59 PM): yw


lorne_a_20014

(09/18/07 10:05:27 PM): the first and the last one you sent me........such a sexy little body :D:-*


lorne_a_20014

(09/18/07 10:05:52 PM): the third one you're saying.........yeah, i'm cool lol
kayla_princess94 (09/18/07 10:06:05 PM): lol
kayla_princess94 (09/18/07 10:06:07 PM): yeah i am


lorne_a_20014

(09/18/07 10:06:14 PM): yeah you are lol


lorne_a_20014

(09/18/07 10:06:26 PM): and such a sweetheart too lol
kayla_princess94 (09/18/07 10:07:00 PM): aww ty


lorne_a_20014

(09/18/07 10:07:14 PM): you're very welcome@};-


lorne_a_20014

(09/18/07 10:07:30 PM): so how much homework did you have today?
kayla_princess94 (09/18/07 10:07:44 PM): not much just sum english but i did it


lorne_a_20014

(09/18/07 10:08:01 PM): did you have to do it before you could get on the computer?lol
kayla_princess94 (09/18/07 10:08:25 PM): yeah


lorne_a_20014

(09/18/07 10:08:38 PM): brb
kayla_princess94 (09/18/07 10:08:48 PM): k


lorne_a_20014

(09/18/07 10:09:47 PM): he has to use my phone, hang on ok?
kayla_princess94 (09/18/07 10:10:19 PM): k


lorne_a_20014

(09/18/07 10:12:02 PM): i told him to hurry lol


lorne_a_20014

(09/18/07 10:12:15 PM): god they're buggy lol
kayla_princess94 (09/18/07 10:12:27 PM): lol


lorne_a_20014

(09/18/07 10:12:49 PM): he took my phone over to his apartment, the other guy is going to tell his roommate to hurry lol


lorne_a_20014

(09/18/07 10:13:38 PM): so what are you doing sweetheart?
kayla_princess94 (09/18/07 10:13:46 PM): lol
kayla_princess94 (09/18/07 10:14:36 PM): my friends r buggy
kayla_princess94 (09/18/07 10:14:36 PM): lol
kayla_princess94 (09/18/07 10:14:37 PM): their buggin me


lorne_a_20014

(09/18/07 10:14:42 PM): lol
kayla_princess94 (09/18/07 10:14:53 PM): brb


lorne_a_20014

(09/18/07 10:14:56 PM): ok
kayla_princess94 (09/18/07 10:22:59 PM): hey
kayla_princess94 (09/18/07 10:23:04 PM): u still there


lorne_a_20014

(09/18/07 10:23:07 PM): wb sweetheart@};-


lorne_a_20014

(09/18/07 10:23:15 PM): yes, i weren't going to leave you lol
kayla_princess94 (09/18/07 10:23:16 PM): lol i got booted


lorne_a_20014

(09/18/07 10:23:19 PM): ok
kayla_princess94 (09/18/07 10:23:24 PM): :)


lorne_a_20014

(09/18/07 10:23:51 PM): i'm still waiting for them to get back here with my phone8-|
kayla_princess94 (09/18/07 10:24:00 PM): aww


lorne_a_20014

(09/18/07 10:24:11 PM): hi pretty little lady@};-:-*:-h
kayla_princess94 (09/18/07 10:24:12 PM): hope they dont steal it
kayla_princess94 (09/18/07 10:24:19 PM): lol hi


lorne_a_20014

(09/18/07 10:24:29 PM): they wont steal it, i know where they live lol


lorne_a_20014

(09/18/07 10:24:43 PM): brb, i'm gonna see if they're done with it yet
kayla_princess94 (09/18/07 10:24:51 PM): k


lorne_a_20014

(09/18/07 10:25:46 PM): there, finally lol


lorne_a_20014

(09/18/07 10:26:26 PM): are your friends still buggin you?lol
kayla_princess94 (09/18/07 10:28:04 PM): yeah
kayla_princess94 (09/18/07 10:28:06 PM): brb


lorne_a_20014

(09/18/07 10:28:08 PM): lol


lorne_a_20014

(09/18/07 10:28:09 PM): ok
kayla_princess94 (09/18/07 10:31:00 PM): sry
kayla_princess94 (09/18/07 10:31:02 PM): back


lorne_a_20014

(09/18/07 10:31:10 PM): wb precious@};-
kayla_princess94 (09/18/07 10:31:17 PM): :)


lorne_a_20014

(09/18/07 10:31:34 PM): does that frustrate you when your friends bug you when you're talking to me?lol
kayla_princess94 (09/18/07 10:31:49 PM): yeah


lorne_a_20014

(09/18/07 10:31:54 PM): lol
kayla_princess94 (09/18/07 10:32:28 PM): but jessie is my bff so you know i gotta help her out


lorne_a_20014

(09/18/07 10:32:39 PM): yeah, that's true too


lorne_a_20014

(09/18/07 10:32:47 PM): you're so sweet
kayla_princess94 (09/18/07 10:32:54 PM): ty


lorne_a_20014

(09/18/07 10:33:03 PM): did you tell her anything about me?
kayla_princess94 (09/18/07 10:33:22 PM): no


lorne_a_20014

(09/18/07 10:33:27 PM): ok, good


lorne_a_20014

(09/18/07 10:34:06 PM): you probably shouldn't because she might tell someone else and it might get back to your parents and they might not like it
kayla_princess94 (09/18/07 10:34:16 PM): o
kayla_princess94 (09/18/07 10:34:19 PM): k


lorne_a_20014

(09/18/07 10:34:52 PM): if your parents told you know more talking to me would you still sneak and talk to me anyway?lol
kayla_princess94 (09/18/07 10:35:57 PM): yeah


lorne_a_20014

(09/18/07 10:36:02 PM): lol


lorne_a_20014

(09/18/07 10:36:10 PM): you must really like me alot lol
kayla_princess94 (09/18/07 10:36:32 PM): yeah:\">


lorne_a_20014

(09/18/07 10:36:40 PM): :D:-*
kayla_princess94 (09/18/07 10:36:59 PM): :-*
kayla_princess94 (09/18/07 10:37:04 PM): :\">


lorne_a_20014

(09/18/07 10:37:06 PM): :D


lorne_a_20014

(09/18/07 10:37:15 PM): do you have a crush on me??lol


lorne_a_20014

(09/18/07 10:37:19 PM): brb
kayla_princess94 (09/18/07 10:37:25 PM): k


lorne_a_20014

(09/18/07 10:41:56 PM): ok, i'm back
kayla_princess94 (09/18/07 10:42:12 PM): yay


lorne_a_20014

(09/18/07 10:42:19 PM): :D:-*


lorne_a_20014

(09/18/07 10:42:28 PM): now back to my question lol


lorne_a_20014

(09/18/07 10:42:34 PM): do you have a crush on me??lol
kayla_princess94 (09/18/07 10:42:59 PM): idk


lorne_a_20014

(09/18/07 10:43:03 PM): lol


lorne_a_20014

(09/18/07 10:43:11 PM): you're so sweet lol
kayla_princess94 (09/18/07 10:43:19 PM): ty


lorne_a_20014

(09/18/07 10:43:24 PM): yw@};-


lorne_a_20014

(09/18/07 10:43:47 PM): did you try to hurry to get your homework done so you could get online to talk to me?lol
kayla_princess94 (09/18/07 10:44:16 PM): well i didnt really have that much so i didnt have 2 hurry


lorne_a_20014

(09/18/07 10:44:24 PM): oh lol
kayla_princess94 (09/18/07 10:44:31 PM): but i was glad i didnt so i culd talk 2 u more


lorne_a_20014

(09/18/07 10:44:37 PM): lol
kayla_princess94 (09/18/07 10:44:38 PM): :\">


lorne_a_20014

(09/18/07 10:44:40 PM): :-*


lorne_a_20014

(09/18/07 10:44:54 PM): in other words you have a crush on me lol
kayla_princess94 (09/18/07 10:44:59 PM): :-*
kayla_princess94 (09/18/07 10:45:03 PM): mayb


lorne_a_20014

(09/18/07 10:45:07 PM): lol


lorne_a_20014

(09/18/07 10:45:28 PM): what's your favorite thing you like to do for fun?
kayla_princess94 (09/18/07 10:45:39 PM): shopping
kayla_princess94 (09/18/07 10:45:45 PM): :D


lorne_a_20014

(09/18/07 10:45:47 PM): oh yeah that's right lol


lorne_a_20014

(09/18/07 10:46:10 PM): are you gonna buy me something next time you go shopping?lol
kayla_princess94 (09/18/07 10:46:23 PM): idk do u want me 2 wats ur fav thing 2 do 4 fun


lorne_a_20014

(09/18/07 10:46:41 PM): no i don't want you to, i want you to spend the money on you@};-


lorne_a_20014

(09/18/07 10:46:59 PM): my favorite thing to do is going to do karaoke
kayla_princess94 (09/18/07 10:47:03 PM): aww


lorne_a_20014

(09/18/07 10:47:38 PM): hang on, i'm gonna put the towel on the bottom of the door again so they think my lights are out and wont bug me again
kayla_princess94 (09/18/07 10:47:48 PM): kewl
kayla_princess94 (09/18/07 10:48:12 PM): k


lorne_a_20014

(09/18/07 10:48:23 PM): back
kayla_princess94 (09/18/07 10:48:47 PM): kewl


lorne_a_20014

(09/18/07 10:48:54 PM): miss me?lol
kayla_princess94 (09/18/07 10:49:00 PM): yeah


lorne_a_20014

(09/18/07 10:49:04 PM): lol


lorne_a_20014

(09/18/07 10:49:09 PM): @};-:-*


lorne_a_20014

(09/18/07 10:49:25 PM): even though i weren't gone long you still missed me?lol
kayla_princess94 (09/18/07 10:49:25 PM): :-*
kayla_princess94 (09/18/07 10:49:32 PM): yeah lol


lorne_a_20014

(09/18/07 10:49:37 PM): lol
kayla_princess94 (09/18/07 10:49:47 PM): how u make that flower thingy


lorne_a_20014

(09/18/07 10:50:09 PM): ok, do the same the that i'm going to send to you


lorne_a_20014

(09/18/07 10:50:11 PM): @


lorne_a_20014

(09/18/07 10:50:16 PM): }


lorne_a_20014

(09/18/07 10:50:18 PM): ;


lorne_a_20014

(09/18/07 10:50:21 PM): -
kayla_princess94 (09/18/07 10:50:37 PM): @};-
kayla_princess94 (09/18/07 10:50:40 PM): kewl


lorne_a_20014

(09/18/07 10:50:43 PM): heyyyyy


lorne_a_20014

(09/18/07 10:50:45 PM): you did it lol
kayla_princess94 (09/18/07 10:50:50 PM): yeah


lorne_a_20014

(09/18/07 10:50:52 PM): @};-:-*
kayla_princess94 (09/18/07 10:50:57 PM): where u learn
kayla_princess94 (09/18/07 10:50:58 PM): that


lorne_a_20014

(09/18/07 10:51:15 PM): i don't remember, i was just messing around one day and did it
kayla_princess94 (09/18/07 10:51:35 PM): @};-kewl


lorne_a_20014

(09/18/07 10:51:45 PM): :D:-*


lorne_a_20014

(09/18/07 10:52:00 PM): was that rose for me??;;):\">
kayla_princess94 (09/18/07 10:52:20 PM): yep
kayla_princess94 (09/18/07 10:52:21 PM): ;;)


lorne_a_20014

(09/18/07 10:52:30 PM): :D:-*


lorne_a_20014

(09/18/07 10:52:37 PM): ty precious@};-
kayla_princess94 (09/18/07 10:52:58 PM): yw@};-
kayla_princess94 (09/18/07 10:53:04 PM): :D


lorne_a_20014

(09/18/07 10:53:06 PM): :D


lorne_a_20014

(09/18/07 10:53:11 PM): :-*
kayla_princess94 (09/18/07 10:53:19 PM): >:D<


lorne_a_20014

(09/18/07 10:53:25 PM): >:D<
kayla_princess94 (09/18/07 10:53:38 PM): :-*


lorne_a_20014

(09/18/07 10:53:45 PM): :D


lorne_a_20014

(09/18/07 10:54:16 PM): so tell me.....did you experiment with yourself last night after we got off the internet?lol
kayla_princess94 (09/18/07 10:54:30 PM): no i was really tried


lorne_a_20014

(09/18/07 10:54:38 PM): oh lol


lorne_a_20014

(09/18/07 10:54:44 PM): i was just wondering


lorne_a_20014

(09/18/07 10:54:45 PM): lol
kayla_princess94 (09/18/07 10:54:52 PM): brb


lorne_a_20014

(09/18/07 10:54:54 PM): ok
kayla_princess94 (09/18/07 10:57:00 PM): k im back


lorne_a_20014

(09/18/07 10:57:10 PM): yayyyyy>:D<:-*:D


lorne_a_20014

(09/18/07 10:57:14 PM): lol
kayla_princess94 (09/18/07 10:57:20 PM): lol
kayla_princess94 (09/18/07 10:57:28 PM): ;;)


lorne_a_20014

(09/18/07 10:57:37 PM): ;;)
kayla_princess94 (09/18/07 10:57:44 PM): lol


lorne_a_20014

(09/18/07 10:57:45 PM): :x


lorne_a_20014

(09/18/07 10:57:48 PM): lol


lorne_a_20014

(09/18/07 10:58:35 PM): did you think about your experimenting last night when you were at school today?lol
kayla_princess94 (09/18/07 10:59:03 PM): no not at school i didnt


lorne_a_20014

(09/18/07 10:59:20 PM): when did you think about it? or did you?lol
kayla_princess94 (09/18/07 10:59:34 PM): yeah when i got home i was


lorne_a_20014

(09/18/07 10:59:38 PM): lol


lorne_a_20014

(09/18/07 10:59:45 PM): what was you thinking?lol
kayla_princess94 (09/18/07 11:00:06 PM): that i cant beleive i did that lol


lorne_a_20014

(09/18/07 11:00:10 PM): lol


lorne_a_20014

(09/18/07 11:00:19 PM): want to try it again?lol
kayla_princess94 (09/18/07 11:00:26 PM): idk


lorne_a_20014

(09/18/07 11:00:43 PM): if you don't want to you don't have to precious lol
kayla_princess94 (09/18/07 11:00:53 PM): k


lorne_a_20014

(09/18/07 11:01:02 PM): does that mean you don't want to?lol
kayla_princess94 (09/18/07 11:01:32 PM): not really cuz i feel wierd


lorne_a_20014

(09/18/07 11:01:38 PM): ok lol


lorne_a_20014

(09/18/07 11:01:44 PM): why do you feel wierd?lol
kayla_princess94 (09/18/07 11:01:49 PM): idk


lorne_a_20014

(09/18/07 11:01:52 PM): lol
kayla_princess94 (09/18/07 11:01:54 PM): ur not mad at me r u


lorne_a_20014

(09/18/07 11:02:15 PM): no precious i'm not mad at you......don't ever think that@};-:-*
kayla_princess94 (09/18/07 11:02:26 PM): k
kayla_princess94 (09/18/07 11:02:33 PM): :-*


lorne_a_20014

(09/18/07 11:02:38 PM): what are you wearing right now?
kayla_princess94 (09/18/07 11:02:52 PM): my jamies


lorne_a_20014

(09/18/07 11:02:58 PM): cool


lorne_a_20014

(09/18/07 11:03:07 PM): what kind of jammies do you have?
kayla_princess94 (09/18/07 11:03:31 PM): oh there really kewl they r white with cherries on them


lorne_a_20014

(09/18/07 11:03:43 PM): cool


lorne_a_20014

(09/18/07 11:03:53 PM): what color is the rest of it?


lorne_a_20014

(09/18/07 11:04:01 PM): oh,


lorne_a_20014

(09/18/07 11:04:02 PM): lol


lorne_a_20014

(09/18/07 11:04:04 PM): nm lol
kayla_princess94 (09/18/07 11:04:07 PM): white lol


lorne_a_20014

(09/18/07 11:04:10 PM): i misread it lol


lorne_a_20014

(09/18/07 11:04:24 PM): duh.... i had a dumb moment lol
kayla_princess94 (09/18/07 11:04:51 PM): lol


lorne_a_20014

(09/18/07 11:05:12 PM): are they top and bottom or is it like a night gown?
kayla_princess94 (09/18/07 11:05:25 PM): top and bottom


lorne_a_20014

(09/18/07 11:05:29 PM): cool


lorne_a_20014

(09/18/07 11:05:43 PM): i'm in my jammies right now lol
kayla_princess94 (09/18/07 11:06:02 PM): u r


lorne_a_20014

(09/18/07 11:06:05 PM): do you like my jammies?lol


lorne_a_20014

(09/18/07 11:06:14 PM): yup, wanna see?lol
kayla_princess94 (09/18/07 11:06:22 PM): yeah


lorne_a_20014

(09/18/07 11:06:41 PM): yeah you wanna see or yeah you like them?lol
kayla_princess94 (09/18/07 11:06:55 PM): i dont c no jamies


lorne_a_20014

(09/18/07 11:07:12 PM): wanna see my jammies that i wear to bed?lol
kayla_princess94 (09/18/07 11:07:21 PM): yeah


lorne_a_20014

(09/18/07 11:07:24 PM): ok lol


lorne_a_20014

(09/18/07 11:07:48 PM): those are my jammies lol
kayla_princess94 (09/18/07 11:07:50 PM): lol
kayla_princess94 (09/18/07 11:07:58 PM): k


lorne_a_20014

(09/18/07 11:08:01 PM): do you like my jammies?lol
kayla_princess94 (09/18/07 11:08:12 PM): yeah


lorne_a_20014

(09/18/07 11:08:19 PM): :D:-*


lorne_a_20014

(09/18/07 11:08:46 PM): so how tired are you feeling tonight?
kayla_princess94 (09/18/07 11:08:58 PM): im kinda tired


lorne_a_20014

(09/18/07 11:09:19 PM): i thought you might be, we talked for a long time last night
kayla_princess94 (09/18/07 11:09:29 PM): yeah


lorne_a_20014

(09/18/07 11:09:58 PM): just tell me when you're ready to go to bed ok? i wont be mad, i know you have to get up early
kayla_princess94 (09/18/07 11:10:46 PM): yeah i still gota take a shower so i shuld


lorne_a_20014

(09/18/07 11:10:55 PM): ok


lorne_a_20014

(09/18/07 11:11:12 PM): are you gonna miss me again?lol
kayla_princess94 (09/18/07 11:11:22 PM): yeah


lorne_a_20014

(09/18/07 11:11:52 PM): do me a favor ok? don't ever be afraid to say no to me, i'm not going to get mad at you.......you're too precious to be mad at@};-:-*
kayla_princess94 (09/18/07 11:12:14 PM): k:)
kayla_princess94 (09/18/07 11:12:33 PM): :-*@};-


lorne_a_20014

(09/18/07 11:12:40 PM): :D


lorne_a_20014

(09/18/07 11:12:57 PM): want me to let you go now so you can go take your shower and go to bed?
kayla_princess94 (09/18/07 11:13:08 PM): yeah i guess


lorne_a_20014

(09/18/07 11:13:15 PM): ok


lorne_a_20014

(09/18/07 11:13:29 PM): are you gonna think about me when you're in the shower?lol
kayla_princess94 (09/18/07 11:13:41 PM): yeah prolly


lorne_a_20014

(09/18/07 11:13:51 PM): what are you gonna think about?lol


lorne_a_20014

(09/18/07 11:13:57 PM): you're so sweet lol
kayla_princess94 (09/18/07 11:14:07 PM): how nice u r and how fun u r 2 talk 2


lorne_a_20014

(09/18/07 11:14:16 PM): :D


lorne_a_20014

(09/18/07 11:14:31 PM): i'm happy you like me precious@};->:D<:-*
kayla_princess94 (09/18/07 11:14:50 PM): :D


lorne_a_20014

(09/18/07 11:14:56 PM): i like you too@};-:-*


lorne_a_20014

(09/18/07 11:14:59 PM): ;;)
kayla_princess94 (09/18/07 11:15:02 PM): >:D<:)


lorne_a_20014

(09/18/07 11:15:18 PM): :D
kayla_princess94 (09/18/07 11:15:28 PM): :-*


lorne_a_20014

(09/18/07 11:15:45 PM): don't forget to delete your archives ok?
kayla_princess94 (09/18/07 11:15:50 PM): o
kayla_princess94 (09/18/07 11:15:56 PM): yeah i almost 4get


lorne_a_20014

(09/18/07 11:15:59 PM): lol


lorne_a_20014

(09/18/07 11:16:10 PM): good thing i reminded you huh?lol
kayla_princess94 (09/18/07 11:16:29 PM): yep


lorne_a_20014

(09/18/07 11:16:35 PM): i'll let you turn the cam off when you're ready to ok?
kayla_princess94 (09/18/07 11:16:53 PM): k:(


lorne_a_20014

(09/18/07 11:17:06 PM): you don't have to go yet if you don't want to lol
kayla_princess94 (09/18/07 11:17:31 PM): i know but my mom was just yellin at me 2 get goin:(


lorne_a_20014

(09/18/07 11:17:38 PM): oh ok


lorne_a_20014

(09/18/07 11:18:09 PM): you better go then so you don't get in trouble, but if you decide to sneak back on then i'll be up for about another hour ok?
kayla_princess94 (09/18/07 11:18:18 PM): k
kayla_princess94 (09/18/07 11:18:22 PM): ill miss u


lorne_a_20014

(09/18/07 11:18:37 PM): i'll miss you too@};-:-*>:D<


lorne_a_20014

(09/18/07 11:18:49 PM): do you want to see \"it\" one more time before you go?
kayla_princess94 (09/18/07 11:18:53 PM): >:D<:-*
kayla_princess94 (09/18/07 11:18:57 PM): k


lorne_a_20014

(09/18/07 11:20:03 PM): how was that?lol
kayla_princess94 (09/18/07 11:20:40 PM): k


lorne_a_20014

(09/18/07 11:21:06 PM): delete your archives after we stop talking again ok?
kayla_princess94 (09/18/07 11:21:14 PM): k
kayla_princess94 (09/18/07 11:21:17 PM): i will


lorne_a_20014

(09/18/07 11:21:22 PM): ok


lorne_a_20014

(09/18/07 11:21:45 PM): bye my precious little princess@};->:D<:-*
kayla_princess94 (09/18/07 11:21:57 PM): nite
kayla_princess94 (09/18/07 11:22:04 PM): >:D<:-*


lorne_a_20014

(09/18/07 11:22:10 PM): :D
kayla_princess94 (09/18/07 11:22:18 PM): :D
kayla_princess94 (09/18/07 11:23:27 PM): k there gone
kayla_princess94 (09/18/07 11:23:28 PM): nite


lorne_a_20014

(09/18/07 11:23:39 PM): good night precious


lorne_a_20014

(09/19/07 6:05:51 AM): good morning precious, have a good day@};-


lorne_a_20014

(09/19/07 8:11:50 PM): i'm here whenever you come online precious@};-


lorne_a_20014

(09/19/07 8:38:46 PM): hi sweetheart
kayla_princess94 (09/19/07 8:38:52 PM): hey


lorne_a_20014

(09/19/07 8:39:03 PM): you alone?
kayla_princess94 (09/19/07 8:39:08 PM): yeah


lorne_a_20014

(09/19/07 8:39:47 PM): hi pretty little princess@};-:-h
kayla_princess94 (09/19/07 8:39:53 PM): hi ya


lorne_a_20014

(09/19/07 8:40:04 PM): how did school go today?
kayla_princess94 (09/19/07 8:40:11 PM): it was ok


lorne_a_20014

(09/19/07 8:40:19 PM): what did you do?
kayla_princess94 (09/19/07 8:40:32 PM): same old stuff
kayla_princess94 (09/19/07 8:40:37 PM): wat did u do 2day


lorne_a_20014

(09/19/07 8:41:15 PM): i went to the bank this morning, came back did dishes, studied for my new job and then waited for you to come online lol


lorne_a_20014

(09/19/07 8:41:19 PM): :-*
kayla_princess94 (09/19/07 8:41:31 PM): :):-*
kayla_princess94 (09/19/07 8:41:34 PM): kewl
kayla_princess94 (09/19/07 8:41:36 PM): wheres bud
kayla_princess94 (09/19/07 8:42:06 PM): :-hbud


lorne_a_20014

(09/19/07 8:43:10 PM): he just looks at me every time i show you him on cam like he's saying \"daddy what the hell are you doing\" lol
kayla_princess94 (09/19/07 8:43:39 PM): lol


lorne_a_20014

(09/19/07 8:43:50 PM): did you see his teddy bear?
kayla_princess94 (09/19/07 8:43:57 PM): yeah


lorne_a_20014

(09/19/07 8:44:05 PM): hey, you didn't send me that pic yesterday lol
kayla_princess94 (09/19/07 8:44:20 PM): o i must of 4got
kayla_princess94 (09/19/07 8:44:24 PM): sry


lorne_a_20014

(09/19/07 8:44:34 PM): it' s ok, i'll forgive you this time lol
kayla_princess94 (09/19/07 8:44:39 PM): lol


lorne_a_20014

(09/19/07 8:45:03 PM): you're probably gonna have a big smile about something i did today lol
kayla_princess94 (09/19/07 8:45:17 PM): wat did ya do


lorne_a_20014

(09/19/07 8:45:53 PM): when i was studying i was sitting in front of the computer and i had 2 of your pictures up covering the screen lol


lorne_a_20014

(09/19/07 8:46:05 PM): you're so pretty i couldn't help it lol


lorne_a_20014

(09/19/07 8:46:09 PM): @};-
kayla_princess94 (09/19/07 8:46:29 PM): aww really


lorne_a_20014

(09/19/07 8:46:34 PM): yup


lorne_a_20014

(09/19/07 8:46:42 PM): i still have them up there too lol


lorne_a_20014

(09/19/07 8:46:49 PM): :-*
kayla_princess94 (09/19/07 8:46:50 PM): kewl


lorne_a_20014

(09/19/07 8:47:16 PM): so how much homework did you have today?
kayla_princess94 (09/19/07 8:47:38 PM): none 2day:D


lorne_a_20014

(09/19/07 8:47:42 PM): cool lol
kayla_princess94 (09/19/07 8:47:53 PM): boy i had 2 clean my room


lorne_a_20014

(09/19/07 8:48:03 PM): was it really messy?lol
kayla_princess94 (09/19/07 8:48:05 PM): my mom was gettin mad cuz it was a real mess


lorne_a_20014

(09/19/07 8:48:09 PM): lol
kayla_princess94 (09/19/07 8:48:19 PM): yeah shur was


lorne_a_20014

(09/19/07 8:48:24 PM): how long did it take you to clean it?
kayla_princess94 (09/19/07 8:48:37 PM): like 2 hours


lorne_a_20014

(09/19/07 8:48:41 PM): damn lol
kayla_princess94 (09/19/07 8:48:50 PM): it was pretty bad


lorne_a_20014

(09/19/07 8:49:03 PM): sounds like my neices use to be lol


lorne_a_20014

(09/19/07 8:49:46 PM): i use to let them make a mess when they were over my place though, they had their own room over my apartment, they thought they were something special lol


lorne_a_20014

(09/19/07 8:49:55 PM): i got them their own phone too lol
kayla_princess94 (09/19/07 8:50:09 PM): :)
kayla_princess94 (09/19/07 8:50:25 PM): wow kewl


lorne_a_20014

(09/19/07 8:50:39 PM): how many brothers and sisters do you have/
kayla_princess94 (09/19/07 8:50:51 PM): none:(


lorne_a_20014

(09/19/07 8:51:03 PM): aww@};-:-*


lorne_a_20014

(09/19/07 8:51:17 PM): are your parents ever going to have another baby?
kayla_princess94 (09/19/07 8:51:29 PM): i dont think so
kayla_princess94 (09/19/07 8:51:35 PM): bummer
kayla_princess94 (09/19/07 8:51:39 PM): u got any


lorne_a_20014

(09/19/07 8:51:42 PM): yeah


lorne_a_20014

(09/19/07 8:51:58 PM): i have 1 sister and 4 brothers


lorne_a_20014

(09/19/07 8:52:02 PM): want them??lol
kayla_princess94 (09/19/07 8:52:03 PM): wow
kayla_princess94 (09/19/07 8:52:06 PM): lol
kayla_princess94 (09/19/07 8:52:11 PM): mayb 1 or 2


lorne_a_20014

(09/19/07 8:52:23 PM): ok, you can take the dumbest ones ok?lol
kayla_princess94 (09/19/07 8:52:32 PM): lol
kayla_princess94 (09/19/07 8:52:34 PM): k


lorne_a_20014

(09/19/07 8:52:37 PM): lol


lorne_a_20014

(09/19/07 8:52:49 PM): did you notice that i have a cold?
kayla_princess94 (09/19/07 8:52:59 PM): aww no
kayla_princess94 (09/19/07 8:53:03 PM): sry 4 u


lorne_a_20014

(09/19/07 8:53:09 PM): my nose is stuffed up lol


lorne_a_20014

(09/19/07 8:53:32 PM): i didn't sleep good last night because of it, it was a pain in the butt
kayla_princess94 (09/19/07 8:53:48 PM): yeah i hate colds


lorne_a_20014

(09/19/07 8:54:16 PM): me too, you can have mine if you want it though, it comes free with my dumb sister and a dumb brother lol
kayla_princess94 (09/19/07 8:54:48 PM): rofl no 2 the cold ty but ill take ur dumb sis and bro


lorne_a_20014

(09/19/07 8:54:59 PM): ok lol


lorne_a_20014

(09/19/07 8:55:12 PM): so.....did you miss me today?
kayla_princess94 (09/19/07 8:55:19 PM): yeah


lorne_a_20014

(09/19/07 8:55:35 PM): really?? awesome:D:-*


lorne_a_20014

(09/19/07 8:55:51 PM): i missed you too>:D<:-*@};-
kayla_princess94 (09/19/07 8:56:17 PM): >:D<:-*@};-


lorne_a_20014

(09/19/07 8:56:24 PM): :D


lorne_a_20014

(09/19/07 8:56:37 PM): what did you think about today when you thought about me?
kayla_princess94 (09/19/07 8:57:07 PM): idk just thot bout u lol


lorne_a_20014

(09/19/07 8:57:11 PM): lol


lorne_a_20014

(09/19/07 8:57:17 PM): good things??lol
kayla_princess94 (09/19/07 8:57:29 PM): yeah


lorne_a_20014

(09/19/07 8:57:37 PM): ok:D


lorne_a_20014

(09/19/07 8:57:50 PM): brb, i need to blow my nose lol
kayla_princess94 (09/19/07 8:57:55 PM): k


lorne_a_20014

(09/19/07 8:59:01 PM): back
kayla_princess94 (09/19/07 8:59:14 PM): kewl


lorne_a_20014

(09/19/07 8:59:27 PM): hmm.......no yayyy tonight huh?lol


lorne_a_20014

(09/19/07 8:59:32 PM): are you tired?
kayla_princess94 (09/19/07 8:59:36 PM): lol
kayla_princess94 (09/19/07 8:59:39 PM): YAY


lorne_a_20014

(09/19/07 8:59:44 PM): lol
kayla_princess94 (09/19/07 8:59:44 PM): a lil


lorne_a_20014

(09/19/07 8:59:59 PM): i could kind of tell, even through this thing lol


lorne_a_20014

(09/19/07 9:00:24 PM): how did you sleep last night?
kayla_princess94 (09/19/07 9:00:38 PM): i slept ok
kayla_princess94 (09/19/07 9:00:46 PM): so when u start ur new job


lorne_a_20014

(09/19/07 9:01:19 PM): tomorrow at 4:30 in the afternoon, so i wont be home until around 10 tomorrow night
kayla_princess94 (09/19/07 9:01:31 PM): :(


lorne_a_20014

(09/19/07 9:01:40 PM): i'm sorry precious@};-


lorne_a_20014

(09/19/07 9:01:46 PM): >:D<:-*
kayla_princess94 (09/19/07 9:01:52 PM): :))
kayla_princess94 (09/19/07 9:02:00 PM): :((
kayla_princess94 (09/19/07 9:02:08 PM): i hit the wrong 1


lorne_a_20014

(09/19/07 9:02:08 PM): did you hit the wrong button?lol
kayla_princess94 (09/19/07 9:02:23 PM): yeah lol


lorne_a_20014

(09/19/07 9:02:35 PM): i'm going to be thinking about you alot though, especially around 7:30, does that help?lol
kayla_princess94 (09/19/07 9:02:52 PM): :(yeah


lorne_a_20014

(09/19/07 9:02:59 PM): :-*


lorne_a_20014

(09/19/07 9:03:13 PM): i'm sad about it too, i love spending time with you@};-
kayla_princess94 (09/19/07 9:03:50 PM): il never c u hardly:(dumb old job


lorne_a_20014

(09/19/07 9:03:55 PM): lol


lorne_a_20014

(09/19/07 9:04:11 PM): yes you will, every night and every weekend


lorne_a_20014

(09/19/07 9:04:25 PM): do you do many things on the weekend?
kayla_princess94 (09/19/07 9:04:36 PM): sumtimes
kayla_princess94 (09/19/07 9:04:38 PM): not always


lorne_a_20014

(09/19/07 9:04:48 PM): are you doing anything this weekend?
kayla_princess94 (09/19/07 9:04:59 PM): idk yet


lorne_a_20014

(09/19/07 9:05:27 PM): i'm not doing anything that i know of so hopefully we can spend alot of time together this weekend
kayla_princess94 (09/19/07 9:05:36 PM): kewl


lorne_a_20014

(09/19/07 9:05:40 PM): when's your next vacation?
kayla_princess94 (09/19/07 9:05:54 PM): hmm like from school


lorne_a_20014

(09/19/07 9:05:58 PM): yup


lorne_a_20014

(09/19/07 9:06:05 PM): brb, need coffee
kayla_princess94 (09/19/07 9:06:09 PM): k


lorne_a_20014

(09/19/07 9:06:55 PM): back
kayla_princess94 (09/19/07 9:07:11 PM): yay


lorne_a_20014

(09/19/07 9:07:17 PM): :-*


lorne_a_20014

(09/19/07 9:07:28 PM): when's your next vacation from school?
kayla_princess94 (09/19/07 9:07:37 PM): prolly fall break


lorne_a_20014

(09/19/07 9:07:49 PM): that's not too far away right?
kayla_princess94 (09/19/07 9:08:00 PM): yeah its in oct sumthin


lorne_a_20014

(09/19/07 9:08:44 PM): that's next month, and i don't leave for work until 11:00 in the morning so we'll have time then and at night when i get home
kayla_princess94 (09/19/07 9:08:56 PM): kewl


lorne_a_20014

(09/19/07 9:09:24 PM): i am going to miss you alot tomorrow though, it's gonna suck
kayla_princess94 (09/19/07 9:09:36 PM): yeah it is:(


lorne_a_20014

(09/19/07 9:09:57 PM): can i have a kiss please??;;):-*
kayla_princess94 (09/19/07 9:10:12 PM): :-*


lorne_a_20014

(09/19/07 9:10:17 PM): :D


lorne_a_20014

(09/19/07 9:10:35 PM): would your dad get you a cam/


lorne_a_20014

(09/19/07 9:10:37 PM): ?
kayla_princess94 (09/19/07 9:10:52 PM): no he wont:(


lorne_a_20014

(09/19/07 9:10:58 PM): bummer


lorne_a_20014

(09/19/07 9:11:08 PM): i wish i could get you one lol
kayla_princess94 (09/19/07 9:11:27 PM): i had 1 but they took it way


lorne_a_20014

(09/19/07 9:11:33 PM): why?
kayla_princess94 (09/19/07 9:11:35 PM): my friend maria had 1
kayla_princess94 (09/19/07 9:12:00 PM): and she was talkin 2 sum guy and he had his shirt off like u rite
kayla_princess94 (09/19/07 9:12:13 PM): and her mom came in and saw it and she like flipped out
kayla_princess94 (09/19/07 9:12:23 PM): she was grounded like 4 ever


lorne_a_20014

(09/19/07 9:12:29 PM): wow
kayla_princess94 (09/19/07 9:12:32 PM): so anyways her mom told my mom bout it


lorne_a_20014

(09/19/07 9:12:39 PM): oh wow
kayla_princess94 (09/19/07 9:12:47 PM): and they were like ok ur not havin that thing enymore
kayla_princess94 (09/19/07 9:12:56 PM): stooped


lorne_a_20014

(09/19/07 9:12:59 PM): bummer
kayla_princess94 (09/19/07 9:13:00 PM): stupid


lorne_a_20014

(09/19/07 9:13:05 PM): yup
kayla_princess94 (09/19/07 9:13:06 PM): i know its so lame


lorne_a_20014

(09/19/07 9:13:41 PM): is your computer in a place where if your parents walk in they can see the monitor?
kayla_princess94 (09/19/07 9:13:50 PM): no


lorne_a_20014

(09/19/07 9:13:55 PM): good lol
kayla_princess94 (09/19/07 9:14:17 PM): and get this it was just a dude we knew from school but he was like 17 or sumtin
kayla_princess94 (09/19/07 9:14:23 PM): stupid


lorne_a_20014

(09/19/07 9:14:25 PM): oh


lorne_a_20014

(09/19/07 9:14:36 PM): you know how to minimize my cam right?
kayla_princess94 (09/19/07 9:14:44 PM): yeah


lorne_a_20014

(09/19/07 9:14:47 PM): ok


lorne_a_20014

(09/19/07 9:15:22 PM): if they ever yell to you to go do something shut my cam right off then i'll turn it back on for you when you get back ok?
kayla_princess94 (09/19/07 9:15:35 PM): o
kayla_princess94 (09/19/07 9:15:36 PM): k
kayla_princess94 (09/19/07 9:15:38 PM): good idea
kayla_princess94 (09/19/07 9:15:42 PM): ;)


lorne_a_20014

(09/19/07 9:15:46 PM): lol


lorne_a_20014

(09/19/07 9:15:51 PM): :-*
kayla_princess94 (09/19/07 9:16:03 PM): :-*


lorne_a_20014

(09/19/07 9:16:10 PM): brb, need to turn the a/c on
kayla_princess94 (09/19/07 9:16:19 PM): k


lorne_a_20014

(09/19/07 9:16:51 PM): back


lorne_a_20014

(09/19/07 9:17:05 PM): grr, my nose is so stuffed up lol
kayla_princess94 (09/19/07 9:17:21 PM): aww u shuld take sum medcine


lorne_a_20014

(09/19/07 9:17:32 PM): i did, it's still stuffed lol
kayla_princess94 (09/19/07 9:17:47 PM): must not b very good medcine then


lorne_a_20014

(09/19/07 9:17:54 PM): want to come take care of me and get me back to good health?lol
kayla_princess94 (09/19/07 9:18:06 PM): lol now how wuld i do that


lorne_a_20014

(09/19/07 9:18:19 PM): don't know, but it's a nice thought though huh?lol
kayla_princess94 (09/19/07 9:18:25 PM): yeah
kayla_princess94 (09/19/07 9:18:27 PM): lol


lorne_a_20014

(09/19/07 9:18:30 PM): loll


lorne_a_20014

(09/19/07 9:18:48 PM): so did you think about me while you were in the shower last night?
kayla_princess94 (09/19/07 9:19:06 PM): well yeah cuz we just got done talkin


lorne_a_20014

(09/19/07 9:19:11 PM): lol


lorne_a_20014

(09/19/07 9:19:17 PM): what did you think about?lol


lorne_a_20014

(09/19/07 9:19:28 PM): did you notice i like to know what you're thinking about me?lol
kayla_princess94 (09/19/07 9:19:36 PM): lol yeah
kayla_princess94 (09/19/07 9:19:39 PM): hmm
kayla_princess94 (09/19/07 9:19:52 PM): that ur really kewl and a great new friend


lorne_a_20014

(09/19/07 9:20:02 PM): cool:D
kayla_princess94 (09/19/07 9:20:24 PM): wat u think bout me when u thinkin bout me


lorne_a_20014

(09/19/07 9:20:51 PM): that you're really beautiful and a special girl and i really wish you were closer to my age lol
kayla_princess94 (09/19/07 9:21:19 PM): u think im beautiful really


lorne_a_20014

(09/19/07 9:21:26 PM): yes i do
kayla_princess94 (09/19/07 9:21:32 PM): ty


lorne_a_20014

(09/19/07 9:21:51 PM): i think you're very beautiful, that's why i had your pics up covering my monitor all day lol


lorne_a_20014

(09/19/07 9:21:54 PM): @};-


lorne_a_20014

(09/19/07 9:22:00 PM): ;;):-*
kayla_princess94 (09/19/07 9:22:03 PM): :D
kayla_princess94 (09/19/07 9:22:15 PM): y u wish i was closer 2 ur age


lorne_a_20014

(09/19/07 9:22:30 PM): because then i could marry you lol
kayla_princess94 (09/19/07 9:22:36 PM): lol
kayla_princess94 (09/19/07 9:22:41 PM): yeah rite
kayla_princess94 (09/19/07 9:22:45 PM): u wuldnt


lorne_a_20014

(09/19/07 9:22:55 PM): yes i would, in a heartbeat lol
kayla_princess94 (09/19/07 9:23:03 PM): kewl


lorne_a_20014

(09/19/07 9:23:24 PM): want me be honest with you about something else?lol
kayla_princess94 (09/19/07 9:23:38 PM): yeah


lorne_a_20014

(09/19/07 9:24:03 PM): sometimes i have some naughty thoughts about you too lol:\">:-\"
kayla_princess94 (09/19/07 9:24:34 PM): wat u mean


lorne_a_20014

(09/19/07 9:24:57 PM): hmmm.........let's just say i wish you were closer to my age lol
kayla_princess94 (09/19/07 9:25:06 PM): i dont get it


lorne_a_20014

(09/19/07 9:25:13 PM): lol


lorne_a_20014

(09/19/07 9:25:36 PM): i don't know if i want to tell you or not that's why i said let's just say i wish you were closer to my age lol
kayla_princess94 (09/19/07 9:25:55 PM): k ur makin fun of me cuz u think im dumb


lorne_a_20014

(09/19/07 9:26:36 PM): no i'm not making fun of you and i know you're not dumb precious........i just don't know if i want to tell you because they're naughty thoughts lol
kayla_princess94 (09/19/07 9:26:56 PM): o ok


lorne_a_20014

(09/19/07 9:27:09 PM): do you know what i'm saying now?lol
kayla_princess94 (09/19/07 9:27:16 PM): yes


lorne_a_20014

(09/19/07 9:27:21 PM): ok lol
kayla_princess94 (09/19/07 9:27:25 PM): i mean no
kayla_princess94 (09/19/07 9:27:29 PM): i dont


lorne_a_20014

(09/19/07 9:27:30 PM): oh lol
kayla_princess94 (09/19/07 9:27:36 PM): im confused


lorne_a_20014

(09/19/07 9:27:40 PM): now you're confusing me lol
kayla_princess94 (09/19/07 9:27:44 PM): lol


lorne_a_20014

(09/19/07 9:27:54 PM): we need to stop confusing eachother lol
kayla_princess94 (09/19/07 9:27:59 PM): lol
kayla_princess94 (09/19/07 9:28:04 PM): u started it


lorne_a_20014

(09/19/07 9:28:07 PM): lol


lorne_a_20014

(09/19/07 9:28:35 PM): ok, want me to explain it to you or do you want me to just not say anything more about it and forget it?lol
kayla_princess94 (09/19/07 9:28:52 PM): explain it plz


lorne_a_20014

(09/19/07 9:28:58 PM): ok


lorne_a_20014

(09/19/07 9:29:13 PM): remember you told me your bff had experience?
kayla_princess94 (09/19/07 9:29:20 PM): yeah


lorne_a_20014

(09/19/07 9:29:35 PM): ok, are you starting to see what i was talking about now?lol
kayla_princess94 (09/19/07 9:29:47 PM): kinda


lorne_a_20014

(09/19/07 9:29:58 PM): ok, can i stop explaining it now?lol
kayla_princess94 (09/19/07 9:30:29 PM): hmm not really shur but if u dont wanna k


lorne_a_20014

(09/19/07 9:30:38 PM): lmao


lorne_a_20014

(09/19/07 9:30:51 PM): you're making me blush by explaining this to you lol
kayla_princess94 (09/19/07 9:31:22 PM): u dont have 2 if u dont wanna its ok


lorne_a_20014

(09/19/07 9:32:12 PM): ok, well if you ever want me to then just tell me, i could explain it really easy with one word but i'm having trouble saying that one word because of your age lol
kayla_princess94 (09/19/07 9:32:37 PM): cuz of my age


lorne_a_20014

(09/19/07 9:32:57 PM): well, because of your age and my age difference
kayla_princess94 (09/19/07 9:33:06 PM): huh
kayla_princess94 (09/19/07 9:33:22 PM): im lost
kayla_princess94 (09/19/07 9:33:23 PM): sry


lorne_a_20014

(09/19/07 9:33:27 PM): lmao


lorne_a_20014

(09/19/07 9:33:31 PM): :-*


lorne_a_20014

(09/19/07 9:33:53 PM): ok, i'm gonna try to do this by saying that one word lol


lorne_a_20014

(09/19/07 9:33:58 PM): here we go lol


lorne_a_20014

(09/19/07 9:34:06 PM): ready?lol
kayla_princess94 (09/19/07 9:34:11 PM): wat word


lorne_a_20014

(09/19/07 9:34:23 PM): the naughty thoughts i've had


lorne_a_20014

(09/19/07 9:34:25 PM): s


lorne_a_20014

(09/19/07 9:34:26 PM): e


lorne_a_20014

(09/19/07 9:34:27 PM): x


lorne_a_20014

(09/19/07 9:34:30 PM): lol
kayla_princess94 (09/19/07 9:34:55 PM): :\">


lorne_a_20014

(09/19/07 9:34:59 PM): understand now??lol


lorne_a_20014

(09/19/07 9:35:07 PM): ;;):\">
kayla_princess94 (09/19/07 9:35:21 PM): kinda
kayla_princess94 (09/19/07 9:35:27 PM): u think bout that


lorne_a_20014

(09/19/07 9:35:32 PM): yup lol
kayla_princess94 (09/19/07 9:35:44 PM): k


lorne_a_20014

(09/19/07 9:35:55 PM): not mad at me are you?
kayla_princess94 (09/19/07 9:36:29 PM): no y wuld i b mad at u
kayla_princess94 (09/19/07 9:36:45 PM): lots of pple i mean doesnt every1 think bout that stuff


lorne_a_20014

(09/19/07 9:37:20 PM): i don't know, i thought maybe because i thought about that when i've thought about you, i didn't know if you would like me thinking about that or not lol


lorne_a_20014

(09/19/07 9:37:36 PM): so you think about that stuff too??lol
kayla_princess94 (09/19/07 9:37:46 PM): i wonder bout it
kayla_princess94 (09/19/07 9:37:51 PM): o i get it
kayla_princess94 (09/19/07 9:37:59 PM): u think bout that when u think bout me


lorne_a_20014

(09/19/07 9:38:41 PM): sometimes but not all the time, most the time i think about how awesome of a girl you are and how much i wish you were closer to my age


lorne_a_20014

(09/19/07 9:39:27 PM): ok, tell me what you're thinking lol
kayla_princess94 (09/19/07 9:40:20 PM): just dont get y u keep sayin u wish i was closer 2 ur age y u want me 2 b older


lorne_a_20014

(09/19/07 9:40:46 PM): because then i could take you out on dates and things right now
kayla_princess94 (09/19/07 9:40:57 PM): o
kayla_princess94 (09/19/07 9:41:05 PM): wow u wuld 4real


lorne_a_20014

(09/19/07 9:41:28 PM): hell yeah, i know an awesome girl when i see one@};-
kayla_princess94 (09/19/07 9:41:56 PM): aww ty


lorne_a_20014

(09/19/07 9:42:05 PM): would you want me to if you were closer to my age?
kayla_princess94 (09/19/07 9:42:40 PM): yeah:\">i think u wuld b kewl 2 go out on dates with


lorne_a_20014

(09/19/07 9:42:51 PM): :D:-*
kayla_princess94 (09/19/07 9:43:15 PM): >:D<:-*


lorne_a_20014

(09/19/07 9:43:20 PM): i might get frisky with you on dates though lol:\">
kayla_princess94 (09/19/07 9:43:31 PM): frisky wats that


lorne_a_20014

(09/19/07 9:44:05 PM): hmm.......lets just say my hands wouldn't stay in one place, they would be all over you lol
kayla_princess94 (09/19/07 9:44:21 PM): :\">


lorne_a_20014

(09/19/07 9:44:36 PM): you don't mind do you?lol
kayla_princess94 (09/19/07 9:45:01 PM): idk:\">


lorne_a_20014

(09/19/07 9:45:08 PM): ;;)


lorne_a_20014

(09/19/07 9:45:11 PM): :-*
kayla_princess94 (09/19/07 9:45:12 PM): brb shh


lorne_a_20014

(09/19/07 9:45:16 PM): ok
kayla_princess94 (09/19/07 9:49:41 PM): k
kayla_princess94 (09/19/07 9:49:50 PM): im back


lorne_a_20014

(09/19/07 9:49:51 PM): :D


lorne_a_20014

(09/19/07 9:49:53 PM): :-*
kayla_princess94 (09/19/07 9:50:16 PM): :-*


lorne_a_20014

(09/19/07 9:50:30 PM): ok, gotta give me a couple minutes ok? bud has to go pee


lorne_a_20014

(09/19/07 9:50:35 PM): :-*
kayla_princess94 (09/19/07 9:50:58 PM): k


lorne_a_20014

(09/19/07 9:51:03 PM): brb


lorne_a_20014

(09/19/07 9:55:13 PM): back
kayla_princess94 (09/19/07 9:55:30 PM): YAY


lorne_a_20014

(09/19/07 9:55:35 PM): :-*


lorne_a_20014

(09/19/07 9:55:45 PM): were you watching?lol
kayla_princess94 (09/19/07 9:56:18 PM): yeah:\">


lorne_a_20014

(09/19/07 9:56:27 PM): :D:-*


lorne_a_20014

(09/19/07 9:56:50 PM): were you liking watching?lol:D
kayla_princess94 (09/19/07 9:57:09 PM): yeah:\">


lorne_a_20014

(09/19/07 9:57:16 PM): :D:-*


lorne_a_20014

(09/19/07 9:57:34 PM): what were you thinking when you were watching??lol:D
kayla_princess94 (09/19/07 9:57:47 PM): lol
kayla_princess94 (09/19/07 9:58:09 PM): ur always naked lol


lorne_a_20014

(09/19/07 9:58:17 PM): lol
kayla_princess94 (09/19/07 9:58:49 PM): wat if u 4got 2 get dressed an ran out the door 2 take bud out u wuld b really embarassed lol


lorne_a_20014

(09/19/07 9:58:59 PM): lmao


lorne_a_20014

(09/19/07 9:59:07 PM): i would die if i did that lol
kayla_princess94 (09/19/07 9:59:13 PM): lol


lorne_a_20014

(09/19/07 9:59:20 PM): if you ever see me start to do that then buzz me quick lol
kayla_princess94 (09/19/07 9:59:29 PM): lol
kayla_princess94 (09/19/07 9:59:32 PM): k i will


lorne_a_20014

(09/19/07 9:59:38 PM): good, ty lol


lorne_a_20014

(09/19/07 9:59:50 PM): so tell me this lol
kayla_princess94 (09/19/07 9:59:56 PM): wat


lorne_a_20014

(09/19/07 10:00:10 PM): do you like seeing me naked on cam or would you rather see me naked in person?lol
kayla_princess94 (09/19/07 10:00:35 PM): :\">idk


lorne_a_20014

(09/19/07 10:00:40 PM): lol


lorne_a_20014

(09/19/07 10:00:43 PM): :-*


lorne_a_20014

(09/19/07 10:01:11 PM): remember what i had you do the other night? the experimenting?
kayla_princess94 (09/19/07 10:01:19 PM): yeah


lorne_a_20014

(09/19/07 10:01:33 PM): if i took you out on dates i'd be doing that for you lol


lorne_a_20014

(09/19/07 10:01:39 PM): :\">
kayla_princess94 (09/19/07 10:02:09 PM): :\">
kayla_princess94 (09/19/07 10:02:11 PM): u wuld 4real


lorne_a_20014

(09/19/07 10:02:31 PM): hell yeah.......in a heartbeat, i'd be stupid not to lol


lorne_a_20014

(09/19/07 10:02:40 PM): would you want me to?
kayla_princess94 (09/19/07 10:02:59 PM): yeah:\">


lorne_a_20014

(09/19/07 10:03:06 PM): :D


lorne_a_20014

(09/19/07 10:03:12 PM): :-*=P~
kayla_princess94 (09/19/07 10:03:33 PM): lol


lorne_a_20014

(09/19/07 10:03:40 PM): do you think you'd like it??:D
kayla_princess94 (09/19/07 10:04:03 PM): prolly


lorne_a_20014

(09/19/07 10:04:09 PM): :D


lorne_a_20014

(09/19/07 10:04:19 PM): i know i would lol:\">
kayla_princess94 (09/19/07 10:04:49 PM): kewl


lorne_a_20014

(09/19/07 10:05:04 PM): do you feel like experimenting right now?lol
kayla_princess94 (09/19/07 10:05:17 PM): shh


lorne_a_20014

(09/19/07 10:05:22 PM): lol
kayla_princess94 (09/19/07 10:13:42 PM): geez my parents r dumb


lorne_a_20014

(09/19/07 10:13:44 PM): :-*


lorne_a_20014

(09/19/07 10:14:08 PM): what did they want you for?
kayla_princess94 (09/19/07 10:14:27 PM): there dumb gawd


lorne_a_20014

(09/19/07 10:14:32 PM): lol
kayla_princess94 (09/19/07 10:14:57 PM): they r running out 2 the store and wanted 2 know if i wanted ice cream im like well duh who wuldnt
kayla_princess94 (09/19/07 10:14:59 PM): lol


lorne_a_20014

(09/19/07 10:15:09 PM): lol


lorne_a_20014

(09/19/07 10:15:23 PM): so you're gonna be alone for a few minutes huh?
kayla_princess94 (09/19/07 10:15:30 PM): yeah


lorne_a_20014

(09/19/07 10:15:40 PM): how long are they gonna be gone?
kayla_princess94 (09/19/07 10:15:50 PM): not that long
kayla_princess94 (09/19/07 10:15:51 PM): idk


lorne_a_20014

(09/19/07 10:16:05 PM): do you feel like experimenting again?lol
kayla_princess94 (09/19/07 10:16:15 PM): noooo


lorne_a_20014

(09/19/07 10:16:19 PM): lmao


lorne_a_20014

(09/19/07 10:16:24 PM): :-*
kayla_princess94 (09/19/07 10:16:44 PM): :-*


lorne_a_20014

(09/19/07 10:16:50 PM): are you scared it will hurt too much?
kayla_princess94 (09/19/07 10:17:02 PM): kinda


lorne_a_20014

(09/19/07 10:17:34 PM): it wont hurt too much with just your finger, if it were my \"thing\" that's when it would hurt the first time


lorne_a_20014

(09/19/07 10:17:45 PM): did it hurt the other night?
kayla_princess94 (09/19/07 10:18:08 PM): hmm not really


lorne_a_20014

(09/19/07 10:18:46 PM): ok, so would you like to try it again? if not then just say no, i wont be mad precious@};-
kayla_princess94 (09/19/07 10:18:58 PM): k then no


lorne_a_20014

(09/19/07 10:19:02 PM): lol


lorne_a_20014

(09/19/07 10:19:03 PM): ok


lorne_a_20014

(09/19/07 10:19:05 PM): lol


lorne_a_20014

(09/19/07 10:19:10 PM): :-*


lorne_a_20014

(09/19/07 10:19:22 PM): want me to do it for you instead if i was there?lol
kayla_princess94 (09/19/07 10:19:39 PM): u wuld wanna do that 4 real


lorne_a_20014

(09/19/07 10:20:26 PM): hell yeah.......it would be an honor for me to do that with you........you're like a little goddess@};-:-*
kayla_princess94 (09/19/07 10:20:53 PM): :\">aww wat a sweet thing 2 say


lorne_a_20014

(09/19/07 10:21:11 PM): it's very true too, can you tell how much i like you now?lol
kayla_princess94 (09/19/07 10:21:25 PM): yeah:\">


lorne_a_20014

(09/19/07 10:21:33 PM): :D:-*


lorne_a_20014

(09/19/07 10:22:00 PM): so.....if i were there with you right now.....would you want me to do that for you??lol
kayla_princess94 (09/19/07 10:22:38 PM): :\">yeah


lorne_a_20014

(09/19/07 10:22:46 PM): :D:-*


lorne_a_20014

(09/19/07 10:23:00 PM): wow i wish i was there right now lol
kayla_princess94 (09/19/07 10:23:09 PM): u do
kayla_princess94 (09/19/07 10:23:11 PM): kewl


lorne_a_20014

(09/19/07 10:23:15 PM): yeah i do lol


lorne_a_20014

(09/19/07 10:23:21 PM): do you have a mic?
kayla_princess94 (09/19/07 10:23:47 PM): no


lorne_a_20014

(09/19/07 10:23:52 PM): bummer
kayla_princess94 (09/19/07 10:23:58 PM): bummer


lorne_a_20014

(09/19/07 10:24:18 PM): it would be perfect timing to hear your pretty little voice because your parents have gone to the store


lorne_a_20014

(09/19/07 10:24:46 PM): would your dad get you a mic?
kayla_princess94 (09/19/07 10:25:02 PM): idk


lorne_a_20014

(09/19/07 10:25:25 PM): want to ask him next time you go shopping if you can get one?
kayla_princess94 (09/19/07 10:25:47 PM): k


lorne_a_20014

(09/19/07 10:25:53 PM): :D


lorne_a_20014

(09/19/07 10:26:05 PM): hopefully he'll say yes so i can hear your voice lol


lorne_a_20014

(09/19/07 10:26:10 PM): brb, need coffee
kayla_princess94 (09/19/07 10:26:20 PM): k


lorne_a_20014

(09/19/07 10:26:59 PM): back


lorne_a_20014

(09/19/07 10:27:38 PM): still here with me precious?
kayla_princess94 (09/19/07 10:27:53 PM): YAY


lorne_a_20014

(09/19/07 10:28:02 PM): :-*


lorne_a_20014

(09/19/07 10:28:27 PM): are you talking to your other friends right now too?
kayla_princess94 (09/19/07 10:28:28 PM): yep
kayla_princess94 (09/19/07 10:29:34 PM): i was talkin 2 maria sry


lorne_a_20014

(09/19/07 10:29:53 PM): oh, it's alright, don't be sorry@};-
kayla_princess94 (09/19/07 10:30:06 PM): :)
kayla_princess94 (09/19/07 10:30:11 PM): :-*


lorne_a_20014

(09/19/07 10:30:11 PM): :-*


lorne_a_20014

(09/19/07 10:30:21 PM): you're so special@};-


lorne_a_20014

(09/19/07 10:30:43 PM): i figured out that i'm not that far from kentucky


lorne_a_20014

(09/19/07 10:30:58 PM): do you know where Bowlin Greene, Kentucky is?
kayla_princess94 (09/19/07 10:31:06 PM): umm yeah
kayla_princess94 (09/19/07 10:31:08 PM): y


lorne_a_20014

(09/19/07 10:31:16 PM): i'm 63 miles from there
kayla_princess94 (09/19/07 10:31:25 PM): really


lorne_a_20014

(09/19/07 10:31:28 PM): yup


lorne_a_20014

(09/19/07 10:31:58 PM): i looked on the map today just because i was curious and i'm also 214 miles from Lexington


lorne_a_20014

(09/19/07 10:31:59 PM): lol
kayla_princess94 (09/19/07 10:32:12 PM): wow thats a long ways


lorne_a_20014

(09/19/07 10:32:31 PM): yeah, that's like 3 1/2 hrs away
kayla_princess94 (09/19/07 10:32:49 PM): i never been there but it here its nice place


lorne_a_20014

(09/19/07 10:32:57 PM): cool


lorne_a_20014

(09/19/07 10:33:04 PM): don't be telling me where you live either lol


lorne_a_20014

(09/19/07 10:33:33 PM): i didn't say that because i wanted you to tell me, i told you that just because i wanted you to know i was curious so i looked it up lol
kayla_princess94 (09/19/07 10:33:44 PM): k


lorne_a_20014

(09/19/07 10:34:03 PM): but i'd still love to be right there with you right now lol
kayla_princess94 (09/19/07 10:34:13 PM): u wuld kewl


lorne_a_20014

(09/19/07 10:34:43 PM): so how do you feel now knowing that i have a crush on you too?lol
kayla_princess94 (09/19/07 10:35:08 PM): :\">:D


lorne_a_20014

(09/19/07 10:35:17 PM): :-*@};-
kayla_princess94 (09/19/07 10:35:28 PM): >:D<:-*


lorne_a_20014

(09/19/07 10:35:38 PM): does that honestly make you happy knowing that?
kayla_princess94 (09/19/07 10:35:46 PM): yes


lorne_a_20014

(09/19/07 10:35:59 PM): you must really like me alot huh?lol
kayla_princess94 (09/19/07 10:36:18 PM): yeah i do


lorne_a_20014

(09/19/07 10:36:22 PM): :D:\">


lorne_a_20014

(09/19/07 10:36:28 PM): :-*>:D<


lorne_a_20014

(09/19/07 10:36:32 PM): @};-
kayla_princess94 (09/19/07 10:36:45 PM): :-*:x


lorne_a_20014

(09/19/07 10:36:59 PM): :x;;):-*:D


lorne_a_20014

(09/19/07 10:37:09 PM): damn i wish you were older lol
kayla_princess94 (09/19/07 10:37:39 PM): there u go again wishin i was older


lorne_a_20014

(09/19/07 10:37:43 PM): lol


lorne_a_20014

(09/19/07 10:37:45 PM): sorry lol


lorne_a_20014

(09/19/07 10:37:54 PM): does that upset you?
kayla_princess94 (09/19/07 10:38:23 PM): no
kayla_princess94 (09/19/07 10:38:24 PM): lol
kayla_princess94 (09/19/07 10:38:25 PM): shh
kayla_princess94 (09/19/07 10:48:28 PM): u still there im back


lorne_a_20014

(09/19/07 10:48:36 PM): :-*


lorne_a_20014

(09/19/07 10:49:19 PM): there, you're the only one that can see that i'm online:-*
kayla_princess94 (09/19/07 10:49:34 PM): kewl


lorne_a_20014

(09/19/07 10:49:56 PM): did you get your ice cream?
kayla_princess94 (09/19/07 10:50:15 PM): gawd yes lol got my ice cream


lorne_a_20014

(09/19/07 10:50:21 PM): lol


lorne_a_20014

(09/19/07 10:50:24 PM): what kind is it?
kayla_princess94 (09/19/07 10:50:38 PM): best choc


lorne_a_20014

(09/19/07 10:50:42 PM): mmmmmmmm


lorne_a_20014

(09/19/07 10:50:48 PM): can i have a bite??lol
kayla_princess94 (09/19/07 10:51:01 PM): shur here


lorne_a_20014

(09/19/07 10:51:14 PM): can i use the same spoon you're using??lol


lorne_a_20014

(09/19/07 10:51:19 PM): :D
kayla_princess94 (09/19/07 10:51:49 PM): lol
kayla_princess94 (09/19/07 10:51:55 PM): i guess if u wanna


lorne_a_20014

(09/19/07 10:52:02 PM): :D:D


lorne_a_20014

(09/19/07 10:52:20 PM): good, that way i can have your sweet germs too lol


lorne_a_20014

(09/19/07 10:53:03 PM): brb, coffee
kayla_princess94 (09/19/07 10:53:22 PM): k


lorne_a_20014

(09/19/07 10:53:58 PM): back


lorne_a_20014

(09/19/07 10:54:05 PM): :-*
kayla_princess94 (09/19/07 10:54:21 PM): YAY


lorne_a_20014

(09/19/07 10:54:29 PM): how's the ice cream tasting?
kayla_princess94 (09/19/07 10:55:12 PM): mmmmmmm
kayla_princess94 (09/19/07 10:55:18 PM): brb


lorne_a_20014

(09/19/07 10:55:21 PM): ok
kayla_princess94 (09/19/07 10:57:15 PM): k im back


lorne_a_20014

(09/19/07 10:57:18 PM): :D:-*
kayla_princess94 (09/19/07 10:57:24 PM): :-*


lorne_a_20014

(09/19/07 10:57:45 PM): did you lick the bowl clean?lol
kayla_princess94 (09/19/07 10:57:53 PM): lol


lorne_a_20014

(09/19/07 10:58:21 PM): so you would HONESTLY let me do your experimenting on you for you if was there right now??
kayla_princess94 (09/19/07 10:59:29 PM): well if u really wanna


lorne_a_20014

(09/19/07 10:59:49 PM): :D=P~i really wanna, believe me i REALLY wanna lol
kayla_princess94 (09/19/07 11:00:21 PM): kewl


lorne_a_20014

(09/19/07 11:00:37 PM): would you let me use my \"thing\" on you??lol


lorne_a_20014

(09/19/07 11:00:45 PM): HONESTLY
kayla_princess94 (09/19/07 11:01:16 PM): wat thing


lorne_a_20014

(09/19/07 11:01:36 PM): damn, i was just wondering if you wree gonna ask me that lol


lorne_a_20014

(09/19/07 11:01:54 PM): look at the cam and i'll show you what thing ok?
kayla_princess94 (09/19/07 11:02:34 PM): k


lorne_a_20014

(09/19/07 11:03:00 PM): that thing lol
kayla_princess94 (09/19/07 11:03:13 PM): ooooh THAT


lorne_a_20014

(09/19/07 11:03:17 PM): lmao


lorne_a_20014

(09/19/07 11:03:39 PM): would you let me use that on you?
kayla_princess94 (09/19/07 11:03:54 PM): u wuld wanna do that


lorne_a_20014

(09/19/07 11:04:11 PM): hell yeah, if you wanted me to


lorne_a_20014

(09/19/07 11:04:25 PM): especially with you@};-
kayla_princess94 (09/19/07 11:04:43 PM): yes:\">


lorne_a_20014

(09/19/07 11:04:54 PM): :D:-*:x


lorne_a_20014

(09/19/07 11:05:06 PM): god i wish i was there right now lol
kayla_princess94 (09/19/07 11:05:12 PM): :x:-*


lorne_a_20014

(09/19/07 11:05:31 PM): it would be your first time


lorne_a_20014

(09/19/07 11:05:41 PM): would you be scared?
kayla_princess94 (09/19/07 11:06:05 PM): yeah prolly kinda


lorne_a_20014

(09/19/07 11:06:47 PM): i would do everything i could to make you feel more comfortable because you're my precious princess@};-


lorne_a_20014

(09/19/07 11:06:57 PM): :-*:x
kayla_princess94 (09/19/07 11:07:08 PM): :):-*


lorne_a_20014

(09/19/07 11:07:52 PM): would you rather have me call you my princess or my baby girl? or is there something different that you would rather have me call you that you'd like better?
kayla_princess94 (09/19/07 11:08:27 PM): hmm i like u callin me ur precious princess but baby girl is nice 2


lorne_a_20014

(09/19/07 11:08:51 PM): ok, i'll call you my precious princess then@};-:-*
kayla_princess94 (09/19/07 11:09:11 PM): :)


lorne_a_20014

(09/19/07 11:09:20 PM): are you wishing you could see me in person now?lol


lorne_a_20014

(09/19/07 11:09:37 PM): i know i am lol
kayla_princess94 (09/19/07 11:09:45 PM): yeah that wuld b kewl


lorne_a_20014

(09/19/07 11:10:06 PM): that would be better than cool, that would be amazing


lorne_a_20014

(09/19/07 11:10:38 PM): especially to be able to be with you like that, even to kiss you would put me in heaven lol@};-
kayla_princess94 (09/19/07 11:11:06 PM): aww
kayla_princess94 (09/19/07 11:11:13 PM): how sweet


lorne_a_20014

(09/19/07 11:11:28 PM): yeah.......you are VERY sweet


lorne_a_20014

(09/19/07 11:11:47 PM): are you in your jammies yet?
kayla_princess94 (09/19/07 11:12:37 PM): yeah


lorne_a_20014

(09/19/07 11:12:50 PM): same ones as last night or different ones?
kayla_princess94 (09/19/07 11:13:13 PM): same


lorne_a_20014

(09/19/07 11:13:27 PM): wish i could see you out of them........i mean in them lol


lorne_a_20014

(09/19/07 11:13:36 PM): :-*
kayla_princess94 (09/19/07 11:13:42 PM): lol
kayla_princess94 (09/19/07 11:13:48 PM): :\">


lorne_a_20014

(09/19/07 11:14:13 PM): would you let me take them off of you if i were there right now?
kayla_princess94 (09/19/07 11:14:31 PM): yeah:\">


lorne_a_20014

(09/19/07 11:14:41 PM): :D=P~:-*
kayla_princess94 (09/19/07 11:14:50 PM): lol


lorne_a_20014

(09/19/07 11:15:13 PM): i REALLY wish we could see eachother in person:(
kayla_princess94 (09/19/07 11:15:32 PM): wow


lorne_a_20014

(09/19/07 11:15:42 PM): i want to kiss you so bad right now:-S


lorne_a_20014

(09/19/07 11:15:56 PM): wow what?
kayla_princess94 (09/19/07 11:15:57 PM): :D
kayla_princess94 (09/19/07 11:16:30 PM): that u really wish we could c each other in person


lorne_a_20014

(09/19/07 11:16:47 PM): you didn't think i was kidding about that did you?lol
kayla_princess94 (09/19/07 11:16:59 PM): idk were u


lorne_a_20014

(09/19/07 11:17:10 PM): nope........not even a little bit
kayla_princess94 (09/19/07 11:17:20 PM): :D


lorne_a_20014

(09/19/07 11:17:35 PM): i told you i know a special girl when i see one@};-


lorne_a_20014

(09/19/07 11:17:39 PM): :-*
kayla_princess94 (09/19/07 11:18:09 PM): :)
kayla_princess94 (09/19/07 11:18:14 PM): :-*
kayla_princess94 (09/19/07 11:18:19 PM): :x


lorne_a_20014

(09/19/07 11:18:21 PM): :D


lorne_a_20014

(09/19/07 11:18:25 PM): :x


lorne_a_20014

(09/19/07 11:18:29 PM): :-*


lorne_a_20014

(09/19/07 11:18:31 PM): @};-


lorne_a_20014

(09/19/07 11:18:42 PM): so tell me, what are you thinking right now?
kayla_princess94 (09/19/07 11:19:28 PM): hmm im thinkin


lorne_a_20014

(09/19/07 11:20:45 PM): did you forget what you were thinking?lol
kayla_princess94 (09/19/07 11:21:02 PM): nooo
kayla_princess94 (09/19/07 11:21:05 PM): lol


lorne_a_20014

(09/19/07 11:21:07 PM): ok lol
kayla_princess94 (09/19/07 11:21:22 PM): kets c
kayla_princess94 (09/19/07 11:21:28 PM): lets c


lorne_a_20014

(09/19/07 11:21:31 PM): lol
kayla_princess94 (09/19/07 11:21:37 PM): ur really really kewl
kayla_princess94 (09/19/07 11:21:47 PM): and ur really really nice


lorne_a_20014

(09/19/07 11:21:47 PM): :D


lorne_a_20014

(09/19/07 11:21:52 PM): :D
kayla_princess94 (09/19/07 11:21:54 PM): and ur cute


lorne_a_20014

(09/19/07 11:22:01 PM): :D:\">
kayla_princess94 (09/19/07 11:22:02 PM): and ur really smart
kayla_princess94 (09/19/07 11:22:04 PM): lol


lorne_a_20014

(09/19/07 11:22:07 PM): :D
kayla_princess94 (09/19/07 11:22:14 PM): and ur just the sweetest ever


lorne_a_20014

(09/19/07 11:22:23 PM): :D


lorne_a_20014

(09/19/07 11:22:45 PM): :-*


lorne_a_20014

(09/19/07 11:22:56 PM): you forgot to say and you love seeing me naked lol
kayla_princess94 (09/19/07 11:23:18 PM): and ur realy nice 2 me
kayla_princess94 (09/19/07 11:23:26 PM): ;)
kayla_princess94 (09/19/07 11:23:27 PM): lol


lorne_a_20014

(09/19/07 11:23:37 PM): :-*:x
kayla_princess94 (09/19/07 11:23:38 PM): ur always naked lol


lorne_a_20014

(09/19/07 11:23:42 PM): lol


lorne_a_20014

(09/19/07 11:23:56 PM): yeah, but you love it too huh?lol
kayla_princess94 (09/19/07 11:24:01 PM): :x
kayla_princess94 (09/19/07 11:24:07 PM): lol


lorne_a_20014

(09/19/07 11:24:11 PM): :x:-*
kayla_princess94 (09/19/07 11:24:16 PM): ur funny 2


lorne_a_20014

(09/19/07 11:24:49 PM): you're all the above times infinity........except for the naked part lol
kayla_princess94 (09/19/07 11:25:29 PM): lol


lorne_a_20014

(09/19/07 11:25:34 PM): you know what infinity means right?
kayla_princess94 (09/19/07 11:26:09 PM): no lol


lorne_a_20014

(09/19/07 11:26:21 PM): lol


lorne_a_20014

(09/19/07 11:26:38 PM): it means forever and ever with no ends@};-:-*:x
kayla_princess94 (09/19/07 11:26:57 PM): kewl


lorne_a_20014

(09/19/07 11:27:41 PM): so what are you doing my precious princess?
kayla_princess94 (09/19/07 11:27:52 PM): umm talkin 2 u


lorne_a_20014

(09/19/07 11:28:00 PM): :D


lorne_a_20014

(09/19/07 11:28:14 PM): want to experiment again yet?lol
kayla_princess94 (09/19/07 11:28:22 PM): nooo


lorne_a_20014

(09/19/07 11:28:25 PM): lol
kayla_princess94 (09/19/07 11:28:30 PM): y u always want me 2 do that


lorne_a_20014

(09/19/07 11:28:52 PM): just so you get to go in all the way one time lol


lorne_a_20014

(09/19/07 11:29:07 PM): just to because i'm curious about how you'll like it
kayla_princess94 (09/19/07 11:29:29 PM): o


lorne_a_20014

(09/19/07 11:30:14 PM): but you don't have to if you don't want to.......you can save that and find out how you'll like it when we meet, if we meet lol
kayla_princess94 (09/19/07 11:30:27 PM): kewl


lorne_a_20014

(09/19/07 11:30:38 PM): do you think we'll ever meet?
kayla_princess94 (09/19/07 11:31:13 PM): idk i cant like go any where cuz umm i cant drive and i aint got a car lol


lorne_a_20014

(09/19/07 11:31:21 PM): lol


lorne_a_20014

(09/19/07 11:31:37 PM): so in other words you'd want me to come to you lol
kayla_princess94 (09/19/07 11:31:57 PM): u wuld 4real


lorne_a_20014

(09/19/07 11:32:54 PM): i want to for real yes, but that's not something that we can talk about unless you get a mic because things are recorded on yahoo with what is said........see now why i want you to get a mic?lol
kayla_princess94 (09/19/07 11:33:15 PM): huh


lorne_a_20014

(09/19/07 11:33:52 PM): everything we type is recorded by yahoo.........so if we ever made plans to meet the police would know about it
kayla_princess94 (09/19/07 11:34:05 PM): WAT
kayla_princess94 (09/19/07 11:34:10 PM): how
kayla_princess94 (09/19/07 11:34:22 PM): i delete them like u said 2 i promise


lorne_a_20014

(09/19/07 11:35:04 PM): i know you do precious, but yahoo has things called ips addresses, so they can record conversations of people
kayla_princess94 (09/19/07 11:35:23 PM): how yahoo have my address
kayla_princess94 (09/19/07 11:35:30 PM): they dont know where i live
kayla_princess94 (09/19/07 11:35:41 PM): they dont got my address


lorne_a_20014

(09/19/07 11:35:43 PM): it doesn't mean we're doing anything wrong right now, it just means that if we ever made plans to meet then they would know
kayla_princess94 (09/19/07 11:36:03 PM): they spy on u


lorne_a_20014

(09/19/07 11:36:28 PM): they do have your address because all they have to do is trace where your ip address is, and it tells them where your internet service is
kayla_princess94 (09/19/07 11:36:45 PM): wats an ip address


lorne_a_20014

(09/19/07 11:37:44 PM): i don't know what the ip stands for but it's where you get your internet service at.........they have certain number that are given to each individual house


lorne_a_20014

(09/19/07 11:37:55 PM): and they can trace that to any house
kayla_princess94 (09/19/07 11:38:08 PM): omg


lorne_a_20014

(09/19/07 11:38:11 PM): so that's why we could never make plans to meet by typing


lorne_a_20014

(09/19/07 11:38:48 PM): they wont ever do anything unless someone actually makes plans to meet by typing and telling where to meet and how to meet and everything


lorne_a_20014

(09/19/07 11:39:02 PM): that's why i wanted you to get a mic
kayla_princess94 (09/19/07 11:39:19 PM): o
kayla_princess94 (09/19/07 11:39:33 PM): umm u ever hear of a phone


lorne_a_20014

(09/19/07 11:40:09 PM): well, i didn't really know if you could call me or i could call you lol


lorne_a_20014

(09/19/07 11:40:38 PM): if you call me your parents would find out about it because it would be long distance


lorne_a_20014

(09/19/07 11:40:45 PM): unless you used a pay phone
kayla_princess94 (09/19/07 11:41:07 PM): yeah hmm


lorne_a_20014

(09/19/07 11:41:15 PM): my number would show up on your parents phone bill
kayla_princess94 (09/19/07 11:41:33 PM): hmmm


lorne_a_20014

(09/19/07 11:41:36 PM): do you have myspace?
kayla_princess94 (09/19/07 11:41:41 PM): yeah
kayla_princess94 (09/19/07 11:41:44 PM): do u


lorne_a_20014

(09/19/07 11:41:52 PM): do you have the myspace IM?


lorne_a_20014

(09/19/07 11:41:55 PM): yes i do
kayla_princess94 (09/19/07 11:42:00 PM): kewl
kayla_princess94 (09/19/07 11:42:06 PM): no


lorne_a_20014

(09/19/07 11:42:26 PM): ok, on myspace they have instant messenger on there now


lorne_a_20014

(09/19/07 11:42:31 PM): log into your myspace


lorne_a_20014

(09/19/07 11:42:43 PM): brb, coffee
kayla_princess94 (09/19/07 11:42:45 PM): k
kayla_princess94 (09/19/07 11:42:47 PM): k


lorne_a_20014

(09/19/07 11:42:51 PM): and i have to go pee too


lorne_a_20014

(09/19/07 11:42:52 PM): lol
kayla_princess94 (09/19/07 11:42:56 PM): lol
kayla_princess94 (09/19/07 11:43:42 PM): mom is yelling at me 2 get 2 bed:(
kayla_princess94 (09/19/07 11:43:48 PM): wats ur myspace


lorne_a_20014

(09/19/07 11:44:52 PM): :(
kayla_princess94 (09/19/07 11:44:59 PM): www.myspace.com/231205637


lorne_a_20014

(09/19/07 11:45:07 PM): is that one yours?
kayla_princess94 (09/19/07 11:45:14 PM): yep


lorne_a_20014

(09/19/07 11:45:51 PM): ok, i'm going to add you onto that, tomorrow before i get home, go onto your myspace and try to find out how to get the myspace IM
kayla_princess94 (09/19/07 11:46:01 PM): k


lorne_a_20014

(09/19/07 11:46:03 PM): IM means instant messenger


lorne_a_20014

(09/19/07 11:46:27 PM): do your parents go to bed the same time you do?
kayla_princess94 (09/19/07 11:46:34 PM): sumtimes yeah


lorne_a_20014

(09/19/07 11:46:55 PM): if they do tonight then do you want to sneak back on here?


lorne_a_20014

(09/19/07 11:47:07 PM): you don't have to because i don't want you to be too tired for school
kayla_princess94 (09/19/07 11:47:12 PM): wat if i get caut


lorne_a_20014

(09/19/07 11:47:50 PM): ok, don't do it then, just go to bed that way atleast i'll know you'll get enough sleep for tomorrow and tomorrow night when i get home


lorne_a_20014

(09/19/07 11:47:51 PM): ok?
kayla_princess94 (09/19/07 11:48:05 PM): k


lorne_a_20014

(09/19/07 11:48:10 PM): but don't forget to try to get the myspace IM though ok?
kayla_princess94 (09/19/07 11:48:15 PM): k
kayla_princess94 (09/19/07 11:48:18 PM): and wat else


lorne_a_20014

(09/19/07 11:48:46 PM): download the myspace IM then add me onto your list, i'll add you tonight
kayla_princess94 (09/19/07 11:48:54 PM): k
kayla_princess94 (09/19/07 11:49:09 PM): noooo wat else am i suppose 2 do


lorne_a_20014

(09/19/07 11:49:10 PM): is she still yelling at you to go to bed?
kayla_princess94 (09/19/07 11:49:16 PM): yeah


lorne_a_20014

(09/19/07 11:49:39 PM): you'll have me added already onto your myspace so just wait until i get home and we'll be able to talk on that
kayla_princess94 (09/19/07 11:49:50 PM): k
kayla_princess94 (09/19/07 11:49:53 PM): u 4got sumthing


lorne_a_20014

(09/19/07 11:50:07 PM): still log onto here so you can see me on cam though


lorne_a_20014

(09/19/07 11:50:14 PM): what did i forget?lol
kayla_princess94 (09/19/07 11:50:57 PM): 2 remind me 2 do sumthing


lorne_a_20014

(09/19/07 11:51:12 PM): to show you \"it\" before you go to bed you mean?lol


lorne_a_20014

(09/19/07 11:51:19 PM): i didn't forget
kayla_princess94 (09/19/07 11:51:20 PM): no lol


lorne_a_20014

(09/19/07 11:51:27 PM): delete your archives preciousl ol
kayla_princess94 (09/19/07 11:51:35 PM): yep


lorne_a_20014

(09/19/07 11:51:39 PM): want to see \"it\" before you go to bed?
kayla_princess94 (09/19/07 11:51:44 PM): yeah


lorne_a_20014

(09/19/07 11:52:57 PM): was that good?


lorne_a_20014

(09/19/07 11:52:59 PM): lol
kayla_princess94 (09/19/07 11:53:06 PM): yeah lol


lorne_a_20014

(09/19/07 11:53:16 PM): you like \"it\" alot huh?lol
kayla_princess94 (09/19/07 11:53:37 PM): yeah


lorne_a_20014

(09/19/07 11:53:44 PM): :D


lorne_a_20014

(09/19/07 11:53:51 PM): want to see it again?lol
kayla_princess94 (09/19/07 11:54:00 PM): i gotta go
kayla_princess94 (09/19/07 11:54:13 PM): :(


lorne_a_20014

(09/19/07 11:54:16 PM): ok, delete your archives again when we stop talking ok?
kayla_princess94 (09/19/07 11:54:22 PM): k


lorne_a_20014

(09/19/07 11:54:25 PM): btw


lorne_a_20014

(09/19/07 11:54:57 PM): i can put the cam right on it for you this weekend during the day so you can look at it all you want lol


lorne_a_20014

(09/19/07 11:55:02 PM): :-*
kayla_princess94 (09/19/07 11:55:12 PM): k


lorne_a_20014

(09/19/07 11:55:35 PM): good night precious, experiment for me when your in bed a couple times ok?lol
kayla_princess94 (09/19/07 11:55:48 PM): oh ok


lorne_a_20014

(09/19/07 11:55:52 PM): lol


lorne_a_20014

(09/19/07 11:55:55 PM): if you want to lol
kayla_princess94 (09/19/07 11:56:02 PM): :x:-*>:D<


lorne_a_20014

(09/19/07 11:56:12 PM): good night my precious princess@};->:D<:-*:x


lorne_a_20014

(09/19/07 11:56:26 PM): i miss you already
kayla_princess94 (09/19/07 11:56:36 PM): nite:-*>:D<:x@};-
kayla_princess94 (09/19/07 11:56:43 PM): i miss u 2 already


lorne_a_20014

(09/19/07 11:57:02 PM): @};->:D<:-*:xgood night my precious baby girl
kayla_princess94 (09/19/07 11:57:07 PM): nite
kayla_princess94 (09/19/07 11:58:42 PM): done;)


lorne_a_20014

(09/19/07 11:58:53 PM): @};-


lorne_a_20014

(09/20/07 1:59:12 PM): i hope you're having a good day@};-:-*:x


lorne_a_20014

(09/20/07 2:20:47 PM): ok my precious princess@};-, i set my cam up so that you can view it any time that you want when it's on without having to ask, all you have to do is go to \"actions\" on your when you bring my message box up, then go down to \"view webcam\" and click on that and you'll be able to turn my cam on at any time even though i wont be home right when you get this, you'll be able to see bud though, atleast until i get home@};-


lorne_a_20014

(09/20/07 3:53:12 PM): oh yeah, i forgot to tell that my computer is aways online but i'm always invisible.......but i'm going to go visible to just you so you'll know i'm online.......i just hope yahoo doesn't boot me off while i'm gone lol talk to you tonight my precious princess@};-:-*
kayla_princess94 (09/20/07 5:36:45 PM): i miss u:(


lorne_a_20014

(09/20/07 10:40:10 PM): hi precious princess@};-


lorne_a_20014

(09/20/07 10:40:15 PM): :-*
kayla_princess94 (09/20/07 10:40:19 PM): hey
kayla_princess94 (09/20/07 10:40:25 PM): :D
kayla_princess94 (09/20/07 10:40:28 PM): ur back


lorne_a_20014

(09/20/07 10:40:30 PM): you can turn my cam on now lol


lorne_a_20014

(09/20/07 10:40:34 PM): yup


lorne_a_20014

(09/20/07 10:40:38 PM): :-*


lorne_a_20014

(09/20/07 10:41:03 PM): i didn't know if you were on or not because your name's not lit up


lorne_a_20014

(09/20/07 10:41:53 PM): still here with me??
kayla_princess94 (09/20/07 10:42:02 PM): yes
kayla_princess94 (09/20/07 10:42:07 PM): shh
kayla_princess94 (09/20/07 10:46:33 PM): u still here


lorne_a_20014

(09/20/07 10:46:36 PM): yup
kayla_princess94 (09/20/07 10:46:42 PM): k


lorne_a_20014

(09/20/07 10:46:45 PM): what were you doing?
kayla_princess94 (09/20/07 10:46:52 PM): mom came in


lorne_a_20014

(09/20/07 10:46:56 PM): oh


lorne_a_20014

(09/20/07 10:47:08 PM): u can turn my cam back on now if you want to
kayla_princess94 (09/20/07 10:47:13 PM): k


lorne_a_20014

(09/20/07 10:47:55 PM): hi my precious princess@};-:-*


lorne_a_20014

(09/20/07 10:48:03 PM): did you miss me?
kayla_princess94 (09/20/07 10:48:07 PM): :-*
kayla_princess94 (09/20/07 10:48:09 PM): yes


lorne_a_20014

(09/20/07 10:48:24 PM): good, i missed you too@};-:-*:x


lorne_a_20014

(09/20/07 10:48:35 PM): did you add me on your myspace ?
kayla_princess94 (09/20/07 10:49:19 PM): no i didnt


lorne_a_20014

(09/20/07 10:49:27 PM): why not?
kayla_princess94 (09/20/07 10:49:41 PM): idk i culdnt figure out y u didnt add me lol


lorne_a_20014

(09/20/07 10:49:58 PM): i did add you, i thought i did anyway
kayla_princess94 (09/20/07 10:50:25 PM): i got ur messages but no add lol


lorne_a_20014

(09/20/07 10:50:49 PM): hmm... that's wierd, i'm adding you again right now
kayla_princess94 (09/20/07 10:51:01 PM): k


lorne_a_20014

(09/20/07 10:51:50 PM): you add me on yours.......i don't think that one went through either
kayla_princess94 (09/20/07 10:51:59 PM): k
kayla_princess94 (09/20/07 10:52:35 PM): im gettin on there now


lorne_a_20014

(09/20/07 10:52:38 PM): ok


lorne_a_20014

(09/20/07 10:52:53 PM): were you able to get myspace IM?
kayla_princess94 (09/20/07 10:53:20 PM): no that dumb thing keeps crashing


lorne_a_20014

(09/20/07 10:53:27 PM): that's wierd


lorne_a_20014

(09/20/07 10:53:41 PM): did you make a hotmail email account?
kayla_princess94 (09/20/07 10:54:08 PM): no


lorne_a_20014

(09/20/07 10:54:12 PM): why?
kayla_princess94 (09/20/07 10:54:33 PM): idk


lorne_a_20014

(09/20/07 10:54:50 PM): can you make one after you add me on myspace?
kayla_princess94 (09/20/07 10:55:15 PM): y


lorne_a_20014

(09/20/07 10:55:51 PM): just trust me on it ok? i'll explain it when i email you a letter from my hotmail account
kayla_princess94 (09/20/07 10:56:13 PM): k


lorne_a_20014

(09/20/07 10:56:28 PM): ty precious@};-:-*
kayla_princess94 (09/20/07 10:57:12 PM): i got nother message from u:)


lorne_a_20014

(09/20/07 10:57:19 PM): :-*


lorne_a_20014

(09/20/07 10:57:30 PM): :x
kayla_princess94 (09/20/07 10:57:39 PM): wheres ur add button


lorne_a_20014

(09/20/07 10:57:50 PM): i don't know, it's not there?


lorne_a_20014

(09/20/07 10:59:52 PM): try where it says friends


lorne_a_20014

(09/20/07 10:59:56 PM): see if that's it
kayla_princess94 (09/20/07 11:00:02 PM): no just says friends
kayla_princess94 (09/20/07 11:00:03 PM): as tat it


lorne_a_20014

(09/20/07 11:00:16 PM): i don't know, try it and see


lorne_a_20014

(09/20/07 11:01:35 PM): someone else made that page for me so that's why i don't know which one it is lol
kayla_princess94 (09/20/07 11:01:56 PM): lol its pretty kewl


lorne_a_20014

(09/20/07 11:02:03 PM): :-*
kayla_princess94 (09/20/07 11:02:06 PM): yeah that was it
kayla_princess94 (09/20/07 11:02:07 PM): i added u


lorne_a_20014

(09/20/07 11:02:17 PM): :D:-*
kayla_princess94 (09/20/07 11:02:32 PM): :-*
kayla_princess94 (09/20/07 11:02:50 PM): :-*:x


lorne_a_20014

(09/20/07 11:03:02 PM): there, i added you back@};-:-*:x
kayla_princess94 (09/20/07 11:03:28 PM): yay


lorne_a_20014

(09/20/07 11:03:46 PM): there, i have my baby girl on my list now:D:x


lorne_a_20014

(09/20/07 11:04:08 PM): ok, make a hotmail account now ok? go to hotmail.com
kayla_princess94 (09/20/07 11:04:36 PM): k


lorne_a_20014

(09/20/07 11:04:48 PM): tell me when you're done ok?
kayla_princess94 (09/20/07 11:05:52 PM): crap shh
kayla_princess94 (09/20/07 11:11:35 PM): my mom again geez


lorne_a_20014

(09/20/07 11:11:50 PM): lol


lorne_a_20014

(09/20/07 11:11:55 PM): :-*
kayla_princess94 (09/20/07 11:12:04 PM): shes buggy 2nite


lorne_a_20014

(09/20/07 11:12:08 PM): lol


lorne_a_20014

(09/20/07 11:12:12 PM): i noticed lol
kayla_princess94 (09/20/07 11:12:18 PM): :-*


lorne_a_20014

(09/20/07 11:12:19 PM): tell her to leave my girl alone lol
kayla_princess94 (09/20/07 11:12:25 PM): lol


lorne_a_20014

(09/20/07 11:12:46 PM): make your hotmail account, i'm gonna get another cup of coffee ok?
kayla_princess94 (09/20/07 11:13:13 PM): geez i have a hard nuff time keepin up wit my gmail 1
kayla_princess94 (09/20/07 11:13:20 PM): i dont need more


lorne_a_20014

(09/20/07 11:13:26 PM): just trust me on this ok?


lorne_a_20014

(09/20/07 11:13:31 PM): :-*


lorne_a_20014

(09/20/07 11:14:31 PM): there will probably be only one email i send you to your hotmail account and that will be tonight but you have to make it so i can send you what i'm going to send you


lorne_a_20014

(09/20/07 11:14:32 PM): lol


lorne_a_20014

(09/20/07 11:14:37 PM): brb, coffee
kayla_princess94 (09/20/07 11:15:20 PM): y cant u just send it 2 my yahoo or gmail an thats nother 1 i gotta keep up wit
kayla_princess94 (09/20/07 11:15:42 PM): i gotta go soon shes yellin at me that i better get 2 bed


lorne_a_20014

(09/20/07 11:15:44 PM): because i can't.....that's why i'm asking you to trust me
kayla_princess94 (09/20/07 11:15:56 PM): wat is it


lorne_a_20014

(09/20/07 11:16:01 PM): get a pen and a piece of paper
kayla_princess94 (09/20/07 11:16:11 PM): umm yeah


lorne_a_20014

(09/20/07 11:16:18 PM): you got one?
kayla_princess94 (09/20/07 11:16:23 PM): yeah


lorne_a_20014

(09/20/07 11:16:54 PM): write these down and put it someplace where ONLY YOU will know where it's at ok?
kayla_princess94 (09/20/07 11:17:02 PM): k


lorne_a_20014

(09/20/07 11:17:07 PM): 6


lorne_a_20014

(09/20/07 11:17:09 PM): 1


lorne_a_20014

(09/20/07 11:17:11 PM): 5


lorne_a_20014

(09/20/07 11:17:17 PM): 8


lorne_a_20014

(09/20/07 11:17:19 PM): 3


lorne_a_20014

(09/20/07 11:17:20 PM): 7


lorne_a_20014

(09/20/07 11:17:22 PM): 6


lorne_a_20014

(09/20/07 11:17:23 PM): 6


lorne_a_20014

(09/20/07 11:17:25 PM): 4


lorne_a_20014

(09/20/07 11:17:26 PM): 9


lorne_a_20014

(09/20/07 11:17:46 PM): got it?
kayla_princess94 (09/20/07 11:17:49 PM): k
kayla_princess94 (09/20/07 11:17:51 PM): yeah
kayla_princess94 (09/20/07 11:17:54 PM): wats that


lorne_a_20014

(09/20/07 11:18:01 PM): that's what the hotmail account was for


lorne_a_20014

(09/20/07 11:18:05 PM): so i could send you that
kayla_princess94 (09/20/07 11:18:13 PM): but wat is it


lorne_a_20014

(09/20/07 11:18:35 PM): what do you think it is?


lorne_a_20014

(09/20/07 11:18:39 PM): don't type it on here
kayla_princess94 (09/20/07 11:18:44 PM): k
kayla_princess94 (09/20/07 11:18:58 PM): ooooh i know wat it is:D


lorne_a_20014

(09/20/07 11:19:04 PM): :-*
kayla_princess94 (09/20/07 11:19:10 PM): :-*


lorne_a_20014

(09/20/07 11:19:20 PM): remember where i told you to only use it at?
kayla_princess94 (09/20/07 11:19:34 PM): thinking


lorne_a_20014

(09/20/07 11:19:38 PM): pay


lorne_a_20014

(09/20/07 11:19:42 PM): ph
kayla_princess94 (09/20/07 11:19:48 PM): o yeah


lorne_a_20014

(09/20/07 11:19:53 PM): remember now?lol
kayla_princess94 (09/20/07 11:20:00 PM): lol
kayla_princess94 (09/20/07 11:20:02 PM): yeah


lorne_a_20014

(09/20/07 11:20:05 PM): ok


lorne_a_20014

(09/20/07 11:20:16 PM): i don't want you to go yet........i miss my girl


lorne_a_20014

(09/20/07 11:20:32 PM): i don't want you to get in trouble either though
kayla_princess94 (09/20/07 11:20:34 PM): wait i know wat if i get a ca card u know wat i mean


lorne_a_20014

(09/20/07 11:20:46 PM): :-<


lorne_a_20014

(09/20/07 11:20:56 PM): yup


lorne_a_20014

(09/20/07 11:21:11 PM): yes, then you can do it from there
kayla_princess94 (09/20/07 11:21:19 PM): kewl
kayla_princess94 (09/20/07 11:21:26 PM): im smart:D


lorne_a_20014

(09/20/07 11:21:38 PM): i want you@};-:-*;;)
kayla_princess94 (09/20/07 11:21:48 PM): 4 wat
kayla_princess94 (09/20/07 11:21:51 PM): huh


lorne_a_20014

(09/20/07 11:22:12 PM): in other words i have a major crush on you lol


lorne_a_20014

(09/20/07 11:22:16 PM): :-*
kayla_princess94 (09/20/07 11:22:19 PM): aww


lorne_a_20014

(09/20/07 11:22:20 PM): :x
kayla_princess94 (09/20/07 11:22:28 PM): :x:-*


lorne_a_20014

(09/20/07 11:22:50 PM): are you able to stay up later tomorrow night?


lorne_a_20014

(09/20/07 11:22:56 PM): because it's friday
kayla_princess94 (09/20/07 11:23:01 PM): yep


lorne_a_20014

(09/20/07 11:23:06 PM): :D


lorne_a_20014

(09/20/07 11:23:20 PM): and the weekend is the day after:D


lorne_a_20014

(09/20/07 11:23:31 PM): when will you be able to get a c card?
kayla_princess94 (09/20/07 11:23:43 PM): 2morrow after school


lorne_a_20014

(09/20/07 11:23:49 PM): :D


lorne_a_20014

(09/20/07 11:24:10 PM): i don't have to be at work until 5 tomorrow so i probably wont leave here until like 4
kayla_princess94 (09/20/07 11:24:42 PM): they will prolly go out 2morrow nite so i can use those numbers then:D
kayla_princess94 (09/20/07 11:24:47 PM): when will u b back


lorne_a_20014

(09/20/07 11:24:51 PM): :D


lorne_a_20014

(09/20/07 11:24:59 PM): prbably the same time as tonight


lorne_a_20014

(09/20/07 11:25:04 PM): :D:-*
kayla_princess94 (09/20/07 11:25:05 PM): kewl
kayla_princess94 (09/20/07 11:25:17 PM): :D:-*:x>:D<


lorne_a_20014

(09/20/07 11:25:20 PM): i wish it were tomorrow night right now
kayla_princess94 (09/20/07 11:25:29 PM): lol me 2


lorne_a_20014

(09/20/07 11:25:36 PM): are you able to use the phone and the computer at the same time?
kayla_princess94 (09/20/07 11:25:46 PM): yeah


lorne_a_20014

(09/20/07 11:25:52 PM): :D


lorne_a_20014

(09/20/07 11:26:15 PM): so you'll stil be able to see me at the same time that were talking:D:-*
kayla_princess94 (09/20/07 11:26:29 PM): :Dyeah isnt that kewl


lorne_a_20014

(09/20/07 11:26:37 PM): :-*:x


lorne_a_20014

(09/20/07 11:26:50 PM): i'm happy you have dumb boys at your school lol
kayla_princess94 (09/20/07 11:27:00 PM): i do


lorne_a_20014

(09/20/07 11:27:27 PM): they must be, they're not asking you out so that means that i got you before they did lol
kayla_princess94 (09/20/07 11:27:39 PM): lol yep


lorne_a_20014

(09/20/07 11:27:44 PM): :D
kayla_princess94 (09/20/07 11:27:55 PM): they r kinda dumb actin
kayla_princess94 (09/20/07 11:27:57 PM): lol


lorne_a_20014

(09/20/07 11:27:59 PM): lol


lorne_a_20014

(09/20/07 11:28:11 PM): what did you think about when you thought about me today?
kayla_princess94 (09/20/07 11:28:44 PM): that im really happy we met on here:\">


lorne_a_20014

(09/20/07 11:28:51 PM): :D


lorne_a_20014

(09/20/07 11:28:53 PM): me too
kayla_princess94 (09/20/07 11:29:00 PM): :D


lorne_a_20014

(09/20/07 11:29:01 PM): how much did you think about me?
kayla_princess94 (09/20/07 11:29:21 PM): i thot bout u all day:\">


lorne_a_20014

(09/20/07 11:29:29 PM): :D


lorne_a_20014

(09/20/07 11:29:48 PM): was it obvious from all the messages i left that i thought about you all day too?lol
kayla_princess94 (09/20/07 11:30:05 PM): yeah:D


lorne_a_20014

(09/20/07 11:30:12 PM): :x
kayla_princess94 (09/20/07 11:30:27 PM): :x


lorne_a_20014

(09/20/07 11:30:34 PM): i even thought naughty thoughts about you again today too:\">
kayla_princess94 (09/20/07 11:30:45 PM): u did


lorne_a_20014

(09/20/07 11:30:50 PM): yup lol


lorne_a_20014

(09/20/07 11:31:08 PM): i couldn't help it, you're sooooooo beautiful@};-
kayla_princess94 (09/20/07 11:31:18 PM): aww thanx


lorne_a_20014

(09/20/07 11:31:45 PM): you're very welcome my precious princess@};-:-*:x
kayla_princess94 (09/20/07 11:31:54 PM): ;;)


lorne_a_20014

(09/20/07 11:32:00 PM): god you are soooooo special@};-
kayla_princess94 (09/20/07 11:32:11 PM): :D


lorne_a_20014

(09/20/07 11:32:36 PM): did you draw little hearts on paper and put my name in them today too?lol
kayla_princess94 (09/20/07 11:32:57 PM): hey how u know:\">


lorne_a_20014

(09/20/07 11:33:02 PM): lol


lorne_a_20014

(09/20/07 11:33:06 PM): did you really??lol


lorne_a_20014

(09/20/07 11:33:09 PM): :D
kayla_princess94 (09/20/07 11:33:12 PM): yeah


lorne_a_20014

(09/20/07 11:33:20 PM): :D:-*:x


lorne_a_20014

(09/20/07 11:33:24 PM): @};-


lorne_a_20014

(09/20/07 11:33:41 PM): what did you write in the hearts? did you write more than just my name?
kayla_princess94 (09/20/07 11:33:56 PM): no just ur name


lorne_a_20014

(09/20/07 11:34:03 PM): ok


lorne_a_20014

(09/20/07 11:34:07 PM): :D


lorne_a_20014

(09/20/07 11:34:10 PM): :-*
kayla_princess94 (09/20/07 11:34:18 PM): :-*


lorne_a_20014

(09/20/07 11:34:31 PM): how do you feel having my p.n.?
kayla_princess94 (09/20/07 11:34:35 PM): k i gotta go:(:((


lorne_a_20014

(09/20/07 11:34:49 PM): awww.........i'm gonna be bummed now:(


lorne_a_20014

(09/20/07 11:34:53 PM): :-<
kayla_princess94 (09/20/07 11:34:55 PM): im really excited
kayla_princess94 (09/20/07 11:35:03 PM): but i gotta go
kayla_princess94 (09/20/07 11:35:08 PM): me 2
kayla_princess94 (09/20/07 11:35:19 PM): think bout me 2morrow k


lorne_a_20014

(09/20/07 11:35:21 PM): ok precious, i'll leave you some offlines tomorrow ok?


lorne_a_20014

(09/20/07 11:35:27 PM): believe me i'm going to lol
kayla_princess94 (09/20/07 11:35:40 PM): k


lorne_a_20014

(09/20/07 11:35:43 PM): and you'll be able to turn my cam on when i'm not here too ok?
kayla_princess94 (09/20/07 11:35:51 PM): k
kayla_princess94 (09/20/07 11:36:00 PM): bummer lookin at a empty old room


lorne_a_20014

(09/20/07 11:36:13 PM): want your nightly look at \"it\" before bed?
kayla_princess94 (09/20/07 11:36:27 PM): k


lorne_a_20014

(09/20/07 11:37:39 PM): was that good?
kayla_princess94 (09/20/07 11:37:49 PM): yeah


lorne_a_20014

(09/20/07 11:37:55 PM): :-*
kayla_princess94 (09/20/07 11:37:58 PM): k nite:-*


lorne_a_20014

(09/20/07 11:38:08 PM): delete your archives precious
kayla_princess94 (09/20/07 11:38:14 PM): o
kayla_princess94 (09/20/07 11:38:15 PM): k


lorne_a_20014

(09/20/07 11:38:21 PM): good night and think about me tomorrow@};-


lorne_a_20014

(09/20/07 11:38:26 PM): :-*:x
kayla_princess94 (09/20/07 11:38:28 PM): k i will
kayla_princess94 (09/20/07 11:39:08 PM): done


lorne_a_20014

(09/20/07 11:39:18 PM): @};-


lorne_a_20014

(09/21/07 7:43:54 AM): good morning my precious princess@};- hope you have a good day today and i'll TALK:D to you tonight@};-:-*:x


lorne_a_20014

(09/21/07 12:50:06 PM): hi my precious princess@};-, just thought i'd let you know to check your myspace......and also that i've been looking at 2 of your pics for the last hour and didn't even realize how long i'd been looking at them until now lol@};-:\">:-*:x


lorne_a_20014

(09/21/07 3:19:39 PM): i miss my precious princess@};-:-<:-*


lorne_a_20014

(09/21/07 4:51:57 PM): hi my precious baby girl@};-, i just wanted to let you know that i'm leaving for work in a few minutes, you're the only one that can see i'm online and my cam is on for you again too ok? i'll TALK:D to you in about 5 1/2 hours@};-:-*:x
kayla_princess94 (09/21/07 10:24:59 PM): :-<
kayla_princess94 (09/21/07 10:25:21 PM): :-S
kayla_princess94 (09/21/07 10:26:06 PM): :-h
kayla_princess94 (09/21/07 10:26:14 PM): :(
kayla_princess94 (09/21/07 10:27:07 PM): 8-|


lorne_a_20014

(09/21/07 10:29:22 PM): :-*
kayla_princess94 (09/21/07 10:29:33 PM): hey
kayla_princess94 (09/21/07 10:29:39 PM): yay


lorne_a_20014

(09/21/07 10:29:41 PM): hi my precious princess@};-
kayla_princess94 (09/21/07 10:29:43 PM): ur back


lorne_a_20014

(09/21/07 10:29:48 PM): yup lo,l


lorne_a_20014

(09/21/07 10:29:54 PM): hang on a sec ok?
kayla_princess94 (09/21/07 10:30:06 PM): k


lorne_a_20014

(09/21/07 10:31:45 PM): back


lorne_a_20014

(09/21/07 10:31:50 PM): :-*
kayla_princess94 (09/21/07 10:31:59 PM): yay


lorne_a_20014

(09/21/07 10:32:12 PM): did you get your message in myspace?
kayla_princess94 (09/21/07 10:32:25 PM): yep
kayla_princess94 (09/21/07 10:32:25 PM): :D
kayla_princess94 (09/21/07 10:32:32 PM): i like ur poem


lorne_a_20014

(09/21/07 10:32:34 PM): :-*:x@};-
kayla_princess94 (09/21/07 10:32:41 PM): u really write that just 4 me


lorne_a_20014

(09/21/07 10:32:48 PM): yes i did
kayla_princess94 (09/21/07 10:32:53 PM): kewl


lorne_a_20014

(09/21/07 10:32:54 PM): @};-
kayla_princess94 (09/21/07 10:33:04 PM): :x


lorne_a_20014

(09/21/07 10:33:05 PM): i'm good at writing poems


lorne_a_20014

(09/21/07 10:33:10 PM): :-*
kayla_princess94 (09/21/07 10:33:13 PM): yeah u r


lorne_a_20014

(09/21/07 10:33:23 PM): how did your day go?
kayla_princess94 (09/21/07 10:33:39 PM): boring till now:D


lorne_a_20014

(09/21/07 10:33:42 PM): lol


lorne_a_20014

(09/21/07 10:33:46 PM): :-*
kayla_princess94 (09/21/07 10:33:53 PM): :-*


lorne_a_20014

(09/21/07 10:33:58 PM): i'm guessing you missed me alot then huh?loo
kayla_princess94 (09/21/07 10:34:05 PM): yeah i did


lorne_a_20014

(09/21/07 10:34:20 PM): good, because i missed you too@};-:-*


lorne_a_20014

(09/21/07 10:34:32 PM): did your parents go out tonight?
kayla_princess94 (09/21/07 10:34:33 PM): :)
kayla_princess94 (09/21/07 10:34:39 PM): yep


lorne_a_20014

(09/21/07 10:34:45 PM): :D


lorne_a_20014

(09/21/07 10:34:50 PM): did you get a card?
kayla_princess94 (09/21/07 10:34:58 PM): i shur did
kayla_princess94 (09/21/07 10:35:03 PM): :D


lorne_a_20014

(09/21/07 10:35:04 PM): :D


lorne_a_20014

(09/21/07 10:35:14 PM): are you anxious to talk to me?lol
kayla_princess94 (09/21/07 10:35:20 PM): yeah


lorne_a_20014

(09/21/07 10:35:34 PM): good because i'm anxious to talk to you too:-*
kayla_princess94 (09/21/07 10:35:41 PM): :D


lorne_a_20014

(09/21/07 10:35:44 PM): so.......what are you waiting for??lol
kayla_princess94 (09/21/07 10:35:50 PM): lol k
kayla_princess94 (09/21/07 10:36:11 PM): k hold on


lorne_a_20014

(09/21/07 10:36:13 PM): ok


lorne_a_20014

(09/21/07 10:36:18 PM): are you nervous?lol
kayla_princess94 (09/21/07 10:36:37 PM): a little


lorne_a_20014

(09/21/07 10:36:41 PM): lol


lorne_a_20014

(09/21/07 10:36:45 PM): :-*


lorne_a_20014

(09/21/07 10:36:54 PM): you don't have to be precious@};-


lorne_a_20014

(09/21/07 10:44:21 PM): what happened?


lorne_a_20014

(09/21/07 10:44:51 PM): where's my precious princess?


lorne_a_20014

(09/21/07 10:57:17 PM): you are very much my precious princess@};-:-*:x


lorne_a_20014

(09/21/07 10:58:01 PM): i love your voice too@};-:-*:x
kayla_princess94 (09/21/07 10:58:36 PM): :-*brb


lorne_a_20014

(09/21/07 10:58:39 PM): ok


lorne_a_20014

(09/21/07 10:58:43 PM): me too, i have to go pee


lorne_a_20014

(09/21/07 10:58:44 PM): lol
kayla_princess94 (09/21/07 10:58:50 PM): lol


lorne_a_20014

(09/21/07 11:00:20 PM): i'm back
kayla_princess94 (09/21/07 11:01:10 PM): hey my parents r here ill b back in a lil bit dont go anywhere k


lorne_a_20014

(09/21/07 11:01:22 PM): ok, i need to take bud pee ok?
kayla_princess94 (09/21/07 11:01:44 PM): k


lorne_a_20014

(09/21/07 11:07:20 PM): back
kayla_princess94 (09/21/07 11:16:03 PM): back


lorne_a_20014

(09/21/07 11:16:08 PM): :-*
kayla_princess94 (09/21/07 11:16:11 PM): :D


lorne_a_20014

(09/21/07 11:16:16 PM): did you miss me?
kayla_princess94 (09/21/07 11:16:18 PM): my parents r dumb
kayla_princess94 (09/21/07 11:16:22 PM): yes i missed u


lorne_a_20014

(09/21/07 11:16:23 PM): why?
kayla_princess94 (09/21/07 11:16:36 PM): bein buggy lol


lorne_a_20014

(09/21/07 11:16:39 PM): good, i missed you too:-*@};-


lorne_a_20014

(09/21/07 11:16:42 PM): oh


lorne_a_20014

(09/21/07 11:16:47 PM): what did they say to you?
kayla_princess94 (09/21/07 11:17:29 PM): just stupid stuff not really important lol


lorne_a_20014

(09/21/07 11:17:35 PM): oh lol
kayla_princess94 (09/21/07 11:17:40 PM): did u miss me


lorne_a_20014

(09/21/07 11:17:56 PM): yes i did, very much@};-:-*:x
kayla_princess94 (09/21/07 11:18:09 PM): :-*


lorne_a_20014

(09/21/07 11:18:17 PM): i was hoping they'd stay out for a long time tonight lol
kayla_princess94 (09/21/07 11:18:46 PM): lol yeah


lorne_a_20014

(09/21/07 11:19:07 PM): we could have talked on the phone longer if they did lol


lorne_a_20014

(09/21/07 11:19:13 PM): :D
kayla_princess94 (09/21/07 11:19:21 PM): yeah i know
kayla_princess94 (09/21/07 11:19:28 PM): u sing really good


lorne_a_20014

(09/21/07 11:19:39 PM): ty my precious princess@};-


lorne_a_20014

(09/21/07 11:19:57 PM): you've got a really beauitful voice@};-:-*:x
kayla_princess94 (09/21/07 11:20:01 PM): yw
kayla_princess94 (09/21/07 11:20:16 PM): aww ty


lorne_a_20014

(09/21/07 11:20:26 PM): you're very welcome


lorne_a_20014

(09/21/07 11:20:28 PM): @};-
kayla_princess94 (09/21/07 11:20:35 PM): u sound really nice


lorne_a_20014

(09/21/07 11:20:49 PM): you do too.........i REALLY love your voice lol
kayla_princess94 (09/21/07 11:20:50 PM): :x


lorne_a_20014

(09/21/07 11:20:56 PM): :x
kayla_princess94 (09/21/07 11:21:13 PM): aww ty


lorne_a_20014

(09/21/07 11:21:33 PM): are you sure you want to see me?
kayla_princess94 (09/21/07 11:21:37 PM): :-*:x


lorne_a_20014

(09/21/07 11:21:46 PM): :-*:x


lorne_a_20014

(09/21/07 11:22:01 PM): in person i mean
kayla_princess94 (09/21/07 11:22:15 PM): yeah


lorne_a_20014

(09/21/07 11:22:22 PM): :D


lorne_a_20014

(09/21/07 11:22:38 PM): are you sure you want me to do your experimenting on you?
kayla_princess94 (09/21/07 11:22:50 PM): 4real


lorne_a_20014

(09/21/07 11:22:56 PM): yup
kayla_princess94 (09/21/07 11:23:01 PM): u still wanna


lorne_a_20014

(09/21/07 11:23:09 PM): do you want me to?
kayla_princess94 (09/21/07 11:23:18 PM): kewl
kayla_princess94 (09/21/07 11:23:23 PM): then ya i do
kayla_princess94 (09/21/07 11:23:28 PM): lol


lorne_a_20014

(09/21/07 11:23:29 PM): :D
kayla_princess94 (09/21/07 11:23:33 PM): yeah


lorne_a_20014

(09/21/07 11:23:40 PM): :D
kayla_princess94 (09/21/07 11:23:51 PM): :D


lorne_a_20014

(09/21/07 11:23:57 PM): are you sure you want me use my \"thing\" on you?


lorne_a_20014

(09/21/07 11:24:13 PM): want me show you what thing i'm talking about?
kayla_princess94 (09/21/07 11:24:52 PM): im not shur wat u mean when u say use ur thing on me


lorne_a_20014

(09/21/07 11:25:11 PM): want me to show you what thing i'm talking about again?
kayla_princess94 (09/21/07 11:25:39 PM): yeah


lorne_a_20014

(09/21/07 11:26:10 PM): that thing lol
kayla_princess94 (09/21/07 11:26:45 PM): lol
kayla_princess94 (09/21/07 11:26:48 PM): but like wats that mean use it


lorne_a_20014

(09/21/07 11:26:59 PM): hmm lol
kayla_princess94 (09/21/07 11:27:06 PM): im confused now lol


lorne_a_20014

(09/21/07 11:27:11 PM): i noticed lol


lorne_a_20014

(09/21/07 11:27:30 PM): remember what you did with your finger the other night?
kayla_princess94 (09/21/07 11:27:44 PM): yeah
kayla_princess94 (09/21/07 11:27:55 PM): :\">


lorne_a_20014

(09/21/07 11:28:09 PM): want me to use my \"thing\" on you instead of just my finger?


lorne_a_20014

(09/21/07 11:28:14 PM): :\">
kayla_princess94 (09/21/07 11:28:34 PM): o
kayla_princess94 (09/21/07 11:29:00 PM): wow u wanna do that


lorne_a_20014

(09/21/07 11:29:10 PM): if you want to


lorne_a_20014

(09/21/07 11:29:52 PM): i know i would love to...........you're so special and beautiful i can't help but want to lol@};-:-*
kayla_princess94 (09/21/07 11:30:08 PM): i dont know i mean i dont have experience u know


lorne_a_20014

(09/21/07 11:30:28 PM): i know, i do so i would be really gentle with you


lorne_a_20014

(09/21/07 11:30:31 PM): @};-
kayla_princess94 (09/21/07 11:30:58 PM): aww ur so sweet


lorne_a_20014

(09/21/07 11:31:05 PM): yes you are


lorne_a_20014

(09/21/07 11:31:13 PM): @};-:-*:x


lorne_a_20014

(09/21/07 11:31:38 PM): i love spending time with you my precious princess@};-
kayla_princess94 (09/21/07 11:31:39 PM): :-*:x>:D<


lorne_a_20014

(09/21/07 11:31:47 PM): >:D<:-*:x
kayla_princess94 (09/21/07 11:32:11 PM): i luv spending time with u 2:D


lorne_a_20014

(09/21/07 11:32:16 PM): :D


lorne_a_20014

(09/21/07 11:32:35 PM): do you want me to use my thing on you?


lorne_a_20014

(09/21/07 11:33:04 PM): i wish you were my neighbor lol
kayla_princess94 (09/21/07 11:33:06 PM): yeah:\">


lorne_a_20014

(09/21/07 11:33:12 PM): :D


lorne_a_20014

(09/21/07 11:33:19 PM): :-*:x@};-
kayla_princess94 (09/21/07 11:33:34 PM): :-*:x


lorne_a_20014

(09/21/07 11:33:54 PM): do you feel like experimenting a little tonight?
kayla_princess94 (09/21/07 11:35:05 PM): no not really:\">


lorne_a_20014

(09/21/07 11:35:21 PM): ok lol:-*>:D<:x@};-


lorne_a_20014

(09/21/07 11:35:34 PM): you're soooooooooo special@};-


lorne_a_20014

(09/21/07 11:35:57 PM): you want me to do all your experimenting for you?lol
kayla_princess94 (09/21/07 11:36:01 PM): :D
kayla_princess94 (09/21/07 11:36:22 PM): u want 2


lorne_a_20014

(09/21/07 11:36:27 PM): yes i do


lorne_a_20014

(09/21/07 11:36:32 PM): do you want me to?
kayla_princess94 (09/21/07 11:36:56 PM): yeah:)


lorne_a_20014

(09/21/07 11:37:01 PM): :D


lorne_a_20014

(09/21/07 11:37:08 PM): :x:-*
kayla_princess94 (09/21/07 11:37:22 PM): :x:-*


lorne_a_20014

(09/21/07 11:37:37 PM): we'll have to figure out when and all of that good stuff too


lorne_a_20014

(09/21/07 11:38:03 PM): so we'll have to figure it out the next time we \"talk\" u know what i mean?
kayla_princess94 (09/21/07 11:38:15 PM): huh


lorne_a_20014

(09/21/07 11:38:46 PM): hmmm.........like we did tonight before your parents got home lol


lorne_a_20014

(09/21/07 11:38:58 PM): on the p
kayla_princess94 (09/21/07 11:38:59 PM): o lol yeah


lorne_a_20014

(09/21/07 11:39:02 PM): lol
kayla_princess94 (09/21/07 11:39:04 PM): lol
kayla_princess94 (09/21/07 11:39:07 PM): ur funny


lorne_a_20014

(09/21/07 11:39:08 PM): :-*


lorne_a_20014

(09/21/07 11:39:48 PM): you're beautiful and funny and sweet and awesome and you're everything to me@};-:-*:x
kayla_princess94 (09/21/07 11:40:05 PM): aww how sweet
kayla_princess94 (09/21/07 11:40:17 PM): u r 2:x


lorne_a_20014

(09/21/07 11:40:24 PM): :D


lorne_a_20014

(09/21/07 11:40:34 PM): do you wish you were my neighbor?
kayla_princess94 (09/21/07 11:40:54 PM): that wuld b kewl huh


lorne_a_20014

(09/21/07 11:41:20 PM): yes it would, but if you were i would have already done all your experimenting for you:\">
kayla_princess94 (09/21/07 11:41:52 PM): :\">


lorne_a_20014

(09/21/07 11:42:23 PM): are you nervous about letting me do your experimenting for you and letting me use my thing on you?
kayla_princess94 (09/21/07 11:42:38 PM): a little


lorne_a_20014

(09/21/07 11:42:58 PM): i promise i will make you feel as comfortable as i possibly can ok?
kayla_princess94 (09/21/07 11:43:07 PM): k


lorne_a_20014

(09/21/07 11:43:14 PM): do you trust me?
kayla_princess94 (09/21/07 11:43:18 PM): yes


lorne_a_20014

(09/21/07 11:43:26 PM): good:D


lorne_a_20014

(09/21/07 11:43:32 PM): :-*:x
kayla_princess94 (09/21/07 11:43:36 PM): :)
kayla_princess94 (09/21/07 11:43:43 PM): :x:-*


lorne_a_20014

(09/21/07 11:43:44 PM): do me a favor though?
kayla_princess94 (09/21/07 11:43:49 PM): k
kayla_princess94 (09/21/07 11:43:52 PM): wat


lorne_a_20014

(09/21/07 11:44:35 PM): don't ever trust anyone else that you meet from the internet ok? trust me because i know i'll always be good to you, but don't ever trust anyone else ok? please?
kayla_princess94 (09/21/07 11:45:02 PM): k i promise


lorne_a_20014

(09/21/07 11:45:22 PM): ty my precious princess@};->:D<:-*:x:D


lorne_a_20014

(09/21/07 11:45:52 PM): i really wish i could be right there with you right now
kayla_princess94 (09/21/07 11:46:05 PM): :xme 2


lorne_a_20014

(09/21/07 11:46:15 PM): :D:x:-*
kayla_princess94 (09/21/07 11:46:15 PM): shh
kayla_princess94 (09/21/07 11:58:35 PM): hey where u go im back


lorne_a_20014

(09/21/07 11:58:42 PM): i'm here precious
kayla_princess94 (09/21/07 11:58:56 PM): k
kayla_princess94 (09/21/07 11:58:57 PM): i thot u left
kayla_princess94 (09/21/07 11:59:02 PM): :(


lorne_a_20014

(09/21/07 11:59:21 PM): no, i wouldn't leave you@};-


lorne_a_20014

(09/21/07 11:59:27 PM): :-*:x
kayla_princess94 (09/21/07 11:59:33 PM): :)
kayla_princess94 (09/21/07 11:59:38 PM): :x


lorne_a_20014

(09/22/07 12:00:05 AM): hi my precious princess@};-:-*:x
kayla_princess94 (09/22/07 12:00:17 AM): hi
kayla_princess94 (09/22/07 12:00:22 AM): :D


lorne_a_20014

(09/22/07 12:00:24 AM): did you miss me?
kayla_princess94 (09/22/07 12:00:51 AM): yes


lorne_a_20014

(09/22/07 12:00:53 AM): :D


lorne_a_20014

(09/22/07 12:01:06 AM): i missed you too@};-:-*
kayla_princess94 (09/22/07 12:01:24 AM): :x


lorne_a_20014

(09/22/07 12:01:37 AM): do you miss seeing my thing?lol:\">
kayla_princess94 (09/22/07 12:01:47 AM): lol yeah


lorne_a_20014

(09/22/07 12:01:51 AM): lol


lorne_a_20014

(09/22/07 12:01:57 AM): want to see it again?
kayla_princess94 (09/22/07 12:02:02 AM): yeah


lorne_a_20014

(09/22/07 12:03:29 AM): how was that?:D
kayla_princess94 (09/22/07 12:03:43 AM): kewl


lorne_a_20014

(09/22/07 12:03:54 AM): would you rather see it in person?lol


lorne_a_20014

(09/22/07 12:04:00 AM): :\">
kayla_princess94 (09/22/07 12:04:17 AM): yeah:\">


lorne_a_20014

(09/22/07 12:04:21 AM): :D


lorne_a_20014

(09/22/07 12:04:38 AM): are you excited about seeing it in person?:\">
kayla_princess94 (09/22/07 12:04:54 AM): yeah:\">


lorne_a_20014

(09/22/07 12:04:59 AM): :D


lorne_a_20014

(09/22/07 12:05:15 AM): are you gonna give it a kiss when you see it in person?:\">


lorne_a_20014

(09/22/07 12:05:18 AM): lol
kayla_princess94 (09/22/07 12:05:31 AM): u want me 2 give it a kiss


lorne_a_20014

(09/22/07 12:05:40 AM): yeah:D


lorne_a_20014

(09/22/07 12:05:45 AM): do you want to?
kayla_princess94 (09/22/07 12:05:50 AM): k


lorne_a_20014

(09/22/07 12:05:55 AM): :D
kayla_princess94 (09/22/07 12:05:56 AM): y


lorne_a_20014

(09/22/07 12:06:21 AM): because i think it likes your beautiful lips:\">
kayla_princess94 (09/22/07 12:07:13 AM): :\">k if u say so


lorne_a_20014

(09/22/07 12:07:18 AM): :D


lorne_a_20014

(09/22/07 12:07:22 AM): :x


lorne_a_20014

(09/22/07 12:07:38 AM): i wish i could see your thing right now:\">
kayla_princess94 (09/22/07 12:07:48 AM): wat thing


lorne_a_20014

(09/22/07 12:07:55 AM): :-\"


lorne_a_20014

(09/22/07 12:07:57 AM): lol
kayla_princess94 (09/22/07 12:08:14 AM): huh


lorne_a_20014

(09/22/07 12:08:35 AM): your thing that you want me to do your experimenting on:\">
kayla_princess94 (09/22/07 12:08:53 AM): o
kayla_princess94 (09/22/07 12:08:57 AM): :\">


lorne_a_20014

(09/22/07 12:08:59 AM): :\">


lorne_a_20014

(09/22/07 12:09:06 AM): :-*:x
kayla_princess94 (09/22/07 12:09:14 AM): lol
kayla_princess94 (09/22/07 12:09:19 AM): :-*


lorne_a_20014

(09/22/07 12:09:22 AM): do you have hair down there yet?
kayla_princess94 (09/22/07 12:09:40 AM): well umm a lil


lorne_a_20014

(09/22/07 12:09:48 AM): :-*
kayla_princess94 (09/22/07 12:10:33 AM): :-*
kayla_princess94 (09/22/07 12:10:46 AM): brb


lorne_a_20014

(09/22/07 12:10:47 AM): if you don't then that's fine too because you're awesome and beautiful and sooooooooooo special even without it........and i like it better without it anyway:\">:-*:x@};-
kayla_princess94 (09/22/07 12:17:44 AM): k im back


lorne_a_20014

(09/22/07 12:18:02 AM): welcome back my precious princess@};-:-*:x
kayla_princess94 (09/22/07 12:18:13 AM): :D


lorne_a_20014

(09/22/07 12:18:14 AM): brb, need coffee
kayla_princess94 (09/22/07 12:18:25 AM): k


lorne_a_20014

(09/22/07 12:19:16 AM): back


lorne_a_20014

(09/22/07 12:19:20 AM): :-*
kayla_princess94 (09/22/07 12:19:30 AM): :D
kayla_princess94 (09/22/07 12:20:12 AM): i cant stay long cuz my parents r bein buggy and say i need 2 go 2 bed:((


lorne_a_20014

(09/22/07 12:20:22 AM): :(


lorne_a_20014

(09/22/07 12:20:47 AM): just think though, we have tomorrow and you'll be able to see me and my thing alot better:D
kayla_princess94 (09/22/07 12:21:03 AM): :D


lorne_a_20014

(09/22/07 12:21:30 AM): i'll even be able to put my cam where you can see my thing all you want to:-*
kayla_princess94 (09/22/07 12:21:47 AM): how u gona do that


lorne_a_20014

(09/22/07 12:21:55 AM): watch


lorne_a_20014

(09/22/07 12:22:23 AM): see?:D


lorne_a_20014

(09/22/07 12:22:37 AM): i can leave it there right now if you want me to
kayla_princess94 (09/22/07 12:22:40 AM): yeah


lorne_a_20014

(09/22/07 12:23:01 AM): want me to leave it there right now?
kayla_princess94 (09/22/07 12:23:09 AM): well i kinda like 2 c ur face when i talk 2 u


lorne_a_20014

(09/22/07 12:23:15 AM): ok lol


lorne_a_20014

(09/22/07 12:23:57 AM): i love your cute face@};-:D:-*:x:x
kayla_princess94 (09/22/07 12:24:16 AM): aww


lorne_a_20014

(09/22/07 12:24:24 AM): you have a VERY beautiful face@};-:x:-*


lorne_a_20014

(09/22/07 12:24:35 AM): i can't wait to kiss it too:-*
kayla_princess94 (09/22/07 12:24:38 AM): aww ty


lorne_a_20014

(09/22/07 12:24:53 AM): you're very welcome my precious princess@};-


lorne_a_20014

(09/22/07 12:25:12 AM): are you anxious for me to use my thing on you?
kayla_princess94 (09/22/07 12:25:32 AM): yeah:\">


lorne_a_20014

(09/22/07 12:25:37 AM): :D


lorne_a_20014

(09/22/07 12:25:43 AM): me too


lorne_a_20014

(09/22/07 12:25:46 AM): :\">
kayla_princess94 (09/22/07 12:26:05 AM): :D


lorne_a_20014

(09/22/07 12:26:31 AM): i wish i could be touching it right now too:\">
kayla_princess94 (09/22/07 12:26:57 AM): :\">
kayla_princess94 (09/22/07 12:27:30 AM): k shes yellin at me i gotta go an i gotta think of sumthin i can call u like u call me ur special princess im gona think of sumthin 4 u:)


lorne_a_20014

(09/22/07 12:27:51 AM): ok:-*:D
kayla_princess94 (09/22/07 12:28:04 AM): :x:-*


lorne_a_20014

(09/22/07 12:28:05 AM): what time are you getting up tomorrow?
kayla_princess94 (09/22/07 12:28:19 AM): idk not 2 early


lorne_a_20014

(09/22/07 12:28:42 AM): ok, well my cam will be on for you when you wake up, i usually get up around 6 or 7
kayla_princess94 (09/22/07 12:28:57 AM): k


lorne_a_20014

(09/22/07 12:29:10 AM): don't forget to delete your archives
kayla_princess94 (09/22/07 12:29:16 AM): k i will


lorne_a_20014

(09/22/07 12:29:38 AM): i really wish you were old enough that i could marry you lol


lorne_a_20014

(09/22/07 12:29:42 AM): :x
kayla_princess94 (09/22/07 12:29:50 AM): lol yeah that wuld b kewl


lorne_a_20014

(09/22/07 12:29:57 AM): that would be awesome


lorne_a_20014

(09/22/07 12:30:23 AM): ok, i don't want you to get in trouble so delete your archives so she doesn't yell at you again ok?
kayla_princess94 (09/22/07 12:30:35 AM): k
kayla_princess94 (09/22/07 12:30:37 AM): nite
kayla_princess94 (09/22/07 12:30:45 AM): :x:-*


lorne_a_20014

(09/22/07 12:30:52 AM): i'll talk to you in the morning when you wake up my preciuos princess@};-:-*>:D<:x


lorne_a_20014

(09/22/07 12:31:17 AM): want to see it one more time before you go to bed?
kayla_princess94 (09/22/07 12:31:51 AM): done


lorne_a_20014

(09/22/07 12:32:00 AM): ok, delete them again to make sure lol


lorne_a_20014

(09/22/07 12:31:16 AM): good night precious


lorne_a_20014

(09/22/07 12:31:19 AM): @};-


lorne_a_20014

(09/22/07 8:37:35 AM): good morning my precious princess@};-:-*:x


lorne_a_20014

(09/22/07 11:05:39 AM): i miss my baby girl:(


lorne_a_20014

(09/22/07 11:27:35 AM): i'm getting in the shower my precious princess, my cam's on for you@};-


lorne_a_20014

(09/22/07 11:39:32 AM): ok precious, i'm out of the shower now@};-


lorne_a_20014

(09/22/07 4:41:07 PM): hi my precious princess........this is not good........ i think i'm falling IN LOVE


lorne_a_20014

(09/22/07 4:41:13 PM): with you


lorne_a_20014

(09/22/07 4:41:20 PM): :-S
kayla_princess94 (09/22/07 5:06:30 PM): sry i aint been here 2day but i am now but i gotta do sumthin and ill b rite back i missed u
kayla_princess94 (09/22/07 5:06:41 PM): u here


lorne_a_20014

(09/22/07 5:06:53 PM): yup, hang on ok?
kayla_princess94 (09/22/07 5:07:16 PM): k ill b back in a few min


lorne_a_20014

(09/22/07 5:08:21 PM): jprecious, i don't know how much longer i'm going to be here, i was hoping you'd come online earlier
kayla_princess94 (09/22/07 5:21:50 PM): :(


lorne_a_20014

(09/22/07 5:22:04 PM): i'm here precious. hang on


lorne_a_20014

(09/22/07 5:22:07 PM): i'm on the phone
kayla_princess94 (09/22/07 5:22:08 PM): k


lorne_a_20014

(09/22/07 5:27:27 PM): i think i might be in love with you precious.....that's not good lol:\">
kayla_princess94 (09/22/07 5:27:52 PM): 4real


lorne_a_20014

(09/22/07 5:28:07 PM): yeah, and that's not good
kayla_princess94 (09/22/07 5:28:16 PM): y that not good


lorne_a_20014

(09/22/07 5:29:51 PM): hang on i have to get naked because i love it when you see me naked and i know you love it too:-P:-*


lorne_a_20014

(09/22/07 5:29:54 PM): lol
kayla_princess94 (09/22/07 5:30:00 PM): lol


lorne_a_20014

(09/22/07 5:30:49 PM): ok my precious princess


lorne_a_20014

(09/22/07 5:31:09 PM): that's not good because you're 13 and i'm almost 37
kayla_princess94 (09/22/07 5:31:23 PM): so wat i dont care


lorne_a_20014

(09/22/07 5:33:09 PM): you have another 5 years of school and you're going to go through alot of changes.......if i had you right close to me then i would still say the same thing.......but this is why i wish you were 18, then i could come get you and we could get married.......but where you're 13, the only thing that would happen is i would end up in jail and i know you don't want that to happen


lorne_a_20014

(09/22/07 5:33:15 PM): but i want you sooooooooooooo bad
kayla_princess94 (09/22/07 5:33:53 PM): jail wat


lorne_a_20014

(09/22/07 5:34:06 PM): do you know what it's like to be \"in love\" with someone?


lorne_a_20014

(09/22/07 5:34:43 PM): you're under 18 years old........if i did anything with you and someone found out about it, i could end up in jail
kayla_princess94 (09/22/07 5:34:56 PM): y
kayla_princess94 (09/22/07 5:35:01 PM): i dont understand


lorne_a_20014

(09/22/07 5:36:01 PM): because the legal age for me to do anything with a girl is 18, you're not 18 yet, if i did anything with you right now and someone found out about it, the cops would put me in jail because you're not 18 yet


lorne_a_20014

(09/22/07 5:36:31 PM): that's why it's not good for me to be in love with you right now.......and it sucks because i think i am in love with you
kayla_princess94 (09/22/07 5:37:13 PM): k so say i went out on a date with u then u wuld go 2 jail


lorne_a_20014

(09/22/07 5:37:39 PM): yes, because i'm 37 years old and you're 13 years old
kayla_princess94 (09/22/07 5:37:48 PM): thats dumb


lorne_a_20014

(09/22/07 5:38:28 PM): i know it is, because 2 people can't help it when they care about eachother as much as we do.........but i don't want to be in jail and i know you don't want me to either
kayla_princess94 (09/22/07 5:38:51 PM): no i dont want u 2 go 2 jail i wuld cry


lorne_a_20014

(09/22/07 5:39:11 PM): i know and i'm not gonna let that happen either


lorne_a_20014

(09/22/07 5:40:15 PM): i was hoping you'd come on earlier so i could spend alot of time with you but i have to leave now because i promised my friends last week that i'd go out to a bar-b-que with them tonight
kayla_princess94 (09/22/07 5:40:32 PM): k well have fun then


lorne_a_20014

(09/22/07 5:40:45 PM): don't be mad at me please precious?


lorne_a_20014

(09/22/07 5:40:54 PM): i didn't know i was going to meet you
kayla_princess94 (09/22/07 5:41:03 PM): guess we cant talk anymore till im 18


lorne_a_20014

(09/22/07 5:41:09 PM): yes we can


lorne_a_20014

(09/22/07 5:41:17 PM): that's not gonna stop me
kayla_princess94 (09/22/07 5:41:20 PM): u will 4get all bout kayla by then


lorne_a_20014

(09/22/07 5:41:26 PM): grrr


lorne_a_20014

(09/22/07 5:41:35 PM): don't do that to me i don't like that
kayla_princess94 (09/22/07 5:41:41 PM): do wat


lorne_a_20014

(09/22/07 5:41:45 PM): you still have my p.n.


lorne_a_20014

(09/22/07 5:42:00 PM): we're still gonna be on here, you're still gonna see me


lorne_a_20014

(09/22/07 5:42:20 PM): we're gonna talk more the next time you use my p.n.


lorne_a_20014

(09/22/07 5:43:06 PM): but i don't want to say any more on here and that's because of what i told you yahoo does with everything that's typed on here
kayla_princess94 (09/22/07 5:43:41 PM): then y i gotta go 2 all that trble deleting my arcive thingys


lorne_a_20014

(09/22/07 5:44:01 PM): so you don't get in trouble by your parents
kayla_princess94 (09/22/07 5:44:09 PM): o
kayla_princess94 (09/22/07 5:44:12 PM): k


lorne_a_20014

(09/22/07 5:45:49 PM): i promise you, everything i tell you or ask you to do is for a reason ok? i'm never going to try to get you in trouble.........and i will be soooooooooooo mad if you EVER trust anyone from the internet except for me.........because you can't.........i AM the only one that loves you enough for you to trust from the internet


lorne_a_20014

(09/22/07 5:46:15 PM): i don't want you going into any more chat rooms either...... ok?
kayla_princess94 (09/22/07 5:46:22 PM): k


lorne_a_20014

(09/22/07 5:46:26 PM): promise me??
kayla_princess94 (09/22/07 5:46:33 PM): yes i promise


lorne_a_20014

(09/22/07 5:46:51 PM): ty my precious princess@};-:-*:x


lorne_a_20014

(09/22/07 5:46:59 PM): hang on, someone's at the door
kayla_princess94 (09/22/07 5:47:01 PM): :)
kayla_princess94 (09/22/07 5:47:06 PM): k


lorne_a_20014

(09/22/07 5:48:09 PM): go figure, he wants to use the phone........again8-|
kayla_princess94 (09/22/07 5:48:17 PM): lol
kayla_princess94 (09/22/07 5:48:22 PM): y dont he just get his on phone


lorne_a_20014

(09/22/07 5:48:35 PM): i've been trying to tell him that


lorne_a_20014

(09/22/07 5:48:40 PM): he wants a cell phone
kayla_princess94 (09/22/07 5:48:42 PM): lol


lorne_a_20014

(09/22/07 5:48:44 PM): he's a mexican
kayla_princess94 (09/22/07 5:48:54 PM): o


lorne_a_20014

(09/22/07 5:49:07 PM): he knows that i'm starting to get upset about him bugging me all the time too


lorne_a_20014

(09/22/07 5:49:22 PM): he's been over less and less all the time now, finally lol
kayla_princess94 (09/22/07 5:49:29 PM): lol


lorne_a_20014

(09/22/07 5:49:48 PM): you don't know what it's like to be in love with someone right?
kayla_princess94 (09/22/07 5:50:02 PM): ummm no


lorne_a_20014

(09/22/07 5:51:42 PM): ok, well, let me tell you because this is how i feel about you..............to be \"in love\" with someone, means that you'd do anything for them, any thing to make them happy that is with in a reasonable situation............basicly, you'd die for that person if it ever came down to it.......so yes, i would die for you if i had to


lorne_a_20014

(09/22/07 5:52:14 PM): that's what being in love with someone is.........it's when you love someone so much that you would put thier life before your own
kayla_princess94 (09/22/07 5:52:16 PM): :-Owow


lorne_a_20014

(09/22/07 5:53:39 PM): i would die for you even if i wasn't in love with you because you're 13 but, there's more reasons than that, that i would die for you........the more reasons is because of what i have in my heart for you..........basicly, i'm in love with you


lorne_a_20014

(09/22/07 5:53:52 PM): hang on, gotta lock the door then go pee lol
kayla_princess94 (09/22/07 5:54:43 PM): :x


lorne_a_20014

(09/22/07 5:55:28 PM): back
kayla_princess94 (09/22/07 5:55:38 PM): YAY


lorne_a_20014

(09/22/07 5:55:51 PM): :-*


lorne_a_20014

(09/22/07 5:56:00 PM): do me a favor?
kayla_princess94 (09/22/07 5:56:06 PM): k


lorne_a_20014

(09/22/07 5:56:39 PM): the next time i ask you to make a hotmail email account, don't argue with me about it ok? just do it because there's a reason behind it lol


lorne_a_20014

(09/22/07 5:56:51 PM): :-*:x
kayla_princess94 (09/22/07 5:57:02 PM): wats the reason


lorne_a_20014

(09/22/07 5:57:36 PM): you don't have to do it now......yet, but the next time if i ask you to again, which i probably will.........then just do it ok?


lorne_a_20014

(09/22/07 5:57:57 PM): i'll explain it in the email that i send you, but i'm not going to explain it on here lol
kayla_princess94 (09/22/07 5:58:12 PM): k


lorne_a_20014

(09/22/07 5:58:30 PM): ty my precious princess@};->:D<:-*:x


lorne_a_20014

(09/22/07 5:58:46 PM): i miss hearing your voice
kayla_princess94 (09/22/07 5:59:02 PM): i miss hearing urs 2


lorne_a_20014

(09/22/07 5:59:33 PM): the next time we \"talk\" i want you to experiment for me ok?


lorne_a_20014

(09/22/07 5:59:36 PM): please??lol
kayla_princess94 (09/22/07 5:59:40 PM): huh


lorne_a_20014

(09/22/07 5:59:41 PM): ;;)


lorne_a_20014

(09/22/07 5:59:47 PM): grr lol


lorne_a_20014

(09/22/07 6:00:06 PM): i'll explain it the next time you use my p.n. ok?


lorne_a_20014

(09/22/07 6:00:09 PM): lol
kayla_princess94 (09/22/07 6:00:16 PM): hmmm


lorne_a_20014

(09/22/07 6:00:17 PM): :-*
kayla_princess94 (09/22/07 6:00:23 PM): wait a min


lorne_a_20014

(09/22/07 6:00:30 PM): what?
kayla_princess94 (09/22/07 6:00:39 PM): i heard bout that stuff


lorne_a_20014

(09/22/07 6:00:46 PM): about what stuff?
kayla_princess94 (09/22/07 6:00:50 PM): thats like cyber only on the phone
kayla_princess94 (09/22/07 6:00:59 PM): noooo way thats gross
kayla_princess94 (09/22/07 6:01:03 PM): r u kidding me


lorne_a_20014

(09/22/07 6:01:04 PM): huh?


lorne_a_20014

(09/22/07 6:01:19 PM): what are you talking about?
kayla_princess94 (09/22/07 6:01:24 PM): u said experiment stuff when we talk on the phone


lorne_a_20014

(09/22/07 6:02:05 PM): i said i wanted you to........never mind, i'm just anxious to talk to you again
kayla_princess94 (09/22/07 6:02:26 PM): y u being all wierd 2day


lorne_a_20014

(09/22/07 6:02:34 PM): i'm not


lorne_a_20014

(09/22/07 6:03:13 PM): well maybe i am........maybe it's because of how i feel for you and i know i shouldn't feel like that it's got me all confused


lorne_a_20014

(09/22/07 6:03:20 PM): so maybe i am being wierd today
kayla_princess94 (09/22/07 6:03:36 PM): u got me confused


lorne_a_20014

(09/22/07 6:04:46 PM): i need to go meet my friends for the bar-b-que in about 20 minutes so i'm gonna have to get off of here ok? my cam will be on for you so you can turn it off and on whenever you want, but let me get dressed really quick ok?
kayla_princess94 (09/22/07 6:05:11 PM): oh ok


lorne_a_20014

(09/22/07 6:05:17 PM): ok, hang on


lorne_a_20014

(09/22/07 6:05:40 PM): what do you think? these boxers?
kayla_princess94 (09/22/07 6:05:57 PM): kewl


lorne_a_20014

(09/22/07 6:06:01 PM): lol


lorne_a_20014

(09/22/07 6:06:16 PM): these jeans?
kayla_princess94 (09/22/07 6:06:29 PM): yep


lorne_a_20014

(09/22/07 6:06:57 PM): hmm......it might take me a minute to find a shirt, i might have to go in the bedroom lol
kayla_princess94 (09/22/07 6:07:05 PM): k


lorne_a_20014

(09/22/07 6:08:03 PM): ok, which one?


lorne_a_20014

(09/22/07 6:08:15 PM): the gray or the black?
kayla_princess94 (09/22/07 6:09:18 PM): hmm:-?


lorne_a_20014

(09/22/07 6:09:29 PM): want me show you again?
kayla_princess94 (09/22/07 6:09:31 PM): the black
kayla_princess94 (09/22/07 6:09:49 PM): no
kayla_princess94 (09/22/07 6:09:50 PM): the black


lorne_a_20014

(09/22/07 6:10:02 PM): black?


lorne_a_20014

(09/22/07 6:10:06 PM): for sure?
kayla_princess94 (09/22/07 6:10:09 PM): yep


lorne_a_20014

(09/22/07 6:10:15 PM): ok
kayla_princess94 (09/22/07 6:10:16 PM): yep 4shur


lorne_a_20014

(09/22/07 6:10:47 PM): before i get dressed do you want to see \"it\" before it's covered up?lol
kayla_princess94 (09/22/07 6:11:01 PM): yeah


lorne_a_20014

(09/22/07 6:12:50 PM): was that a good look at it?


lorne_a_20014

(09/22/07 6:12:51 PM): lol
kayla_princess94 (09/22/07 6:12:57 PM): yeah


lorne_a_20014

(09/22/07 6:13:01 PM): lol


lorne_a_20014

(09/22/07 6:13:06 PM): :-*:x
kayla_princess94 (09/22/07 6:13:12 PM): hey wheres bud 2day


lorne_a_20014

(09/22/07 6:13:24 PM): are you watching?
kayla_princess94 (09/22/07 6:13:45 PM): yeah
kayla_princess94 (09/22/07 6:14:37 PM): aww there he is
kayla_princess94 (09/22/07 6:14:55 PM): aww
kayla_princess94 (09/22/07 6:15:07 PM): hes shakin ur hand how cute


lorne_a_20014

(09/22/07 6:15:22 PM): you would love him soooooooo much lol


lorne_a_20014

(09/22/07 6:16:08 PM): we're going to be together my precious princess........don't worry, just do what i ask so we can get around things so we don't get in trouble ok?
kayla_princess94 (09/22/07 6:16:23 PM): k
kayla_princess94 (09/22/07 6:16:30 PM): when


lorne_a_20014

(09/22/07 6:16:52 PM): we're not gonna talk about it on here remember?
kayla_princess94 (09/22/07 6:17:11 PM): cuz i gotta b 18


lorne_a_20014

(09/22/07 6:17:37 PM): believe me, we're gonna try for it to be soon


lorne_a_20014

(09/22/07 6:17:46 PM): but no more talking about it on here ok?
kayla_princess94 (09/22/07 6:17:58 PM): oh ok


lorne_a_20014

(09/22/07 6:18:34 PM): you need to get your hotmail email account then we can send things back and forth on there......but only a little, most has to be done on the p


lorne_a_20014

(09/22/07 6:18:43 PM): know what i mean?
kayla_princess94 (09/22/07 6:18:58 PM): no not really


lorne_a_20014

(09/22/07 6:19:11 PM): when you use my p.n.


lorne_a_20014

(09/22/07 6:19:19 PM): now you know what i mean?
kayla_princess94 (09/22/07 6:19:39 PM): i know i dont wanna b18 2 have a bf geez


lorne_a_20014

(09/22/07 6:19:48 PM): lol


lorne_a_20014

(09/22/07 6:19:54 PM): :-*
kayla_princess94 (09/22/07 6:20:06 PM): y u laffing at me


lorne_a_20014

(09/22/07 6:20:17 PM): because you were funny that time lol
kayla_princess94 (09/22/07 6:20:34 PM): how was i funny


lorne_a_20014

(09/22/07 6:20:36 PM): i thought you were trying to be funny lol
kayla_princess94 (09/22/07 6:20:43 PM): no


lorne_a_20014

(09/22/07 6:20:47 PM): just trust me ok?? please??


lorne_a_20014

(09/22/07 6:20:54 PM): i am your b/f


lorne_a_20014

(09/22/07 6:20:58 PM): ok?
kayla_princess94 (09/22/07 6:21:02 PM): :D
kayla_princess94 (09/22/07 6:21:05 PM): k


lorne_a_20014

(09/22/07 6:21:49 PM): we just have to do this smart, we can't just be saying everything over yahoo because that would be ALOT of trouble that we don't want or need


lorne_a_20014

(09/22/07 6:22:18 PM): understand?
kayla_princess94 (09/22/07 6:23:08 PM): i dont wanna get in trble


lorne_a_20014

(09/22/07 6:23:35 PM): me either..........that's why you need to just do what i tell you then we don't have to worry about it ok?
kayla_princess94 (09/22/07 6:23:44 PM): k


lorne_a_20014

(09/22/07 6:23:59 PM): ty my precious princess@};-:-*:x


lorne_a_20014

(09/22/07 6:24:14 PM): want to see \"it\" again before i get dressed?
kayla_princess94 (09/22/07 6:24:46 PM): hey if i gotta b 18 then does that mean ur only my bf on here


lorne_a_20014

(09/22/07 6:25:22 PM): we'll talk about it more the next time you use my p.n., remember, not talking about everything on here
kayla_princess94 (09/22/07 6:25:37 PM): k


lorne_a_20014

(09/22/07 6:25:56 PM): be patient, i'll answer your questions just not on here ok?
kayla_princess94 (09/22/07 6:26:06 PM): k


lorne_a_20014

(09/22/07 6:26:14 PM): ty precious@};-


lorne_a_20014

(09/22/07 6:26:24 PM): want to see \"it\" again before i get dressed?
kayla_princess94 (09/22/07 6:26:36 PM): yeah


lorne_a_20014

(09/22/07 6:27:21 PM): there, how's that for a view?lol
kayla_princess94 (09/22/07 6:27:29 PM): lol
kayla_princess94 (09/22/07 6:27:31 PM): kewl


lorne_a_20014

(09/22/07 6:27:45 PM): i wish i could see yours too
kayla_princess94 (09/22/07 6:27:55 PM): wat
kayla_princess94 (09/22/07 6:28:00 PM): i dont have a weenie


lorne_a_20014

(09/22/07 6:28:01 PM): that will happen soon though


lorne_a_20014

(09/22/07 6:28:09 PM): i know precious


lorne_a_20014

(09/22/07 6:28:27 PM): i was talking about your vagina lol
kayla_princess94 (09/22/07 6:28:32 PM): o
kayla_princess94 (09/22/07 6:28:39 PM): lol
kayla_princess94 (09/22/07 6:28:45 PM): im dumb huh


lorne_a_20014

(09/22/07 6:29:12 PM): nope, not even close, you're just learning about this stuff and i'm happy that i'm the one teaching you


lorne_a_20014

(09/22/07 6:29:24 PM): :D
kayla_princess94 (09/22/07 6:29:26 PM): :Dme 2


lorne_a_20014

(09/22/07 6:29:28 PM): :-*
kayla_princess94 (09/22/07 6:29:35 PM): :-*


lorne_a_20014

(09/22/07 6:29:44 PM): wish i was right there to be teaching you though, that would be alot better
kayla_princess94 (09/22/07 6:29:55 PM): yeah it wuld


lorne_a_20014

(09/22/07 6:30:38 PM): do you know that there's stuff that comes out of my penis when having sex?
kayla_princess94 (09/22/07 6:30:59 PM): yeah i heard that


lorne_a_20014

(09/22/07 6:31:03 PM): ok


lorne_a_20014

(09/22/07 6:31:19 PM): you'll see it soon enough
kayla_princess94 (09/22/07 6:31:29 PM): thats how u get babies


lorne_a_20014

(09/22/07 6:31:34 PM): yup


lorne_a_20014

(09/22/07 6:31:55 PM): i love you kayla@};-:-*:x
kayla_princess94 (09/22/07 6:32:09 PM): :\">i luv u 2


lorne_a_20014

(09/22/07 6:32:22 PM): :D:-*:x


lorne_a_20014

(09/22/07 6:32:31 PM): i want you too


lorne_a_20014

(09/22/07 6:32:47 PM): in other words i wish i could keep you forever starting now
kayla_princess94 (09/22/07 6:32:48 PM): u want me i dont understand
kayla_princess94 (09/22/07 6:32:57 PM): o


lorne_a_20014

(09/22/07 6:33:19 PM): are you enjoying your view?
kayla_princess94 (09/22/07 6:33:32 PM): umm yeah


lorne_a_20014

(09/22/07 6:33:35 PM): lol
kayla_princess94 (09/22/07 6:33:38 PM): :\">


lorne_a_20014

(09/22/07 6:33:40 PM): :-*
kayla_princess94 (09/22/07 6:33:47 PM): :-*


lorne_a_20014

(09/22/07 6:33:58 PM): can i get dressed now or do you want me to sit here a little longer?
kayla_princess94 (09/22/07 6:34:13 PM): lol u can get dressed


lorne_a_20014

(09/22/07 6:34:17 PM): ok lol


lorne_a_20014

(09/22/07 6:34:50 PM): how's that for a view?lol
kayla_princess94 (09/22/07 6:35:05 PM): kewl


lorne_a_20014

(09/22/07 6:35:16 PM): no smile with it?lol
kayla_princess94 (09/22/07 6:35:32 PM): :D


lorne_a_20014

(09/22/07 6:36:11 PM): ok, i'm gonna get my pants on now ok?
kayla_princess94 (09/22/07 6:36:18 PM): k


lorne_a_20014

(09/22/07 6:36:21 PM): god i want you
kayla_princess94 (09/22/07 6:36:32 PM): u want me
kayla_princess94 (09/22/07 6:36:39 PM): i thot i was ur gf


lorne_a_20014

(09/22/07 6:36:52 PM): you are


lorne_a_20014

(09/22/07 6:37:12 PM): when i say that i mean that i wish you could be with me right now


lorne_a_20014

(09/22/07 6:37:14 PM): forever
kayla_princess94 (09/22/07 6:37:19 PM): o
kayla_princess94 (09/22/07 6:37:20 PM): k


lorne_a_20014

(09/22/07 6:37:28 PM): want to see what i don't like about these boxers?
kayla_princess94 (09/22/07 6:37:37 PM): yeah lol


lorne_a_20014

(09/22/07 6:37:38 PM): watch
kayla_princess94 (09/22/07 6:37:53 PM): lol
kayla_princess94 (09/22/07 6:37:57 PM): that funny


lorne_a_20014

(09/22/07 6:38:04 PM): my penis keeps slipping out of them lol
kayla_princess94 (09/22/07 6:38:16 PM): lol


lorne_a_20014

(09/22/07 6:38:32 PM): want to come here and hold my penis in them for me?lol
kayla_princess94 (09/22/07 6:38:41 PM): :\">


lorne_a_20014

(09/22/07 6:38:51 PM): well, do you want to??lol
kayla_princess94 (09/22/07 6:39:00 PM): u want me 2 lol


lorne_a_20014

(09/22/07 6:39:10 PM): hell yeah:D


lorne_a_20014

(09/22/07 6:39:18 PM): now do you want to??
kayla_princess94 (09/22/07 6:39:29 PM): yeah but how wuld i


lorne_a_20014

(09/22/07 6:39:49 PM): i guess that's impossible right now but it wont be soon


lorne_a_20014

(09/22/07 6:39:54 PM): :-*
kayla_princess94 (09/22/07 6:40:04 PM): how that gona b


lorne_a_20014

(09/22/07 6:40:19 PM): relax, not talking about it all on here remember??
kayla_princess94 (09/22/07 6:40:31 PM): i wanna know


lorne_a_20014

(09/22/07 6:40:58 PM): i know but you and me have to figure that out and we're not gonna figure it out on here


lorne_a_20014

(09/22/07 6:41:17 PM): it slipped out again lol
kayla_princess94 (09/22/07 6:41:26 PM): lol


lorne_a_20014

(09/22/07 6:41:43 PM): do you like it when it slips out like that?lol
kayla_princess94 (09/22/07 6:41:52 PM): yeah its cute


lorne_a_20014

(09/22/07 6:41:56 PM): lol


lorne_a_20014

(09/22/07 6:42:12 PM): want to see it again before i put my pants on?
kayla_princess94 (09/22/07 6:42:27 PM): lol i can c it


lorne_a_20014

(09/22/07 6:42:33 PM): ok lol
kayla_princess94 (09/22/07 6:42:37 PM): its stickin out of ur boxers


lorne_a_20014

(09/22/07 6:42:44 PM): i meant close up lol
kayla_princess94 (09/22/07 6:42:58 PM): o
kayla_princess94 (09/22/07 6:42:58 PM): yeah
kayla_princess94 (09/22/07 6:43:54 PM): kewl


lorne_a_20014

(09/22/07 6:44:09 PM): :-*
kayla_princess94 (09/22/07 6:44:20 PM): :-*


lorne_a_20014

(09/22/07 6:44:38 PM): i'm gonna leave it sticking out until i get my pants on, then i'll tuck it in lol
kayla_princess94 (09/22/07 6:44:47 PM): k lol
kayla_princess94 (09/22/07 6:45:30 PM): lol bud watchin u get dressed


lorne_a_20014

(09/22/07 6:45:37 PM): lol
kayla_princess94 (09/22/07 6:45:49 PM): then he look at puter
kayla_princess94 (09/22/07 6:46:04 PM): he saying kayla where lorne going hes gettin dressed


lorne_a_20014

(09/22/07 6:46:31 PM): that's probably exactly what he's saying too\" where's daddy going\" lol


lorne_a_20014

(09/22/07 6:46:40 PM): ok, how do i look precios?
kayla_princess94 (09/22/07 6:46:41 PM): lol
kayla_princess94 (09/22/07 6:46:59 PM): hmm
kayla_princess94 (09/22/07 6:47:04 PM): u look hawt
kayla_princess94 (09/22/07 6:47:09 PM): ;)


lorne_a_20014

(09/22/07 6:47:32 PM): not even close to as hot as what you look though@};-:-*:x
kayla_princess94 (09/22/07 6:47:40 PM): aww ty


lorne_a_20014

(09/22/07 6:47:46 PM): i need to find socks


lorne_a_20014

(09/22/07 6:47:47 PM): lol
kayla_princess94 (09/22/07 6:47:53 PM): lol yep


lorne_a_20014

(09/22/07 6:47:55 PM): brb, bedroom lol
kayla_princess94 (09/22/07 6:48:01 PM): lol
kayla_princess94 (09/22/07 6:48:44 PM): phone ringing brb


lorne_a_20014

(09/22/07 6:48:48 PM): ok


lorne_a_20014

(09/22/07 6:49:43 PM): hurry baby girl, i'm already going to be late
kayla_princess94 (09/22/07 6:49:55 PM): k
kayla_princess94 (09/22/07 6:50:02 PM): well u have fun


lorne_a_20014

(09/22/07 6:50:09 PM): are you home alone right now?
kayla_princess94 (09/22/07 6:50:14 PM): no


lorne_a_20014

(09/22/07 6:50:18 PM): oh ok


lorne_a_20014

(09/22/07 6:50:57 PM): ok, i don't know what time i'm going to be home but i know it's going to be late so don't wait up for me ok? we still have all day tomorrow to spend together


lorne_a_20014

(09/22/07 6:50:59 PM): but


lorne_a_20014

(09/22/07 6:51:13 PM): DON'T go into ANY chat rooms at all ok?


lorne_a_20014

(09/22/07 6:51:16 PM): please???
kayla_princess94 (09/22/07 6:51:18 PM): k
kayla_princess94 (09/22/07 6:51:20 PM): im not


lorne_a_20014

(09/22/07 6:51:26 PM): promise?
kayla_princess94 (09/22/07 6:51:30 PM): im going 2 jess house anyways
kayla_princess94 (09/22/07 6:51:33 PM): yes i promise


lorne_a_20014

(09/22/07 6:51:35 PM): ok, good
kayla_princess94 (09/22/07 6:51:36 PM): that was her


lorne_a_20014

(09/22/07 6:51:48 PM): ty my precious princess@};-
kayla_princess94 (09/22/07 6:51:50 PM): bunch of my friends r going over were gona hangout


lorne_a_20014

(09/22/07 6:51:57 PM): any boys?
kayla_princess94 (09/22/07 6:52:02 PM): umm
kayla_princess94 (09/22/07 6:52:05 PM): yeah


lorne_a_20014

(09/22/07 6:52:26 PM): don't let them near you........you're MY girl now and forever


lorne_a_20014

(09/22/07 6:52:29 PM): right?
kayla_princess94 (09/22/07 6:52:35 PM): lol k i wont


lorne_a_20014

(09/22/07 6:52:43 PM): ty precious
kayla_princess94 (09/22/07 6:52:45 PM): 1 problem


lorne_a_20014

(09/22/07 6:52:46 PM): @};-


lorne_a_20014

(09/22/07 6:52:49 PM): what?
kayla_princess94 (09/22/07 6:53:03 PM): well derek is gona b there


lorne_a_20014

(09/22/07 6:53:43 PM): that's not a problem because if you're going to be honest with me and you want me then you wont go near him.........just tell him stay away from you because if you don't then you're gonna lose me
kayla_princess94 (09/22/07 6:54:01 PM): k will


lorne_a_20014

(09/22/07 6:54:07 PM): promise?
kayla_princess94 (09/22/07 6:54:07 PM): i will
kayla_princess94 (09/22/07 6:54:14 PM): i promise
kayla_princess94 (09/22/07 6:54:20 PM): an cross my pinkie
kayla_princess94 (09/22/07 6:54:28 PM): no thats not rite lol


lorne_a_20014

(09/22/07 6:54:36 PM): and also promise that you'll be honest with me if you do, do anything ok?
kayla_princess94 (09/22/07 6:54:39 PM): i didnt say that rite
kayla_princess94 (09/22/07 6:54:51 PM): i aint gona dont worry


lorne_a_20014

(09/22/07 6:54:55 PM): ok


lorne_a_20014

(09/22/07 6:55:00 PM): ty baby@};-
kayla_princess94 (09/22/07 6:55:11 PM): i prolly wont even talk 2 him
kayla_princess94 (09/22/07 6:55:20 PM): pinkie promise
kayla_princess94 (09/22/07 6:55:22 PM): :D


lorne_a_20014

(09/22/07 6:55:33 PM): good, i hope not:-*
kayla_princess94 (09/22/07 6:55:39 PM): i wont


lorne_a_20014

(09/22/07 6:55:48 PM): i love you kayla@};->:D<:-*:x


lorne_a_20014

(09/22/07 6:56:02 PM): my cam is staying on for you so you turn it off when ever you want ok?
kayla_princess94 (09/22/07 6:56:05 PM): i luv u 2:x:-*
kayla_princess94 (09/22/07 6:56:10 PM): k


lorne_a_20014

(09/22/07 6:56:12 PM): :D


lorne_a_20014

(09/22/07 6:56:16 PM): :-*
kayla_princess94 (09/22/07 6:56:31 PM): hey r there gona b any grls at this barbeque


lorne_a_20014

(09/22/07 6:56:36 PM): have a good night my precious princess@};-:-*:x


lorne_a_20014

(09/22/07 6:56:50 PM): yes, but i don't like any of them so there's nothing to worry about lol
kayla_princess94 (09/22/07 6:56:57 PM): k


lorne_a_20014

(09/22/07 6:57:06 PM): they're all a bunch of dumb asses lol
kayla_princess94 (09/22/07 6:57:11 PM): lol


lorne_a_20014

(09/22/07 6:57:37 PM): ok, i'm gonna go now, i love you@};-:-*:x


lorne_a_20014

(09/22/07 6:57:44 PM): and be careful tonight
kayla_princess94 (09/22/07 6:57:53 PM): :(i luv u


lorne_a_20014

(09/22/07 6:58:06 PM): want another peak at \"it\" before i go?
kayla_princess94 (09/22/07 6:58:12 PM): yeah


lorne_a_20014

(09/22/07 6:59:21 PM): you own that now


lorne_a_20014

(09/22/07 6:59:25 PM): :\">
kayla_princess94 (09/22/07 6:59:31 PM): i own it wat that mean


lorne_a_20014

(09/22/07 6:59:56 PM): that means that the only person in the world that can ever see \"it\" again is you
kayla_princess94 (09/22/07 7:00:04 PM): kewl
kayla_princess94 (09/22/07 7:00:09 PM): :D


lorne_a_20014

(09/22/07 7:00:18 PM): i own the one that you have too:D


lorne_a_20014

(09/22/07 7:00:26 PM): right?
kayla_princess94 (09/22/07 7:00:27 PM): :\">
kayla_princess94 (09/22/07 7:00:31 PM): yep


lorne_a_20014

(09/22/07 7:00:35 PM): :D


lorne_a_20014

(09/22/07 7:01:00 PM): i love you baby girl, i'm gonna go now, be careful tonight and think about me@};-:-*:x
kayla_princess94 (09/22/07 7:01:26 PM): i luv u 2 i will think bout u if u promise 2 think bout me
kayla_princess94 (09/22/07 7:01:38 PM): :-*:x>:D<


lorne_a_20014

(09/22/07 7:01:52 PM): i promise i'm going to be constantly thinking about you@};-:-*:x


lorne_a_20014

(09/22/07 7:01:56 PM): >:D<
kayla_princess94 (09/22/07 7:02:07 PM): :D


lorne_a_20014

(09/22/07 7:02:17 PM): i love you my precious princess, i'll talk to you in the morning@};-:-*:x


lorne_a_20014

(09/22/07 7:02:39 PM): want to see my butt one more time too?lol
kayla_princess94 (09/22/07 7:02:51 PM): lol k
kayla_princess94 (09/22/07 7:03:19 PM): cute butt


lorne_a_20014

(09/22/07 7:03:53 PM): yours is cuter


lorne_a_20014

(09/22/07 7:03:57 PM): :\">


lorne_a_20014

(09/22/07 7:04:14 PM): ok, i'm leaving, i love you baby@};-:-*:x
kayla_princess94 (09/22/07 7:04:21 PM): k bye luv u
kayla_princess94 (09/22/07 7:05:08 PM): bud looks sad 4 u 2 go 2:-h
kayla_princess94 (09/22/07 11:58:26 PM): im back but ur not here i guess so i guess ill talk 2 u 2morrow hope u had fun at ur barbcue i missed u 2nite:(:x:-*>:D<(:|
kayla_princess94 (09/22/07 11:59:10 PM): im kinda tired so im goin 2 sleep miss u#};-
kayla_princess94 (09/22/07 11:59:27 PM): @};-
kayla_princess94 (09/22/07 11:59:41 PM): lol i did it wrong in the 1st 1
kayla_princess94 (09/23/07 12:00:01 AM): well nite:-*
kayla_princess94 (09/23/07 12:01:50 AM): o yeah i 4got i mite not b on till later cuz im goin with my parents sumwhere but ill get on in the morning b4 we go k nite


lorne_a_20014

(09/23/07 4:32:44 AM): i'm home now precious and i'm sorry i didn't get here earlier...........i love you kayla and i wish i was able to spend all day with you today........if you're here and i'm not........take the phone in the bathroom with you .......call me an wake me up ok?? i love you my precious princess@};-:-*:x


lorne_a_20014

(09/23/07 4:33:19 AM): god i wish you were here right now..........i miss you soooooooooo much@};-


lorne_a_20014

(09/23/07 4:35:26 AM): i wish we slept in the same bed together then i could just lay down and hold you nice and tight close to me@F};-


lorne_a_20014

(09/23/07 4:35:43 AM): i miss my baby girl:-<


lorne_a_20014

(09/23/07 4:36:43 AM): no friends houses tomorrow precious.......i want to spend time with you please??


lorne_a_20014

(09/23/07 4:52:56 AM): i know there's no possible way for it to happen because i know you're sleeping right now.......which really i'm very happy about that so that you can get the sleep that you need..........but at the same time i'm being greedy and wanting my precious princess@};-i love you kayla@};-:-*:x


lorne_a_20014

(09/23/07 4:53:01 AM): god i miss you


lorne_a_20014

(09/23/07 9:26:00 AM): where is my girl???


lorne_a_20014

(09/23/07 9:53:31 AM): good morning my precious princess@};-:-*:x


lorne_a_20014

(09/23/07 9:54:37 AM): i want my baby girl:-<


lorne_a_20014

(09/23/07 10:04:00 AM): where are you my precious princess??@};-


lorne_a_20014

(09/23/07 10:09:22 AM): baby i have a hang over...........i wish i could crawl in bed with you right now and hide my head


lorne_a_20014

(09/23/07 10:22:16 AM): uggg..............i wish you'd get on here........i want my baby girl:(:-<
kayla_princess94 (09/23/07 11:34:51 AM): sry ur busy on the phone ttyl


lorne_a_20014

(09/23/07 11:35:32 AM): baby girl, why are you saying you'll talk to me later?
kayla_princess94 (09/23/07 11:36:05 AM): cuz ur busy on the phone and i gotta get ready 2 go 2 my cuzinz with my parents


lorne_a_20014

(09/23/07 11:36:35 AM): i'm not on the phone now, i got off the phone because i would rather talk to you@};-:-*


lorne_a_20014

(09/23/07 11:36:41 AM): i miss you
kayla_princess94 (09/23/07 11:36:49 AM): i miss u 2


lorne_a_20014

(09/23/07 11:36:57 AM): i love you too


lorne_a_20014

(09/23/07 11:37:01 AM): :-*
kayla_princess94 (09/23/07 11:37:02 AM): i luv u
kayla_princess94 (09/23/07 11:37:09 AM): :-*


lorne_a_20014

(09/23/07 11:37:10 AM): i want you too
kayla_princess94 (09/23/07 11:37:36 AM): 4 wat


lorne_a_20014

(09/23/07 11:37:43 AM): 4 ever
kayla_princess94 (09/23/07 11:37:49 AM): :D


lorne_a_20014

(09/23/07 11:38:00 AM): :D:-*:x
kayla_princess94 (09/23/07 11:38:14 AM): did u have fun last nite


lorne_a_20014

(09/23/07 11:38:21 AM): when is the next time you can use my p.n.?


lorne_a_20014

(09/23/07 11:38:39 AM): yes i did, i had a really good time, i had alot of friends there last night


lorne_a_20014

(09/23/07 11:38:43 AM): did you have fun?
kayla_princess94 (09/23/07 11:38:48 AM): yep


lorne_a_20014

(09/23/07 11:38:52 AM): good


lorne_a_20014

(09/23/07 11:39:00 AM): was derek there?
kayla_princess94 (09/23/07 11:39:06 AM): yeah


lorne_a_20014

(09/23/07 11:39:11 AM): what happened?
kayla_princess94 (09/23/07 11:39:20 AM): wat u mean


lorne_a_20014

(09/23/07 11:39:34 AM): did he try to talk to you? did you talk to him?
kayla_princess94 (09/23/07 11:39:58 AM): he said hi an i said hi and then i never talk 2 him again


lorne_a_20014

(09/23/07 11:40:04 AM): good


lorne_a_20014

(09/23/07 11:40:09 AM): :-*
kayla_princess94 (09/23/07 11:40:17 AM): :-*


lorne_a_20014

(09/23/07 11:40:33 AM): i have to keep looking at your picture lol
kayla_princess94 (09/23/07 11:40:41 AM): lol y


lorne_a_20014

(09/23/07 11:41:04 AM): because you're soooooooooooooooo beautiful to me@};-:-*:x
kayla_princess94 (09/23/07 11:41:14 AM): :\">


lorne_a_20014

(09/23/07 11:41:22 AM): i wish i could have you here with me right now
kayla_princess94 (09/23/07 11:41:29 AM): u do
kayla_princess94 (09/23/07 11:41:33 AM): really


lorne_a_20014

(09/23/07 11:41:33 AM): yes


lorne_a_20014

(09/23/07 11:41:36 AM): yup


lorne_a_20014

(09/23/07 11:42:06 AM): but i'll be honest with you........if you were here with me right now, you wouldn't be wearing any clothes:\">
kayla_princess94 (09/23/07 11:42:19 AM): y


lorne_a_20014

(09/23/07 11:42:45 AM): because i would want you to be naked with me and i would be doing your experimenting for you
kayla_princess94 (09/23/07 11:42:57 AM): o yeah


lorne_a_20014

(09/23/07 11:43:05 AM): would you want me to?
kayla_princess94 (09/23/07 11:43:16 AM): yeah


lorne_a_20014

(09/23/07 11:43:20 AM): :D


lorne_a_20014

(09/23/07 11:43:25 AM): :x


lorne_a_20014

(09/23/07 11:43:41 AM): when's the next time you can use my p.n.?
kayla_princess94 (09/23/07 11:43:54 AM): idk when my parents arnt here


lorne_a_20014

(09/23/07 11:44:11 AM): do you have to go to your cousins?


lorne_a_20014

(09/23/07 11:44:16 AM): or can you stay home?
kayla_princess94 (09/23/07 11:44:40 AM): no i gotta go its her bday party


lorne_a_20014

(09/23/07 11:44:45 AM): oh


lorne_a_20014

(09/23/07 11:44:55 AM): what time do you have to leave?


lorne_a_20014

(09/23/07 11:45:07 AM): brb, coffee
kayla_princess94 (09/23/07 11:45:22 AM): in a few min


lorne_a_20014

(09/23/07 11:46:22 AM): how long are you gonna be there?
kayla_princess94 (09/23/07 11:46:29 AM): idk


lorne_a_20014

(09/23/07 11:46:47 AM): bummer...........i wanted alot of time with you today:(
kayla_princess94 (09/23/07 11:47:00 AM): :(me 2


lorne_a_20014

(09/23/07 11:47:10 AM): :-*:x
kayla_princess94 (09/23/07 11:47:21 AM): :x


lorne_a_20014

(09/23/07 11:47:22 AM): what are you wearing?
kayla_princess94 (09/23/07 11:47:40 AM): shorts and a tank top


lorne_a_20014

(09/23/07 11:47:47 AM): what color?
kayla_princess94 (09/23/07 11:48:00 AM): jean shorts and pink top
kayla_princess94 (09/23/07 11:48:03 AM): y


lorne_a_20014

(09/23/07 11:48:18 AM): because i'm picturing you in my head
kayla_princess94 (09/23/07 11:48:25 AM): lol


lorne_a_20014

(09/23/07 11:48:40 AM): what color socks, panties and bra?
kayla_princess94 (09/23/07 11:49:17 AM): hmm no socks flip flops pink panties and bra:\">


lorne_a_20014

(09/23/07 11:49:26 AM): :D


lorne_a_20014

(09/23/07 11:49:43 AM): if i were there would you let me take them off?:D
kayla_princess94 (09/23/07 11:49:56 AM): wuld u wanna


lorne_a_20014

(09/23/07 11:50:06 AM): yes, definately


lorne_a_20014

(09/23/07 11:50:11 AM): would you let me?
kayla_princess94 (09/23/07 11:50:18 AM): yeah


lorne_a_20014

(09/23/07 11:50:22 AM): :D


lorne_a_20014

(09/23/07 11:50:41 AM): could i kiss you all over the place too?
kayla_princess94 (09/23/07 11:51:04 AM): all over the place


lorne_a_20014

(09/23/07 11:51:09 AM): yup


lorne_a_20014

(09/23/07 11:51:19 AM): i wanna kiss your whole body
kayla_princess94 (09/23/07 11:51:44 AM): o i thot u meant like diff places in the house lol


lorne_a_20014

(09/23/07 11:51:49 AM): lol


lorne_a_20014

(09/23/07 11:51:52 AM): no lol


lorne_a_20014

(09/23/07 11:52:01 AM): well, i'd like to do that too lol


lorne_a_20014

(09/23/07 11:52:10 AM): but i want to kiss your whole body


lorne_a_20014

(09/23/07 11:52:17 AM): :x:\">
kayla_princess94 (09/23/07 11:52:31 AM): k


lorne_a_20014

(09/23/07 11:52:39 AM): even down there?


lorne_a_20014

(09/23/07 11:52:46 AM): :D
kayla_princess94 (09/23/07 11:52:51 AM): down where


lorne_a_20014

(09/23/07 11:53:10 AM): down where i'm gonna do your experimenting for you
kayla_princess94 (09/23/07 11:53:29 AM): y w uld u wanna do that


lorne_a_20014

(09/23/07 11:53:43 AM): because you would like it alot, trust me lol
kayla_princess94 (09/23/07 11:53:50 AM): o
kayla_princess94 (09/23/07 11:53:51 AM): k


lorne_a_20014

(09/23/07 11:53:56 AM): it would feel really good to you
kayla_princess94 (09/23/07 11:54:04 AM): really


lorne_a_20014

(09/23/07 11:54:13 AM): especially when i use my tongue down there


lorne_a_20014

(09/23/07 11:54:31 AM): you would actually love it because it would feel really good to you
kayla_princess94 (09/23/07 11:54:38 AM): kewl


lorne_a_20014

(09/23/07 11:54:50 AM): can i use my tongue on you down there?
kayla_princess94 (09/23/07 11:54:59 AM): yeah if u wanna


lorne_a_20014

(09/23/07 11:55:04 AM): :D


lorne_a_20014

(09/23/07 11:55:25 AM): i wish i could marry you right now because i would do it


lorne_a_20014

(09/23/07 11:55:41 AM): that's how special you are to me and that's how much i love you
kayla_princess94 (09/23/07 11:55:47 AM): kewl


lorne_a_20014

(09/23/07 11:56:05 AM): if you could marry me right now would you want to?
kayla_princess94 (09/23/07 11:57:12 AM): yes


lorne_a_20014

(09/23/07 11:57:18 AM): :D


lorne_a_20014

(09/23/07 11:57:21 AM): :x
kayla_princess94 (09/23/07 11:57:33 AM): :x


lorne_a_20014

(09/23/07 11:57:41 AM): can i kiss your knee too?lol
kayla_princess94 (09/23/07 11:58:08 AM): lol yeah but y


lorne_a_20014

(09/23/07 11:58:29 AM): because it's a sexy knee and it's part of you so i wanna kiss it lol


lorne_a_20014

(09/23/07 11:58:35 AM): :-*
kayla_princess94 (09/23/07 11:58:35 AM): lol
kayla_princess94 (09/23/07 11:58:37 AM): k


lorne_a_20014

(09/23/07 11:58:56 AM): want me to put the cam down so you can see \"it\" for a few minutes?
kayla_princess94 (09/23/07 11:59:26 AM): cant i gotta go


lorne_a_20014

(09/23/07 11:59:42 AM): bummer...........i miss my precious princess already


lorne_a_20014

(09/23/07 11:59:46 AM): :(
kayla_princess94 (09/23/07 12:00:23 PM): :((
kayla_princess94 (09/23/07 12:00:31 PM): i miss u 2


lorne_a_20014

(09/23/07 12:00:34 PM): i love you kayla
kayla_princess94 (09/23/07 12:00:43 PM): luv u 2


lorne_a_20014

(09/23/07 12:01:04 PM): try to sneak and call me today too, i wanna hear your voice again
kayla_princess94 (09/23/07 12:01:11 PM): k
kayla_princess94 (09/23/07 12:01:16 PM): b on here later k


lorne_a_20014

(09/23/07 12:01:36 PM): i will, i promise, try to get back here as soon as you can please?
kayla_princess94 (09/23/07 12:01:41 PM): k
kayla_princess94 (09/23/07 12:01:42 PM): bye
kayla_princess94 (09/23/07 12:01:49 PM): :-*


lorne_a_20014

(09/23/07 12:01:53 PM): bye my precious princess@};-


lorne_a_20014

(09/23/07 12:02:02 PM): do you wanna see it before you leave?


lorne_a_20014

(09/23/07 12:01:51 PM): i guess you're gone already:(


lorne_a_20014

(09/23/07 12:01:55 PM): :-<


lorne_a_20014

(09/23/07 12:07:27 PM): god i already miss you alot :-<


lorne_a_20014

(09/23/07 3:10:28 PM): well my precious princess, i'm tired so i'm going to lay down out here on the living room floor, my cam's on so you'll be able to see me, i love you@};->:D<:-*:x


lorne_a_20014

(09/23/07 5:41:16 PM): i miss my precious princess@};-:(
kayla_princess94 (09/23/07 6:05:02 PM): hey wat ya doin


lorne_a_20014

(09/23/07 6:05:49 PM): hi my precious baby girl


lorne_a_20014

(09/23/07 6:05:53 PM): @};-
kayla_princess94 (09/23/07 6:05:54 PM): hi


lorne_a_20014

(09/23/07 6:06:00 PM): i missed you
kayla_princess94 (09/23/07 6:06:05 PM): i missed u


lorne_a_20014

(09/23/07 6:06:13 PM): i didn't think you were here so i was going to lay back down again


lorne_a_20014

(09/23/07 6:06:36 PM): how was the b-day party?
kayla_princess94 (09/23/07 6:06:41 PM): y u sleepin on the floor dont u got a bed
kayla_princess94 (09/23/07 6:06:54 PM): it was ok


lorne_a_20014

(09/23/07 6:07:08 PM): no i don't yet, i need to get one when i get enough money saved up


lorne_a_20014

(09/23/07 6:07:33 PM): not just that, i wanted to be out here near the computer for when you came online


lorne_a_20014

(09/23/07 6:07:39 PM): :-*
kayla_princess94 (09/23/07 6:07:51 PM): aww how sweet
kayla_princess94 (09/23/07 6:07:57 PM): :x


lorne_a_20014

(09/23/07 6:08:08 PM): can you see that my eyes are still tired?lol


lorne_a_20014

(09/23/07 6:08:40 PM): i wish you were here then we could lay down together and take a nap
kayla_princess94 (09/23/07 6:09:09 PM): yeah u look tired


lorne_a_20014

(09/23/07 6:09:28 PM): i am, but i'm so happy that you're home though, i really missed you alot
kayla_princess94 (09/23/07 6:09:50 PM): i missed u 2:-*


lorne_a_20014

(09/23/07 6:10:01 PM): :D:-*:x


lorne_a_20014

(09/23/07 6:10:15 PM): did you think about me while you were at the party?
kayla_princess94 (09/23/07 6:10:27 PM): yep


lorne_a_20014

(09/23/07 6:10:35 PM): what did you think about?
kayla_princess94 (09/23/07 6:10:50 PM): how much i wass missing u


lorne_a_20014

(09/23/07 6:10:58 PM): :D


lorne_a_20014

(09/23/07 6:11:10 PM): what are you wearing today?


lorne_a_20014

(09/23/07 6:11:26 PM): oh wait, shorts and a tank top right?
kayla_princess94 (09/23/07 6:11:37 PM): yep lol


lorne_a_20014

(09/23/07 6:11:50 PM): with pink panties and bra and no socks but flip flops


lorne_a_20014

(09/23/07 6:11:51 PM): lol
kayla_princess94 (09/23/07 6:12:01 PM): lol u remember


lorne_a_20014

(09/23/07 6:12:08 PM): :D:-*
kayla_princess94 (09/23/07 6:12:15 PM): :-*


lorne_a_20014

(09/23/07 6:12:20 PM): i wish i could take them off of you though lol
kayla_princess94 (09/23/07 6:12:26 PM): lol
kayla_princess94 (09/23/07 6:12:29 PM): u do huh


lorne_a_20014

(09/23/07 6:12:34 PM): yup


lorne_a_20014

(09/23/07 6:12:41 PM): do you wish i could?
kayla_princess94 (09/23/07 6:12:51 PM): yeah


lorne_a_20014

(09/23/07 6:12:56 PM): :D


lorne_a_20014

(09/23/07 6:13:28 PM): then i would get to use my tongue on you :D=P~:-*:x


lorne_a_20014

(09/23/07 6:13:32 PM): :\">
kayla_princess94 (09/23/07 6:14:11 PM): huh


lorne_a_20014

(09/23/07 6:14:57 PM): you don't remember what we talked about earlier? if i use my tongue on you how much you'd like it
kayla_princess94 (09/23/07 6:15:09 PM): o yeah


lorne_a_20014

(09/23/07 6:15:16 PM): :-*


lorne_a_20014

(09/23/07 6:15:28 PM): what did you do at the party?
kayla_princess94 (09/23/07 6:15:59 PM): had a cookout and then cake and ice cream
kayla_princess94 (09/23/07 6:16:04 PM): it was fun


lorne_a_20014

(09/23/07 6:16:06 PM): cool


lorne_a_20014

(09/23/07 6:16:15 PM): did you play any games or anything?
kayla_princess94 (09/23/07 6:16:31 PM): games wat games


lorne_a_20014

(09/23/07 6:17:05 PM): i didn't know if there was going to be any kind of outside games or anything
kayla_princess94 (09/23/07 6:17:22 PM): y wuld we play games


lorne_a_20014

(09/23/07 6:17:40 PM): i don't know, some people do that at b-day parties
kayla_princess94 (09/23/07 6:17:49 PM): yeah lil kid parties


lorne_a_20014

(09/23/07 6:18:06 PM): i didn't know how old your cousin was too lol
kayla_princess94 (09/23/07 6:18:11 PM): lol
kayla_princess94 (09/23/07 6:18:17 PM): she is 17


lorne_a_20014

(09/23/07 6:18:25 PM): oh lol


lorne_a_20014

(09/23/07 6:18:39 PM): yeah, i guess that is a little too old for games huh?lol
kayla_princess94 (09/23/07 6:18:48 PM): yeah i wuld say lol


lorne_a_20014

(09/23/07 6:18:54 PM): lol


lorne_a_20014

(09/23/07 6:19:17 PM): how often did you think about me while you were there?
kayla_princess94 (09/23/07 6:19:43 PM): most of the time:\">


lorne_a_20014

(09/23/07 6:19:54 PM): :D:-*:x
kayla_princess94 (09/23/07 6:20:05 PM): u ok
kayla_princess94 (09/23/07 6:20:19 PM): u look kinda bummed out


lorne_a_20014

(09/23/07 6:21:00 PM): no, i'm alright, just tired, i couldn't sleep while you were gone because i kept thinking about you and also my neighbor kept bugging me too
kayla_princess94 (09/23/07 6:21:45 PM): o no the buggy neighbor


lorne_a_20014

(09/23/07 6:22:13 PM): i am kind of bummed out too i guess, i want to have you here with me right now and i know i can't so that bums me out
kayla_princess94 (09/23/07 6:22:29 PM): aww


lorne_a_20014

(09/23/07 6:22:52 PM): is there any way you can use my p.n. today?
kayla_princess94 (09/23/07 6:23:04 PM): no my parents r here


lorne_a_20014

(09/23/07 6:23:08 PM): oh


lorne_a_20014

(09/23/07 6:23:18 PM): bummer
kayla_princess94 (09/23/07 6:23:31 PM): yeah bummer:(


lorne_a_20014

(09/23/07 6:23:49 PM): are you really positive you want me for your b/f?
kayla_princess94 (09/23/07 6:23:57 PM): yeah y


lorne_a_20014

(09/23/07 6:24:28 PM): because of our age difference, i just want you to be sure that you want me
kayla_princess94 (09/23/07 6:25:03 PM): dont u want me 2 b ur gf cuz mayb u think im a dumb kid cuz im only 13


lorne_a_20014

(09/23/07 6:25:49 PM): yes i want you to be my gf, and i would really like it if you would stop saying that i think you're dumb because i know you're not ok?
kayla_princess94 (09/23/07 6:26:00 PM): k


lorne_a_20014

(09/23/07 6:26:28 PM): i just wanted you to be sure that you wanted me for your b/f that's all i was asking you
kayla_princess94 (09/23/07 6:26:38 PM): k


lorne_a_20014

(09/23/07 6:26:54 PM): you don't mind me being hairy?


lorne_a_20014

(09/23/07 6:26:56 PM): lol
kayla_princess94 (09/23/07 6:27:08 PM): hairy
kayla_princess94 (09/23/07 6:27:10 PM): huh


lorne_a_20014

(09/23/07 6:27:23 PM): yeah, my hair on my chest
kayla_princess94 (09/23/07 6:27:31 PM): o no i dont mind


lorne_a_20014

(09/23/07 6:27:37 PM): ok, good
kayla_princess94 (09/23/07 6:27:50 PM): y u ask a silly question like that


lorne_a_20014

(09/23/07 6:28:14 PM): i don't know, because i'm tired and not making much sense right now i guess lol
kayla_princess94 (09/23/07 6:28:21 PM): lol


lorne_a_20014

(09/23/07 6:28:38 PM): hang on ok baby? i'm gonna make a pot of coffee
kayla_princess94 (09/23/07 6:28:44 PM): k


lorne_a_20014

(09/23/07 6:30:58 PM): i'm back precious
kayla_princess94 (09/23/07 6:31:10 PM): yay


lorne_a_20014

(09/23/07 6:31:15 PM): :-*


lorne_a_20014

(09/23/07 6:31:24 PM): want to see bud?
kayla_princess94 (09/23/07 6:31:55 PM): yeah
kayla_princess94 (09/23/07 6:32:40 PM): aww


lorne_a_20014

(09/23/07 6:32:42 PM): he's sleeping lol
kayla_princess94 (09/23/07 6:32:47 PM): yeah lol
kayla_princess94 (09/23/07 6:32:51 PM): hes so darn cute


lorne_a_20014

(09/23/07 6:32:56 PM): lol
kayla_princess94 (09/23/07 6:33:00 PM): gets cuter evrytime i c him


lorne_a_20014

(09/23/07 6:33:05 PM): lol


lorne_a_20014

(09/23/07 6:33:13 PM): i think you love him now lol
kayla_princess94 (09/23/07 6:33:18 PM): lol


lorne_a_20014

(09/23/07 6:33:30 PM): he sees you all the time
kayla_princess94 (09/23/07 6:33:39 PM): does he aww


lorne_a_20014

(09/23/07 6:34:12 PM): i have your pic up on the monitor all the time so that's how he sees you all the time:\">
kayla_princess94 (09/23/07 6:34:21 PM): u do
kayla_princess94 (09/23/07 6:34:24 PM): wow kewl


lorne_a_20014

(09/23/07 6:34:29 PM): yup


lorne_a_20014

(09/23/07 6:34:32 PM): want to see?
kayla_princess94 (09/23/07 6:34:46 PM): yeah
kayla_princess94 (09/23/07 6:35:18 PM): omg its me


lorne_a_20014

(09/23/07 6:35:34 PM): :-*


lorne_a_20014

(09/23/07 6:35:41 PM): ;;)
kayla_princess94 (09/23/07 6:35:56 PM): :\">


lorne_a_20014

(09/23/07 6:36:10 PM): i love you@};-
kayla_princess94 (09/23/07 6:36:35 PM): i luv u 2


lorne_a_20014

(09/23/07 6:36:36 PM): i can't wait to kiss those pretty lips of yours too


lorne_a_20014

(09/23/07 6:37:25 PM): if you were here with me would you lay down and take a nap with me?
kayla_princess94 (09/23/07 6:37:39 PM): y im not tired


lorne_a_20014

(09/23/07 6:38:04 PM): no but i would just want to hold you close to me
kayla_princess94 (09/23/07 6:38:13 PM): o
kayla_princess94 (09/23/07 6:38:15 PM): kewl


lorne_a_20014

(09/23/07 6:38:34 PM): you'd have to be naked with me though lol
kayla_princess94 (09/23/07 6:38:42 PM): lol
kayla_princess94 (09/23/07 6:38:44 PM): i wuld


lorne_a_20014

(09/23/07 6:38:51 PM): :D
kayla_princess94 (09/23/07 6:38:59 PM): lol


lorne_a_20014

(09/23/07 6:39:04 PM): you wouldn't mind would you?
kayla_princess94 (09/23/07 6:39:17 PM): no:\">


lorne_a_20014

(09/23/07 6:39:22 PM): :D


lorne_a_20014

(09/23/07 6:39:26 PM): :x
kayla_princess94 (09/23/07 6:39:34 PM): :x


lorne_a_20014

(09/23/07 6:39:51 PM): i could grab those cute little butt cheeks of yours too:\">
kayla_princess94 (09/23/07 6:40:19 PM): y u wana grab my butt


lorne_a_20014

(09/23/07 6:40:29 PM): because it's so cute lol
kayla_princess94 (09/23/07 6:40:36 PM): o
kayla_princess94 (09/23/07 6:40:38 PM): lol


lorne_a_20014

(09/23/07 6:40:50 PM): hang on baby, coffee's done
kayla_princess94 (09/23/07 6:40:55 PM): k


lorne_a_20014

(09/23/07 6:41:55 PM): back
kayla_princess94 (09/23/07 6:42:24 PM): yay


lorne_a_20014

(09/23/07 6:42:33 PM): what are you doing baby?
kayla_princess94 (09/23/07 6:43:04 PM): nothin talkin 2 u lol


lorne_a_20014

(09/23/07 6:43:13 PM): oh ok lol


lorne_a_20014

(09/23/07 6:43:32 PM): i thought you might be talking to one of your other friends on here at the same time lol
kayla_princess94 (09/23/07 6:43:47 PM): no
kayla_princess94 (09/23/07 6:43:48 PM): lol
kayla_princess94 (09/23/07 6:44:01 PM): mom yelled at me sumthin


lorne_a_20014

(09/23/07 6:44:07 PM): oh
kayla_princess94 (09/23/07 6:44:12 PM): i was yellin back at her lol


lorne_a_20014

(09/23/07 6:44:16 PM): lol


lorne_a_20014

(09/23/07 6:44:30 PM): tell her not to yell at my precious princess lol
kayla_princess94 (09/23/07 6:44:43 PM): k lol


lorne_a_20014

(09/23/07 6:44:54 PM): just kidding, don't tell her that lol


lorne_a_20014

(09/23/07 6:45:01 PM): she'll wonder who i am lol
kayla_princess94 (09/23/07 6:45:19 PM): o yeah she wuld
kayla_princess94 (09/23/07 6:45:20 PM): lol


lorne_a_20014

(09/23/07 6:45:28 PM): lol


lorne_a_20014

(09/23/07 6:45:55 PM): want me to put the cam on \"it\" so you can look at \"it\" for a few minutes?
kayla_princess94 (09/23/07 6:46:03 PM): k
kayla_princess94 (09/23/07 6:46:11 PM): can i ask u sumthin


lorne_a_20014

(09/23/07 6:46:27 PM): yes you can
kayla_princess94 (09/23/07 6:47:06 PM): who was ya talkin 2 this mornin on the phone


lorne_a_20014

(09/23/07 6:47:30 PM): a guy from the bar b que last night


lorne_a_20014

(09/23/07 6:47:38 PM): he's a good friend of mine


lorne_a_20014

(09/23/07 6:47:45 PM): his name is craig
kayla_princess94 (09/23/07 6:47:59 PM): o


lorne_a_20014

(09/23/07 6:48:07 PM): why? did you think i was talking to a girl?lol
kayla_princess94 (09/23/07 6:48:13 PM): idk


lorne_a_20014

(09/23/07 6:48:44 PM): there's only 2 girls that i care about talking on the phone to, that's my mother and you@};-:-*:x
kayla_princess94 (09/23/07 6:48:55 PM): aww


lorne_a_20014

(09/23/07 6:49:16 PM): i really wish i could have you here with me right now


lorne_a_20014

(09/23/07 6:49:22 PM): :(
kayla_princess94 (09/23/07 6:49:48 PM): yeah


lorne_a_20014

(09/23/07 6:50:08 PM): what are you thinking about right now precious?
kayla_princess94 (09/23/07 6:50:36 PM): u:\">


lorne_a_20014

(09/23/07 6:50:45 PM): :D
kayla_princess94 (09/23/07 6:50:50 PM): lol


lorne_a_20014

(09/23/07 6:50:58 PM): what are the thoughts that you're having??lol
kayla_princess94 (09/23/07 6:51:20 PM): didnt think bout u havin a mom lol
kayla_princess94 (09/23/07 6:51:23 PM): where she live


lorne_a_20014

(09/23/07 6:51:27 PM): lol


lorne_a_20014

(09/23/07 6:51:31 PM): she lives in maine
kayla_princess94 (09/23/07 6:51:36 PM): kewl


lorne_a_20014

(09/23/07 6:51:47 PM): she would love you too
kayla_princess94 (09/23/07 6:51:56 PM): u think so


lorne_a_20014

(09/23/07 6:52:02 PM): yes i do
kayla_princess94 (09/23/07 6:52:15 PM): bet i wuld like her 2


lorne_a_20014

(09/23/07 6:52:22 PM): you'll find out in another 5 yrs lol


lorne_a_20014

(09/23/07 6:52:28 PM): when is your b-day?
kayla_princess94 (09/23/07 6:53:22 PM): y will i find out in 5 years


lorne_a_20014

(09/23/07 6:53:51 PM): because then you'll be 18 and it will be legal for me to take you where ever we want to go
kayla_princess94 (09/23/07 6:54:01 PM): o
kayla_princess94 (09/23/07 6:54:16 PM): o my bday is april 10th 1994
kayla_princess94 (09/23/07 6:54:20 PM): whens urs


lorne_a_20014

(09/23/07 6:54:31 PM): mine's october 18


lorne_a_20014

(09/23/07 6:54:34 PM): next month


lorne_a_20014

(09/23/07 6:54:42 PM): then i'm gonna be 37


lorne_a_20014

(09/23/07 6:55:02 PM): are you sure you want to have a 37 year old man for a b/f?lol
kayla_princess94 (09/23/07 6:55:28 PM): y u keep askin me that


lorne_a_20014

(09/23/07 6:55:39 PM): just to make sure


lorne_a_20014

(09/23/07 6:55:49 PM): i just want you to be happy
kayla_princess94 (09/23/07 6:55:49 PM): u shur u wanna gf who is 13


lorne_a_20014

(09/23/07 6:56:10 PM): know that it's you.........i'm very positive@};-:-*:x
kayla_princess94 (09/23/07 6:56:33 PM): kewl


lorne_a_20014

(09/23/07 6:56:47 PM): i wish i could marry you right now too
kayla_princess94 (09/23/07 6:57:02 PM): :D


lorne_a_20014

(09/23/07 6:57:30 PM): i'm gonna be sooooooooooooooo happy when i can put my lips on yours too:D


lorne_a_20014

(09/23/07 6:58:26 PM): so what else are you thinking about when you think about me?
kayla_princess94 (09/23/07 6:58:53 PM): idk
kayla_princess94 (09/23/07 6:58:58 PM): hey brb


lorne_a_20014

(09/23/07 6:59:02 PM): k
kayla_princess94 (09/23/07 7:04:38 PM): i gotta go 4 now ill b back in a lil bit k


lorne_a_20014

(09/23/07 7:04:46 PM): :(


lorne_a_20014

(09/23/07 7:04:49 PM): how long?
kayla_princess94 (09/23/07 7:04:54 PM): idk


lorne_a_20014

(09/23/07 7:05:22 PM): i'll be right here waiting for you my precious princess@};-:-*>:D<:x
kayla_princess94 (09/23/07 7:05:25 PM): u gona b here
kayla_princess94 (09/23/07 7:05:43 PM): k:D>:D<:x:-*


lorne_a_20014

(09/23/07 7:05:49 PM): i'm not going any where, i miss you and want alot of time with you tonight
kayla_princess94 (09/23/07 7:06:01 PM): k


lorne_a_20014

(09/23/07 7:06:16 PM): precious i have an itch on my penis, will you scratch it for me?Lol
kayla_princess94 (09/23/07 7:06:25 PM): lol


lorne_a_20014

(09/23/07 7:06:35 PM): is that a yes?lol
kayla_princess94 (09/23/07 7:06:43 PM): yeah lol
kayla_princess94 (09/23/07 7:06:48 PM): c ya in a bit


lorne_a_20014

(09/23/07 7:06:49 PM): :D


lorne_a_20014

(09/23/07 7:06:57 PM): ok, i love you @};-
kayla_princess94 (09/23/07 7:07:04 PM): luv u


lorne_a_20014

(09/23/07 7:07:15 PM): will you kiss it after you scratch it?lol
kayla_princess94 (09/23/07 7:07:51 PM): if u want me 2


lorne_a_20014

(09/23/07 7:08:00 PM): i definately want you to


lorne_a_20014

(09/23/07 7:08:20 PM): hurry back please? i miss you already@};-:-*:x
kayla_princess94 (09/23/07 7:08:38 PM): k bye


lorne_a_20014

(09/23/07 7:08:52 PM): bye for now my precious princess@};-


lorne_a_20014

(09/23/07 9:19:34 PM): i miss my precious princess:(


lorne_a_20014

(09/23/07 9:31:12 PM): :-<
kayla_princess94 (09/23/07 10:11:34 PM): hi ya
kayla_princess94 (09/23/07 10:11:50 PM): :xu here
kayla_princess94 (09/23/07 10:12:28 PM): i guess not i missed u talk 2 u 2morrw:(
kayla_princess94 (09/23/07 10:18:43 PM): nite:-*


lorne_a_20014

(09/23/07 10:56:55 PM): babyh are you here?


lorne_a_20014

(09/23/07 10:57:38 PM): :(:-<


lorne_a_20014

(09/24/07 8:35:13 AM): good morning precious princess@};- have a good day and i'll talk to you tonight@};-:-*:x


lorne_a_20014

(09/24/07 10:33:56 AM): god i miis my precious princess@};-, there's no way we're going to wait very long before we see eachother@};-:-*:x


lorne_a_20014

(09/24/07 12:06:43 PM): i'm leaving for work now my precious princess, i hope you had a good day and i'll talk to you tonight when i get home, my cam is on for you@};-:-*:x
kayla_princess94 (09/24/07 9:49:01 PM): miss u:(


lorne_a_20014

(09/24/07 10:29:18 PM): hi precoius@};-
kayla_princess94 (09/24/07 10:29:37 PM): hey:D


lorne_a_20014

(09/24/07 10:29:38 PM): let me take bud to the bathroom ok ?


lorne_a_20014

(09/24/07 10:29:45 PM): my cam is on for you precious


lorne_a_20014

(09/24/07 10:29:52 PM): brb
kayla_princess94 (09/24/07 10:29:55 PM): k


lorne_a_20014

(09/24/07 10:32:55 PM): ok, i'm back
kayla_princess94 (09/24/07 10:33:02 PM): YAY


lorne_a_20014

(09/24/07 10:33:08 PM): :-*


lorne_a_20014

(09/24/07 10:33:14 PM): what are you doing?


lorne_a_20014

(09/24/07 10:34:06 PM): what are you doing precious?
kayla_princess94 (09/24/07 10:34:15 PM): nothin


lorne_a_20014

(09/24/07 10:34:24 PM): how did your day go?
kayla_princess94 (09/24/07 10:34:45 PM): boring


lorne_a_20014

(09/24/07 10:34:51 PM): why?
kayla_princess94 (09/24/07 10:35:23 PM): cuz jus was


lorne_a_20014

(09/24/07 10:35:50 PM): did you think about me?
kayla_princess94 (09/24/07 10:36:06 PM): yeah
kayla_princess94 (09/24/07 10:36:12 PM): u think of me


lorne_a_20014

(09/24/07 10:36:23 PM): yes, of course:-*


lorne_a_20014

(09/24/07 10:36:39 PM): want a bite of mac and cheese?lol
kayla_princess94 (09/24/07 10:37:07 PM): umm no thanx


lorne_a_20014

(09/24/07 10:37:19 PM): it's good i promise lol
kayla_princess94 (09/24/07 10:37:28 PM): jus not hungry


lorne_a_20014

(09/24/07 10:37:30 PM): did you get all my offlines?
kayla_princess94 (09/24/07 10:37:57 PM): yep
kayla_princess94 (09/24/07 10:38:04 PM): :)


lorne_a_20014

(09/24/07 10:38:05 PM): :-*


lorne_a_20014

(09/24/07 10:38:21 PM): i love you my precious princess@};-\
kayla_princess94 (09/24/07 10:39:05 PM): luv u 2:-*:-<


lorne_a_20014

(09/24/07 10:39:16 PM): what's the sad face for?
kayla_princess94 (09/24/07 10:39:59 PM): not really sad jus idk in a bummed out mood


lorne_a_20014

(09/24/07 10:40:10 PM): why? what's wrong?
kayla_princess94 (09/24/07 10:40:27 PM): idk even


lorne_a_20014

(09/24/07 10:40:45 PM): is it me?
kayla_princess94 (09/24/07 10:40:50 PM): noooo
kayla_princess94 (09/24/07 10:40:52 PM): not u


lorne_a_20014

(09/24/07 10:40:57 PM): ok, good
kayla_princess94 (09/24/07 10:41:23 PM): hey brb


lorne_a_20014

(09/24/07 10:41:26 PM): ok
kayla_princess94 (09/24/07 10:44:12 PM): k im back


lorne_a_20014

(09/24/07 10:44:29 PM): wb precious:-*:x


lorne_a_20014

(09/24/07 10:44:45 PM): did something happen at school? is that why you're bummed out?
kayla_princess94 (09/24/07 10:44:55 PM): no not really


lorne_a_20014

(09/24/07 10:45:11 PM): are you starting your period?
kayla_princess94 (09/24/07 10:45:29 PM): yeah


lorne_a_20014

(09/24/07 10:45:45 PM): ok, that's why you're bummed out then@};-:-*


lorne_a_20014

(09/24/07 10:45:56 PM): i missed you alot today
kayla_princess94 (09/24/07 10:46:07 PM): i missed u 2


lorne_a_20014

(09/24/07 10:46:18 PM): did you log onto myspace?
kayla_princess94 (09/24/07 10:46:27 PM): no


lorne_a_20014

(09/24/07 10:47:15 PM): i left you a message there last night, i had my cam on for you for when you came back on but you never turned it on, if you had you would have been able to see me because i fell asleep on the floor in front of the computer lol
kayla_princess94 (09/24/07 10:47:49 PM): lol y u do that


lorne_a_20014

(09/24/07 10:48:27 PM): because i wanted more of you last night and i wanted to hear you when you came back on, i didn't think i'd stay asleep when you messaged me but i did lol
kayla_princess94 (09/24/07 10:48:44 PM): lol


lorne_a_20014

(09/24/07 10:48:56 PM): what did you wear today?


lorne_a_20014

(09/24/07 10:50:09 PM): baby??
kayla_princess94 (09/24/07 10:50:40 PM): jeans and a t shirt


lorne_a_20014

(09/24/07 10:51:03 PM): what did you wear under those?


lorne_a_20014

(09/24/07 10:51:08 PM): what color?
kayla_princess94 (09/24/07 10:51:32 PM): huh
kayla_princess94 (09/24/07 10:51:40 PM): brb


lorne_a_20014

(09/24/07 10:51:43 PM): k


lorne_a_20014

(09/24/07 10:56:12 PM): what are you doing precious?


lorne_a_20014

(09/24/07 10:57:35 PM): :-\"


lorne_a_20014

(09/24/07 10:58:05 PM): hmm..........guess you don't want to talk to me:|


lorne_a_20014

(09/24/07 11:00:43 PM): hi


lorne_a_20014

(09/24/07 11:01:16 PM): hmm...........guess you still don't want to talk to em


lorne_a_20014

(09/24/07 11:01:17 PM): me


lorne_a_20014

(09/24/07 11:02:21 PM): well this is interesting:|


lorne_a_20014

(09/24/07 11:03:46 PM): i guess spending time with someone else was more important tonight
kayla_princess94 (09/24/07 11:05:52 PM): sry i was havin trble wit yahoo
kayla_princess94 (09/24/07 11:06:03 PM): got booted and had trble getting back on


lorne_a_20014

(09/24/07 11:06:26 PM): ok, i thought maybe you wanted to talk to someone else instead of me
kayla_princess94 (09/24/07 11:06:34 PM): no lol


lorne_a_20014

(09/24/07 11:06:40 PM): ok


lorne_a_20014

(09/24/07 11:06:56 PM): are you feeling alright?
kayla_princess94 (09/24/07 11:07:03 PM): yeah


lorne_a_20014

(09/24/07 11:07:30 PM): ok, i know that when your period comes females don't feel all that great sometimes
kayla_princess94 (09/24/07 11:08:02 PM): yeah i know


lorne_a_20014

(09/24/07 11:08:29 PM): wish i could lay down beside you tonight and comfort you
kayla_princess94 (09/24/07 11:08:39 PM): aww ur sweet


lorne_a_20014

(09/24/07 11:08:44 PM): would you be less bummed out then?
kayla_princess94 (09/24/07 11:09:01 PM): yeah prolly


lorne_a_20014

(09/24/07 11:09:12 PM): :D:-*@};-
kayla_princess94 (09/24/07 11:09:21 PM): :x


lorne_a_20014

(09/24/07 11:09:45 PM): did you get my offline where i said we're not going to be able to go very long without seeing eachother?
kayla_princess94 (09/24/07 11:10:00 PM): yeah:D


lorne_a_20014

(09/24/07 11:10:11 PM): how do you feel about that?lol
kayla_princess94 (09/24/07 11:10:23 PM): :D


lorne_a_20014

(09/24/07 11:10:30 PM): :-*:x


lorne_a_20014

(09/24/07 11:10:52 PM): that's why you need to use my p.n. as soon as you can do it lol


lorne_a_20014

(09/24/07 11:11:02 PM): so we can talk about it and try to set it up


lorne_a_20014

(09/24/07 11:11:28 PM): are you sure you're gonna be ready for me though?
kayla_princess94 (09/24/07 11:11:41 PM): yeah


lorne_a_20014

(09/24/07 11:11:53 PM): ok, good:D:-*:x


lorne_a_20014

(09/24/07 11:12:26 PM): what did you think about when you thought about me today?
kayla_princess94 (09/24/07 11:12:39 PM): how much i missed talkin 2 u


lorne_a_20014

(09/24/07 11:12:46 PM): :D
kayla_princess94 (09/24/07 11:13:06 PM): i wanna talk bout when we r gona b able 2 c each other


lorne_a_20014

(09/24/07 11:13:32 PM): i do too, but we can't talk about that on here remember? that's why you need to use my p.n.


lorne_a_20014

(09/24/07 11:13:43 PM): like as soon as you possibly can
kayla_princess94 (09/24/07 11:14:02 PM): geesh my parents r here at nite most of the time
kayla_princess94 (09/24/07 11:14:23 PM): idk y we cant talk bout it on here that s silly


lorne_a_20014

(09/24/07 11:14:37 PM): would you rather see me in jail?lol
kayla_princess94 (09/24/07 11:14:47 PM): no


lorne_a_20014

(09/24/07 11:14:52 PM): ok then lol
kayla_princess94 (09/24/07 11:14:57 PM): how u gona go 2 jail by talkin on here


lorne_a_20014

(09/24/07 11:15:34 PM): go onto myspace and i sent you an invite to download myspace IM so do that and we'll talk about it on there some


lorne_a_20014

(09/24/07 11:15:36 PM): ok


lorne_a_20014

(09/24/07 11:16:16 PM): did you get my invite?
kayla_princess94 (09/24/07 11:18:10 PM): idk i havent gotten on there and i did download it but it crashed or sumthin ill try it again


lorne_a_20014

(09/24/07 11:18:21 PM): k


lorne_a_20014

(09/24/07 11:19:15 PM): don't sign out of yahoo whatever you do
kayla_princess94 (09/24/07 11:19:35 PM): hey hows come we can talk on there bout this and not on here\


lorne_a_20014

(09/24/07 11:20:03 PM): just trust me about it please??
kayla_princess94 (09/24/07 11:20:23 PM): k i just dont understand


lorne_a_20014

(09/24/07 11:21:05 PM): i don't want to talk about it on either one, i'd rather wait for you to use my pn again but if we're gonna talk about it it's gonna be on myspace IM
kayla_princess94 (09/24/07 11:21:17 PM): k
kayla_princess94 (09/24/07 11:21:22 PM): hold on


lorne_a_20014

(09/24/07 11:21:26 PM): k


lorne_a_20014

(09/24/07 11:25:57 PM): make sure your volume is turned down
kayla_princess94 (09/24/07 11:26:39 PM): k
kayla_princess94 (09/24/07 11:33:12 PM): she says i gotta get 2 bed talk 2 u 2morrow:(


lorne_a_20014

(09/24/07 11:33:28 PM): ok, good night precious@};-
kayla_princess94 (09/24/07 11:33:40 PM): nite


lorne_a_20014

(09/24/07 11:33:43 PM): don't forget your archives
kayla_princess94 (09/24/07 11:34:03 PM): k i wont


lorne_a_20014

(09/24/07 11:34:11 PM): tell me when you did
kayla_princess94 (09/24/07 11:34:41 PM): k done


lorne_a_20014

(09/24/07 11:34:45 PM): @};-
kayla_princess94 (09/24/07 11:34:46 PM): :-*


lorne_a_20014

(09/24/07 11:34:51 PM): :-*


lorne_a_20014

(09/25/07 11:38:05 AM): i hope you're having a good day my precious princess@};-:-*i'm going to be leaving for work soon, my cam is on for you, i'll talk to you tonight@};-


lorne_a_20014

(09/25/07 11:38:23 AM): p.s. i miss you@};-:-*:x


lorne_a_20014

(09/25/07 10:30:23 PM): u here?
kayla_princess94 (09/25/07 10:30:32 PM): YES
kayla_princess94 (09/25/07 10:30:33 PM): yay


lorne_a_20014

(09/25/07 10:30:38 PM): hi precious


lorne_a_20014

(09/25/07 10:30:43 PM): my cam is on for you
kayla_princess94 (09/25/07 10:31:39 PM): k


lorne_a_20014

(09/25/07 10:31:47 PM): what are you doing?
kayla_princess94 (09/25/07 10:32:01 PM): talkin 2 jess and u


lorne_a_20014

(09/25/07 10:32:12 PM): oh


lorne_a_20014

(09/25/07 10:32:36 PM): hi precious@};-:-*
kayla_princess94 (09/25/07 10:32:54 PM): hi :x


lorne_a_20014

(09/25/07 10:33:04 PM): how did your day go?
kayla_princess94 (09/25/07 10:33:45 PM): it was ok
kayla_princess94 (09/25/07 10:33:49 PM): how was urs


lorne_a_20014

(09/25/07 10:33:55 PM): it sucked lol
kayla_princess94 (09/25/07 10:34:03 PM): y


lorne_a_20014

(09/25/07 10:34:17 PM): i was getting pissed at work because of the calls that i was making
kayla_princess94 (09/25/07 10:34:32 PM): wat calls


lorne_a_20014

(09/25/07 10:34:58 PM): the calls that i have to make at my job, i'm doing fund raising so i have to make calls all day


lorne_a_20014

(09/25/07 10:35:07 PM): what did you wear today?
kayla_princess94 (09/25/07 10:35:21 PM): who u call


lorne_a_20014

(09/25/07 10:35:42 PM): everybody that lives in the nashville area


lorne_a_20014

(09/25/07 10:36:12 PM): it's random calling, the computer actually dials the numbers out so i never know who the next person is that i'm calling
kayla_princess94 (09/25/07 10:36:30 PM): really
kayla_princess94 (09/25/07 10:36:33 PM): wierd


lorne_a_20014

(09/25/07 10:36:34 PM): yup


lorne_a_20014

(09/25/07 10:36:52 PM): yup, it sucks too.......it's easy but it sucks, i get bored fast


lorne_a_20014

(09/25/07 10:37:00 PM): what did you wear today?
kayla_princess94 (09/25/07 10:38:49 PM): jeans and a purple t shirt


lorne_a_20014

(09/25/07 10:38:57 PM): cool


lorne_a_20014

(09/25/07 10:39:06 PM): what color panties and bra?
kayla_princess94 (09/25/07 10:39:38 PM): black


lorne_a_20014

(09/25/07 10:39:48 PM): wish i could have seen them


lorne_a_20014

(09/25/07 10:39:57 PM): ;;):\">
kayla_princess94 (09/25/07 10:40:12 PM): :\">


lorne_a_20014

(09/25/07 10:40:21 PM): brb precious, i want to check the messages on my answering machine
kayla_princess94 (09/25/07 10:40:22 PM): k
kayla_princess94 (09/25/07 10:40:33 PM): k


lorne_a_20014

(09/25/07 10:42:47 PM): back precious


lorne_a_20014

(09/25/07 10:43:31 PM): what have you been doing tonight?
kayla_princess94 (09/25/07 10:44:49 PM): not much
kayla_princess94 (09/25/07 10:44:56 PM): waitin 4 u
kayla_princess94 (09/25/07 10:45:02 PM): :\">


lorne_a_20014

(09/25/07 10:45:04 PM): did you miss me?
kayla_princess94 (09/25/07 10:45:15 PM): yeah u know it


lorne_a_20014

(09/25/07 10:45:27 PM): :D


lorne_a_20014

(09/25/07 10:45:30 PM): :-*
kayla_princess94 (09/25/07 10:45:37 PM): u miss me


lorne_a_20014

(09/25/07 10:45:51 PM): of course, i miss you constantly


lorne_a_20014

(09/25/07 10:45:56 PM): :x
kayla_princess94 (09/25/07 10:46:04 PM): aww ur so sweet


lorne_a_20014

(09/25/07 10:46:10 PM): yes you are


lorne_a_20014

(09/25/07 10:46:21 PM): want to go on myspace?
kayla_princess94 (09/25/07 10:46:23 PM): :x
kayla_princess94 (09/25/07 10:46:49 PM): no cuz i try it with jess an it keep crashin an stuff


lorne_a_20014

(09/25/07 10:47:05 PM): hmm.......it didn't crash last night
kayla_princess94 (09/25/07 10:47:23 PM): wasnt on there that long lol anyways
kayla_princess94 (09/25/07 10:47:29 PM): hows bud


lorne_a_20014

(09/25/07 10:47:47 PM): ok, well we can't talk about you know what unless we go on there, you know that right?


lorne_a_20014

(09/25/07 10:47:53 PM): bud's good, want to see him/


lorne_a_20014

(09/25/07 10:47:55 PM): ?
kayla_princess94 (09/25/07 10:48:03 PM): yep
kayla_princess94 (09/25/07 10:48:37 PM): aww hes sleepin
kayla_princess94 (09/25/07 10:48:57 PM): bet he misses u when ur at work


lorne_a_20014

(09/25/07 10:49:08 PM): no, he's just laying there, he's tired from the excitement of me being home again lol
kayla_princess94 (09/25/07 10:49:24 PM): lol yeah


lorne_a_20014

(09/25/07 10:49:41 PM): what did you think about when you thought about me today?
kayla_princess94 (09/25/07 10:50:07 PM): how much i miss u


lorne_a_20014

(09/25/07 10:50:17 PM): :D:-*


lorne_a_20014

(09/25/07 10:50:27 PM): have you talked to derek?
kayla_princess94 (09/25/07 10:50:50 PM): nope


lorne_a_20014

(09/25/07 10:50:56 PM): cool


lorne_a_20014

(09/25/07 10:51:08 PM): you'd tell me if you did right/


lorne_a_20014

(09/25/07 10:51:08 PM): ?
kayla_princess94 (09/25/07 10:51:53 PM): u know i wuld


lorne_a_20014

(09/25/07 10:52:12 PM): good, ty my precious princess@};-:-*:x
kayla_princess94 (09/25/07 10:52:27 PM): :x:-*


lorne_a_20014

(09/25/07 10:52:33 PM): have you told any of your friends about me?
kayla_princess94 (09/25/07 10:53:29 PM): no


lorne_a_20014

(09/25/07 10:53:45 PM): good, it's probably better that you don't lol
kayla_princess94 (09/25/07 10:54:04 PM): yeah i didnt think i was supose 2


lorne_a_20014

(09/25/07 10:54:49 PM): no, they all look at us wierd and i'm sure that the word would get back to your parents and we don't want that
kayla_princess94 (09/25/07 10:55:04 PM): ooo no


lorne_a_20014

(09/25/07 10:55:12 PM): lol


lorne_a_20014

(09/25/07 10:55:16 PM): :-*
kayla_princess94 (09/25/07 10:55:41 PM): :-*


lorne_a_20014

(09/25/07 10:56:06 PM): i wish you were here when i came home from work every night though


lorne_a_20014

(09/25/07 10:56:10 PM): :-<
kayla_princess94 (09/25/07 10:56:16 PM): aww


lorne_a_20014

(09/25/07 10:56:46 PM): i'd love to be able to hold you every night........that would be a dream come true
kayla_princess94 (09/25/07 10:56:56 PM): aww how sweet
kayla_princess94 (09/25/07 10:56:59 PM): brb


lorne_a_20014

(09/25/07 10:57:02 PM): ok
kayla_princess94 (09/25/07 10:57:05 PM): dont go anywheres


lorne_a_20014

(09/25/07 10:57:14 PM): i'm staying right here precious


lorne_a_20014

(09/25/07 11:02:26 PM): i'm staring at your pic........god you're beautiful@};-:-*:x
kayla_princess94 (09/25/07 11:03:05 PM): aww ty


lorne_a_20014

(09/25/07 11:03:21 PM): yvw my precious princess@};-:-*


lorne_a_20014

(09/25/07 11:03:32 PM): ty for wanting me:-*
kayla_princess94 (09/25/07 11:03:48 PM): :)


lorne_a_20014

(09/25/07 11:04:04 PM): are you in your pj's right now?
kayla_princess94 (09/25/07 11:04:16 PM): no not yet


lorne_a_20014

(09/25/07 11:05:06 PM): wish i could help you get into them........or atleast out of your clothes that you're in anyway........you probably wouldn't be putting any pj's on once i got you out of the clothes you're in because you'd be sleeping naked with me lol
kayla_princess94 (09/25/07 11:05:34 PM): :\">


lorne_a_20014

(09/25/07 11:05:47 PM): that would be nice huh?lol
kayla_princess94 (09/25/07 11:06:09 PM): yeah:\">


lorne_a_20014

(09/25/07 11:06:16 PM): :D:x


lorne_a_20014

(09/25/07 11:06:34 PM): what would you want to do if you were sleeping naked with me?lol


lorne_a_20014

(09/25/07 11:06:38 PM): :\">
kayla_princess94 (09/25/07 11:06:55 PM): gee idk


lorne_a_20014

(09/25/07 11:06:58 PM): lol


lorne_a_20014

(09/25/07 11:07:17 PM): would you want to touch my penis??:D:\">
kayla_princess94 (09/25/07 11:07:31 PM): u want me 2


lorne_a_20014

(09/25/07 11:07:36 PM): hell yeah lol
kayla_princess94 (09/25/07 11:07:46 PM): k


lorne_a_20014

(09/25/07 11:07:52 PM): :D


lorne_a_20014

(09/25/07 11:08:06 PM): would you want me to touch your vagina??:D:\">
kayla_princess94 (09/25/07 11:08:24 PM): wow u wanna


lorne_a_20014

(09/25/07 11:08:31 PM): hell yeah lol
kayla_princess94 (09/25/07 11:08:45 PM): lol k


lorne_a_20014

(09/25/07 11:08:49 PM): :D
kayla_princess94 (09/25/07 11:09:03 PM): :-*


lorne_a_20014

(09/25/07 11:09:04 PM): want my penis to touch your vagina??:D:\">
kayla_princess94 (09/25/07 11:09:40 PM): u want 2 touch my vagina wit ur penis


lorne_a_20014

(09/25/07 11:09:48 PM): hell yeah:D
kayla_princess94 (09/25/07 11:09:54 PM): k


lorne_a_20014

(09/25/07 11:09:54 PM): do you want it to?
kayla_princess94 (09/25/07 11:10:01 PM): yeah


lorne_a_20014

(09/25/07 11:10:12 PM): :D:D:D:-*:x
kayla_princess94 (09/25/07 11:10:14 PM): :\">
kayla_princess94 (09/25/07 11:10:21 PM): :-*


lorne_a_20014

(09/25/07 11:10:35 PM): do you want it to go IN your vagina??:D:\">
kayla_princess94 (09/25/07 11:11:00 PM): wat
kayla_princess94 (09/25/07 11:11:13 PM): u wana do that with me 4real


lorne_a_20014

(09/25/07 11:11:41 PM): hell yeah, you're my little goddess, why wouldn't i want that with you.......i love you remember?lol


lorne_a_20014

(09/25/07 11:12:09 PM): that's a closeness with you that i would love to have with you
kayla_princess94 (09/25/07 11:12:11 PM): k


lorne_a_20014

(09/25/07 11:12:22 PM): do you want to do that with me?
kayla_princess94 (09/25/07 11:12:44 PM): yes:\">


lorne_a_20014

(09/25/07 11:12:54 PM): :D:D:D:D:D


lorne_a_20014

(09/25/07 11:13:01 PM): :-*:x:x


lorne_a_20014

(09/25/07 11:13:25 PM): i wish we could be doing that with eachother right now:\">
kayla_princess94 (09/25/07 11:13:52 PM): aww me 2
kayla_princess94 (09/25/07 11:14:00 PM): :x


lorne_a_20014

(09/25/07 11:14:00 PM): :D:-*:x


lorne_a_20014

(09/25/07 11:14:29 PM): i am so in love with you my precious princess@};- you're amazing to me@};-:-*:x
kayla_princess94 (09/25/07 11:15:28 PM): aww ur so sweet i luv u 2


lorne_a_20014

(09/25/07 11:15:41 PM): :D:-*:x
kayla_princess94 (09/25/07 11:15:53 PM): :-*>:D<


lorne_a_20014

(09/25/07 11:15:57 PM): can i kiss your cute little toes too??lol
kayla_princess94 (09/25/07 11:16:07 PM): lol if u want 2


lorne_a_20014

(09/25/07 11:16:22 PM): i want to, i know they're gorgious toes lol


lorne_a_20014

(09/25/07 11:16:33 PM): can i suck on your big toe??lol
kayla_princess94 (09/25/07 11:16:45 PM): lol ur silly


lorne_a_20014

(09/25/07 11:16:49 PM): lol
kayla_princess94 (09/25/07 11:16:50 PM): but if u really wanna
kayla_princess94 (09/25/07 11:16:52 PM): k


lorne_a_20014

(09/25/07 11:16:58 PM): i would too lol


lorne_a_20014

(09/25/07 11:17:15 PM): i wouldn't do it to anyone elses toes but i would definately suck on yours lol
kayla_princess94 (09/25/07 11:17:25 PM): k


lorne_a_20014

(09/25/07 11:17:33 PM): i don't want you to suck on my toes though, my toes are ugly lol
kayla_princess94 (09/25/07 11:17:41 PM): lol


lorne_a_20014

(09/25/07 11:17:42 PM): they aren't pretty like yours lol
kayla_princess94 (09/25/07 11:17:50 PM): theyr prolly arnt ugly


lorne_a_20014

(09/25/07 11:18:00 PM): yeah, believe me they are lol
kayla_princess94 (09/25/07 11:18:12 PM): k let me c


lorne_a_20014

(09/25/07 11:18:16 PM): you can suck on something else of mine though lol:\">
kayla_princess94 (09/25/07 11:18:25 PM): wat
kayla_princess94 (09/25/07 11:18:50 PM): o they aint ugly


lorne_a_20014

(09/25/07 11:19:02 PM): yes they are lol


lorne_a_20014

(09/25/07 11:19:15 PM): they stink right now too lol
kayla_princess94 (09/25/07 11:19:23 PM): lol


lorne_a_20014

(09/25/07 11:19:48 PM): you can suck on something else of mine if you want to though :\">
kayla_princess94 (09/25/07 11:19:56 PM): wat


lorne_a_20014

(09/25/07 11:20:29 PM): i can't tell you.........i don't want you to think i'm gross lol i don't know what you'd think about it lol
kayla_princess94 (09/25/07 11:21:04 PM): i wulld never think ur gross


lorne_a_20014

(09/25/07 11:21:24 PM): you want me to tell you then?:\">
kayla_princess94 (09/25/07 11:21:32 PM): yeah i wanna know


lorne_a_20014

(09/25/07 11:21:43 PM): take a guess:\">
kayla_princess94 (09/25/07 11:21:55 PM): hmm idk


lorne_a_20014

(09/25/07 11:22:02 PM): :\">


lorne_a_20014

(09/25/07 11:22:23 PM): want me to show you instead?lol
kayla_princess94 (09/25/07 11:22:34 PM): know darn it tell me


lorne_a_20014

(09/25/07 11:22:39 PM): lmao
kayla_princess94 (09/25/07 11:22:48 PM): y u laffin at me
kayla_princess94 (09/25/07 11:22:57 PM): u think im dumb:(


lorne_a_20014

(09/25/07 11:23:20 PM): i'm not laughing at you, i'm laughing because i'm kind of shy about saying it to you lol
kayla_princess94 (09/25/07 11:23:29 PM): y


lorne_a_20014

(09/25/07 11:23:49 PM): stop thinking that i think you're dumb because i've never thought that and i never will:-*@};-


lorne_a_20014

(09/25/07 11:24:14 PM): i'll give you a hint and then you try to guess it ok?
kayla_princess94 (09/25/07 11:24:25 PM): k


lorne_a_20014

(09/25/07 11:24:36 PM): it begins with a \"p\"


lorne_a_20014

(09/25/07 11:24:39 PM): :\">
kayla_princess94 (09/25/07 11:24:53 PM): hmm
kayla_princess94 (09/25/07 11:24:59 PM): begins wit a p


lorne_a_20014

(09/25/07 11:25:05 PM): yup
kayla_princess94 (09/25/07 11:25:11 PM): wats it end wit


lorne_a_20014

(09/25/07 11:25:18 PM): an \"s\"
kayla_princess94 (09/25/07 11:25:45 PM): begins wit a p and ends wit a s


lorne_a_20014

(09/25/07 11:25:52 PM): yup
kayla_princess94 (09/25/07 11:25:55 PM): well not toes


lorne_a_20014

(09/25/07 11:25:57 PM): :\">
kayla_princess94 (09/25/07 11:26:00 PM): not fingers


lorne_a_20014

(09/25/07 11:26:03 PM): lol


lorne_a_20014

(09/25/07 11:27:21 PM): got it yet?
kayla_princess94 (09/25/07 11:27:35 PM): no


lorne_a_20014

(09/25/07 11:27:47 PM): e is the second letter


lorne_a_20014

(09/25/07 11:28:15 PM): n is the third letter lol
kayla_princess94 (09/25/07 11:28:34 PM): k


lorne_a_20014

(09/25/07 11:29:05 PM): got it yet?
kayla_princess94 (09/25/07 11:29:22 PM): pen s omg lol yeah


lorne_a_20014

(09/25/07 11:29:30 PM): :D:\">
kayla_princess94 (09/25/07 11:29:44 PM): penis


lorne_a_20014

(09/25/07 11:29:53 PM): :\">:\">
kayla_princess94 (09/25/07 11:30:11 PM): :\">


lorne_a_20014

(09/25/07 11:30:13 PM): would you want to?
kayla_princess94 (09/25/07 11:30:42 PM): u want me 2 do that


lorne_a_20014

(09/25/07 11:30:57 PM): hell yeah, only if you want to though lol:\">


lorne_a_20014

(09/25/07 11:31:09 PM): would you want to?
kayla_princess94 (09/25/07 11:31:34 PM): yeah


lorne_a_20014

(09/25/07 11:31:43 PM): :D:D:-*:x


lorne_a_20014

(09/25/07 11:31:58 PM): do you think you'd like it?
kayla_princess94 (09/25/07 11:32:47 PM): well ya cuz its u:\">


lorne_a_20014

(09/25/07 11:32:55 PM): :D:x
kayla_princess94 (09/25/07 11:32:57 PM): but i never done that b4 u know


lorne_a_20014

(09/25/07 11:32:59 PM): :-*


lorne_a_20014

(09/25/07 11:33:11 PM): i know, you've never done anything before me anyway right?


lorne_a_20014

(09/25/07 11:33:41 PM): honestly?
kayla_princess94 (09/25/07 11:33:42 PM): nope


lorne_a_20014

(09/25/07 11:33:50 PM): good:D
kayla_princess94 (09/25/07 11:34:00 PM): :\">


lorne_a_20014

(09/25/07 11:34:19 PM): that means that i'd be the first boy to ever touch your vagina too right?:D
kayla_princess94 (09/25/07 11:34:33 PM): yeah:\">


lorne_a_20014

(09/25/07 11:34:42 PM): :D:x:-*
kayla_princess94 (09/25/07 11:34:49 PM): :-*


lorne_a_20014

(09/25/07 11:34:59 PM): and hopefully the only one that ever will too
kayla_princess94 (09/25/07 11:35:15 PM): aww ur so sweet


lorne_a_20014

(09/25/07 11:35:40 PM): yes you are, i just wish i could have you here with me right now@};-:-*:x


lorne_a_20014

(09/25/07 11:36:22 PM): i'd give anything to be able to hold you and sleep with you tonight.......that would be a big dream come true my precious princess@};-:-*:x
kayla_princess94 (09/25/07 11:36:42 PM): yeah it wuld


lorne_a_20014

(09/25/07 11:36:49 PM): :D


lorne_a_20014

(09/25/07 11:37:08 PM): want to see \"it\" right now before your mom yells for you to go to bed?
kayla_princess94 (09/25/07 11:37:15 PM): yeah


lorne_a_20014

(09/25/07 11:38:01 PM): was that good?
kayla_princess94 (09/25/07 11:38:10 PM): yeah


lorne_a_20014

(09/25/07 11:38:14 PM): :D


lorne_a_20014

(09/25/07 11:38:20 PM): want to see it again?lol
kayla_princess94 (09/25/07 11:38:31 PM): lol if u wanna


lorne_a_20014

(09/25/07 11:38:34 PM): lol


lorne_a_20014

(09/25/07 11:39:52 PM): was that better?
kayla_princess94 (09/25/07 11:40:13 PM): yeah


lorne_a_20014

(09/25/07 11:40:20 PM): :D:\">


lorne_a_20014

(09/25/07 11:40:30 PM): are you sure you wanna suck on that?


lorne_a_20014

(09/25/07 11:40:33 PM): :\">
kayla_princess94 (09/25/07 11:40:42 PM): :x:-*yeah:\">


lorne_a_20014

(09/25/07 11:40:47 PM): :D


lorne_a_20014

(09/25/07 11:40:53 PM): :x:-*


lorne_a_20014

(09/25/07 11:41:11 PM): you just made it really big by saying yes to that.....wanna see?lol
kayla_princess94 (09/25/07 11:41:21 PM): i did really


lorne_a_20014

(09/25/07 11:41:26 PM): yup lol


lorne_a_20014

(09/25/07 11:41:38 PM): wanna see it?lol
kayla_princess94 (09/25/07 11:41:43 PM): yeah


lorne_a_20014

(09/25/07 11:42:37 PM): how did you like it that time?lo,
kayla_princess94 (09/25/07 11:42:48 PM): kewl


lorne_a_20014

(09/25/07 11:42:57 PM): :D:-*
kayla_princess94 (09/25/07 11:43:08 PM): :x:-*


lorne_a_20014

(09/25/07 11:43:11 PM): so........what are you thinking about now precious?lol


lorne_a_20014

(09/25/07 11:43:17 PM): :\">
kayla_princess94 (09/25/07 11:43:24 PM): u:\">


lorne_a_20014

(09/25/07 11:43:33 PM): what are you thinking about me??lol


lorne_a_20014

(09/25/07 11:43:37 PM): :\">
kayla_princess94 (09/25/07 11:43:50 PM): all that stuff u wanna do:\">


lorne_a_20014

(09/25/07 11:43:58 PM): :D


lorne_a_20014

(09/25/07 11:44:02 PM): :\">


lorne_a_20014

(09/25/07 11:44:22 PM): how do you like the thoughts you're having about me and all the stuff i wanna do with you?


lorne_a_20014

(09/25/07 11:44:26 PM): :\">
kayla_princess94 (09/25/07 11:45:26 PM): well umm i think it wuld b kewl


lorne_a_20014

(09/25/07 11:45:34 PM): :\">
kayla_princess94 (09/25/07 11:45:44 PM): cuz ur really sweet and everything


lorne_a_20014

(09/25/07 11:46:03 PM): you're really everything to me@};-:-*:x
kayla_princess94 (09/25/07 11:46:15 PM): aww:x
kayla_princess94 (09/25/07 11:46:36 PM): im kinda scared of the 1st time doin that stuff:\">


lorne_a_20014

(09/25/07 11:47:13 PM): i'll be really gentle with you, you're my precious princess so i'd make sure to be really gentle with you


lorne_a_20014

(09/25/07 11:47:17 PM): :-*


lorne_a_20014

(09/25/07 11:47:19 PM): :x
kayla_princess94 (09/25/07 11:47:23 PM): k
kayla_princess94 (09/25/07 11:47:30 PM): :)


lorne_a_20014

(09/25/07 11:47:33 PM): do you trust me?
kayla_princess94 (09/25/07 11:47:39 PM): yes


lorne_a_20014

(09/25/07 11:48:00 PM): good, because i would NEVER do anything to EVER hurt you@};-:x


lorne_a_20014

(09/25/07 11:48:02 PM): :-*
kayla_princess94 (09/25/07 11:48:11 PM): i beleive u
kayla_princess94 (09/25/07 11:48:17 PM): :x


lorne_a_20014

(09/25/07 11:48:18 PM): good, ty baby


lorne_a_20014

(09/25/07 11:48:40 PM): you know what else i want to do to you down there right?


lorne_a_20014

(09/25/07 11:48:47 PM): down below your belt
kayla_princess94 (09/25/07 11:48:55 PM): huh


lorne_a_20014

(09/25/07 11:49:20 PM): i want to lick it and suck on it........you'll love it, it's gonna feel really good to you@};-
kayla_princess94 (09/25/07 11:49:42 PM): wow idk it dont hurt does it


lorne_a_20014

(09/25/07 11:49:56 PM): nope, it will feel really good to you
kayla_princess94 (09/25/07 11:50:23 PM): wait wat u gona lick and suck on im not shur dont laff at me


lorne_a_20014

(09/25/07 11:50:37 PM): i'm not gonna laugh at you
kayla_princess94 (09/25/07 11:50:43 PM): k


lorne_a_20014

(09/25/07 11:50:47 PM): ok, do this for me
kayla_princess94 (09/25/07 11:50:53 PM): wat


lorne_a_20014

(09/25/07 11:51:02 PM): that way you can see what i'm talking about


lorne_a_20014

(09/25/07 11:51:10 PM): ok?
kayla_princess94 (09/25/07 11:51:16 PM): k


lorne_a_20014

(09/25/07 11:51:38 PM): take your clothes off first and get in your pj's ok?
kayla_princess94 (09/25/07 11:51:55 PM): k brb


lorne_a_20014

(09/25/07 11:51:58 PM): ok
kayla_princess94 (09/25/07 11:53:23 PM): k im back


lorne_a_20014

(09/25/07 11:53:26 PM): ok


lorne_a_20014

(09/25/07 11:53:45 PM): are you in a place where if your mom or dad walks in they'll be able to see you?
kayla_princess94 (09/25/07 11:54:05 PM): well im in my bedroom so yeah lol


lorne_a_20014

(09/25/07 11:54:10 PM): lol


lorne_a_20014

(09/25/07 11:54:43 PM): ok.......put both of your feet in the chair so that your legs are spread apart
kayla_princess94 (09/25/07 11:54:52 PM): k
kayla_princess94 (09/25/07 11:54:59 PM): i feel silly


lorne_a_20014

(09/25/07 11:55:10 PM): don't feel silly, you don't need to precious


lorne_a_20014

(09/25/07 11:55:14 PM): @};-
kayla_princess94 (09/25/07 11:55:18 PM): k


lorne_a_20014

(09/25/07 11:55:43 PM): ok, now open the top of your bottom pj's so that you're looking at your vagina
kayla_princess94 (09/25/07 11:56:00 PM): u want me 2 look at it


lorne_a_20014

(09/25/07 11:56:19 PM): yes, because i'm going to show you what i'm going to be licking and sucking on
kayla_princess94 (09/25/07 11:56:27 PM): k


lorne_a_20014

(09/25/07 11:56:56 PM): ok, now look at the part that sticks out and looks like 2 lips


lorne_a_20014

(09/25/07 11:57:02 PM): see them?
kayla_princess94 (09/25/07 11:57:10 PM): umm yeah


lorne_a_20014

(09/25/07 11:57:17 PM): that's called your clit


lorne_a_20014

(09/25/07 11:57:39 PM): that's what i'm going to be licking and sucking on.......and you're gonna LOVE it


lorne_a_20014

(09/25/07 11:57:46 PM): :D:-*
kayla_princess94 (09/25/07 11:57:48 PM): k
kayla_princess94 (09/25/07 11:57:55 PM): :\">


lorne_a_20014

(09/25/07 11:57:58 PM): it's going to feel REALLY good to you


lorne_a_20014

(09/25/07 11:58:04 PM): :x:-*
kayla_princess94 (09/25/07 11:58:06 PM): k
kayla_princess94 (09/25/07 11:58:14 PM): :):-*


lorne_a_20014

(09/25/07 11:58:20 PM): do me a favor? and don't feel silly about it ok?
kayla_princess94 (09/25/07 11:58:29 PM): k


lorne_a_20014

(09/25/07 11:58:55 PM): rub that part a few times over and over and tell me how it feels to you
kayla_princess94 (09/25/07 11:59:09 PM): umm u shur bout this


lorne_a_20014

(09/25/07 11:59:20 PM): yes precious, very sure, trust me ok?
kayla_princess94 (09/25/07 11:59:25 PM): k


lorne_a_20014

(09/26/07 12:00:04 AM): just think about it being me that's rubbing it and not you
kayla_princess94 (09/26/07 12:00:12 AM): kewl
kayla_princess94 (09/26/07 12:00:33 AM): feels pretty good:\">im embarrass


lorne_a_20014

(09/26/07 12:00:44 AM): :D:x:-*


lorne_a_20014

(09/26/07 12:01:00 AM): don't feel embarrassed, rub it some more and tell me how you like it
kayla_princess94 (09/26/07 12:01:09 AM): k


lorne_a_20014

(09/26/07 12:01:18 AM): think about it being me that's rubbing it with my tongue


lorne_a_20014

(09/26/07 12:01:21 AM): :D
kayla_princess94 (09/26/07 12:01:29 AM): wit ur tongue really


lorne_a_20014

(09/26/07 12:01:36 AM): yup:D
kayla_princess94 (09/26/07 12:01:52 AM): it feel good but i think better wit u


lorne_a_20014

(09/26/07 12:02:07 AM): me too:D=P~:-*:x


lorne_a_20014

(09/26/07 12:02:16 AM): do me another favor?
kayla_princess94 (09/26/07 12:02:21 AM): k


lorne_a_20014

(09/26/07 12:02:42 AM): put your finger in again, only further than what you did the last time?


lorne_a_20014

(09/26/07 12:02:47 AM): :D
kayla_princess94 (09/26/07 12:02:52 AM): k


lorne_a_20014

(09/26/07 12:03:00 AM): :D:D:D
kayla_princess94 (09/26/07 12:03:09 AM): k


lorne_a_20014

(09/26/07 12:03:21 AM): how did it feel?
kayla_princess94 (09/26/07 12:03:29 AM): ok


lorne_a_20014

(09/26/07 12:04:14 AM): ok, now do it again only this time go back and forth a few times without taking your finget completely out, and use your middle finger because it'll be easier for you
kayla_princess94 (09/26/07 12:04:29 AM): k ill try


lorne_a_20014

(09/26/07 12:04:33 AM): ok


lorne_a_20014

(09/26/07 12:04:39 AM): :D:D:D
kayla_princess94 (09/26/07 12:05:09 AM): k


lorne_a_20014

(09/26/07 12:05:15 AM): how did that feel?
kayla_princess94 (09/26/07 12:05:24 AM): pretty good
kayla_princess94 (09/26/07 12:05:30 AM): :\">


lorne_a_20014

(09/26/07 12:05:33 AM): :D:-*:x


lorne_a_20014

(09/26/07 12:06:10 AM): think about that being \"this\" doing what your finger just did:D:-*:x


lorne_a_20014

(09/26/07 12:06:44 AM): what do you think about that?


lorne_a_20014

(09/26/07 12:06:48 AM): :\">
kayla_princess94 (09/26/07 12:06:55 AM): u mean ur penis


lorne_a_20014

(09/26/07 12:07:01 AM): :\">
kayla_princess94 (09/26/07 12:07:08 AM): k
kayla_princess94 (09/26/07 12:07:18 AM): that wat it like


lorne_a_20014

(09/26/07 12:07:40 AM): yup, only my penis is alot bigger than your finger:D


lorne_a_20014

(09/26/07 12:07:49 AM): you'll like it better:D
kayla_princess94 (09/26/07 12:08:07 AM): u shur
kayla_princess94 (09/26/07 12:08:15 AM): cuz it look really big


lorne_a_20014

(09/26/07 12:08:33 AM): it will hurt the first time, but after that it will feel really good to you
kayla_princess94 (09/26/07 12:08:53 AM): y it hurt the 1st time anyways


lorne_a_20014

(09/26/07 12:09:40 AM): because my penis is bigger than your vagina hole and it will stretch your vagina hole out some so it will fit in
kayla_princess94 (09/26/07 12:09:57 AM): stretch it out
kayla_princess94 (09/26/07 12:10:01 AM): u scarin me


lorne_a_20014

(09/26/07 12:10:53 AM): i don't mean to scare you precious, your vagina hole will close back up to it's normal size, but the next time my penis goes in it, it will fit better and feel alot better to you


lorne_a_20014

(09/26/07 12:11:09 AM): it wont hurt the second time, it will feel good to you\
kayla_princess94 (09/26/07 12:11:15 AM): k


lorne_a_20014

(09/26/07 12:11:27 AM): it might even feel good to you the first time too
kayla_princess94 (09/26/07 12:11:36 AM): k


lorne_a_20014

(09/26/07 12:11:53 AM): are you anxious for my penis to be in your vagina now?
kayla_princess94 (09/26/07 12:12:05 AM): yeah:\">


lorne_a_20014

(09/26/07 12:12:14 AM): :D:-*:x
kayla_princess94 (09/26/07 12:12:24 AM): :-*


lorne_a_20014

(09/26/07 12:12:53 AM): if i wasn't worried about your mom coming in the room i'd do something so you could see the stuff that comes out of my penis


lorne_a_20014

(09/26/07 12:12:58 AM): :\">
kayla_princess94 (09/26/07 12:13:05 AM): huh


lorne_a_20014

(09/26/07 12:13:30 AM): you know that stuff comes out of my penis right?
kayla_princess94 (09/26/07 12:13:37 AM): yeah


lorne_a_20014

(09/26/07 12:14:00 AM): ok, i'd do something to make the stuff come out of my penis so that you could see what it looks like


lorne_a_20014

(09/26/07 12:14:10 AM): if i wasn't afraid of your mom coming in your room
kayla_princess94 (09/26/07 12:14:20 AM): how u gona do that


lorne_a_20014

(09/26/07 12:14:41 AM): it's called masterbating........have you ever heard about that?
kayla_princess94 (09/26/07 12:14:48 AM): yeah


lorne_a_20014

(09/26/07 12:15:10 AM): ok, that's what it is, if i did that i could make it so you could see the stuff that comes out of my penis
kayla_princess94 (09/26/07 12:15:18 AM): o


lorne_a_20014

(09/26/07 12:15:40 AM): do you want me to do it so you can see or do you think your mom might come in?
kayla_princess94 (09/26/07 12:16:18 AM): crap shes yellin at me now cuz i aint in bed in its after 11 better not


lorne_a_20014

(09/26/07 12:16:24 AM): ok lol


lorne_a_20014

(09/26/07 12:16:40 AM): maybe tomorrow night i'll do it so you can see the stuff that comes out of it ok?


lorne_a_20014

(09/26/07 12:16:43 AM): if you want me to
kayla_princess94 (09/26/07 12:16:50 AM): k


lorne_a_20014

(09/26/07 12:16:59 AM): what are you going to be dreaming about tonight?


lorne_a_20014

(09/26/07 12:17:00 AM): lo


lorne_a_20014

(09/26/07 12:17:02 AM): lol


lorne_a_20014

(09/26/07 12:17:05 AM): :\">
kayla_princess94 (09/26/07 12:17:10 AM): umm u
kayla_princess94 (09/26/07 12:17:16 AM): :D


lorne_a_20014

(09/26/07 12:17:25 AM): what are you going to be dreaming about, about me??


lorne_a_20014

(09/26/07 12:17:29 AM): :\">
kayla_princess94 (09/26/07 12:18:04 AM): that i umm :\">luv u:\">


lorne_a_20014

(09/26/07 12:18:14 AM): :D:-*:x


lorne_a_20014

(09/26/07 12:18:19 AM): @};-
kayla_princess94 (09/26/07 12:18:30 AM): :x:-*>:D<


lorne_a_20014

(09/26/07 12:18:31 AM): i love you too my precious princess@};-


lorne_a_20014

(09/26/07 12:18:37 AM): :-*:x
kayla_princess94 (09/26/07 12:18:41 AM): k i better go
kayla_princess94 (09/26/07 12:18:46 AM): :(


lorne_a_20014

(09/26/07 12:18:49 AM): ok, delete your archives precious
kayla_princess94 (09/26/07 12:18:55 AM): k


lorne_a_20014

(09/26/07 12:18:57 AM): i love you and do me a favor
kayla_princess94 (09/26/07 12:19:02 AM): k wat


lorne_a_20014

(09/26/07 12:19:17 AM): rub that part while you're laying in bed again tonight and think about it being me rubbing it


lorne_a_20014

(09/26/07 12:19:20 AM): ?


lorne_a_20014

(09/26/07 12:19:23 AM): please?
kayla_princess94 (09/26/07 12:19:26 AM): k


lorne_a_20014

(09/26/07 12:19:31 AM): :D:D:D


lorne_a_20014

(09/26/07 12:19:35 AM): :-*:x
kayla_princess94 (09/26/07 12:19:38 AM): nite


lorne_a_20014

(09/26/07 12:19:42 AM): ok, delete archives


lorne_a_20014

(09/26/07 12:18:32 AM): good night precious, i love you
kayla_princess94 (09/26/07 12:21:26 AM): nite luv u


lorne_a_20014

(09/26/07 12:21:33 AM): @};-


lorne_a_20014

(09/26/07 12:21:40 AM): delete your archives precious
kayla_princess94 (09/26/07 12:22:03 AM): i did


lorne_a_20014

(09/26/07 12:22:10 AM): ok@};-


lorne_a_20014

(09/26/07 7:09:08 AM): i wish i had my baby this morning@};-


lorne_a_20014

(09/26/07 10:22:11 AM): god i miss you my precious princess@};-:-*:x
kayla_princess94 (09/26/07 9:39:45 PM): :(miss u
kayla_princess94 (09/26/07 9:39:47 PM): :-*
kayla_princess94 (09/26/07 9:54:25 PM): :(not home yet
kayla_princess94 (09/26/07 10:23:06 PM): :(
kayla_princess94 (09/26/07 10:26:06 PM): =((


lorne_a_20014

(09/26/07 10:30:11 PM): hi my precious princess@};-:-*


lorne_a_20014

(09/26/07 10:31:32 PM): hi precious@};-
kayla_princess94 (09/26/07 10:31:46 PM): HI
kayla_princess94 (09/26/07 10:31:48 PM): YAY


lorne_a_20014

(09/26/07 10:32:02 PM): who are you talking to?
kayla_princess94 (09/26/07 10:32:15 PM): u and jess


lorne_a_20014

(09/26/07 10:32:19 PM): oh


lorne_a_20014

(09/26/07 10:32:38 PM): hang on ok? i want to make a pot of coffee and check my answering machine ok?
kayla_princess94 (09/26/07 10:32:53 PM): k


lorne_a_20014

(09/26/07 10:33:04 PM): btw, i love you@};-:-*:x
kayla_princess94 (09/26/07 10:34:22 PM): aww i luv u 2:D


lorne_a_20014

(09/26/07 10:35:21 PM): back baby
kayla_princess94 (09/26/07 10:35:33 PM): YAY


lorne_a_20014

(09/26/07 10:35:45 PM): i missed you alot today


lorne_a_20014

(09/26/07 10:36:06 PM): i didn't even want to go to work because i wanted to stay home and spend time with you
kayla_princess94 (09/26/07 10:36:22 PM): aww
kayla_princess94 (09/26/07 10:36:26 PM): i missed u 2


lorne_a_20014

(09/26/07 10:36:37 PM): did you think about me today?
kayla_princess94 (09/26/07 10:36:52 PM): yeah


lorne_a_20014

(09/26/07 10:36:58 PM): what did you think about?
kayla_princess94 (09/26/07 10:37:17 PM): umm stuff


lorne_a_20014

(09/26/07 10:37:25 PM): ummm.........what stuff??lol


lorne_a_20014

(09/26/07 10:37:32 PM): ;;):\">
kayla_princess94 (09/26/07 10:37:43 PM): stuff we was talkin bout last nite
kayla_princess94 (09/26/07 10:37:50 PM): :\">


lorne_a_20014

(09/26/07 10:37:52 PM): :-*:x


lorne_a_20014

(09/26/07 10:37:56 PM): :D


lorne_a_20014

(09/26/07 10:38:06 PM): so tell me your thoughts that you had
kayla_princess94 (09/26/07 10:38:25 PM): brb


lorne_a_20014

(09/26/07 10:38:29 PM): ok
kayla_princess94 (09/26/07 10:40:47 PM): k back


lorne_a_20014

(09/26/07 10:40:53 PM): :-*


lorne_a_20014

(09/26/07 10:41:46 PM): tell me about the thoughts that you had today:\">
kayla_princess94 (09/26/07 10:42:39 PM): hmm


lorne_a_20014

(09/26/07 10:42:54 PM): ;;)


lorne_a_20014

(09/26/07 10:43:34 PM): :-\"


lorne_a_20014

(09/26/07 10:44:49 PM): hmm.......guess you're quite busy with jess
kayla_princess94 (09/26/07 10:45:05 PM): noo
kayla_princess94 (09/26/07 10:45:10 PM): omg my dad came in
kayla_princess94 (09/26/07 10:45:35 PM): its ok now


lorne_a_20014

(09/26/07 10:45:36 PM): oh


lorne_a_20014

(09/26/07 10:45:39 PM): ok


lorne_a_20014

(09/26/07 10:46:00 PM): did you put my cam down when he came in?
kayla_princess94 (09/26/07 10:46:05 PM): yeah
kayla_princess94 (09/26/07 10:46:13 PM): that was close


lorne_a_20014

(09/26/07 10:46:14 PM): ok, good


lorne_a_20014

(09/26/07 10:46:24 PM): yeah, you need to pay attention precious lol
kayla_princess94 (09/26/07 10:46:25 PM): #:-S


lorne_a_20014

(09/26/07 10:46:29 PM): :-*
kayla_princess94 (09/26/07 10:46:40 PM): :-*i luv u


lorne_a_20014

(09/26/07 10:46:55 PM): i love you too@};-:-*:x
kayla_princess94 (09/26/07 10:47:05 PM): :D


lorne_a_20014

(09/26/07 10:47:08 PM): i want to know about the thoughts you had today


lorne_a_20014

(09/26/07 10:47:12 PM): :\">
kayla_princess94 (09/26/07 10:47:38 PM): k


lorne_a_20014

(09/26/07 10:48:20 PM): :-\"


lorne_a_20014

(09/26/07 10:49:10 PM): :-\"


lorne_a_20014

(09/26/07 10:50:32 PM): hmm......guess i'm not going to get to hear about them
kayla_princess94 (09/26/07 10:50:48 PM): daddy
kayla_princess94 (09/26/07 10:51:01 PM): coming back again shh


lorne_a_20014

(09/26/07 10:51:06 PM): k
kayla_princess94 (09/26/07 10:54:33 PM): gawd my parents r buggy sumtimes lol


lorne_a_20014

(09/26/07 10:54:49 PM): yeah, i'd say, tell them to leave my girl alone lol


lorne_a_20014

(09/26/07 10:54:55 PM): don't tell them that lol


lorne_a_20014

(09/26/07 10:55:41 PM): what are you doing now?
kayla_princess94 (09/26/07 10:55:48 PM): lol
kayla_princess94 (09/26/07 10:55:57 PM): talkin 2 u lol


lorne_a_20014

(09/26/07 10:56:05 PM): k


lorne_a_20014

(09/26/07 10:56:14 PM): gonna tell me about the thoughts you had today?
kayla_princess94 (09/26/07 10:56:39 PM): jus bout the stuff we talked bout last nite u know


lorne_a_20014

(09/26/07 10:57:05 PM): yeah i know, i just want to know about what you thought of the most lol


lorne_a_20014

(09/26/07 10:57:10 PM): :\">
kayla_princess94 (09/26/07 10:57:22 PM): idk like all of it


lorne_a_20014

(09/26/07 10:57:35 PM): :D:-*:x


lorne_a_20014

(09/26/07 10:57:46 PM): are you anxious for it to happen?
kayla_princess94 (09/26/07 10:58:01 PM): yes:D


lorne_a_20014

(09/26/07 10:58:07 PM): :D


lorne_a_20014

(09/26/07 10:58:14 PM): me too:D:-*


lorne_a_20014

(09/26/07 10:58:27 PM): what do you want to happen first?
kayla_princess94 (09/26/07 10:58:48 PM): idk u decide


lorne_a_20014

(09/26/07 10:58:59 PM): ok:D:-*


lorne_a_20014

(09/26/07 10:59:26 PM): want me tell you how i want it all to happen?
kayla_princess94 (09/26/07 10:59:32 PM): yeah


lorne_a_20014

(09/26/07 10:59:42 PM): first i want to make out with you


lorne_a_20014

(09/26/07 11:00:08 PM): then while i'm making out with you, i want to start feeling your boobs


lorne_a_20014

(09/26/07 11:00:24 PM): then i want to take off your shirt and bra


lorne_a_20014

(09/26/07 11:00:48 PM): then i want to start sucking on your nipples:\">


lorne_a_20014

(09/26/07 11:01:16 PM): then i'm gonna move my hands down to your pants or skirt, whatever you decide to wear


lorne_a_20014

(09/26/07 11:01:22 PM): and take them off


lorne_a_20014

(09/26/07 11:01:46 PM): then i'm gonna take off my clothes


lorne_a_20014

(09/26/07 11:02:05 PM): then i'll have you suck on my penis:\">


lorne_a_20014

(09/26/07 11:02:25 PM): then i'm gonna lick and suck on your clit


lorne_a_20014

(09/26/07 11:02:35 PM): and stick my finger in you


lorne_a_20014

(09/26/07 11:02:57 PM): then i'm gonna stick my penis in you:\">:-*:x
kayla_princess94 (09/26/07 11:03:29 PM): wow u gona do all that


lorne_a_20014

(09/26/07 11:03:45 PM): yup:D:-*:x


lorne_a_20014

(09/26/07 11:03:51 PM): you want me to?
kayla_princess94 (09/26/07 11:04:00 PM): u wanna do all that


lorne_a_20014

(09/26/07 11:04:09 PM): yes, do you want to?
kayla_princess94 (09/26/07 11:04:24 PM): kewl yes:\">


lorne_a_20014

(09/26/07 11:04:33 PM): :D:-*:x
kayla_princess94 (09/26/07 11:04:43 PM): :-*:x


lorne_a_20014

(09/26/07 11:04:51 PM): did you get excited reading all of that?
kayla_princess94 (09/26/07 11:04:59 PM): yeah kinda


lorne_a_20014

(09/26/07 11:05:03 PM): :D


lorne_a_20014

(09/26/07 11:05:13 PM): which part do you like the best?
kayla_princess94 (09/26/07 11:05:22 PM): hmm
kayla_princess94 (09/26/07 11:05:31 PM): hard 2 decide


lorne_a_20014

(09/26/07 11:05:35 PM): lol
kayla_princess94 (09/26/07 11:05:47 PM): all of it:D


lorne_a_20014

(09/26/07 11:05:53 PM): :D


lorne_a_20014

(09/26/07 11:06:08 PM): which do you think will be your VERY favorite part?
kayla_princess94 (09/26/07 11:06:34 PM): hmm well idk cuz i havent done most of it lol


lorne_a_20014

(09/26/07 11:06:47 PM): which have you done?
kayla_princess94 (09/26/07 11:07:14 PM): just kissing hugging bout it
kayla_princess94 (09/26/07 11:07:19 PM): :\">


lorne_a_20014

(09/26/07 11:07:28 PM): good, that's what i was hoping you were going to say lol


lorne_a_20014

(09/26/07 11:07:32 PM): :-*


lorne_a_20014

(09/26/07 11:08:01 PM): do you think you'll like sucking on my penis?
kayla_princess94 (09/26/07 11:08:13 PM): yeah


lorne_a_20014

(09/26/07 11:08:18 PM): :D


lorne_a_20014

(09/26/07 11:08:31 PM): do you think you'll like me licking and sucking on your clit?
kayla_princess94 (09/26/07 11:08:41 PM): yeah sounds neat


lorne_a_20014

(09/26/07 11:08:45 PM): :D


lorne_a_20014

(09/26/07 11:08:56 PM): do you think you'll like me sticking my penis in you?
kayla_princess94 (09/26/07 11:09:14 PM): yeah:\">


lorne_a_20014

(09/26/07 11:09:18 PM): :D


lorne_a_20014

(09/26/07 11:09:36 PM): out of the 3 of them which one do you think sounds the best to you?
kayla_princess94 (09/26/07 11:09:46 PM): 3 wat


lorne_a_20014

(09/26/07 11:10:13 PM): you sucking on my penis, me licking and sucking on your clit, or me sticking my penis in you
kayla_princess94 (09/26/07 11:10:25 PM): hmm
kayla_princess94 (09/26/07 11:10:27 PM): lets c
kayla_princess94 (09/26/07 11:10:41 PM): all 3:D


lorne_a_20014

(09/26/07 11:10:53 PM): :D:D:-*:x


lorne_a_20014

(09/26/07 11:10:56 PM): @};-


lorne_a_20014

(09/26/07 11:11:05 PM): i love you my precious princess@};-
kayla_princess94 (09/26/07 11:11:19 PM): i luv u more


lorne_a_20014

(09/26/07 11:11:43 PM): no way, i love you more than more than mostesesessesses lol


lorne_a_20014

(09/26/07 11:11:47 PM): :-P
kayla_princess94 (09/26/07 11:11:51 PM): lol


lorne_a_20014

(09/26/07 11:12:05 PM): you're getting alot more comfortable with me huh?lol
kayla_princess94 (09/26/07 11:12:13 PM): yeah


lorne_a_20014

(09/26/07 11:12:20 PM): good:D


lorne_a_20014

(09/26/07 11:12:43 PM): did you rub your clit for me when you were laying in bed last night like i asked you to?
kayla_princess94 (09/26/07 11:12:57 PM): umm:\">
kayla_princess94 (09/26/07 11:13:00 PM): yeah


lorne_a_20014

(09/26/07 11:13:10 PM): really??? awesome:D


lorne_a_20014

(09/26/07 11:13:19 PM): how long did you rub it?
kayla_princess94 (09/26/07 11:13:31 PM): umm not long sry


lorne_a_20014

(09/26/07 11:13:45 PM): it's ok, atleast you thought about me:D


lorne_a_20014

(09/26/07 11:13:54 PM): what did you think about while you were rubbing it?
kayla_princess94 (09/26/07 11:14:08 PM): u:\">


lorne_a_20014

(09/26/07 11:14:14 PM): :D


lorne_a_20014

(09/26/07 11:14:23 PM): what were you thinking about me?


lorne_a_20014

(09/26/07 11:14:24 PM): lol
kayla_princess94 (09/26/07 11:14:54 PM): just u


lorne_a_20014

(09/26/07 11:15:02 PM): :\">


lorne_a_20014

(09/26/07 11:15:17 PM): i wish i could have been rubbing it for you
kayla_princess94 (09/26/07 11:15:27 PM): yeah me 2


lorne_a_20014

(09/26/07 11:15:51 PM): were you able to concentrate on school today?lol


lorne_a_20014

(09/26/07 11:16:16 PM): :x:-*
kayla_princess94 (09/26/07 11:16:17 PM): yeah but sumtimes i just kept thinking bout u


lorne_a_20014

(09/26/07 11:16:22 PM): lol


lorne_a_20014

(09/26/07 11:16:29 PM): don't be failing in school though lol


lorne_a_20014

(09/26/07 11:17:05 PM): were you more anxious to see me tonight or my penis/lol
kayla_princess94 (09/26/07 11:17:43 PM): hmmm


lorne_a_20014

(09/26/07 11:17:46 PM): lol
kayla_princess94 (09/26/07 11:18:09 PM): both


lorne_a_20014

(09/26/07 11:18:15 PM): :D


lorne_a_20014

(09/26/07 11:18:24 PM): want to see my penis now?lol
kayla_princess94 (09/26/07 11:18:34 PM): k


lorne_a_20014

(09/26/07 11:20:28 PM): was that good?:\">
kayla_princess94 (09/26/07 11:20:36 PM): :D


lorne_a_20014

(09/26/07 11:20:46 PM): :-*:x


lorne_a_20014

(09/26/07 11:20:53 PM): hang on precious, need coffee
kayla_princess94 (09/26/07 11:20:58 PM): k


lorne_a_20014

(09/26/07 11:21:42 PM): back
kayla_princess94 (09/26/07 11:21:53 PM): YAY


lorne_a_20014

(09/26/07 11:22:08 PM): i wish i had a naked picture of you:\">
kayla_princess94 (09/26/07 11:22:53 PM): omg


lorne_a_20014

(09/26/07 11:23:00 PM): what?lol
kayla_princess94 (09/26/07 11:23:34 PM): i wuldnt want 2 take 1


lorne_a_20014

(09/26/07 11:23:42 PM): why not?lol
kayla_princess94 (09/26/07 11:24:03 PM): cuz b embarrass


lorne_a_20014

(09/26/07 11:24:42 PM): don't be embarrassed precious.......everything about you is BEAUTIFUL@};- atleast in my eyes it is@};-:-*:x


lorne_a_20014

(09/26/07 11:25:15 PM): would you take one for me? please??:D
kayla_princess94 (09/26/07 11:25:32 PM): no


lorne_a_20014

(09/26/07 11:26:01 PM): ok........we can wait until we're together then i can take one of us together.......does that sound good?


lorne_a_20014

(09/26/07 11:26:07 PM): :-*
kayla_princess94 (09/26/07 11:26:42 PM): kewl
kayla_princess94 (09/26/07 11:26:43 PM): yeah


lorne_a_20014

(09/26/07 11:26:53 PM): :D:-*:x


lorne_a_20014

(09/26/07 11:27:07 PM): can i take one of my penis in your vagina?


lorne_a_20014

(09/26/07 11:27:12 PM): :D


lorne_a_20014

(09/26/07 11:27:20 PM): and just not show our faces on it?
kayla_princess94 (09/26/07 11:28:07 PM): k


lorne_a_20014

(09/26/07 11:28:14 PM): :D


lorne_a_20014

(09/26/07 11:28:19 PM): :-*:x
kayla_princess94 (09/26/07 11:28:41 PM): :-*


lorne_a_20014

(09/26/07 11:28:48 PM): i want one of you and me with clothes on too so i can look at whenever i want to also ok?
kayla_princess94 (09/26/07 11:29:13 PM): k
kayla_princess94 (09/26/07 11:29:16 PM): :D


lorne_a_20014

(09/26/07 11:29:18 PM): :D
kayla_princess94 (09/26/07 11:29:19 PM): me 2


lorne_a_20014

(09/26/07 11:29:29 PM): i love you precious@};-
kayla_princess94 (09/26/07 11:29:35 PM): i luv u


lorne_a_20014

(09/26/07 11:29:52 PM): you have to keep the one that you'll have hidden EXTREMELY well on your computer though


lorne_a_20014

(09/26/07 11:30:29 PM): i'll send it to your gmail so that you can keep it hidden in there ok?
kayla_princess94 (09/26/07 11:30:42 PM): k
kayla_princess94 (09/26/07 11:30:48 PM): where i hide it


lorne_a_20014

(09/26/07 11:31:25 PM): i don't know, if nobody but you knows your password to your gmail then it should be alright if you just leave it right in there
kayla_princess94 (09/26/07 11:31:44 PM): o
kayla_princess94 (09/26/07 11:31:45 PM): k


lorne_a_20014

(09/26/07 11:32:01 PM): are you missing my penis yet?lol
kayla_princess94 (09/26/07 11:32:08 PM): lol
kayla_princess94 (09/26/07 11:32:26 PM): wish u was here:(


lorne_a_20014

(09/26/07 11:33:02 PM): i wish you were here........then nobody could bug us and we could spend the whole night naked in bed@};-:-*:\">:x


lorne_a_20014

(09/26/07 11:33:19 PM): what would you want to do if i was there with you right now?
kayla_princess94 (09/26/07 11:33:38 PM): idk
kayla_princess94 (09/26/07 11:34:16 PM): i wuld prolly b kind of shy cuz we havent never met 4real


lorne_a_20014

(09/26/07 11:35:11 PM): i know, but we're going to, so get out of being shy because when we do meet for real we might not have much time together to do the stuff we want to because you'll have to sneak so we can do it and be together
kayla_princess94 (09/26/07 11:35:33 PM): o
kayla_princess94 (09/26/07 11:35:34 PM): k


lorne_a_20014

(09/26/07 11:35:54 PM): so if i was right there with you right now, what would you want to do?:\">
kayla_princess94 (09/26/07 11:36:02 PM): idk


lorne_a_20014

(09/26/07 11:36:27 PM): be naked with me?
kayla_princess94 (09/26/07 11:36:45 PM): yeah


lorne_a_20014

(09/26/07 11:36:51 PM): :D


lorne_a_20014

(09/26/07 11:37:04 PM): why did you unload the hearts? i liked that


lorne_a_20014

(09/26/07 11:37:32 PM): oh, in case your mom or dad came in
kayla_princess94 (09/26/07 11:37:34 PM): idk it was making me buggy


lorne_a_20014

(09/26/07 11:37:39 PM): oh lol


lorne_a_20014

(09/26/07 11:37:51 PM): miss my penis yet?lol
kayla_princess94 (09/26/07 11:37:58 PM): lol


lorne_a_20014

(09/26/07 11:38:05 PM): is that a yes or no?lol
kayla_princess94 (09/26/07 11:38:27 PM): huh


lorne_a_20014

(09/26/07 11:38:41 PM): do you miss my penis yet?
kayla_princess94 (09/26/07 11:39:11 PM): idk


lorne_a_20014

(09/26/07 11:39:25 PM): do you want to see it again is what i'm asking you lol


lorne_a_20014

(09/26/07 11:39:30 PM): :-*
kayla_princess94 (09/26/07 11:39:48 PM): o
kayla_princess94 (09/26/07 11:39:49 PM): lol
kayla_princess94 (09/26/07 11:39:50 PM): k


lorne_a_20014

(09/26/07 11:41:03 PM): was that good?lol


lorne_a_20014

(09/26/07 11:41:09 PM): :\">
kayla_princess94 (09/26/07 11:41:17 PM): yeah
kayla_princess94 (09/26/07 11:41:24 PM): :-*


lorne_a_20014

(09/26/07 11:41:36 PM): what kind of feeling do you get when you see my penis?


lorne_a_20014

(09/26/07 11:41:45 PM): what kind of feeling do you get inside?
kayla_princess94 (09/26/07 11:42:07 PM): hmm kind funny feeling


lorne_a_20014

(09/26/07 11:42:24 PM): like you want to touch it?:D
kayla_princess94 (09/26/07 11:42:34 PM): yeah i guess
kayla_princess94 (09/26/07 11:42:39 PM): hey wheres bud


lorne_a_20014

(09/26/07 11:42:41 PM): :D
kayla_princess94 (09/26/07 11:43:46 PM): aww he was posing 4 me


lorne_a_20014

(09/26/07 11:43:52 PM): yup lol


lorne_a_20014

(09/26/07 11:43:59 PM): he's a little show off lol
kayla_princess94 (09/26/07 11:44:07 PM): lol yeah


lorne_a_20014

(09/26/07 11:44:34 PM): remember last night i told you i'd show you the white stuff that comes out of my penis?
kayla_princess94 (09/26/07 11:44:43 PM): yeah


lorne_a_20014

(09/26/07 11:44:51 PM): do you want to see it still?
kayla_princess94 (09/26/07 11:45:07 PM): idk


lorne_a_20014

(09/26/07 11:45:15 PM): it's up to you precious
kayla_princess94 (09/26/07 11:45:26 PM): umm
kayla_princess94 (09/26/07 11:45:33 PM): no


lorne_a_20014

(09/26/07 11:45:49 PM): ok, we'll wait until we're together so you can see it if you want to


lorne_a_20014

(09/26/07 11:45:57 PM): @};-:-*:x
kayla_princess94 (09/26/07 11:46:03 PM): yeah that wuld b better
kayla_princess94 (09/26/07 11:46:09 PM): :-*


lorne_a_20014

(09/26/07 11:46:13 PM): :D:-*:x


lorne_a_20014

(09/26/07 11:46:35 PM): i REALLY wish i could be sleeping in the same bed with you tonight:(
kayla_princess94 (09/26/07 11:46:57 PM): aww me 2


lorne_a_20014

(09/26/07 11:47:42 PM): when you turn 18 and we can sleep together without any worries at all, we're gonna sleep naked together every night for the rest of our lives right?
kayla_princess94 (09/26/07 11:48:30 PM): kewl
kayla_princess94 (09/26/07 11:48:33 PM): rite


lorne_a_20014

(09/26/07 11:48:56 PM): good, that means that i get to hold you close to me every night too:D:x
kayla_princess94 (09/26/07 11:49:08 PM): :D


lorne_a_20014

(09/26/07 11:49:20 PM): i can't wait to play with your hair too lol
kayla_princess94 (09/26/07 11:49:26 PM): that long time:(
kayla_princess94 (09/26/07 11:49:31 PM): my hair


lorne_a_20014

(09/26/07 11:49:41 PM): i love playing with long hair so don't ever cut your hair short lol


lorne_a_20014

(09/26/07 11:49:42 PM): ok?
kayla_princess94 (09/26/07 11:49:49 PM): k


lorne_a_20014

(09/26/07 11:50:48 PM): we actually might be able to sleep together when you're 17, i have to find out the laws for kentucky and also you might be able to fake sleeping over a friends house and we can sleep together:D
kayla_princess94 (09/26/07 11:51:14 PM): kewl i culd do that i think


lorne_a_20014

(09/26/07 11:51:26 PM): :D:-*:x
kayla_princess94 (09/26/07 11:52:09 PM): :-*


lorne_a_20014

(09/26/07 11:52:13 PM): when we're laying in bed together at night, i like to take your hair, run my fingers through it and lift it up then let it fall on my face, it feels really good lol
kayla_princess94 (09/26/07 11:52:28 PM): lol k


lorne_a_20014

(09/26/07 11:52:55 PM): i'm gonna spoil you rotten too.........especially with love, not just with money@};-
kayla_princess94 (09/26/07 11:53:03 PM): kewl
kayla_princess94 (09/26/07 11:53:09 PM): i like bein spoiled


lorne_a_20014

(09/26/07 11:53:29 PM): you're going to get VERY spoiled by me precious@};-
kayla_princess94 (09/26/07 11:53:36 PM): kewl


lorne_a_20014

(09/26/07 11:53:37 PM): are you gonna spoil me with love too?
kayla_princess94 (09/26/07 11:53:44 PM): yep


lorne_a_20014

(09/26/07 11:53:48 PM): promise?
kayla_princess94 (09/26/07 11:53:54 PM): daddy says im spoiled rotten
kayla_princess94 (09/26/07 11:53:57 PM): yeah i promise


lorne_a_20014

(09/26/07 11:54:01 PM): :D


lorne_a_20014

(09/26/07 11:54:21 PM): you're gonna be more spoiled rotten with me:D:-*:x
kayla_princess94 (09/26/07 11:54:28 PM): kewl
kayla_princess94 (09/26/07 11:54:34 PM): :D


lorne_a_20014

(09/26/07 11:54:53 PM): you're a VERY special princess to me:x
kayla_princess94 (09/26/07 11:55:04 PM): :D


lorne_a_20014

(09/26/07 11:55:25 PM): if you were here with me right now would you want to suck on my penis?
kayla_princess94 (09/26/07 11:55:45 PM): if u wanted me 2


lorne_a_20014

(09/26/07 11:56:00 PM): believe me, i want you to, my penis wants you to also lol


lorne_a_20014

(09/26/07 11:56:05 PM): very badly lol


lorne_a_20014

(09/26/07 11:56:10 PM): :\">
kayla_princess94 (09/26/07 11:56:17 PM): lol


lorne_a_20014

(09/26/07 11:56:46 PM): are you sure you want to wait to see the white stuff that comes out of it? because it wouldn't take much right now to make it come out lol
kayla_princess94 (09/26/07 11:57:02 PM): yeah i wanna wait


lorne_a_20014

(09/26/07 11:57:12 PM): ok@};-:-*


lorne_a_20014

(09/26/07 11:57:29 PM): you know what i wanna do when you're 17?
kayla_princess94 (09/26/07 11:57:58 PM): no wat


lorne_a_20014

(09/26/07 11:58:52 PM): i wanna take you on a picnic so it's just me and you and just lay on the ground, hold eachother and talk to eachother........just because it would be a romantic thing to do with you:x@};-
kayla_princess94 (09/26/07 11:59:05 PM): kewl


lorne_a_20014

(09/26/07 11:59:17 PM): you know what i want you to do for me right now?lol
kayla_princess94 (09/26/07 11:59:28 PM): no wat


lorne_a_20014

(09/26/07 11:59:49 PM): send me all the pics of you that you have lol .........i only have 4 pics of you lol
kayla_princess94 (09/27/07 12:00:15 AM): o
kayla_princess94 (09/27/07 12:00:16 AM): k
kayla_princess94 (09/27/07 12:00:25 AM): in like a email


lorne_a_20014

(09/27/07 12:00:29 AM): nope
kayla_princess94 (09/27/07 12:00:35 AM): k


lorne_a_20014

(09/27/07 12:01:26 AM): brb precious, need coffee
kayla_princess94 (09/27/07 12:02:42 AM): k


lorne_a_20014

(09/27/07 12:02:48 AM): i'm back


lorne_a_20014

(09/27/07 12:03:24 AM): omg you're soooooooooooooooooo beautiful@};-:-*:x
kayla_princess94 (09/27/07 12:03:42 AM): no i aint


lorne_a_20014

(09/27/07 12:03:52 AM): yes you are..........to me you are


lorne_a_20014

(09/27/07 12:05:44 AM): how tall are you right now precious?
kayla_princess94 (09/27/07 12:06:04 AM): like 5 sumthin
kayla_princess94 (09/27/07 12:06:14 AM): idk lol y


lorne_a_20014

(09/27/07 12:06:24 AM): i was just curious lol


lorne_a_20014

(09/27/07 12:06:41 AM): omg i am such a lucky guy to have you:x
kayla_princess94 (09/27/07 12:06:47 AM): aww


lorne_a_20014

(09/27/07 12:07:08 AM): do you have any of you in a bikini?
kayla_princess94 (09/27/07 12:07:20 AM): hmm no


lorne_a_20014

(09/27/07 12:07:26 AM): darn lol


lorne_a_20014

(09/27/07 12:07:37 AM): anything close to a bikini?


lorne_a_20014

(09/27/07 12:07:38 AM): lol
kayla_princess94 (09/27/07 12:07:54 AM): i dont think so


lorne_a_20014

(09/27/07 12:08:03 AM): darn lol
kayla_princess94 (09/27/07 12:08:08 AM): lol


lorne_a_20014

(09/27/07 12:08:11 AM): you need to take a pic of you in your pj's lol


lorne_a_20014

(09/27/07 12:08:14 AM): for me


lorne_a_20014

(09/27/07 12:08:34 AM): and in a bikini or your panties and bra ok?


lorne_a_20014

(09/27/07 12:08:36 AM): please??lol
kayla_princess94 (09/27/07 12:08:48 AM): lol


lorne_a_20014

(09/27/07 12:09:06 AM): will you please? for me??;;)
kayla_princess94 (09/27/07 12:09:20 AM): ill c


lorne_a_20014

(09/27/07 12:09:32 AM): ok:D:-*:x


lorne_a_20014

(09/27/07 12:09:50 AM): make sure you're the ONLY one that takes the pic though ok?lol
kayla_princess94 (09/27/07 12:10:03 AM): umm yeah


lorne_a_20014

(09/27/07 12:10:08 AM): ty lol


lorne_a_20014

(09/27/07 12:10:34 AM): omg i wish you were here with me right now:x
kayla_princess94 (09/27/07 12:10:41 AM): me 2


lorne_a_20014

(09/27/07 12:10:50 AM): i want to kiss you so bad right now lol
kayla_princess94 (09/27/07 12:11:33 AM): :D


lorne_a_20014

(09/27/07 12:11:56 AM): god you're soooooooooooooooo beautiful and soooooooooooooooo precious@};-:-*


lorne_a_20014

(09/27/07 12:12:15 AM): i'm gonna be in heaven when we're together
kayla_princess94 (09/27/07 12:12:24 AM): aww how sweet


lorne_a_20014

(09/27/07 12:12:36 AM): :-*:x
kayla_princess94 (09/27/07 12:12:44 AM): :x


lorne_a_20014

(09/27/07 12:12:55 AM): i LOVE you're cute little nose too lol


lorne_a_20014

(09/27/07 12:12:59 AM): :D
kayla_princess94 (09/27/07 12:13:11 AM): lol


lorne_a_20014

(09/27/07 12:13:28 AM): do you have any more pics?
kayla_princess94 (09/27/07 12:13:40 AM): thats all i got on here rite now


lorne_a_20014

(09/27/07 12:13:45 AM): ok


lorne_a_20014

(09/27/07 12:14:09 AM): you mean until you take the one of you in your bikini or bra and panties for me lol:\">
kayla_princess94 (09/27/07 12:14:24 AM): lol


lorne_a_20014

(09/27/07 12:14:28 AM): :-*
kayla_princess94 (09/27/07 12:14:30 AM): i wuldnt put that on here


lorne_a_20014

(09/27/07 12:14:40 AM): how would you send it to me then?
kayla_princess94 (09/27/07 12:15:04 AM): hmm how bout i just o idk


lorne_a_20014

(09/27/07 12:15:10 AM): lol


lorne_a_20014

(09/27/07 12:15:15 AM): we'll figure it out lol


lorne_a_20014

(09/27/07 12:15:32 AM): i'm surprised your parents have yelled at you to go to bed yet lol
kayla_princess94 (09/27/07 12:15:47 AM): they did


lorne_a_20014

(09/27/07 12:15:51 AM): oh lol
kayla_princess94 (09/27/07 12:16:01 AM): i told them i was goin in a min geez


lorne_a_20014

(09/27/07 12:16:05 AM): lol


lorne_a_20014

(09/27/07 12:16:11 AM): i love you @};-
kayla_princess94 (09/27/07 12:16:22 AM): i luv u 2


lorne_a_20014

(09/27/07 12:17:14 AM): omg you're beautiful to me@};-:-*:x


lorne_a_20014

(09/27/07 12:17:30 AM): i am sooooooooooooo anxious to be with you lol
kayla_princess94 (09/27/07 12:17:40 AM): :D


lorne_a_20014

(09/27/07 12:17:47 AM): i can't wait to hear your pretty voice again too
kayla_princess94 (09/27/07 12:18:06 AM): i cant wait 2 hear u sing again


lorne_a_20014

(09/27/07 12:18:12 AM): lol


lorne_a_20014

(09/27/07 12:18:29 AM): are they going out friday night?
kayla_princess94 (09/27/07 12:18:37 AM): idk


lorne_a_20014

(09/27/07 12:18:45 AM): hopefully they will


lorne_a_20014

(09/27/07 12:18:58 AM): you still have alot of time left on your c card lol
kayla_princess94 (09/27/07 12:19:09 AM): yep


lorne_a_20014

(09/27/07 12:19:14 AM): :D


lorne_a_20014

(09/27/07 12:19:31 AM): i hope you don't get in trouble for still being up precious
kayla_princess94 (09/27/07 12:19:46 AM): yeah there yellin again i better go
kayla_princess94 (09/27/07 12:19:57 AM): dont wanna get grounded from the puter


lorne_a_20014

(09/27/07 12:20:05 AM): ok, want to see my penis before you go?
kayla_princess94 (09/27/07 12:20:14 AM): yeah


lorne_a_20014

(09/27/07 12:20:32 AM): he's sad right now, he wants you so i'm trying to make him a little happier for you lol
kayla_princess94 (09/27/07 12:21:22 AM): lol


lorne_a_20014

(09/27/07 12:21:48 AM): was that good?lol
kayla_princess94 (09/27/07 12:21:53 AM): yep


lorne_a_20014

(09/27/07 12:22:04 AM): gonna dream about me and my penis tonight??lol


lorne_a_20014

(09/27/07 12:22:08 AM): :D
kayla_princess94 (09/27/07 12:22:51 AM): yeah


lorne_a_20014

(09/27/07 12:22:55 AM): :D
kayla_princess94 (09/27/07 12:22:58 AM): :\">


lorne_a_20014

(09/27/07 12:23:16 AM): gonna rub your clit for me a little while you're laying in bed too? please?
kayla_princess94 (09/27/07 12:23:26 AM): k if u want me 2


lorne_a_20014

(09/27/07 12:23:49 AM): i definately want you to, and think about me and my penis at the same time too ok?
kayla_princess94 (09/27/07 12:23:57 AM): k
kayla_princess94 (09/27/07 12:23:59 AM): i better go


lorne_a_20014

(09/27/07 12:24:00 AM): :D
kayla_princess94 (09/27/07 12:24:04 AM): :((


lorne_a_20014

(09/27/07 12:24:16 AM): ok, i love you my precious princess@};-:-*:x


lorne_a_20014

(09/27/07 12:24:25 AM): delete your archives
kayla_princess94 (09/27/07 12:24:40 AM): i luv u
kayla_princess94 (09/27/07 12:24:43 AM): k


lorne_a_20014

(09/27/07 12:24:55 AM): tell me when they're deleted
kayla_princess94 (09/27/07 12:25:34 AM): done


lorne_a_20014

(09/27/07 12:25:39 AM): @};-
kayla_princess94 (09/27/07 12:25:54 AM): luv u
kayla_princess94 (09/27/07 12:25:56 AM): nite


lorne_a_20014

(09/27/07 12:26:14 AM): i love you too, goodnight my precious princess......i miss you already:-<


lorne_a_20014

(09/27/07 9:04:29 AM): i miss my precious princess alot@};-i love you precious@};-:-*>:D<:x


lorne_a_20014

(09/27/07 12:11:29 PM): i'm leaving for work precious, my cam is on for you, i'll talk to you tonight when i get home, i love you@};-:-*>:D<:x
kayla_princess94 (09/27/07 8:46:19 PM): miss u:(
kayla_princess94 (09/27/07 9:14:04 PM): :-<
kayla_princess94 (09/27/07 10:24:21 PM): :(


lorne_a_20014

(09/27/07 10:28:41 PM): i love you@};-


lorne_a_20014

(09/27/07 10:28:46 PM): brb
kayla_princess94 (09/27/07 10:28:54 PM): YAY
kayla_princess94 (09/27/07 10:28:57 PM): ur back


lorne_a_20014

(09/27/07 10:29:30 PM): i just got here and the friggin neighbor came over and wanted to use my phone


lorne_a_20014

(09/27/07 10:29:32 PM): X-(


lorne_a_20014

(09/27/07 10:29:36 PM): he pisses me off
kayla_princess94 (09/27/07 10:29:51 PM): oh oh u mad


lorne_a_20014

(09/27/07 10:30:10 PM): i'm mad that he came over and bugged me just as soon as i walked in the door


lorne_a_20014

(09/27/07 10:30:37 PM): i didn't even get to barely send you a message first and that's the first thing i always do is walk over here to let you know i'm home
kayla_princess94 (09/27/07 10:30:50 PM): :)


lorne_a_20014

(09/27/07 10:31:10 PM): i don't even know if i should get undressed yet because of that dumbass
kayla_princess94 (09/27/07 10:31:35 PM): lol


lorne_a_20014

(09/27/07 10:31:50 PM): how did your day go?
kayla_princess94 (09/27/07 10:32:04 PM): i guess better than urs


lorne_a_20014

(09/27/07 10:32:31 PM): mine's better now because i'm home with you though@};-:-*:x
kayla_princess94 (09/27/07 10:32:41 PM): :)
kayla_princess94 (09/27/07 10:32:54 PM): u still gotta cold


lorne_a_20014

(09/27/07 10:32:58 PM): i love you my precious princess@};-


lorne_a_20014

(09/27/07 10:33:15 PM): yeah, it's barely hanging on though, i'm almost completely over it


lorne_a_20014

(09/27/07 10:33:18 PM): thank god
kayla_princess94 (09/27/07 10:33:23 PM): i luv u 2
kayla_princess94 (09/27/07 10:33:43 PM): wats that


lorne_a_20014

(09/27/07 10:33:53 PM): i just got it in the mail today, it's my mastercard


lorne_a_20014

(09/27/07 10:34:02 PM): $300 dollar credit limit on it
kayla_princess94 (09/27/07 10:34:14 PM): kewl


lorne_a_20014

(09/27/07 10:34:47 PM): i wish you were here, i'd take you shopping and buy you some pretty panties and bras:D;;)
kayla_princess94 (09/27/07 10:34:57 PM): :D


lorne_a_20014

(09/27/07 10:35:12 PM): but i'd be taking them off of you alot too lol


lorne_a_20014

(09/27/07 10:35:16 PM): :\">
kayla_princess94 (09/27/07 10:35:22 PM): lol
kayla_princess94 (09/27/07 10:35:27 PM): :\">


lorne_a_20014

(09/27/07 10:35:47 PM): i thought about you ALL day today, that's all i did today lol


lorne_a_20014

(09/27/07 10:36:01 PM): even at work all i did was think about you :-*:x
kayla_princess94 (09/27/07 10:36:03 PM): :)


lorne_a_20014

(09/27/07 10:36:14 PM): did you think about me today?
kayla_princess94 (09/27/07 10:36:20 PM): :)
kayla_princess94 (09/27/07 10:36:24 PM): yes


lorne_a_20014

(09/27/07 10:36:31 PM): good:D


lorne_a_20014

(09/27/07 10:36:32 PM): brb
kayla_princess94 (09/27/07 10:36:54 PM): k


lorne_a_20014

(09/27/07 10:36:58 PM): god he bugs me
kayla_princess94 (09/27/07 10:37:04 PM): who


lorne_a_20014

(09/27/07 10:37:15 PM): my neighbors brother in law


lorne_a_20014

(09/27/07 10:37:22 PM): irritating
kayla_princess94 (09/27/07 10:37:27 PM): lol


lorne_a_20014

(09/27/07 10:37:42 PM): i can't wait to get undressed lol
kayla_princess94 (09/27/07 10:37:55 PM): :\">


lorne_a_20014

(09/27/07 10:39:05 PM): there, now i can get undressed:D:-*


lorne_a_20014

(09/27/07 10:39:38 PM): baby, let me take Bud out to pee before i get undressed ok?
kayla_princess94 (09/27/07 10:39:45 PM): k


lorne_a_20014

(09/27/07 10:39:47 PM): brb


lorne_a_20014

(09/27/07 10:39:52 PM): :-*
kayla_princess94 (09/27/07 10:39:53 PM): k


lorne_a_20014

(09/27/07 10:42:18 PM): back
kayla_princess94 (09/27/07 10:42:26 PM): YAY


lorne_a_20014

(09/27/07 10:43:11 PM): there, i'm naked again:Dlol


lorne_a_20014

(09/27/07 10:43:19 PM): brb, now i have to pee lol
kayla_princess94 (09/27/07 10:43:53 PM): lol
kayla_princess94 (09/27/07 10:43:54 PM): k


lorne_a_20014

(09/27/07 10:45:54 PM): back baby


lorne_a_20014

(09/27/07 10:46:16 PM): what are you doing baby?
kayla_princess94 (09/27/07 10:46:26 PM): YAY


lorne_a_20014

(09/27/07 10:46:50 PM): what are you doing precious?
kayla_princess94 (09/27/07 10:46:59 PM): sitting here thinking


lorne_a_20014

(09/27/07 10:47:08 PM): thinking about what?


lorne_a_20014

(09/27/07 10:47:58 PM): ??
kayla_princess94 (09/27/07 10:48:13 PM): how come u always get naked when u get home


lorne_a_20014

(09/27/07 10:48:25 PM): because i like being naked when i'm home lol


lorne_a_20014

(09/27/07 10:48:38 PM): do you want me to stay dressed when i'm home?
kayla_princess94 (09/27/07 10:48:49 PM): lol i dont care


lorne_a_20014

(09/27/07 10:48:54 PM): ok lol
kayla_princess94 (09/27/07 10:49:08 PM): you looked really cute 2day i like ur shirt


lorne_a_20014

(09/27/07 10:49:09 PM): do you like it better when i'm naked or dressed?lol


lorne_a_20014

(09/27/07 10:49:25 PM): ty my precious princess@};-:-*:x


lorne_a_20014

(09/27/07 10:49:38 PM): i've had that shirt for about 6 years now lol
kayla_princess94 (09/27/07 10:49:51 PM): well it look good on u


lorne_a_20014

(09/27/07 10:50:19 PM): it would look better on you though, especially for a night shirt for you to wear to bed:D


lorne_a_20014

(09/27/07 10:50:36 PM): i'd love to see you wearing one of my shirts for bed
kayla_princess94 (09/27/07 10:51:01 PM): umm i think they wuld b 2 big lol


lorne_a_20014

(09/27/07 10:51:20 PM): yeah i know, but it would look sooooooo good with you in it lol
kayla_princess94 (09/27/07 10:51:28 PM): lol


lorne_a_20014

(09/27/07 10:51:44 PM): so what did you think about today?
kayla_princess94 (09/27/07 10:52:27 PM): u


lorne_a_20014

(09/27/07 10:52:30 PM): will you do me a favor precious?
kayla_princess94 (09/27/07 10:52:47 PM): yeah


lorne_a_20014

(09/27/07 10:52:50 PM): will you go invisible so i can have you all to myself please?;;)


lorne_a_20014

(09/27/07 10:52:57 PM): :-*:x
kayla_princess94 (09/27/07 10:53:31 PM): k but i will have 2 tell maria im goin hold on


lorne_a_20014

(09/27/07 10:53:48 PM): ok, ty my precious princess@};-:-*


lorne_a_20014

(09/27/07 10:56:32 PM): ty baby@};-:D:-*:x


lorne_a_20014

(09/27/07 10:56:38 PM): brb, need a cup of coffee
kayla_princess94 (09/27/07 10:56:53 PM): k


lorne_a_20014

(09/27/07 10:57:44 PM): back baby


lorne_a_20014

(09/27/07 10:58:01 PM): what did you wear today?
kayla_princess94 (09/27/07 10:58:02 PM): yay
kayla_princess94 (09/27/07 10:58:26 PM): jeans and a tshirt


lorne_a_20014

(09/27/07 10:58:35 PM): what color tshirt?
kayla_princess94 (09/27/07 10:58:42 PM): i know wat u wore 2 day lol


lorne_a_20014

(09/27/07 10:58:47 PM): lol


lorne_a_20014

(09/27/07 10:59:05 PM): what color panties and bra?
kayla_princess94 (09/27/07 10:59:17 PM): pink


lorne_a_20014

(09/27/07 10:59:30 PM): wish i could see them:\">


lorne_a_20014

(09/27/07 10:59:39 PM): what color tshirt?
kayla_princess94 (09/27/07 10:59:40 PM): :\">
kayla_princess94 (09/27/07 10:59:56 PM): pink


lorne_a_20014

(09/27/07 11:00:12 PM): want to hear something funny?


lorne_a_20014

(09/27/07 11:00:13 PM): lol
kayla_princess94 (09/27/07 11:00:21 PM): yeah


lorne_a_20014

(09/27/07 11:00:33 PM): this is how much i was thinking about you today


lorne_a_20014

(09/27/07 11:00:34 PM): lol


lorne_a_20014

(09/27/07 11:00:48 PM): i was on the phone with a customer and i called her Kayla lol


lorne_a_20014

(09/27/07 11:00:54 PM): :-*
kayla_princess94 (09/27/07 11:01:04 PM): omg lol


lorne_a_20014

(09/27/07 11:01:25 PM): she said what did you call me? i said woops, i'm sorry i was thinking about my g/f and got lost for a minute lol


lorne_a_20014

(09/27/07 11:01:31 PM): she laughed about it lol
kayla_princess94 (09/27/07 11:01:35 PM): wat she say


lorne_a_20014

(09/27/07 11:01:51 PM): nothing, she just laughed lol


lorne_a_20014

(09/27/07 11:01:58 PM): she said it was cute lol
kayla_princess94 (09/27/07 11:02:13 PM): lol


lorne_a_20014

(09/27/07 11:02:40 PM): she probably would have said something different if she knew our age difference lol
kayla_princess94 (09/27/07 11:02:57 PM): like wat


lorne_a_20014

(09/27/07 11:03:11 PM): she probably would have said omg you're kidding lol


lorne_a_20014

(09/27/07 11:03:36 PM): it's not that often a 36 yr old guy has a g/f that's 13 lol


lorne_a_20014

(09/27/07 11:03:55 PM): but there's obviously something special about us that we like eachother the way we do


lorne_a_20014

(09/27/07 11:04:01 PM): :-*
kayla_princess94 (09/27/07 11:04:07 PM): :D


lorne_a_20014

(09/27/07 11:04:39 PM): did you go to your myspace page today?
kayla_princess94 (09/27/07 11:04:49 PM): no


lorne_a_20014

(09/27/07 11:05:05 PM): finish what you were typing lol i saw you typing when i sent that lol
kayla_princess94 (09/27/07 11:05:23 PM): lol i cant remmber


lorne_a_20014

(09/27/07 11:05:26 PM): lol


lorne_a_20014

(09/27/07 11:05:37 PM): go to your myspace, i sent you a message today


lorne_a_20014

(09/27/07 11:05:42 PM): @};-
kayla_princess94 (09/27/07 11:05:55 PM): kewl:D
kayla_princess94 (09/27/07 11:05:59 PM): hold on


lorne_a_20014

(09/27/07 11:06:02 PM): ok


lorne_a_20014

(09/27/07 11:13:14 PM): did you see it?
kayla_princess94 (09/27/07 11:14:17 PM): yeah how sweet


lorne_a_20014

(09/27/07 11:14:24 PM): :-*:x


lorne_a_20014

(09/27/07 11:14:39 PM): did you have other messages from other people on there too?
kayla_princess94 (09/27/07 11:14:43 PM): :x
kayla_princess94 (09/27/07 11:15:00 PM): no not 2day


lorne_a_20014

(09/27/07 11:15:05 PM): oh


lorne_a_20014

(09/27/07 11:15:25 PM): so what did you think about when you thought about me today?:\">
kayla_princess94 (09/27/07 11:16:08 PM): that i luv u and i missed u sooo much


lorne_a_20014

(09/27/07 11:16:20 PM): :D:x:-*@};-


lorne_a_20014

(09/27/07 11:16:36 PM): when do you want to see me?
kayla_princess94 (09/27/07 11:16:59 PM): brb


lorne_a_20014

(09/27/07 11:17:03 PM): ok
kayla_princess94 (09/27/07 11:21:34 PM): hey got booted sry


lorne_a_20014

(09/27/07 11:21:38 PM): ok


lorne_a_20014

(09/27/07 11:22:19 PM): what did you have to do?
kayla_princess94 (09/27/07 11:22:46 PM): nothin y


lorne_a_20014

(09/27/07 11:22:55 PM): when you said brb
kayla_princess94 (09/27/07 11:23:17 PM): oh lol my mom wanted me


lorne_a_20014

(09/27/07 11:23:21 PM): oh lol


lorne_a_20014

(09/27/07 11:23:37 PM): she didn't tell you bed time yet did she?


lorne_a_20014

(09/27/07 11:23:40 PM): i hope not
kayla_princess94 (09/27/07 11:24:06 PM): no not yet


lorne_a_20014

(09/27/07 11:24:14 PM): good:D


lorne_a_20014

(09/27/07 11:24:26 PM): god i wish i could have you right here with me
kayla_princess94 (09/27/07 11:24:34 PM): me 2


lorne_a_20014

(09/27/07 11:24:54 PM): what would you want to do if you were here with me right now?
kayla_princess94 (09/27/07 11:25:37 PM): idk


lorne_a_20014

(09/27/07 11:25:49 PM): be naked with me??:D
kayla_princess94 (09/27/07 11:26:07 PM): if u want me 2


lorne_a_20014

(09/27/07 11:26:21 PM): hell yeah.........i always want you naked with me lol
kayla_princess94 (09/27/07 11:26:32 PM): lol
kayla_princess94 (09/27/07 11:26:37 PM): gotta wear clothes sumtimes


lorne_a_20014

(09/27/07 11:26:49 PM): only when we go outside the house lol


lorne_a_20014

(09/27/07 11:26:52 PM): :D
kayla_princess94 (09/27/07 11:26:57 PM): lol


lorne_a_20014

(09/27/07 11:27:10 PM): does that sound like a good plan?lol
kayla_princess94 (09/27/07 11:27:17 PM): lol yep


lorne_a_20014

(09/27/07 11:27:22 PM): :D


lorne_a_20014

(09/27/07 11:27:38 PM): did you think about me last night when you were laying down?
kayla_princess94 (09/27/07 11:27:45 PM): yeah


lorne_a_20014

(09/27/07 11:27:51 PM): :D
kayla_princess94 (09/27/07 11:27:54 PM): not 4 long cuz i fell asleep


lorne_a_20014

(09/27/07 11:27:59 PM): oh lol


lorne_a_20014

(09/27/07 11:28:03 PM): what did you think about?
kayla_princess94 (09/27/07 11:28:13 PM): how cute and sweet u r


lorne_a_20014

(09/27/07 11:28:24 PM): :D:-*:x


lorne_a_20014

(09/27/07 11:28:35 PM): want to be my girl forever?
kayla_princess94 (09/27/07 11:28:47 PM): yes


lorne_a_20014

(09/27/07 11:29:00 PM): :D:D:D:-*:x
kayla_princess94 (09/27/07 11:29:12 PM): :-*:x


lorne_a_20014

(09/27/07 11:29:20 PM): want to have babies with me?
kayla_princess94 (09/27/07 11:29:38 PM): ummm im 2 young


lorne_a_20014

(09/27/07 11:29:56 PM): i don't mean right now lol i mean when you're 18 or older
kayla_princess94 (09/27/07 11:30:10 PM): o
kayla_princess94 (09/27/07 11:30:11 PM): lol
kayla_princess94 (09/27/07 11:30:17 PM): yeah that wuld b kewl


lorne_a_20014

(09/27/07 11:30:23 PM): :D


lorne_a_20014

(09/27/07 11:30:45 PM): that would be better than kewl, that would be amazing@};-


lorne_a_20014

(09/27/07 11:30:59 PM): especially to have you as my wife:x
kayla_princess94 (09/27/07 11:31:11 PM): :\">4real


lorne_a_20014

(09/27/07 11:31:20 PM): yes, for real


lorne_a_20014

(09/27/07 11:31:35 PM): if you want to marry me when you're old enough that is
kayla_princess94 (09/27/07 11:31:37 PM): :D
kayla_princess94 (09/27/07 11:31:58 PM): ur not teasing me r u


lorne_a_20014

(09/27/07 11:32:01 PM): :x:-*


lorne_a_20014

(09/27/07 11:32:20 PM): nope, not even a little bit.........i'm EXTREMELY serious about you@};-
kayla_princess94 (09/27/07 11:32:50 PM): :D


lorne_a_20014

(09/27/07 11:33:00 PM): are you serious about me too?
kayla_princess94 (09/27/07 11:33:30 PM): yes:D


lorne_a_20014

(09/27/07 11:33:36 PM): :D


lorne_a_20014

(09/27/07 11:33:44 PM): :-*:x@};-


lorne_a_20014

(09/27/07 11:33:52 PM): brb precious, coffee
kayla_princess94 (09/27/07 11:34:09 PM): k


lorne_a_20014

(09/27/07 11:34:58 PM): back
kayla_princess94 (09/27/07 11:35:20 PM): YAY


lorne_a_20014

(09/27/07 11:35:58 PM): we'll know 3 things about our kids when we have them, they'll have blue eyes because you and me both have blue eyes


lorne_a_20014

(09/27/07 11:36:19 PM): they'll have blonde hair because you have blonde hair and i use to have blonde hair


lorne_a_20014

(09/27/07 11:36:47 PM): and they're going to be beautiful because they'll look like their mom, which will be you@};-
kayla_princess94 (09/27/07 11:36:57 PM): aww


lorne_a_20014

(09/27/07 11:37:20 PM): i wish i could marry you right now@};-:x:-*
kayla_princess94 (09/27/07 11:37:31 PM): u do


lorne_a_20014

(09/27/07 11:37:36 PM): yes
kayla_princess94 (09/27/07 11:37:45 PM): :)
kayla_princess94 (09/27/07 11:37:49 PM): me 2


lorne_a_20014

(09/27/07 11:37:55 PM): for real?
kayla_princess94 (09/27/07 11:38:15 PM): yes 4real


lorne_a_20014

(09/27/07 11:38:17 PM): :D


lorne_a_20014

(09/27/07 11:38:20 PM): :x


lorne_a_20014

(09/27/07 11:38:27 PM): i wish we could
kayla_princess94 (09/27/07 11:38:28 PM): :x


lorne_a_20014

(09/27/07 11:38:40 PM): when do you want to see me?
kayla_princess94 (09/27/07 11:38:57 PM): idk when u wanna c me


lorne_a_20014

(09/27/07 11:39:06 PM): now lol
kayla_princess94 (09/27/07 11:39:11 PM): lol


lorne_a_20014

(09/27/07 11:39:27 PM): is your parents going out tomorrow night?
kayla_princess94 (09/27/07 11:39:38 PM): not shur


lorne_a_20014

(09/27/07 11:39:44 PM): i hope they do


lorne_a_20014

(09/27/07 11:39:53 PM): i want to hear your voice again, i miss it
kayla_princess94 (09/27/07 11:39:59 PM): aww
kayla_princess94 (09/27/07 11:40:03 PM): i miss urs 2


lorne_a_20014

(09/27/07 11:40:11 PM): :-*:x


lorne_a_20014

(09/27/07 11:40:25 PM): are you wearing your pj's now?
kayla_princess94 (09/27/07 11:40:36 PM): yeah


lorne_a_20014

(09/27/07 11:40:45 PM): wish i could take them off of you lol


lorne_a_20014

(09/27/07 11:41:03 PM): you're lucky, you get to see me in my pj's all the time lol
kayla_princess94 (09/27/07 11:41:04 PM): geez brb


lorne_a_20014

(09/27/07 11:41:07 PM): ok
kayla_princess94 (09/27/07 11:43:20 PM): back


lorne_a_20014

(09/27/07 11:43:28 PM): :D:-*
kayla_princess94 (09/27/07 11:43:36 PM): :x


lorne_a_20014

(09/27/07 11:43:44 PM): omg i want you here with me right now


lorne_a_20014

(09/27/07 11:43:48 PM): :x
kayla_princess94 (09/27/07 11:43:54 PM): :-*


lorne_a_20014

(09/27/07 11:44:25 PM): i know i told you not to tell me before, but in order for us to see eachother you're kind of gonna have to tell me now lol


lorne_a_20014

(09/27/07 11:44:31 PM): what town do you live in?
kayla_princess94 (09/27/07 11:44:59 PM): hmm idk if i shuld tell u


lorne_a_20014

(09/27/07 11:45:27 PM): if you don't want to tell me yet you don't have to precious, but in order for us to see eachother you'll have to tell me eventually lol
kayla_princess94 (09/27/07 11:45:38 PM): i know


lorne_a_20014

(09/27/07 11:45:58 PM): it's up to you, that's the only way we're going to be able to see eachother though lol
kayla_princess94 (09/27/07 11:46:09 PM): i know
kayla_princess94 (09/27/07 11:46:19 PM): can i tell u sumthin


lorne_a_20014

(09/27/07 11:46:24 PM): yes you can
kayla_princess94 (09/27/07 11:46:55 PM): im kinda scared i mean i really wanna c u and everything but im still kinda scared


lorne_a_20014

(09/27/07 11:47:54 PM): i know, i expected that you would be, but i know there's nobody on earth besides your parents that you would ever be safer with than me though..........that's how much i love you


lorne_a_20014

(09/27/07 11:48:29 PM): i'm not kidding with you at all when i tell you that i'm in love with you and will always protect you
kayla_princess94 (09/27/07 11:48:43 PM): k


lorne_a_20014

(09/27/07 11:49:47 PM): depending on how soon you want to see me is the reason why i would have to know where you live........this is something that you and i both have to plan because nobody would be able to find out about it.......only us
kayla_princess94 (09/27/07 11:50:36 PM): hmm mayb when my parents go away 4 the weekend:)


lorne_a_20014

(09/27/07 11:50:48 PM): when is that going to be?
kayla_princess94 (09/27/07 11:51:02 PM): next month sumtime not shur yet


lorne_a_20014

(09/27/07 11:51:11 PM): really?
kayla_princess94 (09/27/07 11:51:18 PM): yeah


lorne_a_20014

(09/27/07 11:51:33 PM): that would be awesome:D:-*:x
kayla_princess94 (09/27/07 11:51:43 PM): :D
kayla_princess94 (09/27/07 11:51:49 PM): :-*


lorne_a_20014

(09/27/07 11:52:00 PM): ok, give me a hint about this though ok?


lorne_a_20014

(09/27/07 11:52:28 PM): how far from that green town, i can't remember what the complete name of it is, how far from that town do you live?


lorne_a_20014

(09/27/07 11:52:53 PM): bowling green


lorne_a_20014

(09/27/07 11:53:01 PM): i had to look at the map lol
kayla_princess94 (09/27/07 11:53:08 PM): lol
kayla_princess94 (09/27/07 11:53:12 PM): not shur


lorne_a_20014

(09/27/07 11:53:21 PM): hmm


lorne_a_20014

(09/27/07 11:53:22 PM): lol


lorne_a_20014

(09/27/07 11:53:31 PM): ok, do you trust me?
kayla_princess94 (09/27/07 11:53:36 PM): yes


lorne_a_20014

(09/27/07 11:53:49 PM): ok, then i'm asking you to trust me completely ok?
kayla_princess94 (09/27/07 11:53:54 PM): k


lorne_a_20014

(09/27/07 11:54:36 PM): tell me what town you live in, because i have to plan everything right down to how much money i'm going to need for gas and everything, will you trust me with that?
kayla_princess94 (09/27/07 11:55:02 PM): mom coming


lorne_a_20014

(09/27/07 11:55:05 PM): i promise you, you're completely safe with me precious
kayla_princess94 (09/27/07 11:56:59 PM): i gotta go shes really yelling at me we will talk bout it 2morrow
kayla_princess94 (09/27/07 11:57:02 PM): nite
kayla_princess94 (09/27/07 11:57:03 PM): luve u
kayla_princess94 (09/27/07 11:57:11 PM): :x
kayla_princess94 (09/27/07 11:57:15 PM): :-*


lorne_a_20014

(09/27/07 11:57:16 PM): ok, think about if you want to tell me ok?
kayla_princess94 (09/27/07 11:57:22 PM): i will
kayla_princess94 (09/27/07 11:57:25 PM): i promise


lorne_a_20014

(09/27/07 11:57:31 PM): i love you my precoius princess@};-:-*:x>:D<


lorne_a_20014

(09/27/07 11:57:37 PM): delete your archives


lorne_a_20014

(09/27/07 11:57:42 PM): and tell me when
kayla_princess94 (09/27/07 11:57:46 PM): k


lorne_a_20014

(09/27/07 11:57:47 PM): they're deleted
kayla_princess94 (09/27/07 11:57:56 PM): gotta hurry


lorne_a_20014

(09/27/07 11:57:59 PM): ok
kayla_princess94 (09/27/07 11:58:10 PM): done
kayla_princess94 (09/27/07 11:58:12 PM): nite


lorne_a_20014

(09/27/07 11:58:15 PM): nite


lorne_a_20014

(09/27/07 11:58:17 PM): love yo


lorne_a_20014

(09/27/07 11:58:19 PM): u
kayla_princess94 (09/27/07 11:58:23 PM): luv u


lorne_a_20014

(09/28/07 12:22:08 AM): i miss my precious princess already:-<
kayla_princess94 (09/28/07 12:22:25 AM): really


lorne_a_20014

(09/28/07 12:22:36 AM): you're still here??
kayla_princess94 (09/28/07 12:22:42 AM): yi sneakin


lorne_a_20014

(09/28/07 12:22:42 AM): i thought you were logging off?


lorne_a_20014

(09/28/07 12:22:47 AM): oh lol
kayla_princess94 (09/28/07 12:22:53 AM): just 4 a min


lorne_a_20014

(09/28/07 12:22:58 AM): don't get in trouble precious
kayla_princess94 (09/28/07 12:23:09 AM): k
kayla_princess94 (09/28/07 12:23:17 AM): i better go
kayla_princess94 (09/28/07 12:23:21 AM): luv u


lorne_a_20014

(09/28/07 12:23:26 AM): why are you sneaking?
kayla_princess94 (09/28/07 12:23:42 AM): cuz i wanted 2 tell u 1 more time
kayla_princess94 (09/28/07 12:23:46 AM): i luv u


lorne_a_20014

(09/28/07 12:23:54 AM): :D:-*:x


lorne_a_20014

(09/28/07 12:23:59 AM): i love you too@};-


lorne_a_20014

(09/28/07 12:24:08 AM): :-*:x
kayla_princess94 (09/28/07 12:24:09 AM): :-*>:D<
kayla_princess94 (09/28/07 12:24:15 AM): better go


lorne_a_20014

(09/28/07 12:24:15 AM): >:D<


lorne_a_20014

(09/28/07 12:24:23 AM): ok, dream about us


lorne_a_20014

(09/28/07 12:24:25 AM): i love you
kayla_princess94 (09/28/07 12:24:30 AM): luv u


lorne_a_20014

(09/28/07 12:35:32 AM): well shit, now that you're gone again i want you back on here again.........god i miss you@};- i love you my precious princess@};->:D<:-*:x:-<


lorne_a_20014

(09/28/07 8:11:13 AM): good morning precious, i love you@};-:-*:x


lorne_a_20014

(09/28/07 12:22:22 PM): i'm leaving for work now my precious princess@};-, my cam is on for you, i love you@};-:-*:x
kayla_princess94 (09/28/07 9:35:36 PM): i miss u:(i mite go 2 marias 2 hang out so if im not here thats y
kayla_princess94 (09/28/07 9:35:55 PM): i luv u:x:-*


lorne_a_20014

(09/28/07 10:28:14 PM): i love you too my precious princess@};-:-*:x
kayla_princess94 (09/28/07 10:35:08 PM): i miss u:( i luv u


lorne_a_20014

(09/28/07 10:35:33 PM): i love you my precious baby girl@};-:-*:x


lorne_a_20014

(09/28/07 10:35:40 PM): are you home?
kayla_princess94 (09/28/07 10:35:43 PM): yay ur here
kayla_princess94 (09/28/07 10:35:45 PM): yes
kayla_princess94 (09/28/07 10:35:49 PM): i didnt go


lorne_a_20014

(09/28/07 10:35:54 PM): why not?
kayla_princess94 (09/28/07 10:36:12 PM): cuz i wanted 2 talk 2 u:\">


lorne_a_20014

(09/28/07 10:36:23 PM): :-*:x


lorne_a_20014

(09/28/07 10:36:36 PM): you should have gone though, you need to have fun too lol


lorne_a_20014

(09/28/07 10:36:52 PM): hang on precious, i need to take Bud to the bathroom ok?
kayla_princess94 (09/28/07 10:36:56 PM): k
kayla_princess94 (09/28/07 10:37:56 PM): i culd still go if u want me 2


lorne_a_20014

(09/28/07 10:41:57 PM): i don't want you to really because i want to spend time with you too but i got invited out to go to karaoke tonight with a couple of my friends so if you want to go i'm ok with that precious
kayla_princess94 (09/28/07 10:42:13 PM): k


lorne_a_20014

(09/28/07 10:42:28 PM): what time are you gonna go?
kayla_princess94 (09/28/07 10:42:56 PM): now i guess when were done talkin


lorne_a_20014

(09/28/07 10:43:07 PM): who's gonna be there?
kayla_princess94 (09/28/07 10:43:22 PM): just me and here


lorne_a_20014

(09/28/07 10:43:34 PM): ok, i'm really good with that then:D
kayla_princess94 (09/28/07 10:43:44 PM): k


lorne_a_20014

(09/28/07 10:43:51 PM): i was hoping that no boys would be there lol
kayla_princess94 (09/28/07 10:44:00 PM): no
kayla_princess94 (09/28/07 10:44:07 PM): who r ur friends ur goin with


lorne_a_20014

(09/28/07 10:44:19 PM): craig and taylor


lorne_a_20014

(09/28/07 10:44:26 PM): taylor's a guy


lorne_a_20014

(09/28/07 10:44:48 PM): paul and amy are going to be there too, they're a couple


lorne_a_20014

(09/28/07 10:45:03 PM): meaning they're b/f and g/f


lorne_a_20014

(09/28/07 10:45:21 PM): how much did you think about me today?
kayla_princess94 (09/28/07 10:45:36 PM): thought bout u all day


lorne_a_20014

(09/28/07 10:45:46 PM): good:D


lorne_a_20014

(09/28/07 10:46:04 PM): i am sooooooooo in love with you precious@};-:-*:x


lorne_a_20014

(09/28/07 10:46:09 PM): god i missed you today


lorne_a_20014

(09/28/07 10:46:34 PM): are you staying over night at marias?
kayla_princess94 (09/28/07 10:46:47 PM): yeah


lorne_a_20014

(09/28/07 10:46:57 PM): what time will you be back tomorrow?
kayla_princess94 (09/28/07 10:47:13 PM): prolly like 830
kayla_princess94 (09/28/07 10:47:17 PM): at nite


lorne_a_20014

(09/28/07 10:47:19 PM): :D


lorne_a_20014

(09/28/07 10:47:23 PM): :-<
kayla_princess94 (09/28/07 10:47:26 PM): u gona b here


lorne_a_20014

(09/28/07 10:47:29 PM): :(
kayla_princess94 (09/28/07 10:47:34 PM): or r u goin out wit ur friends


lorne_a_20014

(09/28/07 10:47:56 PM): yes i am.........i was hoping you meant 8:30 in the morning though:(
kayla_princess94 (09/28/07 10:48:08 PM): lol i will b sleepin
kayla_princess94 (09/28/07 10:48:35 PM): o hey and my parents r goin out 2morrow nite i think so i will b able 2 call u


lorne_a_20014

(09/28/07 10:48:45 PM): :D


lorne_a_20014

(09/28/07 10:48:56 PM): that made me happy again:D


lorne_a_20014

(09/28/07 10:48:59 PM): :x
kayla_princess94 (09/28/07 10:49:04 PM): :D
kayla_princess94 (09/28/07 10:49:08 PM): :-*


lorne_a_20014

(09/28/07 10:49:15 PM): omg i want you here with me:-*:x


lorne_a_20014

(09/28/07 10:49:31 PM): you're sooooooooooo beautiful and sooooooooooooo precious to me baby


lorne_a_20014

(09/28/07 10:49:35 PM): @};-
kayla_princess94 (09/28/07 10:49:48 PM): >:D<


lorne_a_20014

(09/28/07 10:49:57 PM): i love you@};-
kayla_princess94 (09/28/07 10:50:10 PM): i luv u 2


lorne_a_20014

(09/28/07 10:50:21 PM): god i wish i could marry you right now
kayla_princess94 (09/28/07 10:50:45 PM): that wuld b so awesome


lorne_a_20014

(09/28/07 10:50:47 PM): i looked at your pics for about 2 hours this morning lol


lorne_a_20014

(09/28/07 10:51:19 PM): can i call you Mrs. Kayla Armstrong?


lorne_a_20014

(09/28/07 10:51:24 PM): :D
kayla_princess94 (09/28/07 10:51:32 PM): lol yes


lorne_a_20014

(09/28/07 10:51:41 PM): :D:-*:x


lorne_a_20014

(09/28/07 10:51:57 PM): do you like my last name?
kayla_princess94 (09/28/07 10:52:06 PM): yes


lorne_a_20014

(09/28/07 10:52:12 PM): :D


lorne_a_20014

(09/28/07 10:52:24 PM): is maria there with you right now?
kayla_princess94 (09/28/07 10:52:34 PM): no


lorne_a_20014

(09/28/07 10:52:42 PM): good lol


lorne_a_20014

(09/28/07 10:53:05 PM): i need to change my shirt, can i wear that red shirt that i wore yesterday?
kayla_princess94 (09/28/07 10:53:18 PM): yes


lorne_a_20014

(09/28/07 10:53:51 PM): want me to get naked while we're talking right now?


lorne_a_20014

(09/28/07 10:53:53 PM): lol
kayla_princess94 (09/28/07 10:54:02 PM): i guess


lorne_a_20014

(09/28/07 10:54:27 PM): better?lol
kayla_princess94 (09/28/07 10:54:46 PM): yeah


lorne_a_20014

(09/28/07 10:54:56 PM): :D:-*


lorne_a_20014

(09/28/07 10:55:07 PM): want me to put the cam where you can see \"it\"?
kayla_princess94 (09/28/07 10:55:26 PM): shur


lorne_a_20014

(09/28/07 10:55:49 PM): is that better?
kayla_princess94 (09/28/07 10:55:56 PM): yeah lol


lorne_a_20014

(09/28/07 10:56:05 PM): :-*:x


lorne_a_20014

(09/28/07 10:56:12 PM): did you miss \"it\" today?lol
kayla_princess94 (09/28/07 10:56:24 PM): yeah


lorne_a_20014

(09/28/07 10:56:30 PM): :D


lorne_a_20014

(09/28/07 10:56:36 PM): did you think about \"it\"?lol
kayla_princess94 (09/28/07 10:56:51 PM): umm yeah


lorne_a_20014

(09/28/07 10:56:57 PM): :D


lorne_a_20014

(09/28/07 10:57:06 PM): what did you think about when you thought about it?lol
kayla_princess94 (09/28/07 10:57:24 PM): idk lol


lorne_a_20014

(09/28/07 10:57:28 PM): lol


lorne_a_20014

(09/28/07 10:57:32 PM): yes you do lol


lorne_a_20014

(09/28/07 10:57:36 PM): tell me please??lol


lorne_a_20014

(09/28/07 10:57:41 PM): ;;)
kayla_princess94 (09/28/07 10:58:12 PM): hmm it looks kewl
kayla_princess94 (09/28/07 10:58:17 PM): :\">


lorne_a_20014

(09/28/07 10:58:18 PM): lol


lorne_a_20014

(09/28/07 10:58:22 PM): what else??lol
kayla_princess94 (09/28/07 10:58:41 PM): idk:\">


lorne_a_20014

(09/28/07 10:58:52 PM): L-\"


lorne_a_20014

(09/28/07 10:58:56 PM): :-\"


lorne_a_20014

(09/28/07 10:59:00 PM): lol


lorne_a_20014

(09/28/07 10:59:11 PM): i love you
kayla_princess94 (09/28/07 10:59:14 PM): wat


lorne_a_20014

(09/28/07 10:59:33 PM): i thought about yours today too:\">
kayla_princess94 (09/28/07 10:59:55 PM): u did


lorne_a_20014

(09/28/07 10:59:59 PM): yup
kayla_princess94 (09/28/07 11:00:19 PM): :)


lorne_a_20014

(09/28/07 11:00:26 PM): i wish you could be here right now with me
kayla_princess94 (09/28/07 11:00:54 PM): me 2


lorne_a_20014

(09/28/07 11:01:23 PM): i'm staring at your pic right now precious@};-


lorne_a_20014

(09/28/07 11:01:42 PM): i am soooo in love with you@};-:x:-*
kayla_princess94 (09/28/07 11:01:56 PM): aww i luv u


lorne_a_20014

(09/28/07 11:02:19 PM): it's hard for us to leave eachother, did you notice that?lol
kayla_princess94 (09/28/07 11:02:28 PM): yeah lol


lorne_a_20014

(09/28/07 11:02:49 PM): i have an itch on my penis, will you come here and scratch it for me?? lol i wish
kayla_princess94 (09/28/07 11:03:01 PM): lol


lorne_a_20014

(09/28/07 11:03:20 PM): will you kiss it for me after you scratch it??:D
kayla_princess94 (09/28/07 11:03:38 PM): lol


lorne_a_20014

(09/28/07 11:03:51 PM): i wish that could happen right now too lol
kayla_princess94 (09/28/07 11:04:02 PM): me 2


lorne_a_20014

(09/28/07 11:04:07 PM): :D
kayla_princess94 (09/28/07 11:04:08 PM): brb


lorne_a_20014

(09/28/07 11:04:12 PM): ok


lorne_a_20014

(09/28/07 11:04:57 PM): god you're amazing@};-
kayla_princess94 (09/28/07 11:05:44 PM): k
kayla_princess94 (09/28/07 11:05:53 PM): back


lorne_a_20014

(09/28/07 11:05:55 PM): :-*


lorne_a_20014

(09/28/07 11:06:18 PM): would you suck on my penis if you were here right now?:D
kayla_princess94 (09/28/07 11:06:29 PM): :-*>:D<:x


lorne_a_20014

(09/28/07 11:07:13 PM): would you suck on my penis if you were here right now?:D
kayla_princess94 (09/28/07 11:07:36 PM): yeah


lorne_a_20014

(09/28/07 11:07:42 PM): :D


lorne_a_20014

(09/28/07 11:07:59 PM): could i lick your clit if you were here right now?:D
kayla_princess94 (09/28/07 11:08:08 PM): yeah


lorne_a_20014

(09/28/07 11:08:15 PM): :D


lorne_a_20014

(09/28/07 11:08:31 PM): omg i friggen want you soooooo bad


lorne_a_20014

(09/28/07 11:08:47 PM): you're my little goddess@};-
kayla_princess94 (09/28/07 11:08:54 PM): :D


lorne_a_20014

(09/28/07 11:09:12 PM): you really take my breath away do you know that?
kayla_princess94 (09/28/07 11:09:19 PM): i do


lorne_a_20014

(09/28/07 11:09:19 PM): you're really amazing
kayla_princess94 (09/28/07 11:09:28 PM): so r u


lorne_a_20014

(09/28/07 11:10:01 PM): not as amazing as you are.........your beauty and your heart really has me wrapped around your finger:x
kayla_princess94 (09/28/07 11:10:14 PM): :x


lorne_a_20014

(09/28/07 11:10:44 PM): i really do want to marry you too Mrs. Kayla Armstrong@};-:-*:x
kayla_princess94 (09/28/07 11:10:57 PM): :Dkewl


lorne_a_20014

(09/28/07 11:11:06 PM): :D:-*


lorne_a_20014

(09/28/07 11:11:36 PM): i wish i could have my penis in your vagina right now


lorne_a_20014

(09/28/07 11:11:46 PM): and be making out with you at the same time
kayla_princess94 (09/28/07 11:11:56 PM): :)


lorne_a_20014

(09/28/07 11:12:12 PM): do you wish the same thing/


lorne_a_20014

(09/28/07 11:12:14 PM): ?
kayla_princess94 (09/28/07 11:12:27 PM): YES


lorne_a_20014

(09/28/07 11:12:31 PM): :D


lorne_a_20014

(09/28/07 11:12:57 PM): even though it might hurt a little the first time with my penis in your vagina?
kayla_princess94 (09/28/07 11:13:12 PM): yeah but i know u wont hurt me


lorne_a_20014

(09/28/07 11:13:23 PM): :D:-*:x


lorne_a_20014

(09/28/07 11:13:42 PM): i'll NEVER hurt you.......you're my precious princess@};-
kayla_princess94 (09/28/07 11:13:44 PM): :-*


lorne_a_20014

(09/28/07 11:13:55 PM): and my future wife:D:x
kayla_princess94 (09/28/07 11:14:13 PM): :D


lorne_a_20014

(09/28/07 11:14:30 PM): do you think we should start getting ready to go now?lol
kayla_princess94 (09/28/07 11:14:42 PM): yeah


lorne_a_20014

(09/28/07 11:14:43 PM): as much as neither one of us want to leave eachother lol
kayla_princess94 (09/28/07 11:15:02 PM): yeah ur friends will wondur where u r


lorne_a_20014

(09/28/07 11:15:03 PM): don't leave me yet, not until i'm dressed ok?
kayla_princess94 (09/28/07 11:15:28 PM): k


lorne_a_20014

(09/28/07 11:15:38 PM): want me to move the cam now?
kayla_princess94 (09/28/07 11:15:45 PM): ummm yeah


lorne_a_20014

(09/28/07 11:16:06 PM): want me to put my penis up close to the cam first so you can give it a kiss??lol
kayla_princess94 (09/28/07 11:16:20 PM): lol k if u want me 2


lorne_a_20014

(09/28/07 11:16:28 PM): ok:D
kayla_princess94 (09/28/07 11:17:22 PM): i just think of sumthing funny


lorne_a_20014

(09/28/07 11:17:29 PM): what?
kayla_princess94 (09/28/07 11:17:42 PM): bud prolly think ur crazy


lorne_a_20014

(09/28/07 11:17:47 PM): lol


lorne_a_20014

(09/28/07 11:17:54 PM): yeah, probably


lorne_a_20014

(09/28/07 11:17:56 PM): lol


lorne_a_20014

(09/28/07 11:18:05 PM): you're his mommy now, you know that right?
kayla_princess94 (09/28/07 11:18:14 PM): o kewl


lorne_a_20014

(09/28/07 11:18:23 PM): :-*:x


lorne_a_20014

(09/28/07 11:18:34 PM): god i love you Kayla


lorne_a_20014

(09/28/07 11:18:37 PM): @};-
kayla_princess94 (09/28/07 11:18:43 PM): :D
kayla_princess94 (09/28/07 11:18:49 PM): i luv u 2 lorne


lorne_a_20014

(09/28/07 11:18:57 PM): :-*:x


lorne_a_20014

(09/28/07 11:19:09 PM): ok, i'm gonna get dressed now ok?
kayla_princess94 (09/28/07 11:19:14 PM): k
kayla_princess94 (09/28/07 11:20:07 PM): lol but shot


lorne_a_20014

(09/28/07 11:20:10 PM): i thought i'd show you my butt lol


lorne_a_20014

(09/28/07 11:21:55 PM): ok


lorne_a_20014

(09/28/07 11:22:07 PM): did you hate seeing me tuck my penis away?lol
kayla_princess94 (09/28/07 11:22:19 PM): no y wuld i hate it


lorne_a_20014

(09/28/07 11:22:37 PM): because you can't see it when it's in my pants lol
kayla_princess94 (09/28/07 11:22:45 PM): o lol


lorne_a_20014

(09/28/07 11:23:00 PM): i can't wait to see your beautiful butt naked lol


lorne_a_20014

(09/28/07 11:23:04 PM): :x


lorne_a_20014

(09/28/07 11:23:13 PM): i can't wait to touch it too
kayla_princess94 (09/28/07 11:23:27 PM): how u know my butt is beautiful


lorne_a_20014

(09/28/07 11:23:43 PM): because everything about you is beautiful@};-
kayla_princess94 (09/28/07 11:23:57 PM): :\">


lorne_a_20014

(09/28/07 11:24:08 PM): god this is hard leaving eachother lol
kayla_princess94 (09/28/07 11:24:29 PM): i know


lorne_a_20014

(09/28/07 11:24:48 PM): want to do it on the count of 3?lol
kayla_princess94 (09/28/07 11:24:56 PM): o ok


lorne_a_20014

(09/28/07 11:25:10 PM): hummmmmmm:-<


lorne_a_20014

(09/28/07 11:25:19 PM): i already miss you:-<
kayla_princess94 (09/28/07 11:25:33 PM): i miss u:(


lorne_a_20014

(09/28/07 11:25:36 PM): you can't be back home before 8:30 tomorrow?
kayla_princess94 (09/28/07 11:25:46 PM): idk ill c


lorne_a_20014

(09/28/07 11:25:55 PM): ty precious@};-


lorne_a_20014

(09/28/07 11:26:06 PM): ok, ready for the countdown?
kayla_princess94 (09/28/07 11:26:12 PM): yeah


lorne_a_20014

(09/28/07 11:26:19 PM): 1
kayla_princess94 (09/28/07 11:26:25 PM): 1


lorne_a_20014

(09/28/07 11:26:28 PM): 2
kayla_princess94 (09/28/07 11:26:32 PM): dont look so sad


lorne_a_20014

(09/28/07 11:26:43 PM): i hate leaving you:-<
kayla_princess94 (09/28/07 11:26:51 PM): me 2
kayla_princess94 (09/28/07 11:26:54 PM): 2


lorne_a_20014

(09/28/07 11:27:06 PM): 3
kayla_princess94 (09/28/07 11:27:11 PM): 3
kayla_princess94 (09/28/07 11:27:17 PM): :-h
kayla_princess94 (09/28/07 11:27:27 PM): :(


lorne_a_20014

(09/28/07 11:27:28 PM): i love you my precious princess@};-:-*:x
kayla_princess94 (09/28/07 11:27:37 PM): i luv u 2


lorne_a_20014

(09/28/07 11:27:57 PM): i can't move until you turn my cam off.....so it's all up to you
kayla_princess94 (09/28/07 11:28:05 PM): k
kayla_princess94 (09/28/07 11:28:34 PM): bye


lorne_a_20014

(09/28/07 11:28:40 PM): god i love you@};-:x:-<
kayla_princess94 (09/28/07 11:28:54 PM): i ....luv....u


lorne_a_20014

(09/28/07 11:28:56 PM): what's your middle name?
kayla_princess94 (09/28/07 11:29:02 PM): marie
kayla_princess94 (09/28/07 11:29:05 PM): wats urs


lorne_a_20014

(09/28/07 11:29:11 PM): lynn.......i hate mine


lorne_a_20014

(09/28/07 11:29:13 PM): lol
kayla_princess94 (09/28/07 11:29:21 PM): y its nice


lorne_a_20014

(09/28/07 11:29:39 PM): i love you Mrs. Kayla Marie Armstrong@};- please think about me all night?
kayla_princess94 (09/28/07 11:29:50 PM): i will
kayla_princess94 (09/28/07 11:30:01 PM): i luv u 2 lorne lynn armstrong


lorne_a_20014

(09/28/07 11:30:13 PM): @};-:-*:x
kayla_princess94 (09/28/07 11:30:29 PM): =((


lorne_a_20014

(09/28/07 11:30:34 PM): bye my precious princess@};- i love you@};->:D<:-*:x
kayla_princess94 (09/28/07 11:30:40 PM): bye


lorne_a_20014

(09/28/07 11:30:45 PM): no broken hearts with us ever ok?


lorne_a_20014

(09/28/07 11:30:51 PM): only good hearts
kayla_princess94 (09/28/07 11:31:00 PM): k
kayla_princess94 (09/28/07 11:31:05 PM): :x


lorne_a_20014

(09/28/07 11:31:34 PM): i love you my precious princess, dream about me and you together tonight@};-bye@};-:-*>:D<:x


lorne_a_20014

(09/28/07 11:31:42 PM): and delete your archives
kayla_princess94 (09/28/07 11:31:51 PM): >:D<:-*:x
kayla_princess94 (09/28/07 11:31:54 PM): i will


lorne_a_20014

(09/28/07 11:32:00 PM): tell me when
kayla_princess94 (09/28/07 11:32:08 PM): when wat


lorne_a_20014

(09/28/07 11:32:15 PM): when you have them deleted
kayla_princess94 (09/28/07 11:32:23 PM): o lol k
kayla_princess94 (09/28/07 11:32:51 PM): k done


lorne_a_20014

(09/28/07 11:32:57 PM): i love you@};-
kayla_princess94 (09/28/07 11:33:05 PM): luv u:x


lorne_a_20014

(09/28/07 11:40:33 PM): i'm going out the door now precious........god i love you so much and miss you so much already@};->:D<:-*:x:-<


lorne_a_20014

(09/29/07 8:51:38 AM): i want my precious baby girl right now:-<


lorne_a_20014

(09/29/07 12:20:42 PM): i love my baby girl...........and i miss her alot...........i love you my precious princess@};->:D<:-*:x


lorne_a_20014

(09/29/07 1:47:57 PM): i want my girl:-<


lorne_a_20014

(09/29/07 2:34:40 PM): precious i hope you don't get mad at me but a friend of mine came here today and wants me to go out with him tonight because he couldn't make it here last night......this really is going to suck because we were suppose to talk on the phone tonight so i really need you to do everything you can this week to find a pay phone to call me from because i miss your voice..........god i love you kayla.......i hope you don't get mad at me for this.........i'll be on here tomorrow, i love you my precious princess@};->:D<:-*:x


lorne_a_20014

(09/29/07 5:49:22 PM): precious are you here?


lorne_a_20014

(09/29/07 5:50:00 PM): it says that you've logged on to your myspace page today but you never left me a message:(
kayla_princess94 (09/29/07 9:10:06 PM): well thats ok i got stuff 2 do anyways sum of us r gona hang out 2nite so have fun miss u luv u
kayla_princess94 (09/29/07 9:10:24 PM): :-*


lorne_a_20014

(09/30/07 4:55:14 AM): who were you hanging out with? and i love you and miss you@};-


lorne_a_20014

(09/30/07 4:55:21 AM): :-*:x


lorne_a_20014

(09/30/07 11:39:17 AM): where's my precious princess this morning?


lorne_a_20014

(09/30/07 11:39:23 AM): :-<


lorne_a_20014

(09/30/07 12:04:57 PM): i miss my precious baby girl alot, i love you precious@};-:-*>:D<:x:-<


lorne_a_20014

(09/30/07 1:08:45 PM): i hope you come on here like REALLY soon precious.........i miss you like crazy:-<


lorne_a_20014

(09/30/07 1:21:59 PM): god i want to be there with you so bad right now precious.........i love you@};-:x:-*:-<


lorne_a_20014

(09/30/07 4:05:39 PM): where's my baby girl???:-<


lorne_a_20014

(09/30/07 6:47:36 PM): it's almost 6 oclock precious........where are you??:-<


lorne_a_20014

(09/30/07 7:55:41 PM): i guess i'm not gonna get as much time with my precious princess today like i hoped i was going to:-<


lorne_a_20014

(09/30/07 8:36:27 PM): :-<:(
kayla_princess94 (09/30/07 8:53:39 PM): well i guess ur 2 busy ttyl


lorne_a_20014

(09/30/07 8:53:54 PM): finally my baby is here


lorne_a_20014

(09/30/07 8:54:10 PM): what are you talking about you guess i'm too busy??


lorne_a_20014

(09/30/07 8:54:21 PM): i've been sitting here waiting for you all day


lorne_a_20014

(09/30/07 8:54:36 PM):


lorne_a_20014

(09/30/07 8:55:16 PM): why did you say that i must be too busy?
kayla_princess94 (09/30/07 8:55:46 PM): cuz i thought u were on here and then u didnt answer so i thought u was busy


lorne_a_20014

(09/30/07 8:56:14 PM): the only message that i got from you was that you guessed i was too busy lol
kayla_princess94 (09/30/07 8:56:31 PM): lol
kayla_princess94 (09/30/07 8:56:35 PM): yeah i just got here


lorne_a_20014

(09/30/07 8:56:53 PM): did you see what it said next to my name when you came on?
kayla_princess94 (09/30/07 8:57:06 PM): yeah:\">
kayla_princess94 (09/30/07 8:57:10 PM): thats so sweet


lorne_a_20014

(09/30/07 8:57:21 PM): :-*:x
kayla_princess94 (09/30/07 8:57:31 PM): :-*:x
kayla_princess94 (09/30/07 8:57:47 PM): wat r u eatin lol


lorne_a_20014

(09/30/07 8:57:56 PM): a chicken pot pie lol


lorne_a_20014

(09/30/07 8:58:00 PM): want a bite?lol
kayla_princess94 (09/30/07 8:58:05 PM): yeah


lorne_a_20014

(09/30/07 8:58:19 PM): i'll have to make another one, i just finished that one lol
kayla_princess94 (09/30/07 8:58:26 PM): piggy


lorne_a_20014

(09/30/07 8:58:39 PM): yeah but you love me anyway lol
kayla_princess94 (09/30/07 8:58:49 PM): yeah:D


lorne_a_20014

(09/30/07 8:58:53 PM): :-*
kayla_princess94 (09/30/07 8:59:01 PM): :-*


lorne_a_20014

(09/30/07 8:59:04 PM): what have you been doing all day?
kayla_princess94 (09/30/07 8:59:13 PM): hanging out


lorne_a_20014

(09/30/07 8:59:21 PM): where?
kayla_princess94 (09/30/07 8:59:33 PM): at haley's


lorne_a_20014

(09/30/07 8:59:44 PM): is that where you were last night?
kayla_princess94 (09/30/07 8:59:54 PM): yeah


lorne_a_20014

(09/30/07 9:00:08 PM): were any boys there?
kayla_princess94 (09/30/07 9:00:16 PM): umm yeah


lorne_a_20014

(09/30/07 9:00:23 PM): who?
kayla_princess94 (09/30/07 9:01:18 PM): hmm lets c cody tyler derek maria jessie haley
kayla_princess94 (09/30/07 9:01:31 PM): me lol


lorne_a_20014

(09/30/07 9:01:45 PM): derek?? ex derek?
kayla_princess94 (09/30/07 9:02:06 PM): yeah THAT derek


lorne_a_20014

(09/30/07 9:02:17 PM): did you talk to him?
kayla_princess94 (09/30/07 9:02:28 PM): yeah a little


lorne_a_20014

(09/30/07 9:02:36 PM): gonna tell me about it?
kayla_princess94 (09/30/07 9:02:47 PM): it was no big deal
kayla_princess94 (09/30/07 9:02:56 PM): really


lorne_a_20014

(09/30/07 9:03:08 PM): ok, so are you gonna tell me about it then?lol
kayla_princess94 (09/30/07 9:03:18 PM): k
kayla_princess94 (09/30/07 9:03:26 PM): he said hi kayla
kayla_princess94 (09/30/07 9:03:30 PM): i said hi dj
kayla_princess94 (09/30/07 9:03:40 PM): he said how ya doin
kayla_princess94 (09/30/07 9:03:47 PM): i said im doin ok


lorne_a_20014

(09/30/07 9:04:05 PM): that was all?
kayla_princess94 (09/30/07 9:04:13 PM): noo im thinkin
kayla_princess94 (09/30/07 9:04:38 PM): he said y dont u talk 2 me anymore
kayla_princess94 (09/30/07 9:04:45 PM): i said cuz ur an ass
kayla_princess94 (09/30/07 9:04:47 PM): lol


lorne_a_20014

(09/30/07 9:04:51 PM): lol
kayla_princess94 (09/30/07 9:04:56 PM): good 1 huh


lorne_a_20014

(09/30/07 9:05:01 PM): that's my baby lol


lorne_a_20014

(09/30/07 9:05:08 PM): >:D<:-*:x


lorne_a_20014

(09/30/07 9:05:11 PM): @};-
kayla_princess94 (09/30/07 9:05:25 PM): then he said well u know i still like u


lorne_a_20014

(09/30/07 9:05:46 PM): and what did you say?
kayla_princess94 (09/30/07 9:05:56 PM): i said yeah w/e
kayla_princess94 (09/30/07 9:06:19 PM): and he said i really do
kayla_princess94 (09/30/07 9:06:36 PM): and i said yeah ok dj
kayla_princess94 (09/30/07 9:06:56 PM): then he said sumthin else but i cant remember wat it was
kayla_princess94 (09/30/07 9:07:08 PM): so then i went and talk 2 sum 1 else
kayla_princess94 (09/30/07 9:07:20 PM): so then later get this
kayla_princess94 (09/30/07 9:07:27 PM): he comes and sits by me rite


lorne_a_20014

(09/30/07 9:07:36 PM): :|


lorne_a_20014

(09/30/07 9:07:47 PM): i don't want him to sit by you
kayla_princess94 (09/30/07 9:07:54 PM): and puts his arm aroudn me and trys 2 kiss me


lorne_a_20014

(09/30/07 9:08:04 PM): X-(
kayla_princess94 (09/30/07 9:08:10 PM): and is told him i dont think so
kayla_princess94 (09/30/07 9:08:34 PM): so he got mad and said fine then
kayla_princess94 (09/30/07 9:08:48 PM): and didnt talk 2 me 4 the rest of the nite


lorne_a_20014

(09/30/07 9:08:55 PM): good


lorne_a_20014

(09/30/07 9:09:04 PM): i don't like him
kayla_princess94 (09/30/07 9:09:16 PM): lol u dont even know him


lorne_a_20014

(09/30/07 9:09:35 PM): he's trying to make a move on you...........i don't like him!
kayla_princess94 (09/30/07 9:09:42 PM): lol
kayla_princess94 (09/30/07 9:09:56 PM): cant make a move if i dont let him;)


lorne_a_20014

(09/30/07 9:10:38 PM): yeah i know, but i didn't even like it when you told me he sat beside you, then i started getting more mad when you told me he put his arm around you.........


lorne_a_20014

(09/30/07 9:10:57 PM): if he would have kissed you i would have been completely pissed off
kayla_princess94 (09/30/07 9:11:19 PM): well he didnt so dont worries


lorne_a_20014

(09/30/07 9:11:37 PM): i wish you were here with me
kayla_princess94 (09/30/07 9:11:52 PM): me 2


lorne_a_20014

(09/30/07 9:11:56 PM): did i forget to tell you precious that i get jealous?lol
kayla_princess94 (09/30/07 9:12:06 PM): lol no


lorne_a_20014

(09/30/07 9:12:11 PM): ok lol
kayla_princess94 (09/30/07 9:12:18 PM): dont b


lorne_a_20014

(09/30/07 9:12:32 PM): why was he at haleys anyway?
kayla_princess94 (09/30/07 9:12:47 PM): well he is still friends with everybody
kayla_princess94 (09/30/07 9:13:09 PM): just cuz hes not my bf now doesnt mean he aint still friends with every1


lorne_a_20014

(09/30/07 9:13:44 PM): i realize that, i just don't like him being at a place where you're at
kayla_princess94 (09/30/07 9:14:17 PM): lorne he goes 2 my school hes in sum of my classes


lorne_a_20014

(09/30/07 9:14:50 PM): that i can deal with........i mean in places where he's able to try to make moves on you
kayla_princess94 (09/30/07 9:15:17 PM): so wat im spose 2 do not hang out with any1


lorne_a_20014

(09/30/07 9:15:54 PM): no, i'm not saying that, just because i don't like it doesn't mean that i can prevent it lol
kayla_princess94 (09/30/07 9:16:13 PM): itll b allrite


lorne_a_20014

(09/30/07 9:16:33 PM): as long as you're honest with me and never let him do anything i'll be fine.......
kayla_princess94 (09/30/07 9:16:48 PM): let him do wat


lorne_a_20014

(09/30/07 9:16:58 PM): let him kiss you or anything
kayla_princess94 (09/30/07 9:17:08 PM): nah
kayla_princess94 (09/30/07 9:17:24 PM): no suger 4 him lol


lorne_a_20014

(09/30/07 9:17:29 PM): lol


lorne_a_20014

(09/30/07 9:17:40 PM): only for me right?:D
kayla_princess94 (09/30/07 9:17:45 PM): yep


lorne_a_20014

(09/30/07 9:17:53 PM): :D:-*:x
kayla_princess94 (09/30/07 9:18:13 PM): :x:-*>:D<;;)


lorne_a_20014

(09/30/07 9:18:15 PM): i almost came home early last night because i missed you so much
kayla_princess94 (09/30/07 9:18:40 PM): aww really


lorne_a_20014

(09/30/07 9:19:20 PM): i think it was around 8 or 8:30 that i thought about lying to craid and taylor and told them i didn't feel good so i could leave lol
kayla_princess94 (09/30/07 9:19:59 PM): lol


lorne_a_20014

(09/30/07 9:20:12 PM): what did you wear last night?
kayla_princess94 (09/30/07 9:20:48 PM): shorts and a tank top


lorne_a_20014

(09/30/07 9:20:59 PM): what color?
kayla_princess94 (09/30/07 9:21:21 PM): jean shorts and green tank top


lorne_a_20014

(09/30/07 9:21:33 PM): what color panties and bra?
kayla_princess94 (09/30/07 9:22:19 PM): pink


lorne_a_20014

(09/30/07 9:22:31 PM): wish i could have seen you last night


lorne_a_20014

(09/30/07 9:22:36 PM): brb, need a drink
kayla_princess94 (09/30/07 9:22:48 PM): k


lorne_a_20014

(09/30/07 9:23:14 PM): back


lorne_a_20014

(09/30/07 9:23:32 PM): what are you doing precious?
kayla_princess94 (09/30/07 9:23:58 PM): talkin 2 u lol


lorne_a_20014

(09/30/07 9:24:20 PM): i thought you were checking your email or something too lol
kayla_princess94 (09/30/07 9:24:31 PM): no not yet


lorne_a_20014

(09/30/07 9:25:02 PM): i didn't send you anything, i thought about it but i thought you'd be online earlier than now so i just waited lol
kayla_princess94 (09/30/07 9:25:12 PM): lol
kayla_princess94 (09/30/07 9:25:28 PM): wat was u gona send me


lorne_a_20014

(09/30/07 9:25:50 PM): i was gonna write another poem for you@};-:-*
kayla_princess94 (09/30/07 9:26:11 PM): aww really
kayla_princess94 (09/30/07 9:26:14 PM): how sweet


lorne_a_20014

(09/30/07 9:26:16 PM): yes


lorne_a_20014

(09/30/07 9:26:28 PM): just because i love you@};-
kayla_princess94 (09/30/07 9:27:00 PM): :D


lorne_a_20014

(09/30/07 9:27:27 PM): i'm not going to go anywhere next weekend, i missed you too much friday night and saturday night and i never got to hear your pretty voice either.........i wanted to hear your voice again so bad last night too, it' bothered me all night
kayla_princess94 (09/30/07 9:28:13 PM): aww


lorne_a_20014

(09/30/07 9:28:26 PM): did you think about me last night?
kayla_princess94 (09/30/07 9:28:39 PM): yeah


lorne_a_20014

(09/30/07 9:28:43 PM): how much?
kayla_princess94 (09/30/07 9:28:54 PM): all the time


lorne_a_20014

(09/30/07 9:29:02 PM): good:D


lorne_a_20014

(09/30/07 9:29:09 PM): what did you think about?lol
kayla_princess94 (09/30/07 9:29:57 PM): how much i missed u and wished i was home talkin 2 u but u was out havin fun with ur friends so i culdnt:(


lorne_a_20014

(09/30/07 9:30:41 PM): well believe me, i didn't have much fun because i was thinking about you all night and wanted to be here spending my time with you@};-
kayla_princess94 (09/30/07 9:30:56 PM): aww how sweet


lorne_a_20014

(09/30/07 9:31:06 PM): did you have fun last night though?
kayla_princess94 (09/30/07 9:31:15 PM): yeah i guess
kayla_princess94 (09/30/07 9:31:17 PM): did u


lorne_a_20014

(09/30/07 9:31:35 PM): not really, i didn't want to be there, i wanted to be here with you
kayla_princess94 (09/30/07 9:31:47 PM): aww


lorne_a_20014

(09/30/07 9:31:55 PM): i'm happy that atleast one of us had fun though lol


lorne_a_20014

(09/30/07 9:32:29 PM): can i ask you something precious?
kayla_princess94 (09/30/07 9:32:35 PM): shur


lorne_a_20014

(09/30/07 9:33:16 PM): does it bother you at all having me for a b/f when you know there's other boys right there where you're at that want you?
kayla_princess94 (09/30/07 9:34:03 PM): y wuld it bother me


lorne_a_20014

(09/30/07 9:34:18 PM): because i'm not able to be right there with you right now
kayla_princess94 (09/30/07 9:34:37 PM): i think ur bein silly


lorne_a_20014

(09/30/07 9:35:12 PM): no, i just was wondering if it bothered you, it bothers me that i can't be right there with you


lorne_a_20014

(09/30/07 9:35:35 PM): it doesn't bother me having you for a g/f, it just bothers me that i can't be right there with you right now


lorne_a_20014

(09/30/07 9:35:55 PM): i love having you for my g/f because i'm COMPLETELY in love with you now@};-
kayla_princess94 (09/30/07 9:36:06 PM): :D
kayla_princess94 (09/30/07 9:36:23 PM): i like havin u 4 a bf 2


lorne_a_20014

(09/30/07 9:36:36 PM): :D:-*:x
kayla_princess94 (09/30/07 9:36:43 PM): and who r all these boys that want me lol


lorne_a_20014

(09/30/07 9:36:53 PM): your ex
kayla_princess94 (09/30/07 9:37:05 PM): lol
kayla_princess94 (09/30/07 9:37:20 PM): ex he is an ex remember


lorne_a_20014

(09/30/07 9:37:43 PM): yeah i know, but he's also right there and i can't be right now, that's what bothers me
kayla_princess94 (09/30/07 9:37:55 PM): bein silly


lorne_a_20014

(09/30/07 9:38:12 PM): i love you my precious princess@};-
kayla_princess94 (09/30/07 9:38:18 PM): i luv u


lorne_a_20014

(09/30/07 9:38:19 PM): i don't ever want to lose you
kayla_princess94 (09/30/07 9:38:26 PM): u wont


lorne_a_20014

(09/30/07 9:38:33 PM): promise??
kayla_princess94 (09/30/07 9:38:42 PM): i promise


lorne_a_20014

(09/30/07 9:38:48 PM): :D


lorne_a_20014

(09/30/07 9:39:03 PM): i'm feeling better now lol
kayla_princess94 (09/30/07 9:39:14 PM): :D


lorne_a_20014

(09/30/07 9:39:34 PM): what makes you love me so much? what did i do that was right? lol
kayla_princess94 (09/30/07 9:40:17 PM): idk ur very sweet 2 me all the time


lorne_a_20014

(09/30/07 9:40:35 PM): you're my little goddess, how can i not be sweet to you lol
kayla_princess94 (09/30/07 9:41:12 PM): :)


lorne_a_20014

(09/30/07 9:41:44 PM): what are you HONESTLY thinking about right now? i mean tell me even if it's you thinking about painting your fingernails even lol
kayla_princess94 (09/30/07 9:42:11 PM): hmm i was thinkin bout doin that lol
kayla_princess94 (09/30/07 9:42:13 PM): how u know


lorne_a_20014

(09/30/07 9:42:16 PM): lol


lorne_a_20014

(09/30/07 9:42:48 PM): i didn't know, i was just trying to explain how i wanted to know exactly what you were thinking right at that moment lol
kayla_princess94 (09/30/07 9:43:21 PM): idk just thinkin im glad ur here
kayla_princess94 (09/30/07 9:43:36 PM): u know last nite 1st time we didnt talk on here


lorne_a_20014

(09/30/07 9:43:41 PM): i'm glad i am too, i'm glad you are too


lorne_a_20014

(09/30/07 9:44:18 PM): yeah i know, i think that's one of the reasons it bothered me so much.........i'm use to spending my nights with you and i was upset because i didn't last night


lorne_a_20014

(09/30/07 9:44:49 PM): i dont' like not being able to spend my time with you that i get to spend


lorne_a_20014

(09/30/07 9:45:34 PM): i think my friends could tell something was bothering me last night too because i was quiet most of the night, they kept asking me if i was alright because i was so quiet lol
kayla_princess94 (09/30/07 9:45:52 PM): lol
kayla_princess94 (09/30/07 9:46:02 PM): i was gona ask u sumthin


lorne_a_20014

(09/30/07 9:46:07 PM): ok
kayla_princess94 (09/30/07 9:46:29 PM): u got other friends u talk 2 on here
kayla_princess94 (09/30/07 9:46:32 PM): on yahoo


lorne_a_20014

(09/30/07 9:46:53 PM): yeah, well, maybe i should say no because you're the only one i talk to on here any more lol


lorne_a_20014

(09/30/07 9:47:13 PM): i deleted like 7 or 8 people from my list when i met you lol
kayla_princess94 (09/30/07 9:47:24 PM): really


lorne_a_20014

(09/30/07 9:47:30 PM): yup


lorne_a_20014

(09/30/07 9:47:34 PM): want to see my list?
kayla_princess94 (09/30/07 9:47:48 PM): how
kayla_princess94 (09/30/07 9:49:10 PM): lol it was all fuzzy


lorne_a_20014

(09/30/07 9:49:29 PM): i know, i tried to get it to focus on it but it wouldn't lol
kayla_princess94 (09/30/07 9:49:36 PM): lol


lorne_a_20014

(09/30/07 9:50:02 PM): my password is printer if you want to log onto my name so you can see who's on my list though lol
kayla_princess94 (09/30/07 9:50:24 PM): lol
kayla_princess94 (09/30/07 9:50:27 PM): ur silly


lorne_a_20014

(09/30/07 9:50:32 PM): are you surprised i gave you my password?lol
kayla_princess94 (09/30/07 9:50:35 PM): i dont care bout that


lorne_a_20014

(09/30/07 9:51:01 PM): i know, but does that tell you how serious i am about you?lol
kayla_princess94 (09/30/07 9:51:02 PM): i was just wonderin wat ur friends say when they c that by ur name


lorne_a_20014

(09/30/07 9:51:23 PM): they don't see it at all........the only one that even knows i'm online is you lol


lorne_a_20014

(09/30/07 9:51:48 PM): you're the only one that sees my name lit up


lorne_a_20014

(09/30/07 9:52:38 PM): are you wondering how to make it so that i'm the only one that can see your name lit up now?lol
kayla_princess94 (09/30/07 9:52:49 PM): yeah


lorne_a_20014

(09/30/07 9:52:54 PM): lol


lorne_a_20014

(09/30/07 9:52:58 PM): :-*


lorne_a_20014

(09/30/07 9:53:05 PM): ok


lorne_a_20014

(09/30/07 9:53:23 PM): go down to my name and right click on it
kayla_princess94 (09/30/07 9:53:35 PM): yeah


lorne_a_20014

(09/30/07 9:54:03 PM): when the list comes up go down to stealth settings


lorne_a_20014

(09/30/07 9:54:33 PM): then you'll see what it says after you do that so you can make it so i'm the only one that sees you onling


lorne_a_20014

(09/30/07 9:54:35 PM): online
kayla_princess94 (09/30/07 9:54:36 PM): k
kayla_princess94 (09/30/07 9:55:07 PM): o
kayla_princess94 (09/30/07 9:55:08 PM): k


lorne_a_20014

(09/30/07 9:55:45 PM): are you doing it?
kayla_princess94 (09/30/07 9:55:49 PM): yeah
kayla_princess94 (09/30/07 9:56:17 PM): did i do it rite


lorne_a_20014

(09/30/07 9:56:21 PM): i see my baby:D:-*:x
kayla_princess94 (09/30/07 9:56:44 PM): lol


lorne_a_20014

(09/30/07 9:56:52 PM): look at your list up top, does it say that only 1 person can see you online?
kayla_princess94 (09/30/07 9:57:17 PM): no


lorne_a_20014

(09/30/07 9:58:11 PM): on mine it says (appear online to one contact and offline to 4 contacts)
kayla_princess94 (09/30/07 9:58:42 PM): how u do that


lorne_a_20014

(09/30/07 9:58:53 PM): go invisible again
kayla_princess94 (09/30/07 9:58:59 PM): k
kayla_princess94 (09/30/07 9:59:38 PM): now u cant c me


lorne_a_20014

(09/30/07 9:59:51 PM): ok, now go down to my name and right click on my name


lorne_a_20014

(09/30/07 10:00:06 PM): then go down to stealth settings
kayla_princess94 (09/30/07 10:00:08 PM): k


lorne_a_20014

(09/30/07 10:00:44 PM): ok, now what's it say up top?


lorne_a_20014

(09/30/07 10:00:52 PM): on your friends list


lorne_a_20014

(09/30/07 10:01:07 PM): right about where your mail symbol is
kayla_princess94 (09/30/07 10:01:21 PM): it say available 2 1 contacht


lorne_a_20014

(09/30/07 10:01:37 PM): ok, that's me:D:-*:x
kayla_princess94 (09/30/07 10:01:55 PM): yay i did it


lorne_a_20014

(09/30/07 10:02:04 PM): do you want to know how to put a message next to your name like i did on mine?


lorne_a_20014

(09/30/07 10:02:16 PM): i'll still be the only one that can see it too
kayla_princess94 (09/30/07 10:02:56 PM): yeah


lorne_a_20014

(09/30/07 10:03:56 PM): go to the top of your friends list where it says that you're available to one contact, click on that, then go down to where it says \"new message\"


lorne_a_20014

(09/30/07 10:04:15 PM): click on that then a box will come up and you can type what ever you want to in it


lorne_a_20014

(09/30/07 10:04:58 PM): lol


lorne_a_20014

(09/30/07 10:05:05 PM): i see it precious lol
kayla_princess94 (09/30/07 10:05:09 PM): kewl


lorne_a_20014

(09/30/07 10:05:30 PM): you certainly didn't lie about what you put next to your name


lorne_a_20014

(09/30/07 10:05:33 PM): except


lorne_a_20014

(09/30/07 10:05:52 PM): it should say, \" kayla is lornes precious princess\" lol
kayla_princess94 (09/30/07 10:06:08 PM): noooooo


lorne_a_20014

(09/30/07 10:06:13 PM): yeah lol


lorne_a_20014

(09/30/07 10:06:22 PM): i'm the only one that can see it remember?lol
kayla_princess94 (09/30/07 10:07:22 PM): no cuz if i am on i dont want jessie or haley or maria or any1 2 c it they wuld wanna know who u r
kayla_princess94 (09/30/07 10:07:32 PM): they already ask bout u on myspace


lorne_a_20014

(09/30/07 10:07:36 PM): ok


lorne_a_20014

(09/30/07 10:07:38 PM): lol


lorne_a_20014

(09/30/07 10:07:44 PM): what did you tell them?lol
kayla_princess94 (09/30/07 10:08:15 PM): i just told them u was 1 of my dads friends lol


lorne_a_20014

(09/30/07 10:08:21 PM): lol
kayla_princess94 (09/30/07 10:08:25 PM): they thought i was wierd


lorne_a_20014

(09/30/07 10:08:30 PM): lol


lorne_a_20014

(09/30/07 10:08:46 PM): they'll learn who i am in about 4 years lol
kayla_princess94 (09/30/07 10:09:03 PM): lol
kayla_princess94 (09/30/07 10:09:04 PM): yeah


lorne_a_20014

(09/30/07 10:09:25 PM): did you find out when in october your parents are going away for the weekend?
kayla_princess94 (09/30/07 10:09:58 PM): no not yet


lorne_a_20014

(09/30/07 10:10:18 PM): ok, you'll have to find out soon, october starts tomorrow lol
kayla_princess94 (09/30/07 10:10:28 PM): lol yeah
kayla_princess94 (09/30/07 10:10:36 PM): u still got a cold or sumthin


lorne_a_20014

(09/30/07 10:10:59 PM): yes, my chest cold still isn't gone yet, it's close but it's still hanging in there a little
kayla_princess94 (09/30/07 10:11:14 PM): aww
kayla_princess94 (09/30/07 10:11:19 PM): sry 4 u


lorne_a_20014

(09/30/07 10:11:41 PM): want to come rub my penis, i mean my chest and help me feel better?lol
kayla_princess94 (09/30/07 10:11:53 PM): lol
kayla_princess94 (09/30/07 10:11:55 PM): goofy


lorne_a_20014

(09/30/07 10:12:01 PM): :-*
kayla_princess94 (09/30/07 10:12:12 PM): :-*


lorne_a_20014

(09/30/07 10:12:26 PM): so how are we gonna do this when your parents go away for the weekend?
kayla_princess94 (09/30/07 10:12:39 PM): do wat


lorne_a_20014

(09/30/07 10:13:03 PM): it's not like i can just drive my truck right to your house without someone seeing it
kayla_princess94 (09/30/07 10:13:20 PM): hmm y not


lorne_a_20014

(09/30/07 10:13:34 PM): how close are your nearest neighbors?
kayla_princess94 (09/30/07 10:13:46 PM): in the dark:D


lorne_a_20014

(09/30/07 10:13:57 PM): :D
kayla_princess94 (09/30/07 10:14:04 PM): ur 1 of my dads friends remember lol
kayla_princess94 (09/30/07 10:14:13 PM): hey i know checkin on me
kayla_princess94 (09/30/07 10:14:17 PM): :D


lorne_a_20014

(09/30/07 10:14:54 PM): yeah but you still don't want them to go telling your parents that someone drove in their driveway while they were gone lol


lorne_a_20014

(09/30/07 10:15:13 PM): how close are your nearest neighbors?
kayla_princess94 (09/30/07 10:15:15 PM): they dont pay no mind
kayla_princess94 (09/30/07 10:15:24 PM): crap brb


lorne_a_20014

(09/30/07 10:15:28 PM): ok
kayla_princess94 (09/30/07 10:24:29 PM): dumb parents r so buggy


lorne_a_20014

(09/30/07 10:24:34 PM): lol


lorne_a_20014

(09/30/07 10:24:47 PM): how close are your neighbors to you?
kayla_princess94 (09/30/07 10:25:00 PM): gawwwwwwwwwd brb


lorne_a_20014

(09/30/07 10:25:05 PM): lol
kayla_princess94 (09/30/07 10:28:23 PM): geez


lorne_a_20014

(09/30/07 10:28:29 PM): :-*
kayla_princess94 (09/30/07 10:28:47 PM): i got neighbors but theys never home much anyways
kayla_princess94 (09/30/07 10:28:55 PM): dont worries bout them


lorne_a_20014

(09/30/07 10:29:26 PM): well we kind of have to, we have to pay attention to every little thing because we can't get caught
kayla_princess94 (09/30/07 10:30:07 PM): k


lorne_a_20014

(09/30/07 10:30:13 PM): what size bed do you have?
kayla_princess94 (09/30/07 10:30:44 PM): like a double i think thats wat u call it


lorne_a_20014

(09/30/07 10:31:04 PM): so there's plenty of room for both of us then?
kayla_princess94 (09/30/07 10:31:13 PM): lol yeah


lorne_a_20014

(09/30/07 10:31:18 PM): :D
kayla_princess94 (09/30/07 10:31:26 PM): :)


lorne_a_20014

(09/30/07 10:31:44 PM): i'm gonna be holding you close to me all night anyway:D:-*:x
kayla_princess94 (09/30/07 10:31:52 PM): aww how sweet


lorne_a_20014

(09/30/07 10:32:10 PM): and you'll be wearing the same kind of pj's that i wear too lol


lorne_a_20014

(09/30/07 10:32:14 PM): :D
kayla_princess94 (09/30/07 10:32:27 PM): :\">


lorne_a_20014

(09/30/07 10:32:38 PM): do you think you're gonna like that?
kayla_princess94 (09/30/07 10:32:53 PM): yay
kayla_princess94 (09/30/07 10:32:54 PM): yeah
kayla_princess94 (09/30/07 10:32:58 PM): :\">


lorne_a_20014

(09/30/07 10:33:02 PM): :D:-*
kayla_princess94 (09/30/07 10:33:13 PM): :D


lorne_a_20014

(09/30/07 10:33:22 PM): ok, now we have to figure this out precious
kayla_princess94 (09/30/07 10:33:29 PM): k


lorne_a_20014

(09/30/07 10:33:44 PM): how much woods are there where you live?
kayla_princess94 (09/30/07 10:34:38 PM): brb


lorne_a_20014

(09/30/07 10:34:52 PM): do you live in a place where there's alot of houses and stores and stuff or is there a place where i can park my truck in the woods and walk to your house?
kayla_princess94 (09/30/07 10:35:23 PM): gawwwwwwwwwd i hate them


lorne_a_20014

(09/30/07 10:35:26 PM): lol
kayla_princess94 (09/30/07 10:35:27 PM): i gotta go like now


lorne_a_20014

(09/30/07 10:35:32 PM): why?
kayla_princess94 (09/30/07 10:35:33 PM): :((
kayla_princess94 (09/30/07 10:35:40 PM): cuz they r nuts
kayla_princess94 (09/30/07 10:35:48 PM): well just being dumb\


lorne_a_20014

(09/30/07 10:35:50 PM): are you gonna come back on?
kayla_princess94 (09/30/07 10:35:58 PM): 2morrow


lorne_a_20014

(09/30/07 10:36:04 PM): damn
kayla_princess94 (09/30/07 10:36:12 PM): if i dont they will ground me from puter
kayla_princess94 (09/30/07 10:36:17 PM): and i wuld go crazy
kayla_princess94 (09/30/07 10:36:23 PM): :(


lorne_a_20014

(09/30/07 10:36:30 PM): ok, i love you and i'll talk to you tomorrow when i get home from work
kayla_princess94 (09/30/07 10:36:33 PM): ttyl luv u
kayla_princess94 (09/30/07 10:36:40 PM): k


lorne_a_20014

(09/30/07 10:36:42 PM): and keep thinking about how we're gonna do this too ok?
kayla_princess94 (09/30/07 10:36:48 PM): k
kayla_princess94 (09/30/07 10:36:49 PM): i wil


lorne_a_20014

(09/30/07 10:36:50 PM): delete your archives and here
kayla_princess94 (09/30/07 10:36:55 PM): k


lorne_a_20014

(09/30/07 10:37:22 PM): couldn't forget your nightly view lol
kayla_princess94 (09/30/07 10:37:31 PM): lol k done
kayla_princess94 (09/30/07 10:37:36 PM): nite


lorne_a_20014

(09/30/07 10:37:43 PM): i love you my precious princess@};-


lorne_a_20014

(09/30/07 10:38:12 PM): dream about me


lorne_a_20014

(09/30/07 10:39:00 PM): did you forget to turn off my cam precious?lol


lorne_a_20014

(09/30/07 10:41:46 PM): i love you@};-


lorne_a_20014

(09/30/07 10:59:26 PM): i want my precious princess back:-<


lorne_a_20014

(09/30/07 11:26:44 PM): god i want you back on here with me precious, i'm really missing you alot@};-:-*>:D<:x:-<


lorne_a_20014

(10/01/07 7:34:41 AM): good morning my precious princess, i love you@};->:D<:-*:x


lorne_a_20014

(10/01/07 8:42:25 AM): i miss my baby girl:-

lorne_a_20014

(10/01/07 9:18:48 AM): i am so sad right now, i want my baby girl:-<


lorne_a_20014

(10/01/07 11:11:56 AM): i changed my password precious, my new password is \"kaylamarie\"@};-:-*:x


lorne_a_20014

(10/01/07 12:32:13 PM): i'm going to work now precious, i love you@};-
kayla_princess94 (10/01/07 7:31:30 PM): i miss u:(
kayla_princess94 (10/01/07 7:31:38 PM): ;;)
kayla_princess94 (10/01/07 7:31:45 PM): luv u
kayla_princess94 (10/01/07 8:45:00 PM): i just read the poem u wrote 4 me in my myspace mail how sweet i luv it
kayla_princess94 (10/01/07 8:45:09 PM): :D
kayla_princess94 (10/01/07 8:45:16 PM): :x
kayla_princess94 (10/01/07 9:46:14 PM): :-<
kayla_princess94 (10/01/07 9:50:58 PM): 8->
kayla_princess94 (10/01/07 10:19:49 PM): :-<
kayla_princess94 (10/01/07 10:19:53 PM): :(
kayla_princess94 (10/01/07 10:22:46 PM): guess ur not gona b here 2nite:(


lorne_a_20014

(10/01/07 10:26:47 PM): i love you
kayla_princess94 (10/01/07 10:27:06 PM): :DYAY ur back


lorne_a_20014

(10/01/07 10:27:21 PM): why did you think i wasn't going to be here tonight?
kayla_princess94 (10/01/07 10:27:28 PM): idk


lorne_a_20014

(10/01/07 10:27:30 PM): lol


lorne_a_20014

(10/01/07 10:27:44 PM): i miss you so bad it's not even funn baby


lorne_a_20014

(10/01/07 10:27:47 PM): funny
kayla_princess94 (10/01/07 10:28:09 PM): i was really missin u


lorne_a_20014

(10/01/07 10:28:42 PM): don't make any plans for this weekend ok? i want both saturday and sunday with you ok?
kayla_princess94 (10/01/07 10:28:50 PM): k


lorne_a_20014

(10/01/07 10:28:57 PM): :-*
kayla_princess94 (10/01/07 10:29:06 PM): wat if my parents make me do sumthin


lorne_a_20014

(10/01/07 10:29:08 PM): i need to get undressed
kayla_princess94 (10/01/07 10:29:19 PM): k


lorne_a_20014

(10/01/07 10:29:21 PM): well that's kind of different, we can't really do anything about that
kayla_princess94 (10/01/07 10:29:58 PM): aww look at bud i think he wants 2 play


lorne_a_20014

(10/01/07 10:30:06 PM): yeah i know lol


lorne_a_20014

(10/01/07 10:30:10 PM): he misses me lol
kayla_princess94 (10/01/07 10:30:19 PM): well yeah


lorne_a_20014

(10/01/07 10:30:36 PM): omg i miss you so much precious@};-
kayla_princess94 (10/01/07 10:30:49 PM): i miss u2


lorne_a_20014

(10/01/07 10:30:56 PM): how did your day go?
kayla_princess94 (10/01/07 10:31:04 PM): awful


lorne_a_20014

(10/01/07 10:31:07 PM): why?
kayla_princess94 (10/01/07 10:31:36 PM): cuz all i thought bout was u and i was mad at my parents 4 making me leave u last nite


lorne_a_20014

(10/01/07 10:31:52 PM): @};-:-*:x>:D<


lorne_a_20014

(10/01/07 10:32:03 PM): i was upset that they made you leave too
kayla_princess94 (10/01/07 10:32:06 PM): >:D<:-*


lorne_a_20014

(10/01/07 10:32:26 PM): but we really can't do anything about it for a while so we kind of have to deal with it
kayla_princess94 (10/01/07 10:32:55 PM): wat u doin


lorne_a_20014

(10/01/07 10:33:18 PM): i was going available to just you
kayla_princess94 (10/01/07 10:33:35 PM): o lol


lorne_a_20014

(10/01/07 10:33:42 PM): see what's next to my name?


lorne_a_20014

(10/01/07 10:34:03 PM): what are you doing?
kayla_princess94 (10/01/07 10:34:07 PM): yeah
kayla_princess94 (10/01/07 10:34:20 PM): my puter locked up 4 a sec


lorne_a_20014

(10/01/07 10:34:24 PM): oh


lorne_a_20014

(10/01/07 10:34:33 PM): am i the only one that can see you online too?
kayla_princess94 (10/01/07 10:34:38 PM): yeah


lorne_a_20014

(10/01/07 10:34:48 PM): :D:-*
kayla_princess94 (10/01/07 10:34:58 PM): :-*:x


lorne_a_20014

(10/01/07 10:35:02 PM): hang on ok? i want to make a pot of coffee ok?
kayla_princess94 (10/01/07 10:35:07 PM): k
kayla_princess94 (10/01/07 10:36:01 PM): bowling green


lorne_a_20014

(10/01/07 10:37:22 PM): back


lorne_a_20014

(10/01/07 10:37:36 PM): you live in bowling green?
kayla_princess94 (10/01/07 10:37:44 PM): yeah


lorne_a_20014

(10/01/07 10:37:52 PM): :-*:x


lorne_a_20014

(10/01/07 10:38:25 PM): @};- i love you, thank you for trusting me, you'll NEVER regret it baby, i promise@};-:-*:x
kayla_princess94 (10/01/07 10:38:47 PM): :)
kayla_princess94 (10/01/07 10:38:53 PM): luv u 2


lorne_a_20014

(10/01/07 10:39:03 PM): it took alot for you to tell me though huh?lol
kayla_princess94 (10/01/07 10:39:15 PM): yeah


lorne_a_20014

(10/01/07 10:39:24 PM): good, i was hoping it would lol


lorne_a_20014

(10/01/07 10:40:04 PM): don't EVER tell ANYONE else from the internet though.........i know me so i know you're safe, i don't trust anyone else from the internet except you
kayla_princess94 (10/01/07 10:40:27 PM): k


lorne_a_20014

(10/01/07 10:40:41 PM): you wont need to tell anyone else from the internet anyway because we're gonna be together forever anyway@};-:-*:x


lorne_a_20014

(10/01/07 10:40:50 PM): atleast that's what i'm hoping for
kayla_princess94 (10/01/07 10:40:58 PM): :D


lorne_a_20014

(10/01/07 10:41:04 PM): :x


lorne_a_20014

(10/01/07 10:41:08 PM): :-*
kayla_princess94 (10/01/07 10:41:09 PM): me 2


lorne_a_20014

(10/01/07 10:41:14 PM): :D
kayla_princess94 (10/01/07 10:41:18 PM): :-*


lorne_a_20014

(10/01/07 10:41:22 PM): i have news for you too
kayla_princess94 (10/01/07 10:41:31 PM): wat


lorne_a_20014

(10/01/07 10:41:50 PM): i'm going to start looking tomorrow for a day time job so i can have more time with you at night


lorne_a_20014

(10/01/07 10:42:03 PM): i have to keep the job i have now until i find one though
kayla_princess94 (10/01/07 10:42:05 PM): YAY


lorne_a_20014

(10/01/07 10:42:12 PM): :-*:x
kayla_princess94 (10/01/07 10:42:15 PM): k
kayla_princess94 (10/01/07 10:42:42 PM): i got a surprize 4 u


lorne_a_20014

(10/01/07 10:42:47 PM): what?
kayla_princess94 (10/01/07 10:42:55 PM): just a min brb


lorne_a_20014

(10/01/07 10:42:58 PM): ok
kayla_princess94 (10/01/07 10:46:31 PM): k im back


lorne_a_20014

(10/01/07 10:46:39 PM): :D:-*
kayla_princess94 (10/01/07 10:46:49 PM): :-*


lorne_a_20014

(10/01/07 10:46:56 PM): god i love you@};-
kayla_princess94 (10/01/07 10:47:02 PM): i luv u 2
kayla_princess94 (10/01/07 10:47:07 PM): so anyways
kayla_princess94 (10/01/07 10:48:16 PM): my parents r goin away oct 18 to 21


lorne_a_20014

(10/01/07 10:48:22 PM): :D


lorne_a_20014

(10/01/07 10:48:39 PM): do you remember what oct 18th is?
kayla_princess94 (10/01/07 10:48:52 PM): yep
kayla_princess94 (10/01/07 10:48:55 PM): ur bday


lorne_a_20014

(10/01/07 10:49:01 PM): :D:-*:x
kayla_princess94 (10/01/07 10:49:07 PM): :-*


lorne_a_20014

(10/01/07 10:49:19 PM): you're the best b-day present i could EVER have too@};-
kayla_princess94 (10/01/07 10:49:32 PM): :D


lorne_a_20014

(10/01/07 10:49:51 PM): are you excited and anxious for it to be here?lol
kayla_princess94 (10/01/07 10:49:59 PM): YES


lorne_a_20014

(10/01/07 10:50:07 PM): me too:D


lorne_a_20014

(10/01/07 10:50:12 PM): :-*
kayla_princess94 (10/01/07 10:50:31 PM): :-*


lorne_a_20014

(10/01/07 10:50:32 PM): can you hang on precious, bud's getting antsy about going to the bathroom lol
kayla_princess94 (10/01/07 10:50:43 PM): k lol


lorne_a_20014

(10/01/07 10:51:16 PM): brb
kayla_princess94 (10/01/07 10:51:26 PM): k


lorne_a_20014

(10/01/07 10:54:53 PM): back precious
kayla_princess94 (10/01/07 10:55:04 PM): YAY


lorne_a_20014

(10/01/07 10:55:08 PM): :-*


lorne_a_20014

(10/01/07 10:55:21 PM): omg i can't wait to be with you:D:x
kayla_princess94 (10/01/07 10:55:31 PM): me 2


lorne_a_20014

(10/01/07 10:56:09 PM): you'll have to call me this weekend, hopefully your parents will go out either friday or saturday night
kayla_princess94 (10/01/07 10:56:19 PM): k


lorne_a_20014

(10/01/07 10:56:31 PM): what are you wearing right now?
kayla_princess94 (10/01/07 10:56:55 PM): still in my jeans i havent taken my shower yet


lorne_a_20014

(10/01/07 10:57:08 PM): what are you wearing for a top?
kayla_princess94 (10/01/07 10:57:22 PM): pink t shirt


lorne_a_20014

(10/01/07 10:57:32 PM): what color panties and bra?
kayla_princess94 (10/01/07 10:57:57 PM): pink


lorne_a_20014

(10/01/07 10:58:21 PM): just think, 17 more days and i'll be able to see them:D:-*:x
kayla_princess94 (10/01/07 10:58:22 PM): hope ur cold goes away
kayla_princess94 (10/01/07 10:58:27 PM): i dont want it
kayla_princess94 (10/01/07 10:58:27 PM): lol


lorne_a_20014

(10/01/07 10:58:30 PM): lol
kayla_princess94 (10/01/07 10:58:45 PM): yep
kayla_princess94 (10/01/07 10:58:45 PM): :)


lorne_a_20014

(10/01/07 10:58:47 PM): it's almost gone now, don't worry, i'll make sure it's gone lol
kayla_princess94 (10/01/07 10:59:02 PM): :)


lorne_a_20014

(10/01/07 10:59:18 PM): we're gonna have to do alot of planning on the phone, you know that right?
kayla_princess94 (10/01/07 10:59:33 PM): k


lorne_a_20014

(10/01/07 10:59:54 PM): so tell me precious, what are you thinking about right now?
kayla_princess94 (10/01/07 11:00:23 PM): how i cant wait 2 c u


lorne_a_20014

(10/01/07 11:00:30 PM): :D


lorne_a_20014

(10/01/07 11:00:39 PM): that's what i'm thinking about too lol
kayla_princess94 (10/01/07 11:00:50 PM): lol


lorne_a_20014

(10/01/07 11:00:57 PM): do you know what time they're leaving on the 18th?
kayla_princess94 (10/01/07 11:01:09 PM): hmm not shur
kayla_princess94 (10/01/07 11:01:15 PM): ill find out


lorne_a_20014

(10/01/07 11:01:43 PM): whatever you do don't make it too obvious that you want them to leave, they'll wonder about something being up lol
kayla_princess94 (10/01/07 11:01:57 PM): yeah lol


lorne_a_20014

(10/01/07 11:02:00 PM): got a pen and piece of paper?
kayla_princess94 (10/01/07 11:02:14 PM): yeah


lorne_a_20014

(10/01/07 11:02:18 PM): 2


lorne_a_20014

(10/01/07 11:02:21 PM): 0


lorne_a_20014

(10/01/07 11:02:23 PM): 7


lorne_a_20014

(10/01/07 11:02:25 PM): 4


lorne_a_20014

(10/01/07 11:02:26 PM): 3


lorne_a_20014

(10/01/07 11:02:28 PM): 1


lorne_a_20014

(10/01/07 11:02:40 PM): hang on, i can't remember the rest of it lol


lorne_a_20014

(10/01/07 11:03:19 PM): 9


lorne_a_20014

(10/01/07 11:03:20 PM): 6


lorne_a_20014

(10/01/07 11:03:21 PM): 8


lorne_a_20014

(10/01/07 11:03:22 PM): 9
kayla_princess94 (10/01/07 11:03:38 PM): k wats that


lorne_a_20014

(10/01/07 11:03:42 PM): cell
kayla_princess94 (10/01/07 11:03:46 PM): o
kayla_princess94 (10/01/07 11:03:47 PM): kewl


lorne_a_20014

(10/01/07 11:04:14 PM): so don't ask them what time they're leaving ok? we don't want them to know what we're doing
kayla_princess94 (10/01/07 11:04:23 PM): k


lorne_a_20014

(10/01/07 11:04:34 PM): instead you can use your c card on that to tell me when they do


lorne_a_20014

(10/01/07 11:05:00 PM): but you might have to get another c card if you use the other one all up when you call me this weekend lol
kayla_princess94 (10/01/07 11:05:11 PM): k
kayla_princess94 (10/01/07 11:05:21 PM): they prolly will tell me anyways lol


lorne_a_20014

(10/01/07 11:05:36 PM): ok, good, let them tell you but don't ask them ok?lol
kayla_princess94 (10/01/07 11:05:43 PM): k


lorne_a_20014

(10/01/07 11:06:04 PM): i love you my precious princess@};->:D<:-*:x
kayla_princess94 (10/01/07 11:06:16 PM): i luv u 2
kayla_princess94 (10/01/07 11:06:34 PM): o and those neighbors that live next door


lorne_a_20014

(10/01/07 11:06:39 PM): yup
kayla_princess94 (10/01/07 11:07:02 PM): they r gona b gone then 2 guess they r goin on sum cruis or sumthin


lorne_a_20014

(10/01/07 11:07:14 PM): really??lol


lorne_a_20014

(10/01/07 11:07:18 PM): :D
kayla_princess94 (10/01/07 11:07:19 PM): yep


lorne_a_20014

(10/01/07 11:07:26 PM): how did you find that out?
kayla_princess94 (10/01/07 11:07:45 PM): heard them talkin 2 my dad
kayla_princess94 (10/01/07 11:07:53 PM): ;)


lorne_a_20014

(10/01/07 11:07:55 PM): awesome:D


lorne_a_20014

(10/01/07 11:08:38 PM): you should still probably find a place where i can park my truck though, we need to take every step that we can to be cautious lol
kayla_princess94 (10/01/07 11:08:49 PM): hmm
kayla_princess94 (10/01/07 11:09:05 PM): theres no house on the other side just a road


lorne_a_20014

(10/01/07 11:09:26 PM): how far away from your house is that?
kayla_princess94 (10/01/07 11:09:49 PM): next 2 it


lorne_a_20014

(10/01/07 11:09:56 PM): :D


lorne_a_20014

(10/01/07 11:10:06 PM): where does the road lead to?
kayla_princess94 (10/01/07 11:10:31 PM): not shur we just moved here its our new house


lorne_a_20014

(10/01/07 11:10:39 PM): oh ok


lorne_a_20014

(10/01/07 11:11:03 PM): hopefully i'll be able to find a little part where i can park my truck off to the side a little
kayla_princess94 (10/01/07 11:11:14 PM): yeah prolly


lorne_a_20014

(10/01/07 11:11:33 PM): do you realize you're only about an hour away from me?:D
kayla_princess94 (10/01/07 11:12:03 PM): yeah i know nashville not far lots of ppl from here go there


lorne_a_20014

(10/01/07 11:12:16 PM): :D:-*:x
kayla_princess94 (10/01/07 11:12:27 PM): :D


lorne_a_20014

(10/01/07 11:12:31 PM): i am soooooooo anxious to be with you@};-
kayla_princess94 (10/01/07 11:12:45 PM): :D


lorne_a_20014

(10/01/07 11:13:10 PM): are you sure you're ready to be naked with me?lol
kayla_princess94 (10/01/07 11:13:37 PM): yes:\">


lorne_a_20014

(10/01/07 11:13:45 PM): :D:x


lorne_a_20014

(10/01/07 11:13:49 PM): :-*
kayla_princess94 (10/01/07 11:13:58 PM): :x:-*


lorne_a_20014

(10/01/07 11:13:59 PM): are you anxious for that?lol
kayla_princess94 (10/01/07 11:14:14 PM): yes


lorne_a_20014

(10/01/07 11:14:20 PM): :D


lorne_a_20014

(10/01/07 11:14:23 PM): :-*


lorne_a_20014

(10/01/07 11:14:26 PM): me too lol


lorne_a_20014

(10/01/07 11:14:58 PM): god i wish i could marry you right now
kayla_princess94 (10/01/07 11:15:06 PM): :D


lorne_a_20014

(10/01/07 11:15:23 PM): just think, 4 1/2 more years
kayla_princess94 (10/01/07 11:15:55 PM): long time:(


lorne_a_20014

(10/01/07 11:16:17 PM): actually it might seem like a long time, but it really goes by quite fast lol
kayla_princess94 (10/01/07 11:16:36 PM): idk sound like 4ever


lorne_a_20014

(10/01/07 11:17:11 PM): but it isn't, and just think about how happy we'll be when it the day comes that we can be together with no worries
kayla_princess94 (10/01/07 11:17:23 PM): yep


lorne_a_20014

(10/01/07 11:17:43 PM): it's worth the wait for me to be able to be with you forever@};-
kayla_princess94 (10/01/07 11:17:59 PM): aww


lorne_a_20014

(10/01/07 11:18:13 PM): i have a question for you


lorne_a_20014

(10/01/07 11:18:41 PM): who are the other 2 girls in this pic


lorne_a_20014

(10/01/07 11:19:20 PM): i was staring at you today in this pic and i started wondering who the other 2 werelol
kayla_princess94 (10/01/07 11:19:37 PM): lol
kayla_princess94 (10/01/07 11:19:38 PM): y u think there cute


lorne_a_20014

(10/01/07 11:20:12 PM): yes they are cute, but honestly they're not even close to as beuatiful as you are though


lorne_a_20014

(10/01/07 11:20:28 PM): you're my precious princess so nobody is as beautiful to me as you are
kayla_princess94 (10/01/07 11:20:45 PM): :D


lorne_a_20014

(10/01/07 11:20:47 PM): i was just curious if one was jess and if one was haley


lorne_a_20014

(10/01/07 11:20:48 PM): lol
kayla_princess94 (10/01/07 11:20:59 PM): no


lorne_a_20014

(10/01/07 11:21:02 PM): or maria
kayla_princess94 (10/01/07 11:21:13 PM): no lol
kayla_princess94 (10/01/07 11:22:09 PM): the grl wit the dark hair is sarah another of my friends and the blond girl is cassie my cuzin thats me in the middle


lorne_a_20014

(10/01/07 11:22:58 PM): i know that's you in the middle.........like i said, nobody in the world is as beautiful as you so i knew where you were lol@};-:-*:x


lorne_a_20014

(10/01/07 11:23:26 PM): i actually have that pic up right now and staring at you lol
kayla_princess94 (10/01/07 11:23:36 PM): really


lorne_a_20014

(10/01/07 11:23:38 PM): want to see?lol
kayla_princess94 (10/01/07 11:23:43 PM): yeah
kayla_princess94 (10/01/07 11:25:02 PM): :)


lorne_a_20014

(10/01/07 11:25:04 PM): :-*:x
kayla_princess94 (10/01/07 11:25:19 PM): :x


lorne_a_20014

(10/01/07 11:25:33 PM): i'm very much in love with you precious@};-:-*:x
kayla_princess94 (10/01/07 11:25:57 PM): aww ur so sweet
kayla_princess94 (10/01/07 11:26:03 PM): o i luv ur poem
kayla_princess94 (10/01/07 11:26:16 PM): u write that just 4 me


lorne_a_20014

(10/01/07 11:26:28 PM): good, i couldn't help but write you another one, you're all i could think about today lol


lorne_a_20014

(10/01/07 11:26:33 PM): yes i did
kayla_princess94 (10/01/07 11:26:40 PM): :D


lorne_a_20014

(10/01/07 11:26:47 PM): you're the only one i'll write poems for now lol
kayla_princess94 (10/01/07 11:27:00 PM): kewl


lorne_a_20014

(10/01/07 11:27:10 PM): well, except for my mom, i'll write one for her every once in a while lol
kayla_princess94 (10/01/07 11:27:21 PM): aww thats nice


lorne_a_20014

(10/01/07 11:28:02 PM): i'm so happy that i found you@};- i'm a lucky guy to have you precious@};-


lorne_a_20014

(10/01/07 11:28:11 PM): i'll make sure you always know that too
kayla_princess94 (10/01/07 11:28:23 PM): im happy u found me 2


lorne_a_20014

(10/01/07 11:28:35 PM): :D:-*:x
kayla_princess94 (10/01/07 11:28:47 PM): :x:-*


lorne_a_20014

(10/01/07 11:28:47 PM): i wish i could get in the shower with you tonight lol
kayla_princess94 (10/01/07 11:29:01 PM): lol


lorne_a_20014

(10/01/07 11:29:24 PM): would you let me wash your body if i were in the shower with you tonight?lol
kayla_princess94 (10/01/07 11:29:37 PM): yeah that mite b fun


lorne_a_20014

(10/01/07 11:29:43 PM): :D


lorne_a_20014

(10/01/07 11:29:53 PM): yes it would, want to do that when i'm there?
kayla_princess94 (10/01/07 11:30:02 PM): yeah kewl


lorne_a_20014

(10/01/07 11:30:10 PM): :D:-*:x
kayla_princess94 (10/01/07 11:30:19 PM): :x


lorne_a_20014

(10/01/07 11:30:36 PM): do you want to wash mine?lol
kayla_princess94 (10/01/07 11:30:46 PM): yeah kewl


lorne_a_20014

(10/01/07 11:30:52 PM): really?
kayla_princess94 (10/01/07 11:31:08 PM): yeah:\">


lorne_a_20014

(10/01/07 11:31:11 PM): :D


lorne_a_20014

(10/01/07 11:31:30 PM): you really love me alot huh?
kayla_princess94 (10/01/07 11:31:43 PM): yes:D


lorne_a_20014

(10/01/07 11:31:50 PM): :D


lorne_a_20014

(10/01/07 11:31:59 PM): good, because i really love you alot too


lorne_a_20014

(10/01/07 11:32:06 PM): @};-
kayla_princess94 (10/01/07 11:32:10 PM): :D


lorne_a_20014

(10/01/07 11:32:28 PM): you just made my penis big by telling me that, want to see?lol
kayla_princess94 (10/01/07 11:32:38 PM): lol
kayla_princess94 (10/01/07 11:32:40 PM): yeah


lorne_a_20014

(10/01/07 11:33:31 PM): was that good or did you want to see it longer?lol
kayla_princess94 (10/01/07 11:33:41 PM): that was good


lorne_a_20014

(10/01/07 11:33:45 PM): ok lol


lorne_a_20014

(10/01/07 11:33:51 PM): :-*


lorne_a_20014

(10/01/07 11:33:59 PM): what are you thinking about now?
kayla_princess94 (10/01/07 11:34:25 PM): i cant wait till i c u irl


lorne_a_20014

(10/01/07 11:34:34 PM): :D


lorne_a_20014

(10/01/07 11:34:37 PM): me too


lorne_a_20014

(10/01/07 11:34:45 PM): brb, need coffee
kayla_princess94 (10/01/07 11:35:02 PM): k


lorne_a_20014

(10/01/07 11:36:10 PM): back
kayla_princess94 (10/01/07 11:36:26 PM): u need sum1 2 clean ur room its messy


lorne_a_20014

(10/01/07 11:36:31 PM): lol
kayla_princess94 (10/01/07 11:36:35 PM): lol


lorne_a_20014

(10/01/07 11:36:36 PM): do you want to?
kayla_princess94 (10/01/07 11:36:49 PM): i wuld if i was there


lorne_a_20014

(10/01/07 11:36:51 PM): is it messier than your room was?lol
kayla_princess94 (10/01/07 11:37:06 PM): ummm no
kayla_princess94 (10/01/07 11:37:07 PM): lol


lorne_a_20014

(10/01/07 11:37:10 PM): lol


lorne_a_20014

(10/01/07 11:37:21 PM): you probably didn't think i remembered that huh?lol
kayla_princess94 (10/01/07 11:37:36 PM): yeah i thought u wuld 4get


lorne_a_20014

(10/01/07 11:37:40 PM): lol


lorne_a_20014

(10/01/07 11:37:50 PM): sorry, next time i'll forget ok?lol
kayla_princess94 (10/01/07 11:38:05 PM): k
kayla_princess94 (10/01/07 11:38:07 PM): lol


lorne_a_20014

(10/01/07 11:38:33 PM): what are you thinking about while you're looking at me?


lorne_a_20014

(10/01/07 11:38:34 PM): lol


lorne_a_20014

(10/01/07 11:38:47 PM): i love knowing what you're thinking did you notice that?lol
kayla_princess94 (10/01/07 11:38:48 PM): 8->


lorne_a_20014

(10/01/07 11:39:01 PM): :-*:x


lorne_a_20014

(10/01/07 11:39:33 PM): that's what i'm thinking when i'm staring at your pics too..........all i can think is \"omg what a goddess\"


lorne_a_20014

(10/01/07 11:39:33 PM): lol


lorne_a_20014

(10/01/07 11:39:50 PM): i am so amazed by how beautiful you are
kayla_princess94 (10/01/07 11:40:16 PM): :\">aww i aint beautiful


lorne_a_20014

(10/01/07 11:40:57 PM): no you're not, you're wayyyyyyyyyyyyyyy passed beautiful, there's no word that describes how beautiful you really are@};-:-*:x
kayla_princess94 (10/01/07 11:41:10 PM): :)
kayla_princess94 (10/01/07 11:41:20 PM): :x


lorne_a_20014

(10/01/07 11:41:32 PM): god i can't wait to be with you :D
kayla_princess94 (10/01/07 11:41:49 PM): me 2


lorne_a_20014

(10/01/07 11:42:05 PM): so how do you like my new password?
kayla_princess94 (10/01/07 11:42:16 PM): kewl
kayla_princess94 (10/01/07 11:42:25 PM): its my name:D


lorne_a_20014

(10/01/07 11:42:33 PM): :D:-*
kayla_princess94 (10/01/07 11:42:45 PM): y u give it 2 me


lorne_a_20014

(10/01/07 11:42:53 PM): because i trust you
kayla_princess94 (10/01/07 11:43:13 PM): u shuldnt b givin out ur passwords goofy


lorne_a_20014

(10/01/07 11:43:44 PM): i know, but i know i don't have to worry about giving it to you....which reminds me of something too


lorne_a_20014

(10/01/07 11:44:53 PM): we both need to make another screen name so and add it onto both of these names too, that way if something happens and one of us lose our screen names or if one of them get stolen we don't have to worry about not finding eachother again lol
kayla_princess94 (10/01/07 11:45:14 PM): huh


lorne_a_20014

(10/01/07 11:45:48 PM): we need to make another screen name so we have more than just this one, well wait, no we don't because we have eachother on myspace too lol


lorne_a_20014

(10/01/07 11:46:07 PM): never mind, i forgot we have eachother on myspace lol
kayla_princess94 (10/01/07 11:46:25 PM): lol


lorne_a_20014

(10/01/07 11:46:47 PM): so what were you thinking about today when you thought about me?
kayla_princess94 (10/01/07 11:47:09 PM): how darn much i miss u 2day


lorne_a_20014

(10/01/07 11:47:14 PM): lol


lorne_a_20014

(10/01/07 11:47:18 PM): :D


lorne_a_20014

(10/01/07 11:47:36 PM): did you have alot of homework today?
kayla_princess94 (10/01/07 11:48:28 PM): no not much


lorne_a_20014

(10/01/07 11:48:46 PM): do you know where your parents are going that weekend?
kayla_princess94 (10/01/07 11:49:26 PM): not shur
kayla_princess94 (10/01/07 11:49:32 PM): yet


lorne_a_20014

(10/01/07 11:49:36 PM): lol
kayla_princess94 (10/01/07 11:49:59 PM): i didnt talk 2 them that long cuz i was still MAD at them


lorne_a_20014

(10/01/07 11:50:04 PM): lol


lorne_a_20014

(10/01/07 11:50:13 PM): i love you :-*
kayla_princess94 (10/01/07 11:50:25 PM): i luv u


lorne_a_20014

(10/01/07 11:50:43 PM): so how many times have you written my name in hearts?lol


lorne_a_20014

(10/01/07 11:51:22 PM): what are you doing precious?
kayla_princess94 (10/01/07 11:51:32 PM): thinkin lol


lorne_a_20014

(10/01/07 11:51:39 PM): about what?
kayla_princess94 (10/01/07 11:51:57 PM): u
kayla_princess94 (10/01/07 11:51:58 PM): lol


lorne_a_20014

(10/01/07 11:52:02 PM): lol


lorne_a_20014

(10/01/07 11:52:05 PM): what are you thinking?lol
kayla_princess94 (10/01/07 11:52:36 PM): well


lorne_a_20014

(10/01/07 11:52:49 PM): well what?lol
kayla_princess94 (10/01/07 11:53:18 PM): i 4get wat we was talkin bout lol


lorne_a_20014

(10/01/07 11:53:40 PM): you was thinking about what when you were just thinking about me?lol
kayla_princess94 (10/01/07 11:54:21 PM): now i confused


lorne_a_20014

(10/01/07 11:54:36 PM): scroll up and read a little lol
kayla_princess94 (10/01/07 11:54:51 PM): k
kayla_princess94 (10/01/07 11:55:35 PM): o how many times i write ur name in hearts
kayla_princess94 (10/01/07 11:55:41 PM): like a million


lorne_a_20014

(10/01/07 11:55:41 PM): oh lol


lorne_a_20014

(10/01/07 11:55:48 PM): :D


lorne_a_20014

(10/01/07 11:56:11 PM): do you write your name in the hearts with mine?
kayla_princess94 (10/01/07 11:56:34 PM): yeah:\">


lorne_a_20014

(10/01/07 11:56:41 PM): :D


lorne_a_20014

(10/01/07 11:56:43 PM): :x


lorne_a_20014

(10/01/07 11:57:00 PM): do you ever write Kayla Marie Armstrong?
kayla_princess94 (10/01/07 11:57:13 PM): ummm yeah


lorne_a_20014

(10/01/07 11:57:17 PM): :D


lorne_a_20014

(10/01/07 11:57:36 PM): i love the sound of that, it fits really good
kayla_princess94 (10/01/07 11:57:51 PM): yeah it does


lorne_a_20014

(10/01/07 11:58:19 PM): have you ever thought about what you'd like to name our kids when we have them?
kayla_princess94 (10/01/07 11:58:45 PM): no lol
kayla_princess94 (10/01/07 11:58:46 PM): u


lorne_a_20014

(10/01/07 11:58:52 PM): yup lol


lorne_a_20014

(10/01/07 11:59:30 PM): if we have a girl i like the name cassidy or hannah and if we have a boy i don't know, i only thought about the girls names lol


lorne_a_20014

(10/01/07 11:59:53 PM): i LOVE your name, but we can't name our little girl the same name as her mom lol


lorne_a_20014

(10/02/07 12:00:11 AM): and i WONT name our little boy after me because i don't like my name lol
kayla_princess94 (10/02/07 12:00:41 AM): wats wrong with it


lorne_a_20014

(10/02/07 12:00:59 AM): it's just not a normal first name so i don't like it lol
kayla_princess94 (10/02/07 12:01:07 AM): lol


lorne_a_20014

(10/02/07 12:01:16 AM): why? do you want to name our little boy after me?


lorne_a_20014

(10/02/07 12:01:21 AM): please say no lol
kayla_princess94 (10/02/07 12:01:37 AM): ummm well i was gona say yes


lorne_a_20014

(10/02/07 12:01:41 AM): damn lol


lorne_a_20014

(10/02/07 12:02:10 AM): we'll do whatever you want to do........you name our little boy and i'll name our little girl.......is that fair?lol
kayla_princess94 (10/02/07 12:02:42 AM): well idk cuz i really dont care 4 that cassidy name but i like hannah


lorne_a_20014

(10/02/07 12:02:56 AM): ok, hannah it is then


lorne_a_20014

(10/02/07 12:03:00 AM): @};-
kayla_princess94 (10/02/07 12:03:01 AM): kewl
kayla_princess94 (10/02/07 12:03:08 AM): :x


lorne_a_20014

(10/02/07 12:03:10 AM): :-*:x


lorne_a_20014

(10/02/07 12:03:43 AM): omg i can't wait to be with you8->


lorne_a_20014

(10/02/07 12:03:50 AM): :x
kayla_princess94 (10/02/07 12:04:02 AM): i cant wait 2
kayla_princess94 (10/02/07 12:04:07 AM): just a min brb


lorne_a_20014

(10/02/07 12:04:09 AM): ok
kayla_princess94 (10/02/07 12:05:23 AM): dam it i gotta go:(


lorne_a_20014

(10/02/07 12:05:30 AM): ok


lorne_a_20014

(10/02/07 12:05:46 AM): god i miss you already, i hate when you have to go:-<


lorne_a_20014

(10/02/07 12:06:09 AM): i love you so much kayla@};-
kayla_princess94 (10/02/07 12:06:11 AM): :((


lorne_a_20014

(10/02/07 12:06:39 AM): just think though, 17 more days
kayla_princess94 (10/02/07 12:06:54 AM): :D
kayla_princess94 (10/02/07 12:06:56 AM): yep


lorne_a_20014

(10/02/07 12:07:18 AM): are you going to go take a shower before bed?
kayla_princess94 (10/02/07 12:07:24 AM): yeah


lorne_a_20014

(10/02/07 12:07:34 AM): what are you gonna think about while you're in there?
kayla_princess94 (10/02/07 12:07:46 AM): u


lorne_a_20014

(10/02/07 12:07:52 AM): :D


lorne_a_20014

(10/02/07 12:08:00 AM): what are you gonna think about while you're thinking about me?
kayla_princess94 (10/02/07 12:08:18 AM): how much i luv u:\">


lorne_a_20014

(10/02/07 12:08:26 AM): :D:x


lorne_a_20014

(10/02/07 12:08:45 AM): think about me washing your body in there too:\">
kayla_princess94 (10/02/07 12:08:53 AM): k


lorne_a_20014

(10/02/07 12:09:06 AM): are you gonna like that thought?
kayla_princess94 (10/02/07 12:09:16 AM): yes
kayla_princess94 (10/02/07 12:09:20 AM): :D


lorne_a_20014

(10/02/07 12:09:22 AM): good:D


lorne_a_20014

(10/02/07 12:09:34 AM): i know i need to stop talking so you don't get in trouble huh?lol
kayla_princess94 (10/02/07 12:09:38 AM): i better get going
kayla_princess94 (10/02/07 12:09:41 AM): yeah


lorne_a_20014

(10/02/07 12:09:46 AM): ok precious


lorne_a_20014

(10/02/07 12:09:57 AM): do you want to see it before you go?
kayla_princess94 (10/02/07 12:10:04 AM): k


lorne_a_20014

(10/02/07 12:11:08 AM): it's sad, it hates to see you have to go


lorne_a_20014

(10/02/07 12:11:11 AM): :-<
kayla_princess94 (10/02/07 12:11:22 AM): i know


lorne_a_20014

(10/02/07 12:11:41 AM): i love you my precious princess@};->:D<:-*:x
kayla_princess94 (10/02/07 12:12:22 AM): i luv u 2>:D<:-*:x


lorne_a_20014

(10/02/07 12:12:51 AM): tell me when your archives are deleted and please dream about me tonight? or atleast try to?


lorne_a_20014

(10/02/07 12:13:01 AM): @};-:-*:x
kayla_princess94 (10/02/07 12:13:14 AM): k i will
kayla_princess94 (10/02/07 12:14:10 AM): k im done


lorne_a_20014

(10/02/07 12:14:17 AM): i love you@};-
kayla_princess94 (10/02/07 12:14:26 AM): luv u dream bout me


lorne_a_20014

(10/02/07 12:14:47 AM): i have been every night and i know i will again tonight@};-
kayla_princess94 (10/02/07 12:14:57 AM): :D
kayla_princess94 (10/02/07 12:15:01 AM): nite


lorne_a_20014

(10/02/07 12:15:16 AM): good night my precious princess@};-:-*:x


lorne_a_20014

(10/02/07 12:19:11 AM): :-

lorne_a_20014

(10/02/07 8:33:25 AM): good morning my precious princess, i love you@};->:D<:-*:x


lorne_a_20014

(10/02/07 4:01:11 PM): hey precious@};- i didn't go to work today because i've been looking for another job and i wanted more time with you tonight so if you come online and i'm not here yet it's because i had to go fill an application out at a place i just called so i'll be back shortly, i love you@};-:-*:x


lorne_a_20014

(10/02/07 6:16:34 PM): hi precious, are you here?


lorne_a_20014

(10/02/07 6:16:51 PM): :(i guess not


lorne_a_20014

(10/02/07 7:15:58 PM): i miss my precious princess@};-:-*:x


lorne_a_20014

(10/02/07 7:25:00 PM): hmm........it says on your myspace that you logged in today but you never sent me a message on here


lorne_a_20014

(10/02/07 7:43:31 PM): i'm taking bud out to pee, brb


lorne_a_20014

(10/02/07 7:47:54 PM): back


lorne_a_20014

(10/02/07 8:00:43 PM): well i was hoping we'd have more time together tonight but so far that's not looking like it's going to happen:-<


lorne_a_20014

(10/02/07 8:22:40 PM): i miss my precious princess@};-:-<


lorne_a_20014

(10/02/07 8:35:55 PM): hi precious@};-:-*


lorne_a_20014

(10/02/07 8:36:49 PM): gonna say hi to me?
kayla_princess94 (10/02/07 8:38:17 PM): hey


lorne_a_20014

(10/02/07 8:38:36 PM): that took a long time lol
kayla_princess94 (10/02/07 8:38:49 PM): my dad came in and said sumthin


lorne_a_20014

(10/02/07 8:38:53 PM): oh


lorne_a_20014

(10/02/07 8:38:59 PM): guess what
kayla_princess94 (10/02/07 8:39:04 PM): wat


lorne_a_20014

(10/02/07 8:39:15 PM): i love you@};-:-*:x
kayla_princess94 (10/02/07 8:39:23 PM): lol
kayla_princess94 (10/02/07 8:39:26 PM): i know that


lorne_a_20014

(10/02/07 8:39:30 PM): ok lol
kayla_princess94 (10/02/07 8:39:34 PM): :D


lorne_a_20014

(10/02/07 8:39:38 PM): guess what else
kayla_princess94 (10/02/07 8:40:33 PM): wat


lorne_a_20014

(10/02/07 8:40:46 PM): you love me too:D:-P
kayla_princess94 (10/02/07 8:40:53 PM): lol
kayla_princess94 (10/02/07 8:40:56 PM): yes


lorne_a_20014

(10/02/07 8:41:03 PM): guess what else lol
kayla_princess94 (10/02/07 8:41:10 PM): wat


lorne_a_20014

(10/02/07 8:41:20 PM): only 16 more days
kayla_princess94 (10/02/07 8:41:29 PM): :D


lorne_a_20014

(10/02/07 8:41:31 PM): guess what else lol
kayla_princess94 (10/02/07 8:41:44 PM): wat


lorne_a_20014

(10/02/07 8:42:13 PM): the biggest reason that i didn't go to work today was because i missed you:\">:x:-*@};-
kayla_princess94 (10/02/07 8:42:31 PM): aww
kayla_princess94 (10/02/07 8:42:37 PM): i was in school
kayla_princess94 (10/02/07 8:42:39 PM): sily


lorne_a_20014

(10/02/07 8:42:49 PM): i know, but i wanted more time with you tonight
kayla_princess94 (10/02/07 8:43:03 PM): o yeah


lorne_a_20014

(10/02/07 8:43:15 PM): i filled out some applications for some other jobs today too
kayla_princess94 (10/02/07 8:43:34 PM): yay
kayla_princess94 (10/02/07 8:43:39 PM): wat kind
kayla_princess94 (10/02/07 8:43:45 PM): brb


lorne_a_20014

(10/02/07 8:43:49 PM): construction, for day time only
kayla_princess94 (10/02/07 8:44:58 PM): kewl


lorne_a_20014

(10/02/07 8:45:13 PM): what time did you log onto your myspace today?
kayla_princess94 (10/02/07 8:45:33 PM): hmm idk cant remember lol


lorne_a_20014

(10/02/07 8:45:47 PM): was it when you got home from school?
kayla_princess94 (10/02/07 8:46:09 PM): mayb
kayla_princess94 (10/02/07 8:46:10 PM): y
kayla_princess94 (10/02/07 8:46:20 PM): i relly cant rmember
kayla_princess94 (10/02/07 8:46:28 PM): did ya leave me another poem


lorne_a_20014

(10/02/07 8:46:55 PM): no........but i left you messages on here, did you log on here when you got home from school?
kayla_princess94 (10/02/07 8:47:31 PM): no
kayla_princess94 (10/02/07 8:47:37 PM): just now
kayla_princess94 (10/02/07 8:47:46 PM): y
kayla_princess94 (10/02/07 8:47:57 PM): i got ur messages on here


lorne_a_20014

(10/02/07 8:48:05 PM): oh


lorne_a_20014

(10/02/07 8:48:19 PM): i was here waiting for you at like 5:30
kayla_princess94 (10/02/07 8:48:37 PM): aww
kayla_princess94 (10/02/07 8:48:51 PM): i had homework and stuff and eat supper


lorne_a_20014

(10/02/07 8:49:12 PM): well i kind of figured that out, but i didn't want to not be here in case you came on
kayla_princess94 (10/02/07 8:49:26 PM): o


lorne_a_20014

(10/02/07 8:49:38 PM): how did school go today?
kayla_princess94 (10/02/07 8:50:14 PM): o it was ok i had a hard time keepin my mind on stuff cuz i kept thinking bout u


lorne_a_20014

(10/02/07 8:50:26 PM): :D


lorne_a_20014

(10/02/07 8:50:34 PM): :-*:x


lorne_a_20014

(10/02/07 8:50:40 PM): what were you thinking about?
kayla_princess94 (10/02/07 8:50:52 PM): u
kayla_princess94 (10/02/07 8:51:06 PM): gawwwwwd brb


lorne_a_20014

(10/02/07 8:51:10 PM): what were the thoughts you were having?
kayla_princess94 (10/02/07 8:56:44 PM): sry i hate my dad


lorne_a_20014

(10/02/07 8:56:54 PM): :-*


lorne_a_20014

(10/02/07 8:57:08 PM): what were the thoughts you were having?
kayla_princess94 (10/02/07 8:57:12 PM): :-*
kayla_princess94 (10/02/07 8:57:36 PM): u never yell at me


lorne_a_20014

(10/02/07 8:57:52 PM): why would i yell at you? i'm in love with you
kayla_princess94 (10/02/07 8:58:01 PM): :D


lorne_a_20014

(10/02/07 8:58:07 PM): :-*
kayla_princess94 (10/02/07 8:58:12 PM): daddy was yellin


lorne_a_20014

(10/02/07 8:58:17 PM): about what?
kayla_princess94 (10/02/07 8:58:33 PM): :x
kayla_princess94 (10/02/07 8:58:40 PM): stupid stuff
kayla_princess94 (10/02/07 8:58:53 PM): i got a c on a math test:(


lorne_a_20014

(10/02/07 8:59:21 PM): i still love you even though you got a c precious@};-:-*:x
kayla_princess94 (10/02/07 8:59:28 PM): :D


lorne_a_20014

(10/02/07 8:59:31 PM): that's better than what i use to get lol


lorne_a_20014

(10/02/07 8:59:45 PM): i use to get d's on just about everything lol
kayla_princess94 (10/02/07 8:59:52 PM): really


lorne_a_20014

(10/02/07 8:59:55 PM): yup lol
kayla_princess94 (10/02/07 9:00:01 PM): gawd my dad wuld kill me


lorne_a_20014

(10/02/07 9:00:12 PM): no he wouldn't, i wouldn't let him lol


lorne_a_20014

(10/02/07 9:00:37 PM): i'd tell him \"hey, that's my future wife so don't yell at her\" lol
kayla_princess94 (10/02/07 9:00:45 PM): :D
kayla_princess94 (10/02/07 9:00:58 PM): well he wuld ground me 4 like 4ever


lorne_a_20014

(10/02/07 9:01:19 PM): only til you're 18, then you're all mine:D:x:-*
kayla_princess94 (10/02/07 9:01:28 PM): :D
kayla_princess94 (10/02/07 9:01:33 PM): :x


lorne_a_20014

(10/02/07 9:01:45 PM): so what were you thinking about today when you were thinking about me?
kayla_princess94 (10/02/07 9:02:11 PM): same stuff i always think lol


lorne_a_20014

(10/02/07 9:02:20 PM): which is what??lol


lorne_a_20014

(10/02/07 9:02:24 PM): ;;)
kayla_princess94 (10/02/07 9:02:36 PM): that i luv u


lorne_a_20014

(10/02/07 9:02:42 PM): :D
kayla_princess94 (10/02/07 9:02:43 PM): ur the nicest person i know


lorne_a_20014

(10/02/07 9:02:55 PM): almost as nice as you@};-
kayla_princess94 (10/02/07 9:03:02 PM): ur always sweet 2 me an u never get mad at me:)


lorne_a_20014

(10/02/07 9:03:22 PM): that's because you're my precious princess


lorne_a_20014

(10/02/07 9:03:32 PM): and i believe in you and i trust you
kayla_princess94 (10/02/07 9:03:33 PM): :D
kayla_princess94 (10/02/07 9:03:42 PM): :D


lorne_a_20014

(10/02/07 9:03:58 PM): you never have a thought about my penis?lol
kayla_princess94 (10/02/07 9:04:20 PM): ummm yeah:\">


lorne_a_20014

(10/02/07 9:04:27 PM): :D


lorne_a_20014

(10/02/07 9:04:35 PM): what are the thoughts that you have?


lorne_a_20014

(10/02/07 9:04:39 PM): ;;)
kayla_princess94 (10/02/07 9:05:06 PM): well :\">


lorne_a_20014

(10/02/07 9:05:22 PM): go ahead and tell me.......you know i'm gonna love it lol


lorne_a_20014

(10/02/07 9:05:26 PM): :D
kayla_princess94 (10/02/07 9:05:45 PM): well dont laff at me


lorne_a_20014

(10/02/07 9:06:05 PM): i'm not going to, and if you see me smiling it's because i'm happy lol
kayla_princess94 (10/02/07 9:06:12 PM): k
kayla_princess94 (10/02/07 9:06:24 PM): well im a lil scared of it


lorne_a_20014

(10/02/07 9:06:32 PM): why?
kayla_princess94 (10/02/07 9:06:52 PM): cuz cuz it looks really big:\">


lorne_a_20014

(10/02/07 9:07:20 PM): that's natural for you to feel that way precious, most girls do feel that way @};-
kayla_princess94 (10/02/07 9:07:29 PM): really


lorne_a_20014

(10/02/07 9:07:32 PM): yup
kayla_princess94 (10/02/07 9:07:36 PM): k


lorne_a_20014

(10/02/07 9:07:48 PM): want me to cut it off so that it's not as big?lol
kayla_princess94 (10/02/07 9:07:59 PM): lol
kayla_princess94 (10/02/07 9:08:11 PM): nooo


lorne_a_20014

(10/02/07 9:08:17 PM): do you like it that it's big?
kayla_princess94 (10/02/07 9:08:29 PM): i guess


lorne_a_20014

(10/02/07 9:08:36 PM): good:D


lorne_a_20014

(10/02/07 9:08:52 PM): believe me, you'll like it more and more all the time and you'll be happy that it's big lol
kayla_princess94 (10/02/07 9:09:19 PM): really


lorne_a_20014

(10/02/07 9:09:49 PM): yup, i just hope you never buy a pill for me that makes it any bigger than what it is lol
kayla_princess94 (10/02/07 9:10:06 PM): huh u can do that 4real


lorne_a_20014

(10/02/07 9:10:13 PM): yup
kayla_princess94 (10/02/07 9:10:22 PM): y wuld u do that


lorne_a_20014

(10/02/07 9:10:28 PM): want me to buy a pill and show you in person?lol


lorne_a_20014

(10/02/07 9:11:04 PM): i wouldn't want to do that, but you might want to because you'll like it alot in the future because it's big and you might want to make it bigger lol
kayla_princess94 (10/02/07 9:11:32 PM): i think ur teasin me they aint got no pill that does that


lorne_a_20014

(10/02/07 9:11:53 PM): i'm not teasing you precious, i'm serious, they have a pill that does that
kayla_princess94 (10/02/07 9:12:03 PM): wow


lorne_a_20014

(10/02/07 9:12:34 PM): they have something that's called a penis pump too that makes it grow bigger too
kayla_princess94 (10/02/07 9:12:37 PM): hows the pill know 2 make it grow bigger and not make ur arms grow or ur legs or ur feet or sumthin
kayla_princess94 (10/02/07 9:12:43 PM): a wat


lorne_a_20014

(10/02/07 9:13:03 PM): i don't know, i'm not a doctor so i don't know the answer to that lol
kayla_princess94 (10/02/07 9:13:22 PM): k well wat in the heck is a penis pump


lorne_a_20014

(10/02/07 9:13:28 PM): lmao


lorne_a_20014

(10/02/07 9:13:41 PM): that was cute the way you said that lol
kayla_princess94 (10/02/07 9:13:51 PM): dont laff
kayla_princess94 (10/02/07 9:13:55 PM): dam it


lorne_a_20014

(10/02/07 9:14:08 PM): baby, i'm laughing because it was funny the way you said it


lorne_a_20014

(10/02/07 9:14:20 PM): and don't swear at me:(
kayla_princess94 (10/02/07 9:14:38 PM): k


lorne_a_20014

(10/02/07 9:15:16 PM): you have to realize that just because i laugh doesn't mean i'm laughing at you because i'm not, it was just funny the way you said it
kayla_princess94 (10/02/07 9:15:28 PM): k
kayla_princess94 (10/02/07 9:15:31 PM): well wat is it


lorne_a_20014

(10/02/07 9:16:34 PM): it's a long tube that a guy puts over his penis and it has a pump that sucks all the air out of the tube and it makes the penis get longer
kayla_princess94 (10/02/07 9:16:55 PM): ur kidding


lorne_a_20014

(10/02/07 9:16:59 PM): nope


lorne_a_20014

(10/02/07 9:17:05 PM): not even a little bit
kayla_princess94 (10/02/07 9:17:15 PM): u use this penis pump thingy


lorne_a_20014

(10/02/07 9:17:21 PM): NOOOOO lol
kayla_princess94 (10/02/07 9:17:27 PM): k


lorne_a_20014

(10/02/07 9:17:31 PM): do you want me to buy one and use it?lol
kayla_princess94 (10/02/07 9:17:42 PM): umm i dont think so


lorne_a_20014

(10/02/07 9:17:47 PM): ok lol
kayla_princess94 (10/02/07 9:17:54 PM): sounds really wierd


lorne_a_20014

(10/02/07 9:17:55 PM): you think mine is long enough?
kayla_princess94 (10/02/07 9:18:06 PM): umm i guess
kayla_princess94 (10/02/07 9:18:17 PM): but i aint never seen 1 b4


lorne_a_20014

(10/02/07 9:18:19 PM): want to look and see then you can tell me?
kayla_princess94 (10/02/07 9:18:26 PM): k


lorne_a_20014

(10/02/07 9:19:32 PM): is that long enough?
kayla_princess94 (10/02/07 9:19:50 PM): umm yeah


lorne_a_20014

(10/02/07 9:19:58 PM): :D
kayla_princess94 (10/02/07 9:20:14 PM): is that important or sumthin


lorne_a_20014

(10/02/07 9:20:22 PM): it actually gets a little longer, it wasn't as hard as it usually is


lorne_a_20014

(10/02/07 9:20:56 PM): yeah, you'll actually love it that it's the length that it is and you'll love it also because it's thick


lorne_a_20014

(10/02/07 9:21:07 PM): brb, coffee
kayla_princess94 (10/02/07 9:21:14 PM): thiick huh


lorne_a_20014

(10/02/07 9:21:53 PM): yup


lorne_a_20014

(10/02/07 9:22:02 PM): want to take another look so you can see?
kayla_princess94 (10/02/07 9:22:16 PM): yeah


lorne_a_20014

(10/02/07 9:23:48 PM): was that a good look?
kayla_princess94 (10/02/07 9:24:10 PM): yeah


lorne_a_20014

(10/02/07 9:24:20 PM): so what did you think?
kayla_princess94 (10/02/07 9:24:39 PM): its big


lorne_a_20014

(10/02/07 9:24:47 PM): :-*


lorne_a_20014

(10/02/07 9:24:53 PM): do you like it though?
kayla_princess94 (10/02/07 9:25:09 PM): yeah:\">


lorne_a_20014

(10/02/07 9:25:17 PM): :D:-*:x
kayla_princess94 (10/02/07 9:25:30 PM): :-*:x


lorne_a_20014

(10/02/07 9:25:32 PM): i love you precious@};-
kayla_princess94 (10/02/07 9:25:55 PM): i luv u 2:x


lorne_a_20014

(10/02/07 9:26:03 PM): :D


lorne_a_20014

(10/02/07 9:26:23 PM): are you excited about me putting my penis in your vagina?
kayla_princess94 (10/02/07 9:26:43 PM): yeah


lorne_a_20014

(10/02/07 9:26:49 PM): :D


lorne_a_20014

(10/02/07 9:26:52 PM): me too
kayla_princess94 (10/02/07 9:27:02 PM): but im kinda scared cuz im afraid cuz i dont know wat 2 do
kayla_princess94 (10/02/07 9:27:13 PM): u will think im dumb


lorne_a_20014

(10/02/07 9:27:46 PM): i'll be right there precious, i'll show you what to do don't worry, and no i'm not going to think you're dumb because i'm teaching you everything:-*:x@};-
kayla_princess94 (10/02/07 9:27:56 PM): k
kayla_princess94 (10/02/07 9:28:00 PM): :)


lorne_a_20014

(10/02/07 9:28:43 PM): you wont have to worry anyway, once i stick it in you, you'll be concentrating on the feeling of it:D:-*:x
kayla_princess94 (10/02/07 9:29:00 PM): k
kayla_princess94 (10/02/07 9:29:06 PM): :\">


lorne_a_20014

(10/02/07 9:29:18 PM): you love talking about this with me huh?
kayla_princess94 (10/02/07 9:29:31 PM): yeah its kinda kewl


lorne_a_20014

(10/02/07 9:29:36 PM): :D
kayla_princess94 (10/02/07 9:29:47 PM): but i shur wuldnt talk 2 any1 else bout it


lorne_a_20014

(10/02/07 9:29:49 PM): i love talking about it with you too:x


lorne_a_20014

(10/02/07 9:30:03 PM): good, that makes me feel really good that you said that


lorne_a_20014

(10/02/07 9:30:09 PM): :D:-*
kayla_princess94 (10/02/07 9:30:16 PM): i cant wait
kayla_princess94 (10/02/07 9:30:22 PM): now


lorne_a_20014

(10/02/07 9:30:23 PM): me too
kayla_princess94 (10/02/07 9:30:32 PM): :)


lorne_a_20014

(10/02/07 9:30:38 PM): i wish i were sticking it in you right now lol


lorne_a_20014

(10/02/07 9:30:42 PM): :x
kayla_princess94 (10/02/07 9:30:54 PM): yeah:-<


lorne_a_20014

(10/02/07 9:31:04 PM): soon precious, soon


lorne_a_20014

(10/02/07 9:31:09 PM): :-*
kayla_princess94 (10/02/07 9:31:13 PM): :)


lorne_a_20014

(10/02/07 9:31:14 PM): what are you wearing?
kayla_princess94 (10/02/07 9:31:26 PM): my jamies


lorne_a_20014

(10/02/07 9:31:32 PM): :D


lorne_a_20014

(10/02/07 9:31:38 PM): do me a favor?
kayla_princess94 (10/02/07 9:32:03 PM): k


lorne_a_20014

(10/02/07 9:32:27 PM): put your feet in your chair so your legs are spread wide apart
kayla_princess94 (10/02/07 9:32:49 PM): k


lorne_a_20014

(10/02/07 9:33:57 PM): now put your hand in your jamies and use your middle finger and stick it in your vagina and push it as far in as you can and go back and forth a few times without taking your finger all the way out
kayla_princess94 (10/02/07 9:34:27 PM): k


lorne_a_20014

(10/02/07 9:34:37 PM): are you doing it now?
kayla_princess94 (10/02/07 9:34:53 PM): yeah


lorne_a_20014

(10/02/07 9:35:13 PM): how do you like it? how does it feel?
kayla_princess94 (10/02/07 9:35:22 PM): pretty kewl


lorne_a_20014

(10/02/07 9:35:31 PM): :D:-*


lorne_a_20014

(10/02/07 9:36:07 PM): now just think about it being my penis going in you and back and forth like that, only my penis is bigger:D:x
kayla_princess94 (10/02/07 9:36:25 PM): o
kayla_princess94 (10/02/07 9:36:27 PM): i c


lorne_a_20014

(10/02/07 9:36:40 PM): what do you think about that?
kayla_princess94 (10/02/07 9:36:53 PM): sounds pretty neat


lorne_a_20014

(10/02/07 9:37:13 PM): it'll be alot neater when i can actually be sticking it in you lol
kayla_princess94 (10/02/07 9:37:25 PM): :):\">


lorne_a_20014

(10/02/07 9:37:47 PM): but i want you to suck on my penis first though:\">
kayla_princess94 (10/02/07 9:37:55 PM): k
kayla_princess94 (10/02/07 9:37:58 PM): y


lorne_a_20014

(10/02/07 9:38:31 PM): because it feels good, and i'm gonna be licking your clit too and that will feel really good to you:D
kayla_princess94 (10/02/07 9:38:41 PM): k


lorne_a_20014

(10/02/07 9:38:57 PM): are you even more anxious now?
kayla_princess94 (10/02/07 9:39:07 PM): yeah:\">


lorne_a_20014

(10/02/07 9:39:17 PM): :D:-*:x
kayla_princess94 (10/02/07 9:39:28 PM): :x:-*


lorne_a_20014

(10/02/07 9:39:40 PM): what are your thoughts that you're HONESTLY having right now at this moment?
kayla_princess94 (10/02/07 9:39:55 PM): hmm
kayla_princess94 (10/02/07 9:40:02 PM): u still got a cold


lorne_a_20014

(10/02/07 9:40:19 PM): not really, i think that was a cigarette cough lol
kayla_princess94 (10/02/07 9:40:38 PM): well stop smoking them then silly


lorne_a_20014

(10/02/07 9:40:47 PM): lol, i will precious


lorne_a_20014

(10/02/07 9:40:53 PM): so
kayla_princess94 (10/02/07 9:40:59 PM): so
kayla_princess94 (10/02/07 9:41:01 PM): hey wheres bud


lorne_a_20014

(10/02/07 9:41:05 PM): what are your thoughts that you're HONESTLY having right now at this moment?


lorne_a_20014

(10/02/07 9:41:07 PM): lol


lorne_a_20014

(10/02/07 9:41:12 PM): you never answered me lol
kayla_princess94 (10/02/07 9:41:27 PM): well i wanna c bud


lorne_a_20014

(10/02/07 9:41:33 PM): yes dear lol
kayla_princess94 (10/02/07 9:42:02 PM): awww hes so cute hes asleep


lorne_a_20014

(10/02/07 9:42:22 PM): he was excited that i stayed home today lol
kayla_princess94 (10/02/07 9:42:30 PM): aww
kayla_princess94 (10/02/07 9:42:46 PM): u must of played with him hes all tired


lorne_a_20014

(10/02/07 9:42:53 PM): yeah i did lol


lorne_a_20014

(10/02/07 9:42:58 PM): he loved it too lol
kayla_princess94 (10/02/07 9:43:04 PM): aww
kayla_princess94 (10/02/07 9:43:17 PM): he misses u when ur not there just like me


lorne_a_20014

(10/02/07 9:43:23 PM): yeah i know


lorne_a_20014

(10/02/07 9:43:27 PM): :-*


lorne_a_20014

(10/02/07 9:43:42 PM): god i love you precious


lorne_a_20014

(10/02/07 9:43:49 PM): :x
kayla_princess94 (10/02/07 9:43:50 PM): i luv u 2
kayla_princess94 (10/02/07 9:43:54 PM): so wat u do all day


lorne_a_20014

(10/02/07 9:44:05 PM): looked for a different job lol
kayla_princess94 (10/02/07 9:44:15 PM): o yeah lol i 4got


lorne_a_20014

(10/02/07 9:44:33 PM): i really don't like the job i have, it's taking time away from me and you and it's also just not my type of job


lorne_a_20014

(10/02/07 9:44:50 PM): i can't sit behind a desk all day and make phone calls, it's boring as hell lol
kayla_princess94 (10/02/07 9:44:59 PM): lol
kayla_princess94 (10/02/07 9:45:07 PM): wat u dont like talkin on the phone
kayla_princess94 (10/02/07 9:45:17 PM): i luv talkin 2 my friends on the phone


lorne_a_20014

(10/02/07 9:45:29 PM): i like talking on the phone to you, but not to other people lol
kayla_princess94 (10/02/07 9:45:39 PM): aww


lorne_a_20014

(10/02/07 9:46:05 PM): you're really gonna have to be calling me like the very first chance you get too
kayla_princess94 (10/02/07 9:46:12 PM): i will
kayla_princess94 (10/02/07 9:46:27 PM): i think it sounds like fun job talkin on the phone all day


lorne_a_20014

(10/02/07 9:46:59 PM): believe me, it's boring as can possibly be, i say the same thing over and over and over all day.........it annoying lol
kayla_princess94 (10/02/07 9:47:40 PM): i bet i wuld b good at it cuz daddy says im really good at talkin on the phone


lorne_a_20014

(10/02/07 9:47:48 PM): lol


lorne_a_20014

(10/02/07 9:48:00 PM): you'd be better at it than i am lol


lorne_a_20014

(10/02/07 9:48:16 PM): what's the name of the road that you live on?


lorne_a_20014

(10/02/07 9:48:33 PM): you did realize that you were going to have to tell me that right?lol
kayla_princess94 (10/02/07 9:48:44 PM): umm yeah


lorne_a_20014

(10/02/07 9:48:49 PM): ok lol


lorne_a_20014

(10/02/07 9:49:38 PM): i'm thinking about taking a ride up there next weekend so i can look over where you live so that i can find a good place to park my truck on when i come up on the 18th
kayla_princess94 (10/02/07 9:50:34 PM): noooooo u wanna get me in trble i dont think thats a very good idea u crazy or sumthin u want me grounded


lorne_a_20014

(10/02/07 9:50:53 PM): no precious, i'm not going to stop at your house lol


lorne_a_20014

(10/02/07 9:51:17 PM): i just thought of going to see if i could find a descent place to park my truck lol
kayla_princess94 (10/02/07 9:51:37 PM): thats not a big deal
kayla_princess94 (10/02/07 9:51:50 PM): thats easy theres places


lorne_a_20014

(10/02/07 9:51:54 PM): well it is to me because i don't know that area like you do lol
kayla_princess94 (10/02/07 9:52:35 PM): well i dont know it all that great its a new house and we just move here from our old neighborhood


lorne_a_20014

(10/02/07 9:53:30 PM): well, ok, i wont go up there next weekend to look for a place then, i'll just wait, but you're still gonna have to tell me what road you live on so i know where i'm going lol
kayla_princess94 (10/02/07 9:53:33 PM): u know wat happen 2 maria u know wat happen 2 her


lorne_a_20014

(10/02/07 9:53:41 PM): no


lorne_a_20014

(10/02/07 9:53:43 PM): what?
kayla_princess94 (10/02/07 9:53:50 PM): omg
kayla_princess94 (10/02/07 9:53:57 PM): k ill tell u
kayla_princess94 (10/02/07 9:54:20 PM): c she met this guy hmm i think he was like 23 sumthin like that
kayla_princess94 (10/02/07 9:54:30 PM): anyways she met him on the internet
kayla_princess94 (10/02/07 9:55:09 PM): so he was gona come c her when her parents went out so she tell him where she live and u know wat


lorne_a_20014

(10/02/07 9:55:26 PM): what happened?
kayla_princess94 (10/02/07 9:55:35 PM): he came there b4 that
kayla_princess94 (10/02/07 9:55:40 PM): and they were home


lorne_a_20014

(10/02/07 9:55:41 PM): omg
kayla_princess94 (10/02/07 9:55:45 PM): yep


lorne_a_20014

(10/02/07 9:55:48 PM): what a friggin idiot\
kayla_princess94 (10/02/07 9:55:53 PM): and she got in sooo much trbl
kayla_princess94 (10/02/07 9:56:10 PM): she was grounded 4 6months
kayla_princess94 (10/02/07 9:56:15 PM): yeah 6 months
kayla_princess94 (10/02/07 9:56:19 PM): it was awful


lorne_a_20014

(10/02/07 9:56:21 PM): i don't really even feel safe being at your house even when your parents are gone
kayla_princess94 (10/02/07 9:56:29 PM): y


lorne_a_20014

(10/02/07 9:56:44 PM): because i don't know if they'll come back early or not


lorne_a_20014

(10/02/07 9:57:12 PM): i'd rather have us go to a hotel, or even come back here to my place, i only live an hour from you
kayla_princess94 (10/02/07 9:57:35 PM): hmm thats an idea


lorne_a_20014

(10/02/07 9:57:47 PM): and you'd get to see bud too


lorne_a_20014

(10/02/07 9:58:01 PM): but do your parents call you when they're gone?


lorne_a_20014

(10/02/07 9:58:11 PM): brb, coffee
kayla_princess94 (10/02/07 9:58:24 PM): mostly i call them
kayla_princess94 (10/02/07 9:58:55 PM): i they call an i aint here i culd just say hmm i was at 1 of my friends
kayla_princess94 (10/02/07 9:59:13 PM): they prolly wont b back early anyway
kayla_princess94 (10/02/07 9:59:32 PM): but it wuld b kewl if u took me 2 ur place and i culd get 2 c bud
kayla_princess94 (10/02/07 9:59:45 PM): wat bout ur buggy neighbors


lorne_a_20014

(10/02/07 9:59:48 PM): do you want to do that then?


lorne_a_20014

(10/02/07 10:00:02 PM): they would leave us alone because we just wouldn't answer the door lol
kayla_princess94 (10/02/07 10:00:10 PM): lol
kayla_princess94 (10/02/07 10:00:15 PM): sound kewl


lorne_a_20014

(10/02/07 10:00:30 PM): they've seen your pics before, i told them you were my niece lol
kayla_princess94 (10/02/07 10:00:38 PM): omg
kayla_princess94 (10/02/07 10:00:40 PM): lol
kayla_princess94 (10/02/07 10:00:50 PM): smart


lorne_a_20014

(10/02/07 10:00:59 PM): i couldn't really tell them that you're my g/f quite yet lol


lorne_a_20014

(10/02/07 10:01:08 PM): not for a few more years anyway lol
kayla_princess94 (10/02/07 10:01:14 PM): lol yeah
kayla_princess94 (10/02/07 10:01:22 PM): o this is gona b soooo much fun


lorne_a_20014

(10/02/07 10:01:35 PM): yes it is........you're gonna love it


lorne_a_20014

(10/02/07 10:01:38 PM): and me too lol


lorne_a_20014

(10/02/07 10:01:48 PM): do you like to cook?
kayla_princess94 (10/02/07 10:02:12 PM): cook


lorne_a_20014

(10/02/07 10:02:22 PM): yeah, we might get hungry lol
kayla_princess94 (10/02/07 10:02:31 PM): o yeah lol


lorne_a_20014

(10/02/07 10:02:36 PM): lol
kayla_princess94 (10/02/07 10:02:40 PM): umm well im not real good at it


lorne_a_20014

(10/02/07 10:02:50 PM): well that makes 2 of us lol
kayla_princess94 (10/02/07 10:02:57 PM): lol
kayla_princess94 (10/02/07 10:03:01 PM): wat we gona do then


lorne_a_20014

(10/02/07 10:03:11 PM): we'll cook together


lorne_a_20014

(10/02/07 10:03:17 PM): but we have to be naked though lol
kayla_princess94 (10/02/07 10:03:35 PM): omg:\">i never cook naked


lorne_a_20014

(10/02/07 10:03:43 PM): :D


lorne_a_20014

(10/02/07 10:03:54 PM): do you want to this time?lol
kayla_princess94 (10/02/07 10:04:15 PM): yeah it mite b fun


lorne_a_20014

(10/02/07 10:04:24 PM): it will be i promise


lorne_a_20014

(10/02/07 10:04:45 PM): while you're stirring whatever we're cooking i'll be on my knees licking your clit lol
kayla_princess94 (10/02/07 10:04:59 PM): :\">


lorne_a_20014

(10/02/07 10:05:08 PM): :-*:x


lorne_a_20014

(10/02/07 10:05:13 PM): what do you think about that?lol
kayla_princess94 (10/02/07 10:05:48 PM): :x:-*idk mite b kinda hard 4 me 2 cook anything


lorne_a_20014

(10/02/07 10:05:57 PM): :D


lorne_a_20014

(10/02/07 10:06:04 PM): yeah, it might be lol


lorne_a_20014

(10/02/07 10:06:18 PM): but i'll try not to disturb you too much from stirring lol
kayla_princess94 (10/02/07 10:06:25 PM): k
kayla_princess94 (10/02/07 10:06:37 PM): hey can we get pizza delivrey


lorne_a_20014

(10/02/07 10:06:53 PM): yeah we can if i have enough money on me lol
kayla_princess94 (10/02/07 10:07:06 PM): k


lorne_a_20014

(10/02/07 10:07:14 PM): guess what
kayla_princess94 (10/02/07 10:07:19 PM): wat


lorne_a_20014

(10/02/07 10:07:28 PM): we can take a shower together too:D
kayla_princess94 (10/02/07 10:07:39 PM): yeah


lorne_a_20014

(10/02/07 10:07:55 PM): or we can take a bath together, which one would you rather do?
kayla_princess94 (10/02/07 10:08:05 PM): ooo bubble bath


lorne_a_20014

(10/02/07 10:08:14 PM): yeah, that would be really cool
kayla_princess94 (10/02/07 10:08:30 PM): kewl
kayla_princess94 (10/02/07 10:08:34 PM): i luv bubble bath


lorne_a_20014

(10/02/07 10:08:36 PM): so what's going through your mind now?lol
kayla_princess94 (10/02/07 10:08:52 PM): pizza and bubble bath


lorne_a_20014

(10/02/07 10:08:57 PM): lol


lorne_a_20014

(10/02/07 10:09:07 PM): wait a minute, what happened to me??lol
kayla_princess94 (10/02/07 10:09:20 PM): lol o yeah u 2


lorne_a_20014

(10/02/07 10:09:27 PM): i got traded up for a pizza and a bubble bath lol
kayla_princess94 (10/02/07 10:09:34 PM): lol
kayla_princess94 (10/02/07 10:09:38 PM): nah


lorne_a_20014

(10/02/07 10:09:54 PM): oh yeah, i'm gonna be in the bubble bath with you lol
kayla_princess94 (10/02/07 10:10:03 PM): lol
kayla_princess94 (10/02/07 10:10:15 PM): no pizza or bubble bath without u


lorne_a_20014

(10/02/07 10:10:46 PM): you'll be grabbing my penis if you start to slide so you can stop yourself from going under the water too:\">
kayla_princess94 (10/02/07 10:10:55 PM): lol
kayla_princess94 (10/02/07 10:11:18 PM): hey where im gona sleep i thought u dont got a bed yet


lorne_a_20014

(10/02/07 10:11:41 PM): you can sleep on the floor with me, don't worry, it's comfortable lol


lorne_a_20014

(10/02/07 10:11:57 PM): i almost thought about not getting a bed because the floor is so comfortable lol
kayla_princess94 (10/02/07 10:12:07 PM): really


lorne_a_20014

(10/02/07 10:12:12 PM): yeah


lorne_a_20014

(10/02/07 10:12:23 PM): hang on, i need to turn the a/c on


lorne_a_20014

(10/02/07 10:12:49 PM): back
kayla_princess94 (10/02/07 10:13:01 PM): yeah it aint 2 bad i slept on the floor b4 at sleep overs
kayla_princess94 (10/02/07 10:13:14 PM): hey it will b just like a sleep over only with u


lorne_a_20014

(10/02/07 10:13:23 PM): yeah:D


lorne_a_20014

(10/02/07 10:13:41 PM): do you think you'll like this sleep over better than your other ones?lol
kayla_princess94 (10/02/07 10:13:53 PM): heck yeah
kayla_princess94 (10/02/07 10:14:00 PM): cuz it will b wit u


lorne_a_20014

(10/02/07 10:14:01 PM): lol


lorne_a_20014

(10/02/07 10:14:05 PM): :D


lorne_a_20014

(10/02/07 10:14:11 PM): :-*:x
kayla_princess94 (10/02/07 10:14:26 PM): oooo im so excited this is gona b sooo much fun i cant wait


lorne_a_20014

(10/02/07 10:14:30 PM): and we'll be able to be naked all the time too:D
kayla_princess94 (10/02/07 10:14:39 PM): :\">


lorne_a_20014

(10/02/07 10:14:50 PM): that's the best part about it huh?lol
kayla_princess94 (10/02/07 10:15:08 PM): then i guess i wont have 2 pack 2 much


lorne_a_20014

(10/02/07 10:15:24 PM): nope, because you wont be wearing anything anyway lol
kayla_princess94 (10/02/07 10:15:41 PM): wat if ur buggy neighbors c me


lorne_a_20014

(10/02/07 10:16:02 PM): they wont see you with the door locked and us not answering the door lol
kayla_princess94 (10/02/07 10:16:20 PM): wat if they c me come in with u


lorne_a_20014

(10/02/07 10:16:43 PM): then i'll just introduce you to them, i'll say, this is kayla my niece


lorne_a_20014

(10/02/07 10:16:53 PM): the one you saw in the pics on my computer
kayla_princess94 (10/02/07 10:17:13 PM): o yeah and u can say my parents r away and ur keepin me while there gone:D


lorne_a_20014

(10/02/07 10:17:24 PM): yup:D
kayla_princess94 (10/02/07 10:17:32 PM): c im smart huh


lorne_a_20014

(10/02/07 10:17:42 PM): that's very true too because i'll be keeping you naked lol


lorne_a_20014

(10/02/07 10:17:47 PM): :D
kayla_princess94 (10/02/07 10:17:52 PM): lol


lorne_a_20014

(10/02/07 10:18:03 PM): are you anxious to be naked with me?
kayla_princess94 (10/02/07 10:18:16 PM): yeah:\">


lorne_a_20014

(10/02/07 10:18:20 PM): :D


lorne_a_20014

(10/02/07 10:18:31 PM): are you anxious to have my penis in you?
kayla_princess94 (10/02/07 10:18:43 PM): :\">yeah


lorne_a_20014

(10/02/07 10:18:48 PM): :D


lorne_a_20014

(10/02/07 10:20:37 PM): wb precious@};-:-*:x


lorne_a_20014

(10/02/07 10:21:08 PM): are you anxious to have pizza and a bubble bath with me?


lorne_a_20014

(10/02/07 10:23:02 PM): what are you doing precious?
kayla_princess94 (10/02/07 10:24:45 PM): sry


lorne_a_20014

(10/02/07 10:24:56 PM): did you freeze up?
kayla_princess94 (10/02/07 10:25:47 PM): yeah sry


lorne_a_20014

(10/02/07 10:26:12 PM): i love you@};-
kayla_princess94 (10/02/07 10:26:20 PM): luv u


lorne_a_20014

(10/02/07 10:26:34 PM): are you anxious to make out with me?
kayla_princess94 (10/02/07 10:26:49 PM): yep


lorne_a_20014

(10/02/07 10:26:54 PM): :D


lorne_a_20014

(10/02/07 10:27:08 PM): good, me too.........i can't wait for my lips to touch yours


lorne_a_20014

(10/02/07 10:27:11 PM): :D
kayla_princess94 (10/02/07 10:27:21 PM): ooo i like kissin


lorne_a_20014

(10/02/07 10:27:34 PM): good because we're gonna be doing alot of it


lorne_a_20014

(10/02/07 10:27:38 PM): :x
kayla_princess94 (10/02/07 10:27:45 PM): kewl:D


lorne_a_20014

(10/02/07 10:27:58 PM): are you gonna like having my tongue in your mouth?
kayla_princess94 (10/02/07 10:28:37 PM): yeah


lorne_a_20014

(10/02/07 10:28:43 PM): :D


lorne_a_20014

(10/02/07 10:28:55 PM): what size bra do you wear right now?
kayla_princess94 (10/02/07 10:29:28 PM): 34b


lorne_a_20014

(10/02/07 10:29:39 PM): really?


lorne_a_20014

(10/02/07 10:29:58 PM): is there a difference in adult 34 b and teen 34b?
kayla_princess94 (10/02/07 10:30:10 PM): i think so


lorne_a_20014

(10/02/07 10:30:40 PM): doesn't matter, i love your boobies know matter how big they are:D:-*:x
kayla_princess94 (10/02/07 10:30:48 PM): lol


lorne_a_20014

(10/02/07 10:31:08 PM): i can't wait to see them too:D


lorne_a_20014

(10/02/07 10:31:28 PM): what are you doing precious?
kayla_princess94 (10/02/07 10:33:01 PM): sry my dad was buggin me again


lorne_a_20014

(10/02/07 10:33:24 PM): oh


lorne_a_20014

(10/02/07 10:33:31 PM): what did he say?
kayla_princess94 (10/02/07 10:33:52 PM): wanted 2 know if my math homework was done gawwwwwwwd


lorne_a_20014

(10/02/07 10:33:58 PM): lol
kayla_princess94 (10/02/07 10:34:00 PM): i had that done long time ago


lorne_a_20014

(10/02/07 10:34:04 PM): lol
kayla_princess94 (10/02/07 10:34:19 PM): good grief i mite not get an a


lorne_a_20014

(10/02/07 10:34:26 PM): lol


lorne_a_20014

(10/02/07 10:34:30 PM): :-*


lorne_a_20014

(10/02/07 10:35:12 PM): on the way back to my place after i pick you up, you have to sit in the middle right next to me:D
kayla_princess94 (10/02/07 10:35:31 PM): :x:-*:-*:-*:-*:-*:-*:-*:-*
kayla_princess94 (10/02/07 10:35:34 PM): kewl


lorne_a_20014

(10/02/07 10:35:38 PM): :D
kayla_princess94 (10/02/07 10:35:48 PM): :-*:-*:-*:-*:-*:-*:-*:-*:-*:-*:-*:-*:-*:-*:-*:-*:-*:-*:-*:-*:-*:-*:-*:-*


lorne_a_20014

(10/02/07 10:35:52 PM): and i'm gonna hold your precious hand too:x
kayla_princess94 (10/02/07 10:35:59 PM): kewl
kayla_princess94 (10/02/07 10:36:08 PM): c all the suger i give u


lorne_a_20014

(10/02/07 10:36:36 PM): hell yeah.........and i LOVE it too:D:D:D:D:D:-*:x
kayla_princess94 (10/02/07 10:36:44 PM): lol


lorne_a_20014

(10/02/07 10:36:56 PM): i am sooooo in love with you precious


lorne_a_20014

(10/02/07 10:36:59 PM): @};-


lorne_a_20014

(10/02/07 10:37:05 PM): :-*
kayla_princess94 (10/02/07 10:37:11 PM): i luv u


lorne_a_20014

(10/02/07 10:37:22 PM): guess what
kayla_princess94 (10/02/07 10:37:28 PM): wat


lorne_a_20014

(10/02/07 10:37:47 PM): you can even touch my penis on the way back if you want to:\">
kayla_princess94 (10/02/07 10:38:06 PM): k if u want me 2


lorne_a_20014

(10/02/07 10:38:12 PM): :D


lorne_a_20014

(10/02/07 10:38:23 PM): hell yeah i want you to :D


lorne_a_20014

(10/02/07 10:38:35 PM): you can suck on it if you want to too lol
kayla_princess94 (10/02/07 10:38:45 PM): when ur drivin


lorne_a_20014

(10/02/07 10:38:53 PM): yup:D
kayla_princess94 (10/02/07 10:38:59 PM): k


lorne_a_20014

(10/02/07 10:39:05 PM): do you want to?
kayla_princess94 (10/02/07 10:39:11 PM): yeah


lorne_a_20014

(10/02/07 10:39:19 PM): :D
kayla_princess94 (10/02/07 10:39:38 PM): :-*


lorne_a_20014

(10/02/07 10:40:01 PM): also.......if you wear a skirt.........i can stick my finger in your vagina:\">
kayla_princess94 (10/02/07 10:40:12 PM): :\">
kayla_princess94 (10/02/07 10:40:23 PM): u want me 2 wear a skirt


lorne_a_20014

(10/02/07 10:40:33 PM): hell yeah:D
kayla_princess94 (10/02/07 10:40:37 PM): k


lorne_a_20014

(10/02/07 10:40:42 PM): do you have any short skirts?
kayla_princess94 (10/02/07 10:40:51 PM): yeah


lorne_a_20014

(10/02/07 10:40:56 PM): how short?
kayla_princess94 (10/02/07 10:41:10 PM): mini


lorne_a_20014

(10/02/07 10:41:15 PM): :D
kayla_princess94 (10/02/07 10:41:21 PM): lol


lorne_a_20014

(10/02/07 10:41:22 PM): :x
kayla_princess94 (10/02/07 10:41:30 PM): :x


lorne_a_20014

(10/02/07 10:41:32 PM): gonna wear one of them for me?
kayla_princess94 (10/02/07 10:41:57 PM): shur


lorne_a_20014

(10/02/07 10:42:05 PM): :D


lorne_a_20014

(10/02/07 10:42:22 PM): with no panties on under??:D
kayla_princess94 (10/02/07 10:42:31 PM): wat
kayla_princess94 (10/02/07 10:42:43 PM): then u culd like c my but or sumthin


lorne_a_20014

(10/02/07 10:43:08 PM): well i'm the only one that's gonna be seeing your butt anyway precious lol
kayla_princess94 (10/02/07 10:43:38 PM): umm wat if ur buggy neighbors c i wuld b soooo embarrassed


lorne_a_20014

(10/02/07 10:44:07 PM): ok, wear a longer skirt because i don't want them looking at my baby like that


lorne_a_20014

(10/02/07 10:44:08 PM): lol


lorne_a_20014

(10/02/07 10:44:42 PM): a longer skirt with no panties ok?:D
kayla_princess94 (10/02/07 10:44:48 PM): k


lorne_a_20014

(10/02/07 10:44:53 PM): :D


lorne_a_20014

(10/02/07 10:45:50 PM): then when we get on the interstate to come back here you can lay down in the seat of the truch and i can stick my finger in you:D:-*:x
kayla_princess94 (10/02/07 10:46:08 PM): k


lorne_a_20014

(10/02/07 10:46:21 PM): what are you doing precious?
kayla_princess94 (10/02/07 10:46:31 PM): talkin 2 u


lorne_a_20014

(10/02/07 10:46:40 PM): ok, you're not talking much lol


lorne_a_20014

(10/02/07 10:46:46 PM): except for \"k\" lol
kayla_princess94 (10/02/07 10:46:58 PM): lol
kayla_princess94 (10/02/07 10:47:06 PM): just think bout wat ur sayin
kayla_princess94 (10/02/07 10:47:11 PM): :\">


lorne_a_20014

(10/02/07 10:47:15 PM): :D


lorne_a_20014

(10/02/07 10:47:21 PM): :-*:x
kayla_princess94 (10/02/07 10:47:29 PM): :-*
kayla_princess94 (10/02/07 10:47:33 PM): :-*:-*:-*:-*


lorne_a_20014

(10/02/07 10:47:35 PM): so tell me what's going through your mind right now?
kayla_princess94 (10/02/07 10:47:53 PM): omg brb


lorne_a_20014

(10/02/07 10:48:09 PM): :-*:-*:-*:-*:-*:-*:-*:x:x:x:x:x:x:x:x:x
kayla_princess94 (10/02/07 10:58:08 PM): k im back


lorne_a_20014

(10/02/07 10:58:14 PM): :-*
kayla_princess94 (10/02/07 10:58:21 PM): cant stay 2 long:(


lorne_a_20014

(10/02/07 10:58:32 PM): why?
kayla_princess94 (10/02/07 10:58:49 PM): :-*


lorne_a_20014

(10/02/07 10:58:52 PM): oh, they're making you go to bed earlier tonight?
kayla_princess94 (10/02/07 10:59:08 PM): my dad said i need 2 get goin 2 bed soon
kayla_princess94 (10/02/07 10:59:13 PM): yeah hes dumb


lorne_a_20014

(10/02/07 10:59:30 PM): good thing i stayed home so we could have more time together then huh?
kayla_princess94 (10/02/07 10:59:49 PM): :D


lorne_a_20014

(10/02/07 11:00:04 PM): i love you@};-:-*:x


lorne_a_20014

(10/02/07 11:00:27 PM): and in 16 days we're gonna be loving eachother even more:D


lorne_a_20014

(10/02/07 11:01:56 PM): what are you doing precious?
kayla_princess94 (10/02/07 11:02:02 PM): :D
kayla_princess94 (10/02/07 11:02:07 PM): i had 2 go p
kayla_princess94 (10/02/07 11:02:09 PM): lol


lorne_a_20014

(10/02/07 11:02:11 PM): oh lol


lorne_a_20014

(10/02/07 11:02:18 PM): wish i could have been there lol


lorne_a_20014

(10/02/07 11:02:50 PM): what color panties are you wearing tonight?
kayla_princess94 (10/02/07 11:03:11 PM): black


lorne_a_20014

(10/02/07 11:03:37 PM): hmmm..........what color are you going to bring with you when i come get you?
kayla_princess94 (10/02/07 11:03:48 PM): thinking


lorne_a_20014

(10/02/07 11:03:50 PM): notice i said bring? because you wont be wearing them lol
kayla_princess94 (10/02/07 11:03:51 PM): wat wuld u like
kayla_princess94 (10/02/07 11:04:03 PM): lol


lorne_a_20014

(10/02/07 11:04:06 PM): pink or white


lorne_a_20014

(10/02/07 11:04:15 PM): or red
kayla_princess94 (10/02/07 11:04:18 PM): k


lorne_a_20014

(10/02/07 11:04:28 PM): no, just pink or white


lorne_a_20014

(10/02/07 11:04:42 PM): i prefer white so i can see through them better lol
kayla_princess94 (10/02/07 11:04:59 PM): k
kayla_princess94 (10/02/07 11:04:59 PM): white


lorne_a_20014

(10/02/07 11:05:10 PM): ty precious:-*:x


lorne_a_20014

(10/02/07 11:05:28 PM): what are you thinking about HONESTLY right now?
kayla_princess94 (10/02/07 11:05:31 PM): yw
kayla_princess94 (10/02/07 11:05:35 PM): :x
kayla_princess94 (10/02/07 11:05:45 PM): im really excited
kayla_princess94 (10/02/07 11:05:52 PM): wat im gona where when u get here


lorne_a_20014

(10/02/07 11:05:56 PM): good, me too:D


lorne_a_20014

(10/02/07 11:06:14 PM): remember, a longer skirt and no panties under


lorne_a_20014

(10/02/07 11:06:32 PM): put your white panties in a bag or something and bring them
kayla_princess94 (10/02/07 11:07:13 PM): k
kayla_princess94 (10/02/07 11:07:26 PM): i gotta bring more than that


lorne_a_20014

(10/02/07 11:07:31 PM): you know it's going to be at night time when i pick you up right?
kayla_princess94 (10/02/07 11:07:52 PM): k


lorne_a_20014

(10/02/07 11:08:02 PM): ok, bring a change of clothes even though you wont be wearing any anyway lol


lorne_a_20014

(10/02/07 11:08:08 PM): toothbrush


lorne_a_20014

(10/02/07 11:08:22 PM): i have toothpaste and a brush and everything
kayla_princess94 (10/02/07 11:08:27 PM): yep
kayla_princess94 (10/02/07 11:08:46 PM): i need my hair stuff and my makeup and lets c


lorne_a_20014

(10/02/07 11:08:50 PM): actually maybe i'll just buy you a toothbrush so you can leave here
kayla_princess94 (10/02/07 11:09:01 PM): lol


lorne_a_20014

(10/02/07 11:09:19 PM): that way the next time you'll have a toothbrush here already lol


lorne_a_20014

(10/02/07 11:09:43 PM): not only that, i also want something that's touched you to be here with me;;):\">
kayla_princess94 (10/02/07 11:09:55 PM): huh


lorne_a_20014

(10/02/07 11:10:11 PM): bring a pink pair of panties too because you're gonna leave those here with me lol
kayla_princess94 (10/02/07 11:10:27 PM): k


lorne_a_20014

(10/02/07 11:10:46 PM): i'm gonna buy you a toothbrush for here because i want something that you've touched to be left here


lorne_a_20014

(10/02/07 11:11:00 PM): because it will make us feel closer to eachother


lorne_a_20014

(10/02/07 11:11:06 PM): or atleast it will me lol
kayla_princess94 (10/02/07 11:11:22 PM): k


lorne_a_20014

(10/02/07 11:11:57 PM): you're beautiful Kayla Marie Armstrong@};->:D<:-*:x
kayla_princess94 (10/02/07 11:12:22 PM): :D
kayla_princess94 (10/02/07 11:12:23 PM): ty


lorne_a_20014

(10/02/07 11:12:37 PM): you're soooooooo much more than welcome@};-


lorne_a_20014

(10/02/07 11:13:03 PM): i wish i could have you here with me right now
kayla_princess94 (10/02/07 11:13:16 PM): me 2
kayla_princess94 (10/02/07 11:13:30 PM): k i gotta go:(


lorne_a_20014

(10/02/07 11:13:36 PM): :(


lorne_a_20014

(10/02/07 11:14:02 PM): ok, keep thinking about 16 more days from now precious@};-
kayla_princess94 (10/02/07 11:14:15 PM): yep:D


lorne_a_20014

(10/02/07 11:14:25 PM): want to see it before you go?
kayla_princess94 (10/02/07 11:14:34 PM): k


lorne_a_20014

(10/02/07 11:15:33 PM): how was that?
kayla_princess94 (10/02/07 11:15:47 PM): :D


lorne_a_20014

(10/02/07 11:15:54 PM): :-*:x


lorne_a_20014

(10/02/07 11:15:59 PM): want to see it again?


lorne_a_20014

(10/02/07 11:16:00 PM): lol
kayla_princess94 (10/02/07 11:16:36 PM): k


lorne_a_20014

(10/02/07 11:18:12 PM): was that better?
kayla_princess94 (10/02/07 11:18:24 PM): yep


lorne_a_20014

(10/02/07 11:18:32 PM): :-*:x


lorne_a_20014

(10/02/07 11:18:44 PM): did you not like me taking the cam away from it?lol
kayla_princess94 (10/02/07 11:18:51 PM): :x
kayla_princess94 (10/02/07 11:19:02 PM): lol


lorne_a_20014

(10/02/07 11:19:07 PM): i love you
kayla_princess94 (10/02/07 11:19:28 PM): i luv u


lorne_a_20014

(10/02/07 11:19:29 PM): 16 more days and you'll have it in your mouth and in your vagina........how's that sound?lol
kayla_princess94 (10/02/07 11:19:52 PM): kewl


lorne_a_20014

(10/02/07 11:19:59 PM): :D


lorne_a_20014

(10/02/07 11:20:06 PM): :-*:x


lorne_a_20014

(10/02/07 11:20:11 PM): i love you precious
kayla_princess94 (10/02/07 11:20:20 PM): :(i gotta go
kayla_princess94 (10/02/07 11:20:26 PM): i luv u sooo much


lorne_a_20014

(10/02/07 11:20:31 PM): i know:(


lorne_a_20014

(10/02/07 11:20:46 PM): i love you soooooooooo much too@};-:-*:x


lorne_a_20014

(10/02/07 11:21:03 PM): i love you Kayla Marie Armstrong@};-
kayla_princess94 (10/02/07 11:21:15 PM): i luv u more


lorne_a_20014

(10/02/07 11:21:26 PM): i love you infinity lol


lorne_a_20014

(10/02/07 11:21:30 PM): :-P


lorne_a_20014

(10/02/07 11:21:42 PM): you can't go any further than infinity lol
kayla_princess94 (10/02/07 11:21:43 PM): lol
kayla_princess94 (10/02/07 11:21:50 PM): huh


lorne_a_20014

(10/02/07 11:22:17 PM): infinity is forever and ever with no ends, you can't get more than infinity and i love you infinity


lorne_a_20014

(10/02/07 11:22:25 PM): :-P:x:-*
kayla_princess94 (10/02/07 11:22:34 PM): aww


lorne_a_20014

(10/02/07 11:23:06 PM): you know if you sneak on here in the morning for a few minutes if you have time, i'll be here before you go to school
kayla_princess94 (10/02/07 11:23:23 PM): k
kayla_princess94 (10/02/07 11:23:33 PM): i culd do that but not 4 2 long


lorne_a_20014

(10/02/07 11:23:38 PM): ok


lorne_a_20014

(10/02/07 11:23:47 PM): are you just sitting there staring at me?lol
kayla_princess94 (10/02/07 11:24:01 PM): lol yeah


lorne_a_20014

(10/02/07 11:24:04 PM): lol


lorne_a_20014

(10/02/07 11:24:09 PM): :x


lorne_a_20014

(10/02/07 11:24:14 PM): what are you thinking about?
kayla_princess94 (10/02/07 11:24:33 PM): bout how i hate cuz i gotta leave:(


lorne_a_20014

(10/02/07 11:25:07 PM): i know, but we knew this time was gonna come, i just thank god we got more time than normal tonight:-*:x


lorne_a_20014

(10/02/07 11:25:19 PM): and also we made better plans
kayla_princess94 (10/02/07 11:25:43 PM): yeah
kayla_princess94 (10/02/07 11:25:57 PM): i better go b4 i get in trbl
kayla_princess94 (10/02/07 11:26:02 PM): i luv u lorne


lorne_a_20014

(10/02/07 11:26:12 PM): yeah, we don't need you getting grounded from the computer
kayla_princess94 (10/02/07 11:26:22 PM): noooooo


lorne_a_20014

(10/02/07 11:26:36 PM): i love you too my precious princess Kayla Marie Armstrong@};-:-*>:D<:x


lorne_a_20014

(10/02/07 11:26:52 PM): delete your archives and tell me when they're deleted
kayla_princess94 (10/02/07 11:26:59 PM): :-*>:D<
kayla_princess94 (10/02/07 11:27:02 PM): k
kayla_princess94 (10/02/07 11:28:14 PM): done
kayla_princess94 (10/02/07 11:28:15 PM): luv u


lorne_a_20014

(10/02/07 11:28:33 PM): i love you my precious princess@};-:-*:x
kayla_princess94 (10/02/07 11:28:39 PM): luv u
kayla_princess94 (10/02/07 11:28:41 PM): nite


lorne_a_20014

(10/02/07 11:28:49 PM): good night and dream about me
kayla_princess94 (10/02/07 11:29:01 PM): i will


lorne_a_20014

(10/02/07 11:29:23 PM): :-*:x


lorne_a_20014

(10/02/07 11:29:27 PM): @};-
kayla_princess94 (10/02/07 11:29:46 PM): :x


lorne_a_20014

(10/02/07 11:30:13 PM): what are you doing precoius?
kayla_princess94 (10/02/07 11:30:44 PM): i dont wanna leave
kayla_princess94 (10/02/07 11:30:50 PM): :(


lorne_a_20014

(10/02/07 11:31:08 PM): if you don't then you're not gonna make it on here for morning
kayla_princess94 (10/02/07 11:31:19 PM): k


lorne_a_20014

(10/02/07 11:31:22 PM): i'm leaving right after you do, i always wait for you to leave first
kayla_princess94 (10/02/07 11:31:29 PM): k


lorne_a_20014

(10/02/07 11:31:42 PM): i love you kayla marie armstrong@};-
kayla_princess94 (10/02/07 11:31:48 PM): i luv u


lorne_a_20014

(10/02/07 11:34:53 PM): god i want you back already:-<


lorne_a_20014

(10/03/07 6:36:06 AM): good morning precious, i love you@};-:-*:x


lorne_a_20014

(10/03/07 7:56:12 AM): if you come online precious i'll brb, i'm taking bud pee


lorne_a_20014

(10/03/07 8:39:37 AM): i guess my precious princess isn't going to make it on here this morning before school so i guess i'll talk to you tonight, i love you precious@};-


lorne_a_20014

(10/03/07 10:57:56 AM): i wish it was 9:30 tonight, then i'd be here talking to you.........i miss you precious@};->:D<:-*:x
kayla_princess94 (10/03/07 8:44:01 PM): :x:-*>:D<;;)
kayla_princess94 (10/03/07 9:28:48 PM): :-<
kayla_princess94 (10/03/07 9:29:03 PM): 8-|
kayla_princess94 (10/03/07 9:29:09 PM): ;;)


lorne_a_20014

(10/03/07 10:26:44 PM): i love you


lorne_a_20014

(10/03/07 10:26:49 PM): :-*
kayla_princess94 (10/03/07 10:26:59 PM): :D


lorne_a_20014

(10/03/07 10:27:17 PM): you have nooooooooooooooooooo idea how much i've missed you today@};-


lorne_a_20014

(10/03/07 10:27:33 PM): hang on, i need to get undressed
kayla_princess94 (10/03/07 10:27:46 PM): k


lorne_a_20014

(10/03/07 10:28:15 PM): brb, gotta pee too lol
kayla_princess94 (10/03/07 10:28:26 PM): k lol
kayla_princess94 (10/03/07 10:28:54 PM): u been cleaning


lorne_a_20014

(10/03/07 10:29:11 PM): lol


lorne_a_20014

(10/03/07 10:29:20 PM): yeah, it was starting to bother me alotlol
kayla_princess94 (10/03/07 10:29:33 PM): lol
kayla_princess94 (10/03/07 10:29:38 PM): looks better


lorne_a_20014

(10/03/07 10:29:45 PM): so what's my precious princess been doing?
kayla_princess94 (10/03/07 10:30:05 PM): waiting 4 u:D


lorne_a_20014

(10/03/07 10:30:13 PM): :D:-*:x


lorne_a_20014

(10/03/07 10:30:29 PM): you REALLY have NOOOOOOOOOO idea how much i missed you today lol
kayla_princess94 (10/03/07 10:30:37 PM): :x
kayla_princess94 (10/03/07 10:30:43 PM): i missed u 2


lorne_a_20014

(10/03/07 10:31:10 PM): that's all i've done all day was think about you...........even when i was cleaning i thought to myself my precious princess is going to be proud of me for cleaning lol
kayla_princess94 (10/03/07 10:31:25 PM): lol
kayla_princess94 (10/03/07 10:31:27 PM): yep


lorne_a_20014

(10/03/07 10:31:34 PM): :-*
kayla_princess94 (10/03/07 10:31:40 PM): :-*


lorne_a_20014

(10/03/07 10:31:41 PM): how did school go today?
kayla_princess94 (10/03/07 10:31:49 PM): ok


lorne_a_20014

(10/03/07 10:32:13 PM): i have to tell you something but don't be too upset though ok?
kayla_princess94 (10/03/07 10:32:36 PM): k wat


lorne_a_20014

(10/03/07 10:33:32 PM): i might lose my internet tomorrow, but if i do it will only be for tomorrow, i need to pay my bill or they're gonna shut either my internet off or my long distance off, but i can't pay it until friday morning
kayla_princess94 (10/03/07 10:33:56 PM): noooo


lorne_a_20014

(10/03/07 10:34:00 PM): i'm hoping they'll just shut my long distance off because i don't like going a day without you


lorne_a_20014

(10/03/07 10:34:23 PM): they might not shut my internet off so make sure you're still here waiting for me tomorrow ok?
kayla_princess94 (10/03/07 10:34:53 PM): k:((


lorne_a_20014

(10/03/07 10:35:34 PM): don't be too upset because they might only shut off my long distance, and even if they shut my internet off which i don't think they will, it will only be for one day


lorne_a_20014

(10/03/07 10:35:39 PM): ok?
kayla_princess94 (10/03/07 10:36:09 PM): k


lorne_a_20014

(10/03/07 10:36:27 PM): i love you my precious princess@};-:-*:x
kayla_princess94 (10/03/07 10:36:42 PM): i luv u
kayla_princess94 (10/03/07 10:36:48 PM): :-*


lorne_a_20014

(10/03/07 10:36:50 PM): what are you wearing right now?
kayla_princess94 (10/03/07 10:37:02 PM): my jamies


lorne_a_20014

(10/03/07 10:37:11 PM): wish i could see


lorne_a_20014

(10/03/07 10:37:16 PM): what did you wear today?
kayla_princess94 (10/03/07 10:37:48 PM): jeans and green top


lorne_a_20014

(10/03/07 10:38:03 PM): what color panties and bra?
kayla_princess94 (10/03/07 10:38:13 PM): white
kayla_princess94 (10/03/07 10:38:18 PM): ;)


lorne_a_20014

(10/03/07 10:38:23 PM): :D:-*:x


lorne_a_20014

(10/03/07 10:38:33 PM): were you thinking about me when you picked them out?lol
kayla_princess94 (10/03/07 10:38:41 PM): :x


lorne_a_20014

(10/03/07 10:39:00 PM): what did you think about when you thought about me today?
kayla_princess94 (10/03/07 10:39:35 PM): lol i thought i shuld wear white under wear cuz u like them lol


lorne_a_20014

(10/03/07 10:39:47 PM): :D


lorne_a_20014

(10/03/07 10:39:53 PM): :-*:x
kayla_princess94 (10/03/07 10:40:08 PM): :x:-*


lorne_a_20014

(10/03/07 10:40:18 PM): god i love you Kayla Marie Armstrong@};-
kayla_princess94 (10/03/07 10:40:28 PM): i luv u


lorne_a_20014

(10/03/07 10:40:46 PM): what else did you think about when you thought about me today/
kayla_princess94 (10/03/07 10:41:09 PM): idk i just thought bout ALL DAY


lorne_a_20014

(10/03/07 10:41:17 PM): :D


lorne_a_20014

(10/03/07 10:41:32 PM): did you think about my penis too?:D
kayla_princess94 (10/03/07 10:41:46 PM): well yeah:\">


lorne_a_20014

(10/03/07 10:41:51 PM): :D


lorne_a_20014

(10/03/07 10:42:01 PM): are you wanting to see it?
kayla_princess94 (10/03/07 10:42:22 PM): shur


lorne_a_20014

(10/03/07 10:43:33 PM): how was that?:D


lorne_a_20014

(10/03/07 10:43:36 PM): :-*
kayla_princess94 (10/03/07 10:43:37 PM): :)
kayla_princess94 (10/03/07 10:43:45 PM): :x


lorne_a_20014

(10/03/07 10:43:57 PM): are you anxious to touch it?
kayla_princess94 (10/03/07 10:43:59 PM): :-*:-*:-*
kayla_princess94 (10/03/07 10:44:11 PM): yeah


lorne_a_20014

(10/03/07 10:44:14 PM): :-*:-*:-*:-*:-*:-*
kayla_princess94 (10/03/07 10:44:32 PM): :-*:-*:-*:-*


lorne_a_20014

(10/03/07 10:44:34 PM): i'm anxious to touch your vagina too:\">


lorne_a_20014

(10/03/07 10:44:50 PM): 15 more days baby@};-
kayla_princess94 (10/03/07 10:45:00 PM): kewl


lorne_a_20014

(10/03/07 10:45:33 PM): i was in the shower today and all i kept picturing was you and me taking a bubble bath and eating pizza together lol
kayla_princess94 (10/03/07 10:45:44 PM): :D


lorne_a_20014

(10/03/07 10:46:02 PM): i wished so bad that it could be right then that it was happening lol
kayla_princess94 (10/03/07 10:46:20 PM): :)


lorne_a_20014

(10/03/07 10:46:35 PM): you're beautiful precious@};-:-*:x
kayla_princess94 (10/03/07 10:46:55 PM): ur the bestest bf ever


lorne_a_20014

(10/03/07 10:47:17 PM): you're the bestest g/f ever@};-:-*:x
kayla_princess94 (10/03/07 10:47:25 PM): :D
kayla_princess94 (10/03/07 10:47:32 PM): :-*:x


lorne_a_20014

(10/03/07 10:47:38 PM): i am VERY much in love with you too
kayla_princess94 (10/03/07 10:47:50 PM): i luv u 2


lorne_a_20014

(10/03/07 10:48:05 PM): will you do me a favor?
kayla_princess94 (10/03/07 10:48:11 PM): yeah


lorne_a_20014

(10/03/07 10:48:37 PM): i don't have this pic of you that you have on our box......will you send that one to me please?
kayla_princess94 (10/03/07 10:49:04 PM): shur


lorne_a_20014

(10/03/07 10:49:10 PM): :D


lorne_a_20014

(10/03/07 10:50:50 PM): are you looking for it?


lorne_a_20014

(10/03/07 10:51:42 PM): :x
kayla_princess94 (10/03/07 10:51:57 PM): :x


lorne_a_20014

(10/03/07 10:52:02 PM): ty my precious princess@};-:-*
kayla_princess94 (10/03/07 10:52:28 PM): yw:)


lorne_a_20014

(10/03/07 10:52:32 PM): omg you're soooooooooooo beautiful@};-


lorne_a_20014

(10/03/07 10:52:46 PM): how long ago was this picture taken?
kayla_princess94 (10/03/07 10:53:05 PM): hmm let me think
kayla_princess94 (10/03/07 10:54:03 PM): tryin 2 remember ll
kayla_princess94 (10/03/07 10:54:06 PM): lol


lorne_a_20014

(10/03/07 10:54:08 PM): lol


lorne_a_20014

(10/03/07 10:54:57 PM): omg i can't wait to hold you@};-:-*:x
kayla_princess94 (10/03/07 10:55:15 PM): :D


lorne_a_20014

(10/03/07 10:55:47 PM): do you remember yet?lol
kayla_princess94 (10/03/07 10:56:34 PM): yeah bout 4 months ago
kayla_princess94 (10/03/07 10:56:40 PM): had 2 think lol


lorne_a_20014

(10/03/07 10:56:44 PM): lol


lorne_a_20014

(10/03/07 10:56:48 PM): :-*:x


lorne_a_20014

(10/03/07 10:57:09 PM): god you're beautiful@};-


lorne_a_20014

(10/03/07 10:57:22 PM): and i'm sooooooooooo lucky


lorne_a_20014

(10/03/07 10:57:23 PM): :D
kayla_princess94 (10/03/07 10:57:40 PM): :\">


lorne_a_20014

(10/03/07 10:58:04 PM): so did you think about me last night when you were in the shower?
kayla_princess94 (10/03/07 10:58:24 PM): brb


lorne_a_20014

(10/03/07 10:58:28 PM): ok
kayla_princess94 (10/03/07 11:00:32 PM): sry phone


lorne_a_20014

(10/03/07 11:00:35 PM): :-*


lorne_a_20014

(10/03/07 11:00:39 PM): who was it?
kayla_princess94 (10/03/07 11:00:41 PM): i told maria i was busy


lorne_a_20014

(10/03/07 11:00:45 PM): oh lol


lorne_a_20014

(10/03/07 11:01:04 PM): i wish you were here with me right now
kayla_princess94 (10/03/07 11:01:27 PM): me 2


lorne_a_20014

(10/03/07 11:01:41 PM): we'd both be naked if you were lol:D
kayla_princess94 (10/03/07 11:02:04 PM): yeah


lorne_a_20014

(10/03/07 11:02:22 PM): when i was driving to work today, all i could picture was you sucking on my penis and me having my finger in your vagina too.........i loved it lol
kayla_princess94 (10/03/07 11:02:35 PM): :\">


lorne_a_20014

(10/03/07 11:02:59 PM): how many times did you write my name today?
kayla_princess94 (10/03/07 11:03:22 PM): hmm mayb like 100 lol


lorne_a_20014

(10/03/07 11:03:25 PM): lol


lorne_a_20014

(10/03/07 11:03:44 PM): keep that up and you'll end up getting F's on your report card lol
kayla_princess94 (10/03/07 11:04:04 PM): omg no


lorne_a_20014

(10/03/07 11:04:08 PM): look at this precious lol
kayla_princess94 (10/03/07 11:04:15 PM): i wuld never go anywhere 4 the rest of my life


lorne_a_20014

(10/03/07 11:04:36 PM): did you see bud?
kayla_princess94 (10/03/07 11:04:44 PM): no


lorne_a_20014

(10/03/07 11:04:50 PM): you didn't?
kayla_princess94 (10/03/07 11:04:58 PM): no i was lookin at u


lorne_a_20014

(10/03/07 11:05:07 PM): i was trying to show you him on his back acting goofy lol


lorne_a_20014

(10/03/07 11:05:16 PM): did my penis get in the way?lol
kayla_princess94 (10/03/07 11:05:27 PM): umm yeah


lorne_a_20014

(10/03/07 11:05:31 PM): lol


lorne_a_20014

(10/03/07 11:05:35 PM): :-*
kayla_princess94 (10/03/07 11:05:45 PM): :x


lorne_a_20014

(10/03/07 11:05:56 PM): are you in love with my penis precious?lol
kayla_princess94 (10/03/07 11:06:04 PM): lol


lorne_a_20014

(10/03/07 11:06:09 PM): :D
kayla_princess94 (10/03/07 11:06:12 PM): i luv u


lorne_a_20014

(10/03/07 11:06:33 PM): well my penis is part of me so you must love my penis too then lol


lorne_a_20014

(10/03/07 11:06:41 PM): :-*:x
kayla_princess94 (10/03/07 11:06:44 PM): yeah lol


lorne_a_20014

(10/03/07 11:06:51 PM): :D


lorne_a_20014

(10/03/07 11:07:31 PM): i don't ever want to be without you precoius........i am really very much in love with you@};-:-*>:D<:x
kayla_princess94 (10/03/07 11:07:44 PM): :D


lorne_a_20014

(10/03/07 11:07:55 PM): brb, i need to blow my nose lol
kayla_princess94 (10/03/07 11:08:03 PM): k


lorne_a_20014

(10/03/07 11:08:43 PM): back


lorne_a_20014

(10/03/07 11:08:56 PM): how did you like looking at my butt?lol
kayla_princess94 (10/03/07 11:08:59 PM): :D
kayla_princess94 (10/03/07 11:09:04 PM): lol
kayla_princess94 (10/03/07 11:09:10 PM): it was kewl


lorne_a_20014

(10/03/07 11:09:22 PM): just kewl? it wasn't cute?lol
kayla_princess94 (10/03/07 11:09:40 PM): well yeah ur butt is cute:\">


lorne_a_20014

(10/03/07 11:09:47 PM): :D:-*


lorne_a_20014

(10/03/07 11:10:06 PM): yours is cuter though:D;;):-*
kayla_princess94 (10/03/07 11:10:27 PM): :)


lorne_a_20014

(10/03/07 11:10:31 PM): i'm gonna kiss your cute butt too


lorne_a_20014

(10/03/07 11:10:35 PM): :D
kayla_princess94 (10/03/07 11:10:46 PM): y u wanna kiss my butt


lorne_a_20014

(10/03/07 11:10:59 PM): because it's part of you:x
kayla_princess94 (10/03/07 11:11:06 PM): k
kayla_princess94 (10/03/07 11:11:19 PM): hey so if i say kiss my ass 2 u
kayla_princess94 (10/03/07 11:11:22 PM): u really will
kayla_princess94 (10/03/07 11:11:25 PM): roflmao


lorne_a_20014

(10/03/07 11:11:30 PM): hell yeah lol


lorne_a_20014

(10/03/07 11:11:38 PM): very happily too lol
kayla_princess94 (10/03/07 11:11:40 PM): i made a joke


lorne_a_20014

(10/03/07 11:11:44 PM): :D:-*
kayla_princess94 (10/03/07 11:11:45 PM): :D


lorne_a_20014

(10/03/07 11:11:53 PM): i wasn't joking either lol


lorne_a_20014

(10/03/07 11:12:02 PM): i took it seriously lol


lorne_a_20014

(10/03/07 11:12:12 PM): tell me to kiss your ass and i'm going to lol
kayla_princess94 (10/03/07 11:12:19 PM): lol


lorne_a_20014

(10/03/07 11:12:35 PM): if i tell you to suck my dick are you going to?lol
kayla_princess94 (10/03/07 11:12:54 PM): yeah


lorne_a_20014

(10/03/07 11:12:59 PM): :D


lorne_a_20014

(10/03/07 11:13:17 PM): if i tell you i want to marry you what are you going to say?
kayla_princess94 (10/03/07 11:13:36 PM): YES:D


lorne_a_20014

(10/03/07 11:13:43 PM): :D


lorne_a_20014

(10/03/07 11:13:51 PM): ok, will you marry me??
kayla_princess94 (10/03/07 11:14:05 PM): YES:D


lorne_a_20014

(10/03/07 11:14:15 PM): :D:x


lorne_a_20014

(10/03/07 11:14:29 PM): want to marry me on the 18th?
kayla_princess94 (10/03/07 11:14:53 PM): umm how wuld i do that


lorne_a_20014

(10/03/07 11:15:23 PM): i forgot to add in the part where i was gonna say 4 1/2 yrs from the 18th lol
kayla_princess94 (10/03/07 11:15:33 PM): lol k
kayla_princess94 (10/03/07 11:15:37 PM): i was gona say


lorne_a_20014

(10/03/07 11:15:41 PM): lol
kayla_princess94 (10/03/07 11:15:47 PM): dont think my dad and mom wuld let me


lorne_a_20014

(10/03/07 11:15:58 PM): no, i don't think they would right now either lol
kayla_princess94 (10/03/07 11:16:12 PM): lol


lorne_a_20014

(10/03/07 11:16:34 PM): so tell me what's going through your mind as you sit there looking at me
kayla_princess94 (10/03/07 11:17:00 PM): umm wat im gona wear when i get married


lorne_a_20014

(10/03/07 11:17:09 PM): :D


lorne_a_20014

(10/03/07 11:17:34 PM): i know what you're gonna wear on our honey moon:D
kayla_princess94 (10/03/07 11:17:59 PM): hmm i have 2 think bout that ill have 2 go shopping


lorne_a_20014

(10/03/07 11:18:18 PM): do you want to wear a wedding gown?
kayla_princess94 (10/03/07 11:18:27 PM): yes


lorne_a_20014

(10/03/07 11:18:47 PM): well, we've got 4 1/2 yrs to think about it so we've got plenty of time lol
kayla_princess94 (10/03/07 11:19:00 PM): yeah
kayla_princess94 (10/03/07 11:19:19 PM): hmm depends on where honeymoon is 4 wat 2 wear


lorne_a_20014

(10/03/07 11:19:39 PM): would you like to go to hawaii for our honey moon?
kayla_princess94 (10/03/07 11:19:50 PM): omg r u kidding


lorne_a_20014

(10/03/07 11:19:57 PM): nope, not at all
kayla_princess94 (10/03/07 11:20:09 PM): that wuld b soooo kewl


lorne_a_20014

(10/03/07 11:20:22 PM): ok, hawaii for our honey moon it is then


lorne_a_20014

(10/03/07 11:20:26 PM): :D
kayla_princess94 (10/03/07 11:20:40 PM): YAY:D


lorne_a_20014

(10/03/07 11:20:51 PM): we just have to be careful that i don't get you pregnant before we get married though lol
kayla_princess94 (10/03/07 11:21:04 PM): omg nooo


lorne_a_20014

(10/03/07 11:21:10 PM): lol


lorne_a_20014

(10/03/07 11:21:30 PM): i wont precious, we'll be cautious about it
kayla_princess94 (10/03/07 11:21:44 PM): how


lorne_a_20014

(10/03/07 11:21:49 PM): condoms
kayla_princess94 (10/03/07 11:21:57 PM): o yeah
kayla_princess94 (10/03/07 11:22:05 PM): duh


lorne_a_20014

(10/03/07 11:22:39 PM): except for this very first time, i want it to be without a condom but i'll make sure not to get you pregnant though
kayla_princess94 (10/03/07 11:23:04 PM): how u gona do that


lorne_a_20014

(10/03/07 11:23:18 PM): i'll pull it out of you before i cum


lorne_a_20014

(10/03/07 11:23:28 PM): you know what cum is right?
kayla_princess94 (10/03/07 11:23:34 PM): yeah


lorne_a_20014

(10/03/07 11:23:37 PM): ok


lorne_a_20014

(10/03/07 11:24:03 PM): here i've been calling it that white stuff that comes out of my penis and you knew what it was called all along lol
kayla_princess94 (10/03/07 11:24:23 PM): lol im not totally dumb


lorne_a_20014

(10/03/07 11:24:50 PM): i don't think you're at all dumb anyway.........i just don't know what you know about all of it yet lol


lorne_a_20014

(10/03/07 11:25:17 PM): i know what you're going to know though lol
kayla_princess94 (10/03/07 11:25:27 PM): wat


lorne_a_20014

(10/03/07 11:25:35 PM): alot
kayla_princess94 (10/03/07 11:25:44 PM): k


lorne_a_20014

(10/03/07 11:26:19 PM): hummmm.........i sooooooooo much wish you were here with me right now:-<
kayla_princess94 (10/03/07 11:26:36 PM): :)


lorne_a_20014

(10/03/07 11:26:57 PM): did anything exciting happen at school today?
kayla_princess94 (10/03/07 11:27:11 PM): not really
kayla_princess94 (10/03/07 11:27:30 PM): cept jessie and tyler almsot broke up


lorne_a_20014

(10/03/07 11:27:37 PM): oh


lorne_a_20014

(10/03/07 11:27:39 PM): why?
kayla_princess94 (10/03/07 11:27:55 PM): not shur she dont wanna talk bout it
kayla_princess94 (10/03/07 11:28:02 PM): that funny shes my bff


lorne_a_20014

(10/03/07 11:28:08 PM): precious, look at bud


lorne_a_20014

(10/03/07 11:28:48 PM): you missed him, he was on his back again and looking at me and smiling lol


lorne_a_20014

(10/03/07 11:29:03 PM): you'll see him do it when you're here
kayla_princess94 (10/03/07 11:29:06 PM): let me c


lorne_a_20014

(10/03/07 11:29:14 PM): he's not doing it now
kayla_princess94 (10/03/07 11:29:56 PM): aww he wants u 2 play


lorne_a_20014

(10/03/07 11:30:25 PM): yeah, but he knows he has to wait until you go to bed because i wont leave you lol
kayla_princess94 (10/03/07 11:30:47 PM): aww


lorne_a_20014

(10/03/07 11:31:02 PM): i love you my precious princess


lorne_a_20014

(10/03/07 11:31:43 PM): when i pick you up, you're gonna have to have everything ready so you can be waiting for me to get there ok?
kayla_princess94 (10/03/07 11:31:53 PM): k


lorne_a_20014

(10/03/07 11:32:03 PM): do cell phones come in, in your area?
kayla_princess94 (10/03/07 11:32:40 PM): idk i gess lots of ppl have them


lorne_a_20014

(10/03/07 11:33:11 PM): well you'll have to give me your phone number before i come up so that way if something happens then i can call you


lorne_a_20014

(10/03/07 11:33:51 PM): not only that so that just in case if my cell phone doesn't come in there, then i'll still be able to get ahold of you
kayla_princess94 (10/03/07 11:34:14 PM): omg brb


lorne_a_20014

(10/03/07 11:34:18 PM): ok


lorne_a_20014

(10/03/07 11:34:49 PM): i have a bad feeling they're gonna tell you that you have to go to bed now:(:-<
kayla_princess94 (10/03/07 11:35:08 PM): back


lorne_a_20014

(10/03/07 11:35:14 PM): :-*
kayla_princess94 (10/03/07 11:35:32 PM): no not yet but he said dont b up 2 late kayla i dont thinkur getting enuff sleep lately
kayla_princess94 (10/03/07 11:35:34 PM): lol


lorne_a_20014

(10/03/07 11:35:42 PM): lol


lorne_a_20014

(10/03/07 11:36:00 PM): how long does it usually take you to go to sleep once you get in bed?
kayla_princess94 (10/03/07 11:36:19 PM): hmm rite away lol


lorne_a_20014

(10/03/07 11:36:20 PM): brb, i'm gonna give bud a bone


lorne_a_20014

(10/03/07 11:36:24 PM): lol
kayla_princess94 (10/03/07 11:36:30 PM): k


lorne_a_20014

(10/03/07 11:36:54 PM): back
kayla_princess94 (10/03/07 11:37:01 PM): :D


lorne_a_20014

(10/03/07 11:37:30 PM): just think precious........15 more days and you'll be walking around here naked with me:D:x
kayla_princess94 (10/03/07 11:37:38 PM): lol


lorne_a_20014

(10/03/07 11:37:52 PM): are you excited about that?
kayla_princess94 (10/03/07 11:38:07 PM): yes:)


lorne_a_20014

(10/03/07 11:38:12 PM): :D
kayla_princess94 (10/03/07 11:38:14 PM): but


lorne_a_20014

(10/03/07 11:38:19 PM): but what?
kayla_princess94 (10/03/07 11:38:52 PM): u got me thinking bout that baby stuff


lorne_a_20014

(10/03/07 11:39:00 PM): lol
kayla_princess94 (10/03/07 11:39:03 PM): i dont want nooo babys
kayla_princess94 (10/03/07 11:39:14 PM): i think u shuld bring those condom things


lorne_a_20014

(10/03/07 11:39:16 PM): don't worry baby, i'm not going to get you pregnant, you're too young


lorne_a_20014

(10/03/07 11:40:08 PM): i'm going to, but for the very first time that i stick it in you i want it to be my skin on your skin with no condoms, after a minute i'll take it back out and put a condom on ok?
kayla_princess94 (10/03/07 11:40:21 PM): k


lorne_a_20014

(10/03/07 11:40:22 PM): i promise because i don't want you to get pregnant right now either
kayla_princess94 (10/03/07 11:40:28 PM): k


lorne_a_20014

(10/03/07 11:40:39 PM): i love you too much to get you pregnant right now
kayla_princess94 (10/03/07 11:40:51 PM): :D


lorne_a_20014

(10/03/07 11:40:56 PM): :x
kayla_princess94 (10/03/07 11:41:03 PM): :x


lorne_a_20014

(10/03/07 11:41:24 PM): you're my special precious princess........i have to think about you before i think about anyone else


lorne_a_20014

(10/03/07 11:41:27 PM): @};-
kayla_princess94 (10/03/07 11:41:37 PM): ur so sweet


lorne_a_20014

(10/03/07 11:41:57 PM): i can't help it, i'm in love with you@};-:-*:x
kayla_princess94 (10/03/07 11:42:08 PM): :D


lorne_a_20014

(10/03/07 11:42:27 PM): how much hair do you have down there right now?
kayla_princess94 (10/03/07 11:42:36 PM): not alot y


lorne_a_20014

(10/03/07 11:43:13 PM): good, because i don't like hair down there, it gets in the way when i'm licking your clit and it takes away more of the feeling for you
kayla_princess94 (10/03/07 11:43:29 PM): really


lorne_a_20014

(10/03/07 11:43:55 PM): yeah because if you have hair there then you can't feel as much of my tongue on your skin


lorne_a_20014

(10/03/07 11:44:21 PM): can you count the amount of hair that you have down there now or is there too much to count?
kayla_princess94 (10/03/07 11:44:35 PM): wat
kayla_princess94 (10/03/07 11:44:37 PM): count
kayla_princess94 (10/03/07 11:44:45 PM): y in the heck wuld i do that


lorne_a_20014

(10/03/07 11:45:34 PM): just because i'm curious as too how much hair you have down there right now..........i'll be finding out in 15 days anyway but i was just curious now lol


lorne_a_20014

(10/03/07 11:45:58 PM): i can wait for 15 days precious, don't count it lol
kayla_princess94 (10/03/07 11:46:06 PM): good


lorne_a_20014

(10/03/07 11:46:09 PM): lol


lorne_a_20014

(10/03/07 11:46:14 PM): :-*


lorne_a_20014

(10/03/07 11:46:23 PM): i love you
kayla_princess94 (10/03/07 11:46:23 PM): :-*
kayla_princess94 (10/03/07 11:46:26 PM): ty


lorne_a_20014

(10/03/07 11:46:30 PM): yw


lorne_a_20014

(10/03/07 11:46:55 PM): so what do you think about when you think about my penis? do you think about it going in your vagina?
kayla_princess94 (10/03/07 11:47:12 PM): yeah wondering wat its like


lorne_a_20014

(10/03/07 11:47:33 PM): well, you'll be finding out in 15 days, how do you feel about that?
kayla_princess94 (10/03/07 11:47:58 PM): i cant wait:D


lorne_a_20014

(10/03/07 11:48:04 PM): :D


lorne_a_20014

(10/03/07 11:48:08 PM): good


lorne_a_20014

(10/03/07 11:48:12 PM): me either lol


lorne_a_20014

(10/03/07 11:48:17 PM): :x
kayla_princess94 (10/03/07 11:48:39 PM): :-*


lorne_a_20014

(10/03/07 11:49:09 PM): now when we first walk in the door of my place.......can i take your clothes off right then or do i have to wait a few minutes so you can play with bud?lol
kayla_princess94 (10/03/07 11:49:32 PM): i wanna play with bud:D


lorne_a_20014

(10/03/07 11:49:36 PM): lol


lorne_a_20014

(10/03/07 11:49:48 PM): i was hoping you'd say take your clothes off first lol
kayla_princess94 (10/03/07 11:50:37 PM): well i wanna play with bud ill finally get 2 c him in person i mean in dog lol u know wat i mean


lorne_a_20014

(10/03/07 11:50:56 PM): yeah precious, i know what you mean lol


lorne_a_20014

(10/03/07 11:51:14 PM): but, 5 minutes with bud then your clothes come off.......ok??


lorne_a_20014

(10/03/07 11:51:18 PM): :D
kayla_princess94 (10/03/07 11:51:26 PM): o ok


lorne_a_20014

(10/03/07 11:51:37 PM): :D:-*:x


lorne_a_20014

(10/03/07 11:51:51 PM): my clothes are coming off as soon as we walk in the door though lol
kayla_princess94 (10/03/07 11:52:08 PM): lol ur clothes r always coming off roflmao


lorne_a_20014

(10/03/07 11:52:13 PM): lol


lorne_a_20014

(10/03/07 11:52:18 PM): yeah but you love it though lol
kayla_princess94 (10/03/07 11:52:36 PM): lol


lorne_a_20014

(10/03/07 11:52:43 PM): am i right?


lorne_a_20014

(10/03/07 11:52:43 PM): lol
kayla_princess94 (10/03/07 11:52:48 PM): yep


lorne_a_20014

(10/03/07 11:52:53 PM): :D


lorne_a_20014

(10/03/07 11:53:21 PM): oh, and after your clothes come off.......we're going in the bedroom:D
kayla_princess94 (10/03/07 11:53:31 PM): k


lorne_a_20014

(10/03/07 11:53:49 PM): how do you feel about that?
kayla_princess94 (10/03/07 11:54:02 PM): kewl


lorne_a_20014

(10/03/07 11:54:13 PM): you know what's going to happen then right?
kayla_princess94 (10/03/07 11:54:23 PM): no wat


lorne_a_20014

(10/03/07 11:54:45 PM): i'm gonna stick my penis in your vagina:\">:D:x
kayla_princess94 (10/03/07 11:54:54 PM): o yeah duh


lorne_a_20014

(10/03/07 11:54:58 PM): lol


lorne_a_20014

(10/03/07 11:55:07 PM): now how do you feel about that?lol
kayla_princess94 (10/03/07 11:55:18 PM): kewl


lorne_a_20014

(10/03/07 11:55:28 PM): :D:-*
kayla_princess94 (10/03/07 11:55:36 PM): :)


lorne_a_20014

(10/03/07 11:55:45 PM): tell me what you're thinking right now precious
kayla_princess94 (10/03/07 11:56:09 PM): bout all that stuff were gona do
kayla_princess94 (10/03/07 11:56:13 PM): :\">


lorne_a_20014

(10/03/07 11:56:20 PM): :D:-*


lorne_a_20014

(10/03/07 11:56:33 PM): do you wish we were doing it right now?
kayla_princess94 (10/03/07 11:56:47 PM): yeah


lorne_a_20014

(10/03/07 11:56:51 PM): me too
kayla_princess94 (10/03/07 11:57:06 PM): :)


lorne_a_20014

(10/03/07 11:57:07 PM): do you know if your parents are going out friday night?
kayla_princess94 (10/03/07 11:57:15 PM): not shur


lorne_a_20014

(10/03/07 11:57:25 PM): i hope they are, then you can call me again


lorne_a_20014

(10/03/07 11:57:36 PM): i miss your pretty voice
kayla_princess94 (10/03/07 11:57:38 PM): i will tell them 2 then lol


lorne_a_20014

(10/03/07 11:57:40 PM): @};-


lorne_a_20014

(10/03/07 11:58:09 PM): yeah, tell them to go out just because you think they should lol


lorne_a_20014

(10/03/07 11:58:28 PM): tell them they need a night of dinner and a movie together lol
kayla_princess94 (10/03/07 11:58:47 PM): lol yeah they work hard


lorne_a_20014

(10/03/07 11:58:50 PM): btw, i'm going to buy you a bracelet
kayla_princess94 (10/03/07 11:59:17 PM): wow really 4real


lorne_a_20014

(10/03/07 11:59:22 PM): yup
kayla_princess94 (10/03/07 11:59:26 PM): kewl


lorne_a_20014

(10/03/07 11:59:45 PM): just because i want you to wear something on you that came from me


lorne_a_20014

(10/03/07 11:59:47 PM): @};-
kayla_princess94 (10/04/07 12:00:11 AM): aww


lorne_a_20014

(10/04/07 12:00:41 AM): i'll have a pair of your panties here with me so i need to buy you a bracelet so you can have something from me, and i don't really think it's a good idea if i give you a pair of my boxers to keep with you lol;
kayla_princess94 (10/04/07 12:01:04 AM): lol
kayla_princess94 (10/04/07 12:01:12 AM): u gona bring it when u come


lorne_a_20014

(10/04/07 12:01:45 AM): i think i'm going to take you to walmart so we can find one because i can't get a very expensive one right now


lorne_a_20014

(10/04/07 12:01:47 AM): is that ok?
kayla_princess94 (10/04/07 12:02:25 AM): k


lorne_a_20014

(10/04/07 12:02:42 AM): also that way you can get one that you like because if i pick it out you might not like it as much
kayla_princess94 (10/04/07 12:03:04 AM): i wuld luv any thing u pick out


lorne_a_20014

(10/04/07 12:03:16 AM): :-*:x:D


lorne_a_20014

(10/04/07 12:03:33 AM): do you want me to pick it out for you then and bring it with me?
kayla_princess94 (10/04/07 12:03:42 AM): yep


lorne_a_20014

(10/04/07 12:03:53 AM): ok, i'll do that then@};-:-*
kayla_princess94 (10/04/07 12:04:14 AM): :D
kayla_princess94 (10/04/07 12:04:24 AM): i luv surpizes


lorne_a_20014

(10/04/07 12:04:28 AM): i love you Kayla Marie Armstrong@};-:-*:x
kayla_princess94 (10/04/07 12:04:38 AM): :xi luv u 2


lorne_a_20014

(10/04/07 12:04:44 AM): :D


lorne_a_20014

(10/04/07 12:05:09 AM): i can't wait to have my penis in your vagina too lol


lorne_a_20014

(10/04/07 12:05:14 AM): :\">
kayla_princess94 (10/04/07 12:05:22 AM): me 2:\">


lorne_a_20014

(10/04/07 12:05:27 AM): :D


lorne_a_20014

(10/04/07 12:05:36 AM): god you're so special
kayla_princess94 (10/04/07 12:05:53 AM): aww ur special 2


lorne_a_20014

(10/04/07 12:05:55 AM): can i keep you forever?
kayla_princess94 (10/04/07 12:06:05 AM): yep


lorne_a_20014

(10/04/07 12:06:08 AM): :D


lorne_a_20014

(10/04/07 12:06:41 AM): can i give you a hicky on your butt cheeks?lol
kayla_princess94 (10/04/07 12:07:07 AM): on my butt
kayla_princess94 (10/04/07 12:07:10 AM): wat


lorne_a_20014

(10/04/07 12:07:11 AM): yup lol
kayla_princess94 (10/04/07 12:07:25 AM): lol k if u wanna


lorne_a_20014

(10/04/07 12:07:31 AM): ok lol


lorne_a_20014

(10/04/07 12:07:58 AM): i'd be the only one that could see it if i give you a hicky on your butt cheeks so you wouldn't have to worry about it lol
kayla_princess94 (10/04/07 12:08:11 AM): yeah lol


lorne_a_20014

(10/04/07 12:08:17 AM): :D


lorne_a_20014

(10/04/07 12:08:41 AM): because i'm the ONLY one you'll let ever see you naked:D:D:D
kayla_princess94 (10/04/07 12:09:06 AM): yeah:\">


lorne_a_20014

(10/04/07 12:09:15 AM): :D:-*:x


lorne_a_20014

(10/04/07 12:09:34 AM): you're the only one i'll ever let see me naked too:\">:x
kayla_princess94 (10/04/07 12:09:43 AM): :)
kayla_princess94 (10/04/07 12:09:55 AM): gee i hope so


lorne_a_20014

(10/04/07 12:10:16 AM): you don't have to hope because you're the ONLY one that will EVER see me naked now


lorne_a_20014

(10/04/07 12:10:26 AM): :x
kayla_princess94 (10/04/07 12:10:27 AM): :D
kayla_princess94 (10/04/07 12:10:38 AM): cept 4 bud lol


lorne_a_20014

(10/04/07 12:10:47 AM): yeah, except for bud lol


lorne_a_20014

(10/04/07 12:11:04 AM): bud doesn't own my penis though, you do own it if you want to lol
kayla_princess94 (10/04/07 12:11:16 AM): own it


lorne_a_20014

(10/04/07 12:11:42 AM): yeah, in other words nobody else can ever touch it or see it ever again, only you can
kayla_princess94 (10/04/07 12:11:57 AM): kewl


lorne_a_20014

(10/04/07 12:12:10 AM): but i own your vagina too:D
kayla_princess94 (10/04/07 12:12:29 AM): k


lorne_a_20014

(10/04/07 12:12:33 AM): :D


lorne_a_20014

(10/04/07 12:12:38 AM): :-*:x
kayla_princess94 (10/04/07 12:12:51 AM): can i ask u sumthin


lorne_a_20014

(10/04/07 12:12:56 AM): yes
kayla_princess94 (10/04/07 12:13:08 AM): u have a lot of gf b4 me


lorne_a_20014

(10/04/07 12:13:56 AM): honestly, no, i honestly think i've had........umm.........probably 3 or 4


lorne_a_20014

(10/04/07 12:14:04 AM): why?
kayla_princess94 (10/04/07 12:14:16 AM): jus wonderin
kayla_princess94 (10/04/07 12:14:20 AM): thats alot


lorne_a_20014

(10/04/07 12:14:42 AM): well you have to think about that i'm almost 37 too precious
kayla_princess94 (10/04/07 12:14:50 AM): o yeah


lorne_a_20014

(10/04/07 12:14:52 AM): lol


lorne_a_20014

(10/04/07 12:14:58 AM): i don't look that old huh?lol'
kayla_princess94 (10/04/07 12:15:04 AM): no
kayla_princess94 (10/04/07 12:15:09 AM): wat were they like


lorne_a_20014

(10/04/07 12:15:59 AM): they were all nice........just one cheated on me and the others lied to me
kayla_princess94 (10/04/07 12:16:18 AM): really


lorne_a_20014

(10/04/07 12:17:02 AM): yup, and i'll never be with anyone that ever cheats on me or lies to me.......i deserve better than that.......that's why i have you now@};-:-*:x
kayla_princess94 (10/04/07 12:17:27 AM): :)
kayla_princess94 (10/04/07 12:17:36 AM): wat they lie 2 u bout


lorne_a_20014

(10/04/07 12:18:44 AM): they lied about money, and i can't remember what else but the way i feel is that if someone can lie to you than they must not love you enough to really want to be with you so that's when it's time to break up
kayla_princess94 (10/04/07 12:19:03 AM): yeah


lorne_a_20014

(10/04/07 12:21:07 AM): wb my precious princess@};-:-*:x
kayla_princess94 (10/04/07 12:21:50 AM): i hate that when that happens


lorne_a_20014

(10/04/07 12:21:54 AM): me too


lorne_a_20014

(10/04/07 12:22:23 AM): you know my cam is still set so that when it's on all you have to do is turn it on from your end right?
kayla_princess94 (10/04/07 12:22:40 AM): yeah
kayla_princess94 (10/04/07 12:22:48 AM): sumtimes its off though


lorne_a_20014

(10/04/07 12:23:23 AM): do you try to click on it every day when you're waiting for me to come home?
kayla_princess94 (10/04/07 12:23:33 AM): yeah


lorne_a_20014

(10/04/07 12:24:06 AM): i'll start leaving it on for you again then, i didn't think that you did because i didn't think you wanted to look at an empty room so i stopped leaving it on lol
kayla_princess94 (10/04/07 12:24:20 AM): lol


lorne_a_20014

(10/04/07 12:24:20 AM): but you'll be able to see bud until i get home anyway lol
kayla_princess94 (10/04/07 12:24:29 AM): yeah


lorne_a_20014

(10/04/07 12:24:42 AM): precious do you know what time it is?
kayla_princess94 (10/04/07 12:25:11 AM): omg its almost 1130


lorne_a_20014

(10/04/07 12:25:15 AM): yeah lol


lorne_a_20014

(10/04/07 12:25:28 AM): i don't want you to have a hard time waking up for school tomorrow lol
kayla_princess94 (10/04/07 12:25:35 AM): yeah


lorne_a_20014

(10/04/07 12:25:48 AM): and you CAN'T be cranky to your parents because we want them to go out friday night lol
kayla_princess94 (10/04/07 12:26:02 AM): lol yeah
kayla_princess94 (10/04/07 12:26:14 AM): they must of fell asleep hehe


lorne_a_20014

(10/04/07 12:26:19 AM): lol


lorne_a_20014

(10/04/07 12:26:35 AM): remember what i said about i might not have the internet tomorrow night though ok?
kayla_princess94 (10/04/07 12:26:44 AM): k


lorne_a_20014

(10/04/07 12:26:48 AM): don't forget just in case they shut it off for a day


lorne_a_20014

(10/04/07 12:26:59 AM): but still be here because i don't really think that they will
kayla_princess94 (10/04/07 12:27:00 AM): k
kayla_princess94 (10/04/07 12:27:05 AM): k


lorne_a_20014

(10/04/07 12:27:15 AM): hey.........can you sneak and call me right now if they're asleep?
kayla_princess94 (10/04/07 12:27:46 AM): no i better not i dont want them waking up i dont even know if there asleep or not


lorne_a_20014

(10/04/07 12:27:54 AM): ok


lorne_a_20014

(10/04/07 12:28:16 AM): i had to check just because i miss your pretty voice so much@};-:-*:x
kayla_princess94 (10/04/07 12:28:26 AM): :-*
kayla_princess94 (10/04/07 12:28:30 AM): i better go
kayla_princess94 (10/04/07 12:28:32 AM): luv u


lorne_a_20014

(10/04/07 12:28:51 AM): yeah, you need to make sure you wake up tomorrow in a good mood


lorne_a_20014

(10/04/07 12:29:13 AM): i love you too my precious princess@};-:-*>:D<:x
kayla_princess94 (10/04/07 12:29:19 AM): k


lorne_a_20014

(10/04/07 12:29:20 AM): dream about me


lorne_a_20014

(10/04/07 12:29:29 AM): do you want to see it before you go?
kayla_princess94 (10/04/07 12:29:33 AM): yeah


lorne_a_20014

(10/04/07 12:31:40 AM): was that a nice long look?lol
kayla_princess94 (10/04/07 12:31:46 AM): yeah


lorne_a_20014

(10/04/07 12:31:49 AM): it wasn't hard because it was sad
kayla_princess94 (10/04/07 12:31:57 AM): sad


lorne_a_20014

(10/04/07 12:32:07 AM): yeah, it misses you already
kayla_princess94 (10/04/07 12:32:14 AM): lol


lorne_a_20014

(10/04/07 12:32:24 AM): do you like looking at it for a long time like that?
kayla_princess94 (10/04/07 12:32:29 AM): yeah


lorne_a_20014

(10/04/07 12:32:37 AM): good:D


lorne_a_20014

(10/04/07 12:32:58 AM): in 15 more days you'll get an up close view right in your mouth of it lol


lorne_a_20014

(10/04/07 12:33:04 AM): :D
kayla_princess94 (10/04/07 12:33:08 AM): lol
kayla_princess94 (10/04/07 12:33:16 AM): that pretty close


lorne_a_20014

(10/04/07 12:33:33 AM): yeah, that's gonna feel good too:D


lorne_a_20014

(10/04/07 12:33:51 AM): i love you my precious princess@};-
kayla_princess94 (10/04/07 12:33:58 AM): i luv u


lorne_a_20014

(10/04/07 12:34:08 AM): are you ready to go to bed?
kayla_princess94 (10/04/07 12:34:14 AM): yep


lorne_a_20014

(10/04/07 12:34:27 AM): ok, you have to go before i can lol


lorne_a_20014

(10/04/07 12:34:39 AM): i always wait for you to leave first lol
kayla_princess94 (10/04/07 12:34:49 AM): i know


lorne_a_20014

(10/04/07 12:34:59 AM): you don't like leaving me either though huh?lol
kayla_princess94 (10/04/07 12:35:05 AM): no


lorne_a_20014

(10/04/07 12:35:08 AM): lol


lorne_a_20014

(10/04/07 12:35:29 AM): i can't wait to hold you precious
kayla_princess94 (10/04/07 12:35:37 AM): me 2
kayla_princess94 (10/04/07 12:35:43 AM): :D


lorne_a_20014

(10/04/07 12:35:52 AM): :x:-*
kayla_princess94 (10/04/07 12:35:59 AM): :-*


lorne_a_20014

(10/04/07 12:36:08 AM): want to count to 3 and then go?
kayla_princess94 (10/04/07 12:36:14 AM): k


lorne_a_20014

(10/04/07 12:36:21 AM): 1
kayla_princess94 (10/04/07 12:36:26 AM): 2


lorne_a_20014

(10/04/07 12:36:34 AM): 2 1/2
kayla_princess94 (10/04/07 12:36:37 AM): lol
kayla_princess94 (10/04/07 12:36:42 AM): 3


lorne_a_20014

(10/04/07 12:36:49 AM): oh


lorne_a_20014

(10/04/07 12:36:54 AM): delete your archives
kayla_princess94 (10/04/07 12:37:06 AM): i know;)


lorne_a_20014

(10/04/07 12:37:10 AM): ok lol


lorne_a_20014

(10/04/07 12:37:32 AM): i love you precious@};->:D<:-*:x:-<
kayla_princess94 (10/04/07 12:38:03 AM): k
kayla_princess94 (10/04/07 12:38:12 AM): :-*:x>:D<
kayla_princess94 (10/04/07 12:38:17 AM): nite


lorne_a_20014

(10/04/07 12:38:26 AM): good night, i love you @};->:D<:-*:x


lorne_a_20014

(10/04/07 12:39:13 AM): i hate this time of the night when we have to leave eachother:-<


lorne_a_20014

(10/04/07 11:51:37 AM): hi precious@};-, my internet is still on so far:Di love you@};->:D<:-*:x


lorne_a_20014

(10/04/07 10:30:16 PM): hmm........you're not here??
kayla_princess94 (10/04/07 10:30:32 PM): hehe yes i am
kayla_princess94 (10/04/07 10:30:38 PM): :D


lorne_a_20014

(10/04/07 10:30:42 PM): good:D:-*


lorne_a_20014

(10/04/07 10:30:44 PM): i love you
kayla_princess94 (10/04/07 10:30:53 PM): i luv u


lorne_a_20014

(10/04/07 10:31:05 PM): hang on, i need to get undressed
kayla_princess94 (10/04/07 10:31:13 PM): k


lorne_a_20014

(10/04/07 10:31:59 PM): ok
kayla_princess94 (10/04/07 10:32:06 PM): :)


lorne_a_20014

(10/04/07 10:32:10 PM): how did you day go?
kayla_princess94 (10/04/07 10:32:18 PM): boring


lorne_a_20014

(10/04/07 10:32:24 PM): why?
kayla_princess94 (10/04/07 10:32:30 PM): cuz


lorne_a_20014

(10/04/07 10:32:41 PM): hang on again, i want to heat me up a cup of coffee
kayla_princess94 (10/04/07 10:32:50 PM): k
kayla_princess94 (10/04/07 10:33:45 PM): aww look at bud he wants 2 play he got his stuff animal an everything:(
kayla_princess94 (10/04/07 10:34:06 PM): he was so cute standing there with it in his mouth
kayla_princess94 (10/04/07 10:34:12 PM): there he goes again aww


lorne_a_20014

(10/04/07 10:34:54 PM): lol


lorne_a_20014

(10/04/07 10:35:08 PM): i love you precious@};-:-*:x
kayla_princess94 (10/04/07 10:35:14 PM): i luv u
kayla_princess94 (10/04/07 10:35:18 PM): :x


lorne_a_20014

(10/04/07 10:35:22 PM): did you think about me today?
kayla_princess94 (10/04/07 10:35:28 PM): yeah


lorne_a_20014

(10/04/07 10:35:35 PM): what did you think about?
kayla_princess94 (10/04/07 10:35:44 PM): o idk


lorne_a_20014

(10/04/07 10:35:55 PM): lol


lorne_a_20014

(10/04/07 10:36:07 PM): let me guess, being naked with me?lol
kayla_princess94 (10/04/07 10:36:15 PM): lol
kayla_princess94 (10/04/07 10:36:17 PM): noo


lorne_a_20014

(10/04/07 10:36:26 PM): oh.....hmmm lol


lorne_a_20014

(10/04/07 10:36:37 PM): did you think about my toes??lol
kayla_princess94 (10/04/07 10:36:48 PM): umm no


lorne_a_20014

(10/04/07 10:36:51 PM): lol


lorne_a_20014

(10/04/07 10:36:57 PM): well, what did you think about?lol
kayla_princess94 (10/04/07 10:37:19 PM): idk like i wanna know everything bout u


lorne_a_20014

(10/04/07 10:37:44 PM): good, because i'll tell you anything you want to know@};-:-*
kayla_princess94 (10/04/07 10:37:53 PM): kewl
kayla_princess94 (10/04/07 10:37:56 PM): umm
kayla_princess94 (10/04/07 10:38:02 PM): umm lets c


lorne_a_20014

(10/04/07 10:38:06 PM): lol
kayla_princess94 (10/04/07 10:38:21 PM): umm how tall r ya


lorne_a_20014

(10/04/07 10:38:27 PM): 5'8
kayla_princess94 (10/04/07 10:38:32 PM): k


lorne_a_20014

(10/04/07 10:38:38 PM): how tall are you?
kayla_princess94 (10/04/07 10:38:50 PM): umm 5 sumthin idk lol


lorne_a_20014

(10/04/07 10:38:54 PM): lol


lorne_a_20014

(10/04/07 10:38:56 PM): ok


lorne_a_20014

(10/04/07 10:39:13 PM): i wiegh about 175


lorne_a_20014

(10/04/07 10:39:20 PM): how much do you wiegh?
kayla_princess94 (10/04/07 10:39:25 PM): like 110


lorne_a_20014

(10/04/07 10:39:33 PM): :-*
kayla_princess94 (10/04/07 10:39:41 PM): :-*
kayla_princess94 (10/04/07 10:39:55 PM): umm u got lots a brothers and sisters dont u


lorne_a_20014

(10/04/07 10:40:00 PM): yup


lorne_a_20014

(10/04/07 10:40:06 PM): 4 brothers and 1 sister
kayla_princess94 (10/04/07 10:40:10 PM): wow
kayla_princess94 (10/04/07 10:40:13 PM): lucky
kayla_princess94 (10/04/07 10:40:23 PM): i dont got any:(


lorne_a_20014

(10/04/07 10:40:40 PM): hmm.......i don't know if i'd really say i'm lucky, they're just about all idiots lol


lorne_a_20014

(10/04/07 10:40:46 PM): atleast i think they are


lorne_a_20014

(10/04/07 10:41:10 PM): but if it weren't for them being the idiots that they are, i probably wouldn't be here in nashville
kayla_princess94 (10/04/07 10:41:20 PM): huh


lorne_a_20014

(10/04/07 10:41:55 PM): i'll explain it to you sometime, basicly they screwed me over so bad when it came to money and shit that i couldn't stand being around them any more


lorne_a_20014

(10/04/07 10:42:29 PM): that's one of the things that made me move down here, well that and it's always been my dream to make it in country music
kayla_princess94 (10/04/07 10:43:04 PM): u dont like them


lorne_a_20014

(10/04/07 10:43:24 PM): i love them because they're my brothers and sister, but i don't like the way they are
kayla_princess94 (10/04/07 10:43:47 PM): they must of done bad stuff 2 u


lorne_a_20014

(10/04/07 10:44:38 PM): they thought about themselves and i helped them alot, but when it came to me needing help they ran very fast the other way, and they purposely screwed me a few times too


lorne_a_20014

(10/04/07 10:44:57 PM): so they're really not on my favorite peoples list
kayla_princess94 (10/04/07 10:45:26 PM): y wuldnt they help u thats meanX-(


lorne_a_20014

(10/04/07 10:46:28 PM): because they're idiots........they were only thinking about that specific time........they weren't thinking down the road so when it comes time again.......they'll never get help from me and they'll regret being the way they were to me and i know it's going to happen


lorne_a_20014

(10/04/07 10:46:45 PM): so.....that's thier own fault
kayla_princess94 (10/04/07 10:46:52 PM): yeah
kayla_princess94 (10/04/07 10:47:10 PM): i dont like any1 not being nice 2 my bfX-(


lorne_a_20014

(10/04/07 10:47:31 PM): ty my precious princess@};-:-*:x
kayla_princess94 (10/04/07 10:47:51 PM): yw:x:-*


lorne_a_20014

(10/04/07 10:48:09 PM): i have a question for you and this is going to surprise you too but you have to be honest with me about it ok?
kayla_princess94 (10/04/07 10:48:18 PM): k


lorne_a_20014

(10/04/07 10:48:27 PM): i'm gonna send you 2 pics
kayla_princess94 (10/04/07 10:48:37 PM): of wat


lorne_a_20014

(10/04/07 10:48:43 PM): you'll see
kayla_princess94 (10/04/07 10:48:54 PM): k
kayla_princess94 (10/04/07 10:49:41 PM): its me


lorne_a_20014

(10/04/07 10:50:51 PM): ok, now tell me which one is really you ok? i'm not going to be mad, i just want to know which one is really you because the one that you said was you in the middle with the other 2 girls is a different girl than the first pic i just sent you
kayla_princess94 (10/04/07 10:51:16 PM): huh


lorne_a_20014

(10/04/07 10:52:23 PM): the first pic i just sent you.........the one in the dress, she has a pretty little gap between her 2 front teeth.........the other pic, the girl doesn't have a gap between her 2 front teeth.........i just want to know which one is really you
kayla_princess94 (10/04/07 10:52:56 PM): thats me in the 1st 1


lorne_a_20014

(10/04/07 10:53:18 PM): ok, so who's the one in the second one that you said was you?
kayla_princess94 (10/04/07 10:53:40 PM): its me long time ago
kayla_princess94 (10/04/07 10:53:49 PM): look here


lorne_a_20014

(10/04/07 10:53:50 PM): promise?
kayla_princess94 (10/04/07 10:55:07 PM): yep


lorne_a_20014

(10/04/07 10:54:54 PM): i know they both look like the same girl, the gap between the teeth just really through me off


lorne_a_20014

(10/04/07 10:55:51 PM): what are you doing precious?


lorne_a_20014

(10/04/07 10:57:23 PM): you look soooooooo beautiful in that dress@};-:x


lorne_a_20014

(10/04/07 10:58:06 PM): precious what are you doing?


lorne_a_20014

(10/04/07 10:59:10 PM): ??


lorne_a_20014

(10/04/07 10:59:47 PM): what are you doing???


lorne_a_20014

(10/04/07 11:02:33 PM): well that was odd.......guess someone came online that you wanted to talk to more than me:-<


lorne_a_20014

(10/04/07 11:04:06 PM): either that or you're not telling me the truth about the pics and don't want me to know
kayla_princess94 (10/04/07 11:09:13 PM): i had braces 4 awhile ok they were dumb and i hated them and they r gone so w/e


lorne_a_20014

(10/04/07 11:09:38 PM): so why would you stop talking to me?
kayla_princess94 (10/04/07 11:09:48 PM): cuz u think im ugly


lorne_a_20014

(10/04/07 11:10:08 PM): what ever gave you that idea.........i think you're beautiful


lorne_a_20014

(10/04/07 11:10:26 PM): i always have and always will........i just wanted to know the truth


lorne_a_20014

(10/04/07 11:10:46 PM): why did you turn my cam off?


lorne_a_20014

(10/04/07 11:11:56 PM): listen, we don't have much time together at night as it is so you need to talk to me


lorne_a_20014

(10/04/07 11:12:21 PM): why did you turn my cam off?
kayla_princess94 (10/04/07 11:12:26 PM): cuz


lorne_a_20014

(10/04/07 11:12:32 PM): cuz why?
kayla_princess94 (10/04/07 11:12:38 PM): daddy shh


lorne_a_20014

(10/04/07 11:16:12 PM): gonna talk to me yet?
kayla_princess94 (10/04/07 11:16:56 PM): yeah
kayla_princess94 (10/04/07 11:17:04 PM): gawd i hate him sumtimes


lorne_a_20014

(10/04/07 11:17:08 PM): why?
kayla_princess94 (10/04/07 11:17:16 PM): cuz he is buggy


lorne_a_20014

(10/04/07 11:17:21 PM): lol


lorne_a_20014

(10/04/07 11:17:37 PM): ok, so how long did you have your braces?
kayla_princess94 (10/04/07 11:17:51 PM): year


lorne_a_20014

(10/04/07 11:18:08 PM): so how long ago was the pic taken with the other 2 girls?'


lorne_a_20014

(10/04/07 11:18:53 PM): first i want to know why you stopped talking to me when you turned off your cam
kayla_princess94 (10/04/07 11:18:56 PM): i dont remember
kayla_princess94 (10/04/07 11:19:09 PM): cuz i was mad


lorne_a_20014

(10/04/07 11:19:30 PM): why would you be mad at me for asking you a question that i was wondering about?
kayla_princess94 (10/04/07 11:19:49 PM): cuz u stop talkin 2 me


lorne_a_20014

(10/04/07 11:20:03 PM): i didn't stop talking to you.......i was still talking to you


lorne_a_20014

(10/04/07 11:20:09 PM): you didn't talk to me


lorne_a_20014

(10/04/07 11:20:21 PM): i was just looking at the pics you told me to look at
kayla_princess94 (10/04/07 11:20:27 PM): yes i did


lorne_a_20014

(10/04/07 11:20:50 PM): you told me to look at the pics that why i wasn't talking, i was looking at the pics lol
kayla_princess94 (10/04/07 11:20:57 PM): i said y aint u talkin and u didnt answer


lorne_a_20014

(10/04/07 11:21:11 PM): i never got it, i sent the same thing to you
kayla_princess94 (10/04/07 11:21:32 PM): hmm


lorne_a_20014

(10/04/07 11:22:01 PM): you don't EVER have to worry about me thinking you're ugly precious......you're the most beautiful thing i've EVER seen in my life and i love you@};-
kayla_princess94 (10/04/07 11:22:13 PM): :D
kayla_princess94 (10/04/07 11:22:21 PM): i thought u didnt like me anymore


lorne_a_20014

(10/04/07 11:22:44 PM): lorne armstrong (10/4/2007 10:54:59 PM): i know they both look like the same girl, the gap between the teeth just really through me off
lorne armstrong (10/4/2007 10:55:56 PM): what are you doing precious?
lorne armstrong (10/4/2007 10:57:28 PM): you look soooooooo beautiful in that dress
lorne armstrong (10/4/2007 10:58:11 PM): precious what are you doing?
lorne armstrong (10/4/2007 10:59:15 PM): ??
lorne armstrong (10/4/2007 10:59:52 PM): what are you doing???
lorne armstrong (10/4/2007 11:02:38 PM): well that was odd.......guess someone came online that you wanted to talk to more than me


lorne_a_20014

(10/04/07 11:22:48 PM): read that


lorne_a_20014

(10/04/07 11:23:09 PM): see the times when i was talking to you and you didn't reply to me?
kayla_princess94 (10/04/07 11:23:23 PM): i was tryin 2
kayla_princess94 (10/04/07 11:23:30 PM): i got booted 2


lorne_a_20014

(10/04/07 11:23:35 PM): oh
kayla_princess94 (10/04/07 11:23:41 PM): had 2 get back on
kayla_princess94 (10/04/07 11:24:07 PM): and daddy yellin at me


lorne_a_20014

(10/04/07 11:24:09 PM): don't ever think i don't like you anymore, i'm in love with you, i just want you to always be honest with me about everything, no matter what it is


lorne_a_20014

(10/04/07 11:25:08 PM): promise me you'll always be honest with me no matter what it is?
kayla_princess94 (10/04/07 11:25:15 PM): k


lorne_a_20014

(10/04/07 11:25:25 PM): ty precious@};-


lorne_a_20014

(10/04/07 11:25:30 PM): :-*:x
kayla_princess94 (10/04/07 11:25:37 PM): :D
kayla_princess94 (10/04/07 11:25:43 PM): :x
kayla_princess94 (10/04/07 11:25:47 PM): :-*


lorne_a_20014

(10/04/07 11:25:51 PM): are your parents going out tomorrow night?
kayla_princess94 (10/04/07 11:26:07 PM): not shur yet but i hope so geez


lorne_a_20014

(10/04/07 11:26:42 PM): me too, i want to hear my precious princesses beautiful voice again.........i'm sad without it:-<
kayla_princess94 (10/04/07 11:27:16 PM): :)


lorne_a_20014

(10/04/07 11:27:26 PM): are you visible to just me?
kayla_princess94 (10/04/07 11:27:34 PM): yep


lorne_a_20014

(10/04/07 11:27:37 PM): good


lorne_a_20014

(10/04/07 11:27:42 PM): :D:-*


lorne_a_20014

(10/04/07 11:28:07 PM): there, now i am to you too:-*:x
kayla_princess94 (10/04/07 11:28:27 PM): :):-*:-*


lorne_a_20014

(10/04/07 11:29:06 PM): why would you ever think that i think you're ugly?? have you seen yourself in the mirror recently?? you're freaking gorgious@};-:x
kayla_princess94 (10/04/07 11:29:19 PM): :\">
kayla_princess94 (10/04/07 11:29:32 PM): i aint gorious
kayla_princess94 (10/04/07 11:29:39 PM): gorgous
kayla_princess94 (10/04/07 11:29:45 PM): i cant spell it lol


lorne_a_20014

(10/04/07 11:29:52 PM): yes you are and don't argue with me about it lol:-P
kayla_princess94 (10/04/07 11:29:58 PM): k


lorne_a_20014

(10/04/07 11:30:03 PM): ty lol
kayla_princess94 (10/04/07 11:30:07 PM): i luv u


lorne_a_20014

(10/04/07 11:30:08 PM): :D:-*


lorne_a_20014

(10/04/07 11:30:21 PM): i love you too........VERY VERY much@};-
kayla_princess94 (10/04/07 11:30:30 PM): i luv u more


lorne_a_20014

(10/04/07 11:30:42 PM): i love you infinity:-P


lorne_a_20014

(10/04/07 11:30:58 PM): ha ha lol


lorne_a_20014

(10/04/07 11:31:06 PM): you can't beat that lol
kayla_princess94 (10/04/07 11:31:18 PM): i i umm luv u 4 more than that infinity thing


lorne_a_20014

(10/04/07 11:31:26 PM): lmao
kayla_princess94 (10/04/07 11:31:27 PM): ha


lorne_a_20014

(10/04/07 11:31:33 PM): :-*:-*


lorne_a_20014

(10/04/07 11:31:49 PM): i love you infinity plus infinity lol


lorne_a_20014

(10/04/07 11:31:51 PM): ha


lorne_a_20014

(10/04/07 11:31:55 PM): :-P


lorne_a_20014

(10/04/07 11:32:11 PM): what did you wear today?
kayla_princess94 (10/04/07 11:32:45 PM): jeans and a pink top


lorne_a_20014

(10/04/07 11:32:54 PM): what color panties and bra?
kayla_princess94 (10/04/07 11:33:14 PM): white again;)


lorne_a_20014

(10/04/07 11:33:19 PM): :D


lorne_a_20014

(10/04/07 11:33:29 PM): you must love me alot huh?


lorne_a_20014

(10/04/07 11:33:35 PM): :x
kayla_princess94 (10/04/07 11:33:43 PM): yep


lorne_a_20014

(10/04/07 11:33:47 PM): :D
kayla_princess94 (10/04/07 11:33:57 PM): im gona wear white 1s every day till i c u


lorne_a_20014

(10/04/07 11:34:03 PM): lol


lorne_a_20014

(10/04/07 11:34:06 PM): :D


lorne_a_20014

(10/04/07 11:34:33 PM): well, not the day that we see eachother, you wont be wearing anything under you skirt lol


lorne_a_20014

(10/04/07 11:34:36 PM): :D
kayla_princess94 (10/04/07 11:34:52 PM): i know:\">


lorne_a_20014

(10/04/07 11:35:01 PM): :D:-*:x


lorne_a_20014

(10/04/07 11:35:21 PM): you love the thought of me touching your vagina too huh?:\">
kayla_princess94 (10/04/07 11:35:37 PM): :-*:-*:-*:-*:-*:-*:-*:-*:-*:-*
kayla_princess94 (10/04/07 11:35:41 PM): yes


lorne_a_20014

(10/04/07 11:35:43 PM): :D


lorne_a_20014

(10/04/07 11:36:00 PM): what are your thoughts about me licking your clit?
kayla_princess94 (10/04/07 11:36:28 PM): hmm idk cuz i never had any1 do that


lorne_a_20014

(10/04/07 11:36:49 PM): and nobody ever will either, ONLY MEEEEE:D
kayla_princess94 (10/04/07 11:36:55 PM): yep


lorne_a_20014

(10/04/07 11:36:59 PM): :D


lorne_a_20014

(10/04/07 11:37:07 PM): do you miss seeing my penis yet?
kayla_princess94 (10/04/07 11:37:14 PM): yeah


lorne_a_20014

(10/04/07 11:37:30 PM): want me to put the cam down so you can look at it for a few?
kayla_princess94 (10/04/07 11:37:45 PM): yeah


lorne_a_20014

(10/04/07 11:38:19 PM): is that good?
kayla_princess94 (10/04/07 11:38:29 PM): yep


lorne_a_20014

(10/04/07 11:38:37 PM): :-*
kayla_princess94 (10/04/07 11:38:44 PM): :-*


lorne_a_20014

(10/04/07 11:38:45 PM): want to sit on it?
kayla_princess94 (10/04/07 11:38:52 PM): huh


lorne_a_20014

(10/04/07 11:39:14 PM): if you sit on it, i can put it so it's up straight like this
kayla_princess94 (10/04/07 11:39:28 PM): o


lorne_a_20014

(10/04/07 11:39:46 PM): then you can sit on it with it going into your vagina:D
kayla_princess94 (10/04/07 11:39:55 PM): o


lorne_a_20014

(10/04/07 11:40:08 PM): so......want to sit on it??:D
kayla_princess94 (10/04/07 11:40:14 PM): k


lorne_a_20014

(10/04/07 11:40:26 PM): :D:-*:x
kayla_princess94 (10/04/07 11:40:30 PM): but i cant
kayla_princess94 (10/04/07 11:40:37 PM): cuz i aint there lol


lorne_a_20014

(10/04/07 11:40:38 PM): why?


lorne_a_20014

(10/04/07 11:40:49 PM): oh, well, when you are here you can lol
kayla_princess94 (10/04/07 11:40:56 PM): lol


lorne_a_20014

(10/04/07 11:41:15 PM): if you were here right now what would you want to do? and don't say idk lol
kayla_princess94 (10/04/07 11:42:20 PM): play with bud cuz he looked sad with his toy in his mouth and lookin at u and u wuldnt play with him and then idk lol


lorne_a_20014

(10/04/07 11:42:33 PM): lol


lorne_a_20014

(10/04/07 11:42:52 PM): ok, after the first 5 minutes that you're here what do you want to do?lol


lorne_a_20014

(10/04/07 11:42:59 PM): and don't say idk


lorne_a_20014

(10/04/07 11:43:00 PM): lol
kayla_princess94 (10/04/07 11:43:23 PM): prolly give u a:-*


lorne_a_20014

(10/04/07 11:43:32 PM): :D


lorne_a_20014

(10/04/07 11:43:37 PM): then what?
kayla_princess94 (10/04/07 11:43:49 PM): idk wat u want me 2 do


lorne_a_20014

(10/04/07 11:44:02 PM): i want to undress you


lorne_a_20014

(10/04/07 11:44:15 PM): then you can suck on my penis


lorne_a_20014

(10/04/07 11:44:34 PM): at the same time that i start playing with your vagina


lorne_a_20014

(10/04/07 11:44:39 PM): :D


lorne_a_20014

(10/04/07 11:44:59 PM): how does that sound?
kayla_princess94 (10/04/07 11:45:06 PM): k


lorne_a_20014

(10/04/07 11:45:18 PM): then i'm gonna lick your clit


lorne_a_20014

(10/04/07 11:45:28 PM): when i take you in the bedroom


lorne_a_20014

(10/04/07 11:45:40 PM): then i'm gonna stick my penis in your vagina


lorne_a_20014

(10/04/07 11:45:55 PM): that's what i want to do, now tell me what you want to do
kayla_princess94 (10/04/07 11:46:19 PM): well i guess all that


lorne_a_20014

(10/04/07 11:46:32 PM): :D:-*:x
kayla_princess94 (10/04/07 11:46:42 PM): :-*:x


lorne_a_20014

(10/04/07 11:46:59 PM): are you still scared at all?
kayla_princess94 (10/04/07 11:47:15 PM): kinda:\">


lorne_a_20014

(10/04/07 11:47:42 PM): you don't need to be precious.......i'm going to be gentle with you @};-:-*:x


lorne_a_20014

(10/04/07 11:48:13 PM): what are you scared of?
kayla_princess94 (10/04/07 11:48:27 PM): k:):x>:D<
kayla_princess94 (10/04/07 11:48:45 PM): cuz im afraid ill do sumthin wrong


lorne_a_20014

(10/04/07 11:49:06 PM): you wont do anything at wrong precious, i'm gonna teach you remember?
kayla_princess94 (10/04/07 11:49:16 PM): yeah


lorne_a_20014

(10/04/07 11:49:18 PM): :-*
kayla_princess94 (10/04/07 11:49:29 PM): i just dont want u 2 think im dumb


lorne_a_20014

(10/04/07 11:50:01 PM): i don't think you're dumb and i wont think you're dumb because i'm teaching you everything so there's no way you could be dumb@};-
kayla_princess94 (10/04/07 11:50:18 PM): k
kayla_princess94 (10/04/07 11:50:21 PM): :)


lorne_a_20014

(10/04/07 11:50:45 PM): do you know what time it is? i'm surprised your parents haven't said anything to you yet lol
kayla_princess94 (10/04/07 11:51:08 PM): yeah and they r yellin at me:(


lorne_a_20014

(10/04/07 11:51:19 PM): :-<


lorne_a_20014

(10/04/07 11:51:39 PM): don't be getting grounded from the computer


lorne_a_20014

(10/04/07 11:51:46 PM): i need you every night
kayla_princess94 (10/04/07 11:51:52 PM): :D


lorne_a_20014

(10/04/07 11:52:02 PM): :-*:x
kayla_princess94 (10/04/07 11:52:14 PM): :-*:x


lorne_a_20014

(10/04/07 11:52:26 PM): find out tomorrow if they're going out tomorrow night too ok?
kayla_princess94 (10/04/07 11:52:41 PM): k


lorne_a_20014

(10/04/07 11:52:47 PM): hopefully they'll already be gone out by the time i get back home so you can call me right away
kayla_princess94 (10/04/07 11:52:55 PM): yeah


lorne_a_20014

(10/04/07 11:53:08 PM): i really need to hear your pretty voice again
kayla_princess94 (10/04/07 11:53:22 PM): i wanna hear u 2


lorne_a_20014

(10/04/07 11:53:35 PM): i love you my precious princess@};-:-*:x
kayla_princess94 (10/04/07 11:53:41 PM): i luv u
kayla_princess94 (10/04/07 11:53:50 PM): :x


lorne_a_20014

(10/04/07 11:54:12 PM): when i stick my penis in your vagina do you know what that's called?
kayla_princess94 (10/04/07 11:54:21 PM): wat


lorne_a_20014

(10/04/07 11:54:27 PM): having sex
kayla_princess94 (10/04/07 11:54:36 PM): oh yeah lol duh


lorne_a_20014

(10/04/07 11:54:39 PM): lol


lorne_a_20014

(10/04/07 11:54:50 PM): do you know what the other name for it is?


lorne_a_20014

(10/04/07 11:54:57 PM): it's a cuss word
kayla_princess94 (10/04/07 11:55:04 PM): wat


lorne_a_20014

(10/04/07 11:55:10 PM): fucking
kayla_princess94 (10/04/07 11:55:21 PM): omg u said that bad word
kayla_princess94 (10/04/07 11:55:23 PM): lol


lorne_a_20014

(10/04/07 11:55:25 PM): lol


lorne_a_20014

(10/04/07 11:55:32 PM): do you want to fuck me?lol
kayla_princess94 (10/04/07 11:55:37 PM): yeah


lorne_a_20014

(10/04/07 11:55:42 PM): :D
kayla_princess94 (10/04/07 11:55:59 PM): can i c ur face now b4 i go


lorne_a_20014

(10/04/07 11:56:05 PM): yes precious


lorne_a_20014

(10/04/07 11:56:29 PM): there, how's that?
kayla_princess94 (10/04/07 11:56:38 PM): good:D


lorne_a_20014

(10/04/07 11:56:45 PM): i love you@};-
kayla_princess94 (10/04/07 11:56:50 PM): i luv u


lorne_a_20014

(10/04/07 11:57:01 PM): do me a favor tonight when you're laying in bed?
kayla_princess94 (10/04/07 11:57:06 PM): k
kayla_princess94 (10/04/07 11:57:07 PM): wat


lorne_a_20014

(10/04/07 11:57:33 PM): stick your finger in your pussy a few times for me? please??:D
kayla_princess94 (10/04/07 11:57:41 PM): k


lorne_a_20014

(10/04/07 11:57:47 PM): :D
kayla_princess94 (10/04/07 11:57:49 PM): y


lorne_a_20014

(10/04/07 11:58:07 PM): just because i want you to do it and think about me before you go to sleep
kayla_princess94 (10/04/07 11:58:22 PM): k
kayla_princess94 (10/04/07 11:58:36 PM): i always think bout u b4 i go 2 sleep:)


lorne_a_20014

(10/04/07 11:58:41 PM): :D


lorne_a_20014

(10/04/07 11:58:46 PM): :-*:x
kayla_princess94 (10/04/07 11:58:55 PM): :-*:x>:D<


lorne_a_20014

(10/04/07 11:59:08 PM): i always think naughty thoughts about you before i go to sleep:\">
kayla_princess94 (10/04/07 11:59:17 PM): :\">


lorne_a_20014

(10/04/07 11:59:23 PM): :-*
kayla_princess94 (10/04/07 11:59:29 PM): :-*


lorne_a_20014

(10/04/07 11:59:47 PM): i love you sooooooooooo much precious@};-:-*:x
kayla_princess94 (10/04/07 11:59:55 PM): i luv u more


lorne_a_20014

(10/05/07 12:00:04 AM): no way lol
kayla_princess94 (10/05/07 12:00:14 AM): more than that dumb infinity thing


lorne_a_20014

(10/05/07 12:00:19 AM): lmao


lorne_a_20014

(10/05/07 12:00:27 AM): :-*
kayla_princess94 (10/05/07 12:00:33 AM): :-*


lorne_a_20014

(10/05/07 12:00:44 AM): well i love you more than more than that dumb infinity thing lol


lorne_a_20014

(10/05/07 12:00:48 AM): :-P
kayla_princess94 (10/05/07 12:00:50 AM): lol
kayla_princess94 (10/05/07 12:00:56 AM): k u beat me


lorne_a_20014

(10/05/07 12:01:02 AM): :D


lorne_a_20014

(10/05/07 12:01:14 AM): next time can i beat you with my penis??


lorne_a_20014

(10/05/07 12:01:18 AM): :D


lorne_a_20014

(10/05/07 12:01:50 AM): don't know what i'm talking about on that one huh?
kayla_princess94 (10/05/07 12:01:51 AM): lol


lorne_a_20014

(10/05/07 12:02:09 AM): i'll show you what i mean when you're here lol
kayla_princess94 (10/05/07 12:02:23 AM): huh


lorne_a_20014

(10/05/07 12:02:39 AM): don't worry, it's a good thing, you'll like it lol
kayla_princess94 (10/05/07 12:02:50 AM): k if u say so


lorne_a_20014

(10/05/07 12:02:56 AM): :-*


lorne_a_20014

(10/05/07 12:03:10 AM): i wish you were here right now


lorne_a_20014

(10/05/07 12:03:14 AM): :-<
kayla_princess94 (10/05/07 12:03:49 AM): me 2
kayla_princess94 (10/05/07 12:03:49 AM): :(
kayla_princess94 (10/05/07 12:03:51 AM): i gotta go


lorne_a_20014

(10/05/07 12:03:55 AM): ok precious


lorne_a_20014

(10/05/07 12:04:04 AM): i love you@};-:-*:x


lorne_a_20014

(10/05/07 12:04:09 AM): delete your archives
kayla_princess94 (10/05/07 12:04:12 AM): k


lorne_a_20014

(10/05/07 12:04:28 AM): and don't forget to do my favor for me when you get in bed:D
kayla_princess94 (10/05/07 12:05:43 AM): k im done


lorne_a_20014

(10/05/07 12:06:05 AM): ok, i love you my precious princess@};-:-*>:D<:x
kayla_princess94 (10/05/07 12:06:10 AM): i luv u
kayla_princess94 (10/05/07 12:06:18 AM): :x:-*


lorne_a_20014

(10/05/07 12:06:23 AM): good night and dream about me
kayla_princess94 (10/05/07 12:06:28 AM): i will
kayla_princess94 (10/05/07 12:06:37 AM): nite and dream bout me


lorne_a_20014

(10/05/07 12:06:46 AM): i always do


lorne_a_20014

(10/05/07 12:06:49 AM): @};-
kayla_princess94 (10/05/07 12:06:52 AM): :D


lorne_a_20014

(10/05/07 12:07:24 AM): i love you'


lorne_a_20014

(10/05/07 12:07:36 AM): and i miss you already:-<
kayla_princess94 (10/05/07 5:24:52 PM): you leave 4 work already
kayla_princess94 (10/05/07 5:25:00 PM): :(
kayla_princess94 (10/05/07 5:25:51 PM): u didnt leave me any messages on here 2day
kayla_princess94 (10/05/07 5:25:57 PM): :(
kayla_princess94 (10/05/07 5:50:24 PM): :-<
kayla_princess94 (10/05/07 5:51:57 PM): i miss u
kayla_princess94 (10/05/07 5:52:12 PM): :(
kayla_princess94 (10/05/07 8:38:37 PM): :-<
kayla_princess94 (10/05/07 8:42:29 PM): :(
kayla_princess94 (10/05/07 9:29:08 PM): 8-|
kayla_princess94 (10/05/07 10:14:32 PM): :(
kayla_princess94 (10/05/07 10:23:05 PM): :-<
kayla_princess94 (10/05/07 10:31:24 PM): guess ur not gona b here 2nite like u promise:(
kayla_princess94 (10/05/07 10:43:45 PM): so y aint u here i know u r
kayla_princess94 (10/05/07 10:44:20 PM): fine
kayla_princess94 (10/05/07 10:47:10 PM): :-/
kayla_princess94 (10/05/07 10:47:19 PM): :-S
kayla_princess94 (10/05/07 10:47:42 PM): X-(
kayla_princess94 (10/05/07 10:57:42 PM): i know ur here y aint u talkin 2 me r u mad at me or sumthin wat did i do:(
kayla_princess94 (10/05/07 10:58:28 PM): k then i guess u dont like me anymore:(
kayla_princess94 (10/05/07 11:01:52 PM): =((


lorne_a_20014

(10/05/07 11:28:14 PM): don't leave me
kayla_princess94 (10/05/07 11:28:26 PM): :D
kayla_princess94 (10/05/07 11:29:03 PM): brb


lorne_a_20014

(10/05/07 11:29:35 PM): i want my baby:-<


lorne_a_20014

(10/05/07 11:30:30 PM): brb
kayla_princess94 (10/05/07 11:32:52 PM): where u been


lorne_a_20014

(10/05/07 11:32:53 PM): i'm back\


lorne_a_20014

(10/05/07 11:32:58 PM): i love you


lorne_a_20014

(10/05/07 11:33:02 PM): can you call me?
kayla_princess94 (10/05/07 11:33:21 PM): no geez
kayla_princess94 (10/05/07 11:33:36 PM): there not going out till 2morrow
kayla_princess94 (10/05/07 11:33:41 PM): nite


lorne_a_20014

(10/05/07 11:33:42 PM): damn


lorne_a_20014

(10/05/07 11:34:09 PM): \well you and me are going to be on the phone as long as we possible can tomorrow night then
kayla_princess94 (10/05/07 11:34:25 PM): :)


lorne_a_20014

(10/05/07 11:34:33 PM): you're gonna hate me
kayla_princess94 (10/05/07 11:34:47 PM): y


lorne_a_20014

(10/05/07 11:35:01 PM): i was just mean to bud because he was bugging me and all i want right now is you


lorne_a_20014

(10/05/07 11:35:22 PM): but at the same time......i think i need to throw up....but i'm trying not to
kayla_princess94 (10/05/07 11:35:23 PM): u were mean 2 bud
kayla_princess94 (10/05/07 11:35:28 PM): X-(
kayla_princess94 (10/05/07 11:35:39 PM): y u gotta throw up


lorne_a_20014

(10/05/07 11:36:01 PM): don't yell at me right now please??? wait until tomorrow
kayla_princess94 (10/05/07 11:36:21 PM): wats wrtong
kayla_princess94 (10/05/07 11:36:26 PM): wrong


lorne_a_20014

(10/05/07 11:36:30 PM): i don't feel good baby


lorne_a_20014

(10/05/07 11:36:36 PM): :-<
kayla_princess94 (10/05/07 11:36:48 PM): y
kayla_princess94 (10/05/07 11:36:50 PM): u sick or sumthin


lorne_a_20014

(10/05/07 11:37:01 PM): yes and it's my own fault


lorne_a_20014

(10/05/07 11:37:09 PM): but don''t yell at me please??


lorne_a_20014

(10/05/07 11:37:35 PM): omg,........ i want you on the phone with me right now:-<
kayla_princess94 (10/05/07 11:37:51 PM): y wat u do
kayla_princess94 (10/05/07 11:38:00 PM): brb


lorne_a_20014

(10/05/07 11:38:09 PM): :-<


lorne_a_20014

(10/05/07 11:38:35 PM): tell me i'm the only one that can see you're online please?


lorne_a_20014

(10/05/07 11:39:50 PM): i want my baby:-<
kayla_princess94 (10/05/07 11:40:43 PM): yes
kayla_princess94 (10/05/07 11:40:43 PM): just u
kayla_princess94 (10/05/07 11:40:48 PM): wat is wrong tell me plz
kayla_princess94 (10/05/07 11:40:53 PM): gawd brb


lorne_a_20014

(10/05/07 11:41:00 PM): i just don't feel good
kayla_princess94 (10/05/07 11:41:03 PM): dont go no where


lorne_a_20014

(10/05/07 11:41:13 PM): i'm a baby when i don't feel good


lorne_a_20014

(10/05/07 11:42:06 PM): bring the portable phone in the bedroom with you tonigh because i NEED to hear you


lorne_a_20014

(10/05/07 11:42:14 PM): :-<


lorne_a_20014

(10/05/07 11:44:35 PM): where's my girl????


lorne_a_20014

(10/05/07 11:45:21 PM): :-<
kayla_princess94 (10/05/07 11:46:38 PM): i gotta do sumthin brb dont leave i luv u


lorne_a_20014

(10/05/07 11:47:01 PM): i'm not leaving but hurry up i want you right now....i love you


lorne_a_20014

(10/05/07 11:47:11 PM): i think i'm lgonna get sick though


lorne_a_20014

(10/05/07 11:47:27 PM): if i'm not here then i'm throwing up


lorne_a_20014

(10/05/07 11:48:39 PM): brb, gotta throw up


lorne_a_20014

(10/05/07 11:55:10 PM): precious are you back yet?


lorne_a_20014

(10/05/07 11:55:53 PM): i didn't throw up but i'm gonna try to make myself throw up......brb
kayla_princess94 (10/06/07 12:00:04 AM): im back
kayla_princess94 (10/06/07 12:00:12 AM): wat is wrong with u
kayla_princess94 (10/06/07 12:00:27 AM): u must b really sick:(
kayla_princess94 (10/06/07 12:00:43 AM): i thought u was mad at me and didnt want 2 talk 2 me
kayla_princess94 (10/06/07 12:00:46 AM): where were u


lorne_a_20014

(10/06/07 12:03:06 AM): im here baby


lorne_a_20014

(10/06/07 12:03:16 AM): i had to get in the shower


lorne_a_20014

(10/06/07 12:03:31 AM): omg i want you here with me


lorne_a_20014

(10/06/07 12:03:37 AM): :-<
kayla_princess94 (10/06/07 12:03:51 AM): u look awful wats wrong\


lorne_a_20014

(10/06/07 12:04:07 AM): i'm gonna point the cam at my penis because i look like shit ok?
kayla_princess94 (10/06/07 12:04:34 AM): lol
kayla_princess94 (10/06/07 12:04:35 AM): no


lorne_a_20014

(10/06/07 12:04:45 AM): yes, i look terrible
kayla_princess94 (10/06/07 12:04:54 AM): y wat happen


lorne_a_20014

(10/06/07 12:04:58 AM): i wish you were here with me


lorne_a_20014

(10/06/07 12:05:24 AM): i'll tell you tomorrow, i just want to hear about your day right now


lorne_a_20014

(10/06/07 12:05:29 AM): please??
kayla_princess94 (10/06/07 12:05:36 AM): booooooooooring
kayla_princess94 (10/06/07 12:05:56 AM): culdnt wait till u got home so i culd talk 2 u and then u were late


lorne_a_20014

(10/06/07 12:06:10 AM): i know, i'm sorry precious


lorne_a_20014

(10/06/07 12:06:19 AM): are your parents in bed right now?
kayla_princess94 (10/06/07 12:06:25 AM): no
kayla_princess94 (10/06/07 12:06:28 AM): brb


lorne_a_20014

(10/06/07 12:06:34 AM): :-<


lorne_a_20014

(10/06/07 12:07:04 AM): i'm gonna get acup of coffee, brb
kayla_princess94 (10/06/07 12:07:14 AM): k


lorne_a_20014

(10/06/07 12:10:02 AM): is that better?
kayla_princess94 (10/06/07 12:10:11 AM): yeah


lorne_a_20014

(10/06/07 12:10:29 AM): you're gonna sneak and call me tonight


lorne_a_20014

(10/06/07 12:10:49 AM): i miss you too much
kayla_princess94 (10/06/07 12:11:23 AM): thier up u want me 2 get in trbl


lorne_a_20014

(10/06/07 12:11:50 AM): when they go to bed and are asleep, that's when you're gonna call me


lorne_a_20014

(10/06/07 12:12:37 AM): i am so sad right now it's not even funny at all:-<
kayla_princess94 (10/06/07 12:12:46 AM): y r u sad


lorne_a_20014

(10/06/07 12:13:04 AM): because i want my baby here with me and i can't have her yet
kayla_princess94 (10/06/07 12:13:13 AM): aww


lorne_a_20014

(10/06/07 12:13:56 AM): i am really very upset precious..........i almost want to cry because i can't have you here with me right now:-<:(


lorne_a_20014

(10/06/07 12:14:11 AM): i'm so serous it's not even close to funny
kayla_princess94 (10/06/07 12:14:37 AM): aww


lorne_a_20014

(10/06/07 12:14:55 AM): you're calling me tonight
kayla_princess94 (10/06/07 12:15:07 AM): idk ill try


lorne_a_20014

(10/06/07 12:15:49 AM): no, there's no idk about it..........when they fall asleep you're calling me..........i miss you so much it's starting to hurt


lorne_a_20014

(10/06/07 12:15:57 AM): :-<


lorne_a_20014

(10/06/07 12:16:22 AM): i have to put the cam down at my penis baby, i look like shit
kayla_princess94 (10/06/07 12:16:30 AM): u look fine
kayla_princess94 (10/06/07 12:16:43 AM): they got friends here 2nite


lorne_a_20014

(10/06/07 12:17:08 AM): i look like shit and i don't want you to see me looking like shit
kayla_princess94 (10/06/07 12:17:33 AM): i dont care


lorne_a_20014

(10/06/07 12:17:50 AM): are you sure??
kayla_princess94 (10/06/07 12:18:04 AM): YES


lorne_a_20014

(10/06/07 12:18:08 AM): it bothers me when i look like shit when you see me


lorne_a_20014

(10/06/07 12:18:16 AM): i look really bad
kayla_princess94 (10/06/07 12:18:25 AM): o u dont look that bad


lorne_a_20014

(10/06/07 12:18:44 AM): do you want to look at my penis or my face?
kayla_princess94 (10/06/07 12:18:54 AM): ur face


lorne_a_20014

(10/06/07 12:21:52 AM): i'm still here precious@};-
kayla_princess94 (10/06/07 12:22:06 AM): sry i got booted


lorne_a_20014

(10/06/07 12:22:17 AM): i know


lorne_a_20014

(10/06/07 12:22:47 AM): i eating a bite off of a slice of pizza and i don't think it's a very good idea for me to do it


lorne_a_20014

(10/06/07 12:22:59 AM): :-&
kayla_princess94 (10/06/07 12:23:02 AM): wat happen 2 u y r u so sick


lorne_a_20014

(10/06/07 12:23:33 AM): can i give the rest of this pizza to bud right now please?


lorne_a_20014

(10/06/07 12:23:40 AM): i can't eat it
kayla_princess94 (10/06/07 12:23:41 AM): yeah lol


lorne_a_20014

(10/06/07 12:24:08 AM): look


lorne_a_20014

(10/06/07 12:25:41 AM): he made a mess on my boxers:|
kayla_princess94 (10/06/07 12:26:05 AM): lol


lorne_a_20014

(10/06/07 12:26:18 AM): you're his mommy so i'm blaming it on you
kayla_princess94 (10/06/07 12:26:27 AM): lol
kayla_princess94 (10/06/07 12:26:34 AM): nope not me i didnt do it


lorne_a_20014

(10/06/07 12:26:57 AM): you told me i could give it to him so it's your fault'


lorne_a_20014

(10/06/07 12:27:02 AM): so.........


lorne_a_20014

(10/06/07 12:27:09 AM): either you clean up the mess


lorne_a_20014

(10/06/07 12:27:11 AM): or


lorne_a_20014

(10/06/07 12:27:17 AM): you suck my dick
kayla_princess94 (10/06/07 12:27:20 AM): lol


lorne_a_20014

(10/06/07 12:27:21 AM): which is it??
kayla_princess94 (10/06/07 12:27:34 AM): umm hmmm
kayla_princess94 (10/06/07 12:27:40 AM): wat u think


lorne_a_20014

(10/06/07 12:27:50 AM): i don't know, you have to tell me
kayla_princess94 (10/06/07 12:28:09 AM): wat ever u want


lorne_a_20014

(10/06/07 12:28:19 AM): tell me what you want


lorne_a_20014

(10/06/07 12:28:33 AM): either you clean up the mess or you suck my dick........which one?
kayla_princess94 (10/06/07 12:28:50 AM): ill b nice and do both


lorne_a_20014

(10/06/07 12:29:01 AM): ok:D


lorne_a_20014

(10/06/07 12:29:20 AM): i look really white right now huh baby?
kayla_princess94 (10/06/07 12:29:40 AM): yeah kinda


lorne_a_20014

(10/06/07 12:30:02 AM): i'm so sorry i look so bad tonight:-<


lorne_a_20014

(10/06/07 12:30:12 AM): i wish you were here with me
kayla_princess94 (10/06/07 12:31:14 AM): just wish u wuld tell me wats wrong


lorne_a_20014

(10/06/07 12:31:25 AM): i'll tell you


lorne_a_20014

(10/06/07 12:32:10 AM): but go get your phone.....if ur parents have company tonight they wont be paying attention to who ur calling
kayla_princess94 (10/06/07 12:32:23 AM): i cant rite now
kayla_princess94 (10/06/07 12:32:30 AM): tell me plz pretty plz


lorne_a_20014

(10/06/07 12:32:34 AM): :-<


lorne_a_20014

(10/06/07 12:32:43 AM): i want my baby in my ear
kayla_princess94 (10/06/07 12:32:56 AM): u know wat


lorne_a_20014

(10/06/07 12:33:03 AM): what?
kayla_princess94 (10/06/07 12:33:34 AM): this is the 1st time i c u without ur hat


lorne_a_20014

(10/06/07 12:34:16 AM): i know, if i felt good then my hat would be on..........but you love me so i'm alright with you seeing me without my hat
kayla_princess94 (10/06/07 12:34:28 AM): yep


lorne_a_20014

(10/06/07 12:34:55 AM): and i truely believe that you're in love with me too, just like i'm truly in love with you@};-
kayla_princess94 (10/06/07 12:35:16 AM): :D


lorne_a_20014

(10/06/07 12:35:30 AM): god i want you here with me
kayla_princess94 (10/06/07 12:35:48 AM): i wish i was 2:(


lorne_a_20014

(10/06/07 12:35:58 AM): go get the phone


lorne_a_20014

(10/06/07 12:36:19 AM): we'll be quiet i promise
kayla_princess94 (10/06/07 12:36:25 AM): gawwwwwwwwd brb
kayla_princess94 (10/06/07 12:38:50 AM): geez there being buggy
kayla_princess94 (10/06/07 12:38:59 AM): and loud


lorne_a_20014

(10/06/07 12:39:01 AM): i love you
kayla_princess94 (10/06/07 12:39:08 AM): i luv u more


lorne_a_20014

(10/06/07 12:39:09 AM): i almost fell asleep lol


lorne_a_20014

(10/06/07 12:39:16 AM): fuck me
kayla_princess94 (10/06/07 12:39:21 AM): lol i saw when i came back
kayla_princess94 (10/06/07 12:39:23 AM): huh


lorne_a_20014

(10/06/07 12:39:43 AM): i want you to fuck me......will you?


lorne_a_20014

(10/06/07 12:39:50 AM): :-*:x
kayla_princess94 (10/06/07 12:39:54 AM): yeah


lorne_a_20014

(10/06/07 12:39:59 AM): :D


lorne_a_20014

(10/06/07 12:40:02 AM): i love you
kayla_princess94 (10/06/07 12:40:07 AM): thats wat u want aint it


lorne_a_20014

(10/06/07 12:40:36 AM): i just wish you were here right now because i don't feel good at all and i want my baby:-<


lorne_a_20014

(10/06/07 12:41:19 AM): omg precious, i look like shit right now:-<
kayla_princess94 (10/06/07 12:41:29 AM): lol no u dont


lorne_a_20014

(10/06/07 12:42:21 AM): yes i do...........all i care about is having you here right now.......that would start making me feel a little better
kayla_princess94 (10/06/07 12:42:53 AM): sry i cant b there wit u rite now:(


lorne_a_20014

(10/06/07 12:43:09 AM): me too:(


lorne_a_20014

(10/06/07 12:43:40 AM): can i jump in the shower for a couple minutes baby to see if that makes me feel a little better?
kayla_princess94 (10/06/07 12:43:50 AM): again


lorne_a_20014

(10/06/07 12:44:07 AM): please?
kayla_princess94 (10/06/07 12:44:13 AM): k


lorne_a_20014

(10/06/07 12:44:31 AM): i promise i wont stay in there long because i want my time with you anyway


lorne_a_20014

(10/06/07 12:45:17 AM): what are you doing baby?
kayla_princess94 (10/06/07 12:45:26 AM): waiting 4 u


lorne_a_20014

(10/06/07 12:45:43 AM): did i just fall asleep?lol
kayla_princess94 (10/06/07 12:45:53 AM): lol
kayla_princess94 (10/06/07 12:45:54 AM): idk
kayla_princess94 (10/06/07 12:45:58 AM): did u


lorne_a_20014

(10/06/07 12:46:49 AM): i think i did for a few seconds........brb, i'm gonna jump in the shower, wanna come with me and wash my penis??


lorne_a_20014

(10/06/07 12:46:57 AM): :D
kayla_princess94 (10/06/07 12:47:06 AM): lol shur


lorne_a_20014

(10/06/07 12:47:11 AM): i wish


lorne_a_20014

(10/06/07 12:47:23 AM): would you suck on it in the shower


lorne_a_20014

(10/06/07 12:47:24 AM): /


lorne_a_20014

(10/06/07 12:47:26 AM): ?
kayla_princess94 (10/06/07 12:47:33 AM): huh


lorne_a_20014

(10/06/07 12:47:55 AM): nothing, just know that i'm in love with you and we're gonna be married


lorne_a_20014

(10/06/07 12:48:22 AM): brb, let me jump in the shower reall???
kayla_princess94 (10/06/07 12:48:29 AM): k


lorne_a_20014

(10/06/07 12:48:51 AM): ok, god i wish you could come in the shower with me right now


lorne_a_20014

(10/06/07 12:48:56 AM): :-<


lorne_a_20014

(10/06/07 12:49:38 AM): damn..........i fell asleep again:|


lorne_a_20014

(10/06/07 12:49:50 AM): brb babyh, i'm getting in the showe
kayla_princess94 (10/06/07 12:49:53 AM): lol
kayla_princess94 (10/06/07 12:50:01 AM): mayb u shuld go 2 bed


lorne_a_20014

(10/06/07 12:50:08 AM): NOOOOOOOOO


lorne_a_20014

(10/06/07 12:50:13 AM): i want you!!!!


lorne_a_20014

(10/06/07 12:50:17 AM): BRB


lorne_a_20014

(10/06/07 12:50:32 AM): DON'T leave me either!!!
kayla_princess94 (10/06/07 12:50:42 AM): k
kayla_princess94 (10/06/07 12:50:52 AM): but im gettin kinda sleepy 2


lorne_a_20014

(10/06/07 12:51:19 AM): go get the phone and DON'T leave me ok??


lorne_a_20014

(10/06/07 12:51:25 AM): brb\
kayla_princess94 (10/06/07 12:52:24 AM): I-)
kayla_princess94 (10/06/07 12:52:59 AM): im really tired lorne
kayla_princess94 (10/06/07 12:55:03 AM): im gona go 2 bed i luv u
kayla_princess94 (10/06/07 12:55:17 AM): i gotta get uup early cuz daddy taking me shopping
kayla_princess94 (10/06/07 12:55:47 AM): :D


lorne_a_20014

(10/06/07 12:57:33 AM): i was gonna say, you better not have left me yet, i would have been soooooo upset
kayla_princess94 (10/06/07 12:57:56 AM): i know but i really need 2 go 2 bed


lorne_a_20014

(10/06/07 12:58:04 AM): i know precious


lorne_a_20014

(10/06/07 12:58:08 AM): i love you
kayla_princess94 (10/06/07 12:58:11 AM): i luv u


lorne_a_20014

(10/06/07 12:58:16 AM): do me a favor?
kayla_princess94 (10/06/07 12:58:27 AM): k


lorne_a_20014

(10/06/07 12:58:41 AM): ask your dad if you can by a pair of white thongs?
kayla_princess94 (10/06/07 12:58:48 AM): omg


lorne_a_20014

(10/06/07 12:58:51 AM): lol
kayla_princess94 (10/06/07 12:58:52 AM): ask daddy that


lorne_a_20014

(10/06/07 12:58:56 AM): yup


lorne_a_20014

(10/06/07 12:59:28 AM): he's your dad, he'd love it if you asked his permission, it will make him feel closer to you
kayla_princess94 (10/06/07 1:00:08 AM): u shur


lorne_a_20014

(10/06/07 1:00:10 AM): trust me on this ok? my neice made me feel good when she asked my permission to buy a tight pair of shorts lol
kayla_princess94 (10/06/07 1:00:21 AM): k
kayla_princess94 (10/06/07 1:00:24 AM): if u say so


lorne_a_20014

(10/06/07 1:00:36 AM): you're a young woman now, he has to expect it now


lorne_a_20014

(10/06/07 1:00:52 AM): and not only that, you're MY woman


lorne_a_20014

(10/06/07 1:00:59 AM): :D:x
kayla_princess94 (10/06/07 1:01:00 AM): :D
kayla_princess94 (10/06/07 1:01:05 AM): :x


lorne_a_20014

(10/06/07 1:01:11 AM): god i love you precious
kayla_princess94 (10/06/07 1:01:18 AM): i luv u
kayla_princess94 (10/06/07 1:01:26 AM): im gona go 2 bed now k


lorne_a_20014

(10/06/07 1:02:03 AM): ok precious.......set your alarm for around 9 a.m. ok? i want alot of time with you tomorrow and tomorrow night


lorne_a_20014

(10/06/07 1:02:14 AM): oh and btw.........i quit my job
kayla_princess94 (10/06/07 1:02:20 AM): u did
kayla_princess94 (10/06/07 1:02:22 AM): y


lorne_a_20014

(10/06/07 1:02:24 AM): yup


lorne_a_20014

(10/06/07 1:02:58 AM): because he pissed me off and i didn't like it anyway so it didn't take much for me to leave because i didn't like being here with you at night anyway
kayla_princess94 (10/06/07 1:03:20 AM): wow
kayla_princess94 (10/06/07 1:03:28 AM): wat u gona do 4 money


lorne_a_20014

(10/06/07 1:04:04 AM): so......you better practice having your legs spread wide open because i'm gonna be between them ALOT:D


lorne_a_20014

(10/06/07 1:04:23 AM): i'm gonna find another job, it wont take me long to find another one


lorne_a_20014

(10/06/07 1:05:05 AM): and i'm serious when i tell you to practice having your legs spread wide open too ok?:x
kayla_princess94 (10/06/07 1:05:28 AM): k
kayla_princess94 (10/06/07 1:05:36 AM): :x:-*


lorne_a_20014

(10/06/07 1:05:42 AM): :D:-*:x


lorne_a_20014

(10/06/07 1:05:54 AM): i love you Kayla Marie Armstrong


lorne_a_20014

(10/06/07 1:05:58 AM): @};-


lorne_a_20014

(10/06/07 1:06:34 AM): i'm gonna let you go to bed now precious, i'm going too, ilove you and set your alarm for like 9 a.m. ok?
kayla_princess94 (10/06/07 1:06:45 AM): k
kayla_princess94 (10/06/07 1:06:47 AM): i luv u


lorne_a_20014

(10/06/07 1:07:26 AM): good night my precious princess, delete your archives and turn off the cam whenever you want, i'm gonna leave it on ofr you
kayla_princess94 (10/06/07 1:07:35 AM): k


lorne_a_20014

(10/06/07 1:07:59 AM): say something to me other than \"k\" i want to read something good from you
kayla_princess94 (10/06/07 1:08:26 AM): done


lorne_a_20014

(10/06/07 1:08:33 AM): ok
kayla_princess94 (10/06/07 1:08:35 AM): wat u mean sumthing good


lorne_a_20014

(10/06/07 1:09:04 AM): i just want you to say something so i know you'll be dreaming about me tonight


lorne_a_20014

(10/06/07 1:09:23 AM): i'm just in love with you
kayla_princess94 (10/06/07 1:09:32 AM): :D


lorne_a_20014

(10/06/07 1:09:43 AM): you can tell me tomorrow when we're both not so tired
kayla_princess94 (10/06/07 1:09:51 AM): k
kayla_princess94 (10/06/07 1:09:55 AM): oops sry


lorne_a_20014

(10/06/07 1:09:57 AM): god i want you here with me


lorne_a_20014

(10/06/07 1:10:03 AM): it's ok precious
kayla_princess94 (10/06/07 1:10:18 AM): luv u nite:-*


lorne_a_20014

(10/06/07 1:10:29 AM): i love you........go to bed and get some sleep for 9 in the MORNING ok?
kayla_princess94 (10/06/07 1:10:38 AM): k


lorne_a_20014

(10/06/07 1:10:47 AM): :-*


lorne_a_20014

(10/06/07 1:11:15 AM): yes i can see that you're still looking at me lol


lorne_a_20014

(10/06/07 1:11:20 AM): i love you


lorne_a_20014

(10/06/07 1:11:29 AM): :-*:x
kayla_princess94 (10/06/07 1:11:29 AM): lol 1 last look
kayla_princess94 (10/06/07 1:11:40 AM): nite


lorne_a_20014

(10/06/07 1:11:43 AM): want to see my penis even though it's sad?
kayla_princess94 (10/06/07 1:11:53 AM): 2morrow
kayla_princess94 (10/06/07 1:11:55 AM): luv u


lorne_a_20014

(10/06/07 1:12:04 AM): ok, ilove you precious@};-


lorne_a_20014

(10/06/07 1:12:09 AM): :-*


lorne_a_20014

(10/06/07 9:08:09 AM): i have to bring someone to pick up thier van precious because it got toed yesterday, i'll be back soon though, i love you@};-:-*:x


lorne_a_20014

(10/06/07 10:08:55 AM): i'm still here precoius, i guess the guy found someone else to take him because he hasn't come back yet so i'm still home, i love you@};-:-*:x
kayla_princess94 (10/06/07 10:10:09 AM): i only got a min
kayla_princess94 (10/06/07 10:10:21 AM): u here
kayla_princess94 (10/06/07 10:10:51 AM): i gotta go in a couple min
kayla_princess94 (10/06/07 10:11:57 AM): k i gotta go i think they r going out 2nite so i prolly can call u b on here 2nite plz
kayla_princess94 (10/06/07 10:12:03 AM): hope u feel better
kayla_princess94 (10/06/07 10:12:05 AM): luv u
kayla_princess94 (10/06/07 10:12:14 AM): :x:-*


lorne_a_20014

(10/06/07 10:12:20 AM): hi my preciuos princess


lorne_a_20014

(10/06/07 10:12:58 AM):


lorne_a_20014

(10/06/07 10:13:06 AM): i love you too
kayla_princess94 (10/06/07 10:13:10 AM): crap i gotta go sweetie
kayla_princess94 (10/06/07 10:13:23 AM): :D


lorne_a_20014

(10/06/07 10:13:30 AM): what time are they going out?
kayla_princess94 (10/06/07 10:13:48 AM): not shur
kayla_princess94 (10/06/07 10:13:52 AM): u gona b here


lorne_a_20014

(10/06/07 10:14:02 AM): yes, i miss you too much to not be here


lorne_a_20014

(10/06/07 10:14:05 AM): @};-


lorne_a_20014

(10/06/07 10:14:13 AM): hang on
kayla_princess94 (10/06/07 10:14:24 AM): k


lorne_a_20014

(10/06/07 10:14:32 AM): back
kayla_princess94 (10/06/07 10:14:41 AM): u look better
kayla_princess94 (10/06/07 10:14:45 AM): :)


lorne_a_20014

(10/06/07 10:14:56 AM): hey you can see my penis better now, want me to put the cam on it?
kayla_princess94 (10/06/07 10:15:22 AM): later i gotta go daddys yelling 4 me 2 come on


lorne_a_20014

(10/06/07 10:15:37 AM): here i'll give you a quick look at it
kayla_princess94 (10/06/07 10:15:45 AM): k but hurry
kayla_princess94 (10/06/07 10:16:06 AM): :)
kayla_princess94 (10/06/07 10:16:09 AM): k i gotta go
kayla_princess94 (10/06/07 10:16:11 AM): i luv u


lorne_a_20014

(10/06/07 10:16:17 AM): i love you too


lorne_a_20014

(10/06/07 10:16:29 AM): and think about sucking on my penis while you're gone today


lorne_a_20014

(10/06/07 10:16:36 AM): what time are you gonna be back?


lorne_a_20014

(10/06/07 10:16:39 AM): on here
kayla_princess94 (10/06/07 10:16:42 AM): not shur


lorne_a_20014

(10/06/07 10:17:04 AM): i miss you and love you Kayla Marie Armstrong@};-
kayla_princess94 (10/06/07 10:17:13 AM): i miss u and luv u 2
kayla_princess94 (10/06/07 10:17:18 AM): :-*
kayla_princess94 (10/06/07 10:17:25 AM): talk 2 u 2nite


lorne_a_20014

(10/06/07 10:17:25 AM): :-*:x


lorne_a_20014

(10/06/07 10:17:34 AM): ok, get on here as soon as you can ok?


lorne_a_20014

(10/06/07 4:27:09 PM): i miss my baby:-<


lorne_a_20014

(10/06/07 8:19:31 PM): where's my precious princess?:-<:-*:x


lorne_a_20014

(10/06/07 8:31:55 PM): :-*


lorne_a_20014

(10/06/07 8:32:32 PM): i've been sitting here waiting for you@};-


lorne_a_20014

(10/06/07 8:33:06 PM): what are you doing?
kayla_princess94 (10/06/07 8:33:24 PM): aww
kayla_princess94 (10/06/07 8:33:28 PM): daddy


lorne_a_20014

(10/06/07 8:33:32 PM): oh


lorne_a_20014

(10/06/07 8:33:44 PM): is he there now?
kayla_princess94 (10/06/07 8:34:42 PM): k hes gone


lorne_a_20014

(10/06/07 8:34:47 PM): ok


lorne_a_20014

(10/06/07 8:34:56 PM): i love you@};-:-*:x
kayla_princess94 (10/06/07 8:35:06 PM): there leaving 2 go out:D


lorne_a_20014

(10/06/07 8:35:15 PM): :D
kayla_princess94 (10/06/07 8:35:15 PM): :-*


lorne_a_20014

(10/06/07 8:35:18 PM): right now?
kayla_princess94 (10/06/07 8:35:22 PM): yep


lorne_a_20014

(10/06/07 8:35:27 PM): :D


lorne_a_20014

(10/06/07 8:35:39 PM): how long are they gonna be gone?
kayla_princess94 (10/06/07 8:35:45 PM): idk


lorne_a_20014

(10/06/07 8:35:59 PM): brb, need a cup of coffee
kayla_princess94 (10/06/07 8:36:44 PM): wheres bud


lorne_a_20014

(10/06/07 8:37:30 PM): right here, want to see him?
kayla_princess94 (10/06/07 8:37:36 PM): yes
kayla_princess94 (10/06/07 8:37:40 PM): :)


lorne_a_20014

(10/06/07 8:38:27 PM): there, you got to see bud and my penis lol
kayla_princess94 (10/06/07 8:38:34 PM): lol yeah


lorne_a_20014

(10/06/07 8:38:39 PM): :-*
kayla_princess94 (10/06/07 8:38:59 PM): :-*


lorne_a_20014

(10/06/07 8:39:00 PM): do you like it when i have to get up to get another cup of coffee?lol
kayla_princess94 (10/06/07 8:39:16 PM): no cuz u leave


lorne_a_20014

(10/06/07 8:39:38 PM): yeah but you get to see all of my body naked though, isn't that a good thing?lol
kayla_princess94 (10/06/07 8:39:50 PM): yeah:)


lorne_a_20014

(10/06/07 8:39:57 PM): :-*:x


lorne_a_20014

(10/06/07 8:40:16 PM): i can't wait to see all of your body naked:D:\">
kayla_princess94 (10/06/07 8:40:36 PM): :\">


lorne_a_20014

(10/06/07 8:41:10 PM): i have your pic of you in your dress with the pink poka dots on my screen right now, it's been up there all day


lorne_a_20014

(10/06/07 8:41:14 PM): :-*


lorne_a_20014

(10/06/07 8:41:17 PM): :x
kayla_princess94 (10/06/07 8:41:23 PM): :D
kayla_princess94 (10/06/07 8:41:33 PM): hey there gone want me 2 call


lorne_a_20014

(10/06/07 8:41:41 PM): yes:D
kayla_princess94 (10/06/07 8:41:47 PM): k
kayla_princess94 (10/06/07 8:41:53 PM): talk 2 u in a min


lorne_a_20014

(10/06/07 8:42:00 PM): ok:D


lorne_a_20014

(10/06/07 8:48:21 PM): i'm waiting for you to call precious


lorne_a_20014

(10/06/07 9:03:26 PM): you here precious?
kayla_princess94 (10/06/07 9:04:33 PM): yeah brb i gotta go p


lorne_a_20014

(10/06/07 9:04:37 PM): ok
kayla_princess94 (10/06/07 9:08:52 PM): hey ill b back in a few min dont go anywhere k


lorne_a_20014

(10/06/07 9:08:58 PM): ok
kayla_princess94 (10/06/07 9:19:54 PM): sry
kayla_princess94 (10/06/07 9:20:08 PM): my parents r fighting really bad :(


lorne_a_20014

(10/06/07 9:20:26 PM): i'm sorry precious@};->:D<:-*


lorne_a_20014

(10/06/07 9:20:41 PM): what are they fighting about?
kayla_princess94 (10/06/07 9:21:38 PM): idk


lorne_a_20014

(10/06/07 9:21:49 PM): what were they saying?
kayla_princess94 (10/06/07 9:22:25 PM): im trying not 2 listen


lorne_a_20014

(10/06/07 9:22:30 PM): oh


lorne_a_20014

(10/06/07 9:22:40 PM): i'm sorry precious@};->:D<


lorne_a_20014

(10/06/07 9:23:07 PM): i was soooooooo happy to hear your voice again@};-
kayla_princess94 (10/06/07 9:23:19 PM): they never fite like this i dont know wats up


lorne_a_20014

(10/06/07 9:23:45 PM): i hope they don't fight on the 18th and decide not to go anyplace
kayla_princess94 (10/06/07 9:23:51 PM): i was really glad 2 hear u 2


lorne_a_20014

(10/06/07 9:24:07 PM): i just wish we could have been on the phone longer
kayla_princess94 (10/06/07 9:24:35 PM): yeah me 2:(


lorne_a_20014

(10/06/07 9:24:43 PM): i love you@};-
kayla_princess94 (10/06/07 9:24:49 PM): no they wont


lorne_a_20014

(10/06/07 9:24:56 PM): i hope not


lorne_a_20014

(10/06/07 9:25:17 PM): i want to see my precious princess on the 18th
kayla_princess94 (10/06/07 9:25:20 PM): luv u


lorne_a_20014

(10/06/07 9:25:42 PM): how did you like me making you blush?lol
kayla_princess94 (10/06/07 9:26:06 PM): :\">


lorne_a_20014

(10/06/07 9:26:15 PM): :-*:x
kayla_princess94 (10/06/07 9:26:22 PM): i want 2 c u 2
kayla_princess94 (10/06/07 9:26:31 PM): i cant wait


lorne_a_20014

(10/06/07 9:26:39 PM): me either
kayla_princess94 (10/06/07 9:26:40 PM): :x


lorne_a_20014

(10/06/07 9:27:16 PM): remember though, you only get to play with bud for 5 minutes then your clothes are coming off and you're all mine:D


lorne_a_20014

(10/06/07 9:27:20 PM): :x
kayla_princess94 (10/06/07 9:27:35 PM): :D


lorne_a_20014

(10/06/07 9:27:52 PM): are you anxious to be naked with me?
kayla_princess94 (10/06/07 9:28:07 PM): k
kayla_princess94 (10/06/07 9:28:15 PM): yeah


lorne_a_20014

(10/06/07 9:28:18 PM): k what?lol


lorne_a_20014

(10/06/07 9:28:26 PM): good:D
kayla_princess94 (10/06/07 9:28:55 PM): huh
kayla_princess94 (10/06/07 9:29:04 PM): o lol
kayla_princess94 (10/06/07 9:29:14 PM): k i will only play with bud 4 5 min


lorne_a_20014

(10/06/07 9:29:26 PM): ok, good:D


lorne_a_20014

(10/06/07 9:29:43 PM): god i wish you were here and naked with me right now


lorne_a_20014

(10/06/07 9:29:48 PM): :x
kayla_princess94 (10/06/07 9:30:17 PM): :):x:-*


lorne_a_20014

(10/06/07 9:30:26 PM): what did you do today?
kayla_princess94 (10/06/07 9:31:38 PM): was suppose 2 go shopping with daddy but he had sumthin else he had 2 do so we didnt so i didnt do nothin im so mad at him
kayla_princess94 (10/06/07 9:31:50 PM): :(


lorne_a_20014

(10/06/07 9:32:07 PM): i wish you would have came on here, i was on here almost all day
kayla_princess94 (10/06/07 9:32:39 PM): i was 2 upset


lorne_a_20014

(10/06/07 9:32:54 PM): too upset to talk to me?:(
kayla_princess94 (10/06/07 9:33:27 PM): i didnt wanna talk 2 any1
kayla_princess94 (10/06/07 9:33:46 PM): :((


lorne_a_20014

(10/06/07 9:33:49 PM): i still love you precious@};-:-*:x
kayla_princess94 (10/06/07 9:34:37 PM): aww
kayla_princess94 (10/06/07 9:34:38 PM): i luv u more


lorne_a_20014

(10/06/07 9:34:56 PM): i love you infinity times infinity:-P
kayla_princess94 (10/06/07 9:35:34 PM): i luv u more then that infinity thing


lorne_a_20014

(10/06/07 9:35:39 PM): lol


lorne_a_20014

(10/06/07 9:35:48 PM): ok, you win it tonight i guess lol


lorne_a_20014

(10/06/07 9:35:52 PM): :-*
kayla_princess94 (10/06/07 9:36:20 PM): lol
kayla_princess94 (10/06/07 9:36:22 PM): brb


lorne_a_20014

(10/06/07 9:36:27 PM): ok
kayla_princess94 (10/06/07 9:45:15 PM): im back sry


lorne_a_20014

(10/06/07 9:45:25 PM): :-*


lorne_a_20014

(10/06/07 9:45:35 PM): what did you do?
kayla_princess94 (10/06/07 9:45:49 PM): took a shower lol


lorne_a_20014

(10/06/07 9:45:53 PM): oh lol


lorne_a_20014

(10/06/07 9:46:02 PM): did you think about me while you were in there?
kayla_princess94 (10/06/07 9:46:10 PM): well yeah


lorne_a_20014

(10/06/07 9:46:16 PM): :D


lorne_a_20014

(10/06/07 9:46:22 PM): what did you think about??
kayla_princess94 (10/06/07 9:46:41 PM): how i cant wait ummm until the 18th
kayla_princess94 (10/06/07 9:46:46 PM): :\">


lorne_a_20014

(10/06/07 9:46:49 PM): :D


lorne_a_20014

(10/06/07 9:46:57 PM): :x


lorne_a_20014

(10/06/07 9:47:09 PM): what are you the most anxious to do with me?
kayla_princess94 (10/06/07 9:47:20 PM): umm idk
kayla_princess94 (10/06/07 9:47:27 PM): all that stuff u talk about


lorne_a_20014

(10/06/07 9:47:39 PM): :D:-*:x
kayla_princess94 (10/06/07 9:47:50 PM): :-*:x>:D<


lorne_a_20014

(10/06/07 9:48:06 PM): out of all that stuff, what's the thing you think you'll like the most?
kayla_princess94 (10/06/07 9:48:17 PM): umm
kayla_princess94 (10/06/07 9:48:34 PM): idk lol i never done anything b4 sooo idk


lorne_a_20014

(10/06/07 9:48:57 PM): i know, but tell me what you THINK you'll like the most
kayla_princess94 (10/06/07 9:49:23 PM): ummm idk
kayla_princess94 (10/06/07 9:49:25 PM): really


lorne_a_20014

(10/06/07 9:49:33 PM): :-*


lorne_a_20014

(10/06/07 9:49:58 PM): i miss your voice already:(
kayla_princess94 (10/06/07 9:50:06 PM): aww
kayla_princess94 (10/06/07 9:50:09 PM): i miss urs 2


lorne_a_20014

(10/06/07 9:50:30 PM): have you figured out what you're going to wear when i pick you up?
kayla_princess94 (10/06/07 9:50:42 PM): no not yet
kayla_princess94 (10/06/07 9:51:04 PM): i wanted 2 get sumthin new 2day :(


lorne_a_20014

(10/06/07 9:51:38 PM): well there's still another weekend before we see eachother so maybe you'll be able to get something next weekend
kayla_princess94 (10/06/07 9:52:31 PM): yeah daddy promise me we wuld go next sat 4shur


lorne_a_20014

(10/06/07 9:52:36 PM): do you have blue jean skirt?
kayla_princess94 (10/06/07 9:52:41 PM): yeah
kayla_princess94 (10/06/07 9:52:53 PM): but i want a new 1 if that s wat im gonna wear


lorne_a_20014

(10/06/07 9:53:23 PM): you might be better to wear that because bud sheds alot of hair and you wont get as much on you if you wear that
kayla_princess94 (10/06/07 9:53:35 PM): o
kayla_princess94 (10/06/07 9:53:37 PM): k


lorne_a_20014

(10/06/07 9:54:07 PM): you wont have your clothes on long anyway but atleast we wont have to try to get out alot of his hair lol
kayla_princess94 (10/06/07 9:54:31 PM): lol yeah
kayla_princess94 (10/06/07 9:54:35 PM): :\">


lorne_a_20014

(10/06/07 9:54:48 PM): you're really anxious to be naked with me huh?lol


lorne_a_20014

(10/06/07 9:54:52 PM): :D
kayla_princess94 (10/06/07 9:54:58 PM): yeah


lorne_a_20014

(10/06/07 9:55:05 PM): :D:-*:x


lorne_a_20014

(10/06/07 9:55:08 PM): me too
kayla_princess94 (10/06/07 9:55:26 PM): :x:-*>:D<


lorne_a_20014

(10/06/07 9:55:39 PM): what are you wearing now? your pj's?
kayla_princess94 (10/06/07 9:55:56 PM): im in my pjs now


lorne_a_20014

(10/06/07 9:56:21 PM): do you remember what to wear under your jean skirt when i pick you up?
kayla_princess94 (10/06/07 9:56:34 PM): umm yeah
kayla_princess94 (10/06/07 9:56:49 PM): umm white underwear


lorne_a_20014

(10/06/07 9:57:19 PM): nope, nothing remember? you have to have your underwear in a bag lol


lorne_a_20014

(10/06/07 9:57:41 PM): remember now?
kayla_princess94 (10/06/07 9:57:55 PM): o yeah now i do


lorne_a_20014

(10/06/07 9:57:59 PM): lol


lorne_a_20014

(10/06/07 9:58:02 PM): :-*


lorne_a_20014

(10/06/07 9:58:19 PM): are you gonna feel weird not having any panties on under?lol
kayla_princess94 (10/06/07 9:59:00 PM): umm prolly yeah kinda


lorne_a_20014

(10/06/07 9:59:30 PM): don't worry, you'll feel better when i start rubbing your vagina:\">:x
kayla_princess94 (10/06/07 10:00:01 PM): :\">:x


lorne_a_20014

(10/06/07 10:00:13 PM): do you think you're gonna like that alot?
kayla_princess94 (10/06/07 10:00:43 PM): yeah:\">


lorne_a_20014

(10/06/07 10:00:49 PM): :D


lorne_a_20014

(10/06/07 10:00:52 PM): me too
kayla_princess94 (10/06/07 10:01:08 PM): :D


lorne_a_20014

(10/06/07 10:01:29 PM): i wish your parents would go back out again, i want to hear your pretty voice again sooooooo bad
kayla_princess94 (10/06/07 10:02:07 PM): i know but i dont think they r their still arguing geez


lorne_a_20014

(10/06/07 10:02:15 PM): damn


lorne_a_20014

(10/06/07 10:02:35 PM): are you wearing your cherry pj's?
kayla_princess94 (10/06/07 10:03:07 PM): yeah:)


lorne_a_20014

(10/06/07 10:03:19 PM): wish i could see you right now


lorne_a_20014

(10/06/07 10:03:23 PM): :x


lorne_a_20014

(10/06/07 10:03:55 PM): what are you doing precious?
kayla_princess94 (10/06/07 10:04:01 PM): yeah:x
kayla_princess94 (10/06/07 10:04:37 PM): talkin 2 u
kayla_princess94 (10/06/07 10:04:52 PM): im sry im just kinda sad 2nite


lorne_a_20014

(10/06/07 10:04:58 PM): why?
kayla_princess94 (10/06/07 10:06:16 PM): cuz i didnt get 2 go shoppin and b with daddy 2day and now they r fighting
kayla_princess94 (10/06/07 10:06:20 PM): :(


lorne_a_20014

(10/06/07 10:06:45 PM): aww, i'm so sorry precious@};->:D<:-*
kayla_princess94 (10/06/07 10:07:16 PM): ty:x:-*


lorne_a_20014

(10/06/07 10:07:31 PM): are you positive that you want to come down here with me?
kayla_princess94 (10/06/07 10:07:57 PM): YES


lorne_a_20014

(10/06/07 10:08:03 PM): ok lol
kayla_princess94 (10/06/07 10:08:05 PM): y


lorne_a_20014

(10/06/07 10:08:08 PM): :D:-*


lorne_a_20014

(10/06/07 10:08:17 PM): i just wanted to make sure
kayla_princess94 (10/06/07 10:08:32 PM): :x


lorne_a_20014

(10/06/07 10:08:39 PM): :x
kayla_princess94 (10/06/07 10:08:41 PM): :-*


lorne_a_20014

(10/06/07 10:08:57 PM): god you're beautiful@};-:-*
kayla_princess94 (10/06/07 10:08:59 PM): :x
kayla_princess94 (10/06/07 10:09:13 PM): aww ty


lorne_a_20014

(10/06/07 10:09:45 PM): you're very welcome.........thank you for wanting me for your b/f@};->:D<:-*:x
kayla_princess94 (10/06/07 10:10:05 PM): aww ty 4 wanting me 4 ur gf
kayla_princess94 (10/06/07 10:10:12 PM): :x


lorne_a_20014

(10/06/07 10:10:23 PM): it's my pleasure precious@};-


lorne_a_20014

(10/06/07 10:10:58 PM): hang on ok precious, i need to take your dog out to pee lol
kayla_princess94 (10/06/07 10:11:20 PM): :D
kayla_princess94 (10/06/07 10:11:26 PM): k


lorne_a_20014

(10/06/07 10:11:28 PM): :-*brb
kayla_princess94 (10/06/07 10:11:45 PM): k


lorne_a_20014

(10/06/07 10:16:57 PM): brb precious, i have to pee
kayla_princess94 (10/06/07 10:17:52 PM): k


lorne_a_20014

(10/06/07 10:18:09 PM): back


lorne_a_20014

(10/06/07 10:18:13 PM): my cam froze
kayla_princess94 (10/06/07 10:18:45 PM): yeah i thought it did sumthin like that
kayla_princess94 (10/06/07 10:19:00 PM): aww bud wants 2 play again
kayla_princess94 (10/06/07 10:19:26 PM): where u go
kayla_princess94 (10/06/07 10:20:34 PM): :(
kayla_princess94 (10/06/07 10:21:31 PM): :-S
kayla_princess94 (10/06/07 10:21:39 PM): :((


lorne_a_20014

(10/06/07 10:22:50 PM): i'm back precious


lorne_a_20014

(10/06/07 10:22:53 PM): sorry


lorne_a_20014

(10/06/07 10:23:01 PM): i had to reboot because my computer froze up
kayla_princess94 (10/06/07 10:23:07 PM): o
kayla_princess94 (10/06/07 10:23:17 PM): i thought u left me:(


lorne_a_20014

(10/06/07 10:23:27 PM): i'll NEVER leave you


lorne_a_20014

(10/06/07 10:23:56 PM): don't ever think that, when that happens just be patient because it takes a few minutes for me to get back


lorne_a_20014

(10/06/07 10:23:58 PM): ok?
kayla_princess94 (10/06/07 10:24:11 PM): k


lorne_a_20014

(10/06/07 10:24:37 PM): and what ever you do, when that happens don't leave me any offlines because then it takes even longer lol
kayla_princess94 (10/06/07 10:24:53 PM): k


lorne_a_20014

(10/06/07 10:24:59 PM): guess what
kayla_princess94 (10/06/07 10:25:25 PM): wat


lorne_a_20014

(10/06/07 10:25:44 PM): i'm in love with you@};-:-*:x
kayla_princess94 (10/06/07 10:25:59 PM): awww
kayla_princess94 (10/06/07 10:26:01 PM): guess wat


lorne_a_20014

(10/06/07 10:26:07 PM): what?
kayla_princess94 (10/06/07 10:26:25 PM): i luv u more


lorne_a_20014

(10/06/07 10:26:32 PM): :-P


lorne_a_20014

(10/06/07 10:26:56 PM): god i want to be with you right now:(
kayla_princess94 (10/06/07 10:27:21 PM): me 2
kayla_princess94 (10/06/07 10:27:22 PM): :(
kayla_princess94 (10/06/07 10:27:40 PM): i wuld feel better


lorne_a_20014

(10/06/07 10:27:51 PM): it would be so awesome if we were laying naked with eachother right now and i could be holding you:x
kayla_princess94 (10/06/07 10:28:20 PM): yeah:x


lorne_a_20014

(10/06/07 10:28:41 PM): then you could reach down and play with my penis too lol
kayla_princess94 (10/06/07 10:29:00 PM): yeah:\">


lorne_a_20014

(10/06/07 10:29:09 PM): :D:-*


lorne_a_20014

(10/06/07 10:29:18 PM): are you anxious to touch my penis?
kayla_princess94 (10/06/07 10:29:25 PM): :-*
kayla_princess94 (10/06/07 10:29:38 PM): yeah:\">


lorne_a_20014

(10/06/07 10:29:43 PM): :D


lorne_a_20014

(10/06/07 10:29:51 PM): are you anxious to suck on it?
kayla_princess94 (10/06/07 10:30:14 PM): yeah:\">


lorne_a_20014

(10/06/07 10:30:21 PM): :D


lorne_a_20014

(10/06/07 10:30:37 PM): are you anxious for me to rub your vagina?
kayla_princess94 (10/06/07 10:31:21 PM): yeah:\">


lorne_a_20014

(10/06/07 10:31:26 PM): :D


lorne_a_20014

(10/06/07 10:31:45 PM): are you anxious for me to stick my penis in your vagina?
kayla_princess94 (10/06/07 10:31:55 PM): :-*
kayla_princess94 (10/06/07 10:32:09 PM): yeah:\">


lorne_a_20014

(10/06/07 10:32:13 PM): :D


lorne_a_20014

(10/06/07 10:32:21 PM): are you anxious to make out with me?
kayla_princess94 (10/06/07 10:32:38 PM): yeah:D


lorne_a_20014

(10/06/07 10:32:44 PM): :D


lorne_a_20014

(10/06/07 10:33:10 PM): my penis will be the first penis you've ever touched too right?
kayla_princess94 (10/06/07 10:33:30 PM): yep


lorne_a_20014

(10/06/07 10:33:35 PM): :D


lorne_a_20014

(10/06/07 10:33:41 PM): and the only one too


lorne_a_20014

(10/06/07 10:33:45 PM): :x
kayla_princess94 (10/06/07 10:33:55 PM): YES


lorne_a_20014

(10/06/07 10:34:01 PM): :D
kayla_princess94 (10/06/07 10:34:02 PM): :x
kayla_princess94 (10/06/07 10:34:15 PM): so u feel lots better 2day


lorne_a_20014

(10/06/07 10:34:22 PM): omg yes lol


lorne_a_20014

(10/06/07 10:34:35 PM): i didn't look very good last night huh?lol
kayla_princess94 (10/06/07 10:34:58 PM): no umm u look awful


lorne_a_20014

(10/06/07 10:35:04 PM): lol


lorne_a_20014

(10/06/07 10:35:18 PM): do you want to know what was wrong with me?lol
kayla_princess94 (10/06/07 10:35:21 PM): wat was wrong with u
kayla_princess94 (10/06/07 10:35:34 PM): lol yeah


lorne_a_20014

(10/06/07 10:36:26 PM): i was really really drunk, and i went downtown to the karaoke bar but when my freinds asked me to stay longer i looked at the time and said no way because i didn't want to even see or talk to anyone else except my baby
kayla_princess94 (10/06/07 10:36:47 PM): aww
kayla_princess94 (10/06/07 10:37:02 PM): so u came back 2 talk 2 me


lorne_a_20014

(10/06/07 10:37:33 PM): yes.........when i don't feel good at all you'll see that the ONLY person i'm gonna even want around me at all is you
kayla_princess94 (10/06/07 10:38:02 PM): aww


lorne_a_20014

(10/06/07 10:38:04 PM): i'm a baby when i don't feel good precious lol
kayla_princess94 (10/06/07 10:38:14 PM): aww


lorne_a_20014

(10/06/07 10:38:31 PM): are you gonna baby me when i don't feel good?
kayla_princess94 (10/06/07 10:38:45 PM): shur


lorne_a_20014

(10/06/07 10:39:07 PM): good because i'm gonna baby you all the time@};->:D<:-*:x
kayla_princess94 (10/06/07 10:39:16 PM): aww how sweet


lorne_a_20014

(10/06/07 10:39:42 PM): will you even hold my penis for me when i have to pee and don't feel good?lol
kayla_princess94 (10/06/07 10:40:04 PM): i guess if u want me 2


lorne_a_20014

(10/06/07 10:40:12 PM): :D:-*
kayla_princess94 (10/06/07 10:40:20 PM): :-*


lorne_a_20014

(10/06/07 10:40:30 PM): hell i want you to hold my penis even when i do feel good lol
kayla_princess94 (10/06/07 10:40:49 PM): k:)


lorne_a_20014

(10/06/07 10:40:55 PM): :D


lorne_a_20014

(10/06/07 10:41:06 PM): are you starting to feel better now?
kayla_princess94 (10/06/07 10:41:17 PM): yeah
kayla_princess94 (10/06/07 10:41:21 PM): :)


lorne_a_20014

(10/06/07 10:41:30 PM): good:D:-*


lorne_a_20014

(10/06/07 10:41:54 PM): are you sure you're gonna like my hairy chest?lol
kayla_princess94 (10/06/07 10:42:18 PM): yeah i luv everything bout u:\">


lorne_a_20014

(10/06/07 10:42:25 PM): :D


lorne_a_20014

(10/06/07 10:42:41 PM): i love everything about you too@};-:-*:x
kayla_princess94 (10/06/07 10:42:50 PM): :D


lorne_a_20014

(10/06/07 10:43:16 PM): you're so precious and special and beautiful it amazes me
kayla_princess94 (10/06/07 10:43:35 PM): aww
kayla_princess94 (10/06/07 10:43:41 PM): how sweet


lorne_a_20014

(10/06/07 10:43:44 PM): i love spending my time with you too


lorne_a_20014

(10/06/07 10:43:51 PM): :x
kayla_princess94 (10/06/07 10:43:57 PM): me 2
kayla_princess94 (10/06/07 10:44:01 PM): :-*


lorne_a_20014

(10/06/07 10:44:07 PM): :D:-*


lorne_a_20014

(10/06/07 10:44:36 PM): i wish i could be sucking on your pretty nipples right now lol


lorne_a_20014

(10/06/07 10:44:42 PM): :\">
kayla_princess94 (10/06/07 10:45:09 PM): :\">


lorne_a_20014

(10/06/07 10:45:23 PM): do you think you're gonna like that?
kayla_princess94 (10/06/07 10:45:41 PM): yeah sounds kewl


lorne_a_20014

(10/06/07 10:45:48 PM): :D


lorne_a_20014

(10/06/07 10:46:13 PM): are you anxious for me to touch your body all over?
kayla_princess94 (10/06/07 10:46:27 PM): yeah
kayla_princess94 (10/06/07 10:46:31 PM): :)


lorne_a_20014

(10/06/07 10:46:32 PM): :D


lorne_a_20014

(10/06/07 10:46:39 PM): good because i am too
kayla_princess94 (10/06/07 10:46:46 PM): :D


lorne_a_20014

(10/06/07 10:46:52 PM): i wish i could marry you right now


lorne_a_20014

(10/06/07 10:47:07 PM): are you anxious to touch my body all over?
kayla_princess94 (10/06/07 10:47:11 PM): me 2
kayla_princess94 (10/06/07 10:47:18 PM): yeah


lorne_a_20014

(10/06/07 10:47:24 PM): :D


lorne_a_20014

(10/06/07 10:47:46 PM): what's the first thing you want to touch on me honestly?
kayla_princess94 (10/06/07 10:47:54 PM): hmm
kayla_princess94 (10/06/07 10:48:00 PM): lets c
kayla_princess94 (10/06/07 10:48:37 PM): idk i just wanna give u a big hug:\">


lorne_a_20014

(10/06/07 10:48:47 PM): :D


lorne_a_20014

(10/06/07 10:49:20 PM): you have to wait until we get down the road about a mile from your house before you can give me a big hug though lol
kayla_princess94 (10/06/07 10:49:37 PM): k


lorne_a_20014

(10/06/07 10:50:04 PM): that way we wont be sitting right in front of your house and making anything noticable


lorne_a_20014

(10/06/07 10:50:06 PM): lol
kayla_princess94 (10/06/07 10:50:41 PM): lol yeah


lorne_a_20014

(10/06/07 10:50:57 PM): how far is the interstate from your house?
kayla_princess94 (10/06/07 10:51:10 PM): umm idk
kayla_princess94 (10/06/07 10:51:17 PM): ill have 2 find out
kayla_princess94 (10/06/07 10:51:18 PM): k


lorne_a_20014

(10/06/07 10:51:49 PM): no, you're gonna have to give me your address anyway so i can find out when i look on the map


lorne_a_20014

(10/06/07 10:52:07 PM): don't ask your parents any questions because it will make them suspicious
kayla_princess94 (10/06/07 10:52:15 PM): k
kayla_princess94 (10/06/07 10:52:16 PM): i wont


lorne_a_20014

(10/06/07 10:52:20 PM): ty
kayla_princess94 (10/06/07 10:52:24 PM): im not that dumb lol


lorne_a_20014

(10/06/07 10:52:25 PM): :-*
kayla_princess94 (10/06/07 10:52:29 PM): ;)
kayla_princess94 (10/06/07 10:52:32 PM): :-*


lorne_a_20014

(10/06/07 10:52:33 PM): believe me, i know lol


lorne_a_20014

(10/06/07 10:52:57 PM): you might be 13 but you're not even close to dumb
kayla_princess94 (10/06/07 10:53:07 PM): aww ty
kayla_princess94 (10/06/07 10:53:16 PM): u know wat


lorne_a_20014

(10/06/07 10:53:18 PM): yw my precious princess


lorne_a_20014

(10/06/07 10:53:21 PM): what?
kayla_princess94 (10/06/07 10:53:39 PM): ur the best bf in the whole world


lorne_a_20014

(10/06/07 10:53:49 PM): you know what
kayla_princess94 (10/06/07 10:53:56 PM): wat


lorne_a_20014

(10/06/07 10:54:17 PM): you're the best g/f in the whole world@};-:-*:x
kayla_princess94 (10/06/07 10:54:26 PM): aww ty
kayla_princess94 (10/06/07 10:54:33 PM): :x:-*


lorne_a_20014

(10/06/07 10:54:34 PM): you know what else
kayla_princess94 (10/06/07 10:54:45 PM): wat


lorne_a_20014

(10/06/07 10:55:03 PM): i can't wait to stick my penis in your vagina:-*:\">
kayla_princess94 (10/06/07 10:55:17 PM): :\">me 2


lorne_a_20014

(10/06/07 10:55:24 PM): :D:x
kayla_princess94 (10/06/07 10:55:31 PM): :x


lorne_a_20014

(10/06/07 10:56:20 PM): ok, when we get about a mile away from your house we're gonna stop and give eachother a big hug and i REALLY big kiss:x
kayla_princess94 (10/06/07 10:56:38 PM): :D
kayla_princess94 (10/06/07 10:56:44 PM): kewl


lorne_a_20014

(10/06/07 10:56:57 PM): and i'm gonna feel your butt too:D:x
kayla_princess94 (10/06/07 10:57:13 PM): k:\">
kayla_princess94 (10/06/07 10:57:22 PM): y u wanna feel my butt


lorne_a_20014

(10/06/07 10:57:40 PM): because it's cute and nice and because i can lol


lorne_a_20014

(10/06/07 10:57:44 PM): :D
kayla_princess94 (10/06/07 10:57:55 PM): lol


lorne_a_20014

(10/06/07 10:57:58 PM): do you want me to feel your butt?
kayla_princess94 (10/06/07 10:58:08 PM): yeah:)


lorne_a_20014

(10/06/07 10:58:13 PM): :D


lorne_a_20014

(10/06/07 10:58:57 PM): when we get on the interstate you can suck on my penis too:D:\">
kayla_princess94 (10/06/07 10:59:31 PM): umm while ur driving


lorne_a_20014

(10/06/07 10:59:36 PM): yup lol
kayla_princess94 (10/06/07 10:59:42 PM): k


lorne_a_20014

(10/06/07 10:59:45 PM): do you want to?
kayla_princess94 (10/06/07 10:59:53 PM): shur


lorne_a_20014

(10/06/07 10:59:58 PM): :D


lorne_a_20014

(10/06/07 11:00:12 PM): i can rub your vagina too:D


lorne_a_20014

(10/06/07 11:00:20 PM): do you want me to?
kayla_princess94 (10/06/07 11:00:40 PM): yeah
kayla_princess94 (10/06/07 11:00:46 PM): :\">


lorne_a_20014

(10/06/07 11:00:48 PM): :D


lorne_a_20014

(10/06/07 11:01:03 PM): are you more anxious for it now?lol
kayla_princess94 (10/06/07 11:01:13 PM): YES


lorne_a_20014

(10/06/07 11:01:24 PM): :D:-*:x
kayla_princess94 (10/06/07 11:01:31 PM): :-*


lorne_a_20014

(10/06/07 11:01:34 PM): what are you thinking about right now precious?
kayla_princess94 (10/06/07 11:01:59 PM): how i cant wait 2 c u


lorne_a_20014

(10/06/07 11:02:09 PM): :D:x


lorne_a_20014

(10/06/07 11:02:21 PM): excited for us to do all that stuff?
kayla_princess94 (10/06/07 11:02:44 PM): YES
kayla_princess94 (10/06/07 11:02:49 PM): :\">


lorne_a_20014

(10/06/07 11:02:52 PM): :D:x


lorne_a_20014

(10/06/07 11:02:58 PM): me too
kayla_princess94 (10/06/07 11:03:05 PM): :-*


lorne_a_20014

(10/06/07 11:03:10 PM): :-*
kayla_princess94 (10/06/07 11:03:18 PM): :D


lorne_a_20014

(10/06/07 11:03:28 PM): what are you going to be thinking about tonight when you're laying in bed?
kayla_princess94 (10/06/07 11:04:02 PM): bout u:x


lorne_a_20014

(10/06/07 11:04:10 PM): :D
kayla_princess94 (10/06/07 11:04:12 PM): and all that stuff were gona do
kayla_princess94 (10/06/07 11:04:17 PM): :\">


lorne_a_20014

(10/06/07 11:04:20 PM): :D:x


lorne_a_20014

(10/06/07 11:04:43 PM): are you wishing you could be sucking on my penis right now and me rubbing your vagina?
kayla_princess94 (10/06/07 11:05:10 PM): yeah:\">


lorne_a_20014

(10/06/07 11:05:18 PM): :D:-*:x


lorne_a_20014

(10/06/07 11:05:21 PM): me too
kayla_princess94 (10/06/07 11:05:34 PM): :)


lorne_a_20014

(10/06/07 11:05:39 PM): i'm anxious for us to be naked together:x


lorne_a_20014

(10/06/07 11:05:59 PM): that's why you only get 5 minutes to play with bud before your clothes come off lol


lorne_a_20014

(10/06/07 11:06:15 PM): hang on precious, i need to turn the a/c off
kayla_princess94 (10/06/07 11:06:25 PM): lol
kayla_princess94 (10/06/07 11:06:26 PM): k
kayla_princess94 (10/06/07 11:06:32 PM): poor bud


lorne_a_20014

(10/06/07 11:06:49 PM): what's the poor bud for?


lorne_a_20014

(10/06/07 11:07:13 PM): oh, because he only gets you for 5 minutes before i take your clothes off?lol
kayla_princess94 (10/06/07 11:07:38 PM): yeah lol


lorne_a_20014

(10/06/07 11:09:17 PM): precious, where are you?
kayla_princess94 (10/06/07 11:09:35 PM): im here
kayla_princess94 (10/06/07 11:09:39 PM): im thinkin


lorne_a_20014

(10/06/07 11:09:48 PM): oh, about what?
kayla_princess94 (10/06/07 11:10:07 PM): bout u;;)


lorne_a_20014

(10/06/07 11:10:14 PM): :D


lorne_a_20014

(10/06/07 11:10:20 PM): and what are you thinking?


lorne_a_20014

(10/06/07 11:10:25 PM): ;;)
kayla_princess94 (10/06/07 11:10:43 PM): how much i luv u:\">


lorne_a_20014

(10/06/07 11:10:54 PM): :D:-*:x


lorne_a_20014

(10/06/07 11:11:13 PM): what is all that's going through your mind?
kayla_princess94 (10/06/07 11:12:05 PM): how im lucky i met u:\">and have such a kewl bf


lorne_a_20014

(10/06/07 11:12:39 PM): i love you Kayla Marie Armstrong my precious princess@};->:D<:-*:x
kayla_princess94 (10/06/07 11:13:28 PM): i luv u:x:-*>:D<:D


lorne_a_20014

(10/06/07 11:13:35 PM): :D


lorne_a_20014

(10/06/07 11:13:45 PM): what do you think is so cool about me?
kayla_princess94 (10/06/07 11:14:02 PM): evrything
kayla_princess94 (10/06/07 11:14:06 PM): :D


lorne_a_20014

(10/06/07 11:14:14 PM): like what? name one thing lol
kayla_princess94 (10/06/07 11:15:00 PM): hmm
kayla_princess94 (10/06/07 11:15:05 PM): ur cute


lorne_a_20014

(10/06/07 11:15:06 PM): lol
kayla_princess94 (10/06/07 11:15:08 PM): sweet
kayla_princess94 (10/06/07 11:15:12 PM): nice
kayla_princess94 (10/06/07 11:15:15 PM): smart


lorne_a_20014

(10/06/07 11:15:22 PM): :D
kayla_princess94 (10/06/07 11:15:24 PM): :D


lorne_a_20014

(10/06/07 11:15:37 PM): you forgot to say that i have a nice penis lol
kayla_princess94 (10/06/07 11:15:56 PM): o lol yeah taht 2


lorne_a_20014

(10/06/07 11:16:03 PM): lol


lorne_a_20014

(10/06/07 11:16:06 PM): :-*


lorne_a_20014

(10/06/07 11:16:18 PM): can't wait to get your hands on it though huh?lol
kayla_princess94 (10/06/07 11:16:37 PM): yeah:\">


lorne_a_20014

(10/06/07 11:16:42 PM): :D


lorne_a_20014

(10/06/07 11:16:54 PM): i can't wait until you get your hands on it too lol


lorne_a_20014

(10/06/07 11:17:01 PM): :x
kayla_princess94 (10/06/07 11:17:23 PM): :x
kayla_princess94 (10/06/07 11:17:28 PM): :-*


lorne_a_20014

(10/06/07 11:17:49 PM): god you're beautiful@};-:-*:-*:-*:-*:-*
kayla_princess94 (10/06/07 11:18:12 PM): aww ty


lorne_a_20014

(10/06/07 11:18:27 PM): are you gonna wear your hair in a pony tail or are you gonna wear it down?
kayla_princess94 (10/06/07 11:18:37 PM): hmm
kayla_princess94 (10/06/07 11:18:44 PM): how u want me 2 wear it


lorne_a_20014

(10/06/07 11:18:51 PM): hmmm


lorne_a_20014

(10/06/07 11:19:18 PM): in a pony tail, it looks really sweet like that:D:-*
kayla_princess94 (10/06/07 11:19:25 PM): k
kayla_princess94 (10/06/07 11:19:28 PM): :D


lorne_a_20014

(10/06/07 11:19:49 PM): and what are you going to wear under your skirt?
kayla_princess94 (10/06/07 11:20:03 PM): nothing:\">


lorne_a_20014

(10/06/07 11:20:10 PM): :D:x
kayla_princess94 (10/06/07 11:20:19 PM): :x


lorne_a_20014

(10/06/07 11:20:27 PM): and why are you gonna wear nothing under your skirt?


lorne_a_20014

(10/06/07 11:20:31 PM): :D
kayla_princess94 (10/06/07 11:20:38 PM): cuz u want me 2
kayla_princess94 (10/06/07 11:20:43 PM): :)


lorne_a_20014

(10/06/07 11:20:48 PM): :D


lorne_a_20014

(10/06/07 11:20:54 PM): and why do i want you to?lol
kayla_princess94 (10/06/07 11:21:30 PM): umm cuz u wanna touch my private place:\">


lorne_a_20014

(10/06/07 11:21:41 PM): :D:-*:x
kayla_princess94 (10/06/07 11:21:51 PM): :-*


lorne_a_20014

(10/06/07 11:22:03 PM): and why do i wanna touch your private place?lol
kayla_princess94 (10/06/07 11:22:13 PM): cuz u luv me


lorne_a_20014

(10/06/07 11:22:25 PM): :D:x:-*@};-
kayla_princess94 (10/06/07 11:22:36 PM): :-*:x


lorne_a_20014

(10/06/07 11:22:48 PM): and what are you gonna be doing while i'm touching your private place?lol
kayla_princess94 (10/06/07 11:23:17 PM): umm touchin ur private place


lorne_a_20014

(10/06/07 11:23:26 PM): :D:-*:x


lorne_a_20014

(10/06/07 11:23:42 PM): and are you gonna like it?lol
kayla_princess94 (10/06/07 11:23:55 PM): yeah


lorne_a_20014

(10/06/07 11:24:02 PM): :D


lorne_a_20014

(10/06/07 11:24:16 PM): and who's the most beautiful girl in the world to me?
kayla_princess94 (10/06/07 11:24:34 PM): ME:D


lorne_a_20014

(10/06/07 11:24:45 PM): :D:-*>:D<:x


lorne_a_20014

(10/06/07 11:25:03 PM): and who's gonna be my wife in 4 1/2 years?
kayla_princess94 (10/06/07 11:25:30 PM): ME:D


lorne_a_20014

(10/06/07 11:25:38 PM): :D:-*:x
kayla_princess94 (10/06/07 11:25:51 PM): :-*


lorne_a_20014

(10/06/07 11:26:00 PM): and can you explain how god made you soooooooooooooooooo beautiful??


lorne_a_20014

(10/06/07 11:26:01 PM): lol


lorne_a_20014

(10/06/07 11:26:16 PM): :-*:x
kayla_princess94 (10/06/07 11:26:20 PM): umm no


lorne_a_20014

(10/06/07 11:26:35 PM): me either but i'm happy that he did@};-
kayla_princess94 (10/06/07 11:26:37 PM): :x
kayla_princess94 (10/06/07 11:26:51 PM): aww thats so sweet


lorne_a_20014

(10/06/07 11:27:15 PM): i really am very much in love with you precious@};-:x
kayla_princess94 (10/06/07 11:27:30 PM): :D


lorne_a_20014

(10/06/07 11:27:34 PM): i wish i could have your voice in my ear again right now too


lorne_a_20014

(10/06/07 11:27:38 PM): i miss your voice
kayla_princess94 (10/06/07 11:27:46 PM): i miss urs


lorne_a_20014

(10/06/07 11:27:52 PM): :-*
kayla_princess94 (10/06/07 11:28:10 PM): :-*:-*:-*:-*:-*:-*


lorne_a_20014

(10/06/07 11:28:24 PM): how many times do you want me to stick my penis in your vagina while you're here?
kayla_princess94 (10/06/07 11:28:40 PM): idk


lorne_a_20014

(10/06/07 11:29:06 PM): how often do you want me to touch your vagina?
kayla_princess94 (10/06/07 11:29:31 PM): idk as much as u want i guess


lorne_a_20014

(10/06/07 11:29:40 PM): :D:x


lorne_a_20014

(10/06/07 11:29:55 PM): how often do you want to touch my penis?
kayla_princess94 (10/06/07 11:30:10 PM): as much as u want me 2


lorne_a_20014

(10/06/07 11:30:17 PM): :D


lorne_a_20014

(10/06/07 11:30:27 PM): then you'll be touching it all the time lol
kayla_princess94 (10/06/07 11:30:35 PM): lol


lorne_a_20014

(10/06/07 11:30:51 PM): do you want to be touching it the whole time you're here?
kayla_princess94 (10/06/07 11:31:07 PM): u want me 2 touch it the whole time


lorne_a_20014

(10/06/07 11:31:16 PM): if you want to yes lol
kayla_princess94 (10/06/07 11:31:31 PM): k if u want me 2


lorne_a_20014

(10/06/07 11:31:32 PM): it's yours to play with lol
kayla_princess94 (10/06/07 11:31:56 PM): lol


lorne_a_20014

(10/06/07 11:32:08 PM): how often do you want to suck on it?
kayla_princess94 (10/06/07 11:32:30 PM): idk


lorne_a_20014

(10/06/07 11:33:03 PM): i can be licking your clit at the same time that you're sucking on my penis too:D:x
kayla_princess94 (10/06/07 11:33:13 PM): k


lorne_a_20014

(10/06/07 11:33:33 PM): :-*:xi love you precious@};-
kayla_princess94 (10/06/07 11:33:40 PM): i luv u


lorne_a_20014

(10/06/07 11:33:53 PM): what are you thinking about right now?


lorne_a_20014

(10/06/07 11:34:13 PM): do you notice how i love knowing what you're thinking?lol
kayla_princess94 (10/06/07 11:34:24 PM): yeah lol
kayla_princess94 (10/06/07 11:34:37 PM): im thinking bout u and all that stuff were gona do
kayla_princess94 (10/06/07 11:34:42 PM): :\">


lorne_a_20014

(10/06/07 11:34:51 PM): :D:-*:x
kayla_princess94 (10/06/07 11:35:01 PM): :-*


lorne_a_20014

(10/06/07 11:35:05 PM): do you wish my penis was in your mouth right now?
kayla_princess94 (10/06/07 11:35:29 PM): yeah:\">


lorne_a_20014

(10/06/07 11:35:38 PM): :D:x


lorne_a_20014

(10/06/07 11:35:41 PM): me too
kayla_princess94 (10/06/07 11:35:49 PM): :-*


lorne_a_20014

(10/06/07 11:35:57 PM): are you gonna lick it like a loli pop?lol
kayla_princess94 (10/06/07 11:36:16 PM): is that wat ur suppose 2 do


lorne_a_20014

(10/06/07 11:36:28 PM): you can if you want to


lorne_a_20014

(10/06/07 11:36:56 PM): you can lick it and suck on it any way you want to, it's yours to do what ever you want to do with it:\">
kayla_princess94 (10/06/07 11:37:08 PM): kewl
kayla_princess94 (10/06/07 11:37:41 PM): i just wanna make shur i do it rite cuz well u know i never done it b4:\">


lorne_a_20014

(10/06/07 11:38:12 PM): you'll do it right now matter how you do it, as long as you're touching it, it's going to be right lol
kayla_princess94 (10/06/07 11:38:32 PM): k


lorne_a_20014

(10/06/07 11:38:33 PM): have you ever heard of a blow job?
kayla_princess94 (10/06/07 11:38:50 PM): yeah:\">


lorne_a_20014

(10/06/07 11:39:00 PM): tell me what you think it is
kayla_princess94 (10/06/07 11:39:38 PM): umm its when grl does that u know suck a boys penis


lorne_a_20014

(10/06/07 11:39:46 PM): yup


lorne_a_20014

(10/06/07 11:40:09 PM): when you're sucking on my penis, you go up and down on it


lorne_a_20014

(10/06/07 11:40:43 PM): like you move it in and out of your mouth
kayla_princess94 (10/06/07 11:41:03 PM): o
kayla_princess94 (10/06/07 11:41:13 PM): k


lorne_a_20014

(10/06/07 11:41:35 PM): but you can do it any way that you want to do it to me though precious, it's yours to do what ever you want to do with


lorne_a_20014

(10/06/07 11:42:08 PM): you can lick it, suck it, roll your tongue around on it, what ever you want to do you can do it


lorne_a_20014

(10/06/07 11:42:13 PM): :x
kayla_princess94 (10/06/07 11:42:27 PM): k


lorne_a_20014

(10/06/07 11:42:31 PM): brb, coffee again
kayla_princess94 (10/06/07 11:42:45 PM): k
kayla_princess94 (10/06/07 11:43:03 PM): hmm i gotta remember all this so i know wat 2 do


lorne_a_20014

(10/06/07 11:44:20 PM): you don't have to remember it if you don't want to, it's your penis, you own it so you can do whatever you want to do to it:-*:x
kayla_princess94 (10/06/07 11:45:28 PM): i just wanna make shur i mean i know ur other gfs prolly had experience and they knew evrything 2 do


lorne_a_20014

(10/06/07 11:46:57 PM): you're better than them, i'm your first one ever and i love knowing that and i love that i get to teach you all of this stuff and i love that even if you think that you might do something wrong, you're not doing it wrong in my eyes because i think you're perfect@};-:-*:x
kayla_princess94 (10/06/07 11:47:23 PM): awww
kayla_princess94 (10/06/07 11:47:27 PM): :D
kayla_princess94 (10/06/07 11:47:31 PM): i luv u


lorne_a_20014

(10/06/07 11:47:41 PM): i love you more:-P


lorne_a_20014

(10/06/07 11:48:30 PM): what else do you want me to teach you tonight?
kayla_princess94 (10/06/07 11:48:43 PM): lol i think thats a lot


lorne_a_20014

(10/06/07 11:48:48 PM): lol
kayla_princess94 (10/06/07 11:48:49 PM): 2 remember


lorne_a_20014

(10/06/07 11:49:06 PM): believe me, you're gonna do awesome


lorne_a_20014

(10/06/07 11:49:12 PM): :-*
kayla_princess94 (10/06/07 11:49:16 PM): :D
kayla_princess94 (10/06/07 11:50:37 PM): :x
kayla_princess94 (10/06/07 11:50:38 PM): :-*


lorne_a_20014

(10/06/07 11:50:49 PM): while you have your head down there sucking on my penis while we're driving you can have your legs in the seat and one knee bent and up straight so i can be playine with your vagina@};-:D:-*:x
kayla_princess94 (10/06/07 11:51:30 PM): k
kayla_princess94 (10/06/07 11:51:40 PM): im trying 2 think bout this


lorne_a_20014

(10/06/07 11:51:51 PM): :D


lorne_a_20014

(10/06/07 11:52:05 PM): tell me what you're thinking about?
kayla_princess94 (10/06/07 11:52:35 PM): tryin 2 put picture in my mind how im gona do that lol


lorne_a_20014

(10/06/07 11:52:44 PM): lol


lorne_a_20014

(10/06/07 11:53:48 PM): easy, you'll be laying down in the seat with your head in my lap sucking on my penis and you'll have one leg up while i'm playing with your vagina:D


lorne_a_20014

(10/06/07 11:54:38 PM): would it help you picture it better if i showed you my penis?
kayla_princess94 (10/06/07 11:55:08 PM): :-?
kayla_princess94 (10/06/07 11:55:46 PM): i cant t figure it out how that gona work


lorne_a_20014

(10/06/07 11:57:01 PM): does seeing it make you want to suck on it right now?lol
kayla_princess94 (10/06/07 11:57:16 PM): yeah kinda:\">


lorne_a_20014

(10/06/07 11:57:26 PM): :D:x:-*


lorne_a_20014

(10/06/07 11:57:51 PM): believe me, it's gonna work really good:D
kayla_princess94 (10/06/07 11:58:16 PM): k
kayla_princess94 (10/06/07 11:58:17 PM): if u say so


lorne_a_20014

(10/06/07 11:58:23 PM): lol


lorne_a_20014

(10/06/07 11:58:53 PM): it's gonna work even better when we get back here:D
kayla_princess94 (10/06/07 11:59:14 PM): :D


lorne_a_20014

(10/06/07 11:59:47 PM): i can't wait for the first time when we hug and make out.........that's gonna be special@};-:x
kayla_princess94 (10/07/07 12:00:11 AM): yeah i know:)
kayla_princess94 (10/07/07 12:00:20 AM): i cant wait 2


lorne_a_20014

(10/07/07 12:00:27 AM): :-*


lorne_a_20014

(10/07/07 12:00:49 AM): are you gonna reach down and feel my penis when we're making out?
kayla_princess94 (10/07/07 12:01:15 AM): yeah:\">


lorne_a_20014

(10/07/07 12:01:25 AM): :D


lorne_a_20014

(10/07/07 12:01:29 AM): promise??
kayla_princess94 (10/07/07 12:01:39 AM): i promise


lorne_a_20014

(10/07/07 12:01:46 AM): :D:x
kayla_princess94 (10/07/07 12:01:58 AM): brb


lorne_a_20014

(10/07/07 12:02:02 AM): ok


lorne_a_20014

(10/07/07 12:07:02 AM): the picture that you have on our box is the one that i've had up and been looking at all day@};-:-*:x
kayla_princess94 (10/07/07 12:10:18 AM): aww really


lorne_a_20014

(10/07/07 12:10:28 AM): yup:D:x
kayla_princess94 (10/07/07 12:10:36 AM): :x


lorne_a_20014

(10/07/07 12:10:40 AM): i love that pic of you


lorne_a_20014

(10/07/07 12:11:02 AM): and i can see more of your chest in it too:D:\">
kayla_princess94 (10/07/07 12:11:17 AM): lol


lorne_a_20014

(10/07/07 12:11:34 AM): ok, so tell me what you're thinking right now


lorne_a_20014

(10/07/07 12:11:36 AM): lol
kayla_princess94 (10/07/07 12:12:04 AM): how i feel better cuz i ate sumthin cuz i was real hungry


lorne_a_20014

(10/07/07 12:12:10 AM): lol


lorne_a_20014

(10/07/07 12:12:17 AM): >:D<:-*


lorne_a_20014

(10/07/07 12:12:27 AM): what did you have to eat?
kayla_princess94 (10/07/07 12:12:29 AM): :x
kayla_princess94 (10/07/07 12:12:52 AM): cereal


lorne_a_20014

(10/07/07 12:13:00 AM): did you get some for me?
kayla_princess94 (10/07/07 12:13:14 AM): no sry i ate it all
kayla_princess94 (10/07/07 12:13:18 AM): lol


lorne_a_20014

(10/07/07 12:13:32 AM): oh well, i can eat you:D:\">


lorne_a_20014

(10/07/07 12:13:52 AM): do you know what that means?
kayla_princess94 (10/07/07 12:13:53 AM): huh


lorne_a_20014

(10/07/07 12:14:27 AM): when i'm down licking and sucking on your clit, that's what that's called is eating
kayla_princess94 (10/07/07 12:14:57 AM): sounds like a gross thing 2 call it


lorne_a_20014

(10/07/07 12:15:02 AM): lol


lorne_a_20014

(10/07/07 12:15:33 AM): it's something that feels good to you though and i know you're gonna taste good too:D:-*:x
kayla_princess94 (10/07/07 12:15:54 AM): i am


lorne_a_20014

(10/07/07 12:16:22 AM): yup, because you're my precious princess and everything about you is perfect@};-:-*:x
kayla_princess94 (10/07/07 12:16:39 AM): :D
kayla_princess94 (10/07/07 12:16:47 AM): :x:-*
kayla_princess94 (10/07/07 12:17:18 AM): i like it when u call me ur precious princess:)


lorne_a_20014

(10/07/07 12:17:42 AM): i love calling you my precious princess@};-:x
kayla_princess94 (10/07/07 12:18:07 AM): :D


lorne_a_20014

(10/07/07 12:18:33 AM): if you were sucking on my penis right now you wouldn't have been hungry lol


lorne_a_20014

(10/07/07 12:18:44 AM): especially if i were to cum lol
kayla_princess94 (10/07/07 12:19:09 AM): huh


lorne_a_20014

(10/07/07 12:19:10 AM): do you know what that means?


lorne_a_20014

(10/07/07 12:19:23 AM): you know what cum is right?
kayla_princess94 (10/07/07 12:19:25 AM): not shur wat u mean
kayla_princess94 (10/07/07 12:19:32 AM): yeah


lorne_a_20014

(10/07/07 12:20:45 AM): ok, well if you were sucking on my penis right now, there would come a point where i would cum, so if you were sucking on it right now and i cummed, it would go right in your mouth then you could swallow it and you wouldn't be hungry any more lol
kayla_princess94 (10/07/07 12:21:26 AM): really


lorne_a_20014

(10/07/07 12:21:30 AM): yup


lorne_a_20014

(10/07/07 12:21:36 AM): want to try it?
kayla_princess94 (10/07/07 12:21:52 AM): i guess
kayla_princess94 (10/07/07 12:21:57 AM): does it taste good


lorne_a_20014

(10/07/07 12:22:00 AM): :D


lorne_a_20014

(10/07/07 12:22:26 AM): i don't know, i know yours will taste good but i don't know what my own taste like because i've never tasted it lol


lorne_a_20014

(10/07/07 12:22:38 AM): so you can tell me when we do it ok?
kayla_princess94 (10/07/07 12:22:58 AM): lol
kayla_princess94 (10/07/07 12:22:59 AM): k


lorne_a_20014

(10/07/07 12:23:14 AM): are you anxious to taste my cum now?lol
kayla_princess94 (10/07/07 12:23:31 AM): yeah:\">


lorne_a_20014

(10/07/07 12:23:37 AM): :D


lorne_a_20014

(10/07/07 12:24:01 AM): god i want you soooooooooooo bad right now
kayla_princess94 (10/07/07 12:24:28 AM): wow i didnt know there was so much stuff 2 learn


lorne_a_20014

(10/07/07 12:25:07 AM): believe me, you're going to do awesome, and i'm gonna love teaching you too:D:x
kayla_princess94 (10/07/07 12:25:45 AM): :D
kayla_princess94 (10/07/07 12:25:52 AM): :x:-*


lorne_a_20014

(10/07/07 12:26:41 AM): i'd make myself cum right now if you wanted me to so you could see what it looks like but you told me before you wanted to wait
kayla_princess94 (10/07/07 12:27:03 AM): yeah


lorne_a_20014

(10/07/07 12:27:21 AM): i love you@};->:D<:-*:x
kayla_princess94 (10/07/07 12:27:28 AM): i luv u 2


lorne_a_20014

(10/07/07 12:28:06 AM): when we go to sleep i want you to have one leg on me ok?
kayla_princess94 (10/07/07 12:28:27 AM): k
kayla_princess94 (10/07/07 12:28:29 AM): y


lorne_a_20014

(10/07/07 12:28:52 AM): because i want to hold you as close to me as i can all night long:x
kayla_princess94 (10/07/07 12:29:04 AM): k:x


lorne_a_20014

(10/07/07 12:29:32 AM): and i'm gonna have one hand on your butt all night long too:D:\">
kayla_princess94 (10/07/07 12:29:45 AM): k lol


lorne_a_20014

(10/07/07 12:30:02 AM): so what are you thinking about right now precious?lol
kayla_princess94 (10/07/07 12:30:20 AM): i cant wait


lorne_a_20014

(10/07/07 12:30:39 AM): is there anything you're most anxious about now?


lorne_a_20014

(10/07/07 12:31:29 AM): what are you doing?
kayla_princess94 (10/07/07 12:31:32 AM): hmm
kayla_princess94 (10/07/07 12:31:34 AM): thinking
kayla_princess94 (10/07/07 12:31:56 AM): im most anxious bout meeting u irl


lorne_a_20014

(10/07/07 12:32:07 AM): :D:x


lorne_a_20014

(10/07/07 12:32:31 AM): i love you soooooooooooo much@};-:-*:x
kayla_princess94 (10/07/07 12:32:52 AM): i luv u soooooooooooooooooooooooooooooooooooooooooooooooooooooo much:x


lorne_a_20014

(10/07/07 12:33:00 AM): :D


lorne_a_20014

(10/07/07 12:33:26 AM): i wish i could sleep with you every night starting right now:-<
kayla_princess94 (10/07/07 12:33:59 AM): yeah taht wuld b soooo kewl


lorne_a_20014

(10/07/07 12:34:14 AM): that would be a dream come true
kayla_princess94 (10/07/07 12:34:31 AM): :)


lorne_a_20014

(10/07/07 12:34:39 AM): you'd love to be able to hold my penis every night huh?
kayla_princess94 (10/07/07 12:35:03 AM): yeah
kayla_princess94 (10/07/07 12:35:08 AM): :\">


lorne_a_20014

(10/07/07 12:35:11 AM): :D


lorne_a_20014

(10/07/07 12:35:27 AM): how's it feel to have my penis for your own toy?lol
kayla_princess94 (10/07/07 12:35:37 AM): toy


lorne_a_20014

(10/07/07 12:35:55 AM): yeah, you have your own penis to play with lol
kayla_princess94 (10/07/07 12:36:01 AM): lol


lorne_a_20014

(10/07/07 12:36:11 AM): meaning you own my penis and can play with it all you want lol


lorne_a_20014

(10/07/07 12:36:18 AM): so how's it feel?lol
kayla_princess94 (10/07/07 12:36:23 AM): kewl


lorne_a_20014

(10/07/07 12:36:29 AM): :-*
kayla_princess94 (10/07/07 12:36:37 AM): :-*


lorne_a_20014

(10/07/07 12:36:49 AM): not going to bite it though are you?


lorne_a_20014

(10/07/07 12:37:28 AM): ??


lorne_a_20014

(10/07/07 12:37:34 AM): what are you doing precious?


lorne_a_20014

(10/07/07 12:38:21 AM): are you talking to someone else too?
kayla_princess94 (10/07/07 12:38:23 AM): thinking
kayla_princess94 (10/07/07 12:38:34 AM): y wuld i bite it


lorne_a_20014

(10/07/07 12:38:48 AM): don't know, i'm just hoping that you don't lol
kayla_princess94 (10/07/07 12:38:55 AM): no silly
kayla_princess94 (10/07/07 12:39:06 AM): o lol
kayla_princess94 (10/07/07 12:39:31 AM): i thought mean u was hoping i wasnt talking 2 sum1
kayla_princess94 (10/07/07 12:39:42 AM): no i just wonder y i wuld bite it


lorne_a_20014

(10/07/07 12:39:48 AM): oh lol


lorne_a_20014

(10/07/07 12:40:02 AM): i meant i was hoping you wouldn't bite it lol
kayla_princess94 (10/07/07 12:40:22 AM): y wuld i ever do sumting like tht


lorne_a_20014

(10/07/07 12:40:39 AM): just to be a smart ass lol
kayla_princess94 (10/07/07 12:40:46 AM): lol


lorne_a_20014

(10/07/07 12:41:02 AM): please don't ever bite it? it hurts when it gets bitten lol
kayla_princess94 (10/07/07 12:41:23 AM): k i wont i promise


lorne_a_20014

(10/07/07 12:41:40 AM): ty my precious princess@};-:-*:x
kayla_princess94 (10/07/07 12:41:50 AM): yw:x


lorne_a_20014

(10/07/07 12:41:57 AM): i love you
kayla_princess94 (10/07/07 12:42:21 AM): i luv u
kayla_princess94 (10/07/07 12:42:25 AM): :D


lorne_a_20014

(10/07/07 12:42:36 AM): your parents must have fallen asleep huh?lol
kayla_princess94 (10/07/07 12:43:04 AM): no they r talking now i heard them not loud thank gawd


lorne_a_20014

(10/07/07 12:43:14 AM): lol


lorne_a_20014

(10/07/07 12:43:29 AM): i'm surprised they haven't said anything to you yet lol
kayla_princess94 (10/07/07 12:43:39 AM): yeah
kayla_princess94 (10/07/07 12:43:50 AM): they r busy talkin so haha


lorne_a_20014

(10/07/07 12:43:54 AM): lol
kayla_princess94 (10/07/07 12:43:56 AM): 4got bout me


lorne_a_20014

(10/07/07 12:44:09 AM): that's good for you and me:D


lorne_a_20014

(10/07/07 12:44:12 AM): :x
kayla_princess94 (10/07/07 12:44:17 AM): lol yep


lorne_a_20014

(10/07/07 12:44:41 AM): so how's my vagina doing without me?
kayla_princess94 (10/07/07 12:45:01 AM): lol
kayla_princess94 (10/07/07 12:45:10 AM): its um idk lol


lorne_a_20014

(10/07/07 12:45:15 AM): lol


lorne_a_20014

(10/07/07 12:45:23 AM): is it wanting me right now?
kayla_princess94 (10/07/07 12:45:39 AM): yeah
kayla_princess94 (10/07/07 12:45:45 AM): :\">


lorne_a_20014

(10/07/07 12:45:45 AM): :D


lorne_a_20014

(10/07/07 12:46:02 AM): is it wanting my penis inside her?
kayla_princess94 (10/07/07 12:46:26 AM): YES


lorne_a_20014

(10/07/07 12:46:30 AM): :D


lorne_a_20014

(10/07/07 12:46:34 AM): :x
kayla_princess94 (10/07/07 12:46:43 AM): :-*


lorne_a_20014

(10/07/07 12:46:48 AM): :-*


lorne_a_20014

(10/07/07 12:47:17 AM): brb precious, i'm gonna put a pot pie in the microwave, i'm getting hungry now lol
kayla_princess94 (10/07/07 12:47:30 AM): k lol


lorne_a_20014

(10/07/07 12:49:58 AM): back


lorne_a_20014

(10/07/07 12:50:03 AM): i had to pee too


lorne_a_20014

(10/07/07 12:50:04 AM): lol
kayla_princess94 (10/07/07 12:50:07 AM): YAY


lorne_a_20014

(10/07/07 12:50:13 AM): :-*:x


lorne_a_20014

(10/07/07 12:50:33 AM): when i was in the bathroom i got reminded of something too
kayla_princess94 (10/07/07 12:51:10 AM): wat


lorne_a_20014

(10/07/07 12:51:38 AM): how much fun we're gonna have taking a bubble bath together:D:x
kayla_princess94 (10/07/07 12:51:59 AM): o yeah
kayla_princess94 (10/07/07 12:52:04 AM): thats rite
kayla_princess94 (10/07/07 12:52:10 AM): :D


lorne_a_20014

(10/07/07 12:52:26 AM): we're gonna have ALOT of fun doing that together:D
kayla_princess94 (10/07/07 12:53:00 AM): yeah i cant wait 4 taht


lorne_a_20014

(10/07/07 12:53:05 AM): me either
kayla_princess94 (10/07/07 12:53:40 AM): o great daddys yelling at me 2 go 2 bed:(


lorne_a_20014

(10/07/07 12:53:44 AM): damn


lorne_a_20014

(10/07/07 12:54:02 AM): well, atleast we had a long time together tonight and that was really good


lorne_a_20014

(10/07/07 12:54:18 AM): i just wish i could have had you on the phone longer
kayla_princess94 (10/07/07 12:54:38 AM): yeah they r so dumb


lorne_a_20014

(10/07/07 12:54:59 AM): do you think there will be any time that you'll be alone at home tomorrow?
kayla_princess94 (10/07/07 12:55:21 AM): idk not shur


lorne_a_20014

(10/07/07 12:56:08 AM): if you do get to be alone at any time tomorrow then call me, even if it's just for a minute, i want to hear my precious princesses voice again


lorne_a_20014

(10/07/07 12:56:12 AM): @};-
kayla_princess94 (10/07/07 12:56:40 AM): k
kayla_princess94 (10/07/07 12:57:19 AM): they said sumthing bout us going 2 my uncle and aunts 4 sum barbecue thing


lorne_a_20014

(10/07/07 12:57:27 AM): oh


lorne_a_20014

(10/07/07 12:57:40 AM): i miss you already:-<
kayla_princess94 (10/07/07 12:57:51 AM): me 2:(
kayla_princess94 (10/07/07 12:57:55 AM): i better go


lorne_a_20014

(10/07/07 12:58:02 AM): ok precious


lorne_a_20014

(10/07/07 12:58:10 AM): delete your archives
kayla_princess94 (10/07/07 12:58:17 AM): k


lorne_a_20014

(10/07/07 12:58:20 AM): do you want to see your toy before you go?
kayla_princess94 (10/07/07 12:58:25 AM): yeah


lorne_a_20014

(10/07/07 12:58:44 AM): want me to make it hard for you?
kayla_princess94 (10/07/07 12:58:51 AM): k
kayla_princess94 (10/07/07 12:59:55 AM): hes yelling at me i gotta go


lorne_a_20014

(10/07/07 1:00:19 AM): ok, i love you@};-:-*>:D<:x


lorne_a_20014

(10/07/07 1:00:25 AM): dream about me
kayla_princess94 (10/07/07 1:00:32 AM): i luv u i will
kayla_princess94 (10/07/07 1:00:36 AM): dream bout me 2


lorne_a_20014

(10/07/07 1:00:47 AM): good night my precious princess@};-
kayla_princess94 (10/07/07 1:00:47 AM): :x:-*
kayla_princess94 (10/07/07 1:00:51 AM): >:D<
kayla_princess94 (10/07/07 1:00:57 AM): nite
kayla_princess94 (10/07/07 1:01:03 AM): :-*


lorne_a_20014

(10/07/07 1:01:05 AM): i always do dream about you@};->:D<:-*:x
kayla_princess94 (10/07/07 1:01:19 AM): :-*
kayla_princess94 (10/07/07 1:01:22 AM): :x


lorne_a_20014

(10/07/07 1:01:28 AM): :-*:x


lorne_a_20014

(10/07/07 1:01:31 AM): :-<


lorne_a_20014

(10/07/07 1:01:45 AM): god i love you


lorne_a_20014

(10/07/07 1:02:08 AM): archives deleted?
kayla_princess94 (10/07/07 1:02:29 AM): yep


lorne_a_20014

(10/07/07 1:02:36 AM): :-*:x


lorne_a_20014

(10/07/07 1:02:44 AM): @};-
kayla_princess94 (10/07/07 1:02:48 AM): nite


lorne_a_20014

(10/07/07 1:03:01 AM): good night my precious princess@};-


lorne_a_20014

(10/07/07 9:12:16 AM): good morning precious, i love you@};->:D<:-*:x


lorne_a_20014

(10/07/07 11:41:40 AM): i wish i could have my precious princess this morning, i miss her alot:-<


lorne_a_20014

(10/07/07 11:44:10 AM): i just looked at your myspace........you've been online this morning and did say anything to me again:-<


lorne_a_20014

(10/07/07 8:50:55 PM): precious are you here?


lorne_a_20014

(10/07/07 8:51:42 PM): wow........i guess not:(


lorne_a_20014

(10/07/07 9:36:33 PM): :-*


lorne_a_20014

(10/07/07 9:37:08 PM): hi my precious princess@};-:-*:x
kayla_princess94 (10/07/07 9:37:22 PM): :D


lorne_a_20014

(10/07/07 9:37:29 PM): i love you
kayla_princess94 (10/07/07 9:37:40 PM): i luv u


lorne_a_20014

(10/07/07 9:37:59 PM): what took you so long to get here?
kayla_princess94 (10/07/07 9:39:20 PM): we went 2 my uncles 4 picnic then i came home wash sum of my clothes took a shower clean up my room finish my homework hey i been busy


lorne_a_20014

(10/07/07 9:39:37 PM): it sounds like it lol


lorne_a_20014

(10/07/07 9:39:41 PM): :-*


lorne_a_20014

(10/07/07 9:39:52 PM): my baby's been working her butt off today
kayla_princess94 (10/07/07 9:40:02 PM): yeah


lorne_a_20014

(10/07/07 9:40:08 PM): are you tired?
kayla_princess94 (10/07/07 9:40:15 PM): u miss me


lorne_a_20014

(10/07/07 9:40:22 PM): yes i did........ALOT
kayla_princess94 (10/07/07 9:40:31 PM): yeah a lil


lorne_a_20014

(10/07/07 9:41:08 PM): i was going to wait here all day in case you came on but i see you went on your myspace already today so i figured that you wouldn't be on until tonight because you didn't leave me any messages
kayla_princess94 (10/07/07 9:41:13 PM): i missed u
kayla_princess94 (10/07/07 9:41:18 PM): LOTS


lorne_a_20014

(10/07/07 9:41:25 PM): good:D:-*:x
kayla_princess94 (10/07/07 9:41:48 PM): :-*:x


lorne_a_20014

(10/07/07 9:42:01 PM): what did you wear today?
kayla_princess94 (10/07/07 9:42:31 PM): shorts and a tank top


lorne_a_20014

(10/07/07 9:42:46 PM): what color?
kayla_princess94 (10/07/07 9:42:47 PM): wat r u doing
kayla_princess94 (10/07/07 9:43:21 PM): jean shorts pink top


lorne_a_20014

(10/07/07 9:43:24 PM): i was taking buds collar off of him and he almost knocked the little trash can over so i had to pick some paper up that fell out of it


lorne_a_20014

(10/07/07 9:43:38 PM): white panties and bra?


lorne_a_20014

(10/07/07 9:43:42 PM): :D
kayla_princess94 (10/07/07 9:43:44 PM): lol
kayla_princess94 (10/07/07 9:43:53 PM): yep white:D


lorne_a_20014

(10/07/07 9:44:00 PM): :D:x


lorne_a_20014

(10/07/07 9:44:15 PM): i wish i could be taking them off of you right now


lorne_a_20014

(10/07/07 9:44:21 PM): :-*
kayla_princess94 (10/07/07 9:44:28 PM): :)


lorne_a_20014

(10/07/07 9:44:59 PM): i got bored today so i went downtown to the karaoke bar and sang for about 3 or 4 hours
kayla_princess94 (10/07/07 9:45:18 PM): kewl
kayla_princess94 (10/07/07 9:45:22 PM): wat u sing


lorne_a_20014

(10/07/07 9:46:13 PM): god bless the usa, islands in the stream, when i said i do, the change, what if jesus comes back like that and it was your song


lorne_a_20014

(10/07/07 9:46:29 PM): i can't believe i remembered all of them lol


lorne_a_20014

(10/07/07 9:46:44 PM): i mean i can't believe i remembered all the songs i sang lol
kayla_princess94 (10/07/07 9:46:46 PM): kewl
kayla_princess94 (10/07/07 9:46:54 PM): lol
kayla_princess94 (10/07/07 9:46:59 PM): i bet u were awesome


lorne_a_20014

(10/07/07 9:47:08 PM): :-*


lorne_a_20014

(10/07/07 9:47:30 PM): there were some old people there that loved me, they were taking pictures of me lol
kayla_princess94 (10/07/07 9:47:53 PM): lol
kayla_princess94 (10/07/07 9:47:54 PM): kewl


lorne_a_20014

(10/07/07 9:48:11 PM): wish i could have had you there with me:x
kayla_princess94 (10/07/07 9:48:25 PM): bet u will b famous sum day and they will b like hey i got pictures of that guy


lorne_a_20014

(10/07/07 9:48:32 PM): yup lol
kayla_princess94 (10/07/07 9:48:44 PM): omg that wuld b soo kewl


lorne_a_20014

(10/07/07 9:48:47 PM): and i'll be married to you:D
kayla_princess94 (10/07/07 9:49:01 PM): :D


lorne_a_20014

(10/07/07 9:49:22 PM): i really wish i could have you here with me right now


lorne_a_20014

(10/07/07 9:49:26 PM): living with me
kayla_princess94 (10/07/07 9:49:35 PM): 4real


lorne_a_20014

(10/07/07 9:49:41 PM): yes
kayla_princess94 (10/07/07 9:49:48 PM): that wuld b kewl


lorne_a_20014

(10/07/07 9:50:05 PM): that would be better than kewl lol:x


lorne_a_20014

(10/07/07 9:50:28 PM): just think, we'd get to sleep naked with eachother every night:D:x
kayla_princess94 (10/07/07 9:50:36 PM): yeah


lorne_a_20014

(10/07/07 9:50:45 PM): would you like that?
kayla_princess94 (10/07/07 9:50:52 PM): yeah
kayla_princess94 (10/07/07 9:50:56 PM): :\">


lorne_a_20014

(10/07/07 9:50:59 PM): :D:-*


lorne_a_20014

(10/07/07 9:51:11 PM): i miss your voice


lorne_a_20014

(10/07/07 9:51:24 PM): i keep hearing it in my head.......i miss it alot
kayla_princess94 (10/07/07 9:51:31 PM): awww
kayla_princess94 (10/07/07 9:52:18 PM): wont b long u will c me and hear me:)u prolly will get sick of hearing me talk all the time lol


lorne_a_20014

(10/07/07 9:52:43 PM): i wont get sick of hearing you, that's for sure:x
kayla_princess94 (10/07/07 9:52:52 PM): :)


lorne_a_20014

(10/07/07 9:52:54 PM): 11 more days precious


lorne_a_20014

(10/07/07 9:52:58 PM): :D
kayla_princess94 (10/07/07 9:53:02 PM): :D
kayla_princess94 (10/07/07 9:53:14 PM): daddy says sumtimes i ask 2 many questions lol


lorne_a_20014

(10/07/07 9:53:18 PM): you might get sick of me touching your vagina thogh lol
kayla_princess94 (10/07/07 9:53:26 PM): noooo


lorne_a_20014

(10/07/07 9:53:30 PM): lol
kayla_princess94 (10/07/07 9:53:33 PM): :\">


lorne_a_20014

(10/07/07 9:53:41 PM): really?? want me to touch it as much as i can?
kayla_princess94 (10/07/07 9:53:54 PM): yeah:\">


lorne_a_20014

(10/07/07 9:54:01 PM): :D:-*
kayla_princess94 (10/07/07 9:54:07 PM): :-*


lorne_a_20014

(10/07/07 9:54:18 PM): want me to stick my penis in it as much as i can?
kayla_princess94 (10/07/07 9:54:29 PM): yeah:\">


lorne_a_20014

(10/07/07 9:54:36 PM): :D:-*
kayla_princess94 (10/07/07 9:54:47 PM): :x:-*


lorne_a_20014

(10/07/07 9:54:55 PM): i love you@};-:-*:x
kayla_princess94 (10/07/07 9:55:01 PM): i luv u 2


lorne_a_20014

(10/07/07 9:55:17 PM): are you gonna touch my penis as much as you can?
kayla_princess94 (10/07/07 9:55:35 PM): as much as u want me 2


lorne_a_20014

(10/07/07 9:55:56 PM): remember what i said, it's yours to play with, touch it all you want to:D
kayla_princess94 (10/07/07 9:56:11 PM): :\">k


lorne_a_20014

(10/07/07 9:56:16 PM): :-*
kayla_princess94 (10/07/07 9:56:37 PM): :x:-*


lorne_a_20014

(10/07/07 9:57:08 PM): remember what you're gonna do while we're making out for the first time in the truck?
kayla_princess94 (10/07/07 9:57:50 PM): ummm ummm no:(


lorne_a_20014

(10/07/07 9:58:00 PM): reach down and


lorne_a_20014

(10/07/07 9:58:12 PM): remember now?
kayla_princess94 (10/07/07 9:58:22 PM): touch it


lorne_a_20014

(10/07/07 9:58:29 PM): :D
kayla_princess94 (10/07/07 9:58:36 PM): :)


lorne_a_20014

(10/07/07 9:58:43 PM): only if you want to though, do you want to?
kayla_princess94 (10/07/07 9:59:15 PM): yeah u want me 2


lorne_a_20014

(10/07/07 9:59:23 PM): hell yeah:D
kayla_princess94 (10/07/07 9:59:35 PM): :)


lorne_a_20014

(10/07/07 10:00:05 PM): i'll still have my pants on at that time though, but we can pull my pants down while we're making out if you want to


lorne_a_20014

(10/07/07 10:00:16 PM): :\">
kayla_princess94 (10/07/07 10:00:41 PM): k:\">


lorne_a_20014

(10/07/07 10:00:48 PM): do you want to?
kayla_princess94 (10/07/07 10:01:29 PM): yeah if thats wat u wanna do but wont u b driving
kayla_princess94 (10/07/07 10:01:31 PM): lol


lorne_a_20014

(10/07/07 10:01:40 PM): :D


lorne_a_20014

(10/07/07 10:02:33 PM): not yet anyway, i can wear shorts if you want me to then they'll be alot easier to take down and i can leave them down for you the whole way back here


lorne_a_20014

(10/07/07 10:02:37 PM): :D


lorne_a_20014

(10/07/07 10:02:59 PM): do you want me to wear shorts?
kayla_princess94 (10/07/07 10:03:02 PM): o
kayla_princess94 (10/07/07 10:03:04 PM): yeah


lorne_a_20014

(10/07/07 10:03:10 PM): :D


lorne_a_20014

(10/07/07 10:03:15 PM): :-*:x
kayla_princess94 (10/07/07 10:03:22 PM): :-*


lorne_a_20014

(10/07/07 10:03:41 PM): are you gonna be touching my penis the whole way back here?
kayla_princess94 (10/07/07 10:04:05 PM): if u want me 2 i guess :)


lorne_a_20014

(10/07/07 10:04:10 PM): :D


lorne_a_20014

(10/07/07 10:04:16 PM): do you want to?
kayla_princess94 (10/07/07 10:04:33 PM): yeah


lorne_a_20014

(10/07/07 10:04:37 PM): :D


lorne_a_20014

(10/07/07 10:04:50 PM): are you gonna play with my balls too?:D
kayla_princess94 (10/07/07 10:04:59 PM): wat


lorne_a_20014

(10/07/07 10:05:22 PM): you know what balls are on a boy right?
kayla_princess94 (10/07/07 10:05:34 PM): yeah:\">


lorne_a_20014

(10/07/07 10:05:48 PM): ok, gonna play with mine?


lorne_a_20014

(10/07/07 10:05:53 PM): :D
kayla_princess94 (10/07/07 10:06:01 PM): u want me 2 play with them


lorne_a_20014

(10/07/07 10:06:26 PM): i want you to do whatever you want to do with them:D
kayla_princess94 (10/07/07 10:06:36 PM): k lol
kayla_princess94 (10/07/07 10:06:49 PM): if u want me 2 play with them i will
kayla_princess94 (10/07/07 10:06:55 PM): it just sonds funny


lorne_a_20014

(10/07/07 10:07:01 PM): of course i want you to lol


lorne_a_20014

(10/07/07 10:07:12 PM): do you want to see them?
kayla_princess94 (10/07/07 10:07:22 PM): k


lorne_a_20014

(10/07/07 10:08:19 PM): was that a good look?
kayla_princess94 (10/07/07 10:08:36 PM): yeah
kayla_princess94 (10/07/07 10:08:40 PM): :\">


lorne_a_20014

(10/07/07 10:08:44 PM): do you like my balls baby?
kayla_princess94 (10/07/07 10:09:01 PM): yeah:\">


lorne_a_20014

(10/07/07 10:09:05 PM): :D
kayla_princess94 (10/07/07 10:09:09 PM): i like every thing bout u


lorne_a_20014

(10/07/07 10:09:14 PM): :D
kayla_princess94 (10/07/07 10:09:15 PM): :D


lorne_a_20014

(10/07/07 10:09:19 PM): :-*:x


lorne_a_20014

(10/07/07 10:09:40 PM): i love everything about you@};- you're my little goddess:-*:x
kayla_princess94 (10/07/07 10:09:50 PM): aww
kayla_princess94 (10/07/07 10:09:58 PM): ur my fav bf
kayla_princess94 (10/07/07 10:10:03 PM): lol ur my only bf
kayla_princess94 (10/07/07 10:10:07 PM): :D


lorne_a_20014

(10/07/07 10:10:19 PM): ty, i was just gonna say something smart on that one lol
kayla_princess94 (10/07/07 10:10:29 PM): lol
kayla_princess94 (10/07/07 10:10:37 PM): i was being funny


lorne_a_20014

(10/07/07 10:10:44 PM): :-*
kayla_princess94 (10/07/07 10:10:54 PM): :-*


lorne_a_20014

(10/07/07 10:11:20 PM): what are you most anxious for me to do first? to suck on your nipples or to suck on your clit?
kayla_princess94 (10/07/07 10:11:51 PM): hmm how bout a kiss 1st


lorne_a_20014

(10/07/07 10:12:03 PM): i mean after the kiss precious lol


lorne_a_20014

(10/07/07 10:12:12 PM): we already know we're gonna kiss first lol
kayla_princess94 (10/07/07 10:12:17 PM): k
kayla_princess94 (10/07/07 10:12:19 PM): lol
kayla_princess94 (10/07/07 10:12:38 PM): umm how bout the suck on the nipple thing that sounds kewl


lorne_a_20014

(10/07/07 10:12:49 PM): ok:D
kayla_princess94 (10/07/07 10:12:55 PM): k


lorne_a_20014

(10/07/07 10:13:12 PM): then i can suck on your clit after:D
kayla_princess94 (10/07/07 10:13:22 PM): o
kayla_princess94 (10/07/07 10:13:24 PM): ok
kayla_princess94 (10/07/07 10:13:26 PM): lol


lorne_a_20014

(10/07/07 10:13:59 PM): how about i'll suck on your nipple a little in the truck then wait until we get back here for me to suck on your clit?
kayla_princess94 (10/07/07 10:14:14 PM): k


lorne_a_20014

(10/07/07 10:14:25 PM): :D:-*:x


lorne_a_20014

(10/07/07 10:14:37 PM): are you anxious for that now?lol
kayla_princess94 (10/07/07 10:14:42 PM): :-*
kayla_princess94 (10/07/07 10:14:49 PM): YES


lorne_a_20014

(10/07/07 10:14:58 PM): me too:D:x


lorne_a_20014

(10/07/07 10:15:07 PM): brb precious, need another cup of coffee
kayla_princess94 (10/07/07 10:15:12 PM): :D
kayla_princess94 (10/07/07 10:15:14 PM): k


lorne_a_20014

(10/07/07 10:16:09 PM): back precious


lorne_a_20014

(10/07/07 10:16:13 PM): :-*
kayla_princess94 (10/07/07 10:16:22 PM): YAY:D
kayla_princess94 (10/07/07 10:16:25 PM): :-*


lorne_a_20014

(10/07/07 10:16:43 PM): do you always watch me when i leave to get a cup of coffee and come back?
kayla_princess94 (10/07/07 10:17:07 PM): yeah:\">


lorne_a_20014

(10/07/07 10:17:13 PM): :D


lorne_a_20014

(10/07/07 10:17:31 PM): i like that you like looking at me naked:D:-*:x
kayla_princess94 (10/07/07 10:17:46 PM): :\">


lorne_a_20014

(10/07/07 10:17:59 PM): what's the most favorite part of my body that you like?
kayla_princess94 (10/07/07 10:18:16 PM): hmm thats hard 2 pick


lorne_a_20014

(10/07/07 10:18:26 PM): be honest too lol
kayla_princess94 (10/07/07 10:18:37 PM): k
kayla_princess94 (10/07/07 10:18:41 PM): :-?


lorne_a_20014

(10/07/07 10:19:06 PM): :-\"


lorne_a_20014

(10/07/07 10:19:08 PM): lol
kayla_princess94 (10/07/07 10:19:27 PM): im thinking darn it


lorne_a_20014

(10/07/07 10:19:31 PM): lol
kayla_princess94 (10/07/07 10:20:08 PM): k
kayla_princess94 (10/07/07 10:20:18 PM): i luv ur eyes u got pretty eys


lorne_a_20014

(10/07/07 10:20:42 PM): awww, i didn't expect that@};-:x:-*
kayla_princess94 (10/07/07 10:20:58 PM): :-*


lorne_a_20014

(10/07/07 10:21:04 PM): but that's not my body precious, that's my face lol
kayla_princess94 (10/07/07 10:21:12 PM): o
kayla_princess94 (10/07/07 10:21:14 PM): lol
kayla_princess94 (10/07/07 10:21:19 PM): #-o


lorne_a_20014

(10/07/07 10:21:34 PM): what part of my body do you like best?lol
kayla_princess94 (10/07/07 10:21:42 PM): hmm
kayla_princess94 (10/07/07 10:21:50 PM): u got a nice butt:\">


lorne_a_20014

(10/07/07 10:21:59 PM): :D
kayla_princess94 (10/07/07 10:22:08 PM): :\">


lorne_a_20014

(10/07/07 10:22:16 PM): but that's not REALLY your favorite part though huh?lol
kayla_princess94 (10/07/07 10:22:27 PM): huh
kayla_princess94 (10/07/07 10:22:33 PM): k wat is


lorne_a_20014

(10/07/07 10:22:45 PM): i thought you were gonna say my penis lol
kayla_princess94 (10/07/07 10:22:52 PM): :\">
kayla_princess94 (10/07/07 10:23:06 PM): k well yeah but i didnt wanna say:\">


lorne_a_20014

(10/07/07 10:23:19 PM): :D:-*


lorne_a_20014

(10/07/07 10:23:34 PM): you can say it to me precious, you know i'm gonna love that lol
kayla_princess94 (10/07/07 10:24:01 PM): k i like ur penis:\">


lorne_a_20014

(10/07/07 10:24:07 PM): :D


lorne_a_20014

(10/07/07 10:24:11 PM): :x
kayla_princess94 (10/07/07 10:24:12 PM): lol


lorne_a_20014

(10/07/07 10:24:17 PM): :-*
kayla_princess94 (10/07/07 10:24:26 PM): ;;)


lorne_a_20014

(10/07/07 10:24:37 PM): then my butt comes second?lol
kayla_princess94 (10/07/07 10:24:44 PM): yeah


lorne_a_20014

(10/07/07 10:24:50 PM): :D


lorne_a_20014

(10/07/07 10:24:56 PM): then what?lol
kayla_princess94 (10/07/07 10:25:03 PM): ur eyes


lorne_a_20014

(10/07/07 10:25:16 PM): that's still on my face not my body lol
kayla_princess94 (10/07/07 10:25:45 PM): well ur face is on ur head and ur head is on ur body soooo its part of ur body rite


lorne_a_20014

(10/07/07 10:25:52 PM): lmao


lorne_a_20014

(10/07/07 10:25:58 PM): ok, you got me on that one


lorne_a_20014

(10/07/07 10:25:58 PM): lol
kayla_princess94 (10/07/07 10:26:05 PM): :D


lorne_a_20014

(10/07/07 10:26:11 PM): :-*


lorne_a_20014

(10/07/07 10:26:50 PM): know what my favorite thing on you is? besides your vagina, your butt and your boobs
kayla_princess94 (10/07/07 10:26:59 PM): wat


lorne_a_20014

(10/07/07 10:27:23 PM): your smile, you have the most beautiful smile i've EVER seen@};-:-*:x
kayla_princess94 (10/07/07 10:27:36 PM): awww ty
kayla_princess94 (10/07/07 10:27:43 PM): :)


lorne_a_20014

(10/07/07 10:27:56 PM): then you're big blue eyes:x
kayla_princess94 (10/07/07 10:28:07 PM): :)


lorne_a_20014

(10/07/07 10:28:36 PM): i can't wait to play with your hair too........and you better NEVER cut your hair lol


lorne_a_20014

(10/07/07 10:28:39 PM): i LOVE long hair lol
kayla_princess94 (10/07/07 10:28:58 PM): really


lorne_a_20014

(10/07/07 10:29:01 PM): yes


lorne_a_20014

(10/07/07 10:29:10 PM): i love playing with long hair


lorne_a_20014

(10/07/07 10:29:34 PM): and i LOVE LOVE LOVE your hair


lorne_a_20014

(10/07/07 10:29:38 PM): :x
kayla_princess94 (10/07/07 10:29:41 PM): :D


lorne_a_20014

(10/07/07 10:30:10 PM): i love you Kayla Marie Armstrong@};->:D<:-*:x
kayla_princess94 (10/07/07 10:30:37 PM): i luv u lorne lynn armstrong


lorne_a_20014

(10/07/07 10:30:46 PM): :D:-*


lorne_a_20014

(10/07/07 10:31:04 PM): just don't say the lynn part of my name in public lol
kayla_princess94 (10/07/07 10:31:12 PM): :-*
kayla_princess94 (10/07/07 10:31:14 PM): lol
kayla_princess94 (10/07/07 10:31:16 PM): k


lorne_a_20014

(10/07/07 10:31:21 PM): lol


lorne_a_20014

(10/07/07 10:31:43 PM): i cut myself shaving the other day on my lip, that's why i didn't shave today
kayla_princess94 (10/07/07 10:32:02 PM): awww


lorne_a_20014

(10/07/07 10:32:04 PM): it's almost healed up though


lorne_a_20014

(10/07/07 10:32:22 PM): that's why i keep sticking my tongue out lol
kayla_princess94 (10/07/07 10:32:42 PM): lol


lorne_a_20014

(10/07/07 10:33:00 PM): want to see the tongue that's gonna be licking your vagina?:D


lorne_a_20014

(10/07/07 10:33:05 PM): :\">
kayla_princess94 (10/07/07 10:33:14 PM): lol
kayla_princess94 (10/07/07 10:33:15 PM): yeah
kayla_princess94 (10/07/07 10:33:45 PM): lol u looked funny doing that


lorne_a_20014

(10/07/07 10:33:50 PM): lol


lorne_a_20014

(10/07/07 10:33:52 PM): i know lol


lorne_a_20014

(10/07/07 10:34:02 PM): want to see my eyes up close?
kayla_princess94 (10/07/07 10:34:22 PM): yeah
kayla_princess94 (10/07/07 10:34:50 PM): :D


lorne_a_20014

(10/07/07 10:34:59 PM): how was that?lol
kayla_princess94 (10/07/07 10:35:05 PM): kewl
kayla_princess94 (10/07/07 10:35:46 PM): u look funny but not in a bad way it just look funny when u get reall close


lorne_a_20014

(10/07/07 10:35:54 PM): lol


lorne_a_20014

(10/07/07 10:36:09 PM): does my penis look funny when i put that up close?lol
kayla_princess94 (10/07/07 10:36:18 PM): no not really


lorne_a_20014

(10/07/07 10:36:31 PM): how does it look?
kayla_princess94 (10/07/07 10:36:53 PM): idk i guess like 1 is suppose 2 look


lorne_a_20014

(10/07/07 10:37:20 PM): i was hoping you'd say it looks like you wish you could suck on it right then lol
kayla_princess94 (10/07/07 10:37:32 PM): :\">


lorne_a_20014

(10/07/07 10:37:39 PM): :-*
kayla_princess94 (10/07/07 10:37:58 PM): i mean dont they like all look the same idk urs is the only 1 i ever c


lorne_a_20014

(10/07/07 10:38:43 PM): no they don't all look exactly the same......... i've been told that mine looks alot better than most guys
kayla_princess94 (10/07/07 10:38:57 PM): really


lorne_a_20014

(10/07/07 10:39:00 PM): yup
kayla_princess94 (10/07/07 10:39:08 PM): wonder y they dont all look the same


lorne_a_20014

(10/07/07 10:39:23 PM): i don't know, i'm just happy that mine looks goodlol
kayla_princess94 (10/07/07 10:39:30 PM): yeah
kayla_princess94 (10/07/07 10:39:34 PM): :)


lorne_a_20014

(10/07/07 10:39:37 PM): do you think mine looks good precious?
kayla_princess94 (10/07/07 10:39:47 PM): yep


lorne_a_20014

(10/07/07 10:39:54 PM): :D


lorne_a_20014

(10/07/07 10:40:05 PM): does it make you want to sit on it?
kayla_princess94 (10/07/07 10:40:16 PM): sit on it
kayla_princess94 (10/07/07 10:40:20 PM): how u do that


lorne_a_20014

(10/07/07 10:41:13 PM): well, see......when you sit on it, i point it right at your vagina and then when you sit down all the way my penis goes right inside of you:D:\">
kayla_princess94 (10/07/07 10:41:29 PM): k
kayla_princess94 (10/07/07 10:41:35 PM): hmm


lorne_a_20014

(10/07/07 10:41:48 PM): so.....do you want to sit on it?
kayla_princess94 (10/07/07 10:41:56 PM): yeah


lorne_a_20014

(10/07/07 10:42:00 PM): :D


lorne_a_20014

(10/07/07 10:42:10 PM): do you want to sit on it in the truck?
kayla_princess94 (10/07/07 10:42:29 PM): in the truck
kayla_princess94 (10/07/07 10:42:36 PM): now how u gona drive


lorne_a_20014

(10/07/07 10:42:38 PM): yup


lorne_a_20014

(10/07/07 10:43:07 PM): well you can sit on it when we're parked and making out for a few minutes
kayla_princess94 (10/07/07 10:43:17 PM): o


lorne_a_20014

(10/07/07 10:43:27 PM): if you want to, or we can just wait until we get back here
kayla_princess94 (10/07/07 10:43:38 PM): hmm up 2 u


lorne_a_20014

(10/07/07 10:44:03 PM): we'll figure it out when it comes to that time how's that sound?
kayla_princess94 (10/07/07 10:44:11 PM): k


lorne_a_20014

(10/07/07 10:44:19 PM): :-*:x
kayla_princess94 (10/07/07 10:44:24 PM): :-*


lorne_a_20014

(10/07/07 10:44:25 PM): god i love you Kayla
kayla_princess94 (10/07/07 10:44:39 PM): i luv u:x


lorne_a_20014

(10/07/07 10:45:02 PM): i wish you were here with me right now
kayla_princess94 (10/07/07 10:45:10 PM): me 2


lorne_a_20014

(10/07/07 10:45:24 PM): what would you want to do if you were here with me right now?
kayla_princess94 (10/07/07 10:45:50 PM): give u a big kiss and hug:D


lorne_a_20014

(10/07/07 10:45:58 PM): :D


lorne_a_20014

(10/07/07 10:46:05 PM): then what?
kayla_princess94 (10/07/07 10:46:32 PM): idk wat u do next:\">


lorne_a_20014

(10/07/07 10:46:53 PM): i want to know what YOU would want to do next:D
kayla_princess94 (10/07/07 10:47:37 PM): idk all me and dj ever really did was kiss not shur wat 2 do next:\">
kayla_princess94 (10/07/07 10:48:06 PM): wat u looking at


lorne_a_20014

(10/07/07 10:48:37 PM): i'm looking at bud, he's looking at something in the corner and i don't know what it is because i can't see anything lol
kayla_princess94 (10/07/07 10:48:46 PM): lol
kayla_princess94 (10/07/07 10:49:03 PM): wat is it


lorne_a_20014

(10/07/07 10:49:29 PM): it was a fly lol


lorne_a_20014

(10/07/07 10:49:36 PM): he's still looking for it lol
kayla_princess94 (10/07/07 10:49:36 PM): lmao
kayla_princess94 (10/07/07 10:49:40 PM): lol
kayla_princess94 (10/07/07 10:49:49 PM): that funny


lorne_a_20014

(10/07/07 10:50:03 PM): he's goofy sometimes.......alot of the time lol
kayla_princess94 (10/07/07 10:50:09 PM): lol


lorne_a_20014

(10/07/07 10:50:15 PM): he loves catching flies lol
kayla_princess94 (10/07/07 10:50:21 PM): ewww
kayla_princess94 (10/07/07 10:50:27 PM): flies r yuky


lorne_a_20014

(10/07/07 10:50:32 PM): it's funny to watch him lol
kayla_princess94 (10/07/07 10:51:07 PM): lol


lorne_a_20014

(10/07/07 10:51:23 PM): are you happy that you're gonna be doing everything with me?
kayla_princess94 (10/07/07 10:51:34 PM): :D


lorne_a_20014

(10/07/07 10:51:44 PM): :D


lorne_a_20014

(10/07/07 10:51:51 PM): does that mean yes?lol
kayla_princess94 (10/07/07 10:52:01 PM): YES


lorne_a_20014

(10/07/07 10:52:06 PM): :D


lorne_a_20014

(10/07/07 10:52:09 PM): :x
kayla_princess94 (10/07/07 10:52:16 PM): :x


lorne_a_20014

(10/07/07 10:52:39 PM): i'm happy that we'll be doing everything together too...........and i'm sooooooooooooooo happy that i met you@};-


lorne_a_20014

(10/07/07 10:52:45 PM): :x:-*
kayla_princess94 (10/07/07 10:53:21 PM): im soooo happy i met u 2:D


lorne_a_20014

(10/07/07 10:53:29 PM): :D


lorne_a_20014

(10/07/07 10:53:59 PM): do you wish you could put things up on your myspace about me?lol
kayla_princess94 (10/07/07 10:54:18 PM): yeah


lorne_a_20014

(10/07/07 10:54:33 PM): what would you put up if you could?
kayla_princess94 (10/07/07 10:54:44 PM): i luv lorne


lorne_a_20014

(10/07/07 10:54:50 PM): :D


lorne_a_20014

(10/07/07 10:55:12 PM): i would put i love Kayla Marie Armstrong:x
kayla_princess94 (10/07/07 10:55:24 PM): :D


lorne_a_20014

(10/07/07 10:55:53 PM): i think your dog just caught the fly lol
kayla_princess94 (10/07/07 10:55:58 PM): lol


lorne_a_20014

(10/07/07 10:56:20 PM): i heard him behind me catching it that's why i turned around lol
kayla_princess94 (10/07/07 10:56:32 PM): lol
kayla_princess94 (10/07/07 10:56:35 PM): silly dog


lorne_a_20014

(10/07/07 10:57:12 PM): he's your dog lol
kayla_princess94 (10/07/07 10:57:26 PM): yeah
kayla_princess94 (10/07/07 10:57:27 PM): lol


lorne_a_20014

(10/07/07 10:57:55 PM): he's our baby together for now, until another 4 1/2 years when we can have a human baby lol
kayla_princess94 (10/07/07 10:58:04 PM): aww


lorne_a_20014

(10/07/07 10:58:14 PM): :-*:x


lorne_a_20014

(10/07/07 10:58:33 PM): brb precious, coffee again
kayla_princess94 (10/07/07 10:58:42 PM): k


lorne_a_20014

(10/07/07 10:59:27 PM): back


lorne_a_20014

(10/07/07 10:59:45 PM): what are you thinking about right now precious?
kayla_princess94 (10/07/07 11:00:12 PM): thinking bout when we meet


lorne_a_20014

(10/07/07 11:00:20 PM): :D


lorne_a_20014

(10/07/07 11:00:27 PM): what's going through your mind?
kayla_princess94 (10/07/07 11:00:50 PM): wat if u dont like me when u meet me irl


lorne_a_20014

(10/07/07 11:01:23 PM): i'm already in love with you, there's no way i'm not going to like you@};-:-*:x
kayla_princess94 (10/07/07 11:01:37 PM): k
kayla_princess94 (10/07/07 11:01:40 PM): :D


lorne_a_20014

(10/07/07 11:01:44 PM): what if you don't like me?
kayla_princess94 (10/07/07 11:02:01 PM): i luv u y wuldnt i


lorne_a_20014

(10/07/07 11:02:08 PM): :D


lorne_a_20014

(10/07/07 11:02:54 PM): btw, i think the dress you're wearing in the pic on our box looks sexy as hell on you:\">:x
kayla_princess94 (10/07/07 11:03:20 PM): dress


lorne_a_20014

(10/07/07 11:03:34 PM): in the pic of you on our message box


lorne_a_20014

(10/07/07 11:04:46 PM): what are you doing precious?


lorne_a_20014

(10/07/07 11:05:38 PM): that dress that you're wearing there is the same one
kayla_princess94 (10/07/07 11:05:45 PM): thats not the 1 on here


lorne_a_20014

(10/07/07 11:06:03 PM): oh that's a top lol


lorne_a_20014

(10/07/07 11:06:23 PM): i thought it was a dress until i just looked at it again and could see part of your belly lol
kayla_princess94 (10/07/07 11:06:30 PM): lol


lorne_a_20014

(10/07/07 11:06:55 PM): sorry:\">
kayla_princess94 (10/07/07 11:07:00 PM): the pic in my little box isnt that 1


lorne_a_20014

(10/07/07 11:07:25 PM): i know, but i just pulled that other one up because it was the same top lol
kayla_princess94 (10/07/07 11:07:46 PM): wat pic u c in my little box


lorne_a_20014

(10/07/07 11:08:23 PM): i see the one of you i guess it's in your bedroom and your hair is back in a pony tail
kayla_princess94 (10/07/07 11:08:47 PM): yeah


lorne_a_20014

(10/07/07 11:08:50 PM): it's the same one that i have up on my computer right now


lorne_a_20014

(10/07/07 11:08:56 PM): see, watch
kayla_princess94 (10/07/07 11:09:45 PM): thats wierd


lorne_a_20014

(10/07/07 11:09:47 PM): that one lol
kayla_princess94 (10/07/07 11:09:54 PM): cuz i got a diff 1 on here


lorne_a_20014

(10/07/07 11:10:05 PM): what one do you have on yours?
kayla_princess94 (10/07/07 11:10:14 PM): k i show u


lorne_a_20014

(10/07/07 11:10:18 PM): ok


lorne_a_20014

(10/07/07 11:11:22 PM): wow, that is wierd


lorne_a_20014

(10/07/07 11:11:35 PM): i love that pic there of you too:x


lorne_a_20014

(10/07/07 11:12:05 PM): that's the one i had up on my computer of you all the time before, now i decided to put this one up for a while lol


lorne_a_20014

(10/07/07 11:12:27 PM): do you have any more pics of you that you haven't sent me yet?
kayla_princess94 (10/07/07 11:12:38 PM): yeah i was confused
kayla_princess94 (10/07/07 11:12:39 PM): lol
kayla_princess94 (10/07/07 11:13:08 PM): idk wat 1s u got


lorne_a_20014

(10/07/07 11:13:20 PM): omg you are soooooooooooooooooooooo beautiful@};-:x


lorne_a_20014

(10/07/07 11:13:47 PM): i have these ones
kayla_princess94 (10/07/07 11:13:49 PM): aww ty


lorne_a_20014

(10/07/07 11:14:38 PM): that's it
kayla_princess94 (10/07/07 11:14:54 PM): k let me look


lorne_a_20014

(10/07/07 11:14:58 PM): ok


lorne_a_20014

(10/07/07 11:15:02 PM): :D
kayla_princess94 (10/07/07 11:16:00 PM): that 1s dumb


lorne_a_20014

(10/07/07 11:16:11 PM): it's taking a minute to load because of my cam


lorne_a_20014

(10/07/07 11:16:35 PM): and no it's not dumb, it's of my baby so it's not dumb:-P
kayla_princess94 (10/07/07 11:17:02 PM): lol
kayla_princess94 (10/07/07 11:17:10 PM): i got 1 me cleaning my room lol


lorne_a_20014

(10/07/07 11:17:21 PM): send it to me lol


lorne_a_20014

(10/07/07 11:17:24 PM): :D
kayla_princess94 (10/07/07 11:17:41 PM): i did
kayla_princess94 (10/07/07 11:17:58 PM): trying 2 make my bed lol


lorne_a_20014

(10/07/07 11:18:04 PM): lol


lorne_a_20014

(10/07/07 11:18:11 PM): who is under the sheet?
kayla_princess94 (10/07/07 11:18:49 PM): me lol


lorne_a_20014

(10/07/07 11:19:06 PM): who is with you?
kayla_princess94 (10/07/07 11:19:18 PM): o i remember maria and jessie sleep over


lorne_a_20014

(10/07/07 11:19:24 PM): oh lol
kayla_princess94 (10/07/07 11:19:32 PM): we had soo much fun we stayed up all nite


lorne_a_20014

(10/07/07 11:22:41 PM): wb precious@};-:-*:x
kayla_princess94 (10/07/07 11:22:49 PM): thanx
kayla_princess94 (10/07/07 11:22:57 PM): damn yahoo


lorne_a_20014

(10/07/07 11:22:59 PM): yw


lorne_a_20014

(10/07/07 11:23:02 PM): yeah i know


lorne_a_20014

(10/07/07 11:23:15 PM): my cam is still on automatic view for you so you can just turn it on
kayla_princess94 (10/07/07 11:23:22 PM): k
kayla_princess94 (10/07/07 11:23:55 PM): YAY


lorne_a_20014

(10/07/07 11:24:33 PM): hmm........it asked me for permission for you to view my cam and it wasn't suppose to, i've had you on automatic view for a long time now, you're suppose to just be able to turn it on and see me whenever i have it on
kayla_princess94 (10/07/07 11:24:49 PM): wierd
kayla_princess94 (10/07/07 11:25:04 PM): sumtimes when ur not there i cant turn it on


lorne_a_20014

(10/07/07 11:25:14 PM): i need to check something to make sure it's still on like i had it
kayla_princess94 (10/07/07 11:25:23 PM): k


lorne_a_20014

(10/07/07 11:25:48 PM): it's still on like i had it


lorne_a_20014

(10/07/07 11:26:17 PM): sometimes i forget to turn it on for you when i leave so that's probably why you can't turn it on sometimes when i'm not here
kayla_princess94 (10/07/07 11:26:38 PM): o
kayla_princess94 (10/07/07 11:26:43 PM): u 4get kayla


lorne_a_20014

(10/07/07 11:26:58 PM): NEVER:-P
kayla_princess94 (10/07/07 11:27:23 PM): :D


lorne_a_20014

(10/07/07 11:27:26 PM): i just don't think that you're gonna be on until later all the time so i just don't turn it on because i know you wont be there anyway lol
kayla_princess94 (10/07/07 11:28:14 PM): yeah most times im not but sumtimes when im waiting 4 u 2 get home from work i get on here and well wait lol


lorne_a_20014

(10/07/07 11:28:26 PM): lol


lorne_a_20014

(10/07/07 11:28:32 PM): :-*:x


lorne_a_20014

(10/07/07 11:28:42 PM): don't have to worry about that anymore huh?


lorne_a_20014

(10/07/07 11:28:46 PM): :D
kayla_princess94 (10/07/07 11:29:21 PM): o yeah thats rite


lorne_a_20014

(10/07/07 11:29:25 PM): lol
kayla_princess94 (10/07/07 11:29:27 PM): :D
kayla_princess94 (10/07/07 11:29:34 PM): but dont u gota get another job


lorne_a_20014

(10/07/07 11:30:11 PM): yes i have to get another one but i'm going to get something for the day time so i can have my time with my precious princess@};-:-*:x
kayla_princess94 (10/07/07 11:30:43 PM): :D
kayla_princess94 (10/07/07 11:30:59 PM): o yeah i remember like construction or sumthin bout cars


lorne_a_20014

(10/07/07 11:31:04 PM): what are you thinking about right now precious?


lorne_a_20014

(10/07/07 11:31:06 PM): yup
kayla_princess94 (10/07/07 11:31:18 PM): u
kayla_princess94 (10/07/07 11:31:41 PM): wats the B on ur hat 4


lorne_a_20014

(10/07/07 11:31:54 PM): it stands for Boston Red Sox\


lorne_a_20014

(10/07/07 11:32:07 PM): a baseball team in massachussettes
kayla_princess94 (10/07/07 11:32:18 PM): yeah i know who they r


lorne_a_20014

(10/07/07 11:32:22 PM): ok


lorne_a_20014

(10/07/07 11:32:37 PM): was that all you were thinking about?lol
kayla_princess94 (10/07/07 11:32:49 PM): no


lorne_a_20014

(10/07/07 11:32:54 PM): what else?
kayla_princess94 (10/07/07 11:33:14 PM): u selling cars


lorne_a_20014

(10/07/07 11:33:19 PM): lol
kayla_princess94 (10/07/07 11:33:22 PM): i bet u culd sell lots of cars
kayla_princess94 (10/07/07 11:33:37 PM): i bet every1 who came there wuld by a car from u


lorne_a_20014

(10/07/07 11:33:45 PM): yeah i wish lol
kayla_princess94 (10/07/07 11:34:02 PM): no i really think u culd


lorne_a_20014

(10/07/07 11:34:05 PM): you just say that because you're in love with me:\">
kayla_princess94 (10/07/07 11:34:15 PM): mayb
kayla_princess94 (10/07/07 11:34:21 PM): but i wuld buy a car from u
kayla_princess94 (10/07/07 11:34:28 PM): if i was old enuff
kayla_princess94 (10/07/07 11:34:30 PM): lol


lorne_a_20014

(10/07/07 11:34:38 PM): i wouldn't sell a car to you, i'd buy one for you lol
kayla_princess94 (10/07/07 11:34:48 PM): awww


lorne_a_20014

(10/07/07 11:34:56 PM): i want to buy my wife a car, not have my wife buy one from me lol
kayla_princess94 (10/07/07 11:35:14 PM): lol
kayla_princess94 (10/07/07 11:35:16 PM): k


lorne_a_20014

(10/07/07 11:35:27 PM): :D:-*:x
kayla_princess94 (10/07/07 11:35:36 PM): :-*
kayla_princess94 (10/07/07 11:35:40 PM): i want a red car


lorne_a_20014

(10/07/07 11:35:51 PM): ok, that's what you'll get then
kayla_princess94 (10/07/07 11:35:58 PM): kewl
kayla_princess94 (10/07/07 11:36:10 PM): bmw


lorne_a_20014

(10/07/07 11:36:16 PM): lol


lorne_a_20014

(10/07/07 11:36:18 PM): ok lol


lorne_a_20014

(10/07/07 11:36:37 PM): you're wanting an expensive car baby lol


lorne_a_20014

(10/07/07 11:36:52 PM): i guess i NEED to make it in country music huh?lol
kayla_princess94 (10/07/07 11:37:01 PM): yeah


lorne_a_20014

(10/07/07 11:37:04 PM): lol
kayla_princess94 (10/07/07 11:37:15 PM): well daddy said he wuld get me 1 when i can drive


lorne_a_20014

(10/07/07 11:37:40 PM): if i make it country music you're gonna go on the tour bus with me all the time right?
kayla_princess94 (10/07/07 11:38:00 PM): wow 4real


lorne_a_20014

(10/07/07 11:38:15 PM): well yeah, you're gonna be my wife i'm gonna want you with me lol
kayla_princess94 (10/07/07 11:38:23 PM): YAY
kayla_princess94 (10/07/07 11:38:25 PM): kewl


lorne_a_20014

(10/07/07 11:38:31 PM): :-*:x
kayla_princess94 (10/07/07 11:38:39 PM): :-*


lorne_a_20014

(10/07/07 11:38:44 PM): i love you


lorne_a_20014

(10/07/07 11:38:47 PM): @};-
kayla_princess94 (10/07/07 11:38:53 PM): i luv u
kayla_princess94 (10/07/07 11:38:58 PM): :x


lorne_a_20014

(10/07/07 11:39:00 PM): what are you thinking about now?
kayla_princess94 (10/07/07 11:39:16 PM): me driving my red bmw


lorne_a_20014

(10/07/07 11:39:19 PM): lol


lorne_a_20014

(10/07/07 11:39:31 PM): hey, what happened to you thinking about me??lol
kayla_princess94 (10/07/07 11:39:40 PM): o sry lol


lorne_a_20014

(10/07/07 11:39:43 PM): lol


lorne_a_20014

(10/07/07 11:39:47 PM): :-*


lorne_a_20014

(10/07/07 11:40:03 PM): do you want to get naked with me in your bmw??
kayla_princess94 (10/07/07 11:40:12 PM): lol
kayla_princess94 (10/07/07 11:40:17 PM): shur


lorne_a_20014

(10/07/07 11:40:22 PM): :D


lorne_a_20014

(10/07/07 11:40:48 PM): how anxious are you to kiss me for the first time?
kayla_princess94 (10/07/07 11:41:07 PM): o i cant wait


lorne_a_20014

(10/07/07 11:41:18 PM): 4real?
kayla_princess94 (10/07/07 11:41:27 PM): yep 4real


lorne_a_20014

(10/07/07 11:41:31 PM): :D


lorne_a_20014

(10/07/07 11:41:46 PM): get the red bmw out of your head and get back to thinking about me lol
kayla_princess94 (10/07/07 11:41:54 PM): darn


lorne_a_20014

(10/07/07 11:41:57 PM): lol


lorne_a_20014

(10/07/07 11:42:14 PM): that red bmw doesn't have a penis, i do lol
kayla_princess94 (10/07/07 11:42:35 PM): lmao
kayla_princess94 (10/07/07 11:42:41 PM): no it doesnt


lorne_a_20014

(10/07/07 11:42:55 PM): so what's better, the red bmw or me?lol
kayla_princess94 (10/07/07 11:43:15 PM): ummmm hmmm:-?


lorne_a_20014

(10/07/07 11:43:21 PM): :-O
kayla_princess94 (10/07/07 11:43:27 PM): lol
kayla_princess94 (10/07/07 11:43:29 PM): u silly


lorne_a_20014

(10/07/07 11:43:38 PM): :D:-*:x
kayla_princess94 (10/07/07 11:43:49 PM): :x
kayla_princess94 (10/07/07 11:44:05 PM): :-*


lorne_a_20014

(10/07/07 11:44:08 PM): are you anxious to touch my penis for the first time?
kayla_princess94 (10/07/07 11:44:20 PM): yeah


lorne_a_20014

(10/07/07 11:44:25 PM): :D


lorne_a_20014

(10/07/07 11:44:49 PM): are you going to be shy about touching it while we're making out for the first time?
kayla_princess94 (10/07/07 11:45:18 PM): i prolly will


lorne_a_20014

(10/07/07 11:45:40 PM): want me to take your hand and put it on my penis for you?
kayla_princess94 (10/07/07 11:46:05 PM): yeah that mite help:\">


lorne_a_20014

(10/07/07 11:46:14 PM): ok:D
kayla_princess94 (10/07/07 11:46:21 PM): k


lorne_a_20014

(10/07/07 11:46:34 PM): how are you gonna feel touching it for the first time?
kayla_princess94 (10/07/07 11:46:50 PM): gee idk


lorne_a_20014

(10/07/07 11:47:03 PM): how do you think you're gonna feel?
kayla_princess94 (10/07/07 11:47:21 PM): hmm i havent thought bout it


lorne_a_20014

(10/07/07 11:47:29 PM): are you thinking about it now?lol
kayla_princess94 (10/07/07 11:47:34 PM): yeah


lorne_a_20014

(10/07/07 11:47:37 PM): lol


lorne_a_20014

(10/07/07 11:47:51 PM): how are you gonna feel with me touching your vagina for the first time?
kayla_princess94 (10/07/07 11:48:09 PM): :\">


lorne_a_20014

(10/07/07 11:48:25 PM): don't be shy, just tell me lol
kayla_princess94 (10/07/07 11:48:39 PM): thats it ill prolly b shy
kayla_princess94 (10/07/07 11:48:51 PM): mayb a lil scared 2


lorne_a_20014

(10/07/07 11:49:18 PM): don't be scared precious, i'll be the one touching it and you know you mean the world to me:x


lorne_a_20014

(10/07/07 11:49:22 PM): :-*
kayla_princess94 (10/07/07 11:49:31 PM): k:)
kayla_princess94 (10/07/07 11:49:38 PM): :x:-*


lorne_a_20014

(10/07/07 11:49:50 PM): you're not gonna close your legs when i go to touch it are you?
kayla_princess94 (10/07/07 11:50:07 PM): idk
kayla_princess94 (10/07/07 11:50:22 PM): am i suppose 2


lorne_a_20014

(10/07/07 11:50:28 PM): NOOOOOO lol
kayla_princess94 (10/07/07 11:50:50 PM): k


lorne_a_20014

(10/07/07 11:50:58 PM): leave them spread open so i can touch your vagina lol


lorne_a_20014

(10/07/07 11:51:04 PM): :-*:\">


lorne_a_20014

(10/07/07 11:51:16 PM): you want me to touch it right?
kayla_princess94 (10/07/07 11:51:23 PM): yeah


lorne_a_20014

(10/07/07 11:51:29 PM): :D
kayla_princess94 (10/07/07 11:51:37 PM): omg roflmao i thought u said was i gona close my eyes


lorne_a_20014

(10/07/07 11:51:44 PM): ok, then you need to leave your legs spread open for me lol


lorne_a_20014

(10/07/07 11:51:49 PM): lmao


lorne_a_20014

(10/07/07 11:52:07 PM): no, you can close your eyes if you want to but you don't have to lol
kayla_princess94 (10/07/07 11:52:21 PM): lol
kayla_princess94 (10/07/07 11:52:29 PM): im goofy


lorne_a_20014

(10/07/07 11:52:43 PM): yeah you are........you and bud are 2 peas in a pod lol
kayla_princess94 (10/07/07 11:52:50 PM): lol


lorne_a_20014

(10/07/07 11:52:52 PM): brb, coffee
kayla_princess94 (10/07/07 11:53:00 PM): k
kayla_princess94 (10/07/07 11:53:28 PM): im going 2 go get sumthin 2 eat im hungry brb


lorne_a_20014

(10/07/07 11:53:47 PM): ok, i have to p too


lorne_a_20014

(10/07/07 11:55:34 PM): i'm back when you are precious
kayla_princess94 (10/07/07 11:58:50 PM): :-*


lorne_a_20014

(10/07/07 11:58:58 PM): :-*


lorne_a_20014

(10/07/07 11:59:05 PM): i love you
kayla_princess94 (10/07/07 11:59:12 PM): i luv u


lorne_a_20014

(10/07/07 11:59:26 PM): so what are you going to be wearing under your skirt?
kayla_princess94 (10/07/07 11:59:36 PM): nothin


lorne_a_20014

(10/07/07 11:59:40 PM): :D
kayla_princess94 (10/07/07 11:59:50 PM): u thought i 4got


lorne_a_20014

(10/08/07 12:00:00 AM): yeah, i thought you might have lol
kayla_princess94 (10/08/07 12:00:09 AM): nope not this time


lorne_a_20014

(10/08/07 12:00:14 AM): lol


lorne_a_20014

(10/08/07 12:00:20 AM): what are you going to wear for a top?
kayla_princess94 (10/08/07 12:00:31 AM): hmm idk
kayla_princess94 (10/08/07 12:00:38 AM): wat u want me 2 wear


lorne_a_20014

(10/08/07 12:01:04 AM): something so that i can have easy access to your boobs lol


lorne_a_20014

(10/08/07 12:01:10 AM): :D


lorne_a_20014

(10/08/07 12:01:31 AM): and don't wear a bra either, put that in the bag with your panties lol
kayla_princess94 (10/08/07 12:01:40 AM): k


lorne_a_20014

(10/08/07 12:02:02 AM): but make sure you can get at it so that you can put it on when we walk from the truck to my apartment ok?
kayla_princess94 (10/08/07 12:02:11 AM): k


lorne_a_20014

(10/08/07 12:02:26 AM): not the panties, you can keep the panties off, but just the bra
kayla_princess94 (10/08/07 12:02:34 AM): k


lorne_a_20014

(10/08/07 12:02:56 AM): are you wishing we were in the truck coming back to my place right now?


lorne_a_20014

(10/08/07 12:02:59 AM): i am
kayla_princess94 (10/08/07 12:03:08 AM): YES
kayla_princess94 (10/08/07 12:03:13 AM): :D


lorne_a_20014

(10/08/07 12:03:16 AM): :-*:x
kayla_princess94 (10/08/07 12:03:24 AM): :-*


lorne_a_20014

(10/08/07 12:03:32 AM): what do you wish we were doing right now? honestly too lol
kayla_princess94 (10/08/07 12:03:50 AM): kissing


lorne_a_20014

(10/08/07 12:04:10 AM): if we're kissing that means you'd be doing what else?lol
kayla_princess94 (10/08/07 12:04:26 AM): idk


lorne_a_20014

(10/08/07 12:04:32 AM): :-\"


lorne_a_20014

(10/08/07 12:04:33 AM): lol
kayla_princess94 (10/08/07 12:04:46 AM): o i know
kayla_princess94 (10/08/07 12:04:56 AM): touching ur penis


lorne_a_20014

(10/08/07 12:05:02 AM): :D


lorne_a_20014

(10/08/07 12:05:09 AM): and i'd be doing what?
kayla_princess94 (10/08/07 12:05:28 AM): umm o touching my private place


lorne_a_20014

(10/08/07 12:05:34 AM): :D
kayla_princess94 (10/08/07 12:05:35 AM): did i get it rite


lorne_a_20014

(10/08/07 12:05:43 AM): yup:D
kayla_princess94 (10/08/07 12:05:47 AM): yay


lorne_a_20014

(10/08/07 12:05:53 AM): @};-


lorne_a_20014

(10/08/07 12:06:05 AM): are you still wishing we were kissing right now?lol
kayla_princess94 (10/08/07 12:06:13 AM): yeah


lorne_a_20014

(10/08/07 12:06:17 AM): :D


lorne_a_20014

(10/08/07 12:06:21 AM): me too
kayla_princess94 (10/08/07 12:06:25 AM): and i feel like im taking a test lorne


lorne_a_20014

(10/08/07 12:06:33 AM): lol


lorne_a_20014

(10/08/07 12:06:44 AM): sorry, i don't mean to make you feel that way lol


lorne_a_20014

(10/08/07 12:06:55 AM): i just wanted to read you saying it lol
kayla_princess94 (10/08/07 12:07:02 AM): lol
kayla_princess94 (10/08/07 12:07:04 AM): its ok
kayla_princess94 (10/08/07 12:07:06 AM): but
kayla_princess94 (10/08/07 12:07:11 AM): did i get an A


lorne_a_20014

(10/08/07 12:07:29 AM): you got an A plus plus plus plus plus


lorne_a_20014

(10/08/07 12:07:30 AM): lol
kayla_princess94 (10/08/07 12:07:36 AM): kewl


lorne_a_20014

(10/08/07 12:07:40 AM): :-*:x
kayla_princess94 (10/08/07 12:07:49 AM): :-*


lorne_a_20014

(10/08/07 12:08:15 AM): so do you remember the first time that you saw my penis?
kayla_princess94 (10/08/07 12:08:31 AM): yeah:\">


lorne_a_20014

(10/08/07 12:08:34 AM): lol


lorne_a_20014

(10/08/07 12:08:46 AM): do you remember how you felt when you saw it?
kayla_princess94 (10/08/07 12:08:59 AM): yeah


lorne_a_20014

(10/08/07 12:09:10 AM): how do you feel when you see it now?
kayla_princess94 (10/08/07 12:09:23 AM): i think i was blushing 4real


lorne_a_20014

(10/08/07 12:09:31 AM): i think so too lol


lorne_a_20014

(10/08/07 12:09:41 AM): you told me you felt funny inside lol
kayla_princess94 (10/08/07 12:09:50 AM): yeah


lorne_a_20014

(10/08/07 12:10:02 AM): how do you feel when you see it now?
kayla_princess94 (10/08/07 12:10:16 AM): hmmm let me c
kayla_princess94 (10/08/07 12:10:24 AM): :-?
kayla_princess94 (10/08/07 12:10:50 AM): funny inside
kayla_princess94 (10/08/07 12:11:21 AM): gawwd brb


lorne_a_20014

(10/08/07 12:11:26 AM): ok
kayla_princess94 (10/08/07 12:15:37 AM): daddy says i need 2 get 2 bed its after 11


lorne_a_20014

(10/08/07 12:15:42 AM): damn
kayla_princess94 (10/08/07 12:15:44 AM): :(


lorne_a_20014

(10/08/07 12:15:48 AM): :(


lorne_a_20014

(10/08/07 12:15:56 AM): i have another question for you
kayla_princess94 (10/08/07 12:16:03 AM): k


lorne_a_20014

(10/08/07 12:16:17 AM): do you get a feeling in your vagina when you see my penis?
kayla_princess94 (10/08/07 12:16:50 AM): well:\">
kayla_princess94 (10/08/07 12:16:55 AM): yeah


lorne_a_20014

(10/08/07 12:16:57 AM): :D


lorne_a_20014

(10/08/07 12:17:02 AM): tell me what it is?


lorne_a_20014

(10/08/07 12:17:10 AM): what kind of feeling
kayla_princess94 (10/08/07 12:17:15 AM): i dont know how 2 describe it


lorne_a_20014

(10/08/07 12:17:21 AM): try lol
kayla_princess94 (10/08/07 12:17:33 AM): idk
kayla_princess94 (10/08/07 12:17:40 AM): its kinda good feeling


lorne_a_20014

(10/08/07 12:17:47 AM): :D


lorne_a_20014

(10/08/07 12:17:54 AM): does it throb?
kayla_princess94 (10/08/07 12:18:06 AM): :\">
kayla_princess94 (10/08/07 12:18:14 AM): kinda i guess


lorne_a_20014

(10/08/07 12:18:22 AM): does it get a little wet?


lorne_a_20014

(10/08/07 12:18:35 AM): or tingly?
kayla_princess94 (10/08/07 12:18:39 AM): yeah:\">
kayla_princess94 (10/08/07 12:18:46 AM): yeah tingly thats it


lorne_a_20014

(10/08/07 12:18:51 AM): :D
kayla_princess94 (10/08/07 12:18:57 AM): is that good


lorne_a_20014

(10/08/07 12:18:58 AM): does it get a little wet too?
kayla_princess94 (10/08/07 12:19:05 AM): yeah


lorne_a_20014

(10/08/07 12:19:10 AM): :D


lorne_a_20014

(10/08/07 12:19:28 AM): yes that's good, that's REALLY good, that means that you want my penis right then lol


lorne_a_20014

(10/08/07 12:19:38 AM): :D:-*:x
kayla_princess94 (10/08/07 12:19:44 AM): o
kayla_princess94 (10/08/07 12:19:51 AM): kewl


lorne_a_20014

(10/08/07 12:20:05 AM): you do want my penis right?lol
kayla_princess94 (10/08/07 12:20:14 AM): yeah


lorne_a_20014

(10/08/07 12:20:16 AM): ok lol


lorne_a_20014

(10/08/07 12:20:20 AM): :D
kayla_princess94 (10/08/07 12:20:25 AM): :D


lorne_a_20014

(10/08/07 12:20:40 AM): i guess i better let you get off of here so you don't get in trouble:(
kayla_princess94 (10/08/07 12:20:47 AM): yeah


lorne_a_20014

(10/08/07 12:20:56 AM): we would both be pissed if you got grounded from the computer
kayla_princess94 (10/08/07 12:21:05 AM): yeah


lorne_a_20014

(10/08/07 12:21:29 AM): i love you soooooooooooooo much Kayla Marie Armstrong@};->:D<:-*:x
kayla_princess94 (10/08/07 12:21:45 AM): aww i luv u sooooooooooooooooooooooooooooooooooooooooooooooooooooooooooooooooooooooooooooooooooooooooooooooooooooooooooooooooo much
kayla_princess94 (10/08/07 12:21:50 AM): :D


lorne_a_20014

(10/08/07 12:21:55 AM): :D
kayla_princess94 (10/08/07 12:22:00 AM): :x:-*>:D<


lorne_a_20014

(10/08/07 12:22:06 AM): what are you going to dream about tonight?


lorne_a_20014

(10/08/07 12:22:11 AM): or try to dream about
kayla_princess94 (10/08/07 12:22:18 AM): u and me:D


lorne_a_20014

(10/08/07 12:22:25 AM): doing what?lol
kayla_princess94 (10/08/07 12:22:35 AM): all that stuff u know


lorne_a_20014

(10/08/07 12:22:41 AM): nope, tell me lol
kayla_princess94 (10/08/07 12:22:54 AM): hmm
kayla_princess94 (10/08/07 12:23:11 AM): everything


lorne_a_20014

(10/08/07 12:23:18 AM): like what?lol
kayla_princess94 (10/08/07 12:23:37 AM): :\">


lorne_a_20014

(10/08/07 12:23:48 AM): tell me, i want to hear you say it lol
kayla_princess94 (10/08/07 12:24:03 AM): not shur which part u talking bout


lorne_a_20014

(10/08/07 12:24:23 AM): the kissing part and any part that you're most anxious to do
kayla_princess94 (10/08/07 12:24:34 AM): ooo the kissing
kayla_princess94 (10/08/07 12:24:43 AM): and touching:\">


lorne_a_20014

(10/08/07 12:24:48 AM): touching what?


lorne_a_20014

(10/08/07 12:24:50 AM): lol
kayla_princess94 (10/08/07 12:24:55 AM): ur penis


lorne_a_20014

(10/08/07 12:25:00 AM): :D


lorne_a_20014

(10/08/07 12:25:04 AM): and?


lorne_a_20014

(10/08/07 12:25:05 AM): lol
kayla_princess94 (10/08/07 12:25:16 AM): u touching mine


lorne_a_20014

(10/08/07 12:25:21 AM): :D
kayla_princess94 (10/08/07 12:25:30 AM): well not my penis i dont got 1 lol lol


lorne_a_20014

(10/08/07 12:25:38 AM): yeah, thank god lol
kayla_princess94 (10/08/07 12:25:46 AM): lol
kayla_princess94 (10/08/07 12:25:53 AM): my vagina:D


lorne_a_20014

(10/08/07 12:25:58 AM): :D


lorne_a_20014

(10/08/07 12:26:05 AM): and?


lorne_a_20014

(10/08/07 12:26:09 AM): what else/


lorne_a_20014

(10/08/07 12:26:10 AM): ?
kayla_princess94 (10/08/07 12:26:26 AM): damn i gotta go hes yelling now


lorne_a_20014

(10/08/07 12:26:41 AM): ok, but what about you sitting on my lap??:D
kayla_princess94 (10/08/07 12:26:50 AM): o yeah that
kayla_princess94 (10/08/07 12:26:52 AM): yep


lorne_a_20014

(10/08/07 12:27:02 AM): :-*:x@};-


lorne_a_20014

(10/08/07 12:27:04 AM): i love you
kayla_princess94 (10/08/07 12:27:09 AM): i luv u


lorne_a_20014

(10/08/07 12:27:11 AM): here's your nightly look for bed
kayla_princess94 (10/08/07 12:27:15 AM): k


lorne_a_20014

(10/08/07 12:27:53 AM): was that good?
kayla_princess94 (10/08/07 12:27:54 AM): :D
kayla_princess94 (10/08/07 12:27:59 AM): yep


lorne_a_20014

(10/08/07 12:28:02 AM): :-*:x


lorne_a_20014

(10/08/07 12:28:07 AM): delete your archives
kayla_princess94 (10/08/07 12:28:16 AM): k


lorne_a_20014

(10/08/07 12:28:17 AM): and tell me when they're deleted
kayla_princess94 (10/08/07 12:28:58 AM): k
kayla_princess94 (10/08/07 12:29:01 AM): done


lorne_a_20014

(10/08/07 12:29:12 AM): i love you@};-:-*>:D<:x
kayla_princess94 (10/08/07 12:29:15 AM): luv u
kayla_princess94 (10/08/07 12:29:23 AM): :x


lorne_a_20014

(10/08/07 12:29:26 AM): good night my precious princess@};-


lorne_a_20014

(10/08/07 12:29:28 AM): and here
kayla_princess94 (10/08/07 12:29:30 AM): :-*
kayla_princess94 (10/08/07 12:29:44 AM): nite


lorne_a_20014

(10/08/07 12:29:54 AM): nite


lorne_a_20014

(10/08/07 12:30:38 AM): god i want you back already:-<


lorne_a_20014

(10/08/07 7:35:13 PM): :-*
kayla_princess94 (10/08/07 7:35:24 PM): :)
kayla_princess94 (10/08/07 7:35:30 PM): :-*


lorne_a_20014

(10/08/07 7:35:58 PM): i didn't expect you to be on here for another hour:D:-*:x
kayla_princess94 (10/08/07 7:36:38 PM): yeah but i hurried and got my homework and stuff done cuz i culdnt wait:D


lorne_a_20014

(10/08/07 7:36:45 PM): lol


lorne_a_20014

(10/08/07 7:36:50 PM): :-*
kayla_princess94 (10/08/07 7:36:55 PM): :-*


lorne_a_20014

(10/08/07 7:36:58 PM): missed me alot today huh?lol
kayla_princess94 (10/08/07 7:37:12 PM): yep
kayla_princess94 (10/08/07 7:37:15 PM): u miss me


lorne_a_20014

(10/08/07 7:37:17 PM): :-*


lorne_a_20014

(10/08/07 7:37:35 PM): hell yeah..........i start missing you as soon as you log off and go to bed lol
kayla_princess94 (10/08/07 7:37:44 PM): ahh
kayla_princess94 (10/08/07 7:37:47 PM): aww


lorne_a_20014

(10/08/07 7:37:48 PM): brb, need another cup of coffee
kayla_princess94 (10/08/07 7:37:53 PM): k


lorne_a_20014

(10/08/07 7:39:01 PM): back my precious princess@};-:-*:x
kayla_princess94 (10/08/07 7:39:22 PM): YAY


lorne_a_20014

(10/08/07 7:39:32 PM): were you watching?lol
kayla_princess94 (10/08/07 7:39:48 PM): yeah:\">


lorne_a_20014

(10/08/07 7:39:53 PM): :D


lorne_a_20014

(10/08/07 7:40:06 PM): because you love seeing my naked body??lol
kayla_princess94 (10/08/07 7:40:23 PM): yeah:\">


lorne_a_20014

(10/08/07 7:40:32 PM): :D:-*:x
kayla_princess94 (10/08/07 7:40:46 PM): :-*


lorne_a_20014

(10/08/07 7:40:50 PM): i'm gonna love seeing your in 10 days too:D:x
kayla_princess94 (10/08/07 7:41:02 PM): :D
kayla_princess94 (10/08/07 7:41:07 PM): :x


lorne_a_20014

(10/08/07 7:41:18 PM): are you getting more nervous as the time gets closer?lol
kayla_princess94 (10/08/07 7:41:33 PM): a lil


lorne_a_20014

(10/08/07 7:41:36 PM): lol


lorne_a_20014

(10/08/07 7:41:41 PM): :-*


lorne_a_20014

(10/08/07 7:41:50 PM): me too lol


lorne_a_20014

(10/08/07 7:42:19 PM): i'm not nervous about meeting you, i'm nervous about us getting caught lol
kayla_princess94 (10/08/07 7:42:21 PM): really
kayla_princess94 (10/08/07 7:42:39 PM): o


lorne_a_20014

(10/08/07 7:43:13 PM): i don't have any reason to be nervous about meeting you, you make me feel comfortable@};-:-*
kayla_princess94 (10/08/07 7:43:38 PM): aww
kayla_princess94 (10/08/07 7:43:45 PM): :)


lorne_a_20014

(10/08/07 7:44:09 PM): i love you Kayla Marie Armstrong@};-:-*>:D<:x
kayla_princess94 (10/08/07 7:44:45 PM): i luv u:x:-*>:D<


lorne_a_20014

(10/08/07 7:44:51 PM): :D


lorne_a_20014

(10/08/07 7:44:58 PM): how much did you think about me today?
kayla_princess94 (10/08/07 7:45:21 PM): ummm LOTS


lorne_a_20014

(10/08/07 7:45:33 PM): what did you think about when you thought about me?
kayla_princess94 (10/08/07 7:46:16 PM): how much i cant wait 2 c u


lorne_a_20014

(10/08/07 7:46:24 PM): :D


lorne_a_20014

(10/08/07 7:46:37 PM): are you just anxious to touch my penis?lol
kayla_princess94 (10/08/07 7:47:01 PM): no not just that


lorne_a_20014

(10/08/07 7:47:09 PM): ok:D


lorne_a_20014

(10/08/07 7:47:22 PM): are you anxious to hug and kiss me?


lorne_a_20014

(10/08/07 7:47:26 PM): i am
kayla_princess94 (10/08/07 7:47:50 PM): yes:D


lorne_a_20014

(10/08/07 7:47:56 PM): :D


lorne_a_20014

(10/08/07 7:48:17 PM): of course that's gonna lead to us touching eachother private areas though lol


lorne_a_20014

(10/08/07 7:48:23 PM): :D
kayla_princess94 (10/08/07 7:48:40 PM): yeah i know:\">


lorne_a_20014

(10/08/07 7:48:46 PM): :-*


lorne_a_20014

(10/08/07 7:48:53 PM): are you anxious for that too?
kayla_princess94 (10/08/07 7:49:25 PM): yeah:\">


lorne_a_20014

(10/08/07 7:49:31 PM): :D


lorne_a_20014

(10/08/07 7:49:35 PM): me too
kayla_princess94 (10/08/07 7:49:51 PM): :D


lorne_a_20014

(10/08/07 7:49:58 PM): no more hair has grown on your vagina yet has it?
kayla_princess94 (10/08/07 7:50:13 PM): nooo


lorne_a_20014

(10/08/07 7:50:19 PM): good:D
kayla_princess94 (10/08/07 7:50:27 PM): lol


lorne_a_20014

(10/08/07 7:50:37 PM): how much hair do you have there now?
kayla_princess94 (10/08/07 7:50:57 PM): i told u b4 not that much yet


lorne_a_20014

(10/08/07 7:51:19 PM): i know but i couldn't remember for a sec, i remembered after i sent you that question lol


lorne_a_20014

(10/08/07 7:51:25 PM): :-P
kayla_princess94 (10/08/07 7:51:49 PM): lol
kayla_princess94 (10/08/07 7:51:50 PM): silly


lorne_a_20014

(10/08/07 7:52:06 PM): i'll be able to see and feel for myself in 10 days:D


lorne_a_20014

(10/08/07 7:52:45 PM): are you nervous about me touching your vagina?
kayla_princess94 (10/08/07 7:52:46 PM): :\">
kayla_princess94 (10/08/07 7:52:58 PM): yeah kinda


lorne_a_20014

(10/08/07 7:53:11 PM): what's making you nervous about it?


lorne_a_20014

(10/08/07 7:55:15 PM): ??
kayla_princess94 (10/08/07 7:55:22 PM): huh


lorne_a_20014

(10/08/07 7:55:31 PM): what's making you nervous about it?
kayla_princess94 (10/08/07 7:55:48 PM): idk i guess im bein silly huh


lorne_a_20014

(10/08/07 7:56:16 PM): no, it's normal actually, i was just curious what was making you nervous about it lol


lorne_a_20014

(10/08/07 7:56:22 PM): :-*
kayla_princess94 (10/08/07 7:56:29 PM): :-*


lorne_a_20014

(10/08/07 7:57:33 PM): is it the thought of me touching it or is it the thought of someone else besides yourself touching it, or is it the thought of someone else touching it for the first time?
kayla_princess94 (10/08/07 7:58:05 PM): hmm i think sum1 4 the 1st time


lorne_a_20014

(10/08/07 7:58:23 PM): are you happy that someone is me though?
kayla_princess94 (10/08/07 7:58:53 PM): YES:D


lorne_a_20014

(10/08/07 7:58:58 PM): :D


lorne_a_20014

(10/08/07 7:59:00 PM): :x
kayla_princess94 (10/08/07 7:59:06 PM): :x


lorne_a_20014

(10/08/07 7:59:11 PM): i'm happy about that too:D
kayla_princess94 (10/08/07 7:59:34 PM): :D


lorne_a_20014

(10/08/07 7:59:39 PM): what did you wear today?
kayla_princess94 (10/08/07 8:00:11 PM): jeans and a blue t shirt
kayla_princess94 (10/08/07 8:00:28 PM): white bra and panties:D


lorne_a_20014

(10/08/07 8:00:30 PM): and white panties and bra right?:D


lorne_a_20014

(10/08/07 8:00:32 PM): lol
kayla_princess94 (10/08/07 8:00:37 PM): lol


lorne_a_20014

(10/08/07 8:00:52 PM): are you nervous about touching a penis for the first time?
kayla_princess94 (10/08/07 8:01:02 PM): yeah kinda
kayla_princess94 (10/08/07 8:01:06 PM): :\">


lorne_a_20014

(10/08/07 8:01:13 PM): are you happy that it's my penis though?
kayla_princess94 (10/08/07 8:01:22 PM): YES:D


lorne_a_20014

(10/08/07 8:01:26 PM): :D


lorne_a_20014

(10/08/07 8:01:29 PM): me too


lorne_a_20014

(10/08/07 8:01:40 PM): you don't mind that it's big?
kayla_princess94 (10/08/07 8:02:07 PM): no:\">


lorne_a_20014

(10/08/07 8:02:16 PM): :D:-*
kayla_princess94 (10/08/07 8:02:20 PM): hey wat did u do 2day anyways


lorne_a_20014

(10/08/07 8:03:41 PM): i applied for a construction job then i went downtown to see if any of the construction places were hiring there, then i took bud out and played with him for a while then i came back in here and started working on an internet business that i'm trying to do through google, don't know how well that's gonna work out though lol
kayla_princess94 (10/08/07 8:04:28 PM): ooo taht sounds kewl
kayla_princess94 (10/08/07 8:04:40 PM): wat is it


lorne_a_20014

(10/08/07 8:04:45 PM): it will be cool if i can get it going right


lorne_a_20014

(10/08/07 8:05:26 PM): a business where i can make money when people click on my ad for information that they might need
kayla_princess94 (10/08/07 8:05:52 PM): o


lorne_a_20014

(10/08/07 8:05:54 PM): i'm not exactly sure what i'm going to do for the information they might need though lol


lorne_a_20014

(10/08/07 8:06:17 PM): i'm thinking about doing it about septic information because i know ALOT about that
kayla_princess94 (10/08/07 8:06:36 PM): wats septic information


lorne_a_20014

(10/08/07 8:06:59 PM): do you know what a septic system is? or a septic tank?
kayla_princess94 (10/08/07 8:07:08 PM): umm no lol


lorne_a_20014

(10/08/07 8:07:11 PM): lol


lorne_a_20014

(10/08/07 8:08:10 PM): you know when you go to the bathroom, use the toilet, the shower, the sink, or in the kitchen when you use the sink or when you do laundry? that's where all that water and poop and toilet paper goes lol
kayla_princess94 (10/08/07 8:08:31 PM): poop ewwwwww


lorne_a_20014

(10/08/07 8:08:35 PM): lmao


lorne_a_20014

(10/08/07 8:09:25 PM): that's what i use to do for work, i use to have my own septic business where i would fix peoples septic systems and i'd also put in brand new septic systems so i know alot about them
kayla_princess94 (10/08/07 8:10:45 PM): k so all ur water and toilet paper and poop go in this septic system thing and u fixed them when they were broke or made new 1 4 all that poop


lorne_a_20014

(10/08/07 8:10:59 PM): yup
kayla_princess94 (10/08/07 8:11:12 PM): thats gross


lorne_a_20014

(10/08/07 8:11:16 PM): lol


lorne_a_20014

(10/08/07 8:11:33 PM): yeah, but i use to make ALOT ALOT ALOT of money at doing it lol
kayla_princess94 (10/08/07 8:12:14 PM): u can make lots of money making places 4 ppls poop 2 go 2 i never heard of that


lorne_a_20014

(10/08/07 8:12:38 PM): yup, because not many people want to work around poop lol
kayla_princess94 (10/08/07 8:12:53 PM): i guess not


lorne_a_20014

(10/08/07 8:13:07 PM): but i always wear stuff to make sure i never touch any poop though
kayla_princess94 (10/08/07 8:13:18 PM): well thats good


lorne_a_20014

(10/08/07 8:13:22 PM): lol


lorne_a_20014

(10/08/07 8:14:01 PM): precious, my penis misses you, will you give him a kiss??


lorne_a_20014

(10/08/07 8:14:02 PM): lol
kayla_princess94 (10/08/07 8:14:08 PM): lol


lorne_a_20014

(10/08/07 8:14:20 PM): is that a yes?lol
kayla_princess94 (10/08/07 8:14:32 PM): yeah:\">
kayla_princess94 (10/08/07 8:14:35 PM): :-*


lorne_a_20014

(10/08/07 8:14:37 PM): ok, ready?


lorne_a_20014

(10/08/07 8:14:51 PM): no, i'm gonna put the cam on him so you can give him a kiss lol


lorne_a_20014

(10/08/07 8:14:57 PM): are you ready?lol
kayla_princess94 (10/08/07 8:15:00 PM): lol
kayla_princess94 (10/08/07 8:15:02 PM): k


lorne_a_20014

(10/08/07 8:15:49 PM): did you give him a BIG kiss?
kayla_princess94 (10/08/07 8:15:55 PM): yeah


lorne_a_20014

(10/08/07 8:16:06 PM): good, he's happy now:D
kayla_princess94 (10/08/07 8:16:09 PM): i must of look silly kissin the puter screen


lorne_a_20014

(10/08/07 8:16:18 PM): not to me you didn't lol
kayla_princess94 (10/08/07 8:16:27 PM): lol


lorne_a_20014

(10/08/07 8:16:47 PM): i can't wait until i can kiss your vagina :D:\">
kayla_princess94 (10/08/07 8:16:57 PM): :\">


lorne_a_20014

(10/08/07 8:17:09 PM): are you anxious for that too?
kayla_princess94 (10/08/07 8:17:36 PM): yeah:\">


lorne_a_20014

(10/08/07 8:17:40 PM): :D


lorne_a_20014

(10/08/07 8:17:46 PM): are you nervous about it?
kayla_princess94 (10/08/07 8:18:17 PM): not as much now


lorne_a_20014

(10/08/07 8:18:24 PM): good:D


lorne_a_20014

(10/08/07 8:19:09 PM): you wont be anyway because by that time we will have already made out and felt eachothers private parts so we'll be comfortable with eachother quite fast lol
kayla_princess94 (10/08/07 8:19:23 PM): k


lorne_a_20014

(10/08/07 8:19:38 PM): how much homework did you have?
kayla_princess94 (10/08/07 8:19:59 PM): not that much


lorne_a_20014

(10/08/07 8:20:05 PM): brb, coffee again
kayla_princess94 (10/08/07 8:20:30 PM): k


lorne_a_20014

(10/08/07 8:20:58 PM): back


lorne_a_20014

(10/08/07 8:21:18 PM): baby i had a pimple on my butt last night and it hurt:(


lorne_a_20014

(10/08/07 8:21:20 PM): lol
kayla_princess94 (10/08/07 8:21:22 PM): YAY
kayla_princess94 (10/08/07 8:21:26 PM): lol


lorne_a_20014

(10/08/07 8:21:36 PM): want to see it?lol
kayla_princess94 (10/08/07 8:21:45 PM): ewww no gross


lorne_a_20014

(10/08/07 8:21:49 PM): lmao


lorne_a_20014

(10/08/07 8:22:08 PM): you mean you wouldn't kiss my pimple on my butt to make it feel better??lol
kayla_princess94 (10/08/07 8:22:25 PM): ewwwww no way


lorne_a_20014

(10/08/07 8:22:28 PM): lmao


lorne_a_20014

(10/08/07 8:22:46 PM): would you kiss my butt where there was no pimple??lol
kayla_princess94 (10/08/07 8:23:10 PM): kiss ur butt


lorne_a_20014

(10/08/07 8:23:15 PM): yup lol
kayla_princess94 (10/08/07 8:23:22 PM): well if u aint got no pimple


lorne_a_20014

(10/08/07 8:23:30 PM): ok:D


lorne_a_20014

(10/08/07 8:23:46 PM): i'm gonna give you a hicky on your butt cheeks:D
kayla_princess94 (10/08/07 8:23:59 PM): lol
kayla_princess94 (10/08/07 8:24:01 PM): y


lorne_a_20014

(10/08/07 8:24:31 PM): because i want to give you a couple hicky's and that's the only place that i can give them to you that nobody will see them lol
kayla_princess94 (10/08/07 8:25:00 PM): o yeah
kayla_princess94 (10/08/07 8:25:02 PM): k


lorne_a_20014

(10/08/07 8:25:28 PM): well there is another place that i can give you one that nobody else will see too:D:\">
kayla_princess94 (10/08/07 8:25:56 PM): o where


lorne_a_20014

(10/08/07 8:26:08 PM): your vagina:D
kayla_princess94 (10/08/07 8:26:28 PM): huh


lorne_a_20014

(10/08/07 8:26:44 PM): i can give you a hicky on your vagina too
kayla_princess94 (10/08/07 8:26:56 PM): how


lorne_a_20014

(10/08/07 8:27:16 PM): well, right around it anyway.........not really ON it
kayla_princess94 (10/08/07 8:27:35 PM): k
kayla_princess94 (10/08/07 8:27:40 PM): i was wonderin


lorne_a_20014

(10/08/07 8:27:43 PM): lol


lorne_a_20014

(10/08/07 8:28:12 PM): was you looking down to see if there was a place that was on your vagina where i could give you a hicky?lol
kayla_princess94 (10/08/07 8:28:34 PM): lol
kayla_princess94 (10/08/07 8:28:35 PM): yeah


lorne_a_20014

(10/08/07 8:28:38 PM): lol


lorne_a_20014

(10/08/07 8:28:43 PM): :-*


lorne_a_20014

(10/08/07 8:29:01 PM): wish i could look down and see your vagina too:(


lorne_a_20014

(10/08/07 8:29:15 PM): all i see when i look down is my dumb penis that you own lol
kayla_princess94 (10/08/07 8:29:38 PM): lol


lorne_a_20014

(10/08/07 8:30:12 PM): do you wish you could look down and see my penis? oh wait, you can, all you have to do is ask me to move my cam lol
kayla_princess94 (10/08/07 8:30:47 PM): lol


lorne_a_20014

(10/08/07 8:31:10 PM): i'm in love with you my precious princess@};-:-*:x
kayla_princess94 (10/08/07 8:31:20 PM): aww
kayla_princess94 (10/08/07 8:31:26 PM): i luv u
kayla_princess94 (10/08/07 8:31:32 PM): :x


lorne_a_20014

(10/08/07 8:31:32 PM): :D
kayla_princess94 (10/08/07 8:31:36 PM): :-*


lorne_a_20014

(10/08/07 8:31:48 PM): i wish we could sleep together tonight
kayla_princess94 (10/08/07 8:31:57 PM): yeah


lorne_a_20014

(10/08/07 8:32:07 PM): i have a question for you
kayla_princess94 (10/08/07 8:32:14 PM): k


lorne_a_20014

(10/08/07 8:32:44 PM): when we fall asleep when you're here and you wake up in the middle of the night and i'm still sleeping, are you going to start sucking on my penis?lol
kayla_princess94 (10/08/07 8:33:10 PM): y wuld i wake up
kayla_princess94 (10/08/07 8:33:16 PM): i never wake up
kayla_princess94 (10/08/07 8:33:23 PM): at nite


lorne_a_20014

(10/08/07 8:33:30 PM): i don't know, you might just because you're in a different place


lorne_a_20014

(10/08/07 8:33:40 PM): look at your dog
kayla_princess94 (10/08/07 8:34:24 PM): lol
kayla_princess94 (10/08/07 8:34:30 PM): that is sooo cute


lorne_a_20014

(10/08/07 8:34:42 PM): he can be so goofy sometimes lol
kayla_princess94 (10/08/07 8:35:10 PM): lol


lorne_a_20014

(10/08/07 8:35:11 PM): you're gonna fall right in love with him lol


lorne_a_20014

(10/08/07 8:35:32 PM): omg i wish you were here right now
kayla_princess94 (10/08/07 8:35:33 PM): yeah


lorne_a_20014

(10/08/07 8:35:38 PM): :x
kayla_princess94 (10/08/07 8:35:47 PM): me 2


lorne_a_20014

(10/08/07 8:36:02 PM): only 10 more days to go though


lorne_a_20014

(10/08/07 8:36:06 PM): :D
kayla_princess94 (10/08/07 8:36:11 PM): :D


lorne_a_20014

(10/08/07 8:36:32 PM): god i want you
kayla_princess94 (10/08/07 8:36:46 PM): :)


lorne_a_20014

(10/08/07 8:37:08 PM): you're such a goddess baby@};-


lorne_a_20014

(10/08/07 8:37:13 PM): :x
kayla_princess94 (10/08/07 8:37:37 PM): aww:x


lorne_a_20014

(10/08/07 8:37:40 PM): i am soooooooooooooo lucky to have you


lorne_a_20014

(10/08/07 8:37:58 PM): you never did answer my question lol
kayla_princess94 (10/08/07 8:38:15 PM): im soooooooooo lucky 2 have u
kayla_princess94 (10/08/07 8:38:22 PM): wat
kayla_princess94 (10/08/07 8:38:34 PM): o yeah


lorne_a_20014

(10/08/07 8:38:41 PM): if you wake up in the middle of the night while you're here are you gonna start sucking on my penis?lol
kayla_princess94 (10/08/07 8:39:01 PM): i guess if u want me 2 but i prolly wont wake up


lorne_a_20014

(10/08/07 8:39:27 PM): you own my penis baby so if you wake up you can do what ever you want to it lol


lorne_a_20014

(10/08/07 8:39:34 PM): just don't cut it off lol
kayla_princess94 (10/08/07 8:40:09 PM): cut it off y wuld i do sumthin like that u crazy


lorne_a_20014

(10/08/07 8:40:18 PM): lol


lorne_a_20014

(10/08/07 8:40:58 PM): i just want to make sure you don't go walking in your sleep and grab a knife and cut my penis off thinking that it's a carrot or cucumber or something lol
kayla_princess94 (10/08/07 8:41:27 PM): omg lol


lorne_a_20014

(10/08/07 8:41:31 PM): lol


lorne_a_20014

(10/08/07 8:42:10 PM): how much are you gonna be touching my penis while you're here?
kayla_princess94 (10/08/07 8:42:23 PM): idk


lorne_a_20014

(10/08/07 8:42:33 PM): and don't say how ever much i want you to lol
kayla_princess94 (10/08/07 8:42:40 PM): lol


lorne_a_20014

(10/08/07 8:42:53 PM): i want to know how much YOU WANT to touch it while you're here lol
kayla_princess94 (10/08/07 8:43:12 PM): hmm as much as i want 2
kayla_princess94 (10/08/07 8:43:20 PM): :D


lorne_a_20014

(10/08/07 8:43:21 PM): :D


lorne_a_20014

(10/08/07 8:43:37 PM): that's the answer that i wanted to hear:D


lorne_a_20014

(10/08/07 8:43:49 PM): how much can i touch your vagina while you're here?
kayla_princess94 (10/08/07 8:44:11 PM): ummm as much as u want 2


lorne_a_20014

(10/08/07 8:44:16 PM): :D


lorne_a_20014

(10/08/07 8:44:32 PM): how much do YOU want me to touch it?
kayla_princess94 (10/08/07 8:45:04 PM): umm lots


lorne_a_20014

(10/08/07 8:45:09 PM): :D


lorne_a_20014

(10/08/07 8:45:15 PM): :x


lorne_a_20014

(10/08/07 8:45:32 PM): what if it starts getting sore because of me touching it so much?lol
kayla_princess94 (10/08/07 8:46:11 PM): it will hurt r u serius


lorne_a_20014

(10/08/07 8:46:56 PM): well, if i rub it with my fingers all the time it will start to...........thank god i'll be using my tongue alot though, then it wont lol


lorne_a_20014

(10/08/07 8:47:00 PM): :D
kayla_princess94 (10/08/07 8:47:14 PM): k


lorne_a_20014

(10/08/07 8:47:22 PM): i love you
kayla_princess94 (10/08/07 8:47:42 PM): i luv u


lorne_a_20014

(10/08/07 8:47:47 PM): are you wearing your pj's right now?
kayla_princess94 (10/08/07 8:48:02 PM): no not yet


lorne_a_20014

(10/08/07 8:48:12 PM): are you wanting to get into them?
kayla_princess94 (10/08/07 8:48:32 PM): yeah pretty soon
kayla_princess94 (10/08/07 8:48:48 PM): but i gotta take a shower and stuff


lorne_a_20014

(10/08/07 8:49:34 PM): ok, go take a shower right now and get in your pj's and i'll wait, i have to go pee and get another cup of coffee too and i can work on my site thingy until you get back ok?
kayla_princess94 (10/08/07 8:49:49 PM): k


lorne_a_20014

(10/08/07 8:49:52 PM): what's the other stuff that you have to do?
kayla_princess94 (10/08/07 8:50:11 PM): geez dont u know anything bout grls


lorne_a_20014

(10/08/07 8:50:17 PM): lol
kayla_princess94 (10/08/07 8:50:37 PM): shave my legs and dry my hair and well stuff


lorne_a_20014

(10/08/07 8:50:46 PM): ok lol


lorne_a_20014

(10/08/07 8:50:53 PM): do you have your own bathroom?
kayla_princess94 (10/08/07 8:51:10 PM): yes


lorne_a_20014

(10/08/07 8:51:26 PM): do you have a lock on your bedroom door?
kayla_princess94 (10/08/07 8:51:39 PM): no


lorne_a_20014

(10/08/07 8:51:44 PM): oh, damn
kayla_princess94 (10/08/07 8:51:49 PM): y


lorne_a_20014

(10/08/07 8:52:22 PM): well because we don't want your parents to come in your room while you're in the shower and see me on cam or the stuff that we've been talking about lol
kayla_princess94 (10/08/07 8:52:53 PM): they wont rite now its early they r watching tv


lorne_a_20014

(10/08/07 8:53:24 PM): ok, if you think it's going to be safe, but remember we need to be extra careful so............


lorne_a_20014

(10/08/07 8:53:46 PM): delete your archives then when you come back out of the bathroom you can turn my cam back on ok?
kayla_princess94 (10/08/07 8:54:09 PM): k


lorne_a_20014

(10/08/07 8:54:28 PM): i love you
kayla_princess94 (10/08/07 8:54:48 PM): luv u


lorne_a_20014

(10/08/07 8:54:54 PM): don't take too long doing your stuff though please?? i miss you alot......i don't even like letting you go right now
kayla_princess94 (10/08/07 8:55:12 PM): k
kayla_princess94 (10/08/07 8:55:12 PM): i wont


lorne_a_20014

(10/08/07 8:55:34 PM): ok, ty my precious princess@};-:-*:x


lorne_a_20014

(10/08/07 8:55:46 PM): don't cut your legs shaving though lol
kayla_princess94 (10/08/07 8:55:53 PM): lol i wont


lorne_a_20014

(10/08/07 8:55:57 PM): ok lol


lorne_a_20014

(10/08/07 8:56:08 PM): ok, hurry and get back here please?
kayla_princess94 (10/08/07 8:56:14 PM): k


lorne_a_20014

(10/08/07 8:56:23 PM): did you delete your archives?
kayla_princess94 (10/08/07 8:56:28 PM): yep


lorne_a_20014

(10/08/07 8:56:36 PM): ok, delete them again lol
kayla_princess94 (10/08/07 8:56:43 PM): k
kayla_princess94 (10/08/07 8:57:03 PM): k
kayla_princess94 (10/08/07 8:57:06 PM): done


lorne_a_20014

(10/08/07 8:57:10 PM): @};-


lorne_a_20014

(10/08/07 8:57:33 PM): don't log out
kayla_princess94 (10/08/07 8:57:42 PM): k


lorne_a_20014

(10/08/07 8:57:45 PM): ty


lorne_a_20014

(10/08/07 9:07:04 PM): precious, i need to take bud to pee, brb


lorne_a_20014

(10/08/07 9:13:35 PM): i'm back precious


lorne_a_20014

(10/08/07 9:26:09 PM): i miss my girl :-<
kayla_princess94 (10/08/07 9:38:01 PM): did ya miss me


lorne_a_20014

(10/08/07 9:38:17 PM): yes i did@};-:-*:x


lorne_a_20014

(10/08/07 9:38:50 PM): i was praying you'd get back here soon so i could stop thinking about what the hell they were talking about on that site i was just on lol
kayla_princess94 (10/08/07 9:39:03 PM): lol


lorne_a_20014

(10/08/07 9:39:14 PM): it's confusing to me lol


lorne_a_20014

(10/08/07 9:39:30 PM): i wish i could have helped you take a shower


lorne_a_20014

(10/08/07 9:39:51 PM): you could have just stood there and i would have washed you:D
kayla_princess94 (10/08/07 9:40:12 PM): umm im not a baby i dont need help washing


lorne_a_20014

(10/08/07 9:40:28 PM): i know, but it would be fun for me:D
kayla_princess94 (10/08/07 9:40:38 PM): o
kayla_princess94 (10/08/07 9:40:41 PM): lol


lorne_a_20014

(10/08/07 9:40:49 PM): :-*


lorne_a_20014

(10/08/07 9:41:02 PM): we're gonna wash eachother in the tub right?


lorne_a_20014

(10/08/07 9:41:19 PM): or are we just gonna lay in the tub together?


lorne_a_20014

(10/08/07 9:41:30 PM): in our bubble bath
kayla_princess94 (10/08/07 9:41:40 PM): kewl
kayla_princess94 (10/08/07 9:41:46 PM): i luv bubble baths


lorne_a_20014

(10/08/07 9:41:57 PM): did you forget about out bubble bath?lol


lorne_a_20014

(10/08/07 9:42:54 PM): what are you doing precious?
kayla_princess94 (10/08/07 9:43:05 PM): 8->
kayla_princess94 (10/08/07 9:43:18 PM): thinkin bout our bubble bat
kayla_princess94 (10/08/07 9:43:20 PM): bath


lorne_a_20014

(10/08/07 9:43:25 PM): :D


lorne_a_20014

(10/08/07 9:43:45 PM): are we gonna wash eachother or are we just gonna lay in it together?
kayla_princess94 (10/08/07 9:44:18 PM): i luv just laying in a bubble bath


lorne_a_20014

(10/08/07 9:44:54 PM): ok, but i still have to atleast wash your boobs, butt, and vagina:D
kayla_princess94 (10/08/07 9:45:05 PM): k


lorne_a_20014

(10/08/07 9:45:06 PM): just for another excuse to touch them lol
kayla_princess94 (10/08/07 9:45:25 PM): lol


lorne_a_20014

(10/08/07 9:45:34 PM): i'll be kissing you while i wash them though :-*:x
kayla_princess94 (10/08/07 9:45:42 PM): kewl
kayla_princess94 (10/08/07 9:46:02 PM): hey i just thought of sumthin


lorne_a_20014

(10/08/07 9:46:06 PM): what?
kayla_princess94 (10/08/07 9:46:07 PM): crap


lorne_a_20014

(10/08/07 9:46:15 PM): you thought of crap??lol
kayla_princess94 (10/08/07 9:46:58 PM): hey im not the 1 who works with poop the 18th is a thurs


lorne_a_20014

(10/08/07 9:47:11 PM): yeah


lorne_a_20014

(10/08/07 9:47:23 PM): you have school on the 19th


lorne_a_20014

(10/08/07 9:47:45 PM): right?
kayla_princess94 (10/08/07 9:47:52 PM): im gona have 2 skip school fri


lorne_a_20014

(10/08/07 9:48:25 PM): you'd have to get a note from your parents because of missing school on friday though wouldn't you?
kayla_princess94 (10/08/07 9:48:59 PM): i will tell my parents when they get back i didnt feel good fri so i didnt go lol


lorne_a_20014

(10/08/07 9:49:08 PM): ok lol
kayla_princess94 (10/08/07 9:49:09 PM): oooo my tummy hurt


lorne_a_20014

(10/08/07 9:49:13 PM): lol
kayla_princess94 (10/08/07 9:49:14 PM): real bad
kayla_princess94 (10/08/07 9:49:22 PM): my head 2


lorne_a_20014

(10/08/07 9:49:25 PM): lol
kayla_princess94 (10/08/07 9:49:34 PM): my head hurt so bad


lorne_a_20014

(10/08/07 9:49:58 PM): yeah, you can tell them that but what's really gonna be happening is i'm gonna be sticking my penis in your vagina lol


lorne_a_20014

(10/08/07 9:50:06 PM): :D
kayla_princess94 (10/08/07 9:50:08 PM): lol
kayla_princess94 (10/08/07 9:50:10 PM): yep


lorne_a_20014

(10/08/07 9:50:20 PM): :D:-*:x


lorne_a_20014

(10/08/07 9:50:27 PM): are you gonna love it?
kayla_princess94 (10/08/07 9:50:32 PM): :x
kayla_princess94 (10/08/07 9:50:44 PM): YAY yes


lorne_a_20014

(10/08/07 9:50:50 PM): :D


lorne_a_20014

(10/08/07 9:51:19 PM): are you gonna be touching my penis just about the whole time you're here?lol
kayla_princess94 (10/08/07 9:51:30 PM): prolly


lorne_a_20014

(10/08/07 9:51:35 PM): :D
kayla_princess94 (10/08/07 9:51:37 PM): :\">


lorne_a_20014

(10/08/07 9:51:55 PM): good because i'm gonna be touching your vagina just about the whole time you're here too lol


lorne_a_20014

(10/08/07 9:52:05 PM): :D
kayla_princess94 (10/08/07 9:52:10 PM): :)


lorne_a_20014

(10/08/07 9:52:30 PM): i'm anxious to put my hand on your vagina:\">
kayla_princess94 (10/08/07 9:52:39 PM): :\">


lorne_a_20014

(10/08/07 9:52:52 PM): are you anxious for me to touch it?
kayla_princess94 (10/08/07 9:53:05 PM): yep:\">


lorne_a_20014

(10/08/07 9:53:09 PM): :D


lorne_a_20014

(10/08/07 9:53:14 PM): :x
kayla_princess94 (10/08/07 9:53:22 PM): :x


lorne_a_20014

(10/08/07 9:53:31 PM): do you wish i could be touching it right now?
kayla_princess94 (10/08/07 9:53:40 PM): yeah


lorne_a_20014

(10/08/07 9:53:44 PM): :D


lorne_a_20014

(10/08/07 9:54:00 PM): do you wish i could be sticking my penis in it right now?
kayla_princess94 (10/08/07 9:54:08 PM): yeah


lorne_a_20014

(10/08/07 9:54:12 PM): :D


lorne_a_20014

(10/08/07 9:54:15 PM): :x


lorne_a_20014

(10/08/07 9:54:30 PM): i love you@};-:-*
kayla_princess94 (10/08/07 9:54:36 PM): i luv u
kayla_princess94 (10/08/07 9:54:42 PM): :-*


lorne_a_20014

(10/08/07 9:54:49 PM): do you have your pj's on right now?
kayla_princess94 (10/08/07 9:54:57 PM): yeah


lorne_a_20014

(10/08/07 9:55:13 PM): do me a favor?
kayla_princess94 (10/08/07 9:55:19 PM): wat


lorne_a_20014

(10/08/07 9:55:43 PM): stick your finger in your vagina for me a couple times??;;):\">
kayla_princess94 (10/08/07 9:55:58 PM): k


lorne_a_20014

(10/08/07 9:56:45 PM): how's it feel?
kayla_princess94 (10/08/07 9:56:55 PM): k


lorne_a_20014

(10/08/07 9:57:17 PM): how's it feel?
kayla_princess94 (10/08/07 9:57:34 PM): lol i said k


lorne_a_20014

(10/08/07 9:57:49 PM): oh lol, i thought you meant \"k\" as in you were done lol
kayla_princess94 (10/08/07 9:58:00 PM): i am done
kayla_princess94 (10/08/07 9:58:02 PM): lol


lorne_a_20014

(10/08/07 9:58:06 PM): lol


lorne_a_20014

(10/08/07 9:58:15 PM): is your vagina wet right now?
kayla_princess94 (10/08/07 9:58:29 PM): lil


lorne_a_20014

(10/08/07 9:58:34 PM): :x


lorne_a_20014

(10/08/07 9:58:44 PM): wish i could feel it right now
kayla_princess94 (10/08/07 9:59:03 PM): me 2


lorne_a_20014

(10/08/07 9:59:12 PM): :D:-*:x


lorne_a_20014

(10/08/07 9:59:24 PM): brb precious, coffee
kayla_princess94 (10/08/07 9:59:29 PM): :-*
kayla_princess94 (10/08/07 9:59:35 PM): k


lorne_a_20014

(10/08/07 10:00:28 PM): was you watching me??;;)
kayla_princess94 (10/08/07 10:00:41 PM): yeah:\">


lorne_a_20014

(10/08/07 10:00:46 PM): :D


lorne_a_20014

(10/08/07 10:00:58 PM): good, i love it when you watch me :\">


lorne_a_20014

(10/08/07 10:01:23 PM): wish i could be watching you right now too though
kayla_princess94 (10/08/07 10:01:31 PM): yeah


lorne_a_20014

(10/08/07 10:02:23 PM): want me to get you a cam while you're here and you can install it while your parents are gone then just hide it when you're not on the computer with me?
kayla_princess94 (10/08/07 10:02:25 PM): ;;)
kayla_princess94 (10/08/07 10:02:53 PM): that wuld b kewl


lorne_a_20014

(10/08/07 10:03:24 PM): if i have enough money i will, just don't know if i'll have enough money at the time lol


lorne_a_20014

(10/08/07 10:03:39 PM): i don't know how much they cost now, i think it's like 20 dollars


lorne_a_20014

(10/08/07 10:03:53 PM): so hopefully i'll be able to get one for you


lorne_a_20014

(10/08/07 10:04:03 PM): then i can see my baby too:D
kayla_princess94 (10/08/07 10:04:10 PM): yay


lorne_a_20014

(10/08/07 10:04:56 PM): you should ask your dad if you can have a lock on your door too.........if he asks why just tell him it's because you're getting older and you don't want anyone to just be able to walk in whenever they want
kayla_princess94 (10/08/07 10:05:26 PM): hey thats a good idea


lorne_a_20014

(10/08/07 10:05:34 PM): yeah lol


lorne_a_20014

(10/08/07 10:05:38 PM): :D


lorne_a_20014

(10/08/07 10:06:09 PM): i love you my precious princess@};-:-*:x
kayla_princess94 (10/08/07 10:06:20 PM): i luv u:D


lorne_a_20014

(10/08/07 10:06:37 PM): do you wish you were sucking on my penis right now?
kayla_princess94 (10/08/07 10:06:44 PM): yeah


lorne_a_20014

(10/08/07 10:06:48 PM): :D


lorne_a_20014

(10/08/07 10:06:51 PM): me too lol
kayla_princess94 (10/08/07 10:07:01 PM): :\">


lorne_a_20014

(10/08/07 10:07:06 PM): omg you're soooooooooooo beautiful@};-


lorne_a_20014

(10/08/07 10:07:12 PM): :x
kayla_princess94 (10/08/07 10:07:18 PM): :\">


lorne_a_20014

(10/08/07 10:07:51 PM): when we fall asleep are you gonna fall asleep with my penis in your hand?lol
kayla_princess94 (10/08/07 10:08:04 PM): lol
kayla_princess94 (10/08/07 10:08:09 PM): k


lorne_a_20014

(10/08/07 10:08:15 PM): :D


lorne_a_20014

(10/08/07 10:08:20 PM): do you want to?
kayla_princess94 (10/08/07 10:08:26 PM): yeah


lorne_a_20014

(10/08/07 10:08:30 PM): :D


lorne_a_20014

(10/08/07 10:08:41 PM): good because i want you to lol


lorne_a_20014

(10/08/07 10:09:18 PM): but you have to have one leg over one of my legs and laying half way on me on your tummy lol
kayla_princess94 (10/08/07 10:09:42 PM): k
kayla_princess94 (10/08/07 10:09:50 PM): u smoke 2 much


lorne_a_20014

(10/08/07 10:10:16 PM): i know, i don't inhale it all the way though so it mostly just burns out lol
kayla_princess94 (10/08/07 10:10:17 PM): and u drink 2 much cofee


lorne_a_20014

(10/08/07 10:10:20 PM): lol


lorne_a_20014

(10/08/07 10:10:23 PM): yes dear lol


lorne_a_20014

(10/08/07 10:10:46 PM): i don't make it very strong at all though so that's the only reason i can drink as much coffee as i do lol
kayla_princess94 (10/08/07 10:11:50 PM): daddy says 2 much of that nicoteen and cafeeneen stuff isnot good 4 u


lorne_a_20014

(10/08/07 10:12:12 PM): i know it isn't, i'll quit pretty soon ok?


lorne_a_20014

(10/08/07 10:12:18 PM): or i'll try to anyway lol
kayla_princess94 (10/08/07 10:12:25 PM): k


lorne_a_20014

(10/08/07 10:12:48 PM): you just don't want me to die too soon huh?lol
kayla_princess94 (10/08/07 10:13:02 PM): yeah its bad 4 u


lorne_a_20014

(10/08/07 10:13:19 PM): i promise i'll try hard to quit pretty soon ok?


lorne_a_20014

(10/08/07 10:14:20 PM): what are you doing precious?


lorne_a_20014

(10/08/07 10:16:37 PM): ??
kayla_princess94 (10/08/07 10:17:13 PM): was my mom


lorne_a_20014

(10/08/07 10:17:18 PM): oh
kayla_princess94 (10/08/07 10:17:22 PM): came in


lorne_a_20014

(10/08/07 10:17:26 PM): oh
kayla_princess94 (10/08/07 10:17:27 PM): #:-S


lorne_a_20014

(10/08/07 10:17:33 PM): lol


lorne_a_20014

(10/08/07 10:17:44 PM): see, that's why a lock on your door would be REALLY good lol
kayla_princess94 (10/08/07 10:17:54 PM): yeah
kayla_princess94 (10/08/07 10:18:08 PM): but then they mite wanna know wat im doin


lorne_a_20014

(10/08/07 10:18:51 PM): then they can ask you, and you can just tell them nothing, just want my privacy because i'm getting older now
kayla_princess94 (10/08/07 10:19:07 PM): o yeah
kayla_princess94 (10/08/07 10:19:13 PM): i gotta remember that


lorne_a_20014

(10/08/07 10:19:20 PM): you certainly don't want to tell them you're looking at your b/f's penis lol
kayla_princess94 (10/08/07 10:19:26 PM): im getting older i need my privacy
kayla_princess94 (10/08/07 10:19:51 PM): omg yeah umm well im in here looking at my bf penis do u mind


lorne_a_20014

(10/08/07 10:19:59 PM): lmao


lorne_a_20014

(10/08/07 10:20:38 PM): you also don't want to be telling them that you and your b/f are planning to stick his penis in your vagina while they're gone for 4 days lol
kayla_princess94 (10/08/07 10:20:49 PM): lol
kayla_princess94 (10/08/07 10:20:58 PM): yeah umm i think they wuld flip out


lorne_a_20014

(10/08/07 10:21:07 PM): yeah, ALOT lol


lorne_a_20014

(10/08/07 10:21:15 PM): and i'd end up in jail
kayla_princess94 (10/08/07 10:21:24 PM): noo way


lorne_a_20014

(10/08/07 10:21:40 PM): yeah, because you're under 18 yrs old
kayla_princess94 (10/08/07 10:21:48 PM): yeah


lorne_a_20014

(10/08/07 10:22:20 PM): that's why we need to be EXTRA careful........not to mention you'd be grounded for life lol
kayla_princess94 (10/08/07 10:22:32 PM): omg i know
kayla_princess94 (10/08/07 10:23:05 PM): :-$


lorne_a_20014

(10/08/07 10:23:25 PM): i think you should just stay here for 1 night, then i can take you back home when it's dark the next night


lorne_a_20014

(10/08/07 10:23:47 PM): just to be on the safe side
kayla_princess94 (10/08/07 10:23:52 PM): k


lorne_a_20014

(10/08/07 10:24:15 PM): or if i can find a safe place to park my truck then i can stay with you the second night
kayla_princess94 (10/08/07 10:24:35 PM): :)
kayla_princess94 (10/08/07 10:24:51 PM): ill figure it out


lorne_a_20014

(10/08/07 10:24:55 PM): lol


lorne_a_20014

(10/08/07 10:25:23 PM): you want me to sleep in your bed with you and stick my penis in your vagina on your bed huh?lol
kayla_princess94 (10/08/07 10:25:40 PM): yeah that wuld b kewl


lorne_a_20014

(10/08/07 10:25:44 PM): :D
kayla_princess94 (10/08/07 10:25:55 PM): wish i culd stay with u 4ever


lorne_a_20014

(10/08/07 10:26:05 PM): i wish you could too
kayla_princess94 (10/08/07 10:26:13 PM): :(


lorne_a_20014

(10/08/07 10:26:22 PM): i am so in love with you precious@};-
kayla_princess94 (10/08/07 10:26:33 PM): i luv u 2


lorne_a_20014

(10/08/07 10:27:14 PM): our day will come when we can sleep with eachother every night, we just have to be patient
kayla_princess94 (10/08/07 10:27:29 PM): :)


lorne_a_20014

(10/08/07 10:27:54 PM): you wish i was naked on your bed right now huh?lol
kayla_princess94 (10/08/07 10:28:31 PM): yeah


lorne_a_20014

(10/08/07 10:28:37 PM): :D


lorne_a_20014

(10/08/07 10:28:49 PM): what would you do if i was?
kayla_princess94 (10/08/07 10:29:05 PM): umm touch ur penis


lorne_a_20014

(10/08/07 10:29:12 PM): :D


lorne_a_20014

(10/08/07 10:29:33 PM): with your hands or with your mouth or with your vagina?
kayla_princess94 (10/08/07 10:29:52 PM): hmm
kayla_princess94 (10/08/07 10:30:02 PM): my hands


lorne_a_20014

(10/08/07 10:30:08 PM): :D


lorne_a_20014

(10/08/07 10:30:18 PM): would you be naked with me too?
kayla_princess94 (10/08/07 10:30:33 PM): well yeah


lorne_a_20014

(10/08/07 10:30:41 PM): :D:D


lorne_a_20014

(10/08/07 10:30:48 PM): what would you want me to be doing?
kayla_princess94 (10/08/07 10:31:08 PM): umm umm touchin my vagina


lorne_a_20014

(10/08/07 10:31:18 PM): :D:D:D


lorne_a_20014

(10/08/07 10:31:22 PM): :x
kayla_princess94 (10/08/07 10:31:33 PM): :D


lorne_a_20014

(10/08/07 10:31:38 PM): with my hands or my tongue?
kayla_princess94 (10/08/07 10:32:15 PM): both:\">


lorne_a_20014

(10/08/07 10:32:27 PM): :D:D:D:D


lorne_a_20014

(10/08/07 10:32:38 PM): want me to do that for real?
kayla_princess94 (10/08/07 10:33:01 PM): lol well yeah u said u were gona


lorne_a_20014

(10/08/07 10:33:10 PM): ok:D


lorne_a_20014

(10/08/07 10:33:20 PM): i forgot that i said i was gonna lol


lorne_a_20014

(10/08/07 10:33:37 PM): want to know what else i'm gonna do?
kayla_princess94 (10/08/07 10:33:51 PM): wat


lorne_a_20014

(10/08/07 10:33:53 PM): maybe we can do this in our bubble bath too
kayla_princess94 (10/08/07 10:34:21 PM): wat


lorne_a_20014

(10/08/07 10:34:42 PM): i'm gonna have you get on your hands and knees and i'm gonna be behind you, and i'm gonna stick my penis in your vagina from behind you:D
kayla_princess94 (10/08/07 10:35:19 PM): really


lorne_a_20014

(10/08/07 10:35:24 PM): yup
kayla_princess94 (10/08/07 10:35:28 PM): hmm


lorne_a_20014

(10/08/07 10:35:30 PM): :\">
kayla_princess94 (10/08/07 10:35:51 PM): k


lorne_a_20014

(10/08/07 10:36:10 PM): what question do you have? i can tell you're wondering about something lol
kayla_princess94 (10/08/07 10:36:49 PM): well y u wanna do that like that


lorne_a_20014

(10/08/07 10:37:13 PM): just for something different, and so i can teach you something new


lorne_a_20014

(10/08/07 10:37:22 PM): and it's fun like that too lol


lorne_a_20014

(10/08/07 10:37:56 PM): the first time i stick my penis in your vagina i'm gonna be laying on top of you though
kayla_princess94 (10/08/07 10:37:58 PM): o


lorne_a_20014

(10/08/07 10:38:39 PM): it will make it more comfortable for you if i'm like that because it will be your first time
kayla_princess94 (10/08/07 10:38:47 PM): k
kayla_princess94 (10/08/07 10:39:06 PM): k


lorne_a_20014

(10/08/07 10:39:20 PM): if you don't want to do it the other way we don't have to precious, all you have to do is tell me
kayla_princess94 (10/08/07 10:40:12 PM): k


lorne_a_20014

(10/08/07 10:40:15 PM): what are you thinking about?
kayla_princess94 (10/08/07 10:40:54 PM): 8->u


lorne_a_20014

(10/08/07 10:41:01 PM): :D


lorne_a_20014

(10/08/07 10:41:15 PM): what are the thoughts you're having about me?;;)
kayla_princess94 (10/08/07 10:41:41 PM): i luv u
kayla_princess94 (10/08/07 10:41:50 PM): :)


lorne_a_20014

(10/08/07 10:42:04 PM): i love you too........ALOT@};-:-*:x


lorne_a_20014

(10/08/07 10:42:21 PM): what else are you thinking about?
kayla_princess94 (10/08/07 10:42:28 PM): i luv u more
kayla_princess94 (10/08/07 10:42:42 PM): more than infinty


lorne_a_20014

(10/08/07 10:42:45 PM): i love you infinity times infinity:-P
kayla_princess94 (10/08/07 10:42:51 PM): :D


lorne_a_20014

(10/08/07 10:43:00 PM): times more than more than infinity lol


lorne_a_20014

(10/08/07 10:43:04 PM): :-P
kayla_princess94 (10/08/07 10:43:23 PM): l luv u a zillion times that infinity
kayla_princess94 (10/08/07 10:43:32 PM): got ya


lorne_a_20014

(10/08/07 10:43:49 PM): i love you a zillion times more than a zillion times infinity lol


lorne_a_20014

(10/08/07 10:43:55 PM): now i got you lol


lorne_a_20014

(10/08/07 10:43:58 PM): :-P
kayla_princess94 (10/08/07 10:44:23 PM): darn
kayla_princess94 (10/08/07 10:44:24 PM): lol


lorne_a_20014

(10/08/07 10:44:27 PM): lol
kayla_princess94 (10/08/07 10:44:31 PM): yeah u got me that time


lorne_a_20014

(10/08/07 10:44:45 PM): yeah, i won tonight :D:-P


lorne_a_20014

(10/08/07 10:45:22 PM): so what do you think about me sticking my penis in your vagina from behind you?
kayla_princess94 (10/08/07 10:45:24 PM): smart ass
kayla_princess94 (10/08/07 10:45:45 PM): i guess ill try it


lorne_a_20014

(10/08/07 10:45:55 PM): ok:D


lorne_a_20014

(10/08/07 10:46:33 PM): if you decide while we're doing it that you don't like it that way you can just tell me and we'll stop and do it the other way when we get out of the tub ok?
kayla_princess94 (10/08/07 10:47:25 PM): k
kayla_princess94 (10/08/07 10:47:43 PM): brb


lorne_a_20014

(10/08/07 10:47:46 PM): ok


lorne_a_20014

(10/08/07 10:48:13 PM): me too, need another cup of coffee


lorne_a_20014

(10/08/07 10:50:23 PM): i'm back
kayla_princess94 (10/08/07 10:50:30 PM): me 2


lorne_a_20014

(10/08/07 10:50:37 PM): :D:-*


lorne_a_20014

(10/08/07 10:50:45 PM): what did you have to do?
kayla_princess94 (10/08/07 10:50:56 PM): :-*go p


lorne_a_20014

(10/08/07 10:51:09 PM): i went p after i got my coffee lol


lorne_a_20014

(10/08/07 10:51:15 PM): :-*
kayla_princess94 (10/08/07 10:51:16 PM): lol


lorne_a_20014

(10/08/07 10:51:34 PM): i wish you could have held my penis for me;;)
kayla_princess94 (10/08/07 10:51:43 PM): lol
kayla_princess94 (10/08/07 10:51:55 PM): i was wonderin sumthin


lorne_a_20014

(10/08/07 10:51:59 PM): what?
kayla_princess94 (10/08/07 10:52:27 PM): dont any of ur friends on myspace wonder who i am


lorne_a_20014

(10/08/07 10:52:59 PM): nope, because i have 4 other kids on there so they all think they're all my nieces and nephew i guess lol
kayla_princess94 (10/08/07 10:53:11 PM): o lol


lorne_a_20014

(10/08/07 10:53:22 PM): there's only 2 that are my neices and one that is my nephew on my myspace page lol
kayla_princess94 (10/08/07 10:53:32 PM): o
kayla_princess94 (10/08/07 10:53:38 PM): whos the other kids


lorne_a_20014

(10/08/07 10:54:09 PM): the other girl is the one right before you, she's a friend that i've known for about 4 yrs now
kayla_princess94 (10/08/07 10:55:07 PM): bet ur the best uncle in the whole world


lorne_a_20014

(10/08/07 10:55:11 PM): i promised her that i would leave her in the spot that she's at in the line up because she use to be first in the line up but then i added my nieces and nephew and she ended up 4th on the list and was upset about it lol
kayla_princess94 (10/08/07 10:55:26 PM): lol


lorne_a_20014

(10/08/07 10:55:39 PM): i love you@};-
kayla_princess94 (10/08/07 10:55:45 PM): i luv u


lorne_a_20014

(10/08/07 10:56:08 PM): omg Kayla, i want you here with me so bad right now:-<
kayla_princess94 (10/08/07 10:56:18 PM): me 2


lorne_a_20014

(10/08/07 10:56:26 PM): :x
kayla_princess94 (10/08/07 10:56:37 PM): :x


lorne_a_20014

(10/08/07 10:57:23 PM): you know when i stick my penis in you, you're gonna start making noises while i'm doing it?lol
kayla_princess94 (10/08/07 10:57:36 PM): noises
kayla_princess94 (10/08/07 10:57:37 PM): huh


lorne_a_20014

(10/08/07 10:57:40 PM): yup lol


lorne_a_20014

(10/08/07 10:58:01 PM): you'll see when it happens, it's natural though, EVERY woman does it
kayla_princess94 (10/08/07 10:58:09 PM): does wat
kayla_princess94 (10/08/07 10:58:15 PM): i wanna know


lorne_a_20014

(10/08/07 10:58:29 PM): makes noises when a penis is stuck in their vagina
kayla_princess94 (10/08/07 10:58:39 PM): wat kinda noises


lorne_a_20014

(10/08/07 10:59:56 PM): when i'm moving my penis back and forth in you........ it feels good to you and hurts at the same time so you'll start going.............o...o.....o.ooo......o..o..o


lorne_a_20014

(10/08/07 11:00:23 PM): it'll be something like that, every female makes different noises though
kayla_princess94 (10/08/07 11:00:54 PM): lol o o oooo oo oooo


lorne_a_20014

(10/08/07 11:00:59 PM): lol


lorne_a_20014

(10/08/07 11:01:10 PM): are you practicing?lol
kayla_princess94 (10/08/07 11:01:45 PM): ummm no


lorne_a_20014

(10/08/07 11:01:50 PM): oh lol


lorne_a_20014

(10/08/07 11:01:59 PM): do me a favor again
kayla_princess94 (10/08/07 11:02:03 PM): k


lorne_a_20014

(10/08/07 11:02:15 PM): spread your legs in the chair
kayla_princess94 (10/08/07 11:02:35 PM): k


lorne_a_20014

(10/08/07 11:03:24 PM): now put your middle finger in your vagina all the way and go back and forth a few times fast
kayla_princess94 (10/08/07 11:03:54 PM): k


lorne_a_20014

(10/08/07 11:04:01 PM): did you do it?
kayla_princess94 (10/08/07 11:04:16 PM): yeah


lorne_a_20014

(10/08/07 11:04:22 PM): how did it feel?
kayla_princess94 (10/08/07 11:04:37 PM): pretty good


lorne_a_20014

(10/08/07 11:04:47 PM): did you make any noises?lol
kayla_princess94 (10/08/07 11:05:06 PM): no


lorne_a_20014

(10/08/07 11:05:31 PM): well you will when i stick my penis in you, your finger isn't as big as my penis lol
kayla_princess94 (10/08/07 11:05:49 PM): o


lorne_a_20014

(10/08/07 11:06:06 PM): i'm hoping you'll love my penis
kayla_princess94 (10/08/07 11:06:31 PM): i will:\">cuz its urs


lorne_a_20014

(10/08/07 11:06:37 PM): :D


lorne_a_20014

(10/08/07 11:07:12 PM): when you're here, we're gonna do what's called 69 too ok?
kayla_princess94 (10/08/07 11:07:25 PM): k


lorne_a_20014

(10/08/07 11:07:42 PM): have you ever heard of that?
kayla_princess94 (10/08/07 11:08:01 PM): kinda


lorne_a_20014

(10/08/07 11:08:11 PM): tell me what you think it is
kayla_princess94 (10/08/07 11:08:18 PM): i heard sum boys saying it and laffing
kayla_princess94 (10/08/07 11:08:28 PM): but im not shur wat it is


lorne_a_20014

(10/08/07 11:08:40 PM): tell me what you think it might be
kayla_princess94 (10/08/07 11:08:59 PM): idk really


lorne_a_20014

(10/08/07 11:09:47 PM): it's when i lay on my back and you'll be over me and you'll be sucking on my penis at the same time that i'm licking and sucking on your clit
kayla_princess94 (10/08/07 11:10:13 PM): o
kayla_princess94 (10/08/07 11:10:15 PM): i c
kayla_princess94 (10/08/07 11:10:21 PM): i think


lorne_a_20014

(10/08/07 11:10:23 PM): do you want to do that?
kayla_princess94 (10/08/07 11:10:37 PM): is it fun like that


lorne_a_20014

(10/08/07 11:10:55 PM): well yeah, it feels good to both of us at the same time lol
kayla_princess94 (10/08/07 11:11:08 PM): kewl


lorne_a_20014

(10/08/07 11:11:15 PM): :D


lorne_a_20014

(10/08/07 11:11:21 PM): :-*:x
kayla_princess94 (10/08/07 11:11:39 PM): :-*:x


lorne_a_20014

(10/08/07 11:11:53 PM): do you want me to get you pregnant on your 18th birthday?
kayla_princess94 (10/08/07 11:12:08 PM): wow idk


lorne_a_20014

(10/08/07 11:12:34 PM): we've got plenty of time to think about it and talk about it so there's no big hurry lol
kayla_princess94 (10/08/07 11:12:42 PM): k
kayla_princess94 (10/08/07 11:12:49 PM): u want 2


lorne_a_20014

(10/08/07 11:13:13 PM): i want so much for you to be the mother of my baby it's not even funny :x
kayla_princess94 (10/08/07 11:13:29 PM): awww how sweet


lorne_a_20014

(10/08/07 11:13:42 PM): did i mention that i love you??lol
kayla_princess94 (10/08/07 11:13:54 PM): lol yeah a few times


lorne_a_20014

(10/08/07 11:14:01 PM): lol\


lorne_a_20014

(10/08/07 11:14:21 PM): so how many times today did you think about my penis?lol
kayla_princess94 (10/08/07 11:14:33 PM): :\">


lorne_a_20014

(10/08/07 11:14:42 PM): :D
kayla_princess94 (10/08/07 11:14:49 PM): umm mayb 1 time


lorne_a_20014

(10/08/07 11:14:57 PM): only 1??lol
kayla_princess94 (10/08/07 11:15:22 PM): well mayb 2 times


lorne_a_20014

(10/08/07 11:15:26 PM): lol


lorne_a_20014

(10/08/07 11:15:33 PM): what were the thoughts that you had?
kayla_princess94 (10/08/07 11:16:03 PM): o i thought hmm yeah thats my bf penis
kayla_princess94 (10/08/07 11:16:05 PM): lol


lorne_a_20014

(10/08/07 11:16:10 PM): lol


lorne_a_20014

(10/08/07 11:16:30 PM): i had a couple thoughts about your vagina today too :\">
kayla_princess94 (10/08/07 11:16:37 PM): o yeah


lorne_a_20014

(10/08/07 11:16:43 PM): yup


lorne_a_20014

(10/08/07 11:17:15 PM): i had a couple thoughts about those pretty lips of yours too
kayla_princess94 (10/08/07 11:17:29 PM): :\">
kayla_princess94 (10/08/07 11:17:40 PM): wat was u thinkin


lorne_a_20014

(10/08/07 11:18:23 PM): i can't wait to put my lips on your pretty lips and i can't wait to touch your vagina and stick my penis in your vagina:\">:x
kayla_princess94 (10/08/07 11:18:40 PM): :):\">
kayla_princess94 (10/08/07 11:18:48 PM): :-*


lorne_a_20014

(10/08/07 11:18:51 PM): how do you like them thoughts?
kayla_princess94 (10/08/07 11:19:11 PM): :D


lorne_a_20014

(10/08/07 11:19:17 PM): :D


lorne_a_20014

(10/08/07 11:19:42 PM): are you gonna lick my penis like it's a loli pop?lol
kayla_princess94 (10/08/07 11:19:57 PM): lol
kayla_princess94 (10/08/07 11:19:59 PM): k


lorne_a_20014

(10/08/07 11:21:32 PM): welcome back precious@};-:-*>:D<:x


lorne_a_20014

(10/08/07 11:22:46 PM): :-*
kayla_princess94 (10/08/07 11:22:51 PM): :D


lorne_a_20014

(10/08/07 11:23:04 PM): do you miss seeing my penis?
kayla_princess94 (10/08/07 11:23:14 PM): yeah


lorne_a_20014

(10/08/07 11:23:20 PM): want to see it now?
kayla_princess94 (10/08/07 11:23:27 PM): yeah


lorne_a_20014

(10/08/07 11:23:33 PM): :D
kayla_princess94 (10/08/07 11:25:30 PM): :)


lorne_a_20014

(10/08/07 11:25:50 PM): was that a nice long look or do you want me to put my cam down where you can see it alot right now?lol
kayla_princess94 (10/08/07 11:26:06 PM): that was good


lorne_a_20014

(10/08/07 11:26:11 PM): ok


lorne_a_20014

(10/08/07 11:26:30 PM): how does your vagina feel when you were looking at it?
kayla_princess94 (10/08/07 11:26:41 PM): funny


lorne_a_20014

(10/08/07 11:26:47 PM): :D


lorne_a_20014

(10/08/07 11:27:12 PM): did it feel like it wanted my penis to be stuck in it right now?
kayla_princess94 (10/08/07 11:27:26 PM): yeah kinda


lorne_a_20014

(10/08/07 11:27:31 PM): :D


lorne_a_20014

(10/08/07 11:27:34 PM): :x


lorne_a_20014

(10/08/07 11:27:41 PM): brb, coffee
kayla_princess94 (10/08/07 11:27:49 PM): k


lorne_a_20014

(10/08/07 11:28:32 PM): back


lorne_a_20014

(10/08/07 11:28:37 PM): :-*
kayla_princess94 (10/08/07 11:28:54 PM): YAY:D


lorne_a_20014

(10/08/07 11:29:14 PM): we're gonna have alot of fun with eachothers private parts huh?lol
kayla_princess94 (10/08/07 11:29:27 PM): yeah:)


lorne_a_20014

(10/08/07 11:29:37 PM): :D:x


lorne_a_20014

(10/08/07 11:29:50 PM): what are you thinking about right now precious?
kayla_princess94 (10/08/07 11:30:02 PM): im tired


lorne_a_20014

(10/08/07 11:30:12 PM): are you really?@};-
kayla_princess94 (10/08/07 11:30:24 PM): yeah


lorne_a_20014

(10/08/07 11:30:27 PM): do you want to go to bed now?
kayla_princess94 (10/08/07 11:30:39 PM): kinda is that ok


lorne_a_20014

(10/08/07 11:30:55 PM): yes it is, i'm tired too, i just yawned, did you see that?lol
kayla_princess94 (10/08/07 11:31:23 PM): no i must of been yawning at the same time lol


lorne_a_20014

(10/08/07 11:31:28 PM): lol


lorne_a_20014

(10/08/07 11:31:34 PM): i just yawned again lol
kayla_princess94 (10/08/07 11:31:39 PM): lol


lorne_a_20014

(10/08/07 11:31:50 PM): you mention the word tired and it made me tired lol
kayla_princess94 (10/08/07 11:31:56 PM): lol


lorne_a_20014

(10/08/07 11:32:11 PM): precious i have a question for you
kayla_princess94 (10/08/07 11:32:16 PM): k


lorne_a_20014

(10/08/07 11:32:22 PM): do you want to ummmmmm


lorne_a_20014

(10/08/07 11:32:31 PM): fuck me??


lorne_a_20014

(10/08/07 11:32:35 PM): :-O
kayla_princess94 (10/08/07 11:32:40 PM): lol


lorne_a_20014

(10/08/07 11:32:41 PM): :\">
kayla_princess94 (10/08/07 11:32:57 PM): do u:\">


lorne_a_20014

(10/08/07 11:33:08 PM): do i what??lol
kayla_princess94 (10/08/07 11:33:22 PM): u know:\">


lorne_a_20014

(10/08/07 11:33:35 PM): come on, say it to me lol
kayla_princess94 (10/08/07 11:33:52 PM): its a really bad word im not suppose 2


lorne_a_20014

(10/08/07 11:34:17 PM): you're only saying it to me, and you wont say it all the time so you can do it lol
kayla_princess94 (10/08/07 11:34:43 PM): k


lorne_a_20014

(10/08/07 11:34:52 PM): if you don't want to say it then you can say it a different way lol
kayla_princess94 (10/08/07 11:35:43 PM): k umm idk how geez i never said anything like that b4:\">


lorne_a_20014

(10/08/07 11:36:15 PM): i have faith in you, you're a smart girl @};-:D:-*
kayla_princess94 (10/08/07 11:37:07 PM): im just tired i thinkI-)


lorne_a_20014

(10/08/07 11:37:11 PM): lol


lorne_a_20014

(10/08/07 11:37:27 PM): how about asking me if i want to stick my penis in your vagina?lol
kayla_princess94 (10/08/07 11:37:58 PM): lol
kayla_princess94 (10/08/07 11:38:11 PM): u wanna stick ur penis in my vagina


lorne_a_20014

(10/08/07 11:38:27 PM): YES:D:-*:x


lorne_a_20014

(10/08/07 11:38:41 PM): do you want me to stick my penis in your vagina?
kayla_princess94 (10/08/07 11:39:06 PM): yeah:\">


lorne_a_20014

(10/08/07 11:39:12 PM): :D


lorne_a_20014

(10/08/07 11:39:34 PM): i love you Kayla Marie Armstrong@};-:-*>:D<:x


lorne_a_20014

(10/08/07 11:39:42 PM): my future wife@};-
kayla_princess94 (10/08/07 11:40:03 PM): i luv u>:D<:x:-*
kayla_princess94 (10/08/07 11:40:09 PM): :D


lorne_a_20014

(10/08/07 11:40:17 PM): :D


lorne_a_20014

(10/08/07 11:40:28 PM): ok, want me to let you go to bed now?
kayla_princess94 (10/08/07 11:40:37 PM): yes plz


lorne_a_20014

(10/08/07 11:40:42 PM): ok


lorne_a_20014

(10/08/07 11:40:55 PM): want your bed time look at my penis?
kayla_princess94 (10/08/07 11:41:08 PM): i already got it
kayla_princess94 (10/08/07 11:41:12 PM): 2morrow


lorne_a_20014

(10/08/07 11:41:16 PM): ok


lorne_a_20014

(10/08/07 11:41:25 PM): i love you my precious princess@};-
kayla_princess94 (10/08/07 11:41:33 PM): i luv u


lorne_a_20014

(10/08/07 11:41:35 PM): try to dream about us tonight
kayla_princess94 (10/08/07 11:41:44 PM): i will


lorne_a_20014

(10/08/07 11:41:45 PM): delete your archives
kayla_princess94 (10/08/07 11:41:49 PM): k


lorne_a_20014

(10/08/07 11:41:59 PM): tell me when they're deleted
kayla_princess94 (10/08/07 11:42:52 PM): done


lorne_a_20014

(10/08/07 11:43:08 PM): ok, i love you my precious princess@};-
kayla_princess94 (10/08/07 11:43:14 PM): i luv u 2


lorne_a_20014

(10/08/07 11:43:19 PM): good night and dream about us@};-
kayla_princess94 (10/08/07 11:43:24 PM): nite


lorne_a_20014

(10/08/07 11:52:29 PM): i miss my girl already:-<
kayla_princess94 (10/09/07 4:16:16 PM): u here
kayla_princess94 (10/09/07 4:17:00 PM): miss u
kayla_princess94 (10/09/07 4:17:15 PM): l:xuv u:-*


lorne_a_20014

(10/09/07 4:28:20 PM): hi precious@};-


lorne_a_20014

(10/09/07 4:28:25 PM): :D


lorne_a_20014

(10/09/07 4:28:36 PM): i didn't expect you to be on this early
kayla_princess94 (10/09/07 4:28:49 PM): :D
kayla_princess94 (10/09/07 4:28:52 PM): yay ur here


lorne_a_20014

(10/09/07 4:29:02 PM): :-*


lorne_a_20014

(10/09/07 4:30:00 PM): my freakin boxers were sticking to me lol
kayla_princess94 (10/09/07 4:30:06 PM): lol


lorne_a_20014

(10/09/07 4:30:15 PM): are your parents home too?
kayla_princess94 (10/09/07 4:30:26 PM): yeah


lorne_a_20014

(10/09/07 4:30:30 PM): bummer


lorne_a_20014

(10/09/07 4:30:46 PM): hang on, i have a message on my answering machine and i want to check it ok?
kayla_princess94 (10/09/07 4:30:54 PM): k


lorne_a_20014

(10/09/07 4:31:29 PM): back


lorne_a_20014

(10/09/07 4:31:41 PM): i don't know who it was, i couldn't understand them
kayla_princess94 (10/09/07 4:31:53 PM): lol


lorne_a_20014

(10/09/07 4:32:01 PM): i'm shocked that you're on here this early


lorne_a_20014

(10/09/07 4:32:14 PM): i thought you didn't get home from school until 4:30?
kayla_princess94 (10/09/07 4:33:40 PM): i get off school at 230 and if i go sumwhere after school im home by 430 cuz of sum dumb rule of my dads any way im on fall break this week:D


lorne_a_20014

(10/09/07 4:34:00 PM): :D
kayla_princess94 (10/09/07 4:34:10 PM): prolly 4got 2 tell u i was really tired last nite sry


lorne_a_20014

(10/09/07 4:34:11 PM): where do you go after school?
kayla_princess94 (10/09/07 4:34:28 PM): sumtimes i go 2 jessies or 1 of my friends
kayla_princess94 (10/09/07 4:34:40 PM): 2 hang out


lorne_a_20014

(10/09/07 4:34:41 PM): i knew you were, i asked you if you were tired but you probably don't remember because you were so tired
kayla_princess94 (10/09/07 4:34:48 PM): lol
kayla_princess94 (10/09/07 4:34:51 PM): yeah i was


lorne_a_20014

(10/09/07 4:35:07 PM): your dad doesn't want you to be home alone after school?
kayla_princess94 (10/09/07 4:35:45 PM): no not that he just says i shuldnt b runnin around after school cuz i need 2 get home and get at my homework


lorne_a_20014

(10/09/07 4:35:55 PM): oh


lorne_a_20014

(10/09/07 4:36:05 PM): you're on fall break this week?
kayla_princess94 (10/09/07 4:36:10 PM): yeah
kayla_princess94 (10/09/07 4:36:12 PM): kewl huh


lorne_a_20014

(10/09/07 4:36:17 PM): :D


lorne_a_20014

(10/09/07 4:36:29 PM): so you'll be home alone tomorrow?
kayla_princess94 (10/09/07 4:36:47 PM): idk jessie wants me 2 come over
kayla_princess94 (10/09/07 4:37:05 PM): 2 hang out her mom mite take us 2 the mall:D


lorne_a_20014

(10/09/07 4:37:12 PM): cool


lorne_a_20014

(10/09/07 4:37:20 PM): your favorite place lol
kayla_princess94 (10/09/07 4:37:27 PM): yep


lorne_a_20014

(10/09/07 4:37:37 PM): what time are you going to her house?
kayla_princess94 (10/09/07 4:38:24 PM): not shur she said her mom wuld pick me up in the morn so i guess when i wake up
kayla_princess94 (10/09/07 4:38:32 PM): mayb bout 9


lorne_a_20014

(10/09/07 4:38:49 PM): if you wake up a little earlier you can call me;;)
kayla_princess94 (10/09/07 4:39:01 PM): yeah if i get up


lorne_a_20014

(10/09/07 4:39:14 PM): yeah, \"IF\" you get up lol
kayla_princess94 (10/09/07 4:39:24 PM): hey i get 2 sleep in this week


lorne_a_20014

(10/09/07 4:39:29 PM): lol


lorne_a_20014

(10/09/07 4:39:52 PM): you'll be able to call me thursday though right? if you stay home
kayla_princess94 (10/09/07 4:40:08 PM): thurs y wats goin on thurs


lorne_a_20014

(10/09/07 4:40:59 PM): well tomorrow's wednesday and you'll be over jessies, the day after is thursday so if you stay home you'll be able to call me because you'll be home alone


lorne_a_20014

(10/09/07 4:41:22 PM): brb, i need to get me a cup of coffee ok/
kayla_princess94 (10/09/07 4:41:28 PM): o lol


lorne_a_20014

(10/09/07 4:42:06 PM): i have to heat it up in the microwave lol
kayla_princess94 (10/09/07 4:42:15 PM): lol


lorne_a_20014

(10/09/07 4:42:31 PM): i love you@};->:D<:-*:x
kayla_princess94 (10/09/07 4:42:46 PM): i luv u
kayla_princess94 (10/09/07 4:42:48 PM): i was wonderin when u was gona tell me


lorne_a_20014

(10/09/07 4:42:53 PM): lol


lorne_a_20014

(10/09/07 4:42:55 PM): brb
kayla_princess94 (10/09/07 4:42:59 PM): k
kayla_princess94 (10/09/07 4:43:32 PM): :-*:x>:D<;;)


lorne_a_20014

(10/09/07 4:44:01 PM): you didn't think that i forgot to tell you did you?lol
kayla_princess94 (10/09/07 4:44:09 PM): yeah


lorne_a_20014

(10/09/07 4:44:19 PM): i would NEVER forget to tell you that lol


lorne_a_20014

(10/09/07 4:44:25 PM): :-*
kayla_princess94 (10/09/07 4:44:27 PM): :D
kayla_princess94 (10/09/07 4:44:36 PM): so wat did u do 2 day


lorne_a_20014

(10/09/07 4:45:07 PM): not a whole lot, i got bored so i went downtown and walked around a bit, that's where i just came from
kayla_princess94 (10/09/07 4:45:17 PM): lol


lorne_a_20014

(10/09/07 4:45:20 PM): it was boring downtown too so i came back lol


lorne_a_20014

(10/09/07 4:45:40 PM): i'm happy i did now because you're here:D:-*:x
kayla_princess94 (10/09/07 4:45:51 PM): :Dme 2
kayla_princess94 (10/09/07 4:46:00 PM): so u didnt find a new job yet huh


lorne_a_20014

(10/09/07 4:46:26 PM): no not yet, and that reminds me, i have to make a call really quick, hang on precious
kayla_princess94 (10/09/07 4:46:33 PM): k


lorne_a_20014

(10/09/07 4:47:45 PM): ok, i had to call about that job i applied for yesterday


lorne_a_20014

(10/09/07 4:48:12 PM): they had to wait 24 to 48 hours for my application to be processed
kayla_princess94 (10/09/07 4:48:19 PM): o
kayla_princess94 (10/09/07 4:48:23 PM): so wat they say
kayla_princess94 (10/09/07 4:48:27 PM): u get it


lorne_a_20014

(10/09/07 4:48:47 PM): they haven't got my application processed yet so i have to check back tomorrow lol
kayla_princess94 (10/09/07 4:48:55 PM): lol


lorne_a_20014

(10/09/07 4:49:17 PM): but they have me on the top of the list because of my experience i have:D
kayla_princess94 (10/09/07 4:49:25 PM): YAY


lorne_a_20014

(10/09/07 4:49:33 PM): yeah, that's what i'm saying lol


lorne_a_20014

(10/09/07 4:50:19 PM): and if i get the job then i work 10 hours a day, monday through thursday from 6:30 in the morning to 5:00 in the afternoon and have friday saturday and sunday off
kayla_princess94 (10/09/07 4:50:36 PM): wow
kayla_princess94 (10/09/07 4:50:40 PM): kewl


lorne_a_20014

(10/09/07 4:50:46 PM): yeah, i love it like that lol


lorne_a_20014

(10/09/07 4:51:13 PM): so precious, how do you like being able to see me in the day light?lol
kayla_princess94 (10/09/07 4:51:23 PM): lol
kayla_princess94 (10/09/07 4:51:24 PM): kewl


lorne_a_20014

(10/09/07 4:51:32 PM): is it better than at night?
kayla_princess94 (10/09/07 4:51:41 PM): yeah not so dark


lorne_a_20014

(10/09/07 4:52:07 PM): do you want me to get a light so i can put in front of me on thursday when i get my check?
kayla_princess94 (10/09/07 4:52:22 PM): yeah if u want 2


lorne_a_20014

(10/09/07 4:52:39 PM): you'll be able to see my penis better if i do lol:\">
kayla_princess94 (10/09/07 4:53:05 PM): lol yeah


lorne_a_20014

(10/09/07 4:53:13 PM): would that make you happy?lol
kayla_princess94 (10/09/07 4:53:19 PM): yeah


lorne_a_20014

(10/09/07 4:53:31 PM): ok, i'll get a light then lol


lorne_a_20014

(10/09/07 4:53:34 PM): :-*
kayla_princess94 (10/09/07 4:53:35 PM): k


lorne_a_20014

(10/09/07 4:53:46 PM): i wish i could see you right now
kayla_princess94 (10/09/07 4:54:02 PM): yeah me 2


lorne_a_20014

(10/09/07 4:54:17 PM): so you did go to school today right?
kayla_princess94 (10/09/07 4:54:28 PM): no


lorne_a_20014

(10/09/07 4:54:42 PM): oh, how long have you been on here waiting for me?
kayla_princess94 (10/09/07 4:54:56 PM): not that long just a few min


lorne_a_20014

(10/09/07 4:55:00 PM): oh


lorne_a_20014

(10/09/07 4:55:07 PM): so what else have you been doing today?
kayla_princess94 (10/09/07 4:55:21 PM): not much bein lazy lol


lorne_a_20014

(10/09/07 4:55:25 PM): lol


lorne_a_20014

(10/09/07 4:55:38 PM): it's your week off, you deserve to be lazy lol
kayla_princess94 (10/09/07 4:55:48 PM): yeah:D


lorne_a_20014

(10/09/07 4:56:01 PM): did you think about me while you were being lazy?
kayla_princess94 (10/09/07 4:56:08 PM): of course


lorne_a_20014

(10/09/07 4:56:13 PM): :D
kayla_princess94 (10/09/07 4:56:15 PM): :D


lorne_a_20014

(10/09/07 4:56:19 PM): what did you think about?
kayla_princess94 (10/09/07 4:57:15 PM): hmmm o just that i cant wait till i get 2 meet u and other stuff


lorne_a_20014

(10/09/07 4:57:32 PM): and what other stuff??lol;;)
kayla_princess94 (10/09/07 4:57:54 PM): well i was thinkin bout the bubble bath lol


lorne_a_20014

(10/09/07 4:58:00 PM): :D


lorne_a_20014

(10/09/07 4:58:08 PM): tell me what your thoughts were
kayla_princess94 (10/09/07 4:58:45 PM): well i was thinkin cuz c when i take a bubble bath i like 2 stay in there a really long time is that ok


lorne_a_20014

(10/09/07 4:59:03 PM): yes it is as long as you don't mind that im in there with you lol
kayla_princess94 (10/09/07 4:59:30 PM): no but i didnt know if u wuld wanna stay in the bubble bath 4 a long time


lorne_a_20014

(10/09/07 5:00:05 PM): as long as i have you in there with me i wont mind at all.........it will be ALOT of fun:D:-*:x
kayla_princess94 (10/09/07 5:00:14 PM): kewl
kayla_princess94 (10/09/07 5:00:18 PM): :D
kayla_princess94 (10/09/07 5:00:22 PM): :-*


lorne_a_20014

(10/09/07 5:00:44 PM): what are we going to do in there for a long time though?lol


lorne_a_20014

(10/09/07 5:00:48 PM): ;;)
kayla_princess94 (10/09/07 5:01:02 PM): well u just lay in there and soak silly


lorne_a_20014

(10/09/07 5:01:13 PM): no touching??
kayla_princess94 (10/09/07 5:01:25 PM): o yeah u will b there


lorne_a_20014

(10/09/07 5:01:43 PM): yeah lol
kayla_princess94 (10/09/07 5:01:49 PM): lol


lorne_a_20014

(10/09/07 5:02:01 PM): so how much touching?


lorne_a_20014

(10/09/07 5:02:06 PM): :D
kayla_princess94 (10/09/07 5:02:15 PM): as much as we want:D


lorne_a_20014

(10/09/07 5:02:21 PM): :D


lorne_a_20014

(10/09/07 5:02:37 PM): what do you want to touch on me the most?
kayla_princess94 (10/09/07 5:02:56 PM): hmm let me think:-?
kayla_princess94 (10/09/07 5:03:07 PM): o o wait i know


lorne_a_20014

(10/09/07 5:03:10 PM): lol
kayla_princess94 (10/09/07 5:03:15 PM): ur hand
kayla_princess94 (10/09/07 5:03:20 PM): lol
kayla_princess94 (10/09/07 5:03:24 PM): j/k


lorne_a_20014

(10/09/07 5:03:30 PM): hmmm.........that's not quite what i was expecting lol
kayla_princess94 (10/09/07 5:03:34 PM): lol
kayla_princess94 (10/09/07 5:03:39 PM): i was just kidding


lorne_a_20014

(10/09/07 5:03:51 PM): ok, so what do you want to touch on me the most?lol
kayla_princess94 (10/09/07 5:04:05 PM): ur penis:\">


lorne_a_20014

(10/09/07 5:04:11 PM): :D


lorne_a_20014

(10/09/07 5:04:27 PM): and how much are you going to touch my penis??:D
kayla_princess94 (10/09/07 5:04:55 PM): as much as i want:D


lorne_a_20014

(10/09/07 5:05:00 PM): :D


lorne_a_20014

(10/09/07 5:05:13 PM): and how much do you want to touch my penis??lol
kayla_princess94 (10/09/07 5:05:30 PM): LOTS


lorne_a_20014

(10/09/07 5:05:34 PM): :D


lorne_a_20014

(10/09/07 5:05:54 PM): how anxious are you for me to touch your vagina?
kayla_princess94 (10/09/07 5:06:07 PM): :\">
kayla_princess94 (10/09/07 5:06:16 PM): :D


lorne_a_20014

(10/09/07 5:06:17 PM): well??lol
kayla_princess94 (10/09/07 5:06:26 PM): i cant wait
kayla_princess94 (10/09/07 5:06:31 PM): :\">


lorne_a_20014

(10/09/07 5:06:33 PM): :D


lorne_a_20014

(10/09/07 5:06:41 PM): :-*:x
kayla_princess94 (10/09/07 5:06:50 PM): :-*


lorne_a_20014

(10/09/07 5:06:57 PM): how anxious are you for me to stick my penis in your vagina??


lorne_a_20014

(10/09/07 5:07:01 PM): ;;)
kayla_princess94 (10/09/07 5:07:19 PM): i cant wait:\">


lorne_a_20014

(10/09/07 5:07:24 PM): :D


lorne_a_20014

(10/09/07 5:07:29 PM): :-*:x


lorne_a_20014

(10/09/07 5:07:35 PM): me either
kayla_princess94 (10/09/07 5:07:42 PM): :D
kayla_princess94 (10/09/07 5:07:46 PM): :-*


lorne_a_20014

(10/09/07 5:07:53 PM): i wish i was sticking it in you right now lol
kayla_princess94 (10/09/07 5:08:01 PM): yeah me 2


lorne_a_20014

(10/09/07 5:08:05 PM): :D


lorne_a_20014

(10/09/07 5:08:27 PM): do you want to look at my penis for a few minutes?
kayla_princess94 (10/09/07 5:08:34 PM): k


lorne_a_20014

(10/09/07 5:08:59 PM): how's that for a view?


lorne_a_20014

(10/09/07 5:09:00 PM): lol


lorne_a_20014

(10/09/07 5:09:43 PM): you must be staring at it, you haven't replied to me yet lol
kayla_princess94 (10/09/07 5:09:45 PM): daddy


lorne_a_20014

(10/09/07 5:09:50 PM): oh


lorne_a_20014

(10/09/07 5:09:59 PM): is he there now?
kayla_princess94 (10/09/07 5:15:31 PM): k


lorne_a_20014

(10/09/07 5:16:01 PM): did you put the cam down really fast when he walked in?lol
kayla_princess94 (10/09/07 5:16:37 PM): he didnt walk in he yelled at me 2 come here lol but i put it down anyways


lorne_a_20014

(10/09/07 5:16:45 PM): good idea lol
kayla_princess94 (10/09/07 5:16:55 PM): yep;)


lorne_a_20014

(10/09/07 5:17:10 PM): so how do you like the view right now?:\">
kayla_princess94 (10/09/07 5:17:19 PM): i can c it better


lorne_a_20014

(10/09/07 5:17:36 PM): does that mean you like looking at it alot right now?lol


lorne_a_20014

(10/09/07 5:17:40 PM): :D
kayla_princess94 (10/09/07 5:17:54 PM): yeah


lorne_a_20014

(10/09/07 5:17:59 PM): :D


lorne_a_20014

(10/09/07 5:18:20 PM): which would you rather have it in right now? your mouth or your vagina?
kayla_princess94 (10/09/07 5:18:32 PM): idk


lorne_a_20014

(10/09/07 5:18:54 PM): i'm guessing in your vagina lol


lorne_a_20014

(10/09/07 5:18:58 PM): :D
kayla_princess94 (10/09/07 5:19:07 PM): umm yeah


lorne_a_20014

(10/09/07 5:19:25 PM): are you anxious to have it in your mouth too though?
kayla_princess94 (10/09/07 5:19:42 PM): yeah


lorne_a_20014

(10/09/07 5:19:47 PM): :D
kayla_princess94 (10/09/07 5:20:01 PM): how come u always ask me bout that stuff everyday


lorne_a_20014

(10/09/07 5:20:34 PM): just because i love thinking about that stuff with you........because of the way i feel about you
kayla_princess94 (10/09/07 5:21:02 PM): k


lorne_a_20014

(10/09/07 5:21:17 PM): do you want me to stop talking about it for a bit?
kayla_princess94 (10/09/07 5:21:27 PM): mayb


lorne_a_20014

(10/09/07 5:22:05 PM): ok, we'll talk about something else right now..........we're NOT talking about any red bmw though because then you forget all about me:(
kayla_princess94 (10/09/07 5:22:19 PM): lol
kayla_princess94 (10/09/07 5:22:23 PM): k
kayla_princess94 (10/09/07 5:22:27 PM): now red bmw


lorne_a_20014

(10/09/07 5:22:42 PM): NO red bmw right now:-P
kayla_princess94 (10/09/07 5:23:03 PM): yeah i meant no
kayla_princess94 (10/09/07 5:23:05 PM): lol


lorne_a_20014

(10/09/07 5:23:07 PM): ok lol


lorne_a_20014

(10/09/07 5:23:12 PM): :-*
kayla_princess94 (10/09/07 5:23:38 PM): :-*


lorne_a_20014

(10/09/07 5:23:40 PM): what do you want for your first baby when we have a baby? a boy or a girl?
kayla_princess94 (10/09/07 5:23:52 PM): hmm
kayla_princess94 (10/09/07 5:23:57 PM): a girl


lorne_a_20014

(10/09/07 5:24:01 PM): ok


lorne_a_20014

(10/09/07 5:24:08 PM): what do you want to name her?


lorne_a_20014

(10/09/07 5:24:19 PM): we already agreed on this once i think


lorne_a_20014

(10/09/07 5:24:33 PM): we were gonna name her hannah right? and you get to name the boy
kayla_princess94 (10/09/07 5:24:39 PM): yeah
kayla_princess94 (10/09/07 5:24:49 PM): where u get that name
kayla_princess94 (10/09/07 5:24:53 PM): hanna
kayla_princess94 (10/09/07 5:24:56 PM): hannah


lorne_a_20014

(10/09/07 5:25:16 PM): i don't know, i just heard it one day and i liked it
kayla_princess94 (10/09/07 5:25:25 PM): its real pretty


lorne_a_20014

(10/09/07 5:25:30 PM): yeah it is


lorne_a_20014

(10/09/07 5:26:14 PM): so isn't Kayla, but there's only ONE Kayla in the world that means the world to me and that's the way i want to keep it@};-:-*:x
kayla_princess94 (10/09/07 5:26:26 PM): awww
kayla_princess94 (10/09/07 5:26:36 PM): hannah wat


lorne_a_20014

(10/09/07 5:26:58 PM): hmmm.........how about hannah nicole? that sounds pretty
kayla_princess94 (10/09/07 5:27:07 PM): yeah that is pretty


lorne_a_20014

(10/09/07 5:27:22 PM): do you have an idea for her middle name?
kayla_princess94 (10/09/07 5:27:41 PM): hmm idk my middle name is 4 my grandmother


lorne_a_20014

(10/09/07 5:28:04 PM): do you want to name her hannah marie?
kayla_princess94 (10/09/07 5:28:17 PM): no not really


lorne_a_20014

(10/09/07 5:28:20 PM): ok lol
kayla_princess94 (10/09/07 5:28:38 PM): my mom name kelly hannah kelly sound dumb lol
kayla_princess94 (10/09/07 5:28:46 PM): really dumb


lorne_a_20014

(10/09/07 5:28:57 PM): yeah, that one didn't sound good lol


lorne_a_20014

(10/09/07 5:29:17 PM): my moms name is gwendolyn, hannah gwendolyn.............NOOOOOOOOOOOOO lol
kayla_princess94 (10/09/07 5:29:24 PM): lol]
kayla_princess94 (10/09/07 5:29:33 PM): gwendolyn sounds kewl
kayla_princess94 (10/09/07 5:29:38 PM): but hot with hannah
kayla_princess94 (10/09/07 5:29:40 PM): not


lorne_a_20014

(10/09/07 5:29:44 PM): right lol


lorne_a_20014

(10/09/07 5:29:50 PM): i was just gonna say that lol
kayla_princess94 (10/09/07 5:30:28 PM): k then i guess hannah nicole
kayla_princess94 (10/09/07 5:30:31 PM): i like that


lorne_a_20014

(10/09/07 5:30:47 PM): ok, good, because i like that too, i think it sounds pretty together
kayla_princess94 (10/09/07 5:30:55 PM): yep


lorne_a_20014

(10/09/07 5:31:06 PM): unless you want to name her helga bertha lol
kayla_princess94 (10/09/07 5:31:13 PM): huh


lorne_a_20014

(10/09/07 5:31:19 PM): i was kidding lol
kayla_princess94 (10/09/07 5:31:26 PM): good


lorne_a_20014

(10/09/07 5:31:29 PM): lol


lorne_a_20014

(10/09/07 5:31:34 PM): :-*


lorne_a_20014

(10/09/07 5:31:57 PM): ok, now what about our baby boy?
kayla_princess94 (10/09/07 5:32:04 PM): hmm
kayla_princess94 (10/09/07 5:32:10 PM): how bout lorne


lorne_a_20014

(10/09/07 5:32:15 PM): NOOOOOOOOOOOO


lorne_a_20014

(10/09/07 5:32:16 PM): lol


lorne_a_20014

(10/09/07 5:32:20 PM): i don't like my name lol
kayla_princess94 (10/09/07 5:32:30 PM): i dont like mine
kayla_princess94 (10/09/07 5:32:34 PM): lol


lorne_a_20014

(10/09/07 5:32:36 PM): i love yours
kayla_princess94 (10/09/07 5:32:44 PM): i like lorne wats wrong with it


lorne_a_20014

(10/09/07 5:33:13 PM): it's just not a name that is out there too much, it's too different
kayla_princess94 (10/09/07 5:33:28 PM): hmm well wats a good 1


lorne_a_20014

(10/09/07 5:33:44 PM): you get to choose, it just can't be lorne lol
kayla_princess94 (10/09/07 5:33:50 PM): k
kayla_princess94 (10/09/07 5:34:04 PM): my daddys name is brad and thats dumb name


lorne_a_20014

(10/09/07 5:34:49 PM): that's not a dumb name, and i'd like to name him after your dad, i never really had a dad so i think that would be really cool
kayla_princess94 (10/09/07 5:35:03 PM): u never had a daddy
kayla_princess94 (10/09/07 5:35:04 PM): wat


lorne_a_20014

(10/09/07 5:36:11 PM): my dad left my mom with us 6 kids when i was 2 yrs old, she met another guy when i was 3 yrs old and was with him for 27 yrs but we didn't move in with him until i was 9 yrs old and they broke up when i was 30 because he cheated on her


lorne_a_20014

(10/09/07 5:36:30 PM): i never even seen my real dad until i was 21 yrs old
kayla_princess94 (10/09/07 5:36:44 PM): wow


lorne_a_20014

(10/09/07 5:37:16 PM): yeah, i have a very strong mother, she raised all 6 of us by herself and my dad never even helped at all


lorne_a_20014

(10/09/07 5:37:34 PM): never even sent us any birthday cards or christmas presents
kayla_princess94 (10/09/07 5:37:43 PM): :(


lorne_a_20014

(10/09/07 5:38:11 PM): it's alright though, i think i'm alot better person because i was raised just by my mother
kayla_princess94 (10/09/07 5:38:24 PM): i bet shes real nice


lorne_a_20014

(10/09/07 5:38:35 PM): i love her ALOT
kayla_princess94 (10/09/07 5:38:41 PM): aww


lorne_a_20014

(10/09/07 5:38:52 PM): she's very special
kayla_princess94 (10/09/07 5:39:01 PM): where she live


lorne_a_20014

(10/09/07 5:39:06 PM): maine


lorne_a_20014

(10/09/07 5:39:14 PM): that's where i just moved from


lorne_a_20014

(10/09/07 5:39:28 PM): i've only been in nashville for about 7 weeks now
kayla_princess94 (10/09/07 5:39:43 PM): u never get 2 c her now:(


lorne_a_20014

(10/09/07 5:39:56 PM): no, but i talk to her alot on the phone though


lorne_a_20014

(10/09/07 5:40:35 PM): she's going to come down here and visit me sometime, probably in the spring because that's when i asked her to come visit me, she wants to see nashville
kayla_princess94 (10/09/07 5:40:47 PM): kewl


lorne_a_20014

(10/09/07 5:41:11 PM): i can't wait for another 4 1/2 yrs though


lorne_a_20014

(10/09/07 5:41:26 PM): then she'll get to meet you and her new baby granddaughter
kayla_princess94 (10/09/07 5:41:33 PM): aww
kayla_princess94 (10/09/07 5:41:41 PM): yeah:D


lorne_a_20014

(10/09/07 5:41:48 PM): :-*:x
kayla_princess94 (10/09/07 5:41:52 PM): hope she likes me


lorne_a_20014

(10/09/07 5:42:11 PM): i know she will, you're too precious to not like@};-
kayla_princess94 (10/09/07 5:42:23 PM): aww how sweet
kayla_princess94 (10/09/07 5:42:28 PM): :\">


lorne_a_20014

(10/09/07 5:42:45 PM): i love you my precious princess@};->:D<:-*:x
kayla_princess94 (10/09/07 5:42:54 PM): i luv u


lorne_a_20014

(10/09/07 5:43:00 PM): :D
kayla_princess94 (10/09/07 5:43:01 PM): :x:-*
kayla_princess94 (10/09/07 5:43:12 PM): brb


lorne_a_20014

(10/09/07 5:43:17 PM): ok


lorne_a_20014

(10/09/07 5:44:08 PM): brb, need coffee and i have to heat it up


lorne_a_20014

(10/09/07 5:46:18 PM): back
kayla_princess94 (10/09/07 5:46:34 PM): k back


lorne_a_20014

(10/09/07 5:46:39 PM): :-*
kayla_princess94 (10/09/07 5:46:53 PM): so how u meet ur daddy when u was 21


lorne_a_20014

(10/09/07 5:48:02 PM): because my grandmother died (my dads mom) and she always came and visited us and baught us birthday presents and christmas presents so i went to her funeral and that's where i met him for the first time
kayla_princess94 (10/09/07 5:48:15 PM): wow


lorne_a_20014

(10/09/07 5:48:22 PM): yup


lorne_a_20014

(10/09/07 5:48:42 PM): i was in the air force in alaska when she died so i had to come back from there


lorne_a_20014

(10/09/07 5:48:58 PM): i think i came back for 2 weeks then i went back to alaska
kayla_princess94 (10/09/07 5:49:08 PM): wow u was in alaska
kayla_princess94 (10/09/07 5:49:10 PM): kewl


lorne_a_20014

(10/09/07 5:49:14 PM): yup


lorne_a_20014

(10/09/07 5:49:26 PM): the only state i haven't been in is hawaii
kayla_princess94 (10/09/07 5:49:36 PM): no way


lorne_a_20014

(10/09/07 5:49:47 PM): that's where you and me are going on our honey moon
kayla_princess94 (10/09/07 5:49:56 PM): :D


lorne_a_20014

(10/09/07 5:50:07 PM): :-*:x
kayla_princess94 (10/09/07 5:50:11 PM): how u get 2 go 2 all the states


lorne_a_20014

(10/09/07 5:51:54 PM): because when i was growing up we went on a vacation to florida and drove there and i've driven from california to maine with my mom and aunt and uncle when i was 17 and i've driven from washington to maine when i was 30 and i also use to drive a big 18 wheeler truck
kayla_princess94 (10/09/07 5:52:20 PM): u did


lorne_a_20014

(10/09/07 5:52:23 PM): yup
kayla_princess94 (10/09/07 5:52:39 PM): wow wish i culd go all them places ur lucky


lorne_a_20014

(10/09/07 5:53:08 PM): we'll go to all of those places if i make it in country music because we'll have to tour the whole united states


lorne_a_20014

(10/09/07 5:53:13 PM): :-*
kayla_princess94 (10/09/07 5:53:34 PM): :D
kayla_princess94 (10/09/07 5:53:38 PM): kewl


lorne_a_20014

(10/09/07 5:54:03 PM): i wish i could take you to all of those places right now, just me and you:x
kayla_princess94 (10/09/07 5:54:17 PM): yeah that wuld b so kewl


lorne_a_20014

(10/09/07 5:54:38 PM): yeah it would, and we'd be able to sleep with eachother every night too:D
kayla_princess94 (10/09/07 5:54:51 PM): yeah:D


lorne_a_20014

(10/09/07 5:55:13 PM): but do you really want me to stick my penis in your vagina EVERY night??lol
kayla_princess94 (10/09/07 5:55:26 PM): every nite


lorne_a_20014

(10/09/07 5:55:31 PM): yeah
kayla_princess94 (10/09/07 5:55:39 PM): idk


lorne_a_20014

(10/09/07 5:55:53 PM): damn, i was hoping you'd say yes because i want to lol
kayla_princess94 (10/09/07 5:56:02 PM): k
kayla_princess94 (10/09/07 5:56:09 PM): every nite then


lorne_a_20014

(10/09/07 5:56:11 PM): :D


lorne_a_20014

(10/09/07 5:56:17 PM): :x
kayla_princess94 (10/09/07 5:56:17 PM): lol
kayla_princess94 (10/09/07 5:56:23 PM): :x


lorne_a_20014

(10/09/07 5:56:52 PM): so tell me honestly.......what are you thinking about while you're looking at my penis?lol
kayla_princess94 (10/09/07 5:57:08 PM): idk


lorne_a_20014

(10/09/07 5:57:18 PM): you must be thinking something lol
kayla_princess94 (10/09/07 5:57:28 PM): hmm
kayla_princess94 (10/09/07 5:57:37 PM): well


lorne_a_20014

(10/09/07 5:57:44 PM): :D
kayla_princess94 (10/09/07 5:57:45 PM): idk lol


lorne_a_20014

(10/09/07 5:57:53 PM): :-?


lorne_a_20014

(10/09/07 5:57:55 PM): lol
kayla_princess94 (10/09/07 5:58:11 PM): i was thinking bout that stuff u was telling me bout ur daddy and everything


lorne_a_20014

(10/09/07 5:58:20 PM): oh, ok
kayla_princess94 (10/09/07 5:58:21 PM): how come he never come c u
kayla_princess94 (10/09/07 5:58:25 PM): thats kinda mean


lorne_a_20014

(10/09/07 5:58:26 PM): :-*


lorne_a_20014

(10/09/07 5:58:37 PM): because he was selfish and didn't care


lorne_a_20014

(10/09/07 5:58:47 PM): so now he doesn't have anyone that cares about him
kayla_princess94 (10/09/07 5:58:57 PM): really


lorne_a_20014

(10/09/07 5:59:01 PM): yup
kayla_princess94 (10/09/07 5:59:03 PM): that kinda sad


lorne_a_20014

(10/09/07 5:59:13 PM): nobody ever goes to see him that i know about


lorne_a_20014

(10/09/07 5:59:21 PM): i haven't seen him in over 10 yrs
kayla_princess94 (10/09/07 5:59:48 PM): i think i wuld miss my daddy if i didnt c him 4 that long


lorne_a_20014

(10/09/07 6:00:23 PM): well yeah, but your daddy is there with you all the time and he actually cares about you and loves you, my dad never did
kayla_princess94 (10/09/07 6:00:39 PM): aww how culd u daddy not luv u


lorne_a_20014

(10/09/07 6:00:48 PM): because he's an idiot lol
kayla_princess94 (10/09/07 6:00:57 PM): well i luv u


lorne_a_20014

(10/09/07 6:01:03 PM): :D


lorne_a_20014

(10/09/07 6:01:09 PM): :-*:x
kayla_princess94 (10/09/07 6:01:11 PM): :x


lorne_a_20014

(10/09/07 6:01:20 PM): i love you too my precious princess@};-
kayla_princess94 (10/09/07 6:01:29 PM): :D


lorne_a_20014

(10/09/07 6:01:41 PM): i wish you were here with me right now too
kayla_princess94 (10/09/07 6:01:50 PM): i wish i was 2


lorne_a_20014

(10/09/07 6:01:56 PM): :D


lorne_a_20014

(10/09/07 6:02:08 PM): we both know what we'd be doing if you were too lol
kayla_princess94 (10/09/07 6:02:16 PM): lol
kayla_princess94 (10/09/07 6:02:17 PM): yeah


lorne_a_20014

(10/09/07 6:02:23 PM): :D


lorne_a_20014

(10/09/07 6:02:27 PM): :x
kayla_princess94 (10/09/07 6:02:37 PM): :x


lorne_a_20014

(10/09/07 6:02:50 PM): precious, my penis is cold, will you come warm it up for me?
kayla_princess94 (10/09/07 6:02:56 PM): lol
kayla_princess94 (10/09/07 6:03:04 PM): put sum cloths on lol


lorne_a_20014

(10/09/07 6:03:16 PM): nahhh......then it gets too hot lol
kayla_princess94 (10/09/07 6:03:25 PM): lol


lorne_a_20014

(10/09/07 6:03:36 PM): you don't really want me to put any clothes on anyway huh?lol
kayla_princess94 (10/09/07 6:03:43 PM): lol
kayla_princess94 (10/09/07 6:03:51 PM): hold on brb


lorne_a_20014

(10/09/07 6:03:54 PM): ok


lorne_a_20014

(10/09/07 6:04:21 PM): i'll brb too, i'm gonna heat me up some spaghetti that i made last night
kayla_princess94 (10/09/07 6:05:09 PM): mmmmm


lorne_a_20014

(10/09/07 6:06:23 PM): back for a couple secs
kayla_princess94 (10/09/07 6:06:29 PM): i gotta go help my mom


lorne_a_20014

(10/09/07 6:06:31 PM): it's in the microwave right now


lorne_a_20014

(10/09/07 6:06:33 PM): oh
kayla_princess94 (10/09/07 6:06:35 PM): :(


lorne_a_20014

(10/09/07 6:06:38 PM): :(
kayla_princess94 (10/09/07 6:06:46 PM): lol ill b back later


lorne_a_20014

(10/09/07 6:06:48 PM): what time will you be back on here?
kayla_princess94 (10/09/07 6:07:31 PM): well she wants me 2 help her cook and then were gona eat then ill have 2 help clean up so after that


lorne_a_20014

(10/09/07 6:07:41 PM): ok


lorne_a_20014

(10/09/07 6:07:58 PM): i love you my precious princess@};->:D<:-*:x
kayla_princess94 (10/09/07 6:08:06 PM): i luv u
kayla_princess94 (10/09/07 6:08:16 PM): :-*:x>:D<


lorne_a_20014

(10/09/07 6:08:18 PM): come back asap please?
kayla_princess94 (10/09/07 6:08:24 PM): k
kayla_princess94 (10/09/07 6:08:30 PM): i will


lorne_a_20014

(10/09/07 6:08:37 PM): don't forget to give your toy a kiss before you go lol
kayla_princess94 (10/09/07 6:09:03 PM): lol k
kayla_princess94 (10/09/07 6:09:04 PM): c ya in a bit


lorne_a_20014

(10/09/07 6:09:11 PM): ok, i love you


lorne_a_20014

(10/09/07 6:09:16 PM): delete your archives


lorne_a_20014

(10/09/07 8:43:52 PM): i miss my girl:-<


lorne_a_20014

(10/09/07 9:09:52 PM): well, i guess you're not going to come back on for a while precious and i'm getting bored so i'm going to go down town and do some karaoke for a bit, my cam is on for you, i love you@};->:D<:-*:x
kayla_princess94 (10/09/07 9:31:09 PM): i missed u:(
kayla_princess94 (10/09/07 9:37:24 PM): k im gona go call jessie ttyl
kayla_princess94 (10/09/07 11:00:35 PM): ur still not back:(k im gona go call maria
kayla_princess94 (10/09/07 11:00:54 PM): ttyl:-*


lorne_a_20014

(10/10/07 12:17:38 AM): i'm here precious


lorne_a_20014

(10/10/07 12:17:42 AM): u here??


lorne_a_20014

(10/10/07 12:25:40 AM): li'm here precious


lorne_a_20014

(10/10/07 12:25:42 AM): hang on


lorne_a_20014

(10/10/07 12:25:47 AM): my cam is still on for you


lorne_a_20014

(10/10/07 12:26:02 AM): btw, i love you@};-:-*:x
kayla_princess94 (10/10/07 12:26:25 AM): i luv u


lorne_a_20014

(10/10/07 12:27:12 AM): my cam is still on for you precious


lorne_a_20014

(10/10/07 12:27:23 AM): i'm making me some french toast


lorne_a_20014

(10/10/07 12:27:25 AM): brb
kayla_princess94 (10/10/07 12:27:36 AM): k


lorne_a_20014

(10/10/07 12:29:47 AM): i love you
kayla_princess94 (10/10/07 12:29:56 AM): i luv u


lorne_a_20014

(10/10/07 12:30:22 AM): i missed you too, i didn't really think you were going to be gone for that long but when you were i got bored
kayla_princess94 (10/10/07 12:30:36 AM): aww sry


lorne_a_20014

(10/10/07 12:30:50 AM): what have you been doing?
kayla_princess94 (10/10/07 12:31:05 AM): talkin on the phone 2 my friends


lorne_a_20014

(10/10/07 12:31:20 AM): want a bite of my french toast?
kayla_princess94 (10/10/07 12:31:26 AM): mmmmm
kayla_princess94 (10/10/07 12:31:52 AM): yummy


lorne_a_20014

(10/10/07 12:31:53 AM): did you eat it?lol
kayla_princess94 (10/10/07 12:32:05 AM): yep
kayla_princess94 (10/10/07 12:32:09 AM): :D


lorne_a_20014

(10/10/07 12:32:20 AM): :-*


lorne_a_20014

(10/10/07 12:32:41 AM): you ate from my fork too
kayla_princess94 (10/10/07 12:32:43 AM): :x
kayla_princess94 (10/10/07 12:32:48 AM): yeah


lorne_a_20014

(10/10/07 12:33:16 AM): there, i'm done
kayla_princess94 (10/10/07 12:33:39 AM): u ate that fast lol u must of been hungry


lorne_a_20014

(10/10/07 12:34:03 AM): not really, just wanted to talk to you and not have you sit there just waiting and watching me eat lol
kayla_princess94 (10/10/07 12:34:13 AM): lol


lorne_a_20014

(10/10/07 12:34:36 AM): so who did you call for your friends? just jessie and maria?
kayla_princess94 (10/10/07 12:34:50 AM): yeah and haley 2


lorne_a_20014

(10/10/07 12:35:23 AM): shit, i tried clicking your picture back up so i could look at you and i was clicking my cam lol


lorne_a_20014

(10/10/07 12:35:25 AM): duh lol
kayla_princess94 (10/10/07 12:35:38 AM): lol


lorne_a_20014

(10/10/07 12:36:12 AM): there, now i have you up so i can look at your beautiful face@};-:x:D:-*
kayla_princess94 (10/10/07 12:36:26 AM): aww
kayla_princess94 (10/10/07 12:36:31 AM): :x


lorne_a_20014

(10/10/07 12:36:39 AM): so what did you girls talk about?lol


lorne_a_20014

(10/10/07 12:36:49 AM): let me guess, it had to be girly stuff lol
kayla_princess94 (10/10/07 12:36:58 AM): well ya


lorne_a_20014

(10/10/07 12:37:01 AM): lol


lorne_a_20014

(10/10/07 12:37:06 AM): did you talk about boys?
kayla_princess94 (10/10/07 12:37:12 AM): yeah


lorne_a_20014

(10/10/07 12:37:19 AM): ok, fill me in
kayla_princess94 (10/10/07 12:37:26 AM): nooo


lorne_a_20014

(10/10/07 12:37:31 AM): yup lol
kayla_princess94 (10/10/07 12:37:43 AM): its just girl stuff


lorne_a_20014

(10/10/07 12:38:04 AM): i know, but i want to know what was said about boys lol
kayla_princess94 (10/10/07 12:38:23 AM): just dumb stuff


lorne_a_20014

(10/10/07 12:38:29 AM): like??lol
kayla_princess94 (10/10/07 12:39:01 AM): idk just bout boys at school


lorne_a_20014

(10/10/07 12:39:12 AM): anything about dj?
kayla_princess94 (10/10/07 12:39:22 AM): no lol


lorne_a_20014

(10/10/07 12:39:25 AM): good


lorne_a_20014

(10/10/07 12:39:26 AM): lol


lorne_a_20014

(10/10/07 12:39:56 AM): ok, so obviously there was nothing said that is going to upset me so just tell me please??lol
kayla_princess94 (10/10/07 12:40:14 AM): it was just silly stuff


lorne_a_20014

(10/10/07 12:40:20 AM): so tell me lol


lorne_a_20014

(10/10/07 12:40:26 AM): please??


lorne_a_20014

(10/10/07 12:40:29 AM): ;;)
kayla_princess94 (10/10/07 12:40:52 AM): they was just talking bout there bf


lorne_a_20014

(10/10/07 12:41:04 AM): and??lol


lorne_a_20014

(10/10/07 12:41:47 AM): why don't you want to tell me?
kayla_princess94 (10/10/07 12:42:14 AM): cuz its silly
kayla_princess94 (10/10/07 12:42:17 AM): y u wanna know


lorne_a_20014

(10/10/07 12:42:47 AM): because it's part of you that i want to know more, it's part of your life and what goes on in your life@};-


lorne_a_20014

(10/10/07 12:43:52 AM): you're not talking to me??
kayla_princess94 (10/10/07 12:43:57 AM): k


lorne_a_20014

(10/10/07 12:44:05 AM): ok, now you are lol
kayla_princess94 (10/10/07 12:44:09 AM): maria talked bout her bf
kayla_princess94 (10/10/07 12:44:36 AM): jessie talked bout how said she is cuz her bf broke up with her
kayla_princess94 (10/10/07 12:44:46 AM): haley talked bout a boy she likes
kayla_princess94 (10/10/07 12:44:48 AM): thats it


lorne_a_20014

(10/10/07 12:44:52 AM): oh


lorne_a_20014

(10/10/07 12:45:11 AM): are you upset because you couldn't say anything about me?
kayla_princess94 (10/10/07 12:45:35 AM): kinda


lorne_a_20014

(10/10/07 12:45:50 AM): i'm sorry precious@};->:D<:-*
kayla_princess94 (10/10/07 12:46:15 AM): maria asked me if i like any1 and i had 2 say no:(


lorne_a_20014

(10/10/07 12:46:29 AM): i'm sorry@};-


lorne_a_20014

(10/10/07 12:47:23 AM): it's going to be a little hard for us to do this for as long as we have to do it for but we both kind of knew that to begin with............are you sure you still want to do this with me?
kayla_princess94 (10/10/07 12:47:59 AM): y u change ur mind u dont want me 4 a gf


lorne_a_20014

(10/10/07 12:48:48 AM): no i didn't change my mind, i know for a fact that i want you........it's just going to be really hard on you because of all the friends you have around you having b/f's that they can talk about and you can't talk about me
kayla_princess94 (10/10/07 12:49:09 AM): its ok
kayla_princess94 (10/10/07 12:49:22 AM): i know i have the bestest bf in the world


lorne_a_20014

(10/10/07 12:49:33 AM): :-*:x


lorne_a_20014

(10/10/07 12:49:38 AM): i love you@};-
kayla_princess94 (10/10/07 12:49:47 AM): i luv u


lorne_a_20014

(10/10/07 12:50:21 AM): if you do change your mind precious i'll understand, it'll hurt for a while but i'll understand because i know it's going to be hard on you


lorne_a_20014

(10/10/07 12:51:04 AM): what are you thinking about right now?
kayla_princess94 (10/10/07 12:51:24 AM): that i luv u


lorne_a_20014

(10/10/07 12:51:41 AM): @};->:D<:-*:x


lorne_a_20014

(10/10/07 12:51:51 AM): i love you more:-P
kayla_princess94 (10/10/07 12:52:09 AM): nope
kayla_princess94 (10/10/07 12:52:22 AM): i luv u more than that infinty


lorne_a_20014

(10/10/07 12:52:44 AM): well i love you a trillion times a trillion times infinity lol
kayla_princess94 (10/10/07 12:52:59 AM): i luv u a zillion times that


lorne_a_20014

(10/10/07 12:53:11 AM): let's call it even on that, we love eachother the same amount ok?lol
kayla_princess94 (10/10/07 12:53:18 AM): k lol


lorne_a_20014

(10/10/07 12:53:30 AM): but i still love you more lol


lorne_a_20014

(10/10/07 12:53:34 AM): :-P
kayla_princess94 (10/10/07 12:53:51 AM): u u not fair


lorne_a_20014

(10/10/07 12:53:57 AM): :-*


lorne_a_20014

(10/10/07 12:54:44 AM): so what else did you talk about with the girl talk?lol


lorne_a_20014

(10/10/07 12:54:54 AM): you don't have to tell me if you don't want to precious


lorne_a_20014

(10/10/07 12:55:24 AM): i know you'll talk about some things with your friends that you wont want to tell me so it's ok if you don't want to tell me
kayla_princess94 (10/10/07 12:55:25 AM): clothes jewelry makeup


lorne_a_20014

(10/10/07 12:56:05 AM): i wish i could have you here with me right now:-<


lorne_a_20014

(10/10/07 12:56:38 AM): i'd have you sit in my lap so that i could just hug you tight and not let go for a few minutes
kayla_princess94 (10/10/07 12:56:40 AM): :x
kayla_princess94 (10/10/07 12:56:46 AM): aww


lorne_a_20014

(10/10/07 12:57:01 AM): i missed you when i went down town
kayla_princess94 (10/10/07 12:57:24 AM): wat did u do


lorne_a_20014

(10/10/07 12:57:45 AM): i sang 3 songs i think, there was a few other people there singing too
kayla_princess94 (10/10/07 12:57:56 AM): kewl wat u sing


lorne_a_20014

(10/10/07 12:59:18 AM): i sang \"making love out of nothing at all\" by air supply, the change by garth brooks and.........hmm........actually those were the only 2 songs i sang, i put another song up but the karaoke hostess skipped over me so that's when i decided to leave so i could come back here with you
kayla_princess94 (10/10/07 1:00:09 AM): whos air supply


lorne_a_20014

(10/10/07 1:00:11 AM): i thought about coming back sooner, i would have if i knew she was going to skip over me


lorne_a_20014

(10/10/07 1:00:28 AM): they're a group from the 1980's
kayla_princess94 (10/10/07 1:00:45 AM): o


lorne_a_20014

(10/10/07 1:00:54 AM): they use to be really really big and famous
kayla_princess94 (10/10/07 1:01:20 AM): never heard of them


lorne_a_20014

(10/10/07 1:01:37 AM): i didn't think you would, it was a long time ago


lorne_a_20014

(10/10/07 1:01:47 AM): doesn't really seem that long ago to me though lol
kayla_princess94 (10/10/07 1:02:10 AM): i think that was like b4 i was born


lorne_a_20014

(10/10/07 1:02:20 AM): i don't feel as old as i really am.......time goes by fast lol


lorne_a_20014

(10/10/07 1:02:52 AM): yes it was because you were born in..........1994 right?
kayla_princess94 (10/10/07 1:03:14 AM): yep


lorne_a_20014

(10/10/07 1:03:20 AM): :D


lorne_a_20014

(10/10/07 1:03:34 AM): april 10th of 1994


lorne_a_20014

(10/10/07 1:03:40 AM): i'm good huh?lol
kayla_princess94 (10/10/07 1:03:45 AM): yeah


lorne_a_20014

(10/10/07 1:03:51 AM): :-*
kayla_princess94 (10/10/07 1:03:54 AM): hey brb


lorne_a_20014

(10/10/07 1:03:58 AM): ok
kayla_princess94 (10/10/07 1:05:04 AM): i gotta go 2 bed:(


lorne_a_20014

(10/10/07 1:05:09 AM): :-<


lorne_a_20014

(10/10/07 1:05:23 AM): i knew i should have came back earlier:-<
kayla_princess94 (10/10/07 1:05:46 AM): i ll get on here b4 i leave in the morn
kayla_princess94 (10/10/07 1:05:48 AM): k


lorne_a_20014

(10/10/07 1:06:19 AM): ok, i'm thinking about going to a work today pay today place though so i can make a little money tomorrow, i'm not sure if i'm going to or not yet
kayla_princess94 (10/10/07 1:06:36 AM): k


lorne_a_20014

(10/10/07 1:06:49 AM): want to see it before you go to bed?
kayla_princess94 (10/10/07 1:07:17 AM): no i gotta go dad yelled at me
kayla_princess94 (10/10/07 1:07:26 AM): wanted 2 no y im up so late


lorne_a_20014

(10/10/07 1:07:31 AM): ok, i love you my precious princess@};-


lorne_a_20014

(10/10/07 1:07:39 AM): :-*:x
kayla_princess94 (10/10/07 1:07:43 AM): i luv u:x


lorne_a_20014

(10/10/07 1:07:44 AM): delete your archives
kayla_princess94 (10/10/07 1:07:49 AM): k


lorne_a_20014

(10/10/07 1:07:58 AM): tell me when they're deleted
kayla_princess94 (10/10/07 1:08:34 AM): k
kayla_princess94 (10/10/07 1:08:39 AM): done


lorne_a_20014

(10/10/07 1:08:42 AM): dream about us
kayla_princess94 (10/10/07 1:08:51 AM): k


lorne_a_20014

(10/10/07 1:08:51 AM): i love you@};-:-*:x
kayla_princess94 (10/10/07 1:09:01 AM): :x:-*luv u


lorne_a_20014

(10/10/07 1:09:03 AM): good night my precious princess@};-
kayla_princess94 (10/10/07 1:09:08 AM): nite


lorne_a_20014

(10/10/07 1:09:12 AM): :-<


lorne_a_20014

(10/10/07 1:09:58 AM): i miss you already@};-:-<


lorne_a_20014

(10/10/07 9:43:54 AM): good morning my precious princess@};-i love you@};->:D<:-*:x


lorne_a_20014

(10/10/07 9:47:33 AM): i'm here when you wake up precious@};-


lorne_a_20014

(10/10/07 10:21:53 AM): my cam is on for you precious, i have a water leak and the maintenance guys are suppose to be coming over so if i'm not able to get on the computer right away atleast you'll be able to see me, i love you@};-


lorne_a_20014

(10/10/07 11:41:12 AM): i guess my girl's not going to come online this morning:-<


lorne_a_20014

(10/10/07 6:41:43 PM): i've had a few beers precious and i'm telling you, right now it's killing me to not have you..........by the time i'm done drinking...........i'm gonna want you so bad it's not even going to be funny at all..........i pray that you'll be on here for me when i get back on here.................i love you my precious princess@};->:D<:-*:x
kayla_princess94 (10/10/07 8:53:05 PM): hi:x
kayla_princess94 (10/10/07 8:53:12 PM): missed u
kayla_princess94 (10/10/07 8:53:18 PM): :(


lorne_a_20014

(10/10/07 8:53:41 PM): i'm here.......i'm on the phone so don't leave
kayla_princess94 (10/10/07 8:53:46 PM): k


lorne_a_20014

(10/10/07 8:57:56 PM): baby i'm on the phone with mom so i might be a little bit ok? call jessie if you want ok?
kayla_princess94 (10/10/07 8:58:29 PM): k
kayla_princess94 (10/10/07 8:58:37 PM): good idea
kayla_princess94 (10/10/07 8:58:39 PM): luv ya


lorne_a_20014

(10/10/07 8:59:04 PM): i love you too my precious princess........talk VERY soon ok???
kayla_princess94 (10/10/07 8:59:21 PM): k


lorne_a_20014

(10/10/07 9:04:47 PM): do you want my cam on baby?
kayla_princess94 (10/10/07 9:05:09 PM): yeah


lorne_a_20014

(10/10/07 9:05:29 PM): i love you


lorne_a_20014

(10/10/07 9:10:57 PM): please tell me you're not on the phone precious??
kayla_princess94 (10/10/07 9:11:15 PM): hey yeah
kayla_princess94 (10/10/07 9:11:17 PM): lol


lorne_a_20014

(10/10/07 9:11:29 PM): do i have you to myself??
kayla_princess94 (10/10/07 9:11:48 PM): no lol


lorne_a_20014

(10/10/07 9:11:58 PM): :(


lorne_a_20014

(10/10/07 9:12:42 PM): are you on the phone with jessie?


lorne_a_20014

(10/10/07 9:13:25 PM): ??


lorne_a_20014

(10/10/07 9:13:44 PM): i wish you had a cam:-<


lorne_a_20014

(10/10/07 9:14:12 PM): are you on the phone with jessie??


lorne_a_20014

(10/10/07 9:15:44 PM): well you're on the phone so i guess i can go down town and do a little bit of karaoki then because you're not answering me
kayla_princess94 (10/10/07 9:15:48 PM): lol yeah
kayla_princess94 (10/10/07 9:15:54 PM): so i will get off
kayla_princess94 (10/10/07 9:15:56 PM): geez


lorne_a_20014

(10/10/07 9:16:01 PM): ty lol


lorne_a_20014

(10/10/07 9:16:20 PM): that's all i wanted was a little time with my baby lol


lorne_a_20014

(10/10/07 9:16:25 PM): :x
kayla_princess94 (10/10/07 9:16:26 PM): u can go if u want
kayla_princess94 (10/10/07 9:16:32 PM): :-*
kayla_princess94 (10/10/07 9:17:39 PM): :x


lorne_a_20014

(10/10/07 9:17:59 PM): i'm kind of upset about saying this but i really don't have much of a choice now because i didn't know if you were going to be here or not because you didn't come online around 7:30...........taylor called me and he said he wanted me to come down town and do some karaoke with him
kayla_princess94 (10/10/07 9:18:28 PM): sry


lorne_a_20014

(10/10/07 9:18:44 PM): you know i' have never been this way with any other girl that i have EVER been with
kayla_princess94 (10/10/07 9:19:02 PM): 4real


lorne_a_20014

(10/10/07 9:20:02 PM): yeah.........i've never trusted anyone this much and nobody's ever trusted me this much.............i REALLY think that we were made for eachother precious@};-:-*>:D<:x
kayla_princess94 (10/10/07 9:20:18 PM): :D


lorne_a_20014

(10/10/07 9:20:19 PM): i have NO worries with us at all and i love it
kayla_princess94 (10/10/07 9:20:38 PM): :-*:x
kayla_princess94 (10/10/07 9:20:52 PM): i luv u


lorne_a_20014

(10/10/07 9:20:54 PM): i am so in love with you Kayla Marie Armstrong@};-
kayla_princess94 (10/10/07 9:21:10 PM): :D


lorne_a_20014

(10/10/07 9:21:33 PM): not many days now and we'll be able to show eachother how much love we have for eachother in person


lorne_a_20014

(10/10/07 9:21:48 PM): i am so anxious to be with you
kayla_princess94 (10/10/07 9:21:50 PM): :D


lorne_a_20014

(10/10/07 9:21:52 PM): :x


lorne_a_20014

(10/10/07 9:22:23 PM): i know when i leave what's going to happen though and that makes me sad
kayla_princess94 (10/10/07 9:22:25 PM): me 2
kayla_princess94 (10/10/07 9:22:36 PM): wat


lorne_a_20014

(10/10/07 9:24:11 PM): i'm gonna miss you as soon as i leave and that actually is starting to hurt me inside so...........you have to turn the cam off when i leave so i know you're not watching me walk out the door.......that's something that's going to affect me alot because i never want you to see me walk out the door
kayla_princess94 (10/10/07 9:24:36 PM): k


lorne_a_20014

(10/10/07 9:25:01 PM): i'm mad right now baby
kayla_princess94 (10/10/07 9:25:08 PM): y u mad
kayla_princess94 (10/10/07 9:25:11 PM): u mad at me
kayla_princess94 (10/10/07 9:25:14 PM): wat i do


lorne_a_20014

(10/10/07 9:25:34 PM): because i can't have you here with me right now and that makes me mad


lorne_a_20014

(10/10/07 9:25:46 PM): more sad than mad i guess\


lorne_a_20014

(10/10/07 9:25:52 PM): :-<


lorne_a_20014

(10/10/07 9:26:27 PM): it's hard for me right now because i've been looking at your pic all day


lorne_a_20014

(10/10/07 9:26:33 PM): lthis one
kayla_princess94 (10/10/07 9:27:22 PM): aww dont b sad


lorne_a_20014

(10/10/07 9:27:59 PM): i can't help being sad.........i'm in love with you.....you can't expect me to not be sad\
kayla_princess94 (10/10/07 9:28:33 PM): it will b ok


lorne_a_20014

(10/10/07 9:28:51 PM): you're my life to me right now.........i hope you want to be because you are
kayla_princess94 (10/10/07 9:29:05 PM): yes
kayla_princess94 (10/10/07 9:29:14 PM): i luv u:x


lorne_a_20014

(10/10/07 9:29:43 PM): i love you so much that words can't even say how much i love you
kayla_princess94 (10/10/07 9:29:53 PM): :)


lorne_a_20014

(10/10/07 9:30:21 PM): and i'm sad about that too because i can't show you how much until another week and 2 days:-<


lorne_a_20014

(10/10/07 9:30:53 PM): all i want to really do right now is get in bed with you and hold you all night:-<
kayla_princess94 (10/10/07 9:31:07 PM): :)
kayla_princess94 (10/10/07 9:31:13 PM): ur so sweet


lorne_a_20014

(10/10/07 9:31:51 PM): it's not being sweet..........i'm being honest...........i'm in love with you Kayla...........
kayla_princess94 (10/10/07 9:32:03 PM): :D


lorne_a_20014

(10/10/07 9:32:35 PM): i wish you were here with me right now
kayla_princess94 (10/10/07 9:32:44 PM): me 2


lorne_a_20014

(10/10/07 9:32:56 PM): brb
kayla_princess94 (10/10/07 9:33:05 PM): y u drinking beer u gona b sick again


lorne_a_20014

(10/10/07 9:33:55 PM): no i'm not...........i only get sick when i drink too much of it


lorne_a_20014

(10/10/07 9:34:28 PM): i can't drink much anyway because i have to meet taylor down town to do karaoke remember?
kayla_princess94 (10/10/07 9:34:37 PM): yeah


lorne_a_20014

(10/10/07 9:34:58 PM): which reminds me i have to go soon:-<


lorne_a_20014

(10/10/07 9:35:12 PM): why didn't you come on here earlier precious?
kayla_princess94 (10/10/07 9:35:33 PM): i was hanging out with jessie and maria
kayla_princess94 (10/10/07 9:35:35 PM): all day


lorne_a_20014

(10/10/07 9:35:39 PM): oh
kayla_princess94 (10/10/07 9:35:42 PM): wat did u do 2day


lorne_a_20014

(10/10/07 9:36:09 PM): ok, i'm good with that as long as you were with them two lol


lorne_a_20014

(10/10/07 9:37:10 PM): i talked on the phone to tony and mom and the guys came here to clean up the water that was all over my floor and carpet.......they'll be back in a few days to fix the rest of the carpet


lorne_a_20014

(10/10/07 9:37:41 PM): and i have a job interview at 9 in the morning so you need to make sure i'm awake


lorne_a_20014

(10/10/07 9:37:50 PM): at 7:30
kayla_princess94 (10/10/07 9:37:51 PM): YAY
kayla_princess94 (10/10/07 9:37:57 PM): wow
kayla_princess94 (10/10/07 9:38:01 PM): the job with poop


lorne_a_20014

(10/10/07 9:38:14 PM): nope, a construction job


lorne_a_20014

(10/10/07 9:38:32 PM): and YOU need to make sure i'm awake because that's what g/f's do
kayla_princess94 (10/10/07 9:38:39 PM): k


lorne_a_20014

(10/10/07 9:38:41 PM): at 7:30
kayla_princess94 (10/10/07 9:38:48 PM): k


lorne_a_20014

(10/10/07 9:38:58 PM): in other words, you need to call me at 7:30 in the morning
kayla_princess94 (10/10/07 9:39:13 PM): k ill try but wat if i sleep in


lorne_a_20014

(10/10/07 9:39:21 PM): set your alarm
kayla_princess94 (10/10/07 9:39:27 PM): k


lorne_a_20014

(10/10/07 9:39:33 PM): promise??
kayla_princess94 (10/10/07 9:39:39 PM): wait my parents wont b gone yet


lorne_a_20014

(10/10/07 9:39:45 PM): i CAN'T miss this interview


lorne_a_20014

(10/10/07 9:40:01 PM): sneak the phone in your room........you can do that
kayla_princess94 (10/10/07 9:40:08 PM): k


lorne_a_20014

(10/10/07 9:40:14 PM): promise??
kayla_princess94 (10/10/07 9:40:26 PM): k i promise


lorne_a_20014

(10/10/07 9:40:39 PM): ty my precious princess@};-


lorne_a_20014

(10/10/07 9:40:49 PM): :-*:x
kayla_princess94 (10/10/07 9:40:55 PM): boy i hope i wake up u will b mad at me if i dont


lorne_a_20014

(10/10/07 9:41:18 PM): you'll wake up because it's in your head and you'll set your alarm


lorne_a_20014

(10/10/07 9:41:53 PM): this job means that i'll be able to come get you because it's the money that it will cost for the gas and stuff
kayla_princess94 (10/10/07 9:42:09 PM): k
kayla_princess94 (10/10/07 9:42:17 PM): how come u dont set ur alarm


lorne_a_20014

(10/10/07 9:42:24 PM): gonna make sure you're up and call me now??lol
kayla_princess94 (10/10/07 9:42:33 PM): yes


lorne_a_20014

(10/10/07 9:43:00 PM): i'm going to set my alarm......but sometimes my alarm doesn't work right and doesn't go off at the time i set it for
kayla_princess94 (10/10/07 9:43:12 PM): k
kayla_princess94 (10/10/07 9:43:23 PM): omg if u dont get that job u cant come c me
kayla_princess94 (10/10/07 9:43:24 PM): wat


lorne_a_20014

(10/10/07 9:44:04 PM): well, i can, but i'll have to work at the work today pay today place.......and that doesn't pay very good at all


lorne_a_20014

(10/10/07 9:44:20 PM): there wont be any pizza or bracelet


lorne_a_20014

(10/10/07 9:44:25 PM): or cam for you
kayla_princess94 (10/10/07 9:44:34 PM): :(


lorne_a_20014

(10/10/07 9:44:42 PM): yeah, that's what i'm saying
kayla_princess94 (10/10/07 9:44:50 PM): u can skip that
kayla_princess94 (10/10/07 9:44:53 PM): if u want
kayla_princess94 (10/10/07 9:45:01 PM): i just want u


lorne_a_20014

(10/10/07 9:45:02 PM): that's why i'm wanting you to go to bed early tonight and pay attention to this for me
kayla_princess94 (10/10/07 9:45:18 PM): k


lorne_a_20014

(10/10/07 9:45:50 PM): i CAN'T skip it.......i need this job so i can pay my rent...........if i can't pay my rent i'll be moving back to maine and i don't want to be away from you like that
kayla_princess94 (10/10/07 9:46:20 PM): no i mean u can skip the pizza bracelet and cam


lorne_a_20014

(10/10/07 9:46:35 PM): i still need this job precoius
kayla_princess94 (10/10/07 9:46:46 PM): i know


lorne_a_20014

(10/10/07 9:47:01 PM): make sure you call me ok?? please??
kayla_princess94 (10/10/07 9:47:12 PM): k


lorne_a_20014

(10/10/07 9:47:18 PM): i love you
kayla_princess94 (10/10/07 9:47:25 PM): i luv u


lorne_a_20014

(10/10/07 9:47:41 PM): i'm going to hate getting dressed because i hate it when you can't see my penis:-<
kayla_princess94 (10/10/07 9:47:54 PM): lol


lorne_a_20014

(10/10/07 9:48:18 PM): i'm serious............i love it when you're able to see me all you want


lorne_a_20014

(10/10/07 9:49:04 PM): don't move.......i have to go shave so i don't look like a pig ok?
kayla_princess94 (10/10/07 9:49:15 PM): k
kayla_princess94 (10/10/07 9:52:32 PM): wat if u dont get that job
kayla_princess94 (10/10/07 9:52:45 PM): u prolly wont b able 2 come c me
kayla_princess94 (10/10/07 9:52:52 PM): :((
kayla_princess94 (10/10/07 9:54:28 PM): ur gona move back 2 maine and i will nvr c u:((
kayla_princess94 (10/10/07 9:54:48 PM): :-<


lorne_a_20014

(10/10/07 9:58:35 PM): i'm going to do everything i can to not go anywhere, but you need to do your part that i hope you'll do so that i can get this job tomorrow..........just make sure i'm up and i'm positive we'll be awesome ok??
kayla_princess94 (10/10/07 9:58:53 PM): k


lorne_a_20014

(10/10/07 10:00:06 PM): btw.........i got in the tub yesterday to test it out.........and both of us will fit in the tub perfect but my hand will have to be on your butt the whole time and you're gonna have to hold onto my penis alot:\">
kayla_princess94 (10/10/07 10:00:30 PM): lol
kayla_princess94 (10/10/07 10:00:33 PM): k


lorne_a_20014

(10/10/07 10:00:40 PM): :-*
kayla_princess94 (10/10/07 10:00:53 PM): :-*


lorne_a_20014

(10/10/07 10:00:58 PM): i love you@};-:-*:x
kayla_princess94 (10/10/07 10:01:20 PM): if my parents r around i dont want them 2 hear me :-?


lorne_a_20014

(10/10/07 10:02:13 PM): i know, you're the only one that will call me at time so i'll know it's you so you can whisper
kayla_princess94 (10/10/07 10:02:17 PM): k i know hmm i got it if i cant talk i will ring ur number 2 wake up just dont answer just like an alarm


lorne_a_20014

(10/10/07 10:03:08 PM): no.........stay on the phone and don't hang up.......even if i can hear you whisper it's going to make me get up alot easier
kayla_princess94 (10/10/07 10:03:17 PM): k
kayla_princess94 (10/10/07 10:03:28 PM): boy i dont wanna get caught at this stuff


lorne_a_20014

(10/10/07 10:03:32 PM): set your alarm right now


lorne_a_20014

(10/10/07 10:03:41 PM): yeah, you and me both lol


lorne_a_20014

(10/10/07 10:04:17 PM): set your alarm for 7:20
kayla_princess94 (10/10/07 10:04:25 PM): k


lorne_a_20014

(10/10/07 10:06:03 PM): do you have your alarm set precious?
kayla_princess94 (10/10/07 10:06:15 PM): yep


lorne_a_20014

(10/10/07 10:06:53 PM): ok, good, i'm gonna get dressed now ok?
kayla_princess94 (10/10/07 10:07:01 PM): k


lorne_a_20014

(10/10/07 10:07:23 PM): here, it's not big right now but you're the one that owns it


lorne_a_20014

(10/10/07 10:09:02 PM): i wish you could see it better precious:-<


lorne_a_20014

(10/10/07 10:09:36 PM): i can't wait until you're her with me:-<
kayla_princess94 (10/10/07 10:09:55 PM): me 2
kayla_princess94 (10/10/07 10:09:59 PM): :D


lorne_a_20014

(10/10/07 10:10:18 PM): i swear to god precious......i'm getting more and more sad as every day goes by that you're not here with me
kayla_princess94 (10/10/07 10:11:04 PM): u shuld b getting more glad cuz getting closer 2 when we c each other:D


lorne_a_20014

(10/10/07 10:11:45 PM): i am because of that, but i'm just sad about us having to sneak to do it
kayla_princess94 (10/10/07 10:12:02 PM): well we gotta


lorne_a_20014

(10/10/07 10:12:16 PM): i know, but i hate it


lorne_a_20014

(10/10/07 10:12:29 PM): is your vagina ready for my penis?
kayla_princess94 (10/10/07 10:12:47 PM): yep:D


lorne_a_20014

(10/10/07 10:13:06 PM): good, because i'm so in love with you it's not even funny


lorne_a_20014

(10/10/07 10:13:15 PM): :x@};-
kayla_princess94 (10/10/07 10:13:17 PM): :D


lorne_a_20014

(10/10/07 10:13:40 PM): i hate being without you right now though and that's what's making me sad
kayla_princess94 (10/10/07 10:13:59 PM): stop it
kayla_princess94 (10/10/07 10:14:04 PM): b happy


lorne_a_20014

(10/10/07 10:14:21 PM): i'm trying to but i just want you here with me


lorne_a_20014

(10/10/07 10:15:03 PM): ok, i'll straighten out and be the man you want me to be..........i love you..........i'm gonna get dressed now ok?
kayla_princess94 (10/10/07 10:15:15 PM): k
kayla_princess94 (10/10/07 10:15:18 PM): luv u


lorne_a_20014

(10/10/07 10:15:52 PM): but i'm covering my cock(penis) up last because you own it and i want you to see it as much as you can:x


lorne_a_20014

(10/10/07 10:15:59 PM): ok?
kayla_princess94 (10/10/07 10:16:06 PM): k


lorne_a_20014

(10/10/07 10:16:36 PM): my friend tony just called me baby
kayla_princess94 (10/10/07 10:16:46 PM): k


lorne_a_20014

(10/10/07 10:17:38 PM): is that better while i'm on the phone


lorne_a_20014

(10/10/07 10:17:41 PM): ?
kayla_princess94 (10/10/07 10:18:10 PM): yeah
kayla_princess94 (10/10/07 10:20:19 PM): 8-|


lorne_a_20014

(10/10/07 10:21:43 PM): you rolled your eyes at me so i guess you don't want to look at my penis anymore??
kayla_princess94 (10/10/07 10:22:16 PM): no i was just waiting


lorne_a_20014

(10/10/07 10:22:26 PM): oh ok


lorne_a_20014

(10/10/07 10:22:33 PM): :-*
kayla_princess94 (10/10/07 10:22:47 PM): :-*


lorne_a_20014

(10/10/07 10:23:09 PM): i love ou


lorne_a_20014

(10/10/07 10:23:12 PM): you'
kayla_princess94 (10/10/07 10:23:26 PM): luv u
kayla_princess94 (10/10/07 10:23:43 PM): well im glad sum1 culd make u laff


lorne_a_20014

(10/10/07 10:24:04 PM): it's tony, he's halarious


lorne_a_20014

(10/10/07 10:24:06 PM): lol
kayla_princess94 (10/10/07 10:24:44 PM): dont seem 2 sad now


lorne_a_20014

(10/10/07 10:25:04 PM): don't do that to me please??


lorne_a_20014

(10/10/07 10:26:17 PM): precious


lorne_a_20014

(10/10/07 10:26:27 PM): send me a message
kayla_princess94 (10/10/07 10:26:46 PM): /:)


lorne_a_20014

(10/10/07 10:26:57 PM): :|


lorne_a_20014

(10/10/07 10:27:07 PM): jplease??


lorne_a_20014

(10/10/07 10:27:14 PM): :-<
kayla_princess94 (10/10/07 10:27:23 PM): wat


lorne_a_20014

(10/10/07 10:28:39 PM): i just want you to send me messages while i'm on the phone please.........i just want more of you
kayla_princess94 (10/10/07 10:29:09 PM): wat message


lorne_a_20014

(10/10/07 10:30:39 PM): i just wanted you to send me a couple messages so i could read something that came from you while i was talking to tony


lorne_a_20014

(10/10/07 10:31:01 PM): tony is halarious........i wish you could meet him right now:-<
kayla_princess94 (10/10/07 10:31:21 PM): kewl


lorne_a_20014

(10/10/07 10:31:43 PM): baby, please do me a favor??


lorne_a_20014

(10/10/07 10:32:05 PM): stop saying kewl if something is honestly upsetting you?
kayla_princess94 (10/10/07 10:32:19 PM): not upsetting me


lorne_a_20014

(10/10/07 10:32:23 PM): ok


lorne_a_20014

(10/10/07 10:33:28 PM): it's hard for you to make me laugh right now because i'm in love with you and hate leaving you...........it's not easy for me to deal with that........look at how long it's taking me to actually leave......now taylor's going to be pissed at me
kayla_princess94 (10/10/07 10:33:45 PM): aww
kayla_princess94 (10/10/07 10:33:51 PM): u better go then i guess


lorne_a_20014

(10/10/07 10:33:56 PM): I HATE LEAVING YOU
kayla_princess94 (10/10/07 10:34:04 PM): i hate u leaving me


lorne_a_20014

(10/10/07 10:34:15 PM): :-<
kayla_princess94 (10/10/07 10:34:50 PM): :-*i luv u


lorne_a_20014

(10/10/07 10:35:15 PM): i love you more than anything in the world@};-:-*:x


lorne_a_20014

(10/10/07 10:36:11 PM): keep typing messages to me while i'm getting dressed ok? that might help a little, maybe it will bring more of an up attitude to us both
kayla_princess94 (10/10/07 10:36:35 PM): k
kayla_princess94 (10/10/07 10:36:36 PM): i luv u


lorne_a_20014

(10/10/07 10:36:37 PM): you have to kiss my penis first though, he misses you
kayla_princess94 (10/10/07 10:36:38 PM): i luv u
kayla_princess94 (10/10/07 10:36:42 PM): k


lorne_a_20014

(10/10/07 10:37:23 PM): did u kiss him ?
kayla_princess94 (10/10/07 10:37:33 PM): yes:\">


lorne_a_20014

(10/10/07 10:38:11 PM): good, he's happy now, not as happy as he will be a week from friday though:D
kayla_princess94 (10/10/07 10:38:22 PM): :D
kayla_princess94 (10/10/07 10:38:29 PM): i cant wait


lorne_a_20014

(10/10/07 10:38:37 PM): keep sending me messages while i'm getting dressed ok?
kayla_princess94 (10/10/07 10:38:44 PM): k
kayla_princess94 (10/10/07 10:38:49 PM): :x


lorne_a_20014

(10/10/07 10:38:50 PM): and i can't wait either, i wish it was here now
kayla_princess94 (10/10/07 10:39:15 PM): me 2
kayla_princess94 (10/10/07 10:39:24 PM): u shur ur gona come c me
kayla_princess94 (10/10/07 10:39:41 PM): hi bud
kayla_princess94 (10/10/07 10:39:43 PM): hey bud
kayla_princess94 (10/10/07 10:39:52 PM): :-hhi bud


lorne_a_20014

(10/10/07 10:39:57 PM): don't send me that message
kayla_princess94 (10/10/07 10:40:09 PM): wat message


lorne_a_20014

(10/10/07 10:40:35 PM): trust me...........i'm not going to let a moment pass for me to see you@};->:D<:-*:x
kayla_princess94 (10/10/07 10:40:46 PM): :D


lorne_a_20014

(10/10/07 10:40:52 PM): send me messages that make me feel good about us
kayla_princess94 (10/10/07 10:41:17 PM): well i just wanna make shur cuz i dont wanna b dissapointed
kayla_princess94 (10/10/07 10:41:20 PM): i luv u
kayla_princess94 (10/10/07 10:41:26 PM): :-*
kayla_princess94 (10/10/07 10:41:52 PM): gona miss u 2nite
kayla_princess94 (10/10/07 10:42:02 PM): i prolly just go 2 bed
kayla_princess94 (10/10/07 10:42:07 PM): i had a big day anyways
kayla_princess94 (10/10/07 10:42:10 PM): kinda tired
kayla_princess94 (10/10/07 10:42:19 PM): hey i like that shirt
kayla_princess94 (10/10/07 10:42:24 PM): looking good
kayla_princess94 (10/10/07 10:42:41 PM): but my bf ALLWAYS looks good
kayla_princess94 (10/10/07 10:42:46 PM): :D


lorne_a_20014

(10/10/07 10:43:38 PM): i love you
kayla_princess94 (10/10/07 10:43:45 PM): i luv u


lorne_a_20014

(10/10/07 10:44:17 PM): you need to go to bed right after we get off of here because you need to make sure i'm up in the morning
kayla_princess94 (10/10/07 10:44:27 PM): k


lorne_a_20014

(10/10/07 10:45:07 PM): i'm serious precious.......i don't want you to stay on the internet........us meeting and being together means too much to me
kayla_princess94 (10/10/07 10:45:20 PM): k i wont
kayla_princess94 (10/10/07 10:45:24 PM): promise


lorne_a_20014

(10/10/07 10:45:25 PM): promise me


lorne_a_20014

(10/10/07 10:45:28 PM): ok, ty
kayla_princess94 (10/10/07 10:45:29 PM): no reason 2 anyways


lorne_a_20014

(10/10/07 10:45:31 PM): @};-


lorne_a_20014

(10/10/07 10:45:34 PM): good
kayla_princess94 (10/10/07 10:45:35 PM): PROMISE
kayla_princess94 (10/10/07 10:45:41 PM): luv u


lorne_a_20014

(10/10/07 10:46:01 PM): i'm not going to do karaoki too late because i'm already getting tired
kayla_princess94 (10/10/07 10:46:10 PM): k


lorne_a_20014

(10/10/07 10:46:30 PM): god it is so hard to leave you\


lorne_a_20014

(10/10/07 10:46:45 PM): wait, i forgot about my shoes
kayla_princess94 (10/10/07 10:46:53 PM): lol
kayla_princess94 (10/10/07 10:46:59 PM): umm yeah thats important


lorne_a_20014

(10/10/07 10:48:46 PM): there, i had to pull my pants down because i love you seeing me naked lol


lorne_a_20014

(10/10/07 10:48:55 PM): :-*:x
kayla_princess94 (10/10/07 10:49:10 PM): yeah


lorne_a_20014

(10/10/07 10:49:26 PM): did you not want to see me naked right then?
kayla_princess94 (10/10/07 10:49:49 PM): yeah
kayla_princess94 (10/10/07 10:49:53 PM): :\">


lorne_a_20014

(10/10/07 10:49:59 PM): ok, good:D


lorne_a_20014

(10/10/07 10:50:11 PM): i am so in love with you Kayla
kayla_princess94 (10/10/07 10:50:30 PM): i luv u soooo much


lorne_a_20014

(10/10/07 10:50:48 PM): it's not even 10 yet..........call jessie or maria ok??


lorne_a_20014

(10/10/07 10:51:27 PM): don't stay on the internet though, but if you do...........keep my cam on because you have to keep an eye on YOUR baby too
kayla_princess94 (10/10/07 10:51:29 PM): k
kayla_princess94 (10/10/07 10:51:42 PM): k


lorne_a_20014

(10/10/07 10:52:30 PM): i mean it too........but if you stay on the internet, don't talk to anyone except jessie, haley or maria.......please???\


lorne_a_20014

(10/10/07 10:52:45 PM): i'm going to be heart broken if you do
kayla_princess94 (10/10/07 10:52:51 PM): k
kayla_princess94 (10/10/07 10:52:52 PM): i wont
kayla_princess94 (10/10/07 10:53:04 PM): u guys r the only 1s i talk 2


lorne_a_20014

(10/10/07 10:53:16 PM): ty my precious princess@};-:-*
kayla_princess94 (10/10/07 10:53:25 PM): :x


lorne_a_20014

(10/10/07 10:53:32 PM): don't forget to keep an eye on YOUR baby too
kayla_princess94 (10/10/07 10:53:39 PM): k


lorne_a_20014

(10/10/07 10:53:41 PM): you know who i'm talking about right??
kayla_princess94 (10/10/07 10:53:52 PM): yeah bud


lorne_a_20014

(10/10/07 10:54:00 PM): yeah:D
kayla_princess94 (10/10/07 10:54:09 PM): yay u smiled
kayla_princess94 (10/10/07 10:54:16 PM): i made u smile


lorne_a_20014

(10/10/07 10:54:27 PM): i love you Kayla Marie Armstrong@};-:-*:x
kayla_princess94 (10/10/07 10:54:41 PM): i luv u:D


lorne_a_20014

(10/10/07 10:55:22 PM): ok, i'm gonna do this........i have to go to the kitchen first then i'm gonna go out the door......wanna see my penis or butt before i do??lol
kayla_princess94 (10/10/07 10:55:39 PM): yeah


lorne_a_20014

(10/10/07 10:55:50 PM): which one?lol
kayla_princess94 (10/10/07 10:55:59 PM): umm both


lorne_a_20014

(10/10/07 10:56:03 PM): lmao


lorne_a_20014

(10/10/07 10:56:04 PM): ok lol
kayla_princess94 (10/10/07 10:57:16 PM): :D


lorne_a_20014

(10/10/07 10:57:31 PM): was that good?lol
kayla_princess94 (10/10/07 10:57:52 PM): yep


lorne_a_20014

(10/10/07 10:58:06 PM): do you want a little more of my penis?lol
kayla_princess94 (10/10/07 10:58:25 PM): lol
kayla_princess94 (10/10/07 10:58:30 PM): no u better go


lorne_a_20014

(10/10/07 10:58:38 PM): i love you so much precious


lorne_a_20014

(10/10/07 10:58:41 PM): @};-


lorne_a_20014

(10/10/07 10:58:47 PM): ok, i'm gonna do this
kayla_princess94 (10/10/07 10:58:50 PM): i luv u soo much 2
kayla_princess94 (10/10/07 10:58:53 PM): k


lorne_a_20014

(10/10/07 10:58:57 PM): here i go.........are you ready??
kayla_princess94 (10/10/07 10:59:07 PM): yeah


lorne_a_20014

(10/10/07 10:59:09 PM): keep an eye on OUR baby
kayla_princess94 (10/10/07 10:59:21 PM): k


lorne_a_20014

(10/10/07 10:59:24 PM): i love you@};-:-*:x
kayla_princess94 (10/10/07 10:59:34 PM): i luv u


lorne_a_20014

(10/10/07 10:59:50 PM): btw...........i will be royally pissed off if you ever go into a chat room..........just so that you know ok?
kayla_princess94 (10/10/07 11:00:03 PM): k lol y wuld i


lorne_a_20014

(10/10/07 11:00:05 PM): DO NOT GO INTO CHAT ROOMS AGAIN ok???
kayla_princess94 (10/10/07 11:00:24 PM): k
kayla_princess94 (10/10/07 11:00:26 PM): k


lorne_a_20014

(10/10/07 11:00:38 PM): i just want to make sure..........i've been hurt before and it would kill me if you did especially
kayla_princess94 (10/10/07 11:01:01 PM): y u yellin at me


lorne_a_20014

(10/10/07 11:01:23 PM): i love you, i'm gonna go now, DO NOT FORGET ME IN THE MORNING PLEASE??????
kayla_princess94 (10/10/07 11:01:51 PM): k
kayla_princess94 (10/10/07 11:01:52 PM): luv u


lorne_a_20014

(10/10/07 11:01:53 PM): THAT'S OUR MONEY FOR US MEETING
kayla_princess94 (10/10/07 11:02:07 PM): k


lorne_a_20014

(10/10/07 11:02:13 PM): i love you too my precious princess@};-:-*:x
kayla_princess94 (10/10/07 11:02:28 PM): :x:-*


lorne_a_20014

(10/10/07 11:02:49 PM): bye for now and keep an eye on your baby.........it tells me what time you turn the cam off btw lol
kayla_princess94 (10/10/07 11:03:02 PM): k


lorne_a_20014

(10/10/07 11:03:09 PM): i love you lol


lorne_a_20014

(10/10/07 11:03:16 PM): @};-:-*
kayla_princess94 (10/10/07 11:03:20 PM): luv u


lorne_a_20014

(10/10/07 11:03:27 PM): grrr...........
kayla_princess94 (10/10/07 11:03:40 PM): o and btw ur room is a mess u need 2 clean it


lorne_a_20014

(10/10/07 11:03:42 PM): you don't sound happy and laughing with me lol


lorne_a_20014

(10/10/07 11:04:11 PM): hey..........my g/f is going to be here in a little over a week, she can say something to me then lol
kayla_princess94 (10/10/07 11:04:24 PM): lol


lorne_a_20014

(10/10/07 11:04:43 PM): ok, i'm going precious and keep an eye on our baby
kayla_princess94 (10/10/07 11:04:49 PM): k


lorne_a_20014

(10/10/07 11:04:55 PM): i love you@};-:-*:x
kayla_princess94 (10/10/07 11:05:12 PM): luv u


lorne_a_20014

(10/10/07 11:05:23 PM): god i hate leaving you


lorne_a_20014

(10/10/07 11:05:50 PM): i love you...........bye........don't type anything until i'm gone, i'm having a hard enough time as it is.........i love you
kayla_princess94 (10/10/07 11:07:29 PM): hi bud
kayla_princess94 (10/10/07 11:07:33 PM): ur sad 2 huh
kayla_princess94 (10/10/07 11:08:21 PM): im gona go call jessie k bud
kayla_princess94 (10/10/07 11:08:28 PM): b good doggie


lorne_a_20014

(10/11/07 1:51:55 AM): i'm so mad at myself baby.........i wish i would have stayed here with you.......i miss you:-<


lorne_a_20014

(10/11/07 8:02:33 AM): i'm awake my precious princess........i'm sitting here staring at your pic@};- i love you@};->:D<:-*:x


lorne_a_20014

(10/11/07 8:14:11 AM): don't go any place today precious.today is OUR day and i when i get back from my interview i want you all to myself all day ok??please??


lorne_a_20014

(10/11/07 8:19:50 AM): my baby's here:D
kayla_princess94 (10/11/07 8:19:57 AM): ya
kayla_princess94 (10/11/07 8:20:03 AM): boy im glad ur up


lorne_a_20014

(10/11/07 8:20:26 AM): why? are your parents still home?
kayla_princess94 (10/11/07 8:20:33 AM): yeah


lorne_a_20014

(10/11/07 8:20:54 AM): i have to leave my hat off this morning, i'm trying to get my head to feel better lol
kayla_princess94 (10/11/07 8:21:03 AM): wat wrong


lorne_a_20014

(10/11/07 8:21:07 AM): omg i missed you sooooooo much


lorne_a_20014

(10/11/07 8:21:31 AM): i got a little drunk last night and i have a hangover, it's starting to feel better now
kayla_princess94 (10/11/07 8:21:42 AM): y u do that


lorne_a_20014

(10/11/07 8:21:55 AM): to relieve some stress
kayla_princess94 (10/11/07 8:22:04 AM): huh


lorne_a_20014

(10/11/07 8:23:01 AM): because it helps me relieve some stress.....it helps me to get away from some problems that i'm having so i don't have to think about them for a little while
kayla_princess94 (10/11/07 8:23:17 AM): wat problem


lorne_a_20014

(10/11/07 8:23:42 AM): well, they're not bad problems, just wanting a job that i love again is all
kayla_princess94 (10/11/07 8:24:01 AM): o


lorne_a_20014

(10/11/07 8:24:16 AM): i missed you so much precious
kayla_princess94 (10/11/07 8:24:31 AM): aww i missed u 2


lorne_a_20014

(10/11/07 8:24:45 AM): i don't want you to go any place today...........i want you to stay home with me
kayla_princess94 (10/11/07 8:24:55 AM): oh oh


lorne_a_20014

(10/11/07 8:25:02 AM): :-<
kayla_princess94 (10/11/07 8:25:23 AM): im stayin home but haley coming over 2day


lorne_a_20014

(10/11/07 8:25:30 AM): what time?
kayla_princess94 (10/11/07 8:25:40 AM): not this early lol


lorne_a_20014

(10/11/07 8:26:04 AM): what time though? because i have to leave for my interview in about 45 minutes
kayla_princess94 (10/11/07 8:26:21 AM): not shur
kayla_princess94 (10/11/07 8:26:31 AM): shes gona call me


lorne_a_20014

(10/11/07 8:26:40 AM): i want to talk to you on the phone today too
kayla_princess94 (10/11/07 8:26:57 AM): k but not when shes here


lorne_a_20014

(10/11/07 8:27:16 AM): well yeah, i know that........how long before your parents leave?
kayla_princess94 (10/11/07 8:27:54 AM): just a min hold on


lorne_a_20014

(10/11/07 8:28:00 AM): ok
kayla_princess94 (10/11/07 8:34:22 AM): :-*


lorne_a_20014

(10/11/07 8:34:30 AM): :-*


lorne_a_20014

(10/11/07 8:34:34 AM): :x
kayla_princess94 (10/11/07 8:34:42 AM): :x


lorne_a_20014

(10/11/07 8:34:45 AM): what time do your parents leave?
kayla_princess94 (10/11/07 8:35:23 AM): they dont have 2 that early dont have 2 b at the hospital till 1030


lorne_a_20014

(10/11/07 8:35:37 AM): ok
kayla_princess94 (10/11/07 8:35:38 AM): hey wat happen


lorne_a_20014

(10/11/07 8:35:46 AM): my cam froze so i re did it


lorne_a_20014

(10/11/07 8:36:04 AM): close my cam out
kayla_princess94 (10/11/07 8:36:05 AM): where it go again
kayla_princess94 (10/11/07 8:36:14 AM): y


lorne_a_20014

(10/11/07 8:36:20 AM): did you click it off?
kayla_princess94 (10/11/07 8:36:31 AM): no


lorne_a_20014

(10/11/07 8:36:45 AM): click it off or it wont start back up
kayla_princess94 (10/11/07 8:37:04 AM): its not on how i click it off


lorne_a_20014

(10/11/07 8:37:20 AM): the x at the top right hand corner
kayla_princess94 (10/11/07 8:37:28 AM): wat x
kayla_princess94 (10/11/07 8:37:56 AM): YAY


lorne_a_20014

(10/11/07 8:37:57 AM): there, see me now?


lorne_a_20014

(10/11/07 8:37:59 AM): lol
kayla_princess94 (10/11/07 8:38:02 AM): yep


lorne_a_20014

(10/11/07 8:38:05 AM): ok


lorne_a_20014

(10/11/07 8:38:07 AM): i love you
kayla_princess94 (10/11/07 8:38:12 AM): i luv u


lorne_a_20014

(10/11/07 8:38:17 AM): do me a favor?
kayla_princess94 (10/11/07 8:38:23 AM): k


lorne_a_20014

(10/11/07 8:39:04 AM): kiss you finger, open the top of your pj bottoms and then put my kiss on your vagina:D:x
kayla_princess94 (10/11/07 8:39:16 AM): lol k


lorne_a_20014

(10/11/07 8:39:21 AM): :D
kayla_princess94 (10/11/07 8:39:35 AM): :x


lorne_a_20014

(10/11/07 8:39:37 AM): did you do it?
kayla_princess94 (10/11/07 8:39:41 AM): yeah


lorne_a_20014

(10/11/07 8:39:45 AM): :D


lorne_a_20014

(10/11/07 8:39:54 AM): want to kiss my penis this morning?
kayla_princess94 (10/11/07 8:40:04 AM): ya


lorne_a_20014

(10/11/07 8:40:57 AM): did you kiss him?
kayla_princess94 (10/11/07 8:41:54 AM): no daddy came up here
kayla_princess94 (10/11/07 8:42:01 AM): close 1


lorne_a_20014

(10/11/07 8:42:03 AM): oh


lorne_a_20014

(10/11/07 8:42:04 AM): yeah


lorne_a_20014

(10/11/07 8:42:10 AM): want to kiss him now?
kayla_princess94 (10/11/07 8:42:22 AM): yeah
kayla_princess94 (10/11/07 8:42:47 AM): :-*


lorne_a_20014

(10/11/07 8:43:12 AM): he loves you kissing him:D:x
kayla_princess94 (10/11/07 8:43:23 AM): :D
kayla_princess94 (10/11/07 8:43:37 AM): im still sleepy think im going back 2 bed


lorne_a_20014

(10/11/07 8:43:51 AM): do you want me to put the cam down so you can look at him for a few minutes or do you want my face?
kayla_princess94 (10/11/07 8:44:00 AM): ur face


lorne_a_20014

(10/11/07 8:44:04 AM): ok


lorne_a_20014

(10/11/07 8:44:48 AM): don't be going back to bed precious.......when i get back from my interview i'm gonna want you again...........i'm mad at myself for leaving you last night
kayla_princess94 (10/11/07 8:45:03 AM): im tired


lorne_a_20014

(10/11/07 8:45:33 AM): ok, well set your alarm for 10:30 then ok? then when you get up you can call me
kayla_princess94 (10/11/07 8:45:47 AM): k
kayla_princess94 (10/11/07 8:45:54 AM): i hope u get ur job


lorne_a_20014

(10/11/07 8:45:58 AM): don't forget ok


lorne_a_20014

(10/11/07 8:45:59 AM): me too
kayla_princess94 (10/11/07 8:46:06 AM): k
kayla_princess94 (10/11/07 8:46:10 AM): ttyl
kayla_princess94 (10/11/07 8:46:13 AM): luv u


lorne_a_20014

(10/11/07 8:46:16 AM): hey, don't leave me yet
kayla_princess94 (10/11/07 8:46:19 AM): :x:-*


lorne_a_20014

(10/11/07 8:46:31 AM): don't leave me until i get dressed ok?
kayla_princess94 (10/11/07 8:46:31 AM): i wanna go back 2 sleep


lorne_a_20014

(10/11/07 8:47:03 AM): i know, but just wait until i get dressed, i'm having a hard time letting you go this morning because i missed you so much last night
kayla_princess94 (10/11/07 8:47:12 AM): k


lorne_a_20014

(10/11/07 8:47:32 AM): ok, i'll get dressed right now ok?
kayla_princess94 (10/11/07 8:47:41 AM): k


lorne_a_20014

(10/11/07 8:47:54 AM): omg i'm so in love with you:x
kayla_princess94 (10/11/07 8:48:01 AM): :D


lorne_a_20014

(10/11/07 8:49:49 AM): does that shirt look alright to wear today?
kayla_princess94 (10/11/07 8:49:57 AM): yep
kayla_princess94 (10/11/07 8:52:19 AM): u look hawt
kayla_princess94 (10/11/07 8:52:23 AM): :D


lorne_a_20014

(10/11/07 8:52:54 AM): ty my precious princess.........you look like a goddess@};-:-*:x


lorne_a_20014

(10/11/07 8:53:13 AM): i think my penis wants another kiss from you though:\">


lorne_a_20014

(10/11/07 8:53:28 AM): will you give him another kiss for good luck?
kayla_princess94 (10/11/07 8:53:44 AM): k
kayla_princess94 (10/11/07 8:54:23 AM): :-*


lorne_a_20014

(10/11/07 8:54:39 AM): :D:x


lorne_a_20014

(10/11/07 8:55:03 AM): omg you made him get so big and hard that he was hard to put back in my pants lol
kayla_princess94 (10/11/07 8:55:28 AM): :)


lorne_a_20014

(10/11/07 8:55:46 AM): i love you@};->:D<:-*:x


lorne_a_20014

(10/11/07 8:56:01 AM): go back to bed now and don't forget to set your alarm for 10:30 ok?
kayla_princess94 (10/11/07 8:56:45 AM): k
kayla_princess94 (10/11/07 8:56:45 AM): luv u
kayla_princess94 (10/11/07 8:56:49 AM): :-*


lorne_a_20014

(10/11/07 8:57:10 AM): bye for now my precious princess, and don't forget your alarm, it's important to me to have you today
kayla_princess94 (10/11/07 8:57:24 AM): k


lorne_a_20014

(10/11/07 8:57:29 AM): i love you Kayla Marie Armstrong@};->:D<:-*:x
kayla_princess94 (10/11/07 8:57:59 AM): i luv u
kayla_princess94 (10/11/07 8:58:05 AM): :x


lorne_a_20014

(10/11/07 8:58:15 AM): :-*:x


lorne_a_20014

(10/11/07 8:58:30 AM): this sucks, i miss you already:-<


lorne_a_20014

(10/11/07 11:26:21 AM): i'm here when you get here precious@};-:-*:x


lorne_a_20014

(10/11/07 11:27:51 AM): my cam is on for you precious


lorne_a_20014

(10/11/07 11:46:16 AM): where's my girl???:-<


lorne_a_20014

(10/11/07 12:07:57 PM): precious where are you???


lorne_a_20014

(10/11/07 12:08:06 PM): :-<:-<:-<


lorne_a_20014

(10/11/07 12:27:50 PM): i guess my girl forgot about me:-<


lorne_a_20014

(10/11/07 1:02:35 PM): brb precious, i'm going to check my mail


lorne_a_20014

(10/11/07 1:09:49 PM): i'm back precious, and you're still not here:-<


lorne_a_20014

(10/11/07 7:30:47 PM): :-*
kayla_princess94 (10/11/07 7:30:58 PM): :)


lorne_a_20014

(10/11/07 7:31:39 PM): what are you doing precious?
kayla_princess94 (10/11/07 7:32:43 PM): sry puter froze 4 a sec


lorne_a_20014

(10/11/07 7:32:47 PM): oh


lorne_a_20014

(10/11/07 7:33:01 PM): i love you@};->:D<:-*:x
kayla_princess94 (10/11/07 7:33:09 PM): i luv u
kayla_princess94 (10/11/07 7:33:14 PM): :x


lorne_a_20014

(10/11/07 7:33:28 PM): unfortunately i didn't get to hear your pretty voice today:(
kayla_princess94 (10/11/07 7:33:39 PM): i know


lorne_a_20014

(10/11/07 7:33:46 PM): what happened?
kayla_princess94 (10/11/07 7:34:43 PM): i didnt get up when u said sry then haley came over and we hung out all day she just left she wants me 2 come over 2 spend the nite after i eat


lorne_a_20014

(10/11/07 7:34:59 PM): are you going to?
kayla_princess94 (10/11/07 7:35:03 PM): idk


lorne_a_20014

(10/11/07 7:35:53 PM): you can if you want to precious, i'm going to stay home but i can try to figure out this online money making thing that i'm still trying to figure out if you stay over her house tonight
kayla_princess94 (10/11/07 7:36:27 PM): k but i dont know if i want 2 cuz i really dont wanna leave u


lorne_a_20014

(10/11/07 7:36:53 PM): i know the feeling, i went through that last night about leaving you


lorne_a_20014

(10/11/07 7:37:15 PM): but if you don't then you might wish you had once you have to go to bed
kayla_princess94 (10/11/07 7:37:25 PM): yeah
kayla_princess94 (10/11/07 7:37:49 PM): aww u shuld have seen bud he kept lookin at the door when u went i think he was sad


lorne_a_20014

(10/11/07 7:38:04 PM): oh, last night you mean?
kayla_princess94 (10/11/07 7:38:09 PM): yeah


lorne_a_20014

(10/11/07 7:38:18 PM): he hates it when i leave too lol


lorne_a_20014

(10/11/07 7:38:24 PM): i feel loved
kayla_princess94 (10/11/07 7:38:26 PM): yeah i c