Ray's defense was so ridiculous the jury laughed at him and took 22 minutes to convict him.
Bust by
Duncan Hines
@ 11/7/2007 1:09 AM PST
[
this file is a part of a Group Media Bust
]
[
Conviction
]
Perverted Justice mark:
Raymundo
,
24
AOL IM:
Truesweetguy69
Location:
Albany, Georgia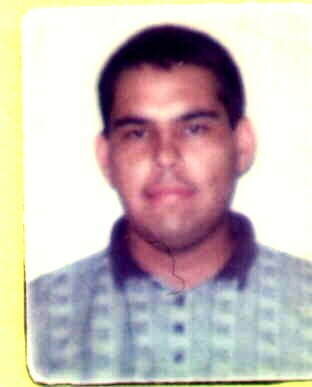 This wannabe pedo tried to solicit
Dadzdoodlebug92
, a
14 year old
girl
... or so they thought!
[ verification recording #1 ]
Readers, meet Ray. Ray was so sure he could beat this, he decided to go to trial. A change of venue was requested and granted. Ray creeped the jury out so bad they came back with a huge "GUILTY" in record time. Even the judge said he had never before seen a verdict only take 22 minutes. This Jones County Georgia jury sent a message that should send cold chills down any pedophile's back. Be sure and listen to the verification where Ray says he likes girls especially the young ones. Here is the chat log, exactly as it was read aloud in court:

July 22, 2006

11:24:41 AM truesweetguy69: Hello @)--------------------------------------------
11:26:08 AM truesweetguy69: Hello @)--------------------------------------------
11:37:26 AM dadzdoodlebug92: sorry i thot u were a bot
11:37:46 AM truesweetguy69: i hate those dam things too lol
11:38:02 AM dadzdoodlebug92: me 2 i got lik 5000 of em this morn
11:38:07 AM truesweetguy69: whats your name and asl?
11:38:21 AM dadzdoodlebug92: diane 14/f/fortson (age stated)]
11:38:28 AM dadzdoodlebug92: name a/s/l
11:38:56 AM truesweetguy69: my name is ray 21 white male albany ga wanna chat? (He thought about it for a whole 35 seconds before he decided to lie about his age. )
11:39:02 AM dadzdoodlebug92: ya
11:39:23 AM truesweetguy69: where is fortson at exactly babe?
11:39:39 AM dadzdoodlebug92: u know wher Hamilton is
11:39:59 AM dadzdoodlebug92: itz kinda by columbus
11:40:38 AM truesweetguy69: cool im like an hour away from columbus ga
11:40:43 AM dadzdoodlebug92: cool
11:41:08 AM dadzdoodlebug92: u got pix
11:41:18 AM truesweetguy69: nope want me to describe what i look like?
11:41:26 AM dadzdoodlebug92: ya
11:42:13 AM truesweetguy69: im 6ft 2in black hair blue eyes tan skin i weigh 189lbs i have a nice flat stomach and muscular legs adn i have a nice tan ass and i have a tatoo on my right ass cheek (okay. I'll give him that. He neglected to tell me he was covered with hair and was probably the best argument FOR evolution I've ever seen.)
11:42:28 AM dadzdoodlebug92: dayum
11:42:39 AM truesweetguy69: do you have a pic babe
11:42:48 AM dadzdoodlebug92: is that all true or r u jokin me
11:43:00 AM truesweetguy69: its true why?
11:43:28 AM dadzdoodlebug92: cauz i cud say im 5'3 125 lbs blond hair and huge boobz(so i didn't lie about the blond hair and huge boobs.)
11:43:38 AM dadzdoodlebug92: ya i got pix
11:43:44 AM dadzdoodlebug92: i'll send brb
11:45:00 AM dadzdoodlebug92: k sent
11:46:27 AM truesweetguy69: fuck
11:46:36 AM dadzdoodlebug92: ok
11:46:39 AM dadzdoodlebug92: hehehe
11:46:41 AM dadzdoodlebug92: wat
11:46:51 AM truesweetguy69: your my kinda girl your a sexy ass princess (The kid's photo shows a girl who is straight as a board)
11:46:59 AM dadzdoodlebug92: omg ty
11:47:06 AM truesweetguy69: what grade are you in babe
11:47:18 AM dadzdoodlebug92: 9 well ill b in 9 this year(Just got out of 8th grade, Ray. )
11:47:27 AM truesweetguy69: are you gonna play any sports?
11:47:35 AM dadzdoodlebug92: dunno
11:48:01 AM dadzdoodlebug92: do u play sportz
11:48:15 AM dadzdoodlebug92: r u in school
11:48:27 AM truesweetguy69: naw i use to play baseball in my 10th and 11th grade year
11:48:34 AM dadzdoodlebug92: cool
11:48:54 AM truesweetguy69: you got a hot ass lol (come on now.)
11:49:12 AM dadzdoodlebug92: tyvm but i think itz skinny
11:49:34 AM truesweetguy69: thats the kinda ass i want ( Oh yeah. I've already got you pegged you pervert)
11:49:39 AM dadzdoodlebug92: cool
11:50:05 AM dadzdoodlebug92: i wish u had a pic so i cud c u
11:50:37 AM truesweetguy69: do you wear low rise jeans, cheer shorts, skirts, or sweat pants alot?
11:50:50 AM dadzdoodlebug92: all of the above
11:51:03 AM dadzdoodlebug92: not sweatz too much too hot
11:51:25 AM truesweetguy69: what are you wearing rite now babe
11:51:48 AM dadzdoodlebug92: red shortz and a tshirt
11:51:59 AM truesweetguy69: how short are the red shorts? (They're red and a size 18, Ray....oh you mean the kid's shorts)
11:52:15 AM dadzdoodlebug92: like realy short momz dont like me 2 wear them
11:52:33 AM dadzdoodlebug92: theyr from last year and kinda too tight
11:52:42 AM dadzdoodlebug92: but i lik them
11:52:57 AM truesweetguy69: shit i think id love to see you walk around in them
11:53:02 AM dadzdoodlebug92: cool
11:53:37 AM truesweetguy69: dont be mad if i wanna stare for a while at your ass (Not at all, Ray. Just keep digging that hole a little deeper)
11:53:47 AM dadzdoodlebug92: hehehe
11:54:06 AM truesweetguy69: u wearing a thong or gstring or boy shorts under the red shorts?
11:54:23 AM dadzdoodlebug92: thong not so hot
11:55:02 AM dadzdoodlebug92: dont have no gstring
11:55:09 AM dadzdoodlebug92: got some boy shortz
11:55:22 AM dadzdoodlebug92: y
11:55:42 AM truesweetguy69: so you have on boy shorts right now?
11:55:45 AM dadzdoodlebug92: do u work or go 2 school
11:55:59 AM dadzdoodlebug92: no thong rite now shortz r too short 4 boy shortz
11:56:33 AM truesweetguy69: i work babe lol what does the thong look like babe
11:56:39 AM dadzdoodlebug92: like a thong
11:56:43 AM dadzdoodlebug92: silly
11:56:49 AM truesweetguy69: the color baby lol
11:56:52 AM dadzdoodlebug92: red
11:57:08 AM dadzdoodlebug92: u off 2day
11:57:25 AM truesweetguy69: cool and im a waiter at the apple bees restraunt well i have to go into work at 5
11:57:34 AM dadzdoodlebug92: oh no
11:58:09 AM truesweetguy69: thats hot that you have a red thong on lol
11:58:16 AM dadzdoodlebug92: hehehe
11:58:49 AM truesweetguy69: what would i have to do to see you in that red thong lol
11:59:09 AM dadzdoodlebug92: dunno im not old enuff 2 drive yet
11:59:44 AM truesweetguy69: do you have a boyfriend?
11:59:48 AM dadzdoodlebug92: nope
11:59:51 AM dadzdoodlebug92: not now
12:00:21 PM dadzdoodlebug92: u got a gf
12:01:11 PM truesweetguy69: naw we broke up like 5 months ago would you be mad if i came and saw you and take you to the movies and get something to eat and hang out in my truck? (Hang out in your truck? I think not big boy)
12:01:43 PM dadzdoodlebug92: i wudnt b mad but y r we gonna hang in ur truck
12:02:23 PM truesweetguy69: i do that with a lot of girls i go out with we just talk and hang out
12:02:31 PM dadzdoodlebug92: oh
12:02:44 PM truesweetguy69: unless you dont want too
12:02:58 PM dadzdoodlebug92: thot u wantd 2 see my red thong rofl
12:03:22 PM dadzdoodlebug92: what kinda truck u got
12:03:54 PM truesweetguy69: i have a 2005 ford f-150 super crew
12:04:05 PM dadzdoodlebug92: cool what color
12:04:07 PM dadzdoodlebug92: is it red
12:04:17 PM truesweetguy69: no its black
12:04:21 PM dadzdoodlebug92: cool
12:04:36 PM dadzdoodlebug92: i like truckz
12:04:50 PM truesweetguy69: so what do you think of that plan?
12:05:19 PM dadzdoodlebug92: well xcept 4 hangin in ur truck itz not bad
12:05:38 PM dadzdoodlebug92: cant go 2 movie if ur workin eithr
12:06:16 PM dadzdoodlebug92: what time u get off
12:06:17 PM truesweetguy69: well i can always plan babe lol (uh-oh. Applebee's is gonna be short a waiter tonight. Come to think of it, they're going to have an opening for a new waiter.)
12:06:48 PM dadzdoodlebug92: hehehe
12:06:53 PM truesweetguy69: at 11
12:06:57 PM dadzdoodlebug92: cool
12:07:10 PM truesweetguy69: your sexy
12:07:13 PM dadzdoodlebug92: ty
12:07:19 PM dadzdoodlebug92: i bet u r 2
12:07:28 PM truesweetguy69: i wish i can see the red thong
12:07:34 PM dadzdoodlebug92: ok
12:08:15 PM truesweetguy69: if we went out what would you wear for me
12:08:26 PM dadzdoodlebug92: if we went OUT?
12:08:37 PM dadzdoodlebug92: jeanz
12:08:53 PM dadzdoodlebug92: momz has 2 work 2nite
12:09:27 PM truesweetguy69: what days does your mom work
12:10:12 PM dadzdoodlebug92: 2nite and 2morrow nite. she workd last nite. then she goes out with her bf and stayz with him
12:10:21 PM dadzdoodlebug92: so she dont hafta drive home so latge
12:10:24 PM dadzdoodlebug92: late
12:10:47 PM truesweetguy69: but most of the time shes not there on the weekends?
12:11:02 PM dadzdoodlebug92: every other weekend
12:11:47 PM truesweetguy69: so how would you want to meet? ( yeppers. There it is. )
12:12:06 PM dadzdoodlebug92: when
12:12:15 PM dadzdoodlebug92: tell me when ill tell u how
12:12:57 PM truesweetguy69: well i still wanna get to know you more but lets just say for example i had all today off how would i be able to see you?
12:13:10 PM dadzdoodlebug92: my house
12:13:51 PM truesweetguy69: what time does your mom come back
12:14:05 PM dadzdoodlebug92: she wont 2nite shell stay with bf in montgomery
12:15:01 PM truesweetguy69: whos gonna be with you (Assessing the danger of getting caught. Give it up Ray. We're better at this than you are.)
12:15:22 PM dadzdoodlebug92: nobody silly. i just lock the doorz and nobodyz suposed 2 know
12:16:08 PM truesweetguy69: whens the last time you been with a guy
12:16:15 PM dadzdoodlebug92: bout a month
12:16:31 PM truesweetguy69: whats the oldest guy you been with and be honest? lol (okay I'll be honest. We've already identified you and know you lied and you're really 24. )
12:16:44 PM dadzdoodlebug92: 24
12:16:57 PM truesweetguy69: you serious?
12:17:34 PM dadzdoodlebug92: ya im serius y
12:18:11 PM truesweetguy69: do you like older guys or something?
12:18:36 PM dadzdoodlebug92: ya i hate boyz my age cauz theyr goofy
12:19:36 PM truesweetguy69: whats the most you done with a guy
12:20:03 PM dadzdoodlebug92: u wanna know if i did sex. yes i did sex. lol
12:20:10 PM dadzdoodlebug92: there are no more virginz
12:20:33 PM truesweetguy69: yeah they are they just getting fucked a little early lol
12:21:34 PM dadzdoodlebug92: whatevr
12:21:42 PM truesweetguy69: you mad at me babe
12:21:54 PM dadzdoodlebug92: i am not
12:22:13 PM truesweetguy69: do you give good head babe? (and now down to the business at hand)
12:22:50 PM dadzdoodlebug92: nobody never complaned
12:23:02 PM dadzdoodlebug92: didnt do it lotz but....
12:23:12 PM dadzdoodlebug92: i konw how 2 do it
12:23:34 PM truesweetguy69: if i show you a pic of my dick will you tell me if you would give me head?
12:23:54 PM dadzdoodlebug92: oh yeah
12:23:56 PM dadzdoodlebug92: hehehe
12:24:45 PM truesweetguy69: ok hold on
12:24:58 PM dadzdoodlebug92: kk
12:25:58 PM truesweetguy69: check your mail baby
12:26:07 PM dadzdoodlebug92: kk brb
12:27:24 PM dadzdoodlebug92: omg u rellly did it. cool
12:27:41 PM truesweetguy69: did what
12:28:01 PM dadzdoodlebug92: sent me pix of ur dick ( I'm now jumping up and down, squealing with joy because you just sealed your fate, Ray)
12:28:25 PM truesweetguy69: so would you give me head? (Oh Ray, you have no idea how exciting this is going to be.)
12:28:37 PM dadzdoodlebug92: ya i will
12:29:04 PM dadzdoodlebug92: did that shock u
12:29:06 PM truesweetguy69: you serious or you just messing with me?
12:29:11 PM dadzdoodlebug92: no i mean it
12:29:41 PM truesweetguy69: i havent had any head for about 4 months
12:29:46 PM dadzdoodlebug92: i got a swimming pool 2 ( Let's change the subject because you're starting to bore me)
12:30:32 PM truesweetguy69: it sucks not getting head for a long time
12:30:44 PM dadzdoodlebug92: ya (I tried)
12:31:15 PM truesweetguy69: do you have any ground rules on giving head?
12:31:45 PM dadzdoodlebug92: nope
12:32:33 PM dadzdoodlebug92: can i call u first to make sure ur not like sum old weirdo
12:32:53 PM truesweetguy69: do you wanna talk on the phone?
12:33:22 PM dadzdoodlebug92: ya
12:33:42 PM truesweetguy69: whats your number baby
12:34:20 PM dadzdoodlebug92: u cant call here cauz momz will c it on her caller id and id get killd. dadz sendz me phone cardz so i can call him and she wont know
12:34:37 PM dadzdoodlebug92: give me ur digitz
12:34:51 PM truesweetguy69: but are you gonna call me right now?
12:34:59 PM dadzdoodlebug92: ya if u want me 2
12:35:51 PM truesweetguy69: ok but when i give you the number you have to call me right now ok
12:36:17 PM dadzdoodlebug92: kk i hafta get my phone card and then ill call
12:36:27 PM truesweetguy69: get the phone card first ok
12:37:18 PM dadzdoodlebug92: kk brb
12:38:58 PM dadzdoodlebug92: kk give me ur digitz
12:39:29 PM truesweetguy69: 1-229-446-7049
12:40:04 PM dadzdoodlebug92: kk got to get offline to call
12:40:16 PM truesweetguy69: me too ok your name is diane right?
12:40:38 PM dadzdoodlebug92: calling in 1 minute
12:40:46 PM truesweetguy69: k my name is ray
TrueSweetGuy69 disconnected (12:40:52 PM)
(Verifier called at this time and talked for 11 minutes. The online conversation then resumes:)

TrueSweetGuy69 (1:00:47 PM): Hello * @)--------------------------------------------
Dadzdoodlebug92 (1:02:13 PM): hey again
TrueSweetGuy69 (1:02:24 PM): did your phone card cut out?
Dadzdoodlebug92 (1:02:31 PM): my phone died
TrueSweetGuy69 (1:02:53 PM): oh ok so now whats your opinion of me?
Dadzdoodlebug92 (1:03:07 PM): ur realy cool
TrueSweetGuy69 (1:03:41 PM): where did you say you live again
Dadzdoodlebug92 (1:03:52 PM): fortson not realy in columbus
TrueSweetGuy69 (1:04:49 PM): cause im looking at it on the map on yahoo
Dadzdoodlebug92 (1:05:43 PM): ok so when r u comin
Dadzdoodlebug92 (1:06:26 PM): u sad on the phone u had a question so wat is it
TrueSweetGuy69 (1:07:16 PM): well number 1 whats your honest opinion or first impression of me and 2 what do you think of my dick? (Honesty is my middle name, Ray. I think you molest young girls and I think you're dick is little and stupid looking. Does that cover it?)
Dadzdoodlebug92 (1:07:42 PM): both r realy cool
Dadzdoodlebug92 (1:07:44 PM): hehehe
Dadzdoodlebug92 (1:07:56 PM): i bet u look cool in a swim suit
Dadzdoodlebug92 (1:08:39 PM): so wat do u realy think
TrueSweetGuy69 (1:08:50 PM): so your like about north of colombus then
Dadzdoodlebug92 (1:09:00 PM): did u find it
TrueSweetGuy69 (1:09:26 PM): yeah i found it
Dadzdoodlebug92 (1:09:30 PM): cool
Dadzdoodlebug92 (1:09:45 PM): ok see fortson road
Dadzdoodlebug92 (1:10:05 PM): when u coming ovr
Dadzdoodlebug92 (1:10:11 PM): u can com when u get off work
Dadzdoodlebug92 (1:10:22 PM): do u like live with ur parentz
TrueSweetGuy69 (1:11:08 PM): i live with my dad why?
Dadzdoodlebug92 (1:11:25 PM): i thot mabe theyd get mad if u didnt come home aftr work or sumthing
Dadzdoodlebug92 (1:12:03 PM): hey Ray
Dadzdoodlebug92 (1:12:14 PM): im realy glad u like me i like u 2
TrueSweetGuy69 (1:12:28 PM): you act like a lot of guys dont like you
Dadzdoodlebug92 (1:12:51 PM): i told u i dont know y. i gues they dont think im cute or sumthing
Dadzdoodlebug92 (1:13:13 PM): and the onez who do r like jerkz like i tole you
Dadzdoodlebug92 (1:13:50 PM): im not goin out with sum jerk who only has a bicycle
Dadzdoodlebug92 (1:14:01 PM): what imma gonna do ride his handlebarz
Dadzdoodlebug92 (1:14:04 PM): rofl
TrueSweetGuy69 (1:14:18 PM): want a pic of my truck babe
Dadzdoodlebug92 (1:14:25 PM): omg ya
Dadzdoodlebug92 (1:14:30 PM): i want a pic of u 2
Dadzdoodlebug92 (1:14:57 PM): hey ray
Dadzdoodlebug92 (1:15:12 PM): u will like bring comdomz wont u
Dadzdoodlebug92 (1:15:18 PM): pleeeeze
TrueSweetGuy69 (1:17:10 PM): check your mail
Dadzdoodlebug92 (1:17:14 PM): kk brb
Dadzdoodlebug92 (1:18:26 PM): omg that is so cool ur truck is beautiful
TrueSweetGuy69 (1:20:01 PM): i see fortson rd on the map babe
Dadzdoodlebug92 (1:20:46 PM): kk
Dadzdoodlebug92 (1:20:55 PM): so i live just on fortson a little wayz
TrueSweetGuy69 (1:21:11 PM): so you live on fortson rd
Dadzdoodlebug92 (1:21:20 PM): im not giving out addy until u tell me when ur coming for sure
TrueSweetGuy69 (1:22:22 PM): well depends what time does your mom leave
Dadzdoodlebug92 (1:23:14 PM): momz left yesterday for work. she'll b back aftr work sunday
Dadzdoodlebug92 (1:23:54 PM): i tole u she stayz in montgomery every other weekend cauz shez working and doesnt wqanna drive so far late at nite
Dadzdoodlebug92 (1:23:59 PM): so she stayz at her bf
TrueSweetGuy69 (1:24:16 PM): so is she there now ?
Dadzdoodlebug92 (1:24:25 PM): duh no silly
Dadzdoodlebug92 (1:24:41 PM): i w udnt be talkin 2 u if she waz here
TrueSweetGuy69 (1:25:36 PM): if you want ill just call in sick and i could go ahead and come now (I just love it when a good plan comes together)
Dadzdoodlebug92 (1:25:47 PM): omg that wud b so cool
Dadzdoodlebug92 (1:26:16 PM): will u get in truble from ur dad
TrueSweetGuy69 (1:26:47 PM): no not unless i leave like now or something and come back home at 12 or something
Dadzdoodlebug92 (1:27:02 PM): bring ur swim suit so wat time u b here
TrueSweetGuy69 (1:27:42 PM): maybe 4
TrueSweetGuy69 (1:27:45 PM): if i was to leave now
Dadzdoodlebug92 (1:27:48 PM): r u serius
Dadzdoodlebug92 (1:27:55 PM): that is so cool
Dadzdoodlebug92 (1:28:17 PM): bring ur swim suit and ur cam and we'll take pix
TrueSweetGuy69 (1:29:04 PM): nah that sounds funny
Dadzdoodlebug92 (1:29:27 PM): wat???
Dadzdoodlebug92 (1:29:31 PM): i have a pool
Dadzdoodlebug92 (1:29:35 PM): we can swim
TrueSweetGuy69 (1:30:14 PM): more like i wanna chill with you and watch a movie in the living room
Dadzdoodlebug92 (1:30:25 PM): u dont wanna swim
Dadzdoodlebug92 (1:30:38 PM): itz freakin hot
Dadzdoodlebug92 (1:30:52 PM): then ill swim b4 u get here lol
TrueSweetGuy69 (1:31:44 PM): wheres your dad at
Dadzdoodlebug92 (1:31:51 PM): in montgomery
Dadzdoodlebug92 (1:32:11 PM): well kinda outta montgomery in prattville
Dadzdoodlebug92 (1:32:21 PM): y
TrueSweetGuy69 (1:32:39 PM): do you have a lot of nosy neighbors? lol (Nope. Nobody's gonna see you. Noooo. Well, except for a few cops. Oh yeah, and millions of Dateline viewers. Did I mention a Georgia jury?)
Dadzdoodlebug92 (1:32:52 PM): i dont have ne neighbers
Dadzdoodlebug92 (1:32:58 PM): y
Dadzdoodlebug92 (1:33:04 PM): im like in the boonies
TrueSweetGuy69 (1:33:16 PM): good cause i like to have privacy lol(That's okay. Look at the bright side. You're going to get to meet and visit with Chris Hanson)
Dadzdoodlebug92 (1:33:30 PM): hehehe
TrueSweetGuy69 (1:34:00 PM): that fortson rd. is like a country side road with not too many homes?
Dadzdoodlebug92 (1:34:20 PM): ya housez far apart
Dadzdoodlebug92 (1:34:36 PM): i tole u i live in the stickz
Dadzdoodlebug92 (1:34:48 PM): y u askin this stuff
TrueSweetGuy69 (1:35:10 PM): how did you and that 24 year old guy meet up?
Dadzdoodlebug92 (1:35:17 PM): y
TrueSweetGuy69 (1:35:44 PM): just wondering lol
Dadzdoodlebug92 (1:35:46 PM): he came 2 my house y do u wanna know
Dadzdoodlebug92 (1:36:01 PM): he waz my bf 4 about 2 monthz
TrueSweetGuy69 (1:36:41 PM): ok cool but will you give me some head?
Dadzdoodlebug92 (1:36:54 PM): i said i wud
TrueSweetGuy69 (1:37:17 PM): ok but i love rough head ok (and here's what convinced the jury they were dealing with a dangerous child predator)
Dadzdoodlebug92 (1:37:43 PM): u show me what that meanz
TrueSweetGuy69 (1:38:16 PM): i grab the back of your head and wrap your hair into a ponytail and push your head down hard on my dick and hold your nose shut for 5 minutes lol (uh bullshit)
Dadzdoodlebug92 (1:38:55 PM): uh bullshit
TrueSweetGuy69 (1:39:11 PM): see thats why i asked if you had ground rules lol
Dadzdoodlebug92 (1:39:51 PM): okay herez a ground rule. u cant kill me
TrueSweetGuy69 (1:40:28 PM): ok cool lol wasnt gonna kill you lol its just my dick lol
Dadzdoodlebug92 (1:40:36 PM): and u fuckin cant hold my nose for 5 mins
Dadzdoodlebug92 (1:41:13 PM): howz that for rulez
TrueSweetGuy69 (1:41:16 PM): can i hold your nose for 1 minute?
Dadzdoodlebug92 (1:41:29 PM): u leave my fuckin nose alone lol(How's that for ground rules Bucko!)
TrueSweetGuy69 (1:41:53 PM): see i love you already
Dadzdoodlebug92 (1:42:12 PM): hehehe
TrueSweetGuy69 (1:43:05 PM): ok but when you do give me head give me head in your thong or something lol
Dadzdoodlebug92 (1:43:30 PM): kk i can do that as long as u dont touch my fuckin nose(You are an asshole, Ray. You give me the creeps and you gave the jury the creeps.)
TrueSweetGuy69 (1:43:58 PM): sounds like a deal? lol
Dadzdoodlebug92 (1:44:16 PM): yepperz
Dadzdoodlebug92 (1:44:31 PM): if ur realy comin if not imma going swimmin now
Dadzdoodlebug92 (1:44:55 PM): u cud alwayz come 2morrow
TrueSweetGuy69 (1:45:02 PM): no i wanna come now
Dadzdoodlebug92 (1:45:06 PM): say please(Beg you jerk)
Dadzdoodlebug92 (1:45:33 PM): if ur coming now i need to take a shower
Dadzdoodlebug92 (1:45:41 PM): if ur not im going swimming
Dadzdoodlebug92 (1:45:45 PM): your choice
TrueSweetGuy69 (1:45:58 PM): no im gonna come but you have to give me directions and an address
Dadzdoodlebug92 (1:46:13 PM): what time you b here
TrueSweetGuy69 (1:46:24 PM): maybe 4 or 4 30
Dadzdoodlebug92 (1:47:00 PM): *edited* you can google it itz easy to find. itz a blue house off the road
Dadzdoodlebug92 (1:47:16 PM): brb
Dadzdoodlebug92 (1:49:50 PM): back
Dadzdoodlebug92 (1:50:02 PM): so r u leaving rite now
TrueSweetGuy69 (1:50:13 PM): can i have a phone number to call in case i get lost
Dadzdoodlebug92 (1:53:03 PM): hold on freakin phone is ringing
Dadzdoodlebug92 (1:53:06 PM): dammit
Dadzdoodlebug92 (1:53:08 PM): brb
Dadzdoodlebug92 (1:53:54 PM): crap wrong number okay u can have the number but dont like call unless i say okay anyother time incase momz here
Dadzdoodlebug92 (1:54:16 PM): okay
Dadzdoodlebug92 (1:54:18 PM): :::
Dadzdoodlebug92 (1:54:20 PM): ???
TrueSweetGuy69 (1:54:31 PM): thats fine i just need the number now in case i get lost
TrueSweetGuy69 (1:54:38 PM): and let you know how close i am
Dadzdoodlebug92 (1:54:43 PM): kk (phone for incoming calls given)
TrueSweetGuy69 (1:55:31 PM): baby you know what the truck looks like right
Dadzdoodlebug92 (1:55:39 PM): ya
TrueSweetGuy69 (1:56:00 PM): it looks like you live further away from forston itself
Dadzdoodlebug92 (1:56:00 PM): itz cool and black with two doorz
Dadzdoodlebug92 (1:56:20 PM): like 7 milez from hamilton
Dadzdoodlebug92 (1:56:27 PM): hurry silly
TrueSweetGuy69 (1:57:11 PM): baby answer the phone cause i am gonna be making sure im going in the right direction (You went in the wrong direction a long time ago.)
Dadzdoodlebug92 (1:57:39 PM): I will I'll stay rite by it until u get here i promise
TrueSweetGuy69 (1:58:07 PM): ok 1
Dadzdoodlebug92 (1:58:18 PM): yes
TrueSweetGuy69 (1:58:53 PM): chill babe im gonna print a map for me
Dadzdoodlebug92 (1:59:00 PM): kk
TrueSweetGuy69 (2:00:31 PM): ok babe im gonna leave ok
Dadzdoodlebug92 (2:00:43 PM): cool im waiting
TrueSweetGuy69 (2:00:52 PM): but answer that phone ok
Dadzdoodlebug92 (2:00:53 PM): im gonna go take a shower
Dadzdoodlebug92 (2:00:59 PM): then ill get by the phone

---
Disclaimer:
This information is made available for the purpose of informing the internet community, creating awareness for parents, and deterring individuals such as this. Our claims of "truth" with this file are limited to two areas, that the screen name in question had the conversation above, and that in files post-September 1st, 2003, that the phone number included in the file was used during the commission of this chatlog. The only person with the authority to remove this file is
admin@perverted-justice.com
.
Anyone who attempts to use this information to commit a criminal act against another person can be subject to criminal prosecution or civil action. Perverted-Justice.com
condemns
the attempt, use, or even thought of physical violence, extortion or harassment against the individual above. Such actions are not in the spirit of what Perverted-Justice.com is all about and would put your own personal safety at risk.
---
Slimyness Scale: Your opinions on this post
On a 1-5 scale. 1. Not slimy at all | 5. Really slimy
Average Slimyness: 4.30 | Total Votes: 243