Dennis thought he had found a surefire way to not get caught, until he came face-to-face with PeeJ..
Bust by
Duncan Hines
@ 11/23/2007 4:59 AM PST
[
Conviction
]
Perverted Justice mark:
Dennis Wissel
,
46
AOL IM:
ArmySgt1961
Location:
Reading, Ohio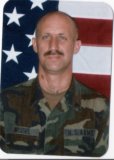 This wannabe pedo tried to solicit
Peekaboo1293
, a
13 year old
girl
... or so they thought!
You'll find something a little different about this chat. At no time does 48-year-old Dennis Wissel show
any signs of fear
about showing up to rape a 13-year-old. There are
no questions assessing the danger to himself
and he doesn't take time to even be particularly nice or flattering to the child. It seems like he has this down pat. Could that be because he's offered monetary gain?
Has he done this before successfully?
Once a child accepts, she wouldn't dare tell on him....unless \"she\" just happens to be a Perverted Justice decoy.
ArmySgt1961

(7:02:01 PM):IM DENNIS US ARMY SOLDIER FROM CINCINNATI
PeekaBoo1293 (7:02:30 PM): hi im becky from ky


ArmySgt1961

(7:02:35 PM): HOW OLD RU
PeekaBoo1293 (7:02:42 PM): 13 how old ru (age stated and he didn't bat an eye)


ArmySgt1961

(7:02:44 PM): U SINGLE
PeekaBoo1293 (7:02:51 PM): yeah
PeekaBoo1293 (7:03:03 PM): i had a bf but we broke up when i moved here


ArmySgt1961

(7:03:11 PM): OK U HAVE SEX AT 13 (he obviously knows my age)That took 1 minute and 10 seconds)
PeekaBoo1293 (7:03:28 PM): u mean did i ever
ArmySgt1961
(7:03:32 PM): YEAH
PeekaBoo1293 (7:03:45 PM): not like real sex but i did oral
PeekaBoo1293 (7:03:54 PM): did u ever do real sex
ArmySgt1961
(7:04:00 PM): SURE
PeekaBoo1293 (7:04:08 PM): i didnt yet
PeekaBoo1293 (7:04:18 PM): i was scared i mite get preggerz
PeekaBoo1293 (7:04:45 PM): and my bf didnt hav no comdom so i wouldnt do it
(I don't know why it always makes me giggle to tell them to bring \"comdoms\")
ArmySgt1961
(7:05:01 PM): OK
ArmySgt1961
(7:05:07 PM): U HAVE ANY PICS
PeekaBoo1293 (7:05:13 PM): ya do u
ArmySgt1961
(7:05:37 PM): YEAH ON PROFILE CAN U SEND TO MY EMAIL
PeekaBoo1293 (7:06:16 PM): yeah can u send pix 2 my email i cant get ur prof open
ArmySgt1961
(7:06:30 PM): NOT SURE HOW
PeekaBoo1293 (7:06:37 PM): oh wait it went open
PeekaBoo1293 (7:06:59 PM): omg ur sooo cute
(every 13-year-old girl's dream man. An old bald-headed fuzzy faced pervert. gag)
ArmySgt1961
(7:07:04 PM): THANKS
ArmySgt1961
(7:07:11 PM): U SEND YOURS
PeekaBoo1293 (7:07:25 PM): brb im not very good at this yet ill sendf
ArmySgt1961
(7:08:48 PM): SURE
7:10:17 PM armysgt1961: NICE U HAVE ANY NAKED ONES
(We're 8 mins into the conversation.)
7:10:54 PM peekaboo1293: well no silly
7:10:56 PM peekaboo1293: hehehe
7:11:23 PM peekaboo1293: my dad sent me a web cam tho and mom broke it with a hammer and scremed at me
7:11:50 PM armysgt1961: WERE U TAKING YOUR CLOTHS OFF FOR PEOPLE
(No Dennis. I'm a freakin kid.)
7:12:09 PM peekaboo1293: no i was just talkin to dad and she hatez him
7:12:24 PM armysgt1961: OH SO U DIDNT GET DIRTY ON CAM
7:12:40 PM peekaboo1293: i only had it 2 dayz b4 she found it
7:12:45 PM armysgt1961: OH
7:12:54 PM armysgt1961: SO U HAVE BIG TITS
7:13:01 PM peekaboo1293: no
7:13:11 PM armysgt1961: U SHAVE
7:13:39 PM peekaboo1293: yeah but i dont have much
7:13:46 PM armysgt1961: OK
7:13:54 PM armysgt1961: CAN I GET YOUR NUMBER
7:14:12 PM peekaboo1293: im not suposed 2 give my number if i dont kno u yet
7:14:17 PM armysgt1961: OH
7:14:27 PM peekaboo1293: i haft to call dad with my calling card so mom dont kno
7:14:37 PM peekaboo1293: so dad sends me calling cardz hehehe
7:14:50 PM armysgt1961:I CAN BUY U SOME MINS
7:15:01 PM peekaboo1293: relly
7:15:04 PM armysgt1961: YES
7:15:16 PM peekaboo1293: wow thatz kinda cool
7:15:52 PM armysgt1961:I WILL PICK UP SOME CONDOMS IF U WANNA HAVE FUN I WILL BUY U A 50 DOLLAR CARD
($50 bucks? So Dennis apparently has this down to a fine art. Pay the kid and she won't dare tell on you. Something you picked up overseas, Dennis?)
7:16:08 PM peekaboo1293: omg
7:16:13 PM armysgt1961: IM SERIOUS
(There is no doubt in my mind)
7:16:31 PM armysgt1961: OR JUST A BLOW JOB
7:16:35 PM armysgt1961: 50 [yeah I understand. You're just on the verge of jumping off the cliff, Dennis)
7:16:46 PM peekaboo1293: i know how to do that
7:16:53 PM armysgt1961: OK
7:17:00 PM armysgt1961:U WANT TO MEET
(Yeppers. There it is. You just sealed your fate, bucko)
7:17:19 PM peekaboo1293: we could mom is working this weekend
7:17:25 PM armysgt1961: OK
7:17:36 PM peekaboo1293: but u gotta promis never ever never 2 tell nobody
7:17:42 PM armysgt1961: OK
7:18:20 PM peekaboo1293: pinky swear cauz momz qould kill me
7:18:33 PM armysgt1961: YES
7:18:47 PM armysgt1961: WHERE SHE WORK AT
7:19:07 PM peekaboo1293: hospital lab
7:19:13 PM armysgt1961: WHICH ONE
7:19:22 PM peekaboo1293: im not gonna tell a big one tho
7:19:29 PM armysgt1961:UC
7:19:55 PM peekaboo1293: imn scard to tell
7:20:03 PM armysgt1961: ITS OK
7:20:08 PM peekaboo1293: cauz i could get in big truble
7:20:11 PM armysgt1961: OK
7:20:18 PM armysgt1961: WHERE U WANNA MEET
(Well let's see. I'm sure I can think of something)
7:20:22 PM peekaboo1293: u prom not to tell
7:20:25 PM armysgt1961: YES
7:20:38 PM peekaboo1293: kk it is uc cincy in clifton
7:20:48 PM armysgt1961:OK
7:20:58 PM peekaboo1293: can i call u
7:21:12 PM armysgt1961: NO WHATS YOUR NUMBER
7:21:33 PM peekaboo1293: dont call cauz it will show on caller id
7:21:44 PM peekaboo1293: momz got it in her room and i cant clear it
7:21:48 PM armysgt1961: STAR 67
7:22:09 PM peekaboo1293: im scard cauz i could get caut
7:22:15 PM armysgt1961: NO U WONT
7:23:06 PM armysgt1961: 50 DOLLARS FOR 15 MINS WORTH HEAD WHERE U WANNA MEET
(21 minutes and you're already getting pushy, Dennis. What is this world coming to!)
7:23:36 PM peekaboo1293: i gues my house nobody here can we talk first
(Now here's a good idea!)
7:23:45 PM armysgt1961:OK WHERE AT
7:24:03 PM peekaboo1293: phone hang on
7:24:06 PM armysgt1961: OK
7:27:10 PM peekaboo1293: (incoming phone number given)
7:27:37 PM armysgt1961:NAME
7:27:58 PM peekaboo1293:Boo real name is becky
8:38:52 PM peekaboo1293: where r u
ArmySgt1961 disconnected (8:39:00 PM)
(Dennis showed up very quickly, bearing condoms and a $50 phone card to pay the little girl for her services and a good time was had by all. Well by everyone except Dennis. And, for obvious reasons, this is what we call a \"fast-mover\")
---
Disclaimer:
This information is made available for the purpose of informing the internet community, creating awareness for parents, and deterring individuals such as this. Our claims of "truth" with this file are limited to two areas, that the screen name in question had the conversation above, and that in files post-September 1st, 2003, that the phone number included in the file was used during the commission of this chatlog. The only person with the authority to remove this file is
admin@perverted-justice.com
.
Anyone who attempts to use this information to commit a criminal act against another person can be subject to criminal prosecution or civil action. Perverted-Justice.com
condemns
the attempt, use, or even thought of physical violence, extortion or harassment against the individual above. Such actions are not in the spirit of what Perverted-Justice.com is all about and would put your own personal safety at risk.
---
Slimyness Scale: Your opinions on this post
On a 1-5 scale. 1. Not slimy at all | 5. Really slimy
Average Slimyness: 4.45 | Total Votes: 247