Site News
---
10/31/07: New editions of 'Predator: Raw' all October long!
Cable news channel MSNBC is premiering new editions of the "To Catch a Predator: Raw" series they've been doing for the last year all month long, every Monday night. TCAP: Raw episodes are quasi-"Director's cut" versions of To Catch a Predator. Conversations are shown whole, unedited, without any post-production or voice-overs. Chris Hansen sits and introduces each segment with a long-form discussion of each person and why they're showing it.
The episodes are very well done. There's even an active debate on our forums about which are better: regular TCAP's which are fast-moving informative pieces regarding the stings we do... or the long-form, slower-paced and far more in-depth Predator Raw specials. If you haven't caught an airing, do so, they're very, very good. That's not hype either, we aren't told to promote these and we receive no benefit, financial or otherwise, from doing so. They're just very good!
Airings:
Every Monday night in October on MSNBC. Check local listings for exact time, but they should be airing between 10-11 PM EST in all markets.
10/22/07: 100 convictions in 2007... already!
With the posting of the
Michael Seibert conviction
on August 18th, we have posted
100 convictions so far already in 2007
. In 230 days so far this year, we've posted the results of 100 convictions/sentencings. That is a
conviction result every 2.3 days
on average.
In 2006, we had 81 convictions for the year. We were very happy with that number. To have our evidence result in 100 convictions for 2007 by... August... is simply unbelievably cool. In the last twelve months, if you go back to August 18th, 2006... we've posted 148 convictions/sentencings. On average, well over ten a month.
When we started in the summer of 2003, we thought we might get an arrest... maybe. People who didn't like what we were trying to do said we'd never get an arrest, NEVER get a conviction! Now, we're breaking triple digits in far less than a years time. The best part? We still have roughly four and a half months left in the year. These results are grassroots, volunteer-driven and extremely unique.
We said we wanted to become a "Conviction Machine", but even we could not have imagined these results. Thanks to all the volunteers and supporters who have stayed true in the fight against internet predators. You all share in this milestone.
10/22/07: PeeJ Opinions: 20/20 needs a new prescription
On September 7th, 2007, ABC's 20/20 program ran an unabashed "smear piece" on NBC's Dateline as well as our organization. Of course, some of what didn't air is far more interesting than what did. We go into
great detail regarding what they aired on our PeeJ Opinions sub-site
as well as what they didn't air and the viewer reaction to what eventually made it onto the TV screen.
It is a lengthy write-up, but we always pride ourselves on giving our readers the story behind the story.
09/08/07: PeeJ Opinions: Eichenwald, A tale of Media-ocrity
We've posted a new article on our PeeJ Opinions subsite. This one looks at the shameful furor over the Kurt Eichenwald/Justin Berry story from December 2005, the concerted attacks against it and how those attacks should have been anticipated by anyone with a sense of how the media works. You likely heard of the first story, a harrowing and true tale of webcam exploitation... but the second story is just as insidious though not one you'll see people testifying to congress about.
We have written "
Eichenwald - A tale of Media-ocrity
" which covers the story
after
the story, an unbelievable sequence of events that should be a case study on how twisted "journalism" goes terribly awry. It is a must-read for anyone interested in how unjust the media can truly be and often is.
09/08/07: CSO: Lead pedophile activist arrested
CorporateSexOffenders.com
has big news regarding an arrest of one of the main leaders of the online pedophile movement. James P. Finn III was arrested on child pornography charges after fliers sent out by CSO volunteers landed in his community. CorporateSexOffenders.com has all the details and looks at the big picture of what this arrest means when it comes to the online communities of child rape advocates.
Visit
CorporateSexOffenders.com
for the full details on this very important arrest.
08/18/07: Seven arrested in Twigg County, Georgia
Recently we worked with law enforcement in Georgia for a slower-style sting operation and helped deliver our usual solid cases. The arrests spanned March to July 2007, a nice steady pace of cases brought forward. The seven predators arrested include...
Shaharyar Rashid, 24, of Marietta, was arrested March 3
Jeffrey F. Pansino, 36, of Doraville, was arrested June 22
James Ronald Cosby, 62, of Douglasville, was arrested July 1
Robert Elton Hill, 64, of Hazlehurst, was arrested April 27
Kenneth Mack Smith, 54, of Villa Rica, was arrested April 21
Casey Stephen Dykes, 26, of Cochran, was arrested May 1
Daniel Eric Bowman, 30, of Covington, was arrested May 1
We're very happy with the cases we were involved in and look forward to eventually posting many once they are convicted and sentenced.
Related Media
:
Macon.com
08/11/07: PeeJ Opinions: Essay contest entries posted!
We've posted the essay entries from our "What have you learned from To Catch a Predator" contest. Included are the five picked to receive a free copy of Chris Hansen's book "To Catch a Predator." Some of the entries are very depressing, others very uplifting and some... a combination of both. We received dozens of very well done entries and picking five was very hard. You can
have a read of the entries themselves
on our PeeJ Opinions subsite.
Thanks to everyone who sent in an entry, it was very appreciated to read exactly the things you've learned from the show and our work. They're all good examples of why we do the work we do.
07/30/07: Presentation at Law Enforcement Expo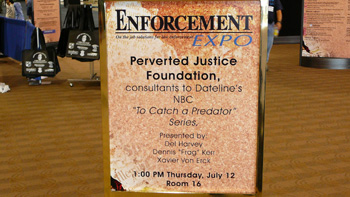 Site administrators Del, Frag and Xavier just returned from the third annual Law Enforcement Expo where we were one of the featured conference presentations. We'd like to thank the organizers of this event for their professionalism and hospitality and of course thank all those who attended our seminar on Thursday.
Chris Hansen gave a keynote speech on Wednesday after being introduced by the Attorney General of Ohio. His speech covered heavily the history of the "To Catch a Predator" specials on Dateline NBC. We followed up in our seminar explaining to law enforcement how we work and the kinds of tools we bring to the table that law enforcement can make good use of. We, as always, appreciated the opportunity to show law enforcement ourselves what we're about.
07/24/07: Expansion: CorporateSexOffenders.com
On June 23rd, 2007 we have spun off a new website based on the CSO subsite created here on Perverted-Justice.com back in November 2006. We quickly realized a few things when we created the subsite... one, that the problem was larger than we expected... and two, that the subsite area was too small to actively address it. We started targeting online pedophile activists after being attacked by one who led us to a very large network of pedophiles. Understanding then the scope of the problem, we jumped into attacking them and eventually succeeded in having Verizon pull their upstream, scattering their websites from their single secure pedophile-owned hosting company.
We also succeeded in identifying the original pedophile that drew us into this and successfully separated a 12 year old boy from his daily activities by informing the mother of that child exactly
who
had befriended her son.
Still, while we came into the fight quickly and successfully, but no group as large as pedophile advocates online can be dealt with immediately without organization and planning. We bunkered down and decided to do some long-term research into who they are, what their organizations are and how they operate online. What we found disgusted us and now the time is ready to show the world the true-depths of just how insidious child rape advocates are online.
So now that the time is right, we've decided to launch the first of several major expansions to the Perverted Justice Foundation with
CorporateSexOffenders.com
. This project will handle two tasks, one, pressuring companies to remove pedophile activists from their services and just as importantly, profiling just how the pedophile activists are and how they go about promoting their viewpoints online with the CorporateSexOffenders.com subsite, the
Wikisposure Project
. We're very excited about the Wikisposure Project aspect of the new organization as it is the first online database exposing pedophile online advocacy.
Currently we're building a volunteer community to go along with the new organization. They will be charged with both pressuring companies and taking on pedophile activists on a variety of fronts, using the same style, attitude and ability that made Perverted-Justice.com the largest anti-predator organization online. Now organized, we plan on taking the fight directly to pedophile activists and the companies that allow them to exist and flourish online. You can join us in our fight by visiting the new website today and registering for our volunteer center.
Lastly, we launched this organization on June 23rd for a reason. June 23rd is celebrated by online pedophiles as "
International BoyLove Day
." Didn't know they had holidays? You do now. Today shall now be known for a far better reason, it shall be known as the date the internet finally started to fight back.
07/13/07: Join us as we celebrate our 200th conviction!
It's a great day here in Convictiontown! We've logged our 200th conviction and we're asking everyone to join in on the celebration! Nothing shows results like well... results and now we have another milestone behind us. 200 convictions and no acquittals is a mighty fine track record to have. We launched this domain in June 2004 and it's fitting that three years later, it's June again that sees another noteworthy event.
The most striking thing about the 200th conviction is that it seems like yesterday that we were celebrating our 100th conviction. Well, if it seems like yesterday... there's good reason! It took us two years and five months to get to 100 convictions... we hit the milestone on November 17th, 2006. Less than seven months later, we have logged another 100 convictions, doubling our previous total.
That's right...
100 convictions in only seven months.
For those who love statistics, that means
we've on average posted a new conviction almost every other day for the last seven months.
You can imagine how tired we are from typing! Despite the foolishness of some people out there that doubt the ability of private citizens to be trained and do this sort of work, the results speak for themselves. Our program works, it's effective and we're still just hitting our stride. They say in basketball that the "ball don't lie." We say at PeeJ that "convictions don't lie."
Thanks to everyone over the year... err, last seven months that have helped us hit this new milestone. You can of course be a part of the next 100 convictions by reading our "how to help" page and joining our always-active volunteer center on our forums.
---
Older Updates »
Conviction Counter
Number of predators convicted due to
Perverted-Justice.com since June 2004:

623
---
Chatlog Convictions: 622
Research Convictions: 1
Real Stories Project
For the next six months, we're documenting actual cases of internet abductions and molestations. One case a day for at least six months. Beware, these stories can be disturbing.
Updates from around the Foundation
PeeJ Store

Help our efforts to raise awareness to the growing problem of online pedophilia by shopping PeeJ. Hats, T-Shirts, Mugs and more.
[PeeJ Store]
Thank you for your Patronage